As an Amazon Associate, I earn from qualifying purchases. Please read my disclosure policy.

Hello Fellow Foodies!
Today, we are talking all about Lemons! Who loves lemons?!
In this post, I'll share fun facts about lemons, health and nutritional aspects of lemons, plus the best way to store and prolong their freshness, how to get the most juice out of lemons and lastly, a brand new to-die-for lemon recipe!
In case you haven't figured it out, I've been a wee bit obsessed with lemon recipes lately! Like this no bake, Easy Lemon Cream Pie, last week's Lemon Gelato Ice Cream and this week a brand new lemon treat, I know you will love!
Old Fashioned Lemon Squares
What is it about Lemon Bars or Squares, or Lemonies, or whatever you call them!? I might be in the minority here, but if given the choice between Lemon Squares and a Brownie, I would choose the Lemon Bar! And these are one better as they have a thick lemon glaze on top!
This recipe is part of our Freaky Friday blog hop series that I do once a quarter; in this post you will discover many other recipes that you will love, by friends who are fabulous food bloggers!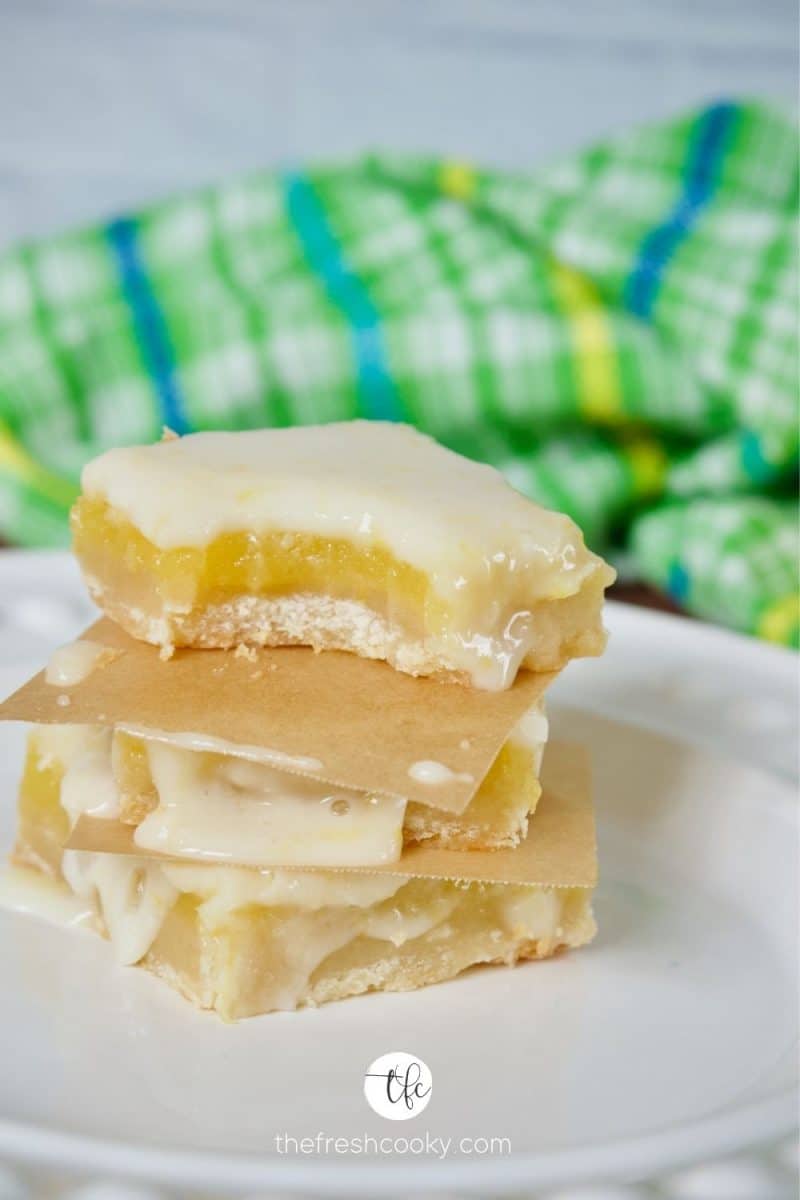 Click the button below to access the recipe for Old Fashioned Lemon Squares.
10 Fun Facts About Lemons
In doing a little research about this bright yellow gem of the citrus world, I compiled a list of 10 fun facts about lemons that you might enjoy!
Lemons are native to Asia and the name Lemon is actually derived from an Asian word for "sour fruit".
Did you know that lemons are technically berries? They are a hesperidium, a berry with a leathery rind.
Eureka Lemons are very rich in Vitamin C and help keep the immune system strong, protecting against various diseases!
California and Arizona are the main lemon producers in the US, lemon trees will product lemons year round.
Lemon zest and rinds are commonly used in baking.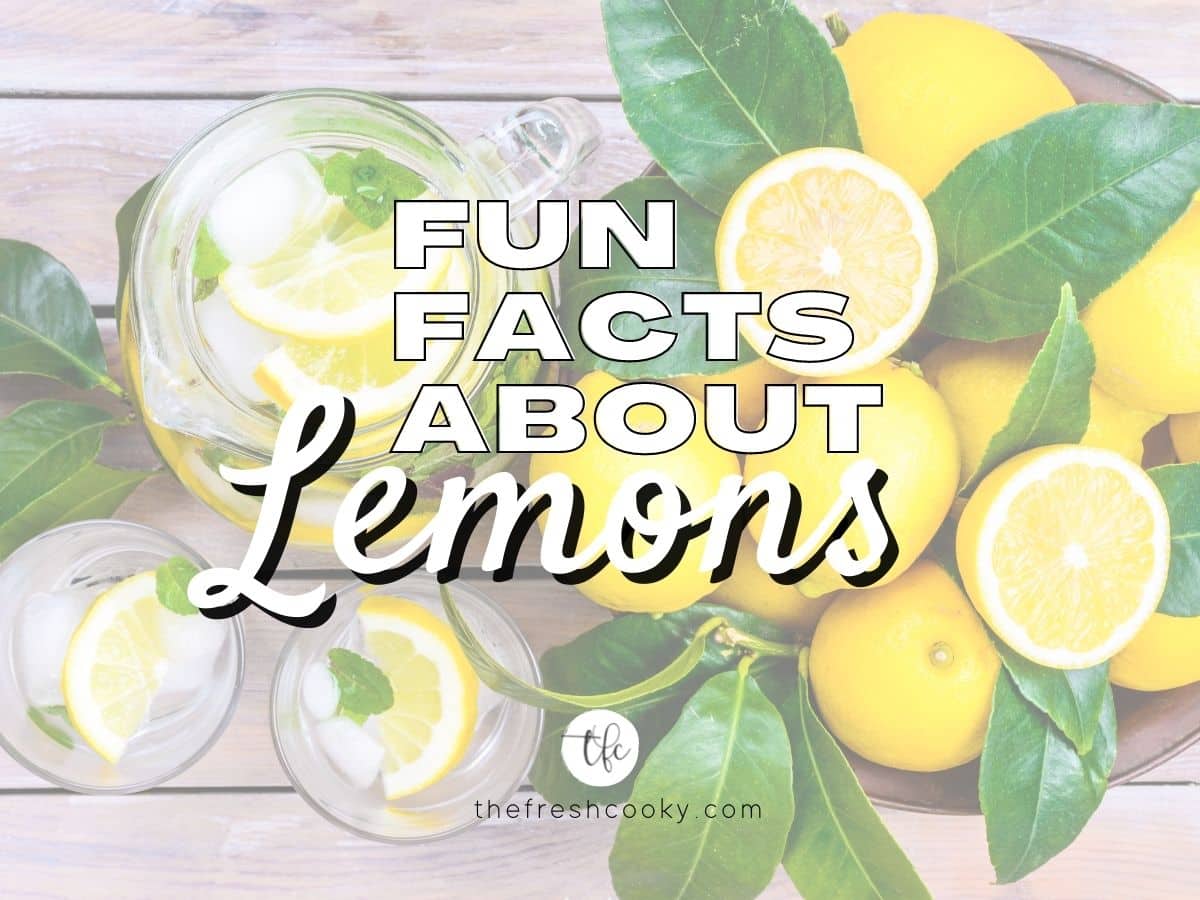 The oil from lemon peels is used for essential oils, which is why I love this Antibacterial Lemon & Peppermint hand scrub.
Lemons are a hybrid between a citron and a sour orange.
An average lemon holds approximately 3 tablespoons of juice.
The lemon is a wonderful liver stimulant and can dissolve uric acid and other poisons and liquifies bile.
The high acidity of lemons make them an excellent cleaning aide!
Nutrition & Health Benefits of Lemons
Lemons consist mainly of carbs (10%) and water (88–89%).
A medium lemon provides only about 20 calories.
Pectin is the main fiber in lemons. Pectin is a soluble fibers and may lower blood sugar levels by slowing down the digestion of sugar and starch.
Lemons are very rich in vitamin C. In addition, they're a decent source of potassium and vitamin B6.
Health benefits include; heart health, kidney stone prevention, prevention of anemia, and reduce the risk of cancer.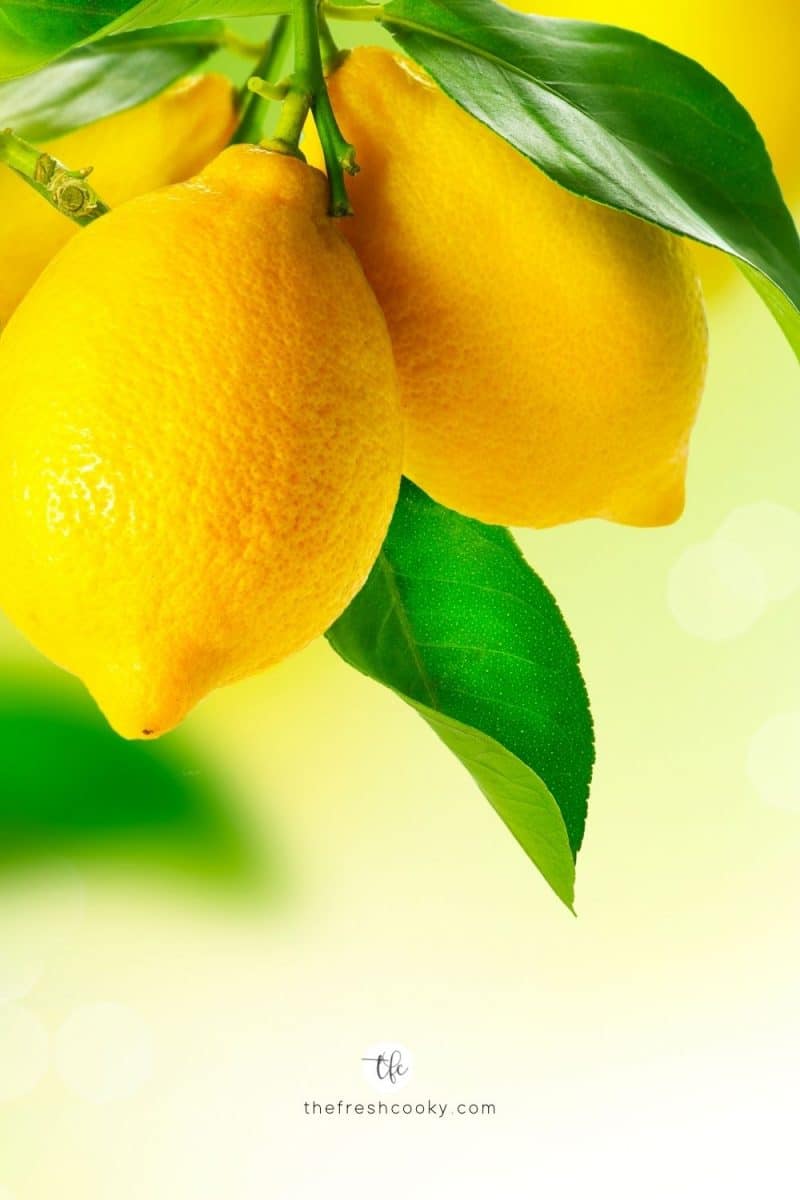 Best Way to Choose & Store Lemons
How to Choose the Best Lemons | Choose lemons that are firm, but yield to gentle pressure, with a smooth, thinner skin. The lemon should not have blemishes, be pale or have any green; this indicates unripeness. Good lemons for juicing, should be heavier relative to their size.
How Best to Store Lemons | Lemons stored on the counter, look pretty, but dry out within a week. Lemons stored in the fridge will last longer, about a week to 10 days, lemons stored in a sealed plastic bag last up to a month!
How to get the most juice & zest out of lemons
Zesting | It is much easier if you zest your lemons before cutting in half to juice them. Wash and dry lemons before zesting, and do not zest too far down, the white part, called the pith is bitter.
Juicing Lemons | To get more juice from your lemon, try these ONE of these two tricks: 1) Place lemon on cutting board or counter and firmly roll with palm of hand until it starts to yield slightly, OR 2) Place lemon in microwave for about 10 seconds, then roll and squeeze.
An average lemon contains about 2 ½ – 3 tablespoons of juice.
Best Tools for Lemons
Let's talk about the best tools to get the most zest and juice from your lemons!
ZESTING | My favorite and it will become a favorite tool for you as well; this simple, inexpensive Microplane zester. It makes super short work of zesting any citrus rind, be sure not to go too deep though, you don't want the white, bitter pith of the lemon in your zest.
JUICING | There are several great tools for juicing, some very inexpensive, others more expensive, but my very favorite is this Chef N Force Stainless Steel, heavy duty Lemon Juicer, it turns the lemon half inside out as it squeezes the most of the juice from the lemon.
CARVING TOOL | If you want to make lemon curls, a tool such as this V-Channel Cutter, makes very short work of those fun, twirly citrus curls.
Take a minute, and shoot me your ideas or categories by easily commenting below, or send me a quick email kathleen @ thefreshcooky.com (spaces removed of course, we do that so bots do not find our email!)

Popular TFC recipes on the blog and on Pinterest, these are tried and true with many reviews!
P.S. Did you know that clicking the links to the recipes on the blog is what ultimately provides the means for me to bring you fresh, new recipes each week! FREE TO YOU!
Browse through my recipe index, you will see brunch ideas, morning sweet treats, all sorts of sensational sides and of course drinks and desserts!
Visit The Fresh Cooky's Amazon Shop
Pucker up and enjoy all of the lemon facts!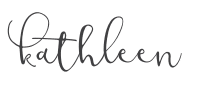 P.S. Be sure to browse through last weeks Fresh Fridays for more great recipes!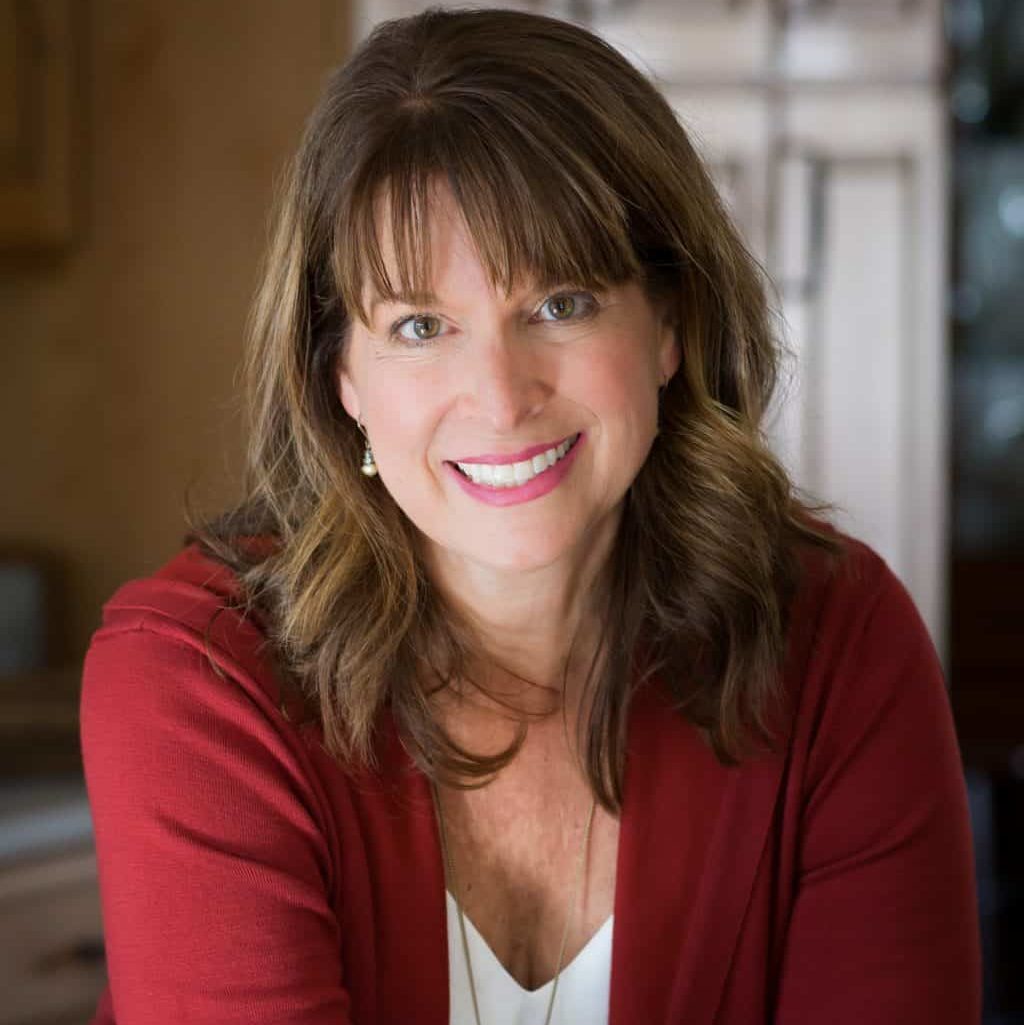 About Kathleen Pope
Recipe Innovator | Food Photographer | Food Writer
Hi, I'm Kathleen Pope. Here at The Fresh Cooky you will find easy, mostly from-scratch, trusted recipes for all occasions. From speedy dinners to tasty desserts, with easy step-by-step instructions. I am here to help teach you how to make mouthwatering recipes without spending hours in the kitchen. Read more about Kathleen here.