One Pan Tuscan Chicken in Parmesan Cream Sauce
As an Amazon Associate, I earn from qualifying purchases. Please read my disclosure policy.
Tuscan Chicken in Parmesan Cheese Sauce is a creamy, tender and delicious meal. Packed with spinach, two kinds of tomatoes, a splash of heavy cream turns this simple recipe into something fantastic! Bonus – you can make this chicken dinner recipe in one pan in about 30 minutes — restaurant quality!
This delicious Parmesan Tuscan chicken recipes is very much like Olive Garden Tuscan Chicken. This golden browned chicken is so buttery and delicious – the perfect balance to the seasoned chicken. Finish this dish with baby spinach and a sprinkling of parmesan cheese in a luscious creamy sauce.
Never be bored again with your chicken dinner when you venture out and try new recipes. Try these variations on a plain old chicken dinner night. Marinade your chicken with the Best Marinade for Chicken, or maybe Crock Pot Butter Chicken sounds good tonight.
No matter the poultry meal you choose, pair it with a fresh veggie side like my Air Fryer Asparagus or some Roasted Brussel Sprouts, and you have a fantastic and tasty weeknight or weekend meal.
Why You Will Love This Parmesan Tuscan Chicken Recipes
The Seasoning | Adding Italian seasoning to the chicken along with salt & pepper allows it to sear in the flavor and adds to the creation of the sauce.
The Sauce | Oooh, the sauce is creamy, buttery delicious, with bits of the browned chicken from the pan, no cream cheese like many recipes.
Easy Weeknight Meal | Beautifully planned, this meal is easy enough for busy weeknights.
Quick Clean-Up | Since it is a One-Pot Meal, the clean-up is super simple, again perfect for busy nights.
Keto Tuscan Chicken
Creamy Tuscan Chicken is naturally low carb and keto with rich cheese, heavy cream, olive oil and delicious veggies, this will be fast, low carb, go-to meal!
Simple Ingredients
The full list of ingredients and instructions are in the printable recipe card at the end of this post.
Olive Oil | EVOO is the best olive oil to use. When a product is labeled this way, you know it is made under strict regulations, ensuring the best flavor for your chicken dinner.
Chicken Breasts | I like boneless skinless chicken breasts for this dish, but you can absolutely use chicken thighs. Add about 20-30 minutes to the cooking time when using bone-in chicken.
Seasonings | Use kosher salt and pepper along with oregano for delicious and simple flavors.
Shallots | These are optional, but add amazing flavor.
Butter | The butter infuses the parmesan sauce and adds to the savory flavor.
Garlic | Garlic adds that depth of flavor that compliments the dish.
Tomatoes | Did you know these fruits contain lycopene which helps the cells repair from damage. And, they are so good! Use fresh cherry tomatoes or grape tomatoes.
Sun-dried Tomatoes | You can use the dry packed sun-dried tomatoes or the oil packed sun-dried tomatoes. See below for instructions on using the dried version.
Baby Spinach | Fresh baby spinach is my go-to, but in a pinch, I will pull a box of frozen spinach out. Just be sure to defrost and squeeze the excess water out.
Heavy Cream | I use heavy cream for this recipe, but you can substitute it with half-and-half. I do not recommend whole milk as it tends to break up when in this recipe.
Parmesan | Fresh grated parmesan melts better than pre-grated cheeses which have anti-caking agents that will hinder the melting process. And fresh grated looks so pretty as a garnish for the top of this creamy parmesan sauce.
How to make Parmesan Tuscan Chicken Recipes
Step 1 | Brown the Chicken
Getting a good brown coating on the seasoned chicken breasts is essential; that is one of the reasons I like using a cast-iron skillet. Here is how I do it.
Heat a large skillet over medium-high heat and add the oil. (I love my Staub Everything pan, but a cast iron skillet works great too)
While the pan is heating, using a paper towel, pat the chicken dry, then season each piece of chicken with the salt and pepper and the oregano, no oregano? Use Italian seasoning instead.
Once the pan and oil are heated, add the chicken pieces. It should take about 4 to 5 minutes per side. Then remove the chicken from the pan, tenting with aluminum foil to keep warm.
Step 2 | Make the Sauce
Making creamy chicken recipes is easier than you may imagine. Take the pan the chicken was cooked in and over medium heat, melt butter as you scrape all the good bits off the bottom of the pan.
Next, add the shallots and cook for a a couple of minutes, adding the garlic during the last minute. Then add in the two kinds of tomatoes and give it a little sprinkle of salt and pepper.
When the tomatoes begin to burst, you will know they are done. Add the fresh spinach into the same pan and stir until wilted.
Reduce the heat to medium-low heat pour in the heavy cream and the parmesan cheese and stir gently as you bring the sauce to a nice simmer, then reduce the heat and thicken the sauce.
Step 3 | Finishing the Dish
Put the chicken back into the pan with all the yummy sauce and cook for another few minutes. You are really just warming the chicken through.
Voila! You are done. This easy chicken dinner is best served at once. You can garnish the plates with a fresh squeeze of lemon juice or a wedge of lemon and some fresh basil.
What to serve with Creamy Tuscan Chicken?
Variations & Substitutions
As if this easy recipe is not creamy or delicious enough, here are a few additions I like to use to change it up when they are in season.
Asparagus | washed, trimmed and chopped into bite size pieces
Broccolini or Broccoli | chopped small, this becomes a vibrant addition
Kale or Swiss Chard | Remove the heavy stems and cut into ribbons, if using kale, rub it with a little olive oil to soften it up slightly, tossing in when you would the spinach.
Mushrooms | Before you add the garlic to the butter, saute sliced mushrooms for 5-7 minutes until soften and golden.
Peas | Toss fresh or frozen peas in to the mixture
Artichoke Hearts | Either brined or marinated will work great here, quarter hearts before tossing into the creamy Tuscan sauce.
Add in some heat | Add some spicy mustard, Red Pepper flakes, or red chili powder will do the trick.
Keto-friendly mashed | Serve this creamy Tuscan garlic chicken over cauliflower mash or roasted cauliflower instead of a starch.
Recommended Equipment
Storage Tips
If you happen to have leftover Tuscan chicken, I highly doubt, store them in an airtight container and place them in the refrigerator. It will keep for about 3 days.
Reheating Tips
When reheating this parmesan creamy chicken, the sauce may begin to curdle. Most of the time, you can just give the sauce a good stir, and it will reconstitute. Also, you can try adding a bit of cream to help the sauce along or even a bit of chicken broth.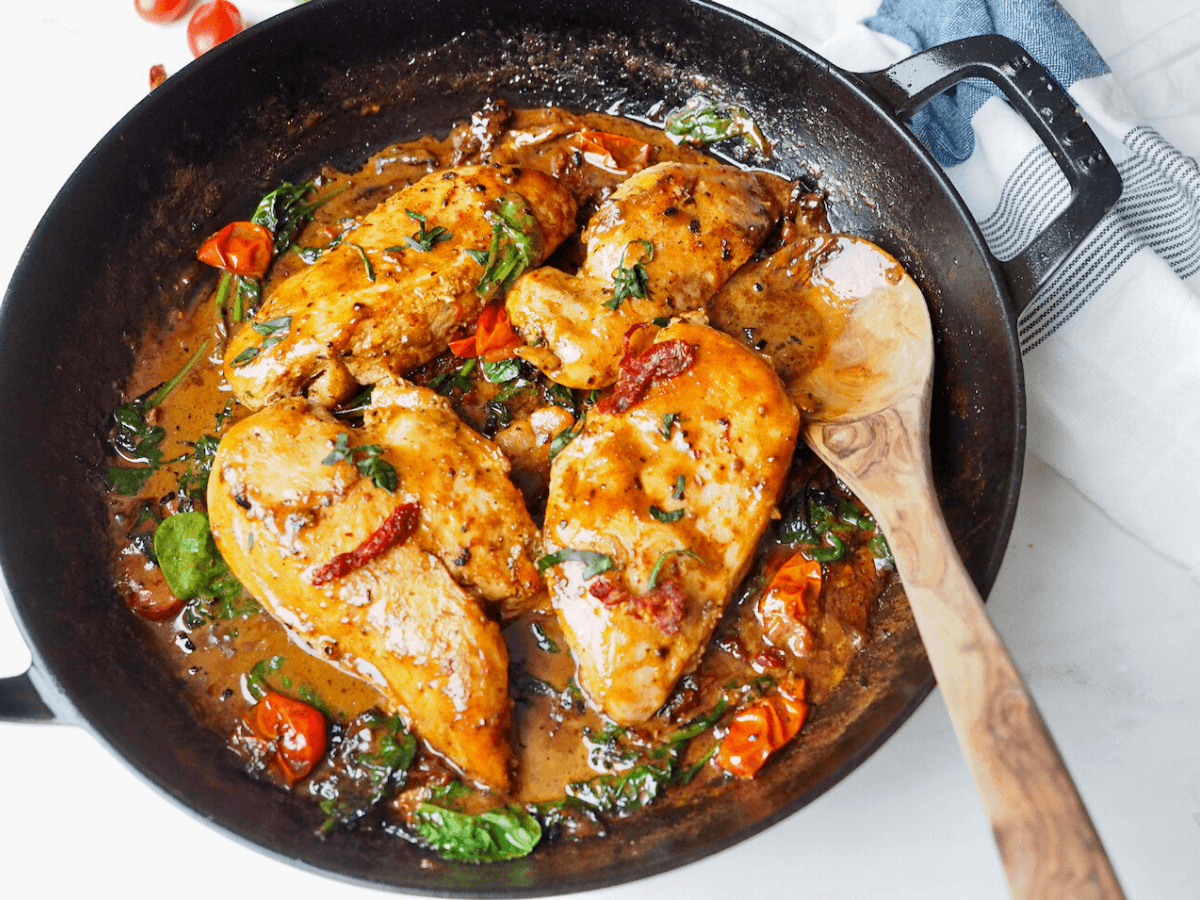 Frequently Asked Questions
Where did Tuscan chicken originate?
Tuscany or the Tuscan region is in Central Italy, this region is known for foods that are rich with sun ripened tomatoes, spinach, and heavy cream, which are the three primary ingredients used to make this meal.
How do you know when pan fried chicken is done?
Check the doneness by inserting a meat thermometer into the chicken in the thickest part. Cook until it reaches 165 degrees, this is the most accurate way of checking. You can always cook chicken a little longer if underdone but you cannot un-cook over cooked chicken!
Can I use dry packed sun-dried tomatoes?
Yes, you sure can. I recommend soaking them unless they are already soft and plump.
If they are really dry, in a saucepan, boil water and remove it from the burner. Then add the sun-dried tomatoes to soak for approximately 10 minutes. Then drain and use.
Is this Tuscan Chicken recipe gluten-free?
Good news! This creamy Parmesan Tuscan chicken recipes is naturally gluten-free. As long as you shred your own cheese.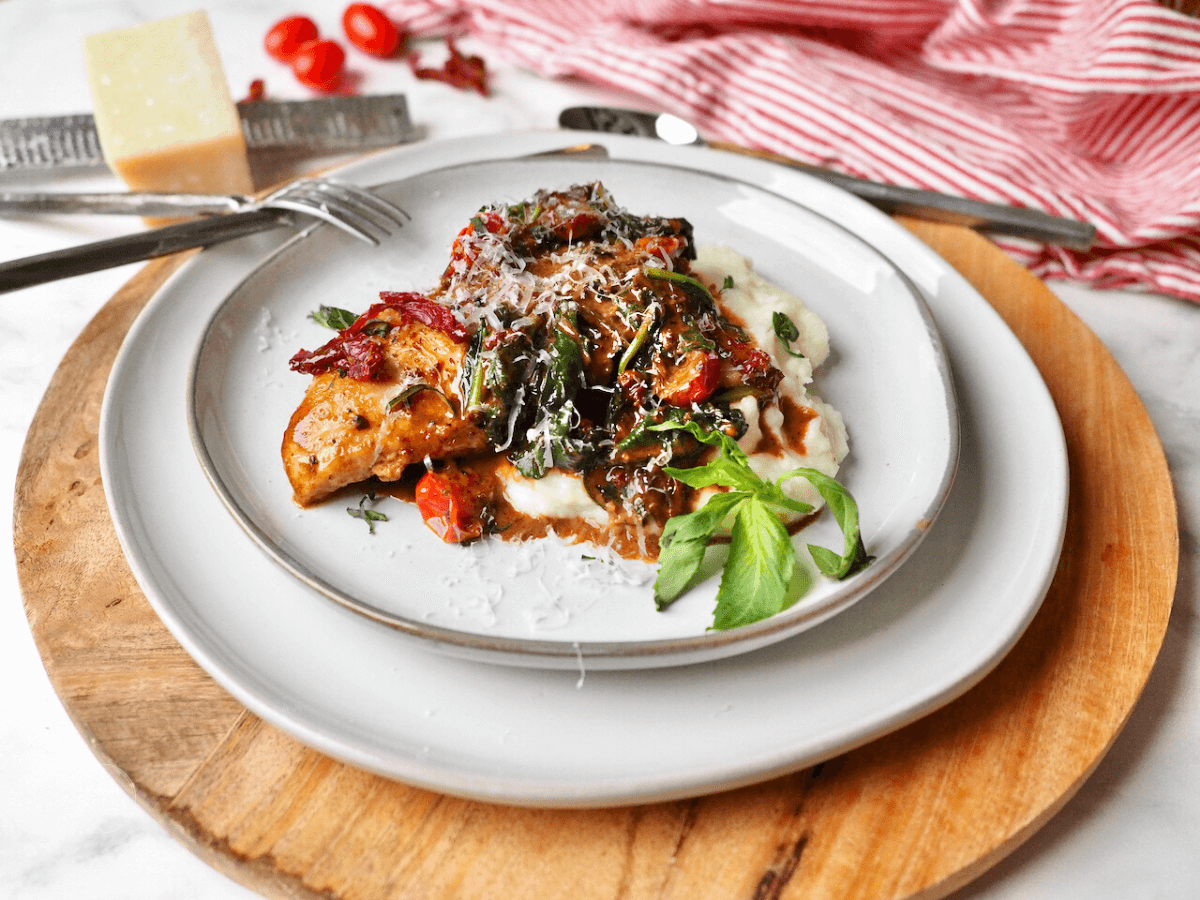 Tips for Two
This is an ideal recipe for two; you can either make the full recipe, which makes enough for 4 servings and that way you have lunch or dinner for another night using leftover Tuscan chicken or simple use the toggle under servings on the recipe card below and adjust it to two servings.
More Recipes you will love!
TOP TIP
Be careful not to crowd the pan! Cook the chicken in batches and refresh your oil with each batch if needed, so each piece of juicy chicken gets that golden-brown crust.
I sure hope you loved making this creamy Parmesan Tuscan chicken recipes, tastes just like a restaurant only better and cheaper!
Love it? Pin it!
Like this recipe?
Don't forget to give it a ⭐️⭐️⭐️⭐️⭐️ star rating and comment below the recipe!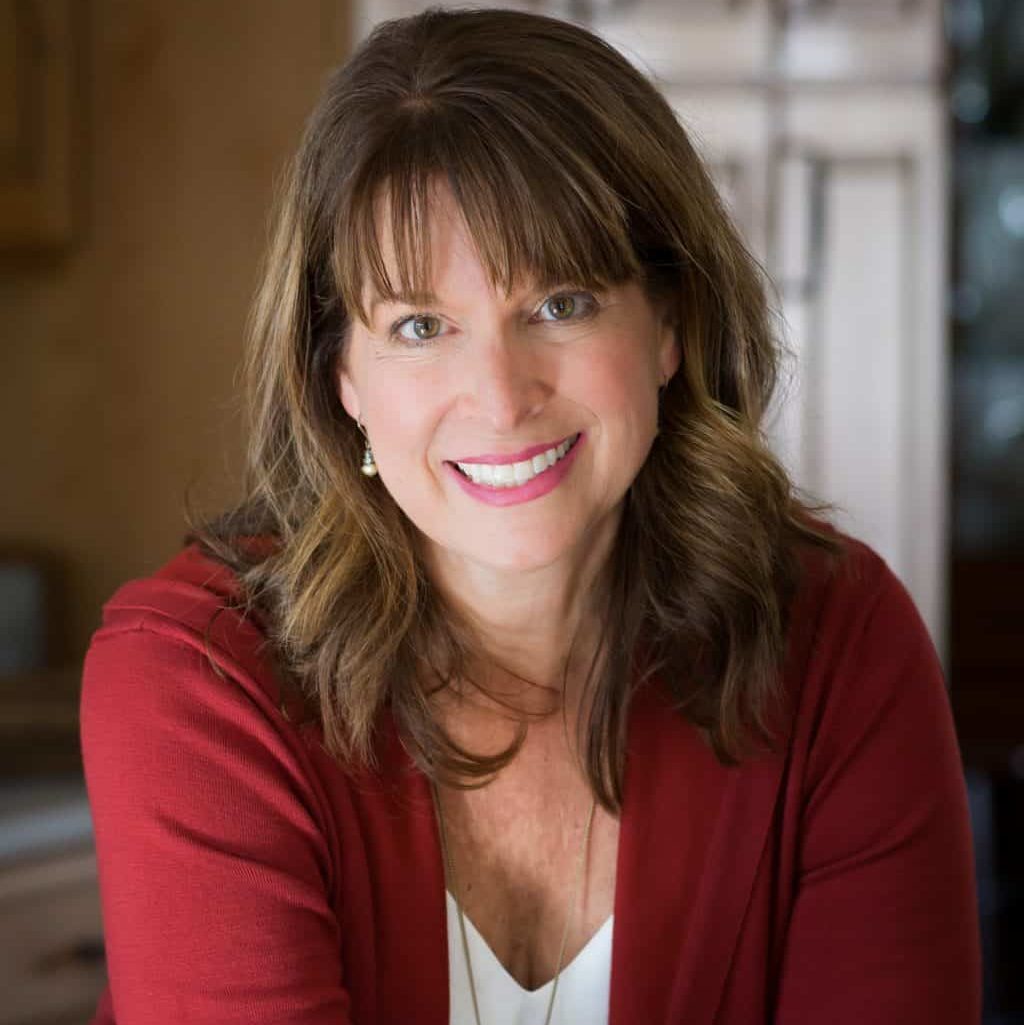 About Kathleen Pope
Recipe Innovator | Food Photographer | Food Writer
Hi, I'm Kathleen Pope. Here at The Fresh Cooky you will find easy, mostly from-scratch, trusted recipes for all occasions. From speedy dinners to tasty desserts, with easy step-by-step instructions. I am here to help teach you how to make mouthwatering recipes without spending hours in the kitchen. Read more about Kathleen here.