Easy No Bake Eggnog Pie Recipe
As an Amazon Associate, I earn from qualifying purchases. Please read my disclosure policy.

A lighter than air, creamy no bake eggnog pie for eggnog lovers and cream pie eaters alike! With a graham cracker pie crust and a few simple ingredients, it will become your family favorite no bake pie recipe too! Loaded with holiday flavor, the perfect dessert for the Christmas season.
If you are all about easy pie recipes, then try my award winning Key Lime Pie, or my favorite holiday pie recipe, Butterscotch Cinnamon pie or the classic custard Pumpkin Pie.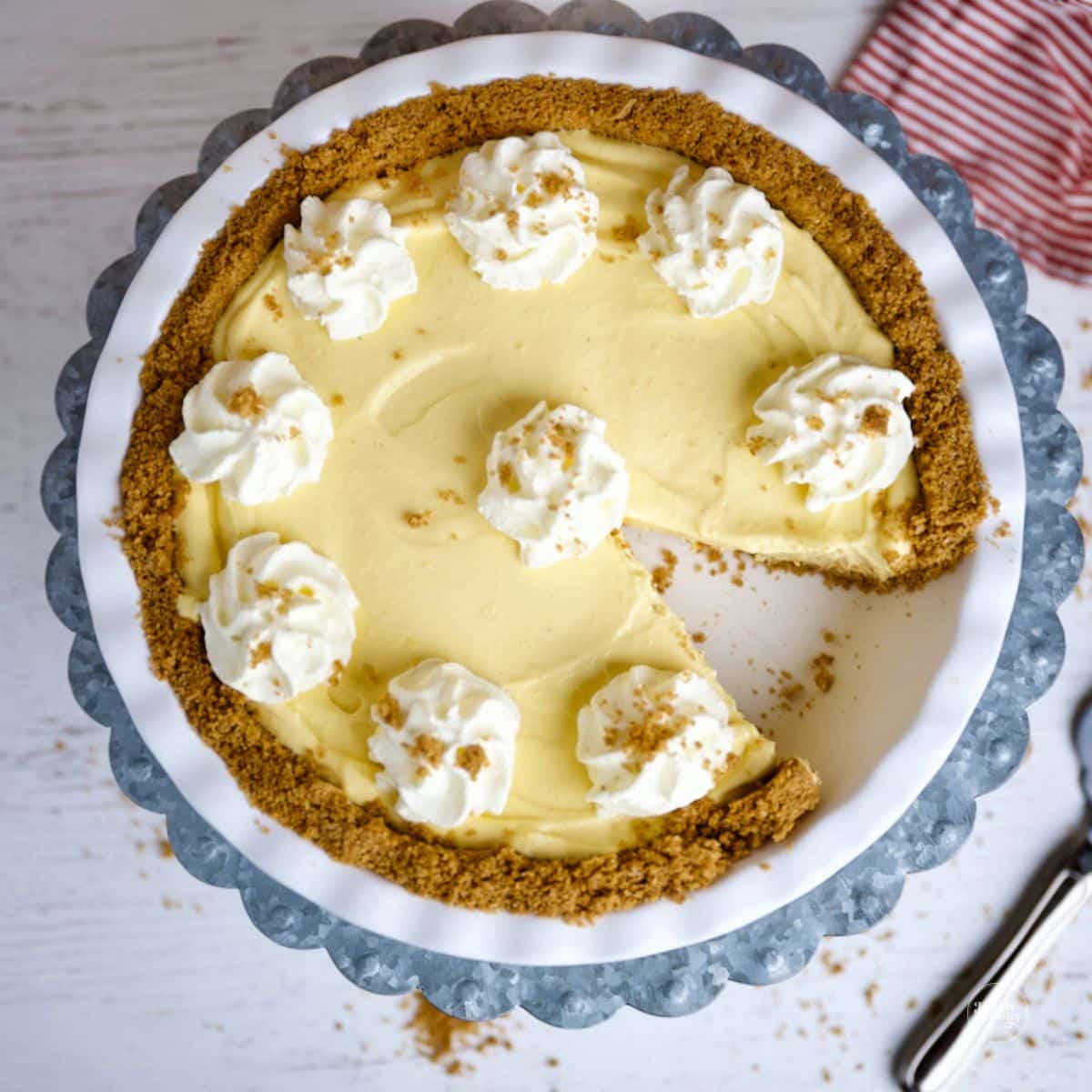 Quick, fun, easy and delicious desserts are my favorite around the holidays, I bet they are for you too, give these easy and festive recipes a try as well, like this easy Rum Cake, soft and tasty Italian Ricotta Cookies and these fabulous Filled Christmas Present Cookies.
Why You Will Love this Recipe
Festive | Eggnog captures the essence of the holiday season. Eggnog lovers agree!
Leftover Eggnog | This is a great use for leftover eggnog.
Make-Ahead | This eggnog pie recipe is ready to go in the fridge in minutes, making it a great make-ahead dessert
I am a believer in making things easy during the holidays, so purchase a pre-made graham cracker crust from your grocery store, or in less than 10 minutes make your own. Instead of buying Cool Whip, take a few minutes to whip up your own homemade cool whip (hint: it's just whipped cream) so much healthier and better tasting.
I wanted this recipe to be for a thick, substantial eggnog cream pie, so I created an eggnog deep dish pie. If making in a standard pie shell, see my tips towards the end of the post (or use the table of contents).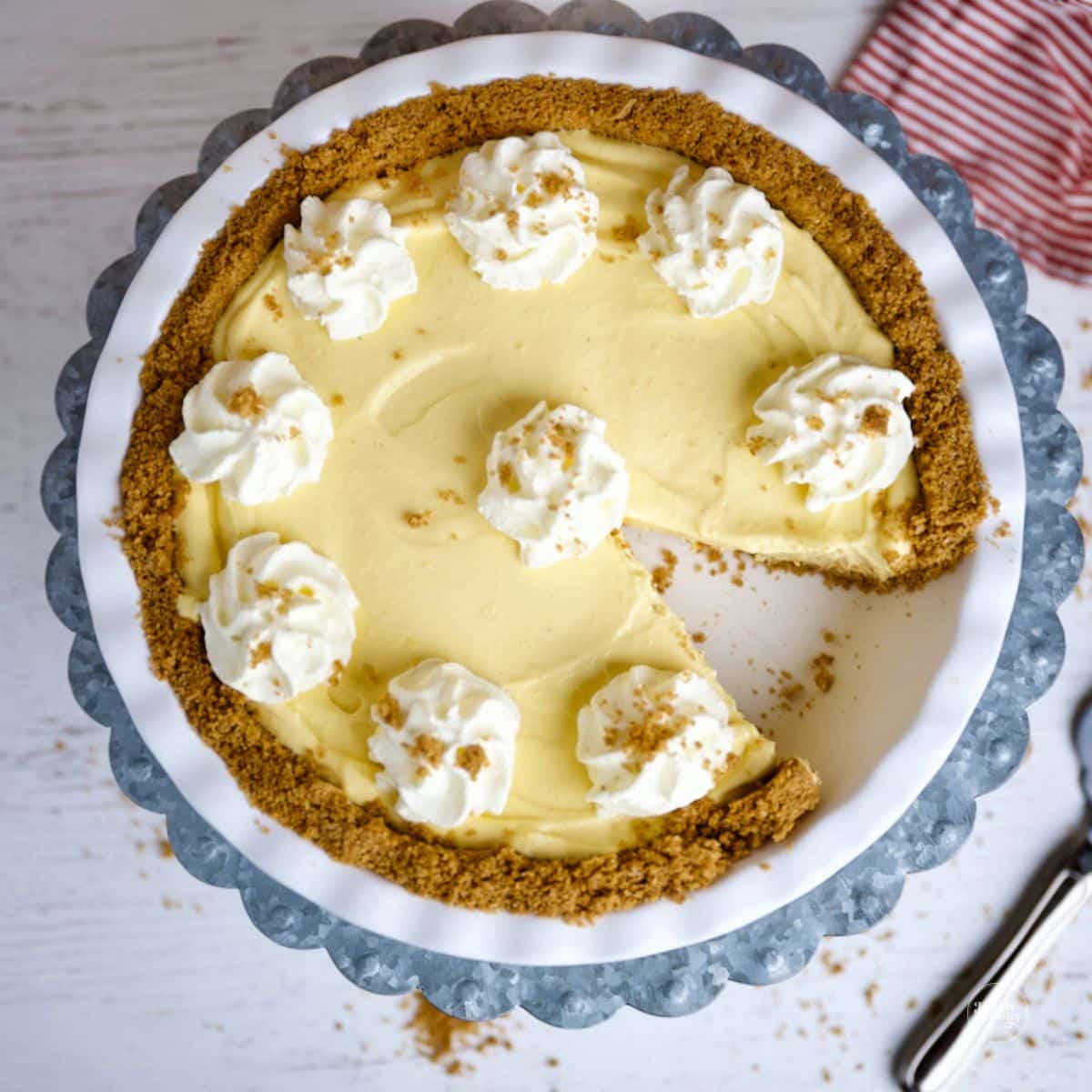 Simple Ingredients for No Bake Eggnog Pie
Ingredients, directions and nutritional information in the printable recipe card at the end of the post.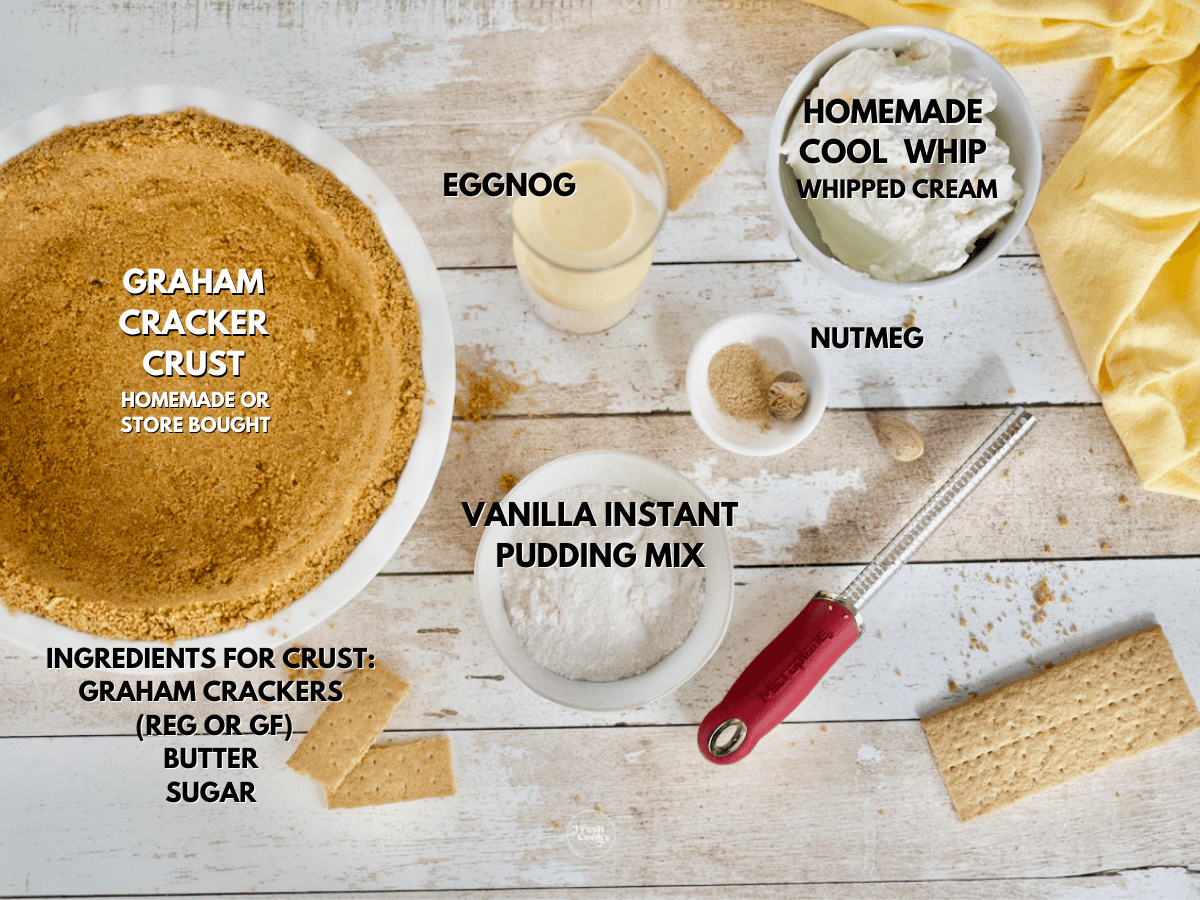 Graham Cracker Crust | I made a deep dish homemade graham cracker crust, but you can use a standard store-bought graham cracker crust. For the homemade graham cracker crust, you will need a little sugar and melted butter. See variations for other crust options!
Vanilla Pudding Mix | You want INSTANT pudding mix here, the pudding mix you cook won't work right here, especially for a no bake recipe. See variations for other flavor suggestions.
Eggnog | Use full-fat egg nog for this recipe, it will set up more firmly and tastes so much more creamy! I also like organic without high fructose corn syrup.
Heavy Cream | Instead of using Cool Whip, we'll make homemade Cool Whip for this recipe, a little powdered sugar and a touch of vanilla; we leave out cream cheese.
Vanilla Extract | Adds that classic kick of flavor, feel free to use bourbon vanilla or other favorite extracts.
Nutmeg | Because eggnog and nutmeg just go together, fresh grated is best for this spice, but if ground is all you have use it!
Let's make Eggnog Pie
Step 1 | How to Make A Deep Dish Graham Cracker Crust
You will need 16 full sheets of graham crackers (you can use regular or gluten-free grahams) for your premade pie crust. Place in a food processor or blender and whir until the crackers are fine crumbs. Or place the graham crackers in a baggie, crushing by hand as you place them in, then using a rolling pin or other heavy tool, crush and roll until fine crumbs.
Pour crushed grahams into a small bowl and then using a fork in sugar and melted butter until all of the graham crumbs are moist. If too dry to stick together, add another tablespoon of melted butter and mix.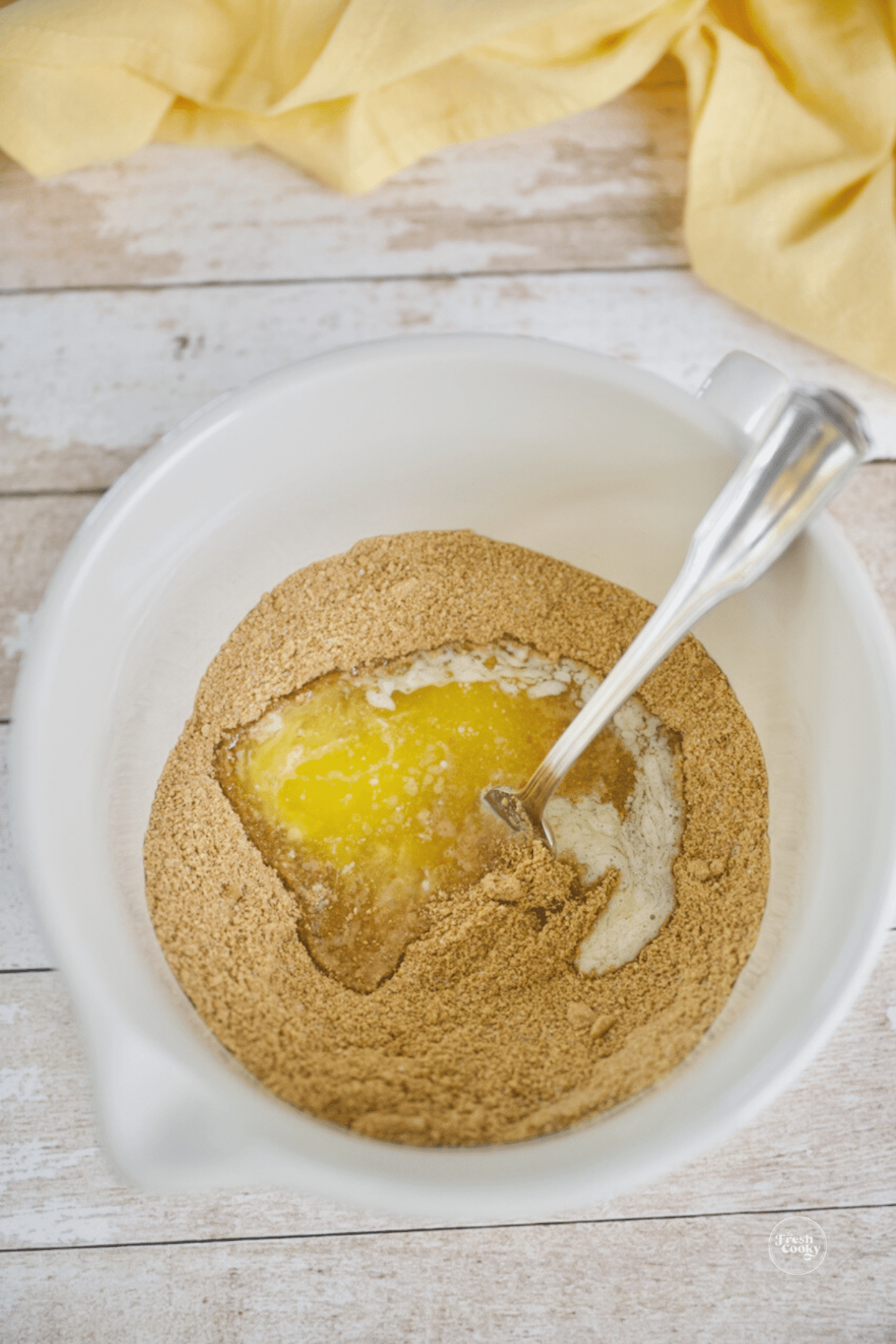 Press into 9″ deep dish pie plate or 9″ springform pan. Spread evenly with hand or back of spoon, then using the bottom of a measuring cup, press the bottom and sides until firm. Freeze for 30 minutes while preparing the eggnog pie filling.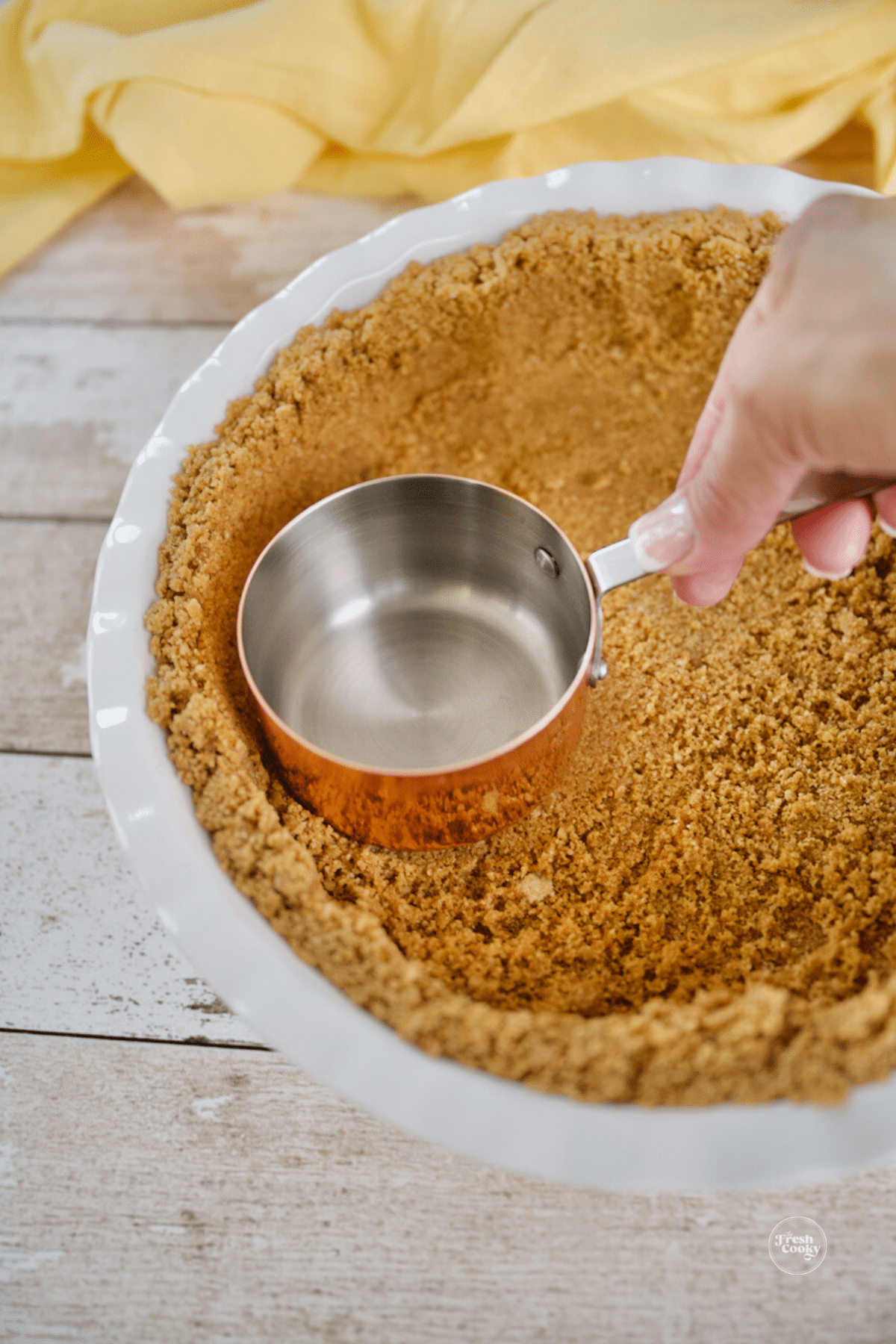 Pro Tip
If you find your graham cracker crust not sticking or holding together well, add a tablespoon more of melted butter at a time, until is sticks well. This is your "glue" to hold it all together, so it doesn't require baking.
Step 2 | Make Homemade Cool Whip
Once you have your pie crust made, let's make the homemade Cool Whip or whipped topping. Ditch all those nasty ingredients and take the extra 5 minutes to make your own! Catch all the step-by-step tips in this post on how to make homemade cool whip.
In a clean, cold bowl of a stand mixer or medium bowl, pour in cold, heavy whipping cream. With the whisk attachment, beat over medium-high speed until soft peaks form. Reduce speed and add desired amount of powdered sugar and vanilla, then increase to high speed whipping until stiff peaks form, almost to the butter stage. Place in fridge until ready to fold into the eggnog mixture.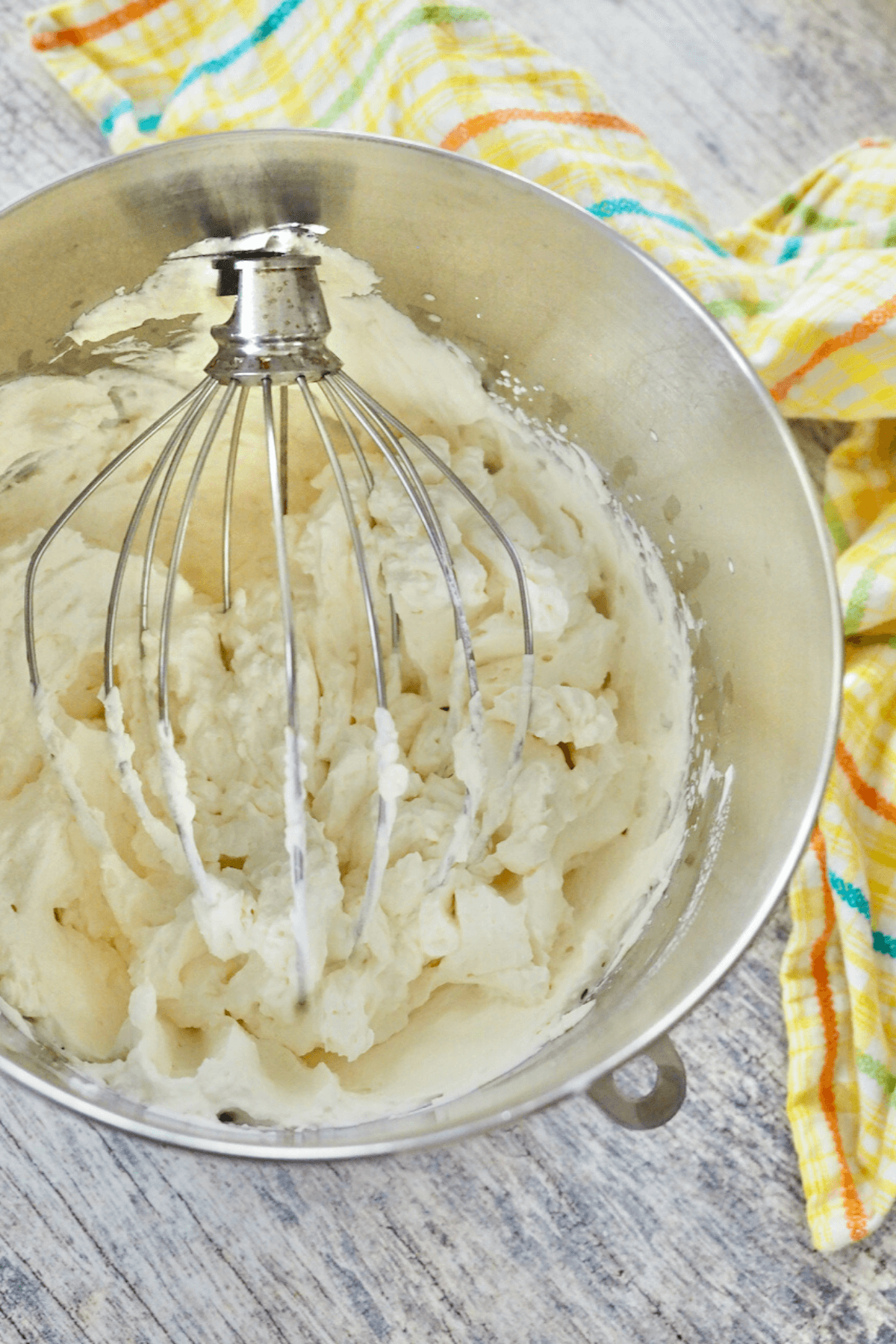 Step 3 | Make Eggnog Pie Filling
In a medium to large mixing bowl, pour in the instant pudding mix and the eggnog. With an electric mixer (hand mixer or stand mixer) on high speed mix until thick and creamy.
Add the vanilla extract and nutmeg and mix well to combine. It should be thick and pudding like.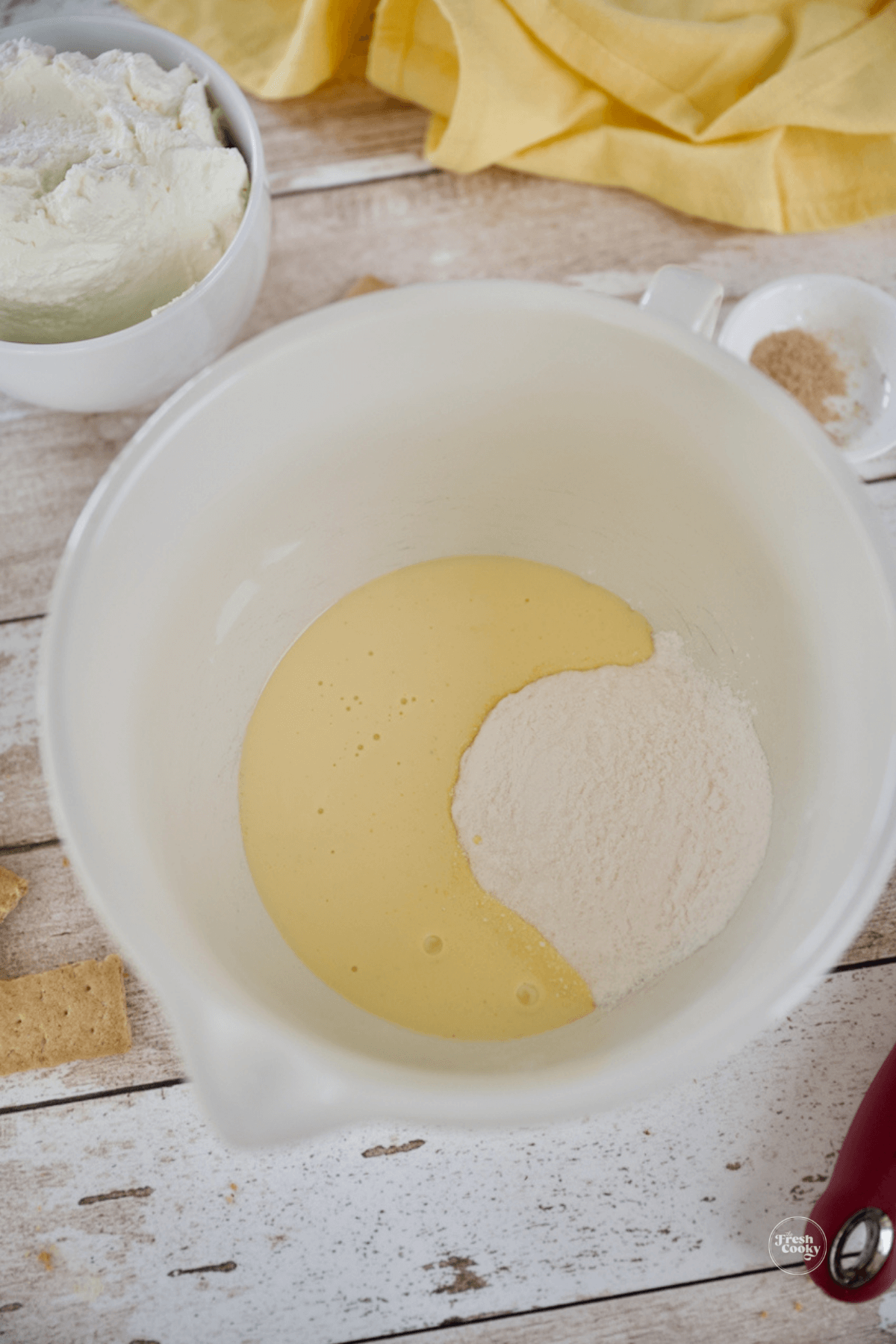 Step 4 | Make the no bake holiday eggnog pie
Carefully fold the homemade whipped topping into the eggnog pudding mixture. You do this with a large spatula, gently folding the mixture over on itself until it's all combined. At the end, use a whisk to gently combine the rest of the white streaks, just for a second.
Pour the creamy filling into the prepared pie crust and smooth. Gently tap a couple of times to release any air bubbles. Refrigerate, covered with plastic wrap for 4 or more hours, preferably overnight for the smoothest slicing.
How many graham crackers make a cup of graham cracker crumbs?
Use this handy table below to determine roughly how many crumbs you'll need, these are for standard sized graham cracker sheets. I used both Annie's Organic Graham Crackers and standard Honeymaid Graham crackers and they came out the same.
4 full-sheet graham crackers makes about ½ cup crumbs.
7-8 full-sheets of Graham crackers make about one cup crumbs.
For this recipe you will need between 16-18 sheets of graham crackers to make a 2 ¼ cups of crumbs.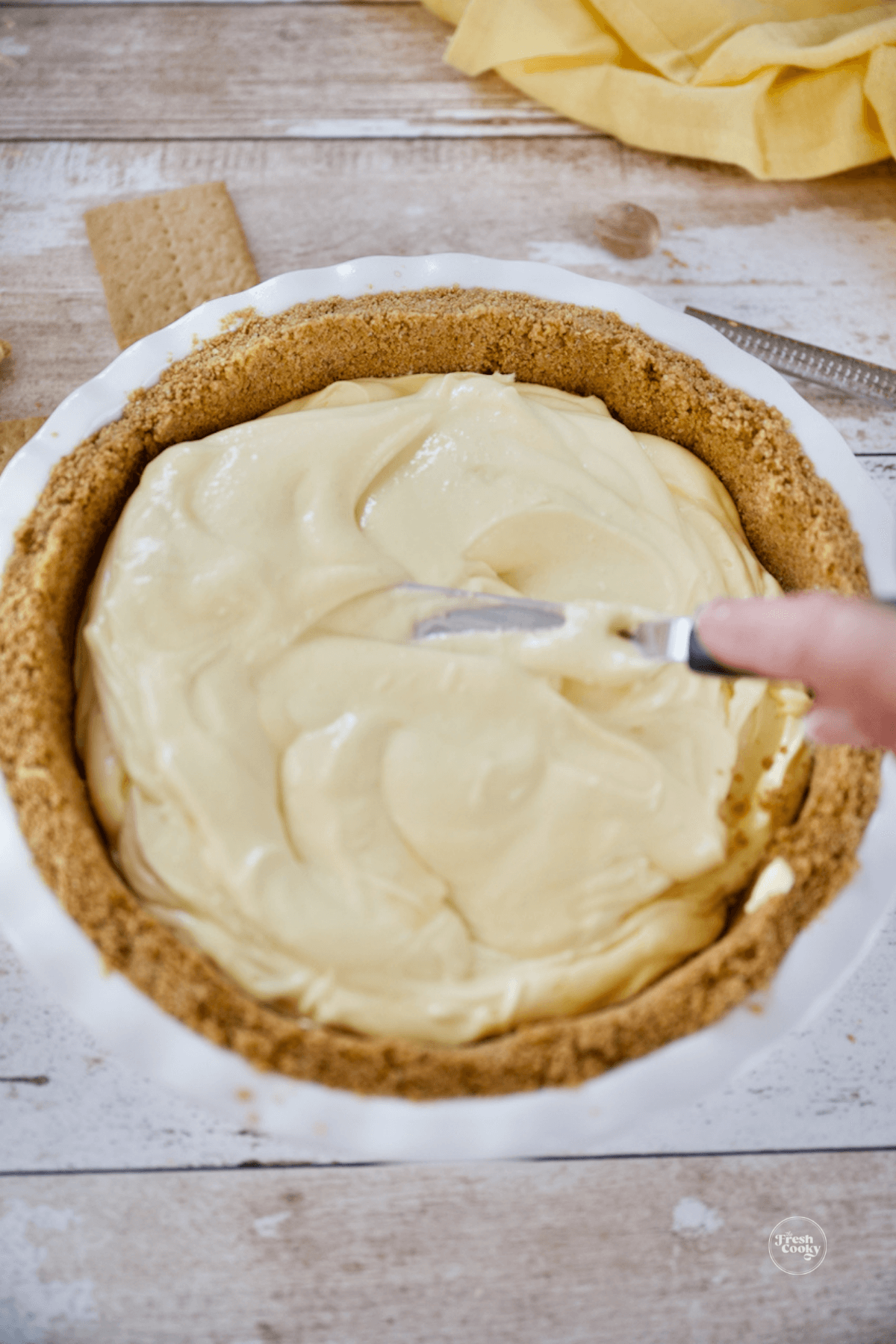 Gluten-Free Eggnog Pie No Bake
As mentioned in many other posts, while our family is not gluten-free, my brother's family is, as are many of our friends, so I have learned to adapt most recipes to be gluten-free. The eggnog filling doesn't contain any gluten whatsoever; make your graham cracker crust using gluten free crackers and you are gold. Or purchase your favorite gluten-free graham cracker crust.
Variations & Substitutions
Homemade Eggnog | I have not tried this, but I believe a good full-fat homemade eggnog would work well in this recipe. Or simply use leftover eggnog!
Cool Whip | Whipped topping (aka Cool Whip) may be used in place of the stabilized whipped cream, do not use the light versions, as it might not set up well. Thaw first.
Use different flavors of instant pudding; try using French vanilla, Cheesecake or white chocolate for variations to this easy dessert.
Bake and cool a regular pie crust instead (try my 3 ingredient pie crust recipe), or make using Golden Oreo cookie crust, or try Gingersnaps or Biscoff cookies for different flavor twists.
Spiked eggnog pie! Add 2-3 teaspoons of rum, bourbon, brandy or whiskey. If you like that you might also enjoy this boozy Italian Tiramisu.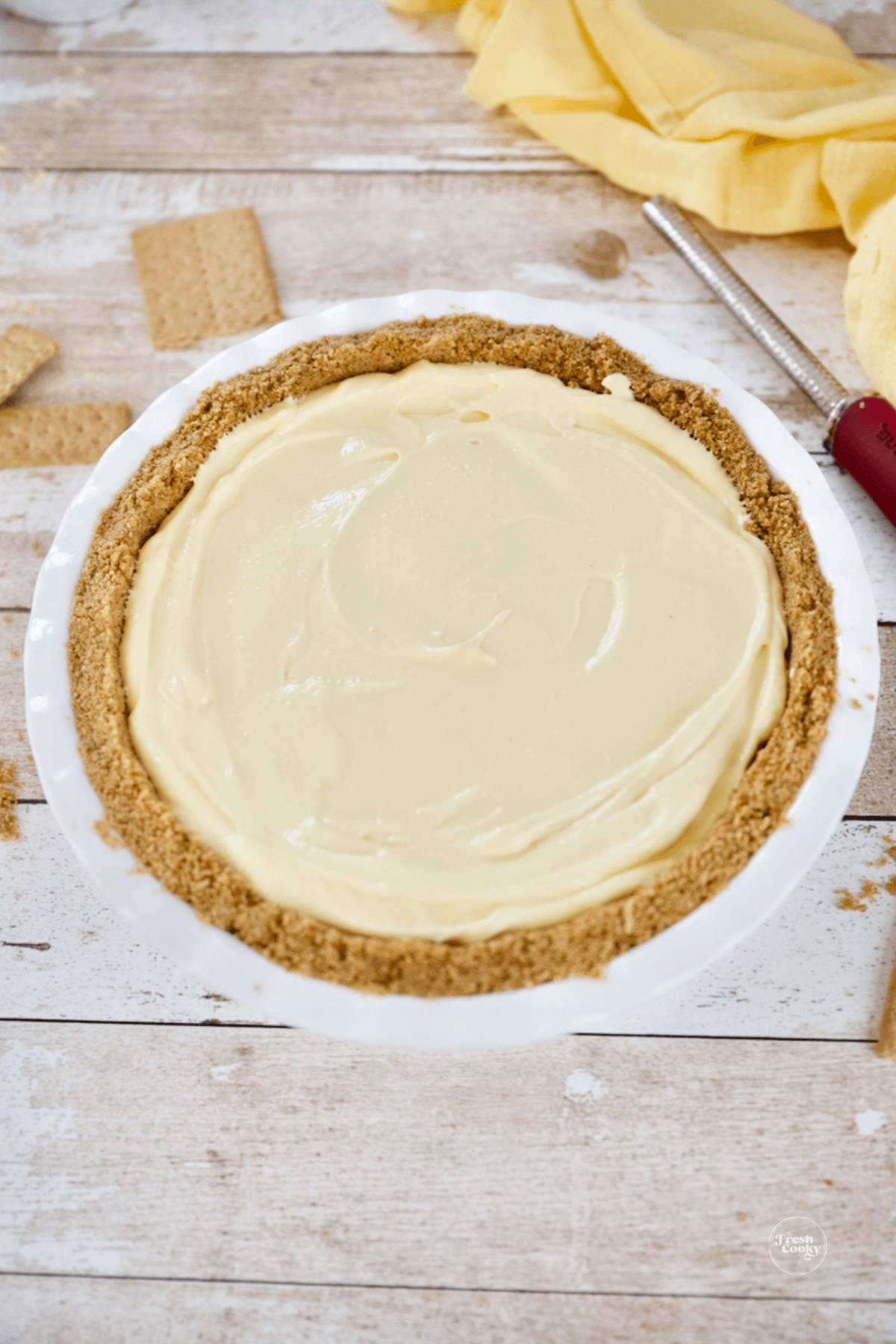 Favorite Ways to Serve No Bake Eggnog Cream Pie
Since this is such a creamy pie, I serve it simply with a swirl of whipped cream (love this Otis whipped cream dispenser) and a little fresh grated nutmeg. You can certainly serve it plain as the creamy eggnog flavor stands on it's own. It's scrumptious with a cup of strong coffee or this Christmas morning chai.
You may also freeze this no bake eggnog pie, making it an eggnog ice cream pie of sorts. I made this in both a traditional deep dish pie plate as well as a spring form pan, I loved it both ways!
Frequently Asked Questions
Does eggnog have raw eggs?
Yes, store bought and homemade eggnog has raw eggs. According to the CDC, most of us purchase pasteurized eggs, which makes enjoying eggnog homemade or commercially made in a carton in the store safe to eat.
Where did eggnog originate?
It's a bit unclear, but eggnog dates back to Britain in the medieval times. This festive drink was reserved for the upper classes who could afford, eggs, milk and sherry. Eggnog became a Christmas tradition during the 1700's in Britain and later came to America in the 19th century. Eggnog has a long standing Christmas tradition and generally starts hitting grocery store shelves around mid-October and is available through early January.
What are the ingredients of eggnog?
Most eggnog consists of eggs, cream, sugar, milk, nutmeg and vanilla and typically when enjoying as an adult drink, it's made into a cocktail by adding rum, brandy or whiskey. Many commercial brands are made with high fructose corn syrup, look for organic or full fat brands, they are usually a bit cleaner.
How to Make a Standard Size Eggnog Pie (not deep dish)
1 standard graham cracker crust
1 3.4 ounce box Instant Vanilla Pudding
1 ½ cups eggnog (full fat)
2 cups whipping topping (use the same recipe as above and save the rest to top your pie)
1/2 teaspoon nutmeg
½ teaspoon vanilla extract
Follow instructions for pie above.
Top Tips
If using a regular pie butter pie crust, bake and chill before adding the eggnog pie filling mixture.
Use full-fat eggnog and heavy cream for this recipe, it might not set up correctly if using lesser percentages or low-fat versions.
Cool Whip or other whipped toppings may be used, thaw first.
Use Instant pudding, not the kind you cook — for deep dish, purchase the large box of instant pudding or use 1 ½ boxes of the smaller ones and use the extra pudding in your next batch of cookies!
Make your graham cracker crust a day or two ahead, wrap well and freeze until ready to use.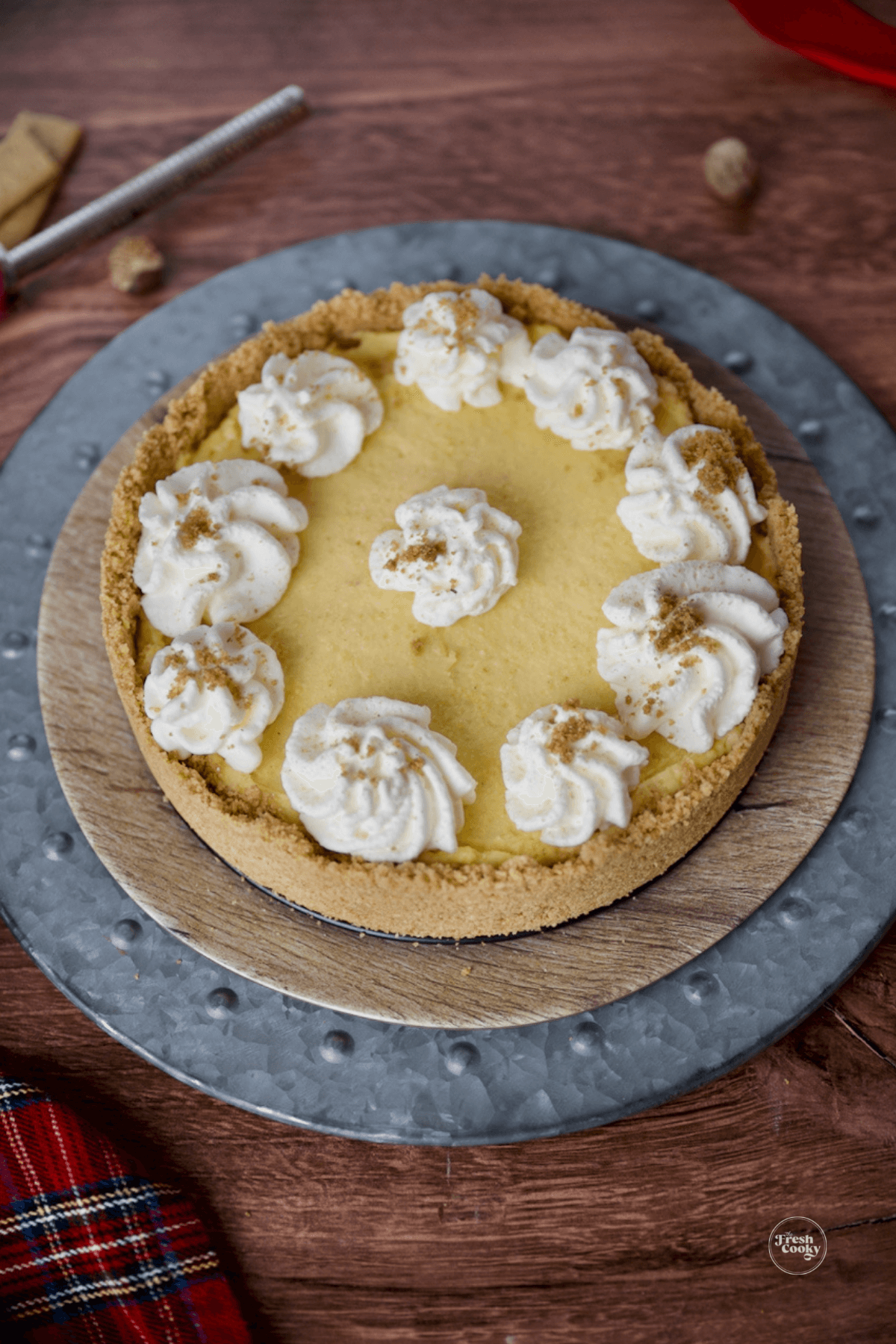 Storage
Refrigerate any leftovers up to 3 days in fridge. After that it's still safe to eat up to 5 days, but the crust will start getting soggy.
Freeze | Flash freeze the pie for 30 minutes, then wrap twice in plastic wrap or aluminum foil and if it fits, place in a baggie. To serve, do not thaw, serve as frozen eggnog pie. Remove from the freezer 20 minutes before serving to make slicing easier.
More Eggnog Recipes
The next time you are searching for easy recipes to make for the Christmas season, give these eggnog recipes a try!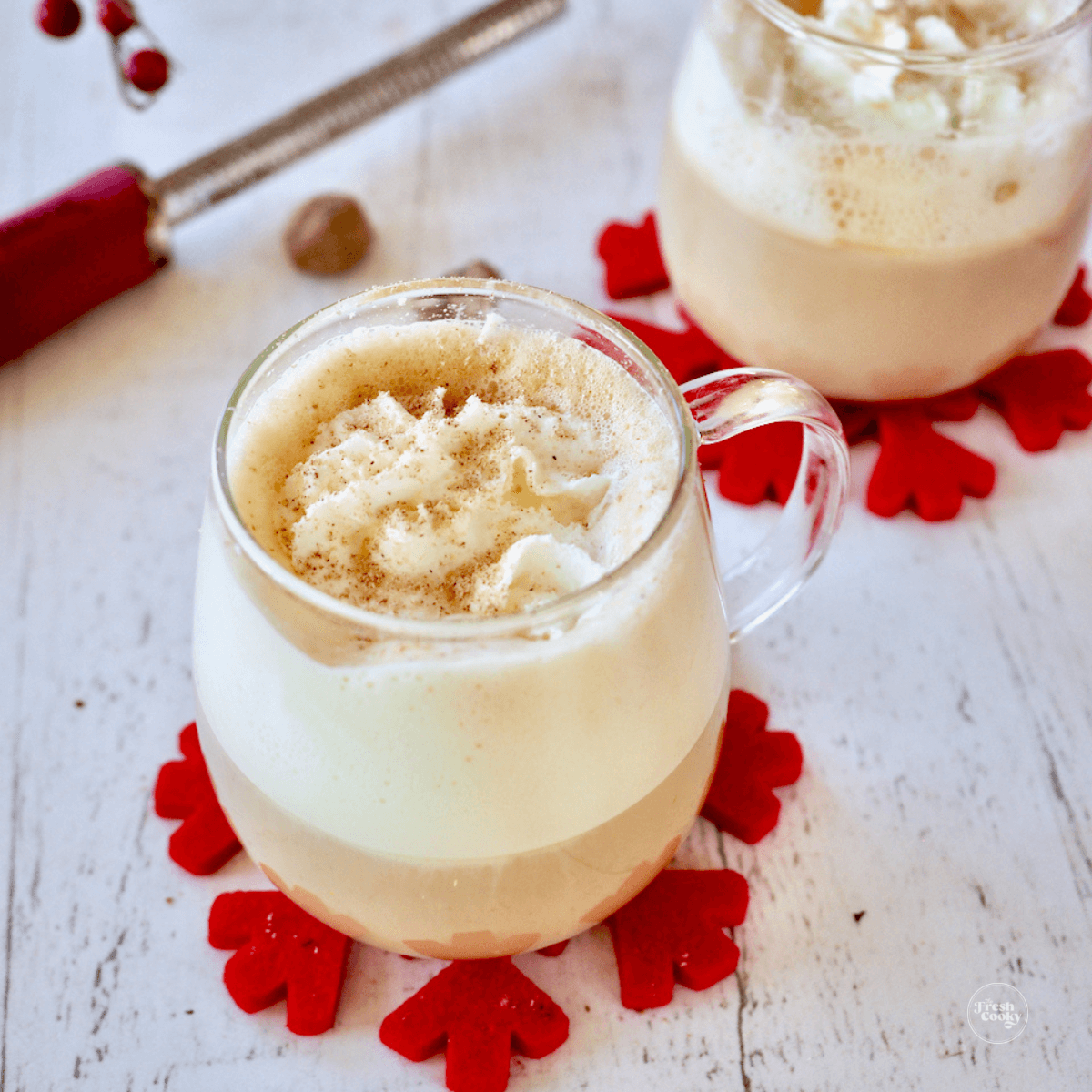 More Great Holiday Desserts
I hope you loved this No Bake Eggnog Pie — if you did, would you share your creation on Instagram, Facebook and Pinterest? And be sure to comment below!
Like this recipe?
Don't forget to give it a ⭐️⭐️⭐️⭐️⭐️ star rating and comment below the recipe!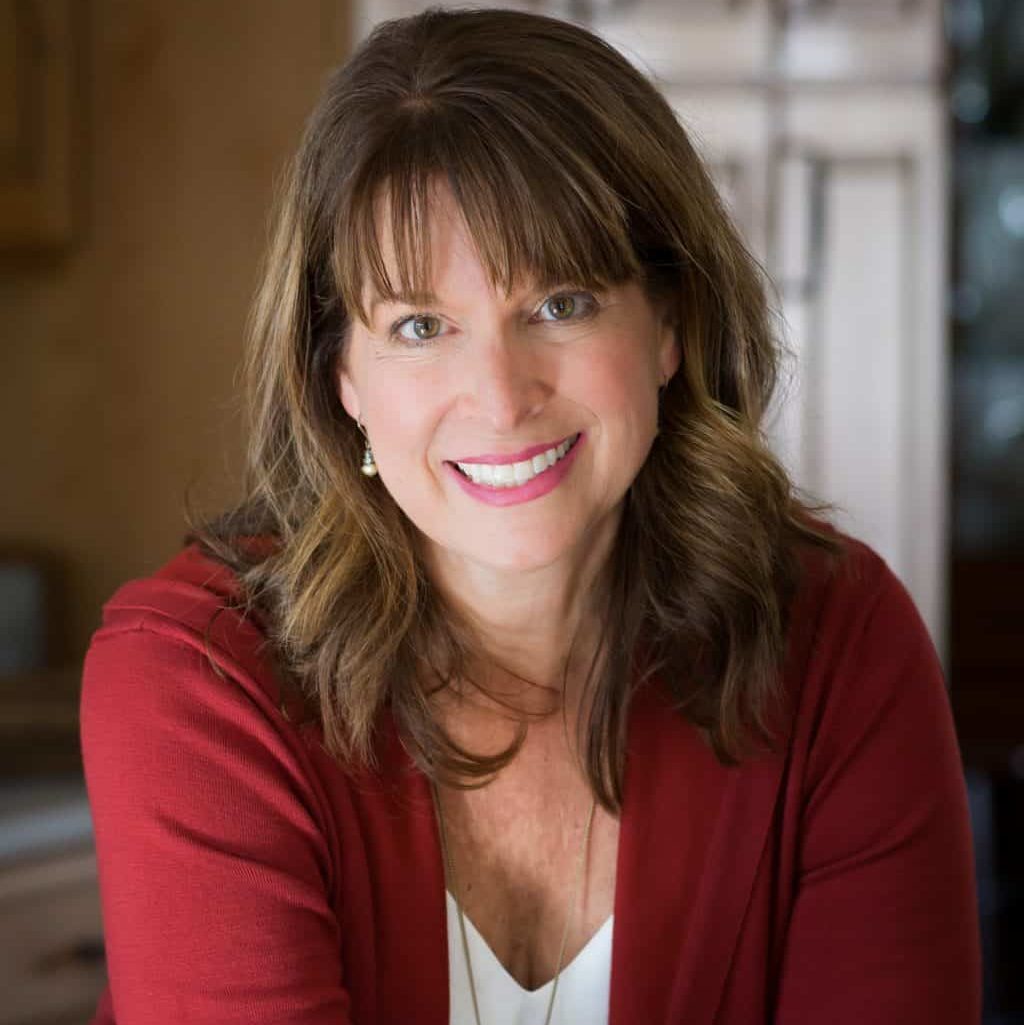 About Kathleen Pope
Recipe Innovator | Food Photographer | Food Writer
Hi, I'm Kathleen Pope. Here at The Fresh Cooky you will find easy, mostly from-scratch, trusted recipes for all occasions. From speedy dinners to tasty desserts, with easy step-by-step instructions. I am here to help teach you how to make mouthwatering recipes without spending hours in the kitchen. Read more about Kathleen here.