This healthier crack chicken recipe is easily made in your instant pot or slow cooker! Loaded with better for you ingredients, but still packs a ton of flavor. This gluten-free chicken is great in tacos, sandwiches, quesadillas, enchiladas, salads or by itself for a low carb meal.
I love recipes that have multiple uses, make once, use or freeze and eat in a variety of ways!
Love easy chicken recipes? Try this Easy Chicken & Sausage Jambalaya or Copycat Chipotle Chicken, they are on repeat in our home!
What IS Crack Chicken?
According to the all knowing internet (insert tongue in cheek), crack chicken is shredded chicken, cream cheese, bacon and ranch dressing, addictively good. Does it make you cringe hearing that term, yeah, me too, and hopefully you'll forgive me and trust that this stuff is really, really good!
As per my norm, I am late to the party (again), crack chicken and other recipes like these Peanut Butter Cup Crack Brownies started coming out back in the early 2000's time frame, oh well, better late than never as "they" say!
I'm not a huge fan of the famous package of ranch dressing mix, you know the one, but that ingredient list, yes, I have used it; but I love to find ways to replace it if I can, which is what I did here. Just look at these beautiful, fresh ingredients.
Instant Pot Crack Chicken AKA Creamy Salsa Chicken
I started making this chicken for my ravenous teen boys, I needed something they loved, was easy and filling and was mom and kid approved.
I think you'll like it; it's lightened it up, the long unpronounceable ingredient list of dressing mix is removed, but it still has tons of flavor. Oh and it's ready in about 45-60 minutes in the Instant Pot.
Why Is It So Good!?
Super tender chicken with rich, aromatic spices, lime juice and salsa, finished with cream cheese and pepper jack cheese.
It takes minutes to throw together.
Throw it in the crockpot in the morning and come home to a delicious meal, this is my favorite crock pot
Or make it last minute, even with frozen chicken in your instant pot <–this is the one I use.
Make on Sunday and eat all week – great for meal planning!
It's healthier and has whole food ingredients you can pronounce!
7 Different ways to eat Crack Chicken
Delicious as taco meat, fresh, and bright. Chop tomatoes, avocados, add a little cheese and it's dinner!
Add to your favorite enchiladas (try in these!)
Make a Mexican salad with crack chicken, greens, maybe some charred corn, avocado and bacon, the sauce is it's own dressing.
Serve between brioche or hamburger bun, if you want to stay true to the original recipe top with some crisp bacon pieces and a little extra cheese.
Keep it low carb (keto) and eat it by itself (omit beans), would be delicious in a roasted or fresh tomato or scooped out zucchini boat and baked or barbecued.
It's naturally gluten-free!
Serve as a warm dip with corn chips or tortilla chips, celery, cucumbers and a side of ranch dressing. Try this homemade ranch by my friend Julia at Julia's Simply Southern!!
Make tortilla roll-ups or a quesadilla.
Recipe adapted from Tidbits.
Crock Pot vs. Instant Pot
I love it both ways, depends on my schedule for the day!
Crock Pot or Slow Cooker | Dump in everything except the pepper jack cheese, give it a little stir, cover and cook on high 3 hours or low 5-6 hours; if cooking all day; I will sometimes put my chicken in frozen or partially frozen. Which is a chicken safety no-no — but I'm a risk taker that way!
Instant Pot | Place chicken in single layer (cutting breasts in half lengthwise will yield more even and tender chicken) all except cheeses, stir if you like, set pressure for 20 minutes, with natural release.
HOW TO COOK FROZEN CHICKEN BREASTS IN THE INSTANT POT
Contrary to what you may have heard, you do not need to cook frozen chicken breasts longer in a pressure cooker. It will do the math for you in that it will take longer for the pressure to build with frozen vs. fresh chicken, thereby cooking it through. This is a great article on this topic.
Can I freeze Crack Chicken?
Yep, yep, yep! I have been known to make a double batch in my crock pot (unless you have an 8 qt Instant Pot it's a little too much) have for dinner, freeze the other half for another dinner.

Allow to cool completely before freezing in an airtight baggie or container. Reheat on the stovetop or microwave and enjoy!
MAKE INTO A FREEZER MEAL | Place a freezer baggie inside your cold pressure cooker insert, layer chicken in one layer on bottom of baggie and add salsa, lime juice, and all of the spices. Seal and freeze in INSTANT POT until solid, then remove and store in freezer up to 3 months. See recipe for cooking instructions.
Recommended Tools
Sides for Crack Chicken
MORE CHICKEN RECIPES?
Sharing this week on Weekend Potluck.
Like this recipe?
Don't forget to give it a ⭐️⭐️⭐️⭐️⭐️star rating in the recipe below!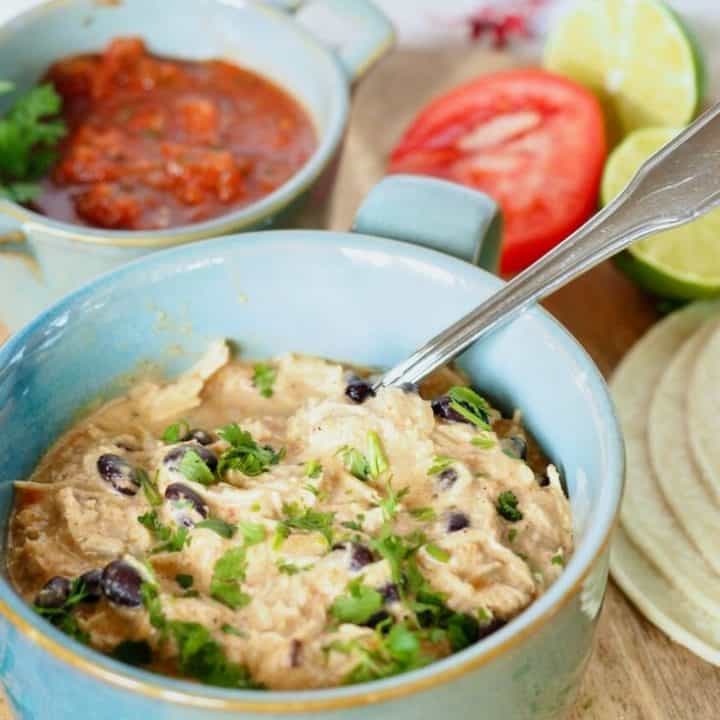 Yield:

6 Servings
Healthy Crack Chicken aka Creamy Salsa Chicken
Pressure Cook Time:
20 minutes
Slow Cooker Time:
4 hours
Total Time:
4 hours
30 minutes
This healthier crack chicken recipe (aka creamy salsa chicken) is easily made in your instant pot or slow cooker! Loaded with better for you ingredients, but still packs a ton of flavor. This recipe is great in tacos, sandwiches, quesadillas, enchiladas, salads or by itself for a low carb meal.
Ingredients
2 lbs boneless, skinless chicken breasts or thighs (cut breasts in half horizontally if large and cooking in Instant Pot)
¼ water (if salsa really thick)
1 lime, juiced (about 2-3 tablespoons)
2 teaspoons chili powder
1 ½ teaspoons cumin
1 ½ teaspoons onion powder
1 ½ teaspoons garlic powder
1 teaspoon kosher salt
¼ teaspoon black pepper
4-8 oz Neufchatel Cream Cheese, room temp
1 cup shredded pepper jack cheese (or try Monterey Jack, Colby, Sharp Cheddar, or any Mexican melting cheese like Cotija)
15 oz can black beans, drained and rinsed (optional, omit if low-carb)
Topping Ideas
More Salsa or Pico de gallo
Guacamole or freshly cubed avocado
Sour Cream, Mexican Crema or Plain Yogurt
Corn or flour tortillas or taco shells
Corn (grilled, canned or frozen)
Fresh Cilantro, chopped
Instructions
INSTANT POT INSTRUCTIONS
If chicken breasts are large and/or thick, slice in half horizontally then place in pressure cooker in a single layer on bottom of pan.
Dump in salsa, lime juice (water if necessary), chili powder, cumin, onion powder, garlic powder, salt and pepper.
Lock lid in place and place pressure release knob in sealed position. Cook on HIGH pressure for 20 minutes (takes about 10 minutes to come to pressure for fresh chicken, will take longer for frozen chicken).
While chicken is cooking, shred cheese and cut cream cheese into chunks.
Allow pressure to release naturally, remove chicken and shred using two forks.
Select the saute mode on pressure cooker, add cream cheese and pepper jack cheese stirring until smooth, stir in black beans and shredded chicken. Chicken will continue to absorb the moisture as it sits.
Try this delicious chicken in tacos, enchiladas, quesadillas, salad, as a sandwich or in a wrap!
As a Freezer Meal | Place a freezer ziplock baggie inside pressure cooker pot, arrange chicken in single layer with all other ingredients in Step 2 (not the cheeses). Seal bag and freeze INSIDE PRESSURE COOKER POT until solid, then remove bag from pot and return to freezer until ready to use.

Cooking Day Instructions | Add 2-3 tablespoons of water to pressure cooker pot, remove frozen chicken and spices from ziplock place inside pot. Cook at HIGH pressure 20-25 minutes, then proceed with Steps 4-6.
SLOW COOKER/CROCK POT INSTRUCTIONS
Place chicken breasts in bottom of crock in one layer if possible. Pour salsa (with extra water if really thick), lime juice, spices over chicken, given it a little stir.
Add cream cheese in small cubes evenly over chicken.
Cover and cook on high 3 hours or low 5 to 6 hours.
Once tender, shred chicken using two forks and stir in pepper jack cheese. Serve as desired!

Notes
Freeze cooked chicken by cooling completely, then placing in airtight storage container or freezer ziplock (don't forget to write on it). Freeze up to 3 months. Thaw in slow cooker over low heat or on stovetop or microwave until warmed through.
Recommended Products
As an Amazon Associate and member of other affiliate programs, I earn from qualifying purchases.
Nutrition Information:
Yield:
6
Serving Size:
1 cup
Amount Per Serving:
Calories:

399
Total Fat:

16g
Saturated Fat:

7g
Trans Fat:

0g
Unsaturated Fat:

8g
Cholesterol:

179mg
Sodium:

668mg
Carbohydrates:

3g
Fiber:

1g
Sugar:

1g
Protein:

58g
The nutritional information is estimated and may not be entirely accurate, at times it pulls information for suggestions and options which may increase calories, etc. Nutritional information will change based on used ingredients, quantities used, etc.
ABOUT KATHLEEN
I enjoy sharing easy recipes that are wholesome and delicious. I am fed by my faith, family, friends & food! Welcome to my kitchen! Read more...