Olive Garden Steak Alfredo (Copycat Recipe)
As an Amazon Associate, I earn from qualifying purchases. Please read my disclosure policy.
Indulgent, creamy, and packed with tangy Gorgonzola cheese, Olive Garden Steak Alfredo is a copycat recipe for the popular restaurant dish. Fettuccine in a creamy homemade alfredo sauce, tossed with sun dried tomatoes and fresh spinach. Join me as I recreate this comfort food classic.
I love easy copycat recipes, this Copycat Olive Garden Chicken Pasta is the best, or you might try my popular Copycat Chipotle Chicken.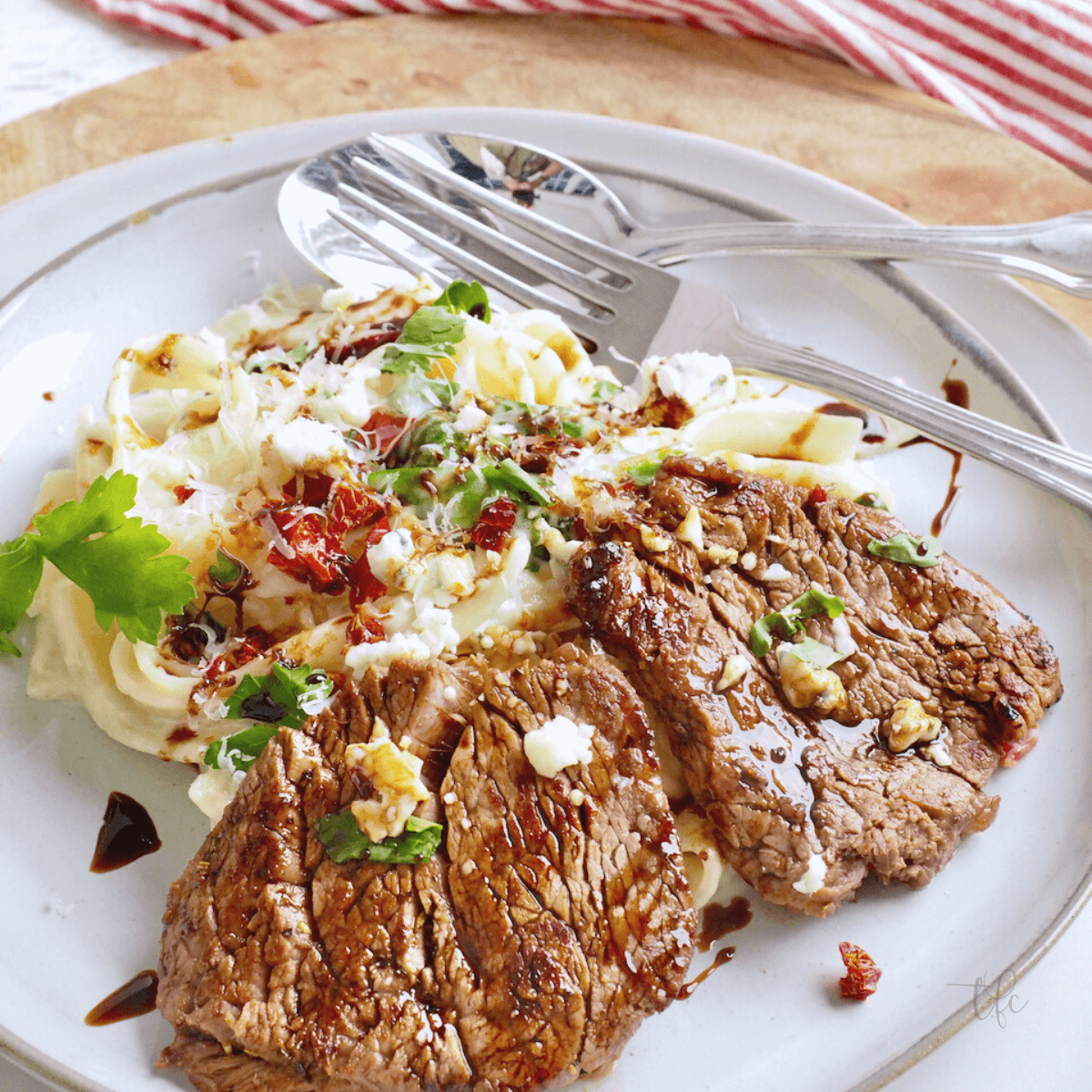 If you know me (and this blog!) you know how much I love putting my own spin on favorite dishes so that I can whip them up in my own kitchen. That's how I came up with this recipe — I tried it at Olive Garden and was completely sold!
I love pasta, I love steak, so this Olive Garden Steak Gorgonzola Alfredo is just what the doctor ordered, but sadly Olive Garden has now discontinued this flavorful dish.
Okay – I'll admit that my doctor probably wouldn't be too happy if I ate this daily, but every once in a while is just fine! It's all about moderation, am I right? My version of this dish is on the healthier side, as it is homemade and I use all fresh and organic ingredients.
This Olive Garden Steak Alfredo recipe involves quite a few of ingredients but once you've gathered everything you need it's very easy to create. You'll be able to enjoy this dish in under one hour. Let's get started!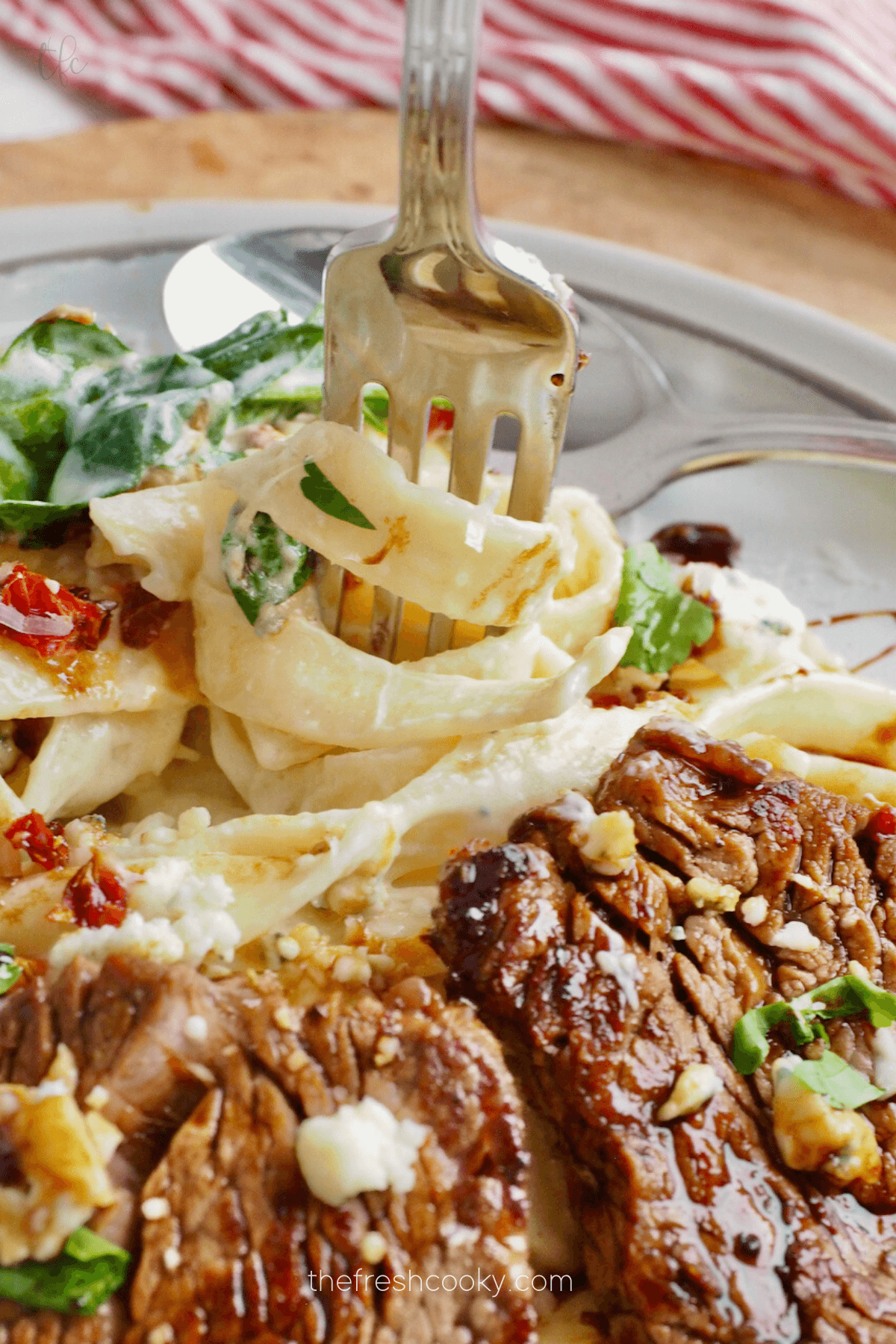 Top Tips for the Best Copycat Steak Gorgonzola Alfredo
Prep all of your ingredients ahead of time, once you start on the sauce, it comes together quickly and this will make short work of it.
Place an oven safe dish into a warm oven (150 degree) while cooking the steaks, this will help them stay warm.
If your creamy gorgonzola sauce thickens too much, add some pasta water, it will not only thin the sauce, but using pasta water will also help the sauce adhere to the pasta mixture.
Serve family style or plate individually, twirling some fettuccine alfredo onto the plate, laying one or two medallions on top sprinkling with additional gorgonzola, sun-dried tomatoes and a drizzle of balsamic glaze.
Simple Olive Garden Steak Marinade Ingredients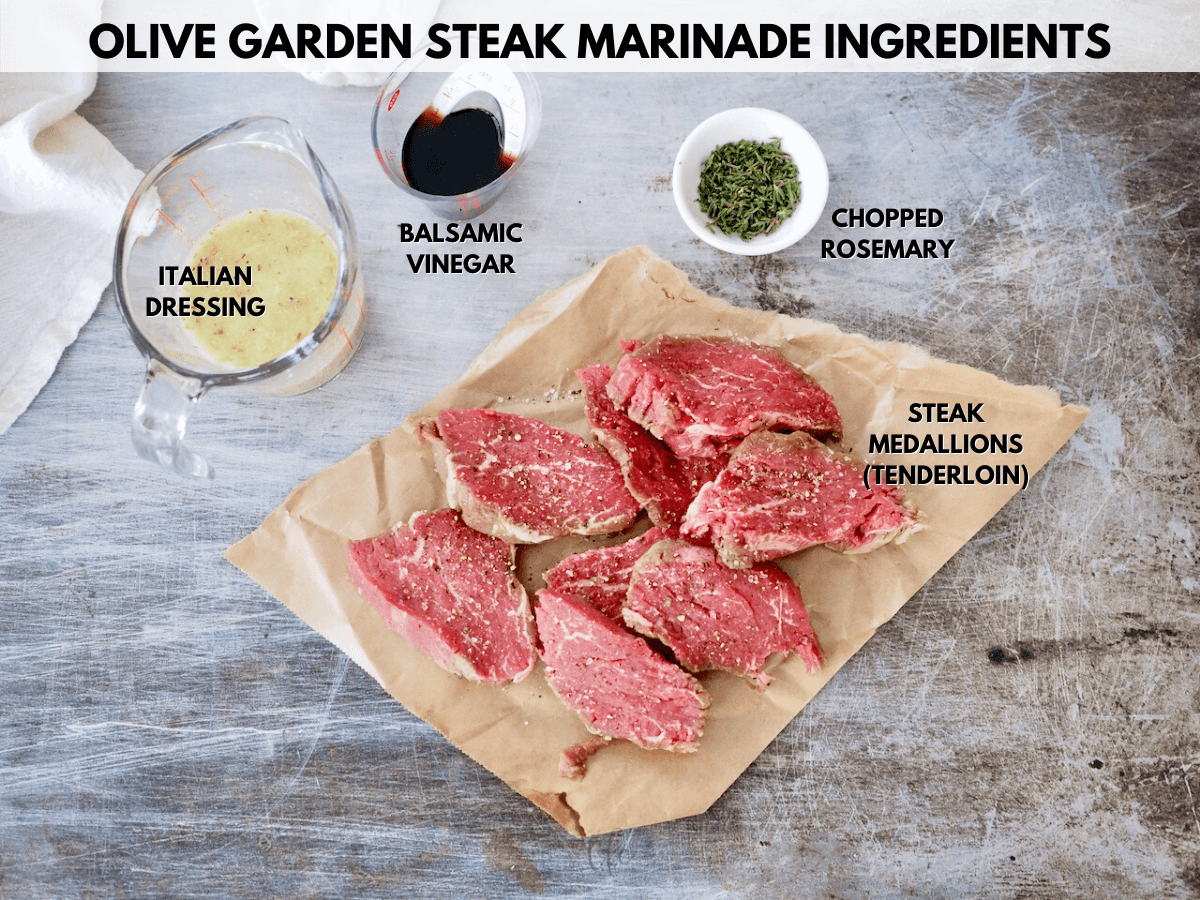 Steak | I have tried out this recipe with all sorts of cuts of beef: rib eye, sirloin, eye of round, and steak medallions. My preference; tenderloin beef medallions, everyone commented how tender they are and cut like butter!
Balsamic | Balsamic vinegar appears twice in this Olive Garden Steak Gorgonzola recipe: for the meat, as well as a glaze over the finished dish. You may also choose to make your own balsamic reduction. See below for instructions.
Italian Dressing & Herbs | This recipe calls for fresh rosemary and your favorite Italian dressing.
Ingredients
Full ingredients and instructions in the recipe card at the end of the post.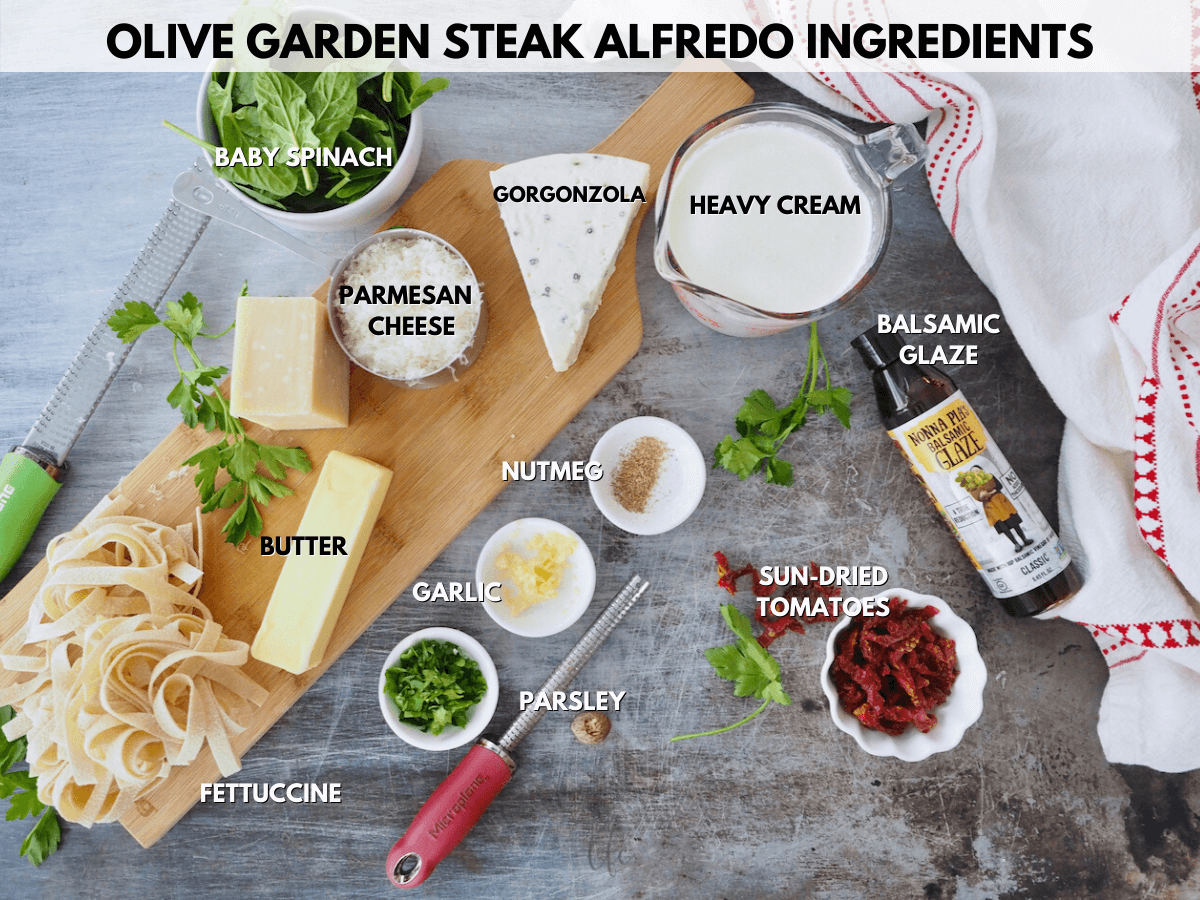 Marinated Steaks | I have tried out this recipe with all sorts of cuts of beef: rib eye, sirloin, eye of round, and steak medallions. My preference; tenderloin beef medallions.
Gorgonzola | The star of this Olive Garden Steak Gorgonzola dish! It is one of the milder types of blue cheese, meaning a slightly tangy and creamy flavor.
Parmesan | Opt for freshly grated parmesan if you can – it really does make a difference.
Heavy Whipping Cream | I use organic heavy cream.
Butter | Use regular or unsalted butter when you cook your meat (it's a game changer!) and in your gorgonzola alfredo. Remember if it's soft coming out of the fridge it's not real butter.
Sun-Dried Tomatoes | For a bit of sweetness. You can use sundried tomatoes in oil, or you can opt for a no-oil version.
Spinach | Use fresh baby spinach, it's tender, and full of flavor.
Spices and Seasonings | This recipe calls for fresh rosemary, salt, pepper, garlic, nutmeg, and parsley, as well as your favorite Italian dressing to marinate the meat in.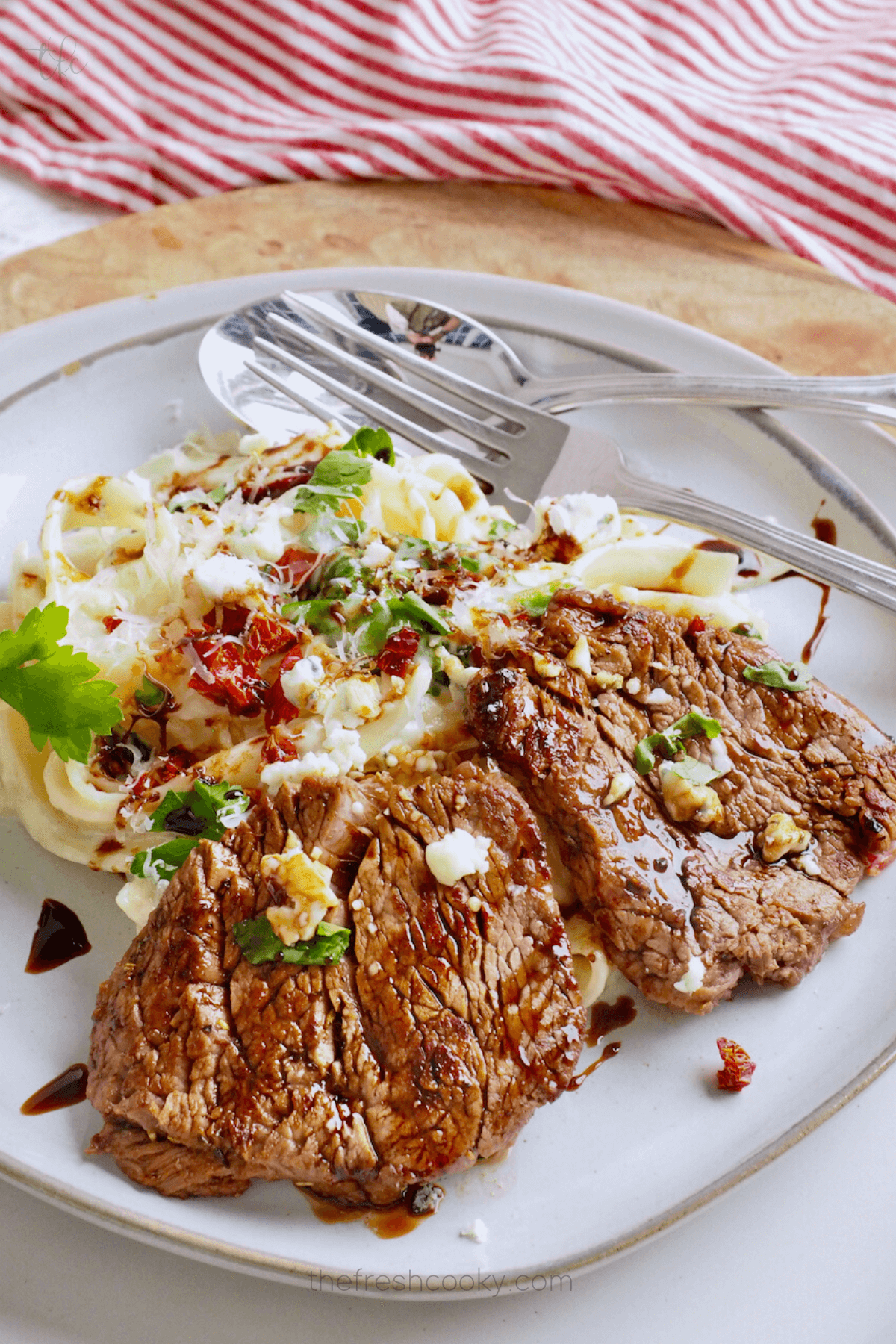 Make your own Balsamic Reduction – it's easy!
Also called balsamic glaze, this lightly sweet and tangy sauce adds amazing flavor to so many dishes! You might try it on my Caprese BLT's or drizzled over these brussels sprouts.
In a small saucepan, add 1 cup balsamic vinegar and if desired, optional ¼ cup brown sugar.
Bring to a low simmer, stirring occasionally until reduced by half, if you add sugar it will take about 8 minutes or so, if you just use balsamic vinegar it will take twice as long. It should coat the back of a spoon. Cool and serve drizzled over this delicious recipe. Store any leftovers in a jar.
Recommended Equipment
Instructions
Step 1 Marinate the Steaks
Mix together the Italian dressing, balsamic vinegar, and rosemary.
Pat the meat dry and season steak with a little salt and pepper to taste. Marinate the steaks for 30 minutes at room temperature, or for up to 4 hours in the fridge. Place in a shallow dish, or for easier clean up in a baggie.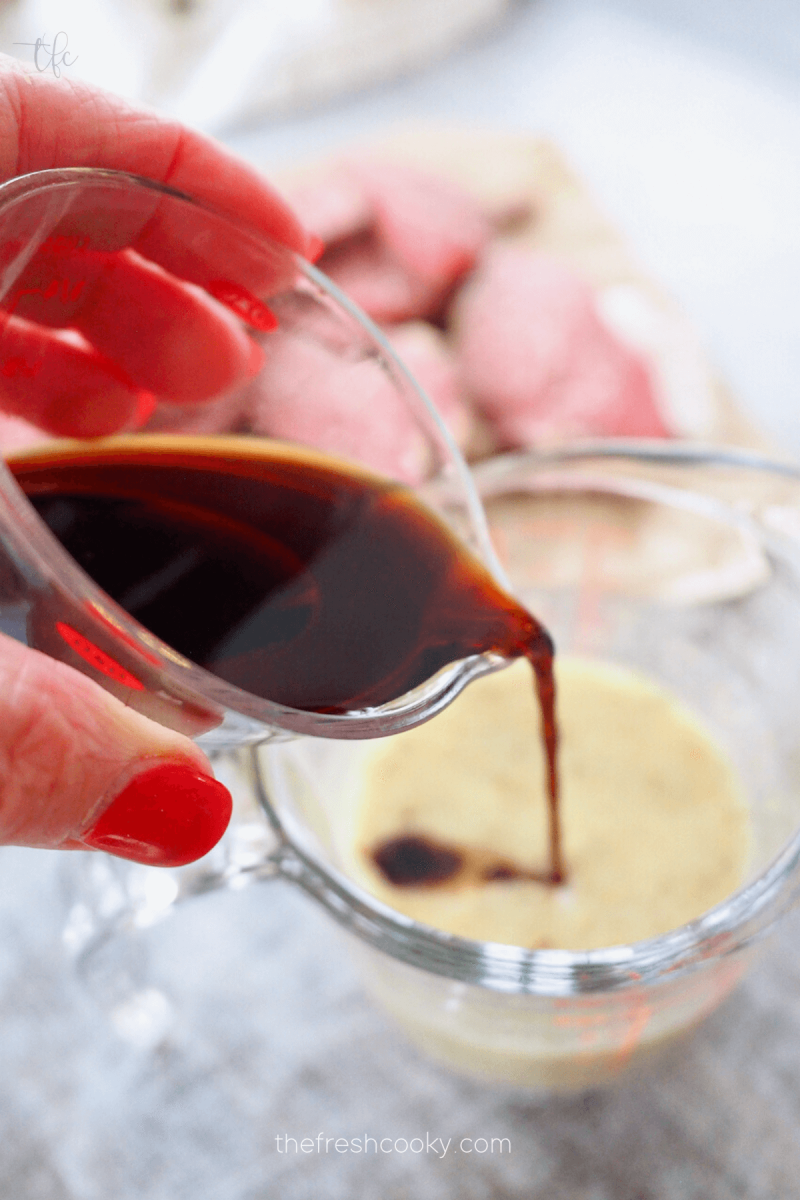 TFC PRO TIP: I used tenderloin steaks that were about 1 inch thick, and sliced them in half horizontally, so they were thinner, thereby cooking quicker. Do this before adding to the marinade.
Step 2 | Boil Pasta
Boil a large pot of water, cook the fettuccine pasta to al dente according to package directions. Make sure you add salt to the water, but no oil*! Drain and set aside, making sure to reserve some pasta water to add to the sauce.
Why you should never, ever add oil to your pasta water
It's a common misconception that adding oil to your pasta water will decrease your chances of your pasta sticking. However; in reality it causes more harm than good. Adding oil to your pasta water actually creates a barrier on the pasta and makes it more difficult for sauce to adhere to the pasta, so don't add oil to your pasta water!
To avoid clumpy pasta, instead, make sure to boil pasta in plenty of water (the package should tell you how much) and stir just after adding pasta to boiling water, returning to boil as quickly as possible, then stir occasionally while cooking.
If you need to unstick clumpy pasta, dip it briefly in just boiled water and drain immediately, or you can try microwaving it for a few seconds at a time, the steam created from microwaving should release the starches clumping it together.
Step 3 | Make the Gorgonzola Alfredo Sauce
While the pasta is cooking, start on the sauce. In a large saute pan or pot, high sided is best, melt butter adding the garlic to saute for the last minute, then stir in the heavy cream.
Reduce the heat to low and add the nutmeg and parsley. Stir in the Parmesan and gorgonzola cheeses until melted and combined. Bring to a low simmer, then remove from heat.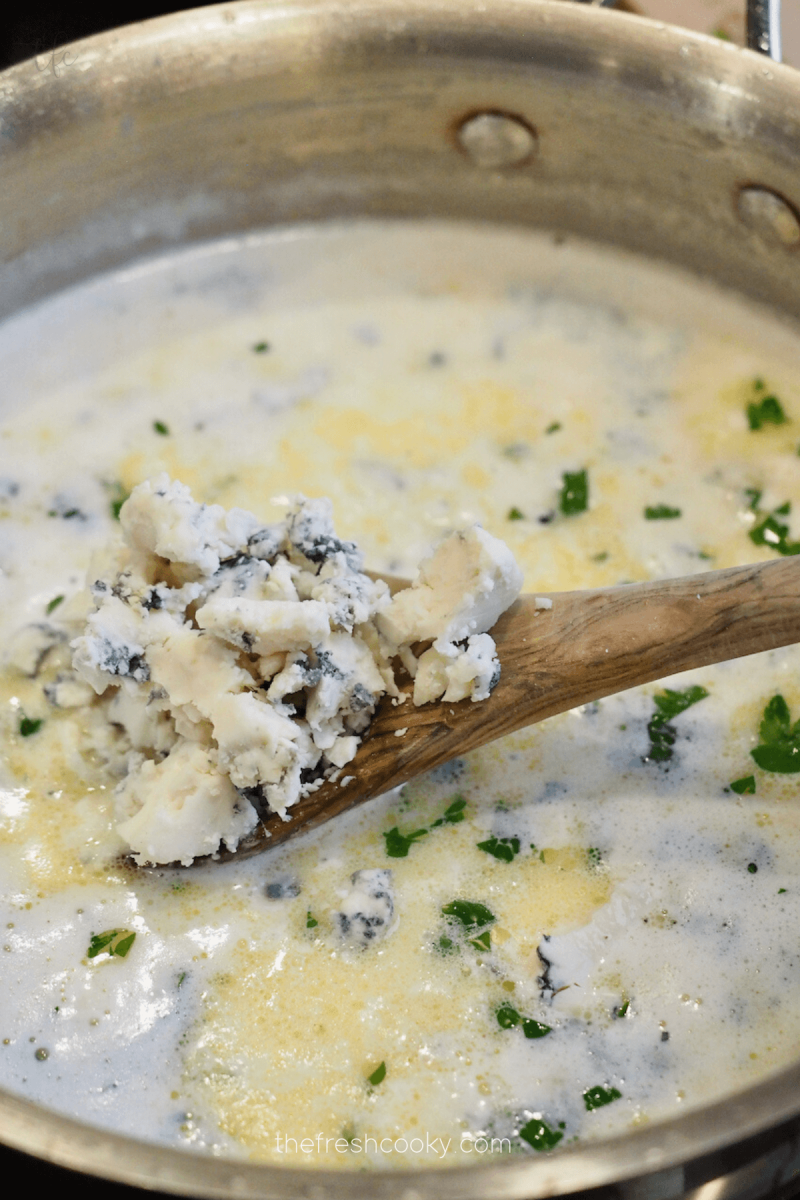 Step 4 | Cook the Steaks
Heat butter and olive oil in a large skillet (I love my Staub All-Day Pan!) over medium-high heat. Remove the steak medallions from the marinade, allowing excess marinade to drip off.
Add the steaks to the hot skillet and cook 2-4 minutes per side, depending on preferred doneness.
Remove steaks to a warmed plate and cover with foil, allowing them to rest for 5 minutes. Don't skip this step!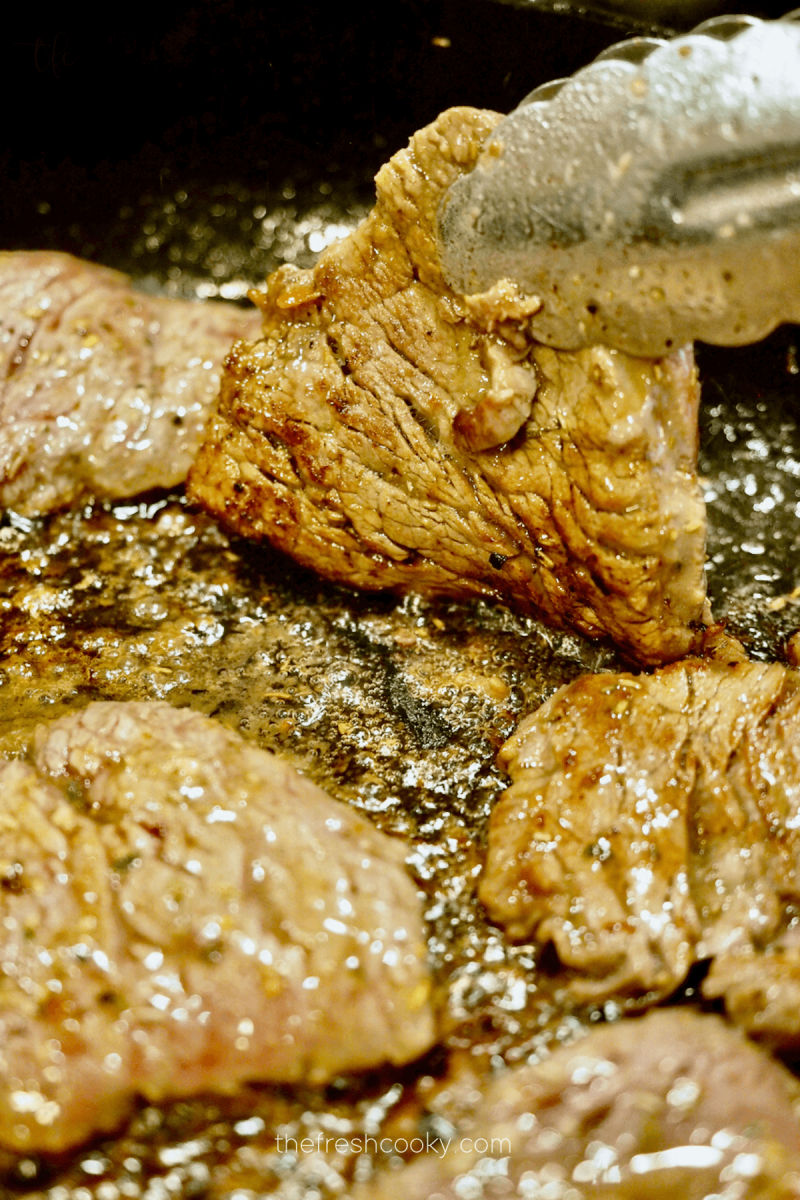 Toss the cooked pasta, sun-dried tomatoes, and spinach in the Alfredo sauce. Turn until the pasta is coated, the spinach has wilted, and the sun-dried tomatoes are bright red.
Step 5 | Plating Steak Alfredo
Swirl a generous amount of the gorgonzola fettuccine and alfredo sauce onto a serving plate, then place portions of steak on top. Sprinkle with gorgonzola cheese, chopped sun-dried tomatoes, and a little fresh chopped parsley and don't forget to add the balsamic drizzle. Enjoy!
Variations
If you can't find gorgonzola cheese, any type of blue cheese will work, but gorgonzola is a milder blue cheese.
To make your Olive Garden Steak Alfredo a bit healthier, use low sodium Italian dressing. You can also use whole milk instead of heavy cream.
Substitute Parmesan cheese for Romano or Asiago.
Instead of fettuccine, you can use linguine or spaghetti. I actually used tagliatelle, because I couldn't find fettuccine anywhere!
Lite Olive Garden Steak Alfredo | Instead of using pasta, replace with spaghetti squash or zucchini zoodles. Then this becomes a keto or low-carb steak alfredo!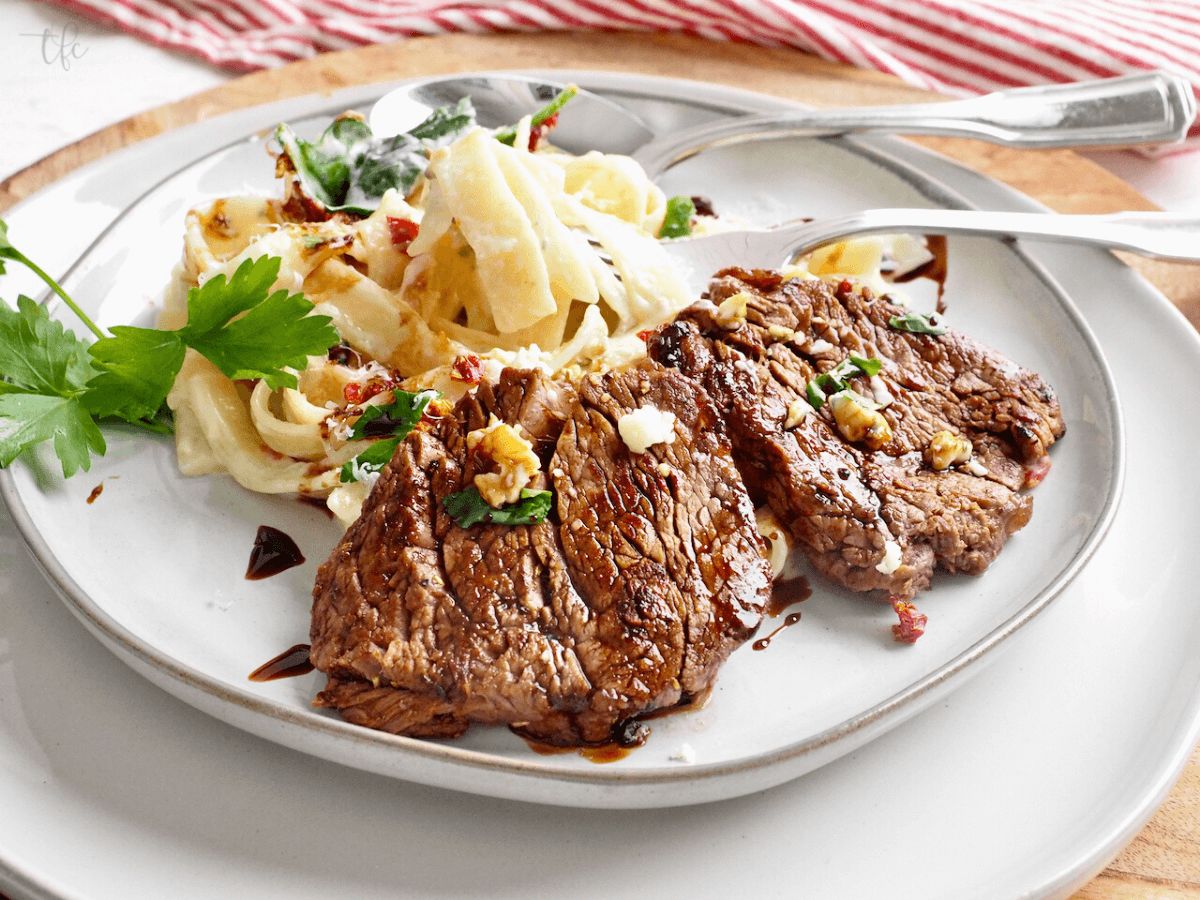 Top Tips from TFC
Make sure that the steak is at room temperature before you cook it!
Don't skip the nutmeg — it compliments the cheese sauce beautifully!
If your sauce is too thick, add a few tablespoons of pasta water at a time to thin it out. Be sure to reserve at least a cup of pasta water. Pasta water will allow your sauce to stick to the pasta better.
Frequently Asked Questions
What is Olive Garden Alfredo Sauce made of?
Olive Garden Alfredo sauce is made primarily with cream, Parmesan and Romano cheeses, and seasonings. You can stick with the basics, or you can add gorgonzola, mozzarella, or asiago. If you're after a healthier version, use half-and-half instead of heavy cream.
How do you thicken alfredo sauce?
To make your alfredo sauce thicker, you can add one of the following ingredients: cream cheese, Parmesan, shredded cheese, heavy cream, but as you add the pasta and other ingredients it will thicken more than you realize, so don't do anything until you have tossed everything together.
Can you substitute milk for heavy cream in alfredo sauce?
Yes, you can substitute milk for heavy cream in Olive Garden Steak Gorgonzola Alfredo sauce if you want to save on calories, or if you simply want a lighter sauce. You could also use a combination of low-fat milk and neufchâtel cheese instead of cream.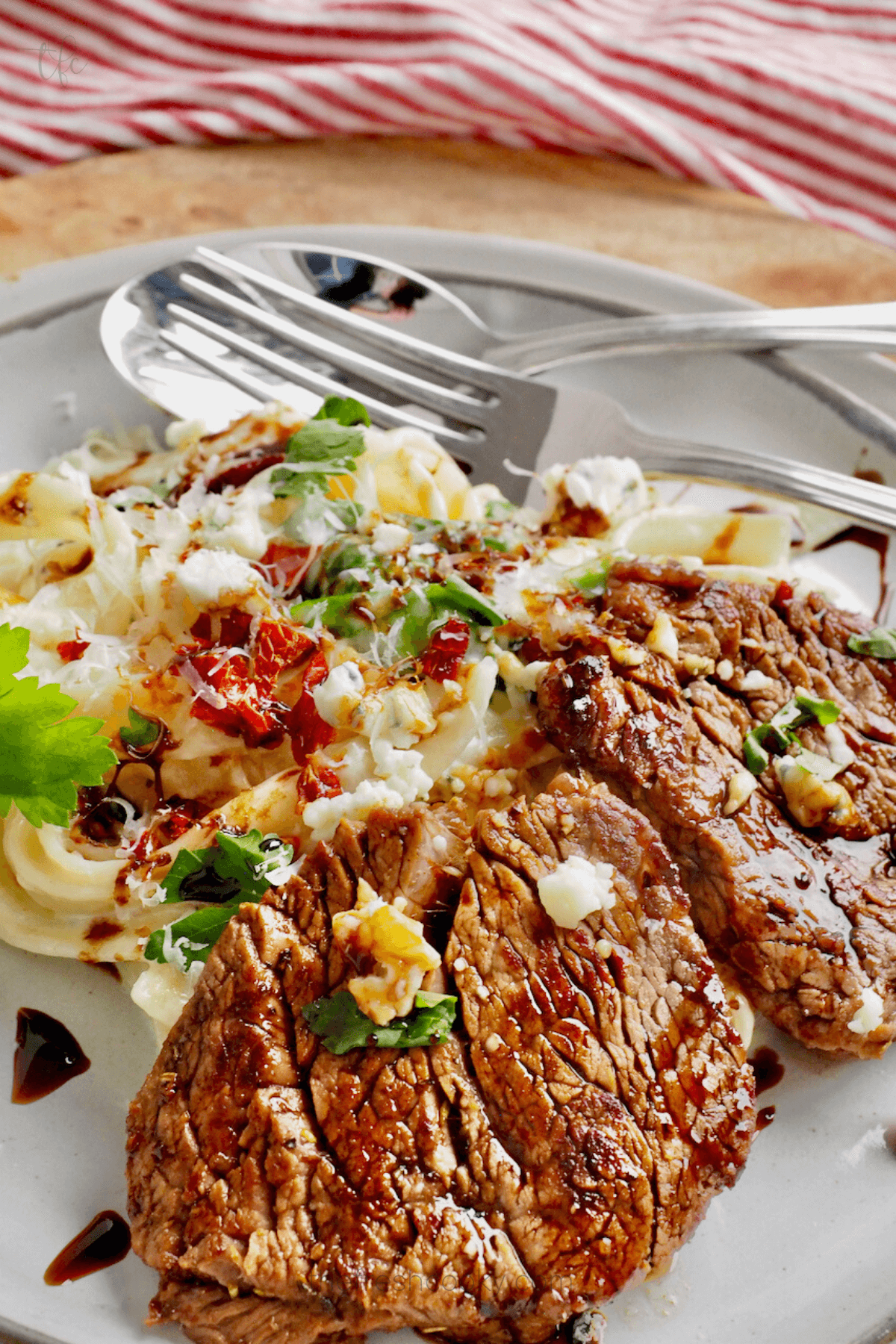 What to serve with Olive Garden Steak Alfredo
I hope you love this top secret recipe with the famous Olive Garden Alfredo sauce. You just cannot go wrong for a special occasion, like Valentine's day or a romantic dinner; make this Steak Alfredo Olive Garden style.
You might enjoy these other copycat recipes:
LOVE IT? PIN IT!
Like this recipe?
Don't forget to give it a ⭐️⭐️⭐️⭐️⭐️ star rating and comment below the recipe!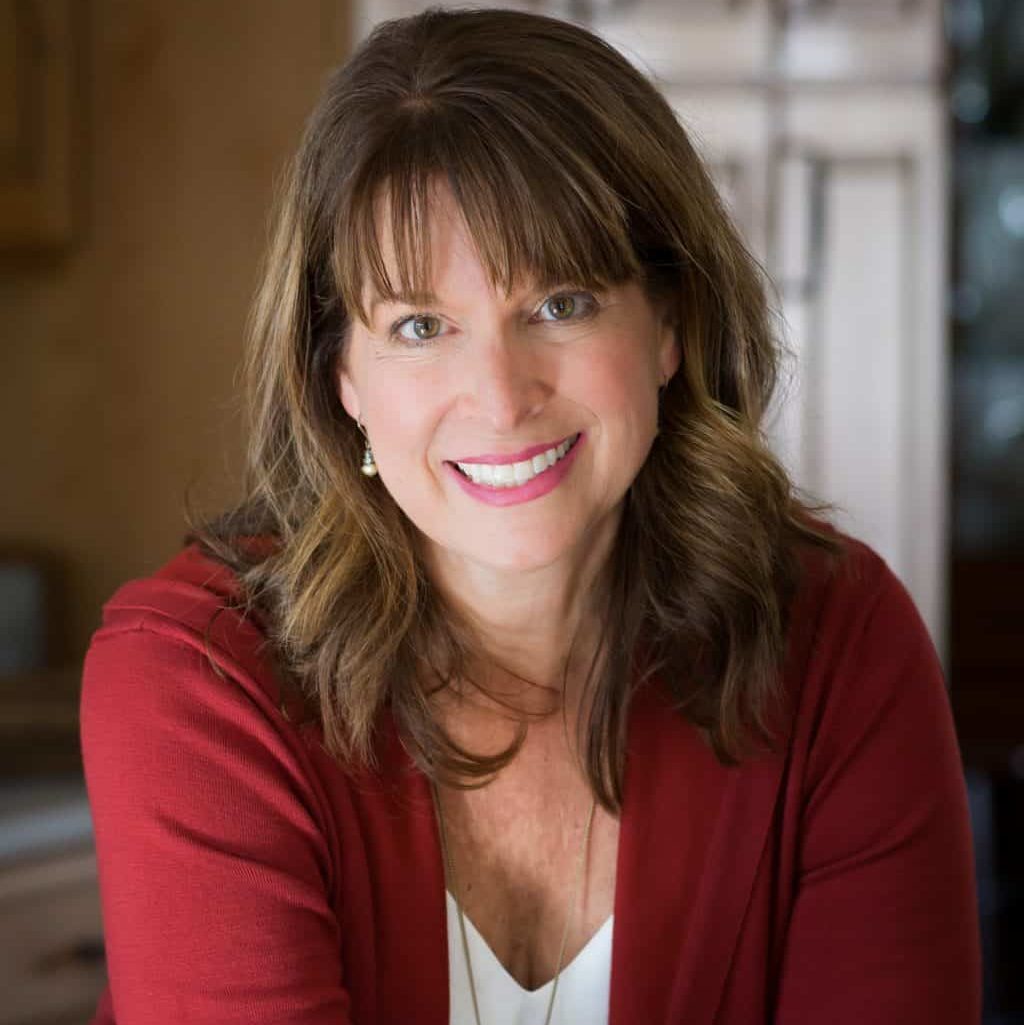 About Kathleen Pope
Recipe Innovator | Food Photographer | Food Writer
Hi, I'm Kathleen Pope. Here at The Fresh Cooky you will find easy, mostly from-scratch, trusted recipes for all occasions. From speedy dinners to tasty desserts, with easy step-by-step instructions. I am here to help teach you how to make mouthwatering recipes without spending hours in the kitchen. Read more about Kathleen here.