Copycat Cracker Barrel Chicken and Rice Recipe
As an Amazon Associate, I earn from qualifying purchases. Please read my disclosure policy.
Just as creamy and delicious as the original, this Copycat Cracker Barrel Chicken and Rice will make you feel like you're sitting in a rocking chair on the front porch with a smile on your face. My Chicken and Rice Casserole easy recipe is made healthy too and feeds 2-3 or double for a family.
Who doesn't love Cracker Barrel with all of their perfect southern comfort food, right? The biscuits and gravy, cornbread, or chicken and dumplings. And the copycat recipes are divine as well.
If that's you, then you will 100% LOVE my Biscuits and Gravy Casserole and Best Sweet Cornbread Recipe (Buttermilk Cornbread. or this delicious Kentucky Butter Cake.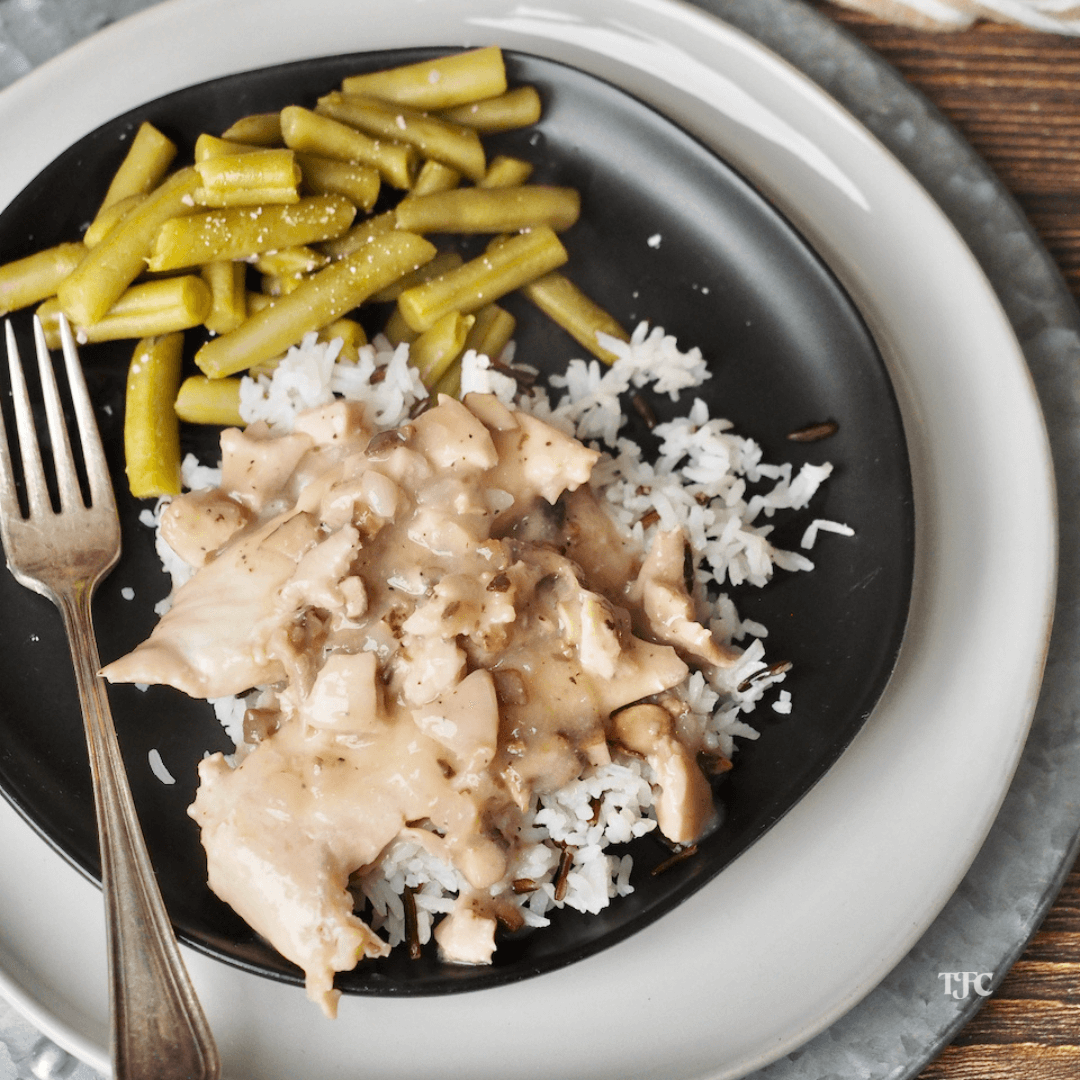 I found an old copy of the original Cracker Barrel recipe in my recipe box, I used to make it all the time — so this is as real of a Copycat recipe as it get's — I just made it a bit healthier using organic canned soup.
Why You Will Love this Recipe
A Family Favorite | Casserole dishes are America's family favorite dish because they're quick and easy recipes that will help stretch your budget any night of the week.
Leftovers | The creamy chicken is so yummy whether served straight from the oven or warmed up as leftovers. That full flavor is still there!
Simply Good | If you're like me, you love simple recipes…something that you can whip up during the week without a lot of fuss and that the whole family will love too.
Simple Ingredients for Cracker Barrel Chicken and Rice Recipe
For the full recipe and instructions, see the printable recipe card at the bottom of this post.
Healthy Twist
Substitute the rice with riced cauliflower for lower carbs, try it with quinoa or farro too!
To get added veggies in your family, next time, add fresh broccoli and stir in the chicken mixture before baking.
Organic cream of mushroom or chicken soup is definitely the way to go! No nasty ingredients here, but still easy.
How to Make Cracker Barrel Chicken and Rice Recipe
Begin making your casserole by preheating the oven to 350 degrees F.
Fresh Tip If Using A Countertop Oven
If you have a Breville SmartOven or similar use it. It worked great and didn't heat up the house! Set rack to second lowest level; set on Bake > Convection > 325 degrees. Reduce time by 5-7 minutes or so until golden and bubbly and chicken reaches 165 degrees F.
First, cook your rice and chop and dice the chicken, onion, and mushrooms to make it easy to assemble. This is a great way to use leftover rice, if using leftover rice, reheat before serving.
Using a small baking dish (about 2 quarts or so), spray the entire thing with cooking oil or non-stick spray. Then lay the tenderloins along the bottom. It's okay to overlap it if you need to.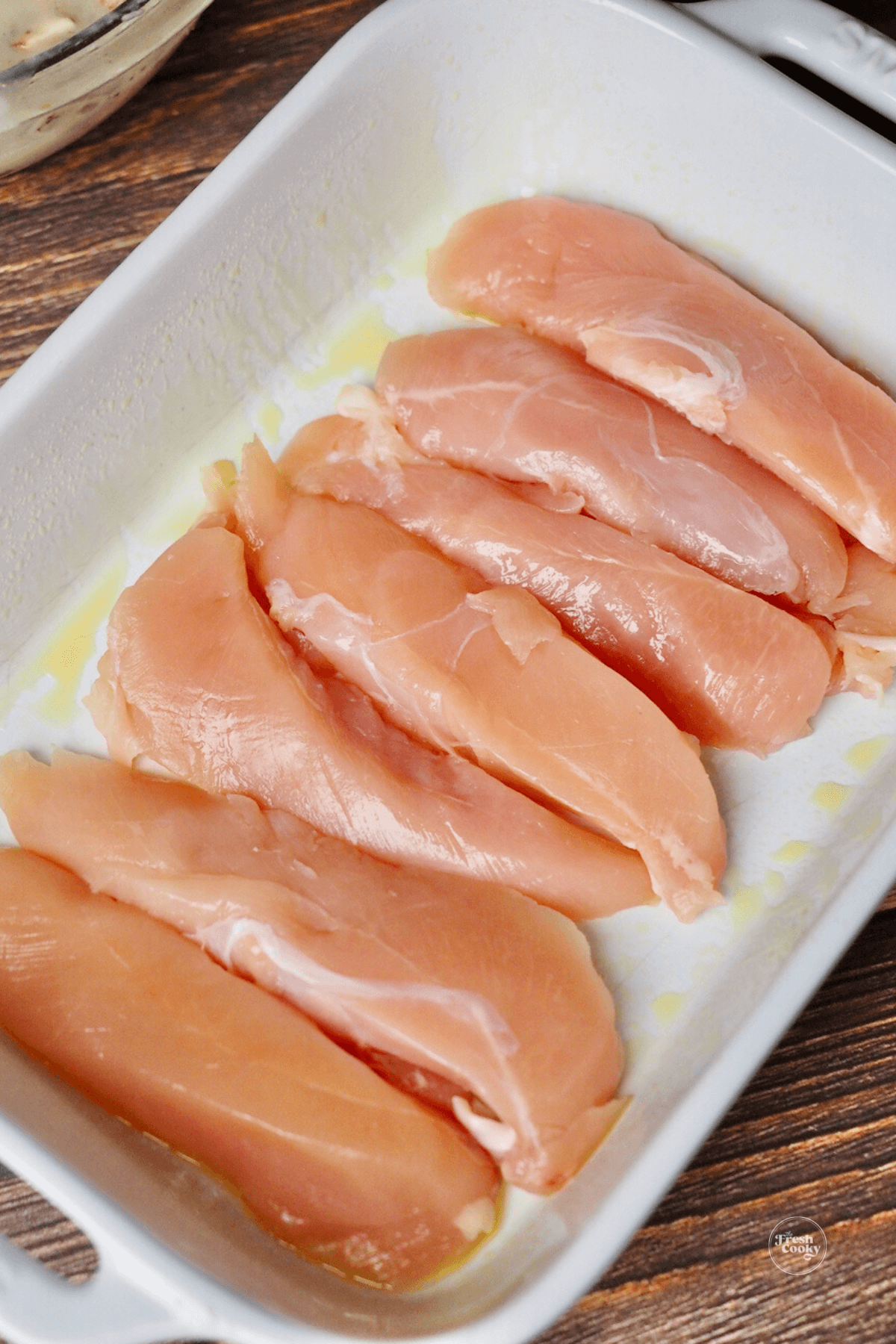 Take a medium bowl and pour in the cream of mushroom soup with the chicken thigh meat. Then whisk in the sliced (diced) mushrooms, chopped onion, garlic, salt, pepper, and bouillon. Stir it constantly until it's all mixed together well; you certainly don't want any lumps or clumps here.
Now stir in the water to thin out the gravy a bit. You want it creamy and pourable but not super thin and runny. The gravy will naturally thin out as it cooks.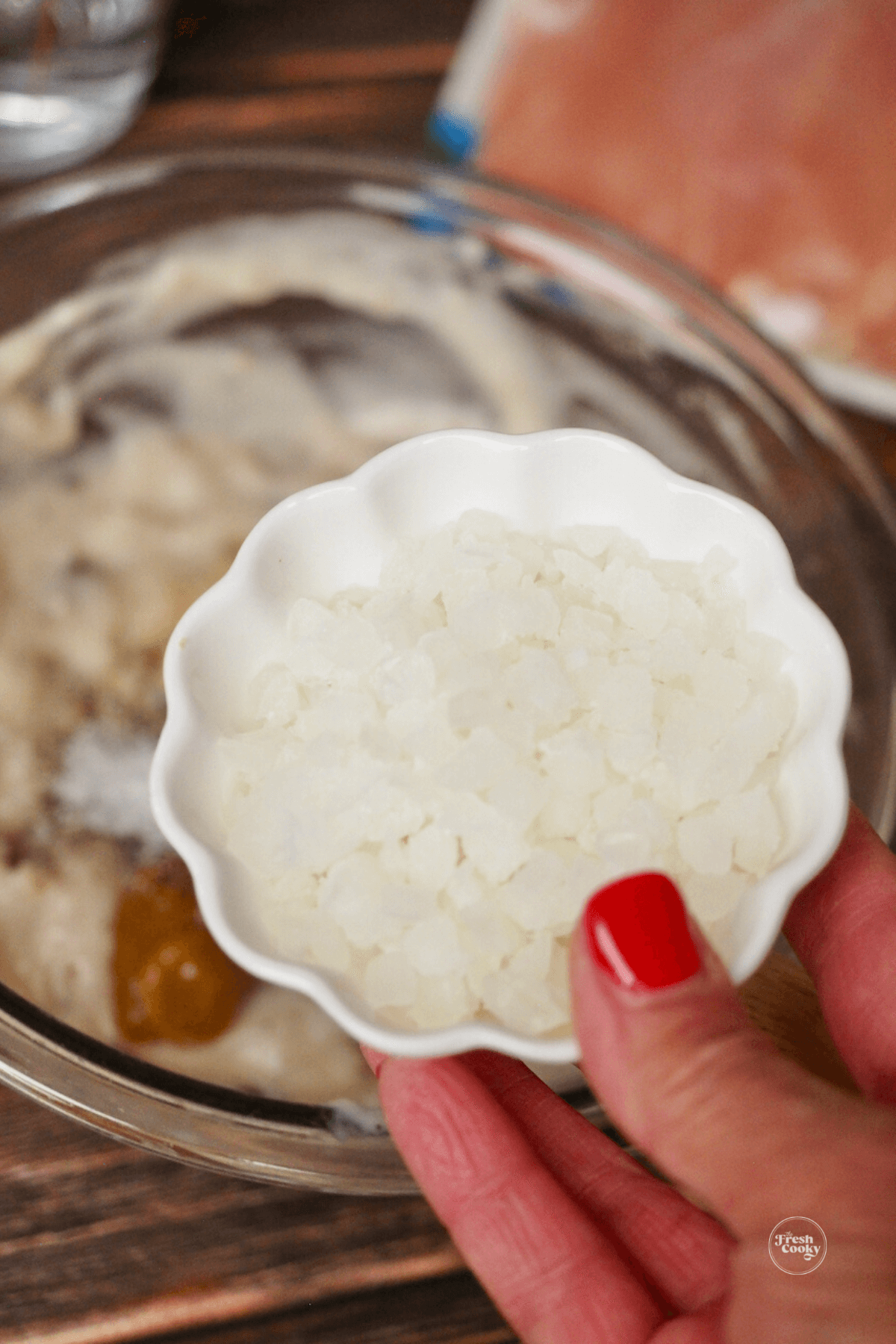 Pour the gravy mixture over the chicken tenderloins and bake it uncovered until it's golden and bubbly. Depending on your oven, it should be 40-50 minutes. If you have a meat thermometer, the internal temperature should be 165F. Convection will be ready in about 35-40 minutes.
Place 2-3 tenderloins over about a ½ – 3/4 cup of hot rice and pour gravy on top of the chicken. It makes about two – four servings.
Fresh Tips for Cracker Barrel Chicken and Rice Recipe
If you're using frozen chicken, reduce the water by 2 tablespoons (use 3-4) as the chicken thaws it will release water and you don't want your chicken gravy too thin.
This broccoli casserole dish is ideal for combining the ingredients and baking at a later time. Don't add the chicken until you're ready to cook, though.
Vegetables are an added bonus, but you don't want them to be mushy. Don't overcook them. If they're soft veggies, add about halfway through the baking process.
If you want to make this recipe in the slow cooker, you can place it all in the slow cooker, cooking on LOW 4 hours. If a golden topping is desired, transfer to a casserole dish and bake at 400 degrees for 10-15 minutes until golden and bubbly.
Variations & Substitutions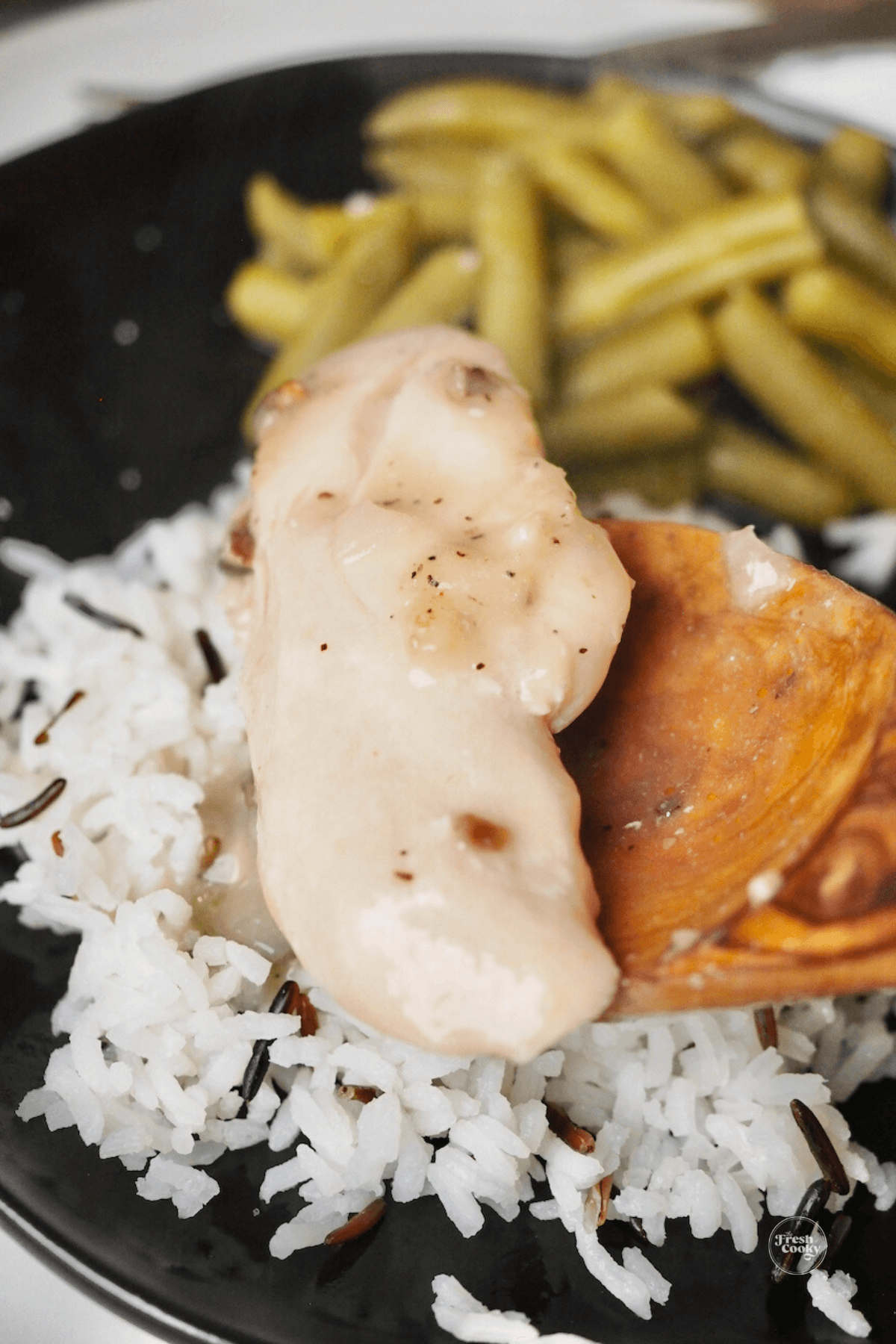 What to Serve with Southern Chicken and Rice Recipe
Nothing fancy needed for this easy Cracker Barrel chicken and rice recipe, however; here are a few of my favorite tools.
My favorite casserole bakers are these Staub dishes, they are beautiful, clean up beautiful (and easy) and are dishwasher and oven safe. They come in rectangle and oval.
Olive Wooden Spoon and my favorite knife that won't break the bank!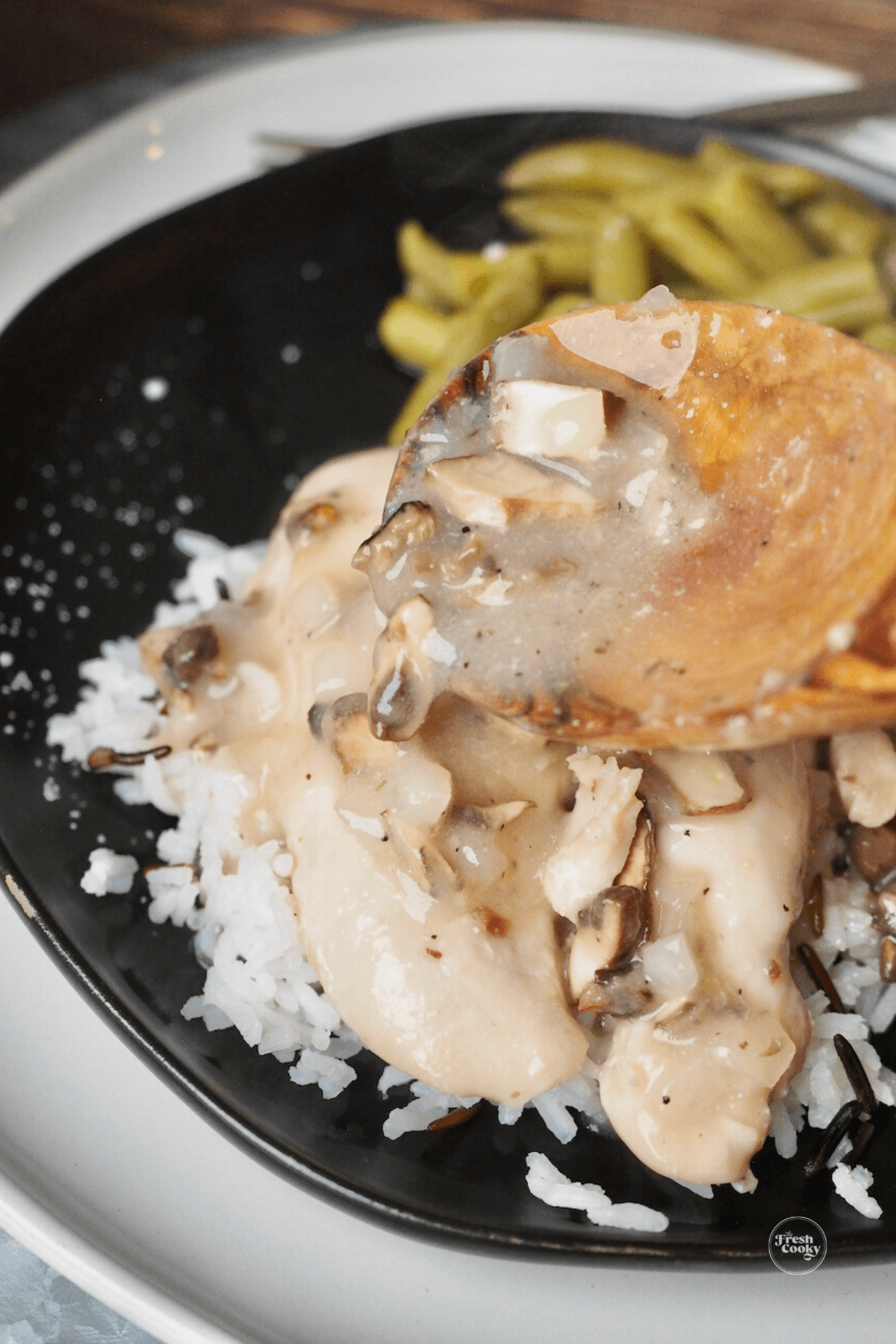 Storage Tips
As stated earlier, this recipe makes for great leftovers! Cover with aluminum foil or place in an airtight container and refrigerate for up to 3 days.
If you want to freeze your leftovers of southern chicken and rice recipe, make sure to read the FAQs below for key tips.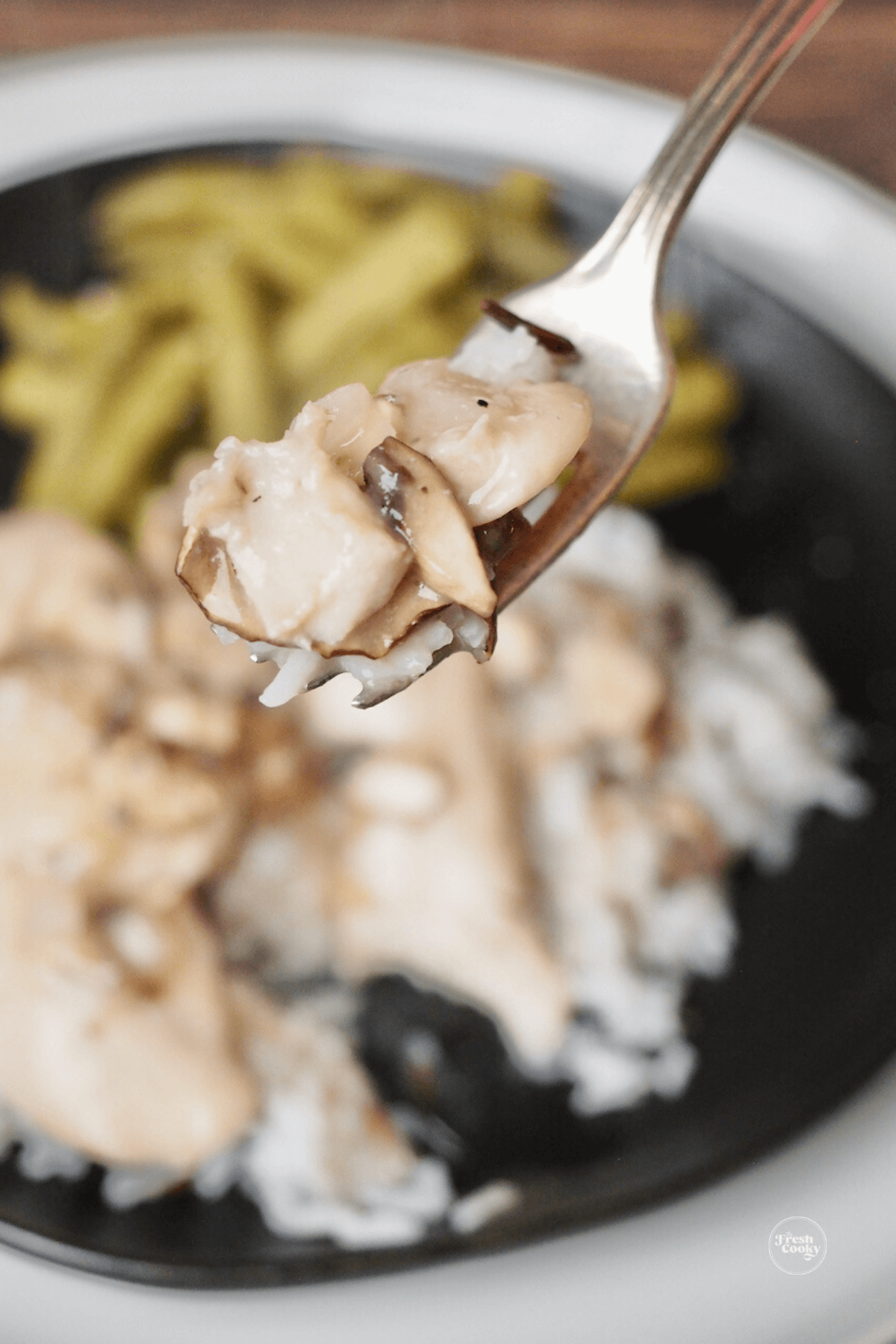 Frequently Asked Questions
Can I freeze my casserole?
If the chicken has been thoroughly cooked, you can freeze your cooled casserole in a freezer-proof container. It's best to thaw it overnight in the refrigerator.
Line with parchment paper or foil to quickly transfer it from your baking dish to a freezer container. Freeze and then transfer.
Does it matter what kind of dish I use to bake the casserole?
If you like crispier casseroles, use a thinner aluminum pan. For creamier ones, glass or ceramic baking dishes work well.
Can I use other proteins instead of chicken?
Great idea- sausage with a Cajun seasoning would spice it up and give you sort of a jambalaya flavor.
Try using sautéd ground chicken or turkey, if you are sautéing be sure to add the onions and mushrooms to the mixture as well, you will only need to heat about 20-30 minutes in the oven.
Shrimp is another tasty option. Shrimp cooks quicker than chicken, of course, so you need to adjust your time or add the shrimp part through the cooking process.
What if I cannot find chicken tenderloins?
You may substitute boneless, skinless chicken breasts for the tenderloins, slice into 1 inch slices and layer on bottom of dish, cooking as planned. 1 large chicken breast or 2 smaller breasts may be used.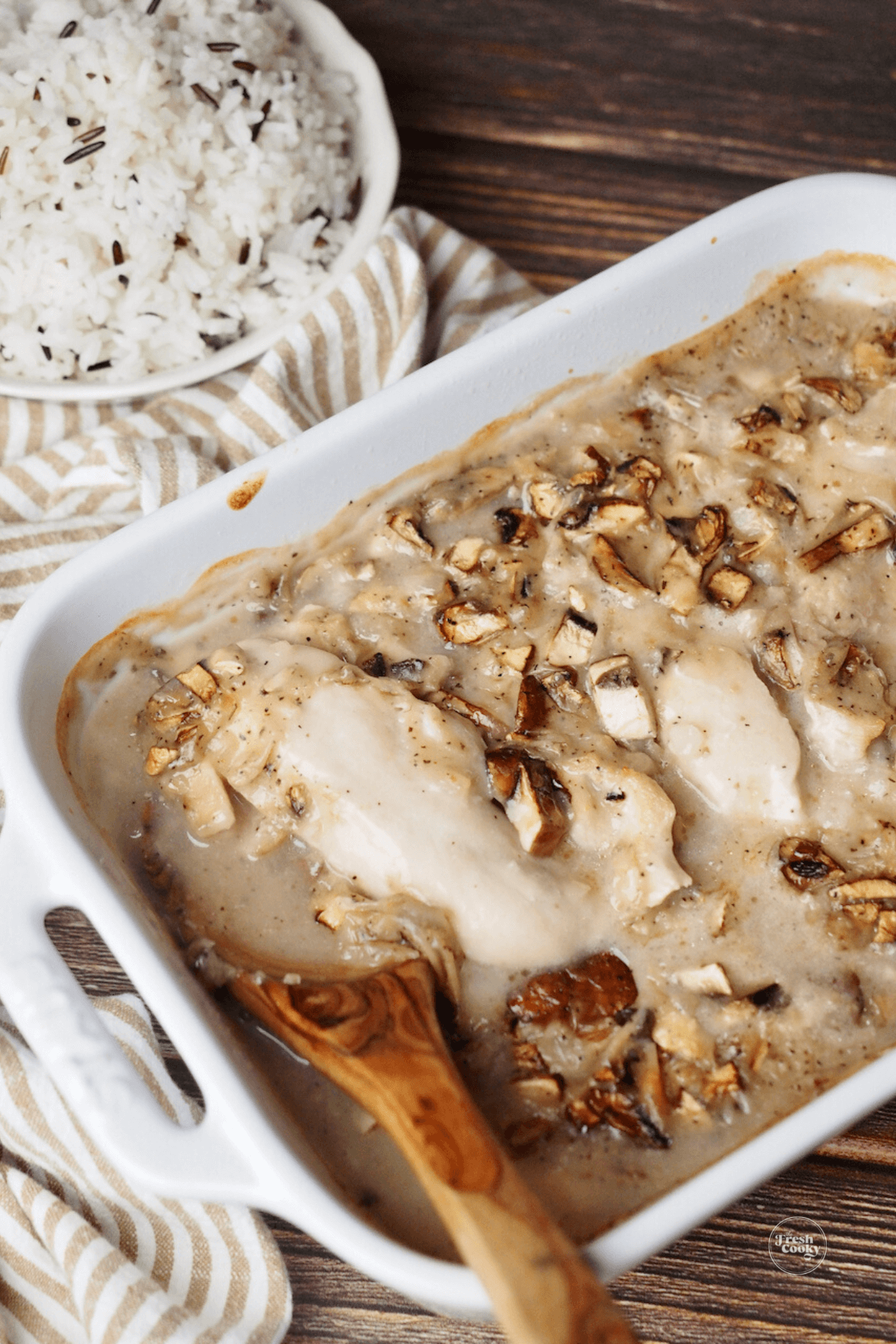 Like This Easy Recipe? Try These, too.
If you are a casserole or one-dish meal lover, check out these: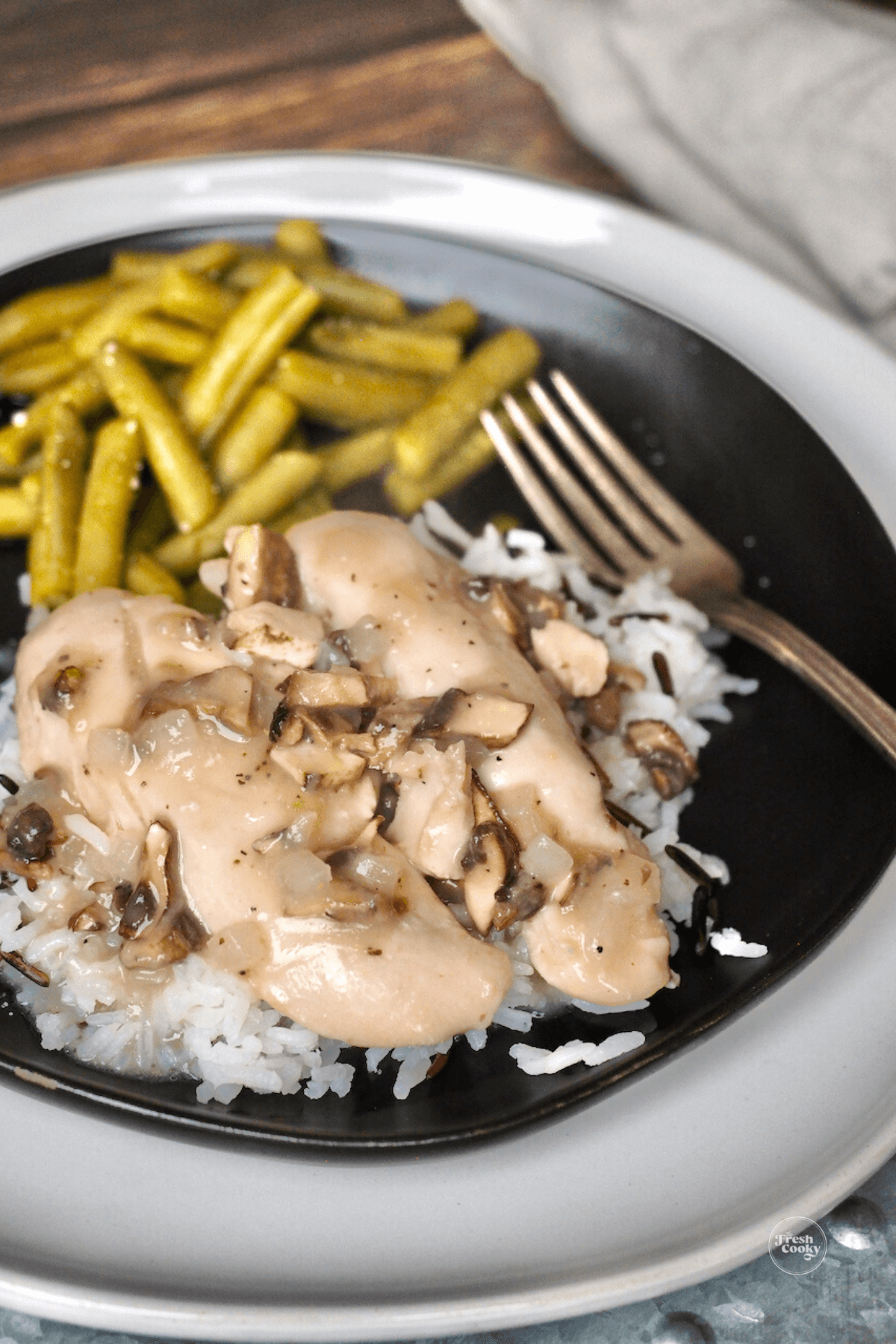 This recipe is perfect for two, you may have one extra serving, but otherwise it's perfect for two! If desired, this recipe freezes well. Be sure to check out my post on to to freeze anything with cream soup in it and reheating tips.
Casserole dishes are one of the easiest meals to make. You can add a variety of flavors and textures. Just be careful to adjust cooking times if needed or add veggies later in the process, so they don't become mushy.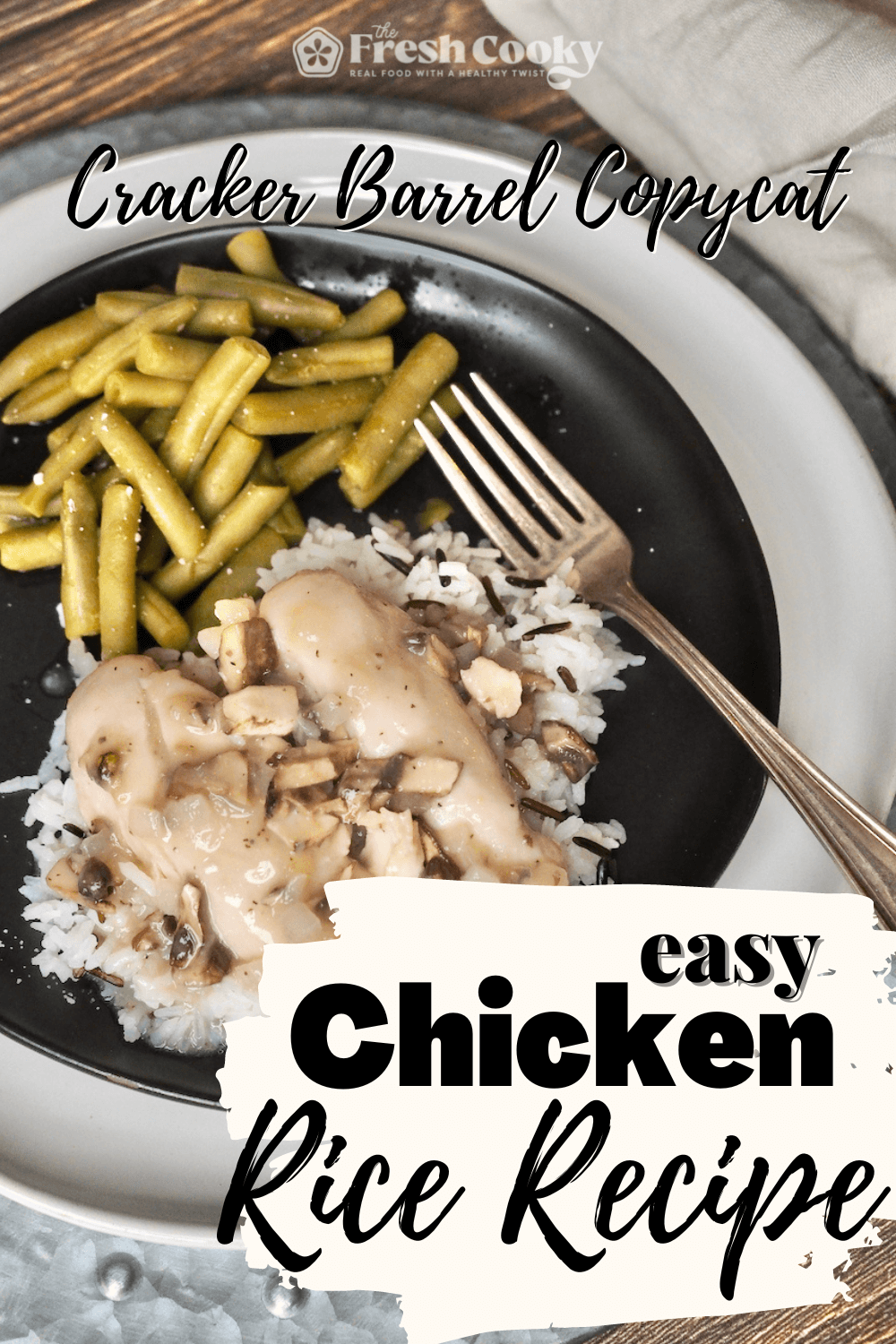 I hope you loved this Copycat Cracker Barrel Chicken and Rice recipe! If so, be sure to comment and rate it below!
Like this recipe?
Don't forget to give it a ⭐️⭐️⭐️⭐️⭐️ star rating and comment below the recipe!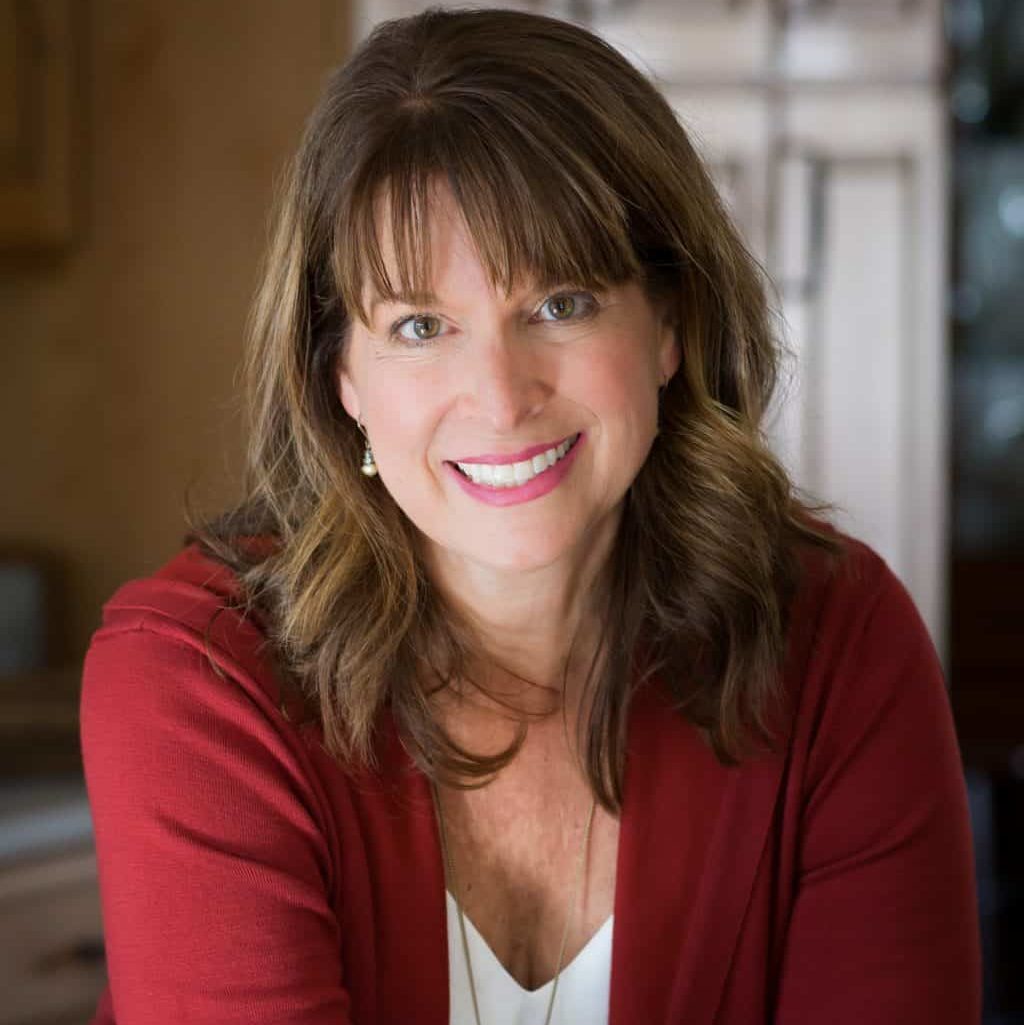 About Kathleen Pope
Recipe Innovator | Food Photographer | Food Writer
Hi, I'm Kathleen Pope. Here at The Fresh Cooky you will find easy, mostly from-scratch, trusted recipes for all occasions. From speedy dinners to tasty desserts, with easy step-by-step instructions. I am here to help teach you how to make mouthwatering recipes without spending hours in the kitchen. Read more about Kathleen here.