Juicy, tender and easy Barbacoa Street Tacos are made using a humble hunk of chuck roast, slow cooked with Mexican herbs and spices, lime juice and onion; resulting in a tangy, tender, loaded-with-flavor beef, the perfect complement for these healthy, delicious Barbacoa Street Tacos. An easy weeknight meal.
EASY BARBACOA BEEF STREET TACOS
The Benefits of a Slow-Cooker / Crockpot
It's been a jam-packed, wonderful-good week! Starting off with my birthday (yay!), two separate dinners with wonderful friends, kids tennis matches, swim team prelims for my boys, scrapbooking, time with a friend with Alzheimer's and dinner with our sweet friends visiting from California. I needed a good go-to, recipe for a few dinners this week and this one definitely rose to the occasion.
Not only were these easy, didn't heat up my kitchen (95º yesterday-ugh!) but the beef was so very tender and packed with marvelous, savory Mexican flavors and spices.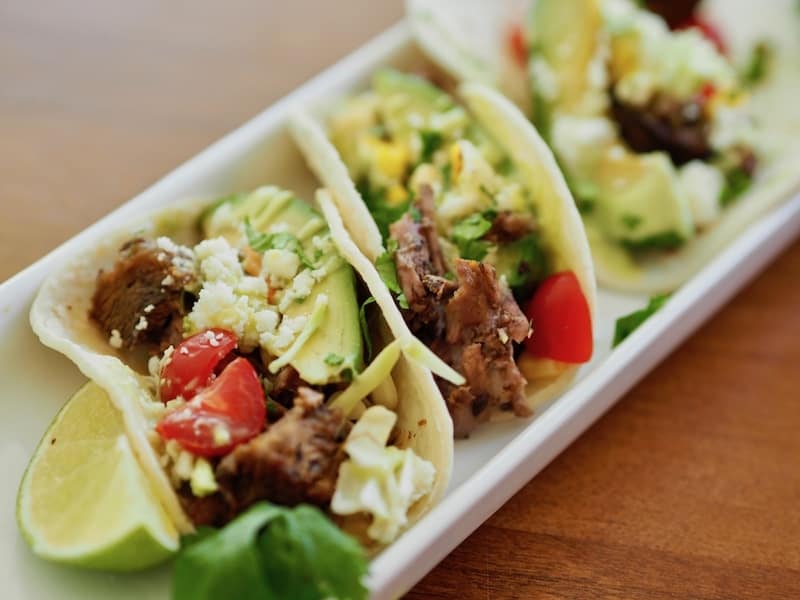 Paired with this amazingly simple, bright, fresh, and creamy Avocado Lime Dressing it's a filling, yet light lunch or dinner! Even picky eaters will love this!
Start your Barbacoa beef about 5 hours before you want to eat, though it will be fine if you need it to go longer.
Tender Barbacoa Beef
In a large pot*, pour in 2 tablespoons of olive oil or your favorite oil and heat over medium-high heat until hot.
⭐️ FREE, DELICIOUS RECIPES? YES, PLEASE! ⭐️
SLOW COOKER | If you have a slow cooker that can go from cooker to stove, you can do this step in your pan; which is what I did, I love my All-Clad Slow Cooker!
I buy my chuck roast in bulk, wrap what I don't need in plastic wrap, place in a freezer ziplock, squeezing out any extra air and be sure to mark it so you don't end up with a mystery meat. I've also started writing what I could make with whatever I'm freezing, kind of takes some of the guesswork out of a frozen piece of meat!
⭐️ FREE, DELICIOUS RECIPES? YES, PLEASE! ⭐️
Place your chuck roast (or some people call them chuck steaks) into the pot and sear on each side until crisp brown, sprinkling with a little kosher salt. It should just be a few minutes per side, make sure you keep your pot hot, you don't want to cook the meat, just sear or brown it.
While your meat is searing, in a small mixing bowl, place the following ingredients; beef broth, apple cider vinegar, tomato sauce, lime juice, garlic powder, thyme, oregano, cumin, cinnamon and sea salt and pepper. Stir or whisk until combined.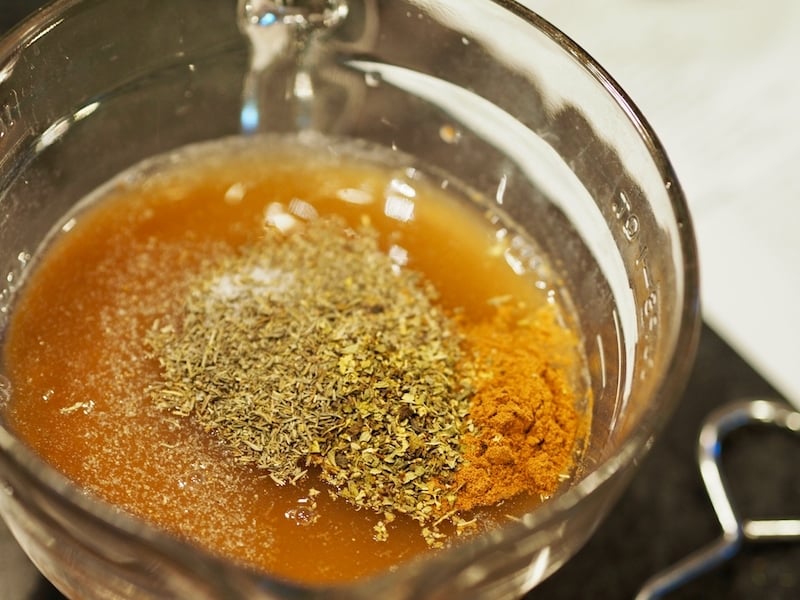 Once your beef is seared, return to the crock pot (slow-cooker) and then pour your mixture over the roast.
Chop your onion and sprinkle over the top of the chuck roast.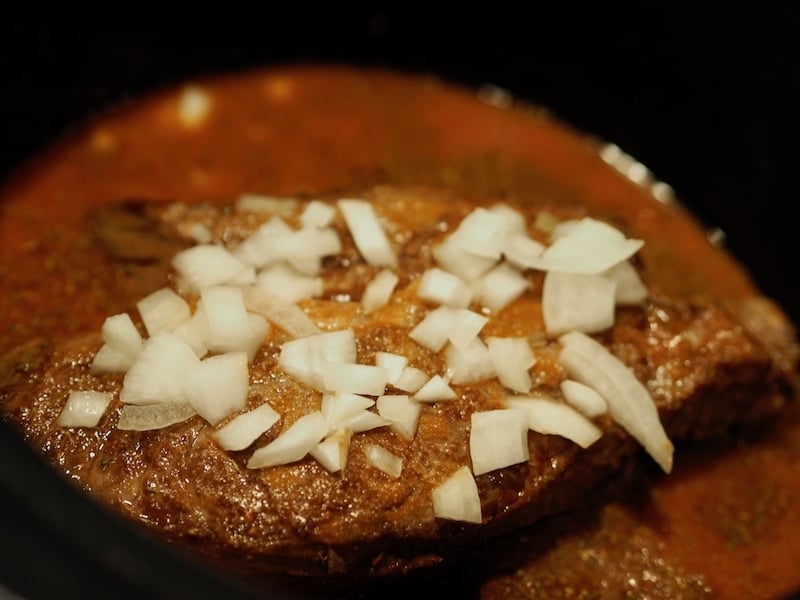 Cover and cook on low for 5-8 hours (I needed to rush mine just a bit, so I cooked on high for the first hour, then returned to low for the balance of time). Resist the urge to check on it as slow cookers do best when you don't open the lid.
Slice, "pull" or cube the chuck roast into bite size pieces and ta-da, tender, easy Barbacoa Beef S waiting for you to serve as desired.
At this point the beef may be eaten just like a pot roast, spoon on some of the juices from the crock pot, serve with Cilantro Lime Rice and a crisp salad or….read on and make it into these fresh and amazing street tacos.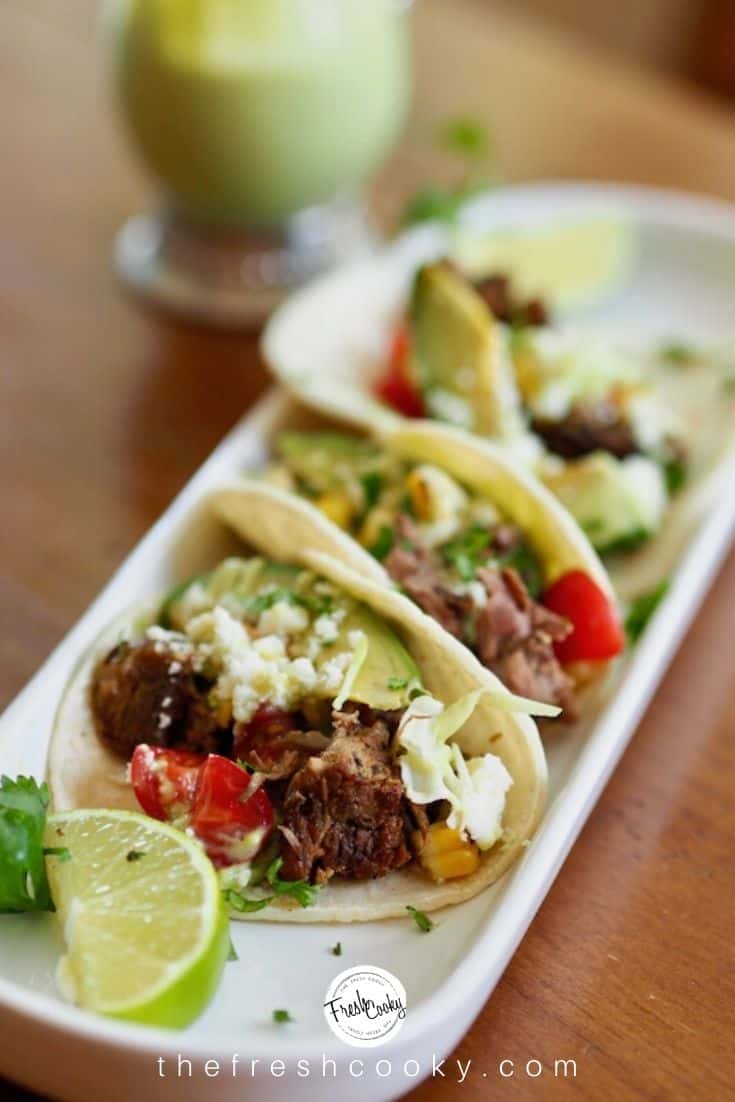 How to Grill Corn
While my roast was doing it's thang, I also grilled up a quick ear of corn. Shuck your corn and rinse well, pat dry. On a hot grill or griddle pan place your corn on the cob on the griddle and grill all sides until blackened in places and tender. Cool slightly, then cut corn off the cob for serving with the tacos. (Optional)
If making street tacos, assemble your toppings in small bowls, for easy taco making. I love these small bowls, great for toppings, dips, sauces, salsa's and more!
I provided the option of Mini-Taco (or street taco) sized corn or flour tortillas, found at my local grocery store or you may certainly use regular sized corn tortillas or soft flour if you'd like.
GRAIN FREE, PALEO, LOW CARB, GLUTEN FREE STREET TACOS
If trying to go grain free all together, try making it into a wrap by piling your taco fixings on a sturdy leaf of Butter or Romaine lettuce.
How to Make Avocado Lime Dressing
If making the Avocado Lime Dressing which is delicious on salads as well as tacos, simply place your peeled, seeded and sliced avocado into a blender* along with juice of 1 lime to start and 1 tablespoon plain yogurt, season with a little salt and pepper to taste.
*I used my Ninja blender (one of my favorite kitchen tools!) worked fabulous!
NOTE | Watch the size of your avocado and limes, you may need to adjust your lime juice up or down depending on the size of the avocado or else it will be really limey — which I like, but others may not. Blend and add a little lime juice at a time, taste, adding water to thin as needed. Store covered and refrigerated until ready to use.
JOIN THE FRESH COOKY ON PINTEREST
TOPPING SUGGESTIONS
Sliced olives
Roasted red peppers
Feta or Goat cheese, Mexican Shredded or other crumbly Mexican Cheese
Mexican Crema or Sour Cream
Sliced Jalepeños
Finely chopped yellow or

pickled red onions

Shredded Red Cabbage
Cilantro
Salsa
Sliced avocados
Don't forget to PIN to your favorite Slow Cooker or Mexican Recipes Board!
A few other simple, fresh recipes to try:
This recipe was moderately adapted from Jar of Lemons.
I am sharing this delicious recipe on Meal Plan Monday and Weekend Potluck!
⭐️ FREE, DELICIOUS RECIPES? YES, PLEASE! ⭐️
Like this recipe?
Don't forget to give it a ⭐️⭐️⭐️⭐️⭐️star rating in the recipe below!
Yield: 12-16 street tacos
Easy Barbacoa Beef Street Tacos
Simple and tasty, slow cooker Barbacoa Beef Street Tacos. Slow cooked in a savory, spicy (but not hot) sauce, with loads of fresh taco toppings. An easy weeknight meal or lunch.
Total Time
5 hours
15 minutes
Ingredients
BARBACOA BEEF
1-1/2 lb Chuck Roast (or steak)
2 tablespoons olive oil or other high heat oil
1 cup beef broth
1/2 cup tomato sauce
1/4 cup apple cider vinegar
1/4 cup lime juice (fresh squeezed, about 2 medium limes)
2 1/2 teaspoons cumin
2 teaspoons garlic powder
1 teaspoon black pepper
1 teaspoon dried thyme
1/2 teaspoon Mexican Oregano
1/2 teaspoon cinnamon
1/4 teaspoon salt
1/4 yellow onion, chopped fine
12 mini corn tortillas or 6 regular sized
TACO TOPPING SUGGESTIONS
1 cup chopped tomatoes, I used grape tomatoes
1 cup shredded lettuce or cabbage (or both)
1 avocado, sliced and peeled
1/4 cup Cotija or other Mexican cheese, crumbled
1 ear fresh corn, blistered and blackened on all sides (I used my grill or may use BBQ or just cut fresh off the cob)
Lime wedge (optional for garnish)
Cilantro, chopped (optional for garnish)
AVOCADO LIME DRESSING
1 large, ripe avocado, peeled and seeded, rough chopped
1-2 limes, juiced (adjust according to taste)
1-2 tablespoons plain yogurt (regular or Greek)
Salt and Pepper to taste
Instructions
For the Barbacoa Beef
In a large pot (or stovetop safe slow cooker crock) drizzle in 1-2 tablespoons oil. Heat over medium-high heat. Place chuck roast (or steak) carefully in the pot and sear (brown) on all sides, just a few minutes per side. Sprinkle with a little kosher salt.
In a medium mixing bowl; mix together your beef broth, tomato sauce, vinegar, lime juice, spices together. Once your beef is seared on all sides, transfer (if necessary) to the slow cooker or crock pot and pour over your broth mixture. Top the beef with your chopped onion and cover.
Cook on low for 5 hours. See notes for quicker or longer cooking times.
AVOCADO LIME DRESSING
In a blender place your peeled & seeded avocado, lime juice and yogurt. Whir until smooth. If necessary add water until a pourable consistency.
Note: If you use a smaller avocado and larger limes it will be really "limey" which I don't mind, but you may want to taste it after the juice of 1 lime, then add more as desired. Season with a little salt and pepper, to taste. Store in fridge, covered until ready to use.
ASSEMBLE THE TACOS
Prep your toppings in small bowls so each person may assemble their own tacos. Warm tortillas (I just warmed in 200 degree oven wrapped in a clean tea towel for 10 minutes). Remove meat from slow cooker, and using a sharp knife, slice or chop into bite size pieces.
Serve with a wedge of lime and fresh, chopped cilantro along with a drizzle of the Avocado Lime Dressing.
Notes
Other topping ideas:
Sliced olives
Roasted red peppers
Feta or Goat cheese, Mexican Shredded or other crumbly Mexican Cheese
Mexican Crema or Sour Cream
Sliced Jalepeños
Finely chopped yellow or red onions
Shredded Red Cabbage
TIP | Need to have this recipe ready sooner than 5 hours, for the first hour, cook on HIGH then lower to low for the next 3 hours. Additionally, this may be cooked on low for 6-8 hours.
This recipe was moderately adapted from Jar of Lemons.
Recommended Products
As an Amazon Associate and member of other affiliate programs, I earn from qualifying purchases.
Nutrition Information:
Yield:
16
Serving Size:
1
Amount Per Serving:
Calories:

238
Total Fat:

15g
Saturated Fat:

4g
Trans Fat:

0g
Unsaturated Fat:

9g
Cholesterol:

39mg
Sodium:

222mg
Carbohydrates:

15g
Fiber:

4g
Sugar:

2g
Protein:

14g
The nutritional information is estimated and may not be entirely accurate.
GET FREE RECIPES DELIVERED RIGHT TO YOUR INBOX!
Love Wholesome & Delicious Recipes?
Follow along on Pinterest ★ Instagram ★ Facebook ★