Easy Slow Cooker Pulled Pork
As an Amazon Associate, I earn from qualifying purchases. Please read my disclosure policy.
Our family calls this Easy Pulled Pork, "Ski Food." It's earned that name because I make it almost every time we go skiing; it's that tasty, tender, simple and feeds a crowd! But you can make it at any time of year, equally delicious for a no-heat-the-kitchen summer meal, potluck or comforting fall dinner.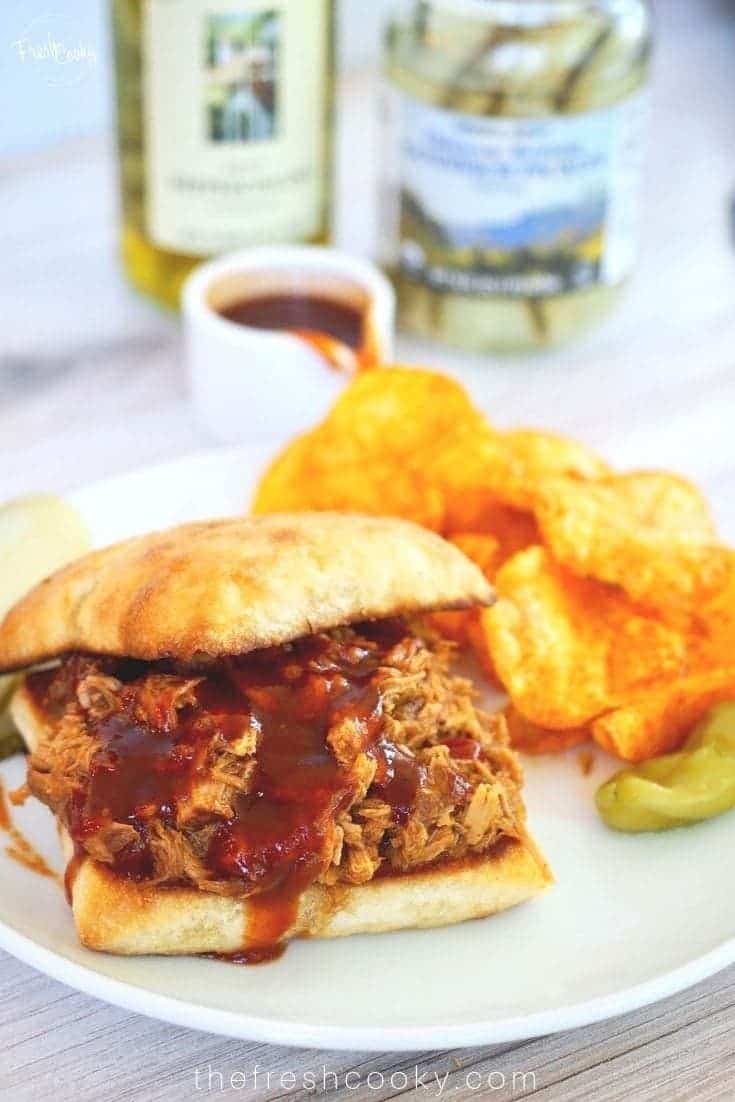 Easy Pulled Pork
Tender, tasty, and super, silly easy. After a long day of skiing (or any other outdoor activity — at any time of year) you will enjoy coming back to the savory aroma wafting through the house! ****This recipe and photos were updated September 2019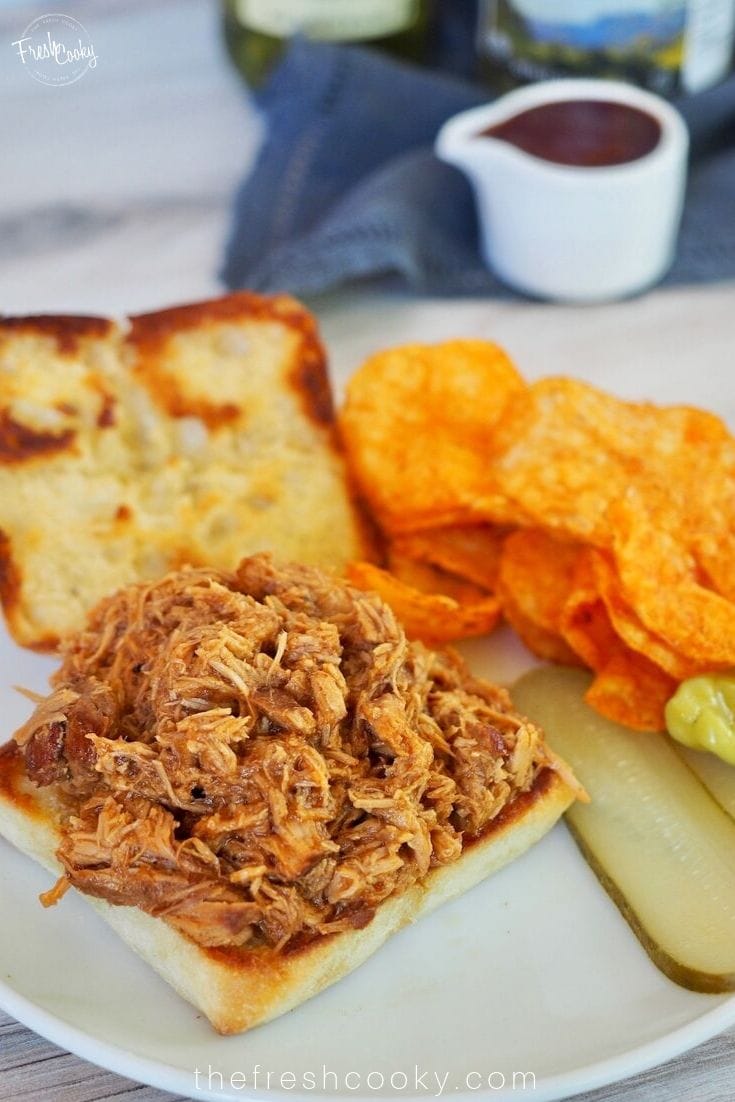 Does your family ski? My husband and I both learned to ski in our youth. He was 6 when he learned; his family lived a mile from a small town ski resort, he grew up skiing every day after school and every weekend; when he was old enough he even worked at the resort; it built a solid love of all things ski related for him. His mom would drop he and his brother off and at the end of the day they would ski home, into the field across from their 1700's farmhouse.
Easy Pulled Pork
As for me, I first skied when I was 14, however; I didn't come home for a week (bad car accident, another story), but I really got going in my early 20's. Skiing was instrumental (besides God!) in bringing Brad and I together. We met at a week long singles ski retreat back in 1998, another story for a different day, so skiing is in our DNA.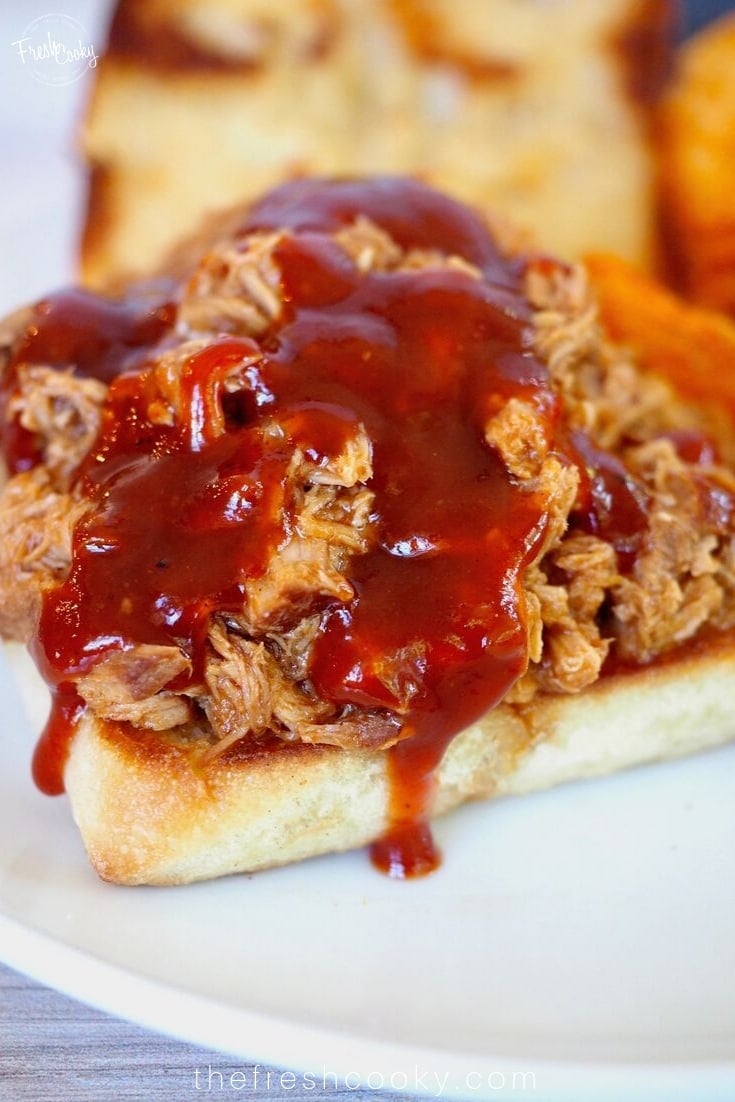 Our boys learned to ski when they were about 3, respectively. Our older switched to boarding when he was about 8, he was going to be the next "Flying Tomato." He is now an accomplished "knuckle dragger" as my husband likes to call him. Since Kieran, like Shaun White has crazy big, curly hair, he was trying to come up with names for himself, I think the "Flying Mushroom" was suggested, friends call him "Q" for Q-Tip, but we're open to suggestions!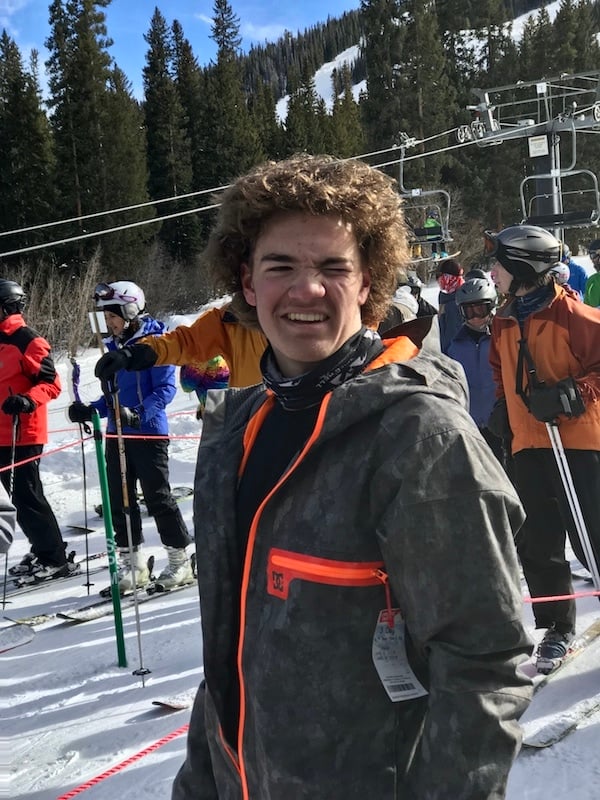 Our boys in background with friend in foreground, another knuckle dragger.
Skiing/boarding is probably one of the few outdoor activities our family does together. I love having them hostage on the lift, all to ourselves, they actually start talking sometimes! Plus the bonus of enjoying the beauty of God's creation all around us and experiencing it as a family is amazing. For about 10 years we've skied together, but by the end of last year, we knew that time was ending; our boys had officially passed us, we could no longer keep up with them. Oh, we still "make" them ski with us old folks occasionally and I think sometimes they actually like it (especially when they are hungry)!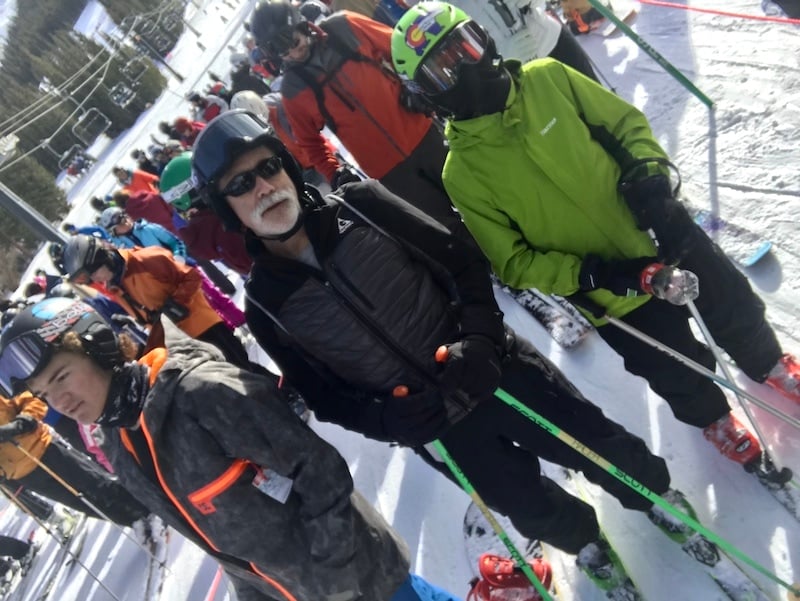 I have always loved skiing "groomers" (groomed runs). My skiing technique and ability quickly disintegrates into a first time skier when I get myself onto un-groomed runs or heavy snow conditions or heavens to Murgatroyd…MOGULS! I despise the monstrous, inconsistent things. I love watching others ski them, watching their knees bounce into their chins looks like so much fun; truthfully it is amazing to watch, their athletic agility is astounding! I am content to ski on the groomed run that is alongside those VW sized, inconsistent, ski snagging, pole grabbing mounds of snow.
I have a point, truly! Stick with me!
This past weekend, our state received some much needed snow. My family was delighted; me, I WAS TERRIFIED! I thought, "Oh no, it's that heavy, awkward white stuff that lends itself to me making a fool of myself." The possibility of a "yard sale" was huge for me. (Read…WHINING!!)
Right as we were getting off the lift, I started grumbling about the conditions and how there was no way I was going last in these conditions. My husband looked at me, shook his head and sighed, then said something along the lines of, "You set yourself up for failure before you've even had a chance to try it." He's said that to me before, but in the past I complained and whined anyway, allowing myself to truly not enjoy the day. This time, I really "heard" him, and he was right; I was thoroughly convicted! Yes, honey, you were right!
I decided I was really going to try and "push" through the stuff, be a bit more aggressive and low and behold, I did it, did not fall, and I actually liked it! It's amazing how our mindset can set us up to fail or succeed! And guess what? I even did a couple of moguls….willingly — gasp! And just for grins, we skied the SuperPipe…just cause we could.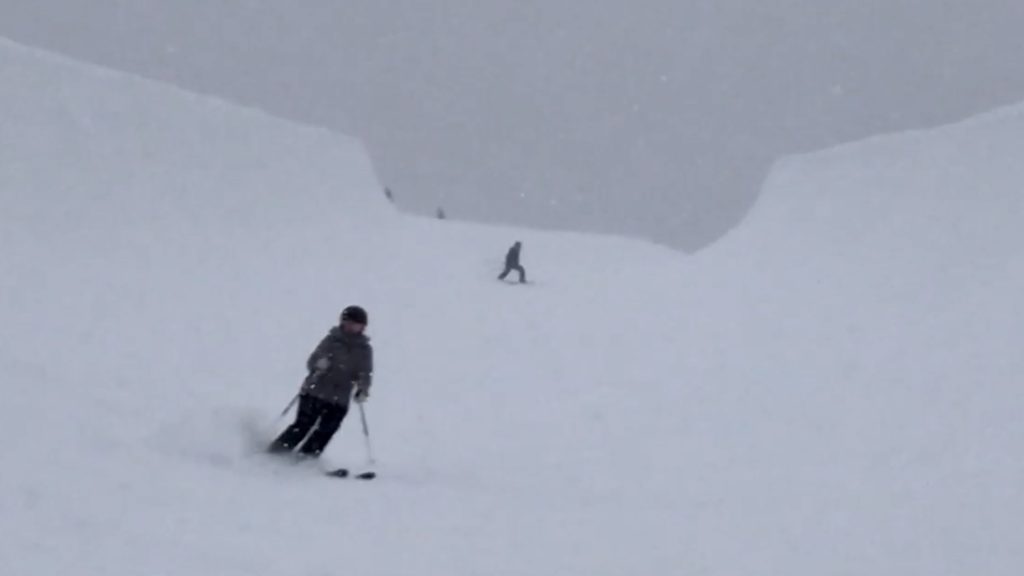 The moral of my story, don't look at the situation and think you're going to fail before you even try, look at it for the possibilities it can hold, challenges to be faced and conquered, new territory to cover. In the process, you just might enjoy yourself! If I looked at cooking that way, I'd never cook again! You have my permission to remind me of this! Thanks for hanging with me!
"Start by doing what's necessary, then what's possible, and suddenly, you are doing the impossible."

St Francis of Assisi
Before you get out on the slopes, put this grand and Easy Pulled Pork dinner in the slow cooker! Oh and you are definitely going to want a batch of hot buttered rum batter in the freezer for your apres ski warm drink!
Start by rough chopping your onions (this is my all time favorite knife!) and smashing your garlic cloves (they will cook away into nothingness, so no need to chop fine.)
If your slow cooker insert can go from stovetop to cooker, then brown your onions and garlic right in the pot (do not try this if you have a traditional ceramic crock). If not, just use the pan you sear your meat in. Place a couple teaspoons of butter and or olive oil and sauté until brown.
I bought a big piece of pork loin (pork butt or shoulder would be delicious too), it wouldn't fit in my crockpot so I cut it in half, rubbing all sides with coarse sea salt.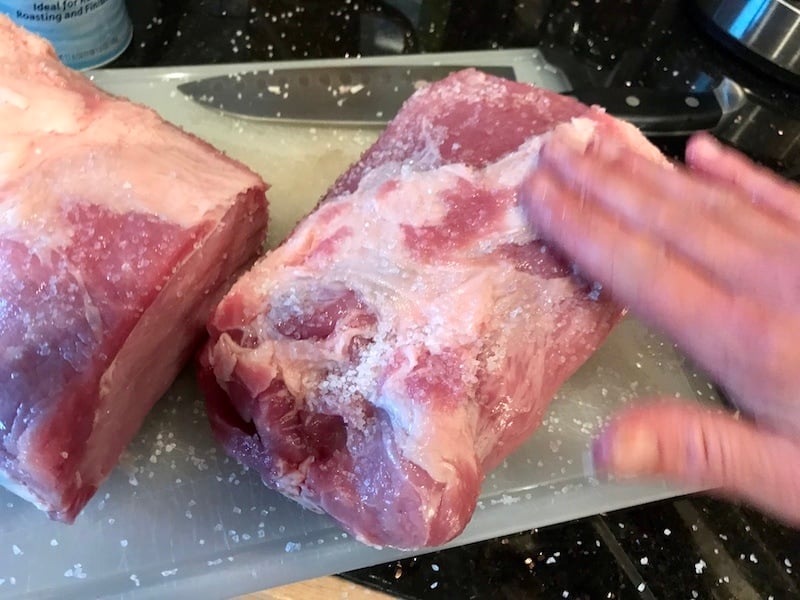 Next, heat a couple of tablespoons of olive oil in a large pan and heat on medium-high heat and sear the meat on all sides, getting a nice crust.
PRO TIP | It helps if your pan is "screaming" hot to do this, you don't want to cook the meat, just crisp brown the outside, creating a nice crust. It'll spit and splatter at you, so be careful.
CARAMELIZING ONIONS
Browning the onions and garlic along with searing the meat does not NEED to be done for this to be a tender tasty meal; however; you will get richer more robust flavors if you do.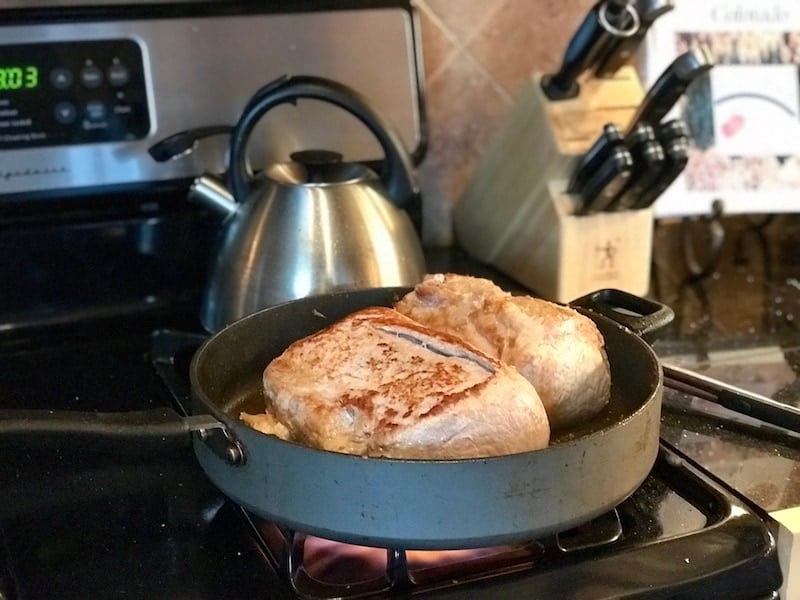 DEGLAZING YOUR PAN | HIGHLY SUGGESTED
If you'd like, you can deglaze your pan with a little whiskey/bourbon, I had some bourbon, (yes, I bring my liquor in repurposed spice bottles) so I used a couple of tablespoons to get all of those browned bits off the bottom of the pan, pour over meat into the slow cooker. GLUTEN FREE | Omit the bourbon/whiskey and add extra orange juice.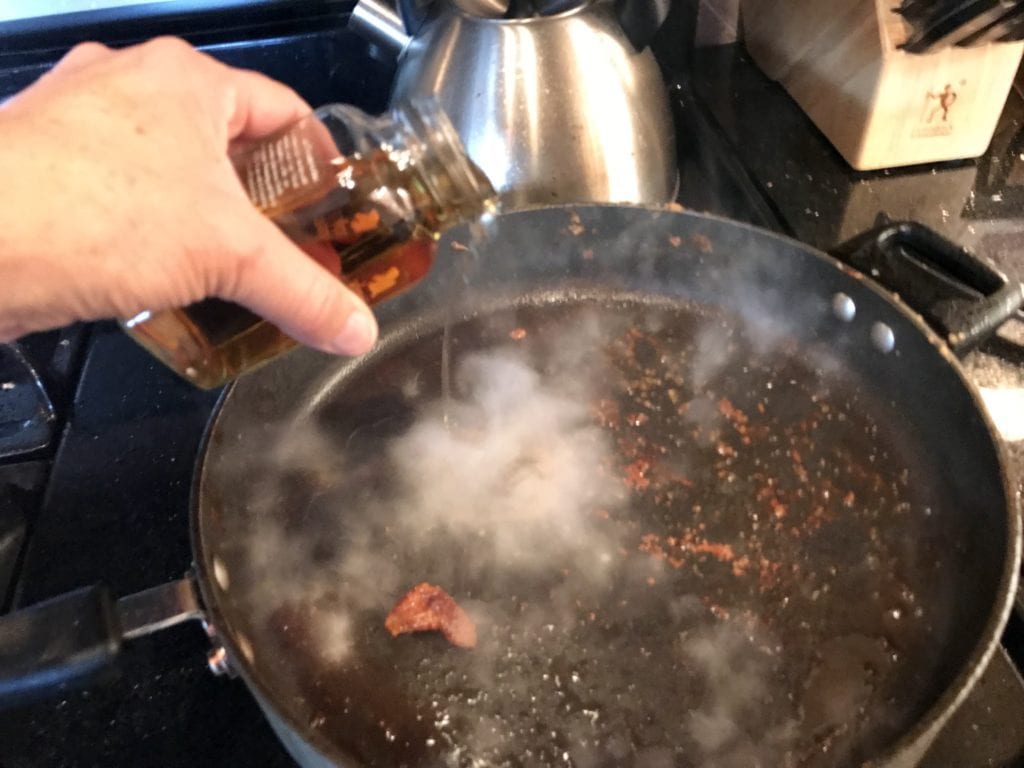 Once your onions and garlic are browned (place in the bottom of the slow cooker, if not already there) and add your browned pork to the crock.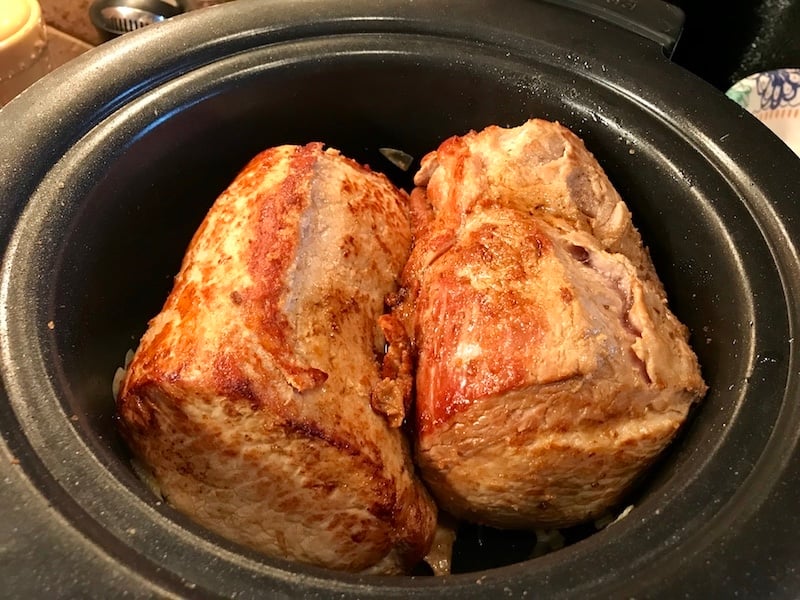 Orange juice and this BBQ sauce is SO STINKING GOOD! They have a mild and a HOT version, choose your spice! Or use your favorite BBQ sauce.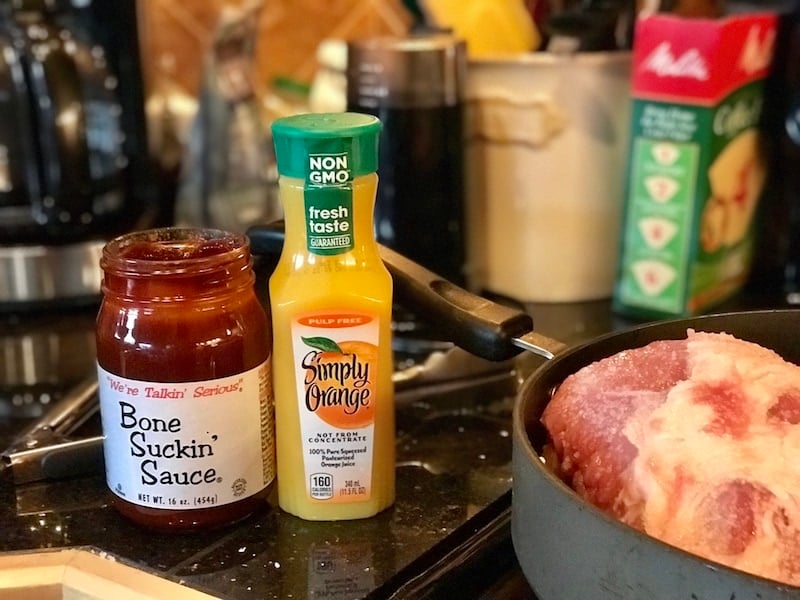 Pour about 2/3 of a cup of orange juice over the meat (I love to buy these little single serving sizes to take on trips)…plus they were on sale!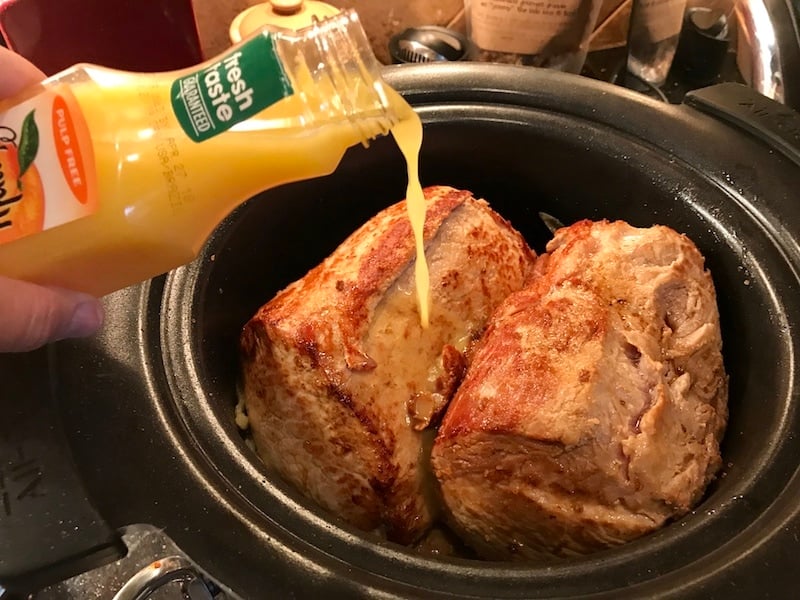 …and about 1/2-3/4 cup of your favorite barbecue sauce, but truly, give the Bone Suckin' Sauce a try, if you haven't.
OPTIONAL | Add some Liquid Smoke, splash on several glugs!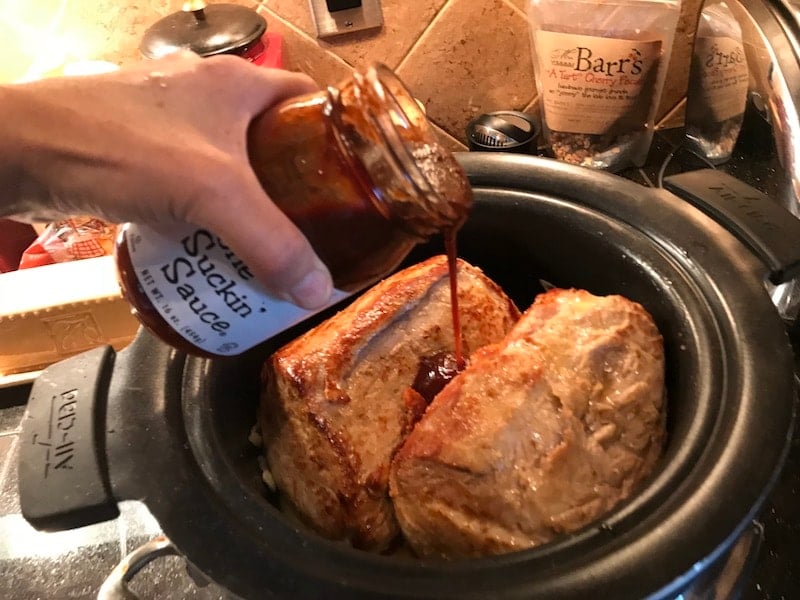 Next cover the slow cooker and set on "LOW" for 8-10 hours, that's the beauty of this easy pulled pork, it can go all day!!
Now get out and SKI, board, telemark, cross-country, snowshoe, walk, build a snowman, sled, snow mobile, go ice fishing, fly a kite, ice skate, take a walk, a nap, garden, go to the pool…you get the idea, get outside!!
Disclaimer | If you choose instead to binge watch "This Is Us" while sitting by a roaring fire, this meal will still be amazingly delicious at the end of the day. I won't judge, just invite me!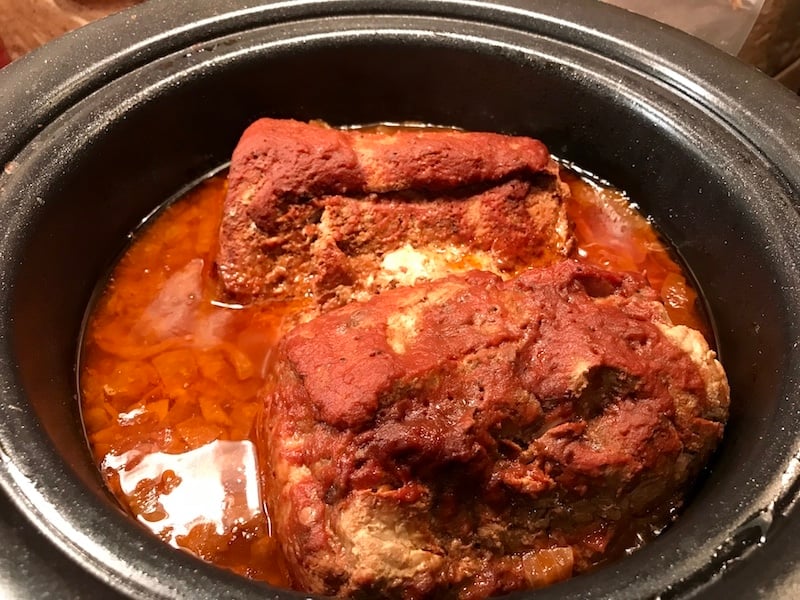 And when you come back, your senses will re-awaken with the savory aroma of this tender pork dish…this photo is after about 9 hours.
Easy Pulled Pork Recipe
Grab a couple of forks and shred it all up, or "pull" it. Using your forks pierce them into the meat and pull in opposite directions, pulled/shredding the meat apart.
After you've pulled it, stir all those lovely juices into the meat and replace the cover and if time, cook for another hour (while you shower and maybe a drink). Told you I brought that whiskey up for something.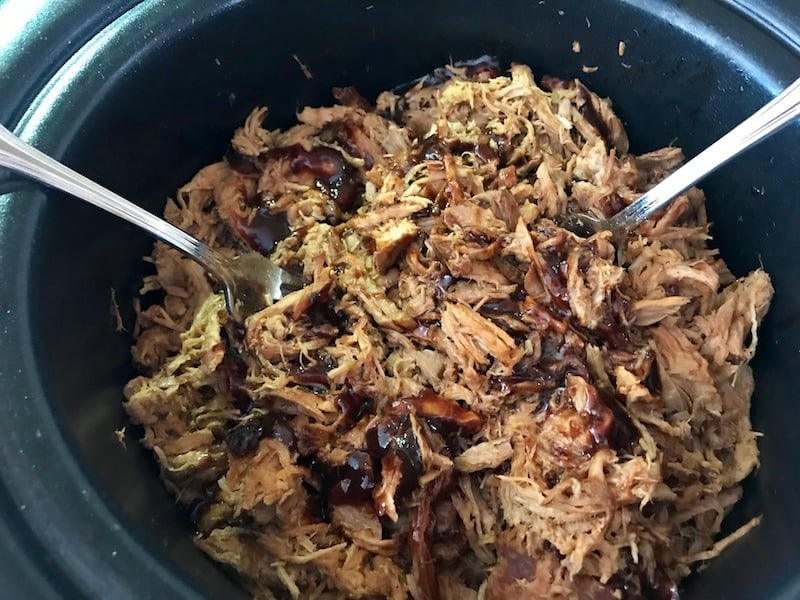 Eat it right away after pulling, just be sure to mix all of those juices and goodies throughout the meat. Drizzle on a little extra barbecue sauce, stir and serve.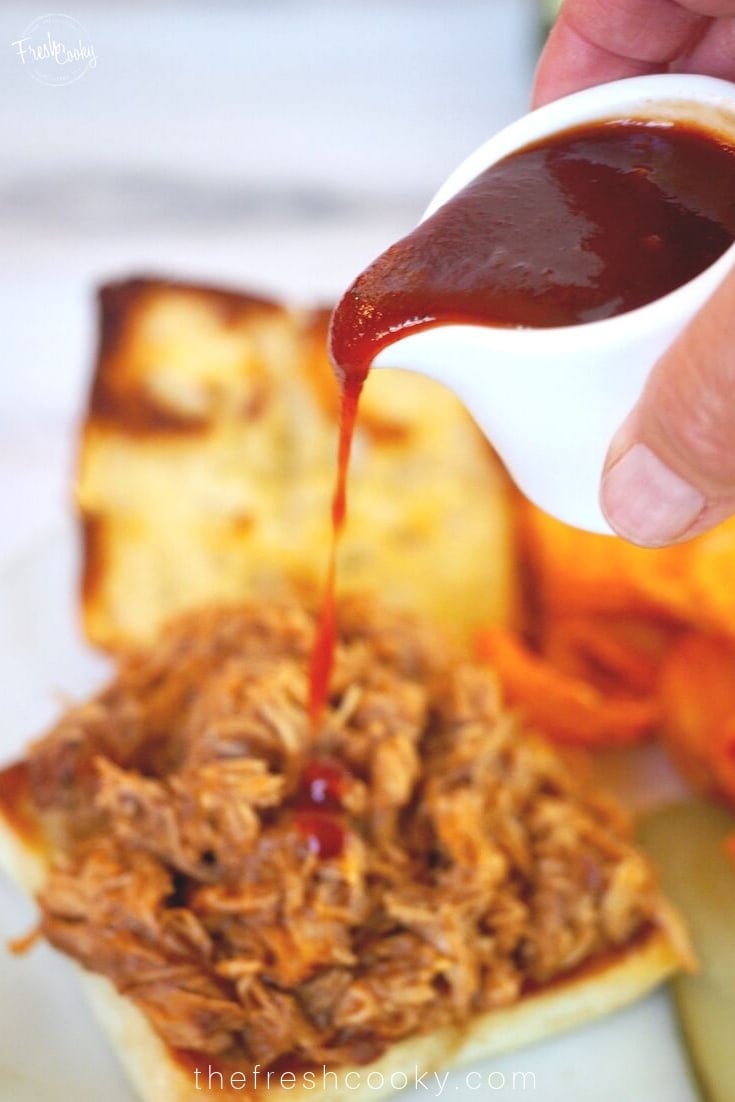 We love to serve Easy Pulled Pork on brioche rolls, french or Ciabatta rolls, toasted is even better.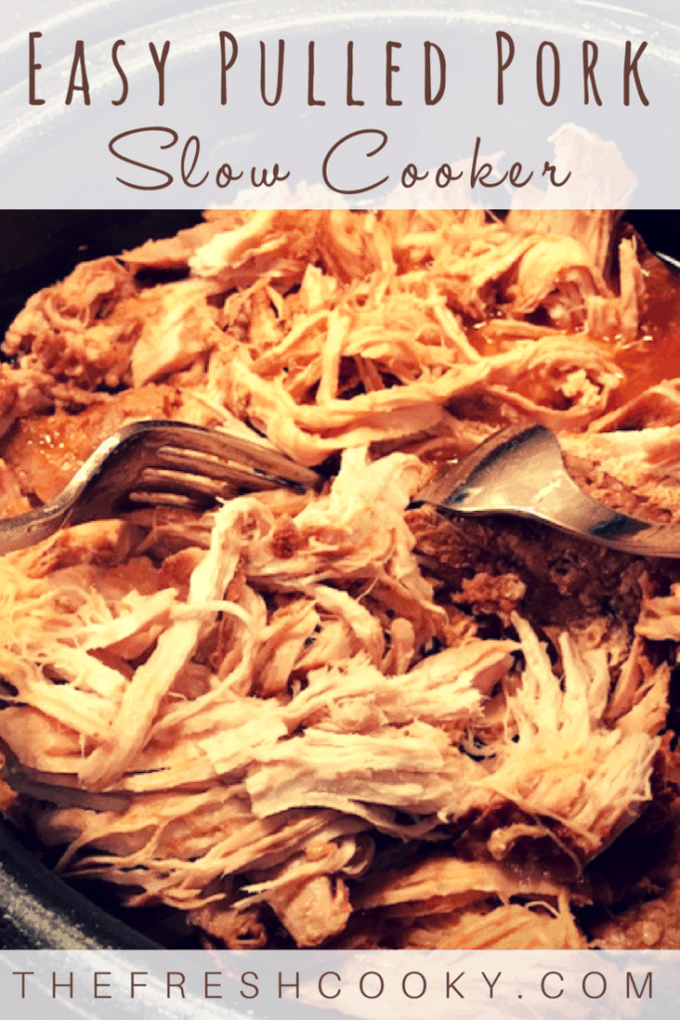 SERVING SUGGESTIONS EASY PULLED PORK
Baked potatoes* (easy to throw in the oven when you get home, or put small red potatoes right in with the pork in the morning; slow cook all day and remove before shredding) *simple directions for delicious baked potatoes in the printed recipe below.
French fries, homemade or frozen (no judgement here)
A nice crisp salad or coleslaw
Sliced veggies; carrots, cucumbers, celery, peppers
Extra BBQ sauce for pouring
Potato or BBQ Potato Chips
Pickles!! Dill, sweet, bread and butter! Make your own with my friend Jennifer's recipe!
Serve on paper plates, you deserve it!

Try these similar slow cooked dishes!
And be sure to bring some of these babies up to munch on after dinner The Best Chewy Chocolate Chip Cookies and wash it down with this cocktail.
Sharing on Meal Plan Monday and Weekend Potluck
Like this recipe?
Don't forget to give it a ⭐️⭐️⭐️⭐️⭐️ star rating and comment below the recipe!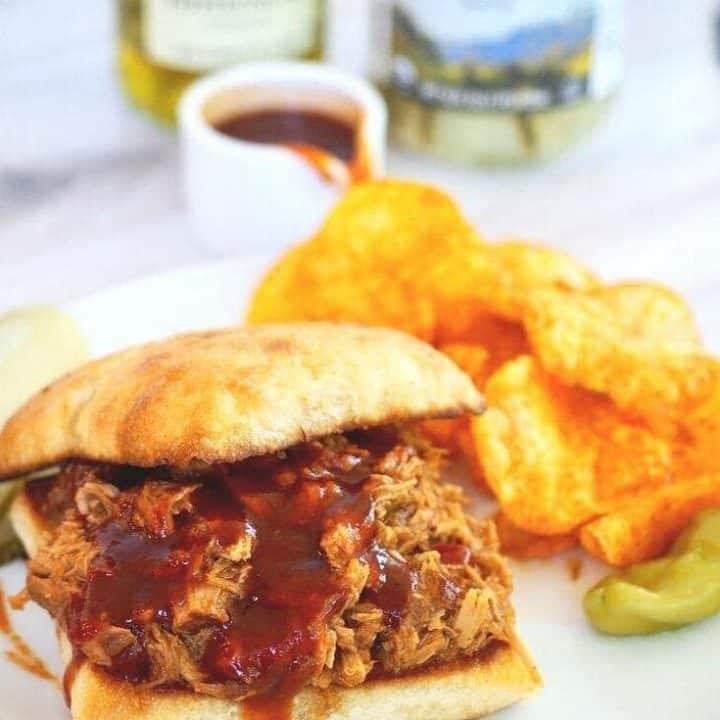 Easy Pulled Pork (Slow Cooker)
A tasty, tender, simple rendition of barbecue pulled pork, with just a few minutes of assembly in the morning you'll come home to an amazing, tender, delicious and healthy meal!
Ingredients
2-3

lbs

boneless pork loin

,

cut in two if needed to fit slow cooker

1

medium onion

,

sliced or diced

3-4

garlic cloves

,

peeled and smashed

1

tablespoon

olive oil for searing meat

1-2

tablespoons

butter

,

for sauteing onions and garlic

2

teaspoons

coarse sea salt for rubbing meat

2/3

cup

orange juice

,

preferably not from concentrate

1/2 – 3/4

cup

favorite BBQ sauce – plus more for serving

,

Bone Suckin' Sauce is my fave

2-3

shakes or 1/2-1 teaspoon of liquid smoke

,

optional

2-4

tablespoons

whiskey or bourbon

,

omit if gluten free

12-16

brioche or french rolls for sandwiches
Instructions
If time allows, be sure to saute your onions/garlic and sear the meat; the flavor will be superior, but you can opt out of them if you'd like. Heat a large pan (or if your slow cooker insert can go from stove back to cooker, do in the pot) over medium heat and toss in butter, onions, garlic and saute until soft. If needed, cut your meat in half, rub your pork with sea salt on all sides.

In same pan, heat to medium-high heat, pouring in 1-2 tablespoons oil, carefully place your pieces of meat and sear (brown) on all sides. It helps if your pan is "screaming" hot to do this, you don't want to cook the meat, just brown the outside, creating a nice crust. Transfer sauteed onions, garlic and meat to your slow cooker.

If desired, deglaze the pan over medium-heat with 1-4 tablespoons of whiskey or bourbon, scraping the brown bits. Pour the orange juice and barbecue sauce over the meat. Cover and set slow cooker on low for 8-10 hours, low and slow is best for this, but you can try 4 hours on high if you don't have time. After 8 hours, using two forks pulling in opposite directions, shred or "pull" your meat. Stir the meat and the juices and veggies to combine. If time, cover and heat for another hour. Serve on brioche buns, french or ciabatta rolls with extra barbecue sauce.

SERVING SUGGESTIONSBaked Potatoes* and toppings. *Wash, dry and poke a couple holes in potatoes. Drizzle with a little olive oil, sprinkle with sea salt and wrap in foil. Bake at 400° for 45-60 minutes until soft. If fast method, before foil, place on plate and cover with paper towel, microwave on full power for 4 minutes or so, then wrap in foil or leave skins exposed and place in oven to finish baking. Exposed skins a tougher crunchier skin, wrapped potatoes softer skins. Serve with butter, sour cream, bacon bits, cheese.

French Fries (fresh or frozen)

Sliced veggies; carrots, cucumbers, celery, peppers
Extra BBQ sauce for pouring

Potato or BBQ Potato Chips

Pickles

!! Dill, sweet, bread and butter! Make your own with my friend

Jennifer's recipe

!

Serve on paper plates, you deserve it!
Nutrition
Serving:
1
Calories:
632
kcal
Carbohydrates:
45
g
Protein:
47
g
Fat:
27
g
Saturated Fat:
12
g
Polyunsaturated Fat:
12
g
Cholesterol:
213
mg
Sodium:
673
mg
Fiber:
1
g
Sugar:
22
g
Nutrition Disclaimer
The Fresh Cooky is not a dietician or nutritionist, and any nutritional information shared is only an estimate. We recommend running the ingredients through an online nutritional calculator if you need to verify any information.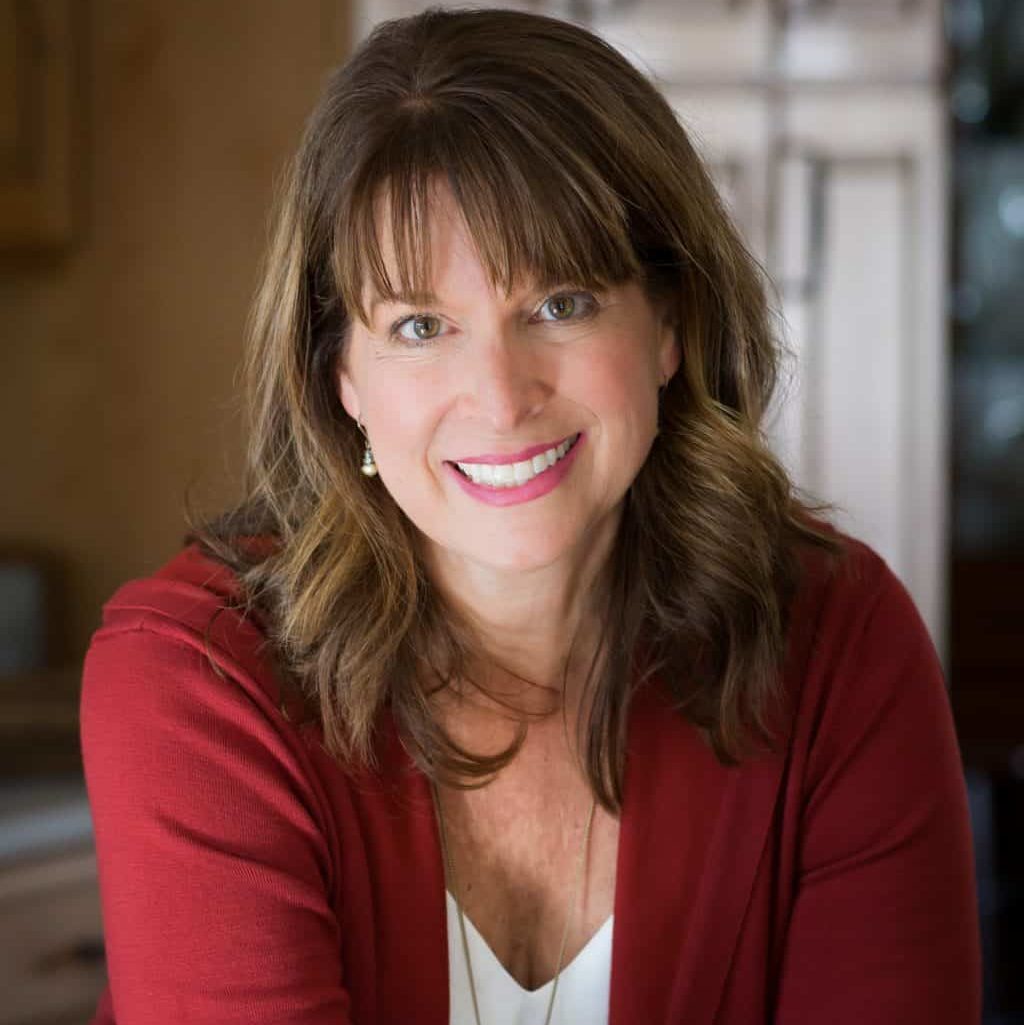 About Kathleen Pope
Recipe Innovator | Food Photographer | Food Writer
Hi, I'm Kathleen Pope. Here at The Fresh Cooky you will find easy, mostly from-scratch, trusted recipes for all occasions. From speedy dinners to tasty desserts, with easy step-by-step instructions. I am here to help teach you how to make mouthwatering recipes without spending hours in the kitchen. Read more about Kathleen here.