Tangerine and Thyme Gin & Tonic
As an Amazon Associate, I earn from qualifying purchases. Please read my disclosure policy.
A traditional Gin & Tonic is cool and crisp, brightly flavored, a splash of citrus and a little woodsy. For the Tangerine and Thyme Gin & Tonic version; you'll add the perky sweetness of a blood oranges along with the mellow citrus tones of tangerines, the piney hint of thyme and you have the makings of a lovely winter cocktail.
NOTE: 21+ This recipe contains alcohol, please be responsible.
Citrus Mocktail
Easily convert this to a non-alcoholic drink. Increase the tangerine juice and tonic, omitting the gin!
I have a thing for Gin & Tonics*; probably because it was my Dad's favorite drink. I miss him!
Tangerines and Blood Oranges are in season! Last week I bought a bag of blood oranges and a bottle of tangerine juice from Trader Joes; I thought they would be so pretty made into a specialty gin and tonic. So I tinkered around last night and came up with these beauties!
Start by placing a couple sprigs of thyme, then muddle (crushing) it, I was lazy and just used the end of my knife, if you have one, use a muddler.
BARTENDERS TIP: My husband didn't like all the little bits of thyme in the drink, so once muddled, scoop the pieces out, if desired. The oils will cling to the glass.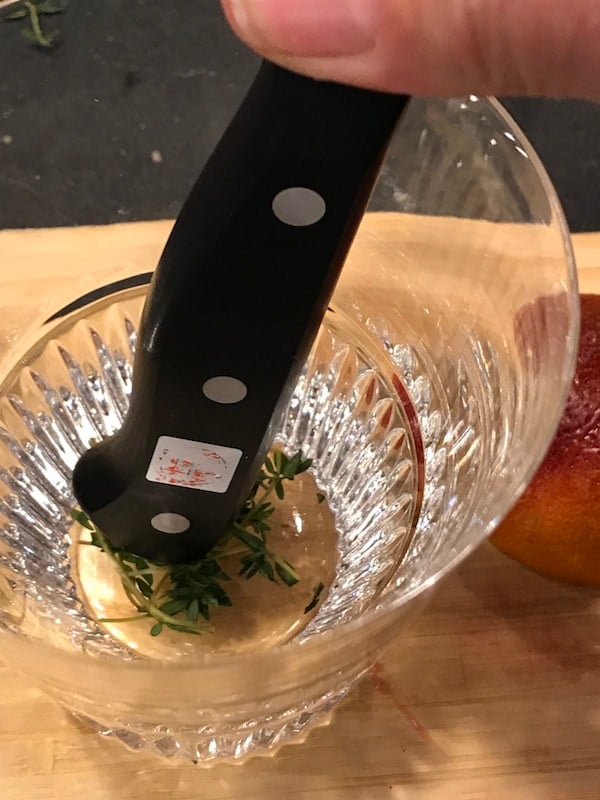 Pour in your gin. Psst, got one of these mini measuring cups? I have two and use them all-the-time!
Fill the glass with ice, or use one of these fun ice molds, they melt nice and slow and roll around in the glass! It's the simple things in life…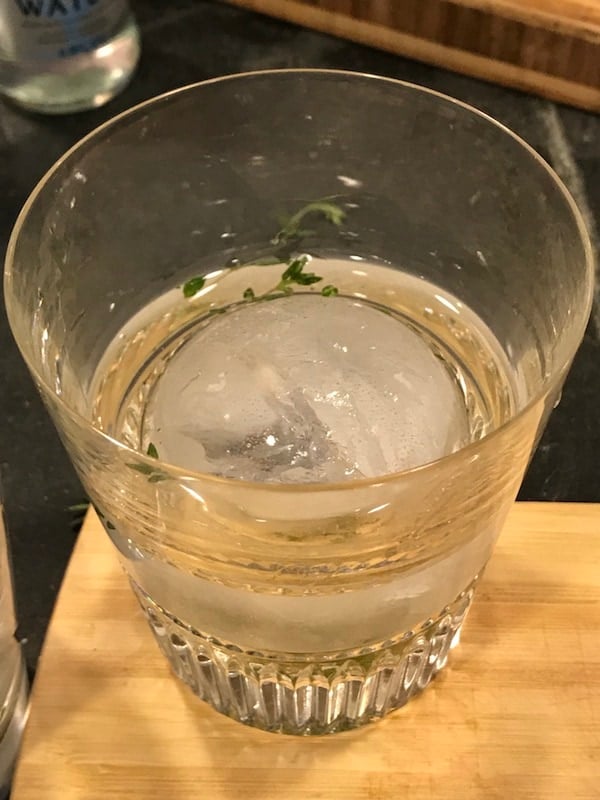 Squeeze 1/2 of a blood orange (you can substitute a naval orange or a ruby red grapefruit if you can't find a blood oranges).
Pour in a healthy splash of tangerine juice (found at Trader Joes & specialty stores), if you pour slowly you might get a pretty little separation of the colors. Substitute with orange juice if you cannot find, or squeeze 1-2 tangerines or clementines.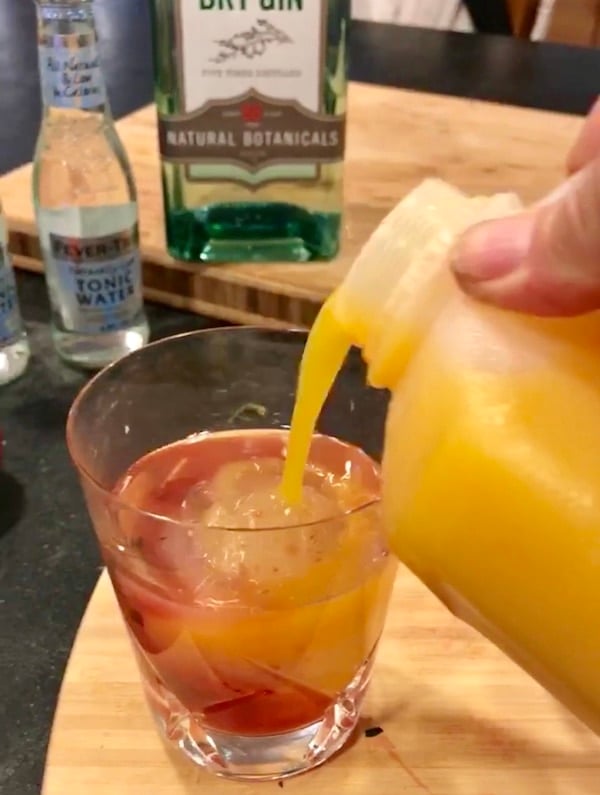 Finish it off by filling up the rest of the glass with tonic water, I love FeverTree Naturally Light Tonic or QDrinks Tonic.
Garnish with a twist of thyme…I like to tie a loose "knot" in the sprig.
…add a slice of blood orange to the edge of the glass as a garnish, serve immediately.
This recipe for Tangerine & Thyme Gin and Tonic was inspired by A Farmgirls Dabbles Cranberry Thyme Gin & Tonics. The bright colors drew me in…give it a try as well!
More Winter to Spring cocktails:
Like this recipe?
Don't forget to give it a ⭐️⭐️⭐️⭐️⭐️ star rating and comment below the recipe!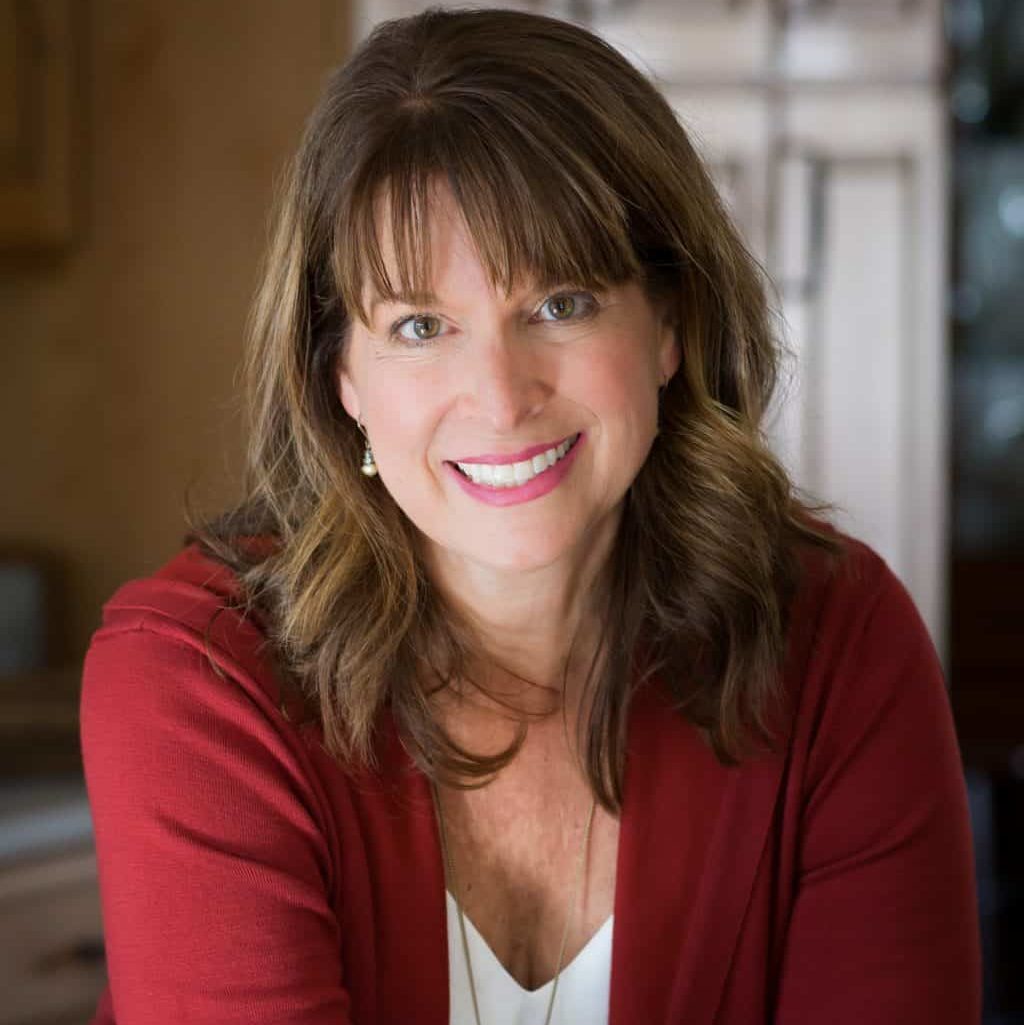 About Kathleen Pope
Recipe Innovator | Food Photographer | Food Writer
Hi, I'm Kathleen Pope. Here at The Fresh Cooky you will find easy, mostly from-scratch, trusted recipes for all occasions. From speedy dinners to tasty desserts, with easy step-by-step instructions. I am here to help teach you how to make mouthwatering recipes without spending hours in the kitchen. Read more about Kathleen here.