Bow-Tie Pasta | A Creamy Pasta Recipe
As an Amazon Associate, I earn from qualifying purchases. Please read my disclosure policy.
A restaurant quality pasta dinner; creamy, loaded with flavor and ready in about 20 minutes. This light and creamy Bow-Tie Pasta recipe is easy enough for everyday, elegant enough for company. Made in the Instant Pot or stove top this bow tie pasta is ready to wow your taste buds in minutes!
Rich in Tuscan flavors with sundried tomatoes and mushrooms, bathed in a light Parmesan cream sauce. Whether you call it bow tie or farfalle pasta, I do not really care, just make this simple and amazing pasta recipe!
You can never go wrong with pasta for dinner, especially a super flavorful and easy pasta dish; you might enjoy these other reader favorites; Easy Light Chicken Parmesan, and my personal favorite; 30 Minute Penne alla Vodka.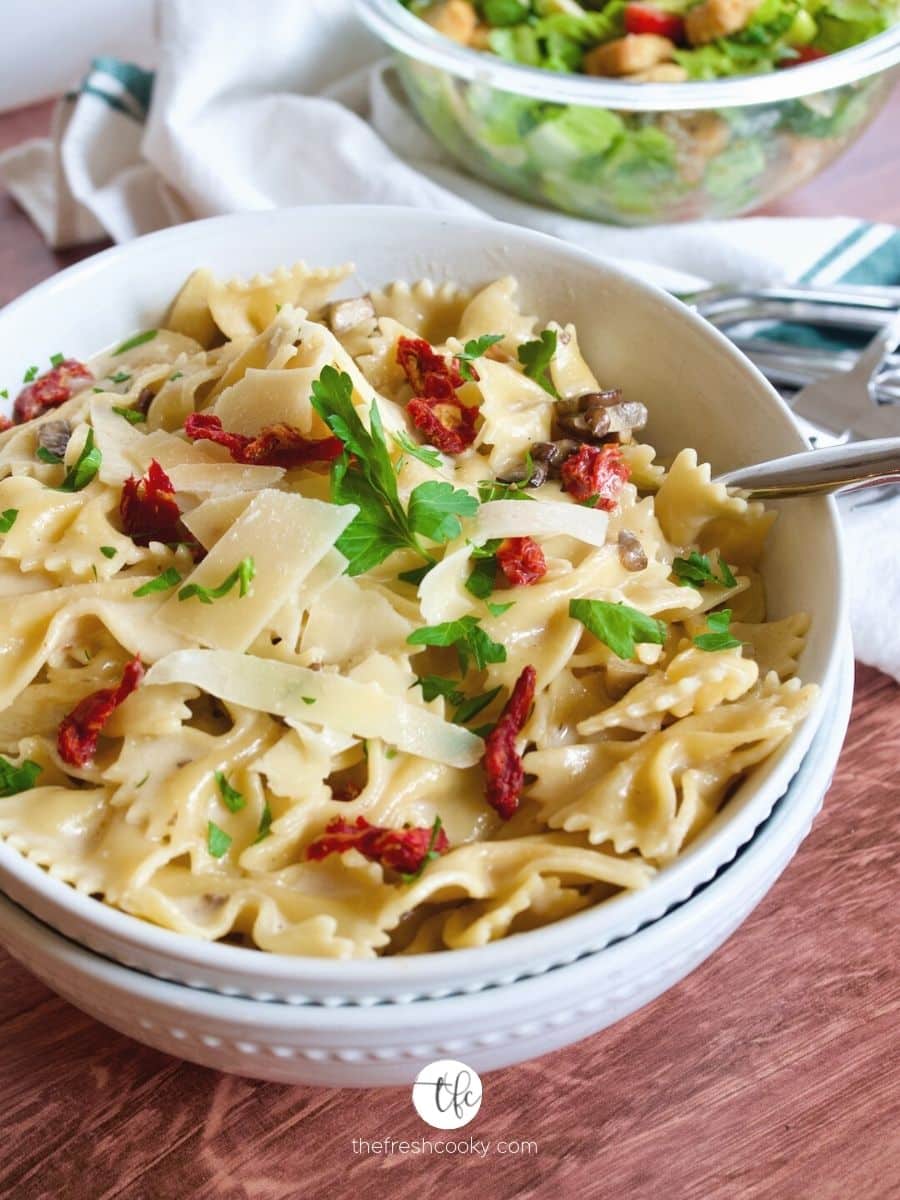 What is the Freaky Friday Blog Hop!?
Today is Freaky Friday, which is simply an old fashioned blog hop!
A blog hop, is a collaboration between bloggers where everyone has a post to share and you link to one another in your posts as they go live. The lovely, Michaela from An Affair from the Heart, founded this quarterly collab, and she secretly assigns everyone another blogger.

We make their recipe, photograph it as if it were our own, write a post about it in our own words, then all share our posts on the selected Friday.
I hope that this collaboration helps you discover some amazing new recipes, as well as find new bloggers to follow!
Here are a few of my previous Freaky Friday recipes; Cranberry Bourbon Sour, Sweet Molasses Brown Bread, Mint Fudge Brownies, and Oatmeal Rolled Sugar Cookies.
Meet Rebecca of Devour Dinner
It's an honor to have been assigned Rebecca's blog, Devour Dinner! It has been so much fun to get to know Rebecca through her beautiful and inspiring blog. We have a lot in common:
I know we would hit it off, we are moms to boys! Amen sister, I am right there with you taxi driving, cheering, having hordes of stinky boys in the house…read about her!
Our family motto is the same, there is always room for one more at the dinner table!
She is the Queen of the Instant Pot, I am so impressed with all of her amazing Instant Pot recipes, from beginner recipes to more detailed recipes! If you haven't ventured into the IP world, browse her recipes!
Her deep passion for cooking combined with design pushed her to create her beautiful food blog in 2017 (we started the same year!)
Rebecca is inspired by and loves all things Disney — I grew up about an hour from Disneyland and so I thoroughly understand this inspiration! A must try is her Disney "Grey Stuff"! Remember Beauty and the Beast, "try the grey stuff, it's delicious!"
Since she's the Instant Pot Queen and I'm the Instant Pot "Scullery Maid", I knew I had to try an IP recipe. I made her Tuna Noodle Casserole, Grandma's Mac & Cheese and the Bow Tie Pasta (all beginner recipes!), they were all delicious and EASY — but, the creamy bowtie pasta WON, the whole family "devoured" it! Pun intended!
Ingredients for Bow-Tie Pasta
This bow-tie pasta was inspired by a Disney Cruise Line meal Rebecca had while cruisin' — the ingredients are quite simple:
BOW-TIE PASTA | Use regular or mini Bow-Tie Pasta, also called farfalle, also try penne or linguine as well.
MUSHROOMS | Anyone who knows me, knows I greatly dislike mushrooms, it's a texture thing, but I actually love their flavor, so even if you have a 'shroom aversion, pick them out like I do and enjoy the flavor! I used baby Portabella's in this recipe, but any mushroom will work.
SUN-DRIED TOMATOES | I think Rebecca used sun-dried tomatoes in oil, but I had shelf-stable sundried tomatoes so I used those, either will work great! If they whole, julienne (slice in strips) ahead of time.
CHICKEN BROTH | Adds great flavor, if trying to stay vegetarian, use water or vegetable broth instead.
HEAVY CREAM | You can use Half & Half, it won't be as creamy and the sauce won't thicken as much, but it will work. I personally would not use fat-free cream or half and half however; indulge a bit!
PROSECCO | An Italian sparkling wine, you can use any dry sparkling wine or dry white wine as a substitute, if you prefer not to use alcohol, substitute additional broth or water.
SPICES | No chopping for this recipe, use garlic powder, onion powder, and black pepper.
PARMESAN CHEESE | You can use grated or shredded or shaved, substitute with Romano!
Recommended Tools
These tools will make this recipe a bit easier, but other than the Instant Pot none are necessary.
How to Make Instant Pot Pasta with Cream
I always recommend you measure, prep and chop all ingredients ahead of time, that way once you start, this bow tie pasta recipe comes together quickly and easily. No Instant Pot? Read on for stove top instructions.
Turn Instant Pot (IP) to the "Saute" mode and allow it to heat until it reads "HOT"!
Add butter or olive oil to IP and allow to melt, then toss in chopped mushrooms and saute until soft, a few minutes. Turn off IP.
Pour in broth (or water), scraping the bottom of the pan to release any bits, this is called deglazing the pan.
Add garlic, pepper, onion powder, heavy cream and Prosecco, give it all a quick stir.
Pour in bow tie pasta, pressing down lightly with wooden spoon until evenly distributed and most of it is under liquid.
Close IP lid, lock and secure (close vent) and set to Manual/Pressure Cook for 4 minutes. It takes about 5 minutes to come to pressure, allow for a 4-5 minute natural release (longer if at altitude), then release the rest of the steam, carefully. This will be more al dente pasta.
Stir in sundried tomatoes and Parmesan cheese, the sauce will thicken as it cools. If desired, sprinkle with some chopped Italian parsley or fresh basil.
High Altitude Instant Pot Pasta
The Instant Pot can sometimes be a bit trickier for those of us living at altitude, I live in the Mile High City and typically add an additional 1-2 minutes to my cooking time. For this recipe however; I kept the cooking time at 4 minutes and let sit for an additional 1 minute in the natural release time.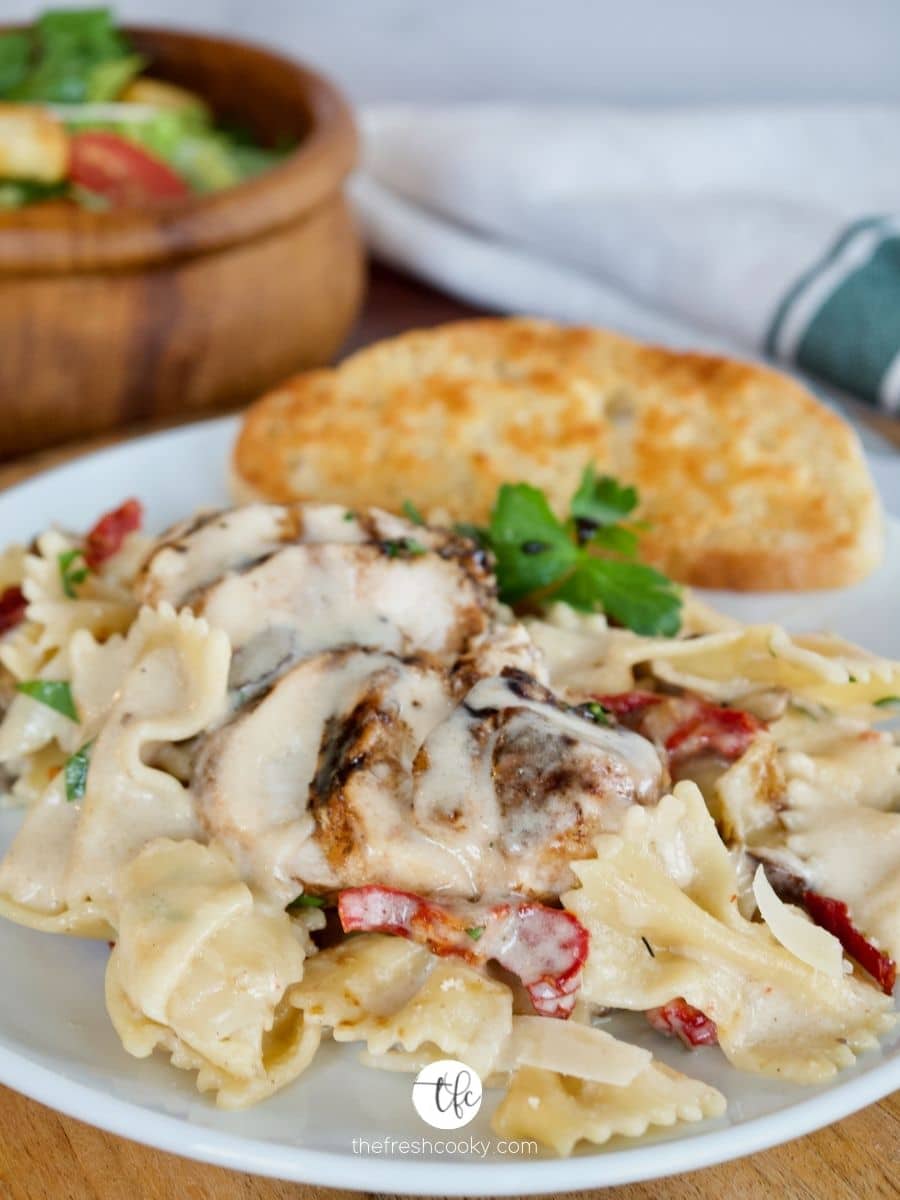 Frequently Asked Questions
Can I add chicken to Bow-Tie Pasta?
Yes, as you can see from some of my pictures, I grilled a couple of chicken breasts that I had marinated in a simple Italian vinaigrette, sliced and served on top of the pasta with a drizzle of nutty balsamic glaze. Or you may toss rotisserie or pre-cooked chicken when adding the sun-dried tomatoes and cheese.
What is Bow-Tie or Bowtie Pasta?
It's the American nickname for this pasta that is shaped, like a bow tie! In Italy, this pasta is called Farfalle [farˈfalle]) are a type of pasta commonly known as bow–tie pasta or butterfly pasta. The name is derived from the Italian word farfalle (butterflies). A larger variation of farfalle is known as farfalloni, while the miniature version is called farfalline.
Can I freeze creamy pasta dishes?
Cream does crazy things when frozen, it breaks apart, looking curdled, so while you can certainly freeze cooked pasta, since this recipe comes together so quickly, I would not recommend freezing.
How long does Creamy Bow Tie Pasta last?
In our house, one dinner! 🙂 Haha! But really, divvy this into individual serving containers and this will last for a week in the fridge.
What is the best way to reheat Instant Pot creamy pasta?
You can microwave it, but do it low and slow and add a tablespoon or two of water or broth ahead of time. But I prefer to reheat on the stove top in a pan, add a few tablespoons of broth or water, stir around, if it thins out too much, add a splash of cream.
Stove Top Instructions
I get it, not everyone has an Instant Pot so how do you cook bow tie pasta on the stove top?
Prepare bowtie pasta or farfalle according to package directions, to your taste.
Heat 2 tablespoon of butter in a large saute pan over medium high heat.
Add the mushrooms to the pan and season, saute mushrooms for 4-6 minutes or until tender and browned.
Deglaze pan with chicken broth, scraping any browned bits (= flavor!) off the bottom, whisk in Prosecco, garlic, pepper, onion powder.
Slowly add the cream and simmer for 4-5 minutes or until just thickened – do not boil.
Whisk in the Parmesan cheese, stirring continuously, until cheese has melted. Add sun-dried tomatoes and season the sauce with additional salt and pepper to taste.
Stir in cooked and drained bowtie pasta, mixing until sauce covers it all, serve immediately!
Bow Tie Pasta Add In's
If you are like me you cannot leave a recipe alone, so here are some ideas for optional add in's to enhance this delicious bow tie pasta recipe!
PROTEIN | I grilled a couple chicken breasts that I marinated in a simple Italian dressing and sliced and placed on top, this would also be delicious with shrimp, Pancetta, or simply Rotisserie chicken.
DRIZZLE | Drizzling a little balsamic glaze on top of the pasta or the chicken or both, adds a beautiful finishing touch that tastes great too!
VEGETABLES | Try adding additional vegetables; artichoke hearts would pair beautifully in this Tuscan dish. Eggplant, spinach (add at the very end) and even peas would all be delicious. Saute some fresh garlic plus 1/2 a thinly sliced onion, or red bell peppers with the mushrooms. Sliced Green, black or Kalamata olives or capers would also be delicious stirred in!
MORE CHEESE | Try topping with fresh shaved Parmesan or Romano Cheese.
More Instant Pot Recipes you will love:
Like this recipe?
Don't forget to give it a ⭐️⭐️⭐️⭐️⭐️ star rating and comment below the recipe!
Take a look at all of our 2021 Freaky Friday Spring Edition Recipes: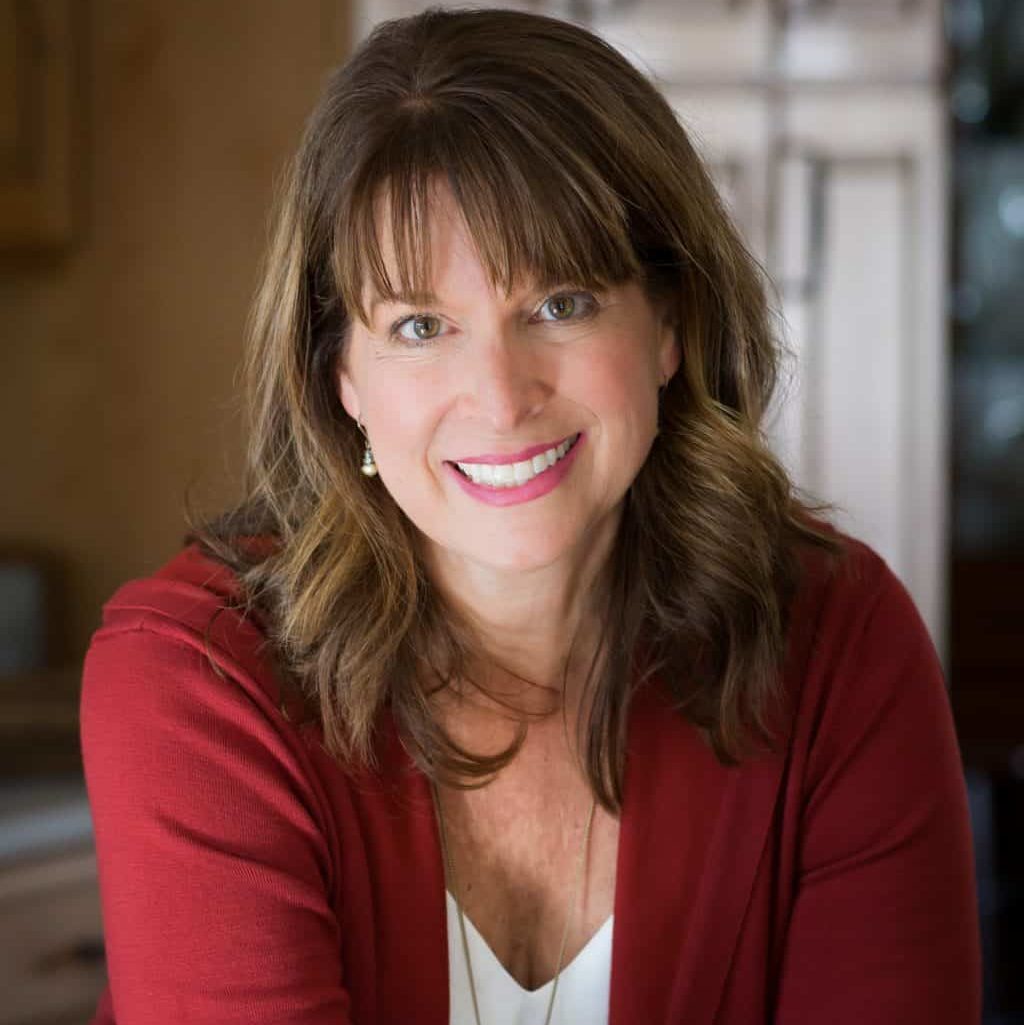 About Kathleen Pope
Recipe Innovator | Food Photographer | Food Writer
Hi, I'm Kathleen Pope. Here at The Fresh Cooky you will find easy, mostly from-scratch, trusted recipes for all occasions. From speedy dinners to tasty desserts, with easy step-by-step instructions. I am here to help teach you how to make mouthwatering recipes without spending hours in the kitchen. Read more about Kathleen here.