The Best Spanish Rice Recipe (Vegetarian)
As an Amazon Associate, I earn from qualifying purchases. Please read my disclosure policy.
This easy Mexican restaurant style rice is the perfect vegetarian Mexican rice recipe; it's simply spiced, and fluffy, this rice is easy to put together and goes wonderfully with any Spanish-Mexican dish. Lots of customizable ideas, plus it's vegan and gluten-free.
Growing up in So. California I ate my weight in Mexican food. We had dear friends who were Mexican and taught us how to make some delicious foods, by far one of my favorite sides for Taco Tuesday is this easy Mexican rice, it goes hand in hand with refried beans!
If you love Mexican food as much as we do, you will want to try my Easy Carnitas (Instant Pot, Oven or Slow Cooker), Chile Relleno Casserole, and don't forget dessert, this yummy Healthier Fried Ice Cream Cake.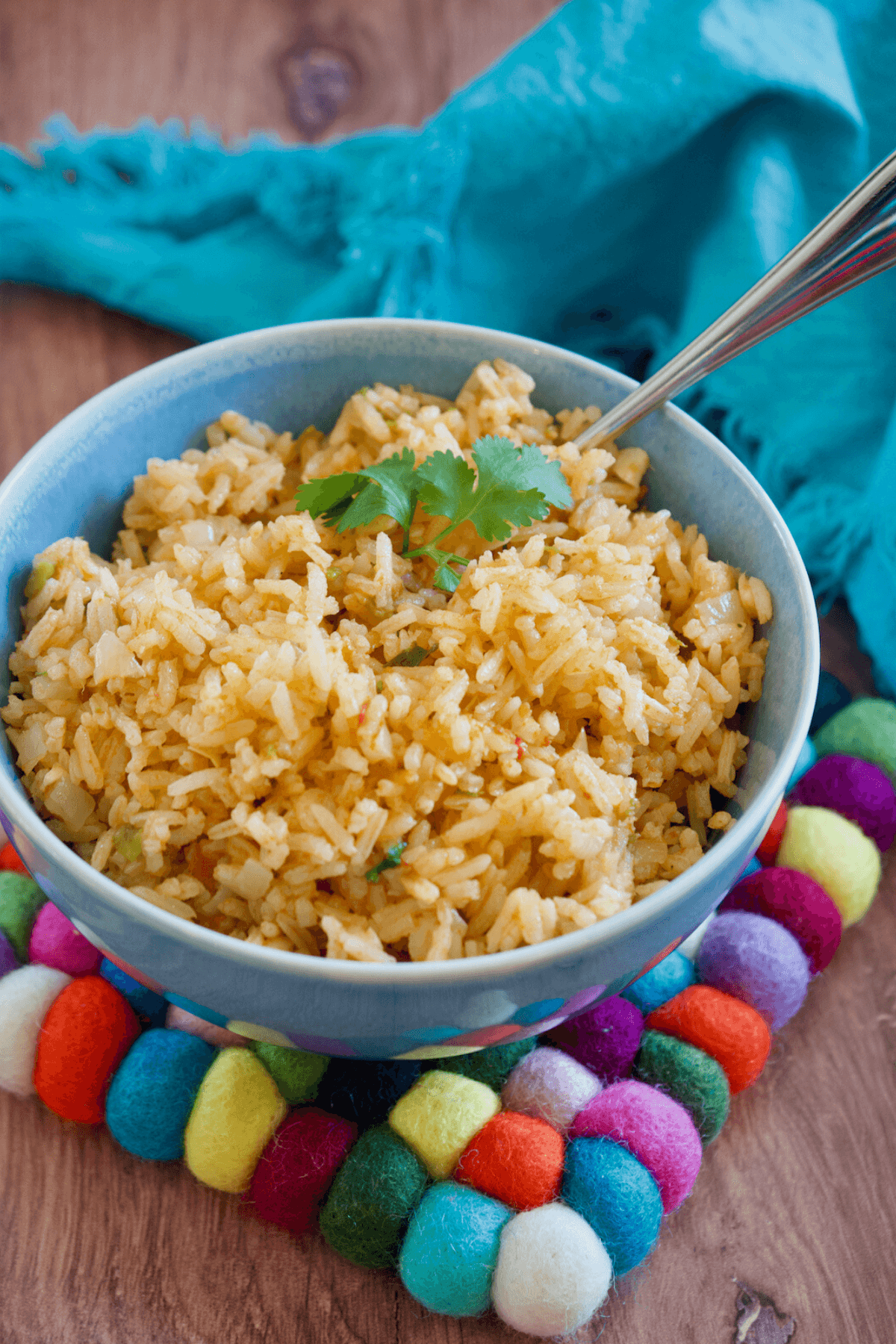 Why you'll love this Old Fashioned Spanish Rice Recipe
ALL NATURAL | With ingredients you can pronounce, this is a whole food, all-natural vegetarian Mexican rice recipe.
EASY PREP | Takes a few minutes to prep, then set it on simmer and forget it for a bit, next up fluffy, delicious, mildly spiced rice.
AUTHENTIC | A simple recipe from our Mexican friends, this is as authentic as it gets.
FREEZES GREAT | Since this makes a lot, I love that I can portion into family serving sizes and freeze!
MILD | this rice recipe won't overpower the main dish and sides. A beautiful compliment.
Simple Ingredients
Be sure to print the recipe card at the end of the post, with all the measurements.
Long grain rice | I use organic Basmati which is a white rice, rinsed and drained — try a long grain brown rice too, but you might need to cook a bit longer
Tomato sauce | I use organic tomato sauce, not to be confused with tomato paste
Garlic Cloves | here is your flavor!
Seasoning | I used Cumin powder and Onion Powder, traditional flavors in Mexican rice recipes
Broth | if you are keeping it vegetarian, use a good vegetable broth or try chicken broth.
Cilantro | don't forget the cilantro, it adds just the right finish
Lime | Just a little at the end.
This is an easy and authentic Spanish rice recipe, sometimes called red rice or arroz rojo. It will become a family favorite and your go-to recipe when needing a side dish for your Mexican foods.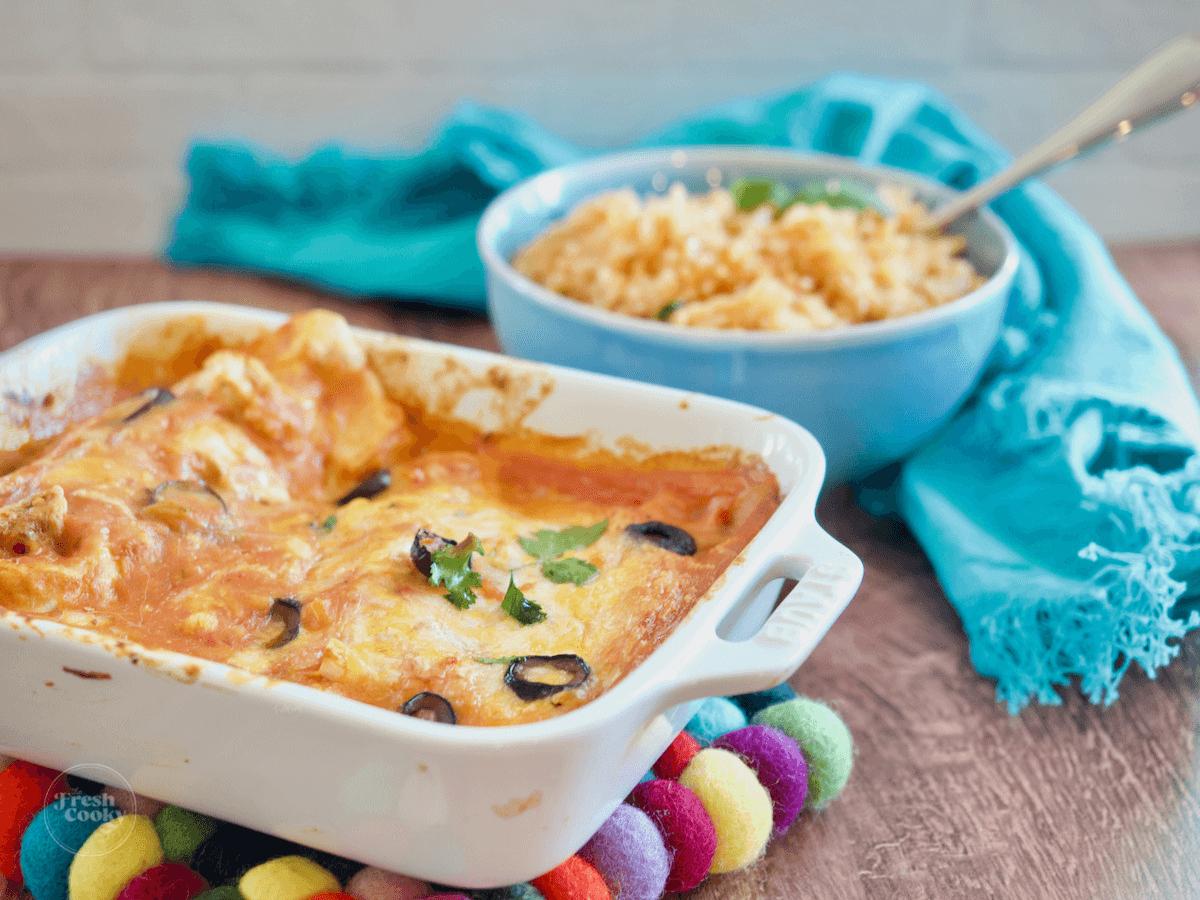 Do you need to rinse the rice?
YES! I admit, I usually skip this step, but for this recipe, it's crucial to rinse your rice, so that your rice doesn't clump or get gummy, plus it washes away any debris and leaves with fluffy rice.
Grab a strainer and rinse away under cool water. Then set and allow to drain while you prep your ingredients. I like a nice long grain basmati rice for this vegan Mexican rice recipe.
How to Make Mexican Rice
This skillet rice assembles in a few minutes, I love making it in my cast iron skillets.
Heat oil in large skillet (at least 10.25 inches) over medium heat. Carefully add rinsed rice and cook, stirring until golden brown, it will "pop" a little and some rice won't quite brown, but will turn opaque.
As the rice browns, scoot the rice to the side and reduce to low heat, quickly saute the minced garlic for a minute, then combine with the rest of the rice.
Once rice and garlic are browned, add remaining ingredients; tomato sauce, kosher salt, cumin, onion powder, give it a stir, then pour in the broth.
Cover and bring to simmer on low for 30-40 minutes or until all liquid is absorbed. Fluff with a fork just before serving and garnish with chopped cilantro if desired and a squeeze of lime juice.
Pro Tips
PREP – Recipes like this are easier when you take a few minute and prep, chop, measure ingredients out ahead of time.
RINSE – Before starting this Spanish Mexican rice recipe, rinse and drain the rice in a colander and allow it to sit while prepping the other ingredients.
NOT SPICY – Like most restaurant style Spanish rice I have enjoyed, this is not a spicy dish, if you desire more spice, see the variations below.
Keep your uncooked rice packages in the crisper drawer of your fridge for ultimate freshness!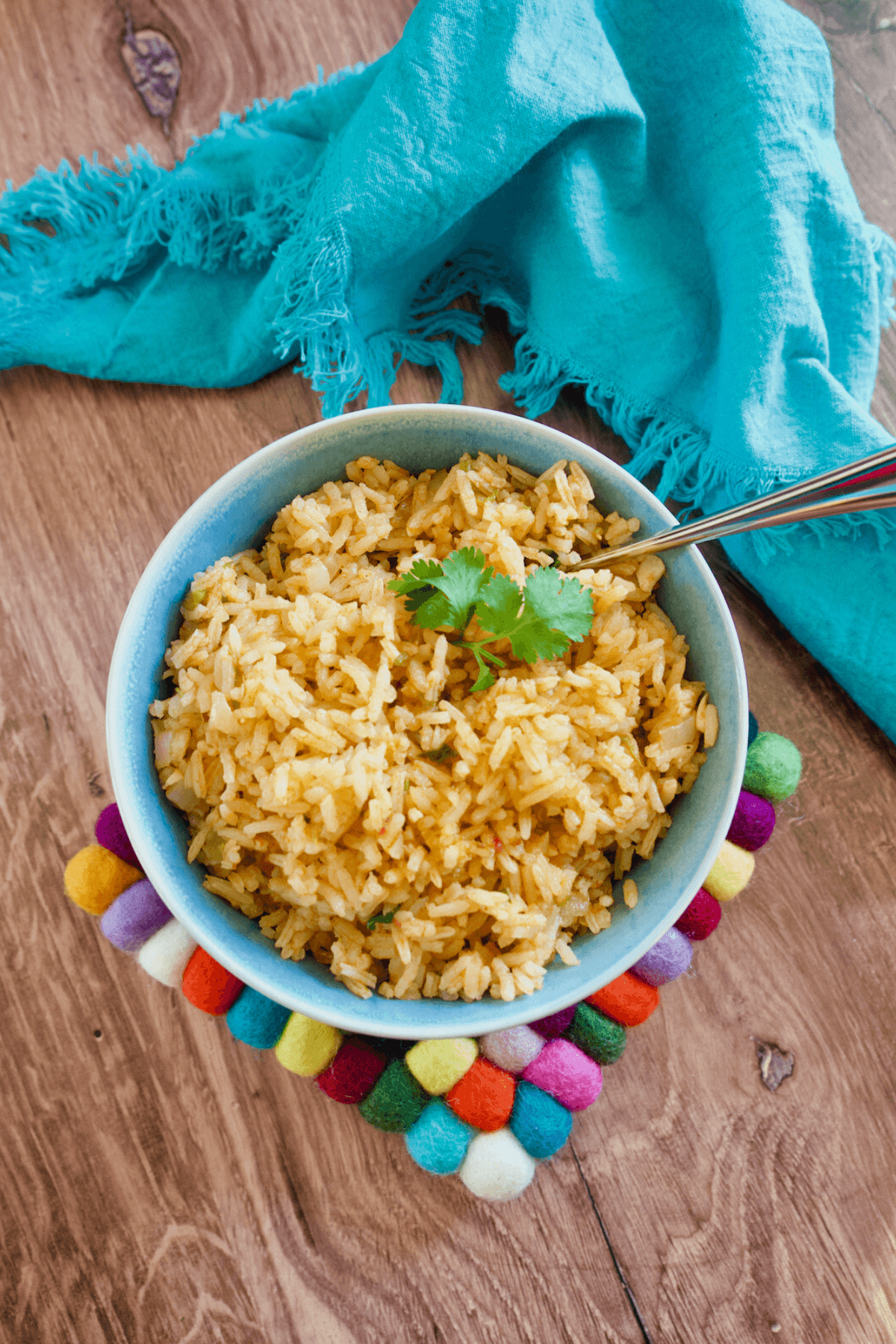 Variation & Substitutions
Technically this is Vegan Spanish Rice, as long as you stick with vegetable broth, but I enjoy using chicken broth as well. You can also add pinto beans, kidney beans or black beans for more protein.
Add some KICK! Try adding a can of diced chiles, a teaspoon of chili powder, red pepper flakes, diced jalapeno pepper or poblano pepper.
Use salsa instead of tomato sauce, it will have more of a kick, and have the chunks of tomatoes, but go for it!
Flavor Boosters | Saute half of a chopped onion or red onion just before the garlic.
Make it a Main Dish | add frozen green peas, carrots, corn and/or diced green bell pepper or red bell pepper. It would also be delicious with some sweet potato.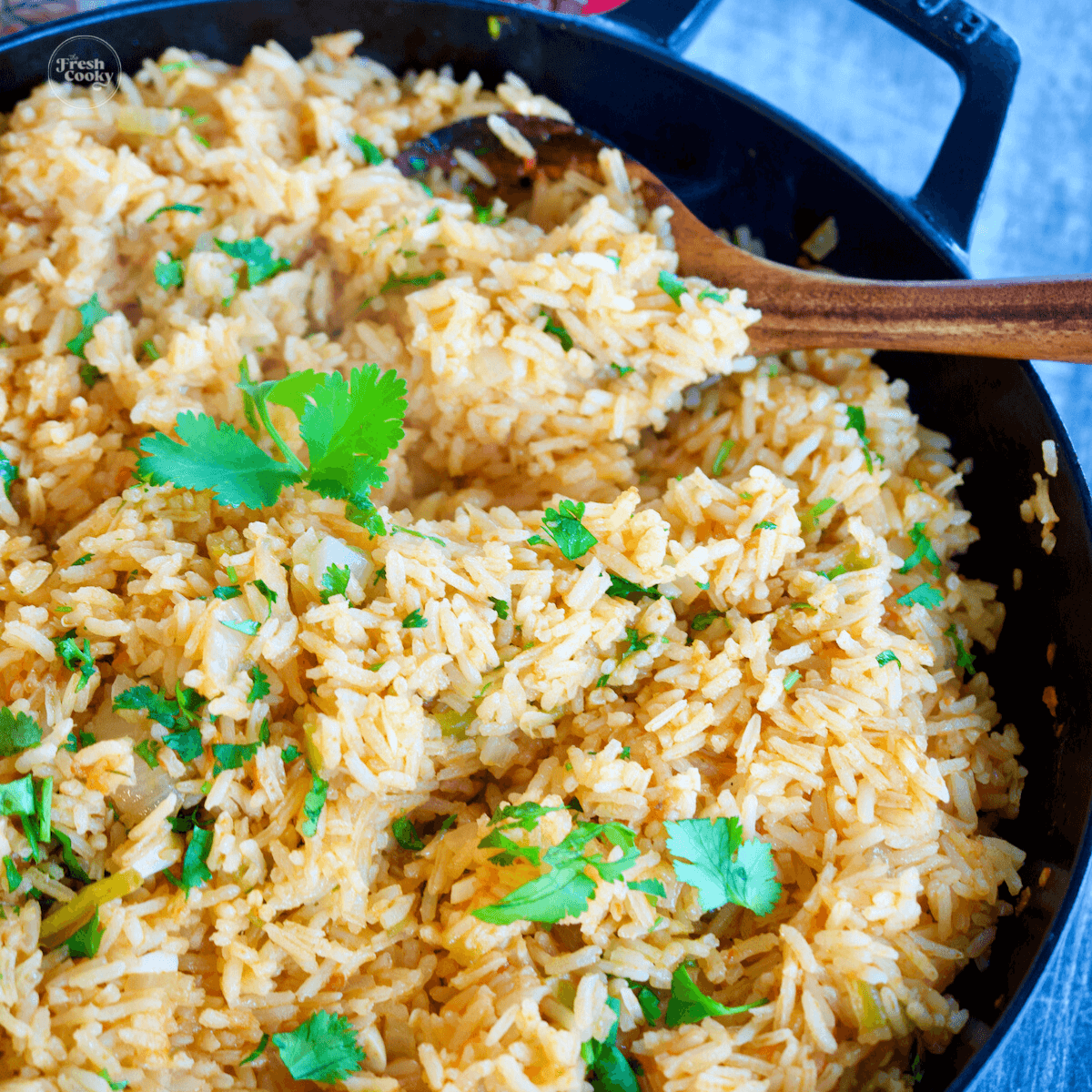 Frequently Asked Questions
What is the best rice for Spanish Rice?
Long-grain rice is better for this recipe, since it bulks up nicely and doesn't get sticky.
Can I Make Vegetarian Mexican Rice recipe with brown rice?
You can absolutely use brown rice, you'll need to add ⅔ cup additional vegetable stock or cold water and good a little longer, checking at the 40 minute mark.
Is there a difference between Spanish Rice and Mexican Rice?
I grew up calling it Spanish rice, but there really is no difference between the two, more of a personal preference. It just depends on the region and what it is typically called.
How to store Vegetarian Mexican Rice Recipes
Cool completely and store leftovers in quart sized freezer bags or airtight container. Keeps well up to 5 days in the fridge, 3 months frozen.
Reheating | poke a couple holes in the baggie and microwave on high heat 2-3 minutes until steamy hot. Or thaw in fridge and add to covered pot with a little water and heat over low heat until warmed through.
This was easy to make and good 👍🏼

Jenn – Pinterest comment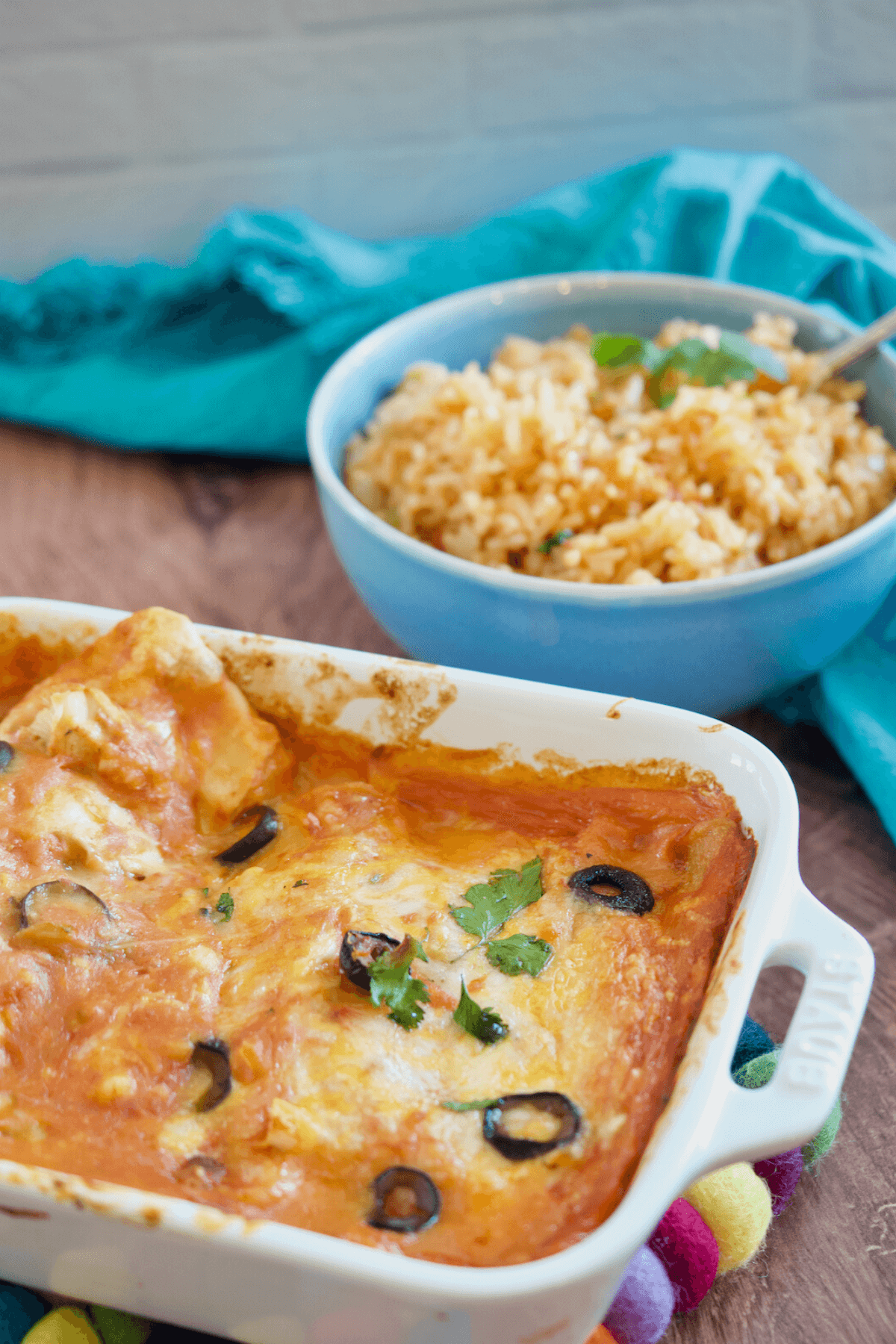 What to serve with easy Spanish Rice?
More Easy Recipes with Mexican Flavor
Don't forget dessert! As mentioned above try my Fried Ice Cream Cake, but this Key Lime Pie, or this No Bake Lemon pie would be fabulous.
Love It? Pin It!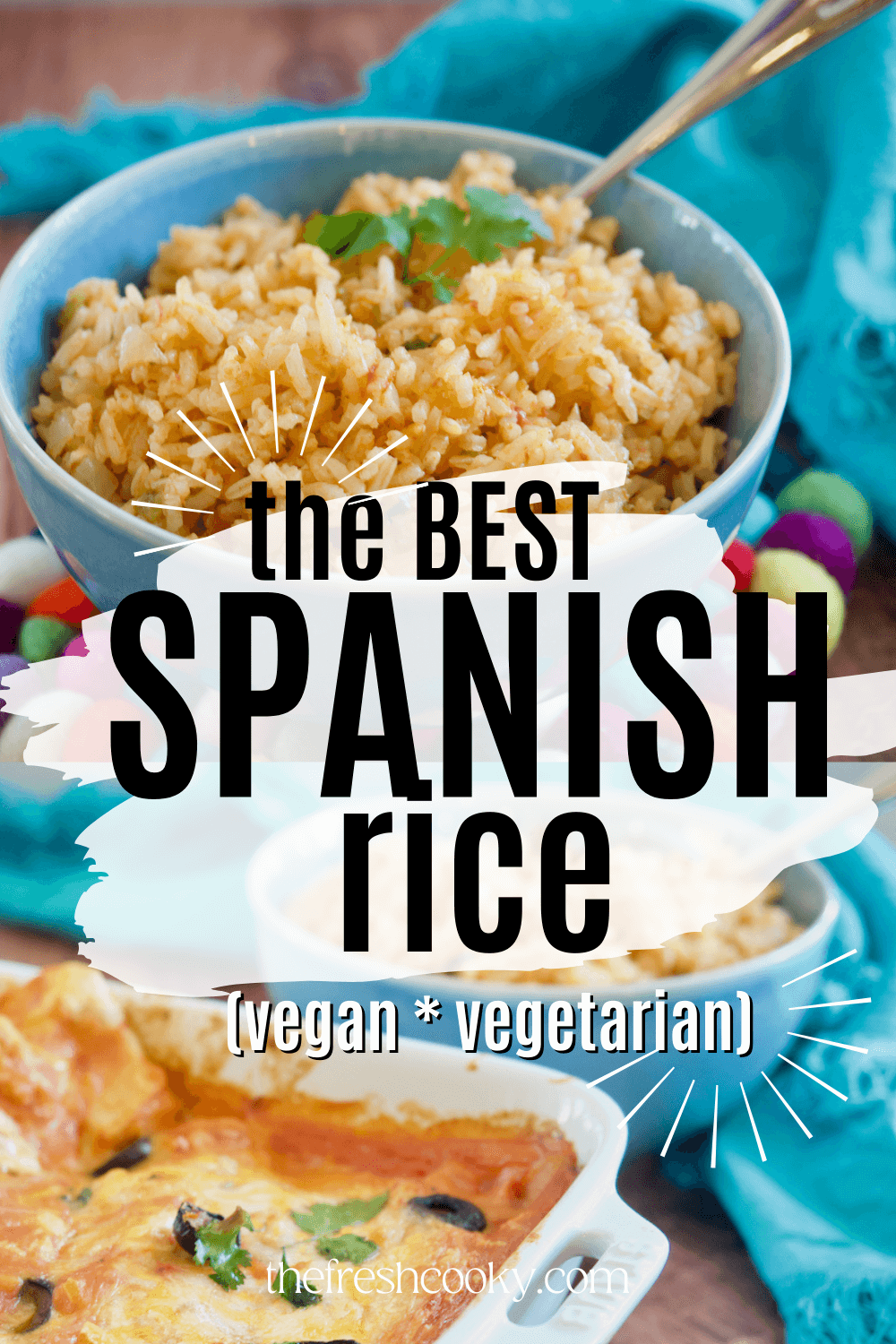 What is your favorite Mexican dish? Comment below the recipe card! And don't forget to give it a 5 start rating!
Like this recipe?
Don't forget to give it a ⭐️⭐️⭐️⭐️⭐️ star rating and comment below the recipe!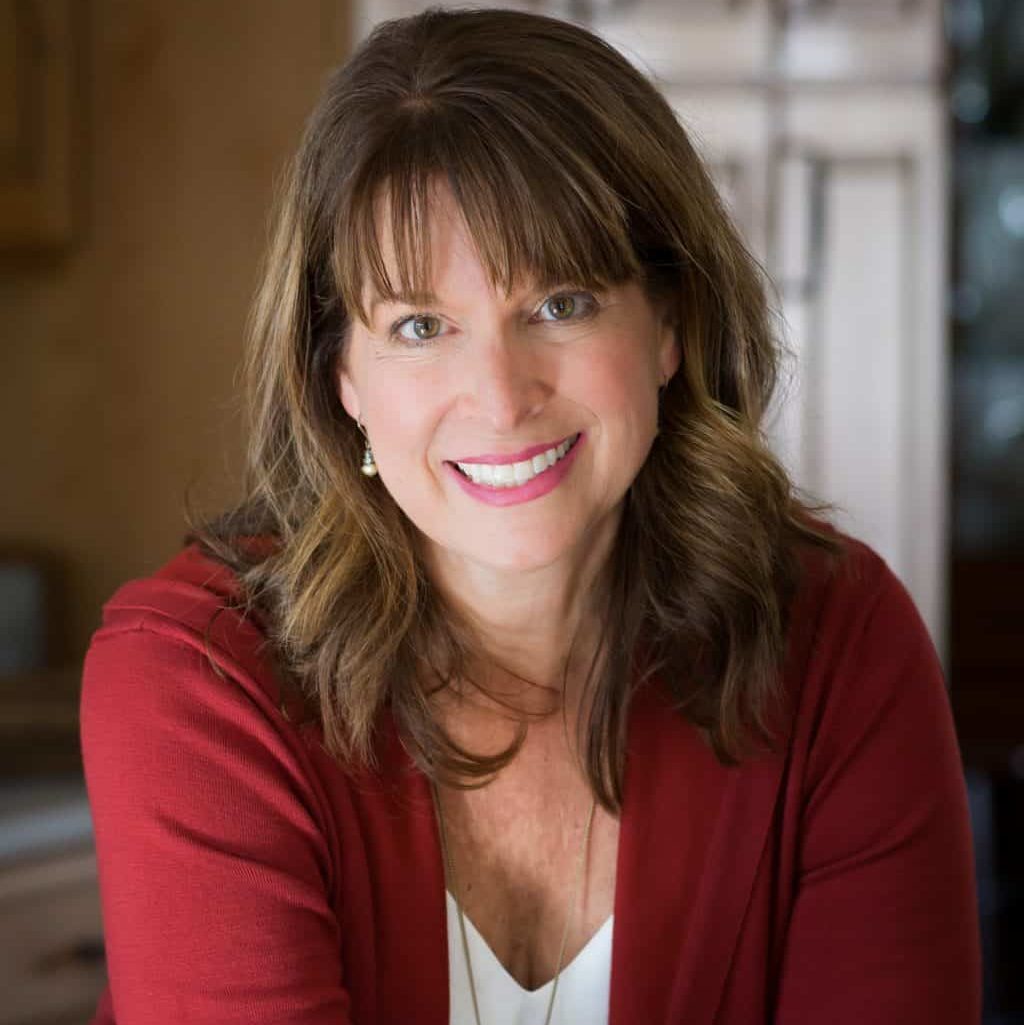 About Kathleen Pope
Recipe Innovator | Food Photographer | Food Writer
Hi, I'm Kathleen Pope. Here at The Fresh Cooky you will find easy, mostly from-scratch, trusted recipes for all occasions. From speedy dinners to tasty desserts, with easy step-by-step instructions. I am here to help teach you how to make mouthwatering recipes without spending hours in the kitchen. Read more about Kathleen here.