Creamy Chicken Poblano Soup
As an Amazon Associate, I earn from qualifying purchases. Please read my disclosure policy.
Light, creamy chicken poblano soup is chock full of veggies, chicken broth, and loaded with flavor. A naturally gluten free, low carb soup that will have your mouth screaming for more!
I was scrapbooking with some friends not long ago and my friend served us this amazing soup for lunch! Oh it might look heavy, but it is the lightest cream soup ever! I couldn't get enough of the light and flavorful broth.
If you are a soup lover, like me and our readers, you will enjoy this Panera Broccoli Cheese Soup, Cauliflower Soup (30 minutes) and Italian Wedding Soup.
Soup is like a warm hug and honestly I'll take a warm hug any day; warm or chilly! While this soup is spectacular in the winter, it is going to become a favorite of mine into the spring because of how very light it is!
Is this soup Spicy?
This Creamy Chicken Poblano Soup is NOT spicy!
As a self-proclaimed spice wimp, that is always my first question! Poblano Peppers? Yikes, it's going to burn my mouth. But Poblano peppers are mild, flavorful and amazingly delicious!
If you love spicy, keep some seeds in, that will increase the heat significantly!
Can I Swap Poblano Peppers for Other Peppers?
Yes! Anaheim chili's are the best and closest pepper to swap for Poblano peppers, I also believe that Hatch chili's would work as well.
I was hitting my 4th store to find Poblano peppers, when I was resigned to just make this recipe using Anaheim peppers and to my surprise, the last store I visited had Poblano's!
Anaheim peppers have a bit more kick, so if you are spice sensitive, make sure you clean those seeds out really well and maybe only use 2 peppers instead of three. They are also slightly sweeter, so keep that in mind.
Finding chili peppers has been beyond difficult this year. I have not been able to find canned whole Hatch Green Chili's for months and believe me, I have looked everywhere! I have been craving this Chile Relleno Casserole.
How Do I Avoid Hot Pepper Hands?
Be careful anytime you are cutting peppers with your bare hands! The oils from the peppers get onto hands and cause burning. Sometimes especially in the winter when your skin is dry and cracked, this burning can be intense. Don't ask me how I know, I just do! 🙂
The Best Way to Handle Cutting Hot Peppers
The best way is to wear gloves! I typically will wear non-latex gloves when chopping a lot of peppers, plus I wash the cutting board and knife once I am done with a little baking soda paste and then dispose of the gloves.
No gloves? Wash hands with soap and warm water (I suggest something even stronger, like this Salt Scrub), soap and water alone will not remove the oils.
Next, make a paste out of baking soda and water, submerge hands in the paste, remove and allow to dry, then wash with lukewarm water.
I keep a tube of this Aloe Vera gel in my kitchen, it works wonders on any burns, even pepper oil burns. I have had severe stove burns that have blistered and slathered gauze with this aloe gel and the burn has all but disappeared the next day. Great stuff! Sunburns too!
Lastly, be very, very careful if you have contact lenses and you have been handling hot peppers, I have burned my eyes more than once putting in or taking our contacts because of the residue on my hands — and it's worth noting that you should not touch or rub your face after handling peppers.
Ingredients
Unsalted or salted butter | sautéing the veggies and peppers in the butter gives this dish incredible flavor!
Onions | diced small, yellow, sweet or white onion is fine
Celery | cut into a medium dice
Carrots | adds beautiful color and flavor
Garlic Cloves | again, with the amazing flavor!
Poblano Peppers | medium, seeded and diced, replace with Anaheim if unavailable. *See note above on handling peppers properly.
Kosher Salt & Freshly Ground Black Pepper
Ground Cumin | the essential smokey spice for many Mexican dishes
Dried Thyme | just a bit, but adds more earthy flavors to the soup
Chicken Broth | Stock or broth, just taste for saltiness, I use organic
Heavy Cream | a low carb lovers dream, but this is not a heavy soup, trust me!
Shredded Chicken | make your own using chicken breasts & thighs or rotisserie chicken with a blend of white and dark meat
Fresh Cilantro | a must for final flavor burst
Radishes | I am not a radish lover, but truly this adds amazing crunch and complimentary flavor! (optional)
Tortilla Chips | Optional
Sliced Avocado | creamy and delicious as a garnish on the soup
How to Make Poblano Chicken Soup
In a large soup pot, over medium heat, melt butter. Sauté onion, celery, garlic and poblanos, stirring often until tender and lightly browning, about 12-15 minutes.
Add salt, pepper, cumin, thyme and sauté an additional 3-5 minutes, until fragrant and caramelized.
Pour in broth and cream, bring to a simmer, then reduce heat to low, stirring often, about 15-20 minutes — this marries the flavors.
Using an immersion blender, blend the soup carefully until smooth (or use a blender, blending in batches — careful though, the heat can build when using a blender, so be sure to do in small batches, never filling more than half full, removing the lid slowly) Pour the soup back into the pot.
Add the chicken to the soup base, bring to simmer for another 15-30 minutes.
Before serving, stir in cilantro.
Serve warm, and if desired, garnish with tortilla chips, sliced radishes and some chopped avocado.
Store any leftovers (cooled completely) in refrigerator in an airtight container 3-5 days. May be frozen (after cooling) up to 3-6 months.
Recipe adapted from Joanna Gaines Magnolia Table Volume Two, which is a beautiful and fun cookbook, <–here's the link!
Radish Garnish in Poblano Soup
A note about the addition of radishes to this soup. I was raised with radishes in every salad and I always avoided them, my parents loved them, I never did, too spicy for my taste.
However; when something is recommended I generally try it; because maybe my tastes have changed, maybe it will make the dish go zing, maybe I won't like it.
In this case I HIGHLY recommend the sliced or slivered radish garnish, they add a lovely crunch, a brightness and beauty to the soup that will surprise you! Maybe you won't like it, but maybe like me, you will love it!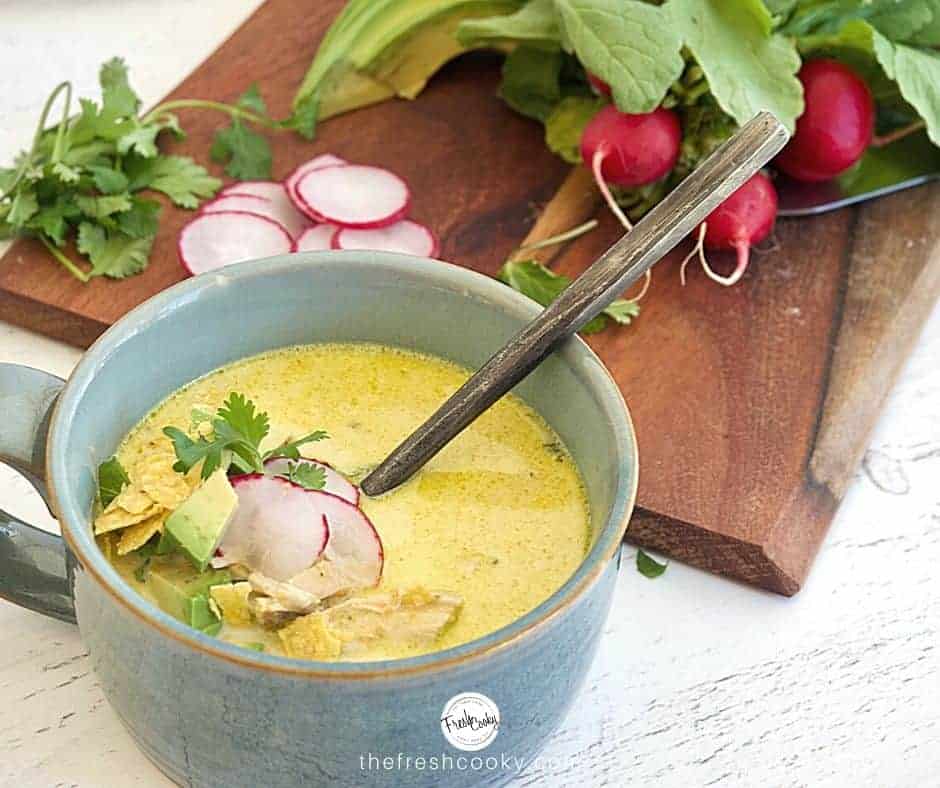 Is Creamy Chicken Poblano Soup Low Carb
It sure is! This delicious soup is low carb, Keto friendly AND gluten free!
How Do I Freeze and Reheat Cream Soup?
We ate this soup so quickly there wasn't a question as to whether or not it would freeze, but yes, according to the original recipe you can freeze this soup.
Typically soups with cream in it will separate when freezing, taking on a curdled appearance and grainy texture.
Optimally, thaw cream soups overnight in refrigerator, then when you reheat, do it slowly to minimize the separation between ingredients.
Stirring regularly, due to the higher fat content in the cream in this soup, you shouldn't have as much of a separation problem.
SUBSTITUTIONS
Can I substitute 1% or fat free milk for the heavy cream. I would not recommend those, you can try using whole milk or 2% at the most, but the soup will not have the same flavor and depth.
Can I use cooked regular chicken breast or thighs instead of rotisserie chicken? Absolutely! Shred or chop into bite size pieces ahead of time.
Vegetarian? | Well why not, omit the chicken and perhaps try tofu or other plant based protein and swap out the chicken broth for a good vegetable broth.
Love It? Pin It!
More amazing soup recipes
Sure hope you enjoyed this light and lively low carb soup! Be sure to pop down if you try it and give it a star rating and a comment!
Like this recipe?
Don't forget to give it a ⭐️⭐️⭐️⭐️⭐️ star rating and comment below the recipe!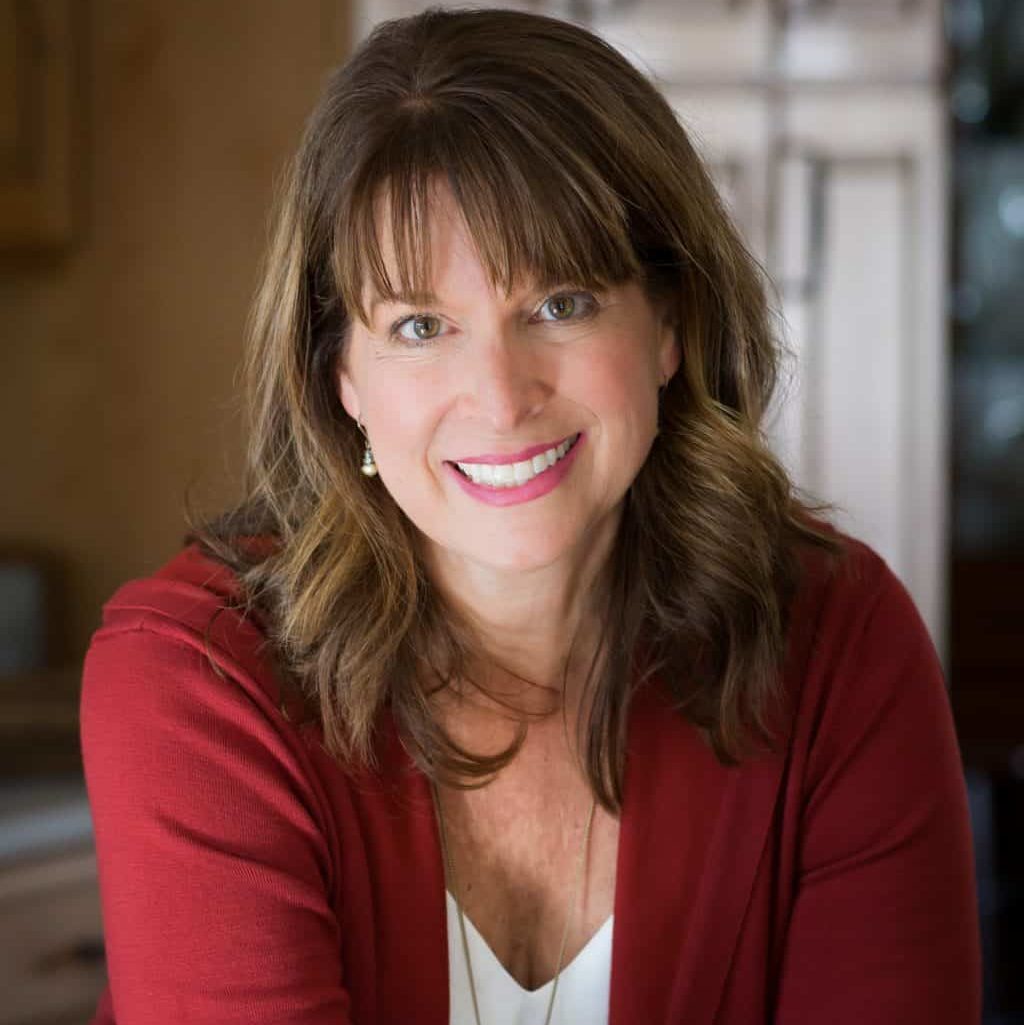 About Kathleen Pope
Recipe Innovator | Food Photographer | Food Writer
Hi, I'm Kathleen Pope. Here at The Fresh Cooky you will find easy, mostly from-scratch, trusted recipes for all occasions. From speedy dinners to tasty desserts, with easy step-by-step instructions. I am here to help teach you how to make mouthwatering recipes without spending hours in the kitchen. Read more about Kathleen here.