As an Amazon Associate, I earn commissions from qualifying purchases (
disclosure policy
).
You read that right, today I am sharing the best bread recipes for soup! Is there anything better than a steaming bowl of soup and fresh baked bread? Soup is one my favorite things to eat, I am excited to share with you the best bread for soup!
And the reason for the roundup for the best bread for soup? Because every soup is a little different, just like every bread is a bit different!
Whether you are a beginner bread baker, experienced bread baker or somewhere in between — you are in the right place! I have bread recipes for every level, palate, dietary restriction and time frame. Plus, I've done some soup pairing with many of the fresh bread recipes, you will love these soups!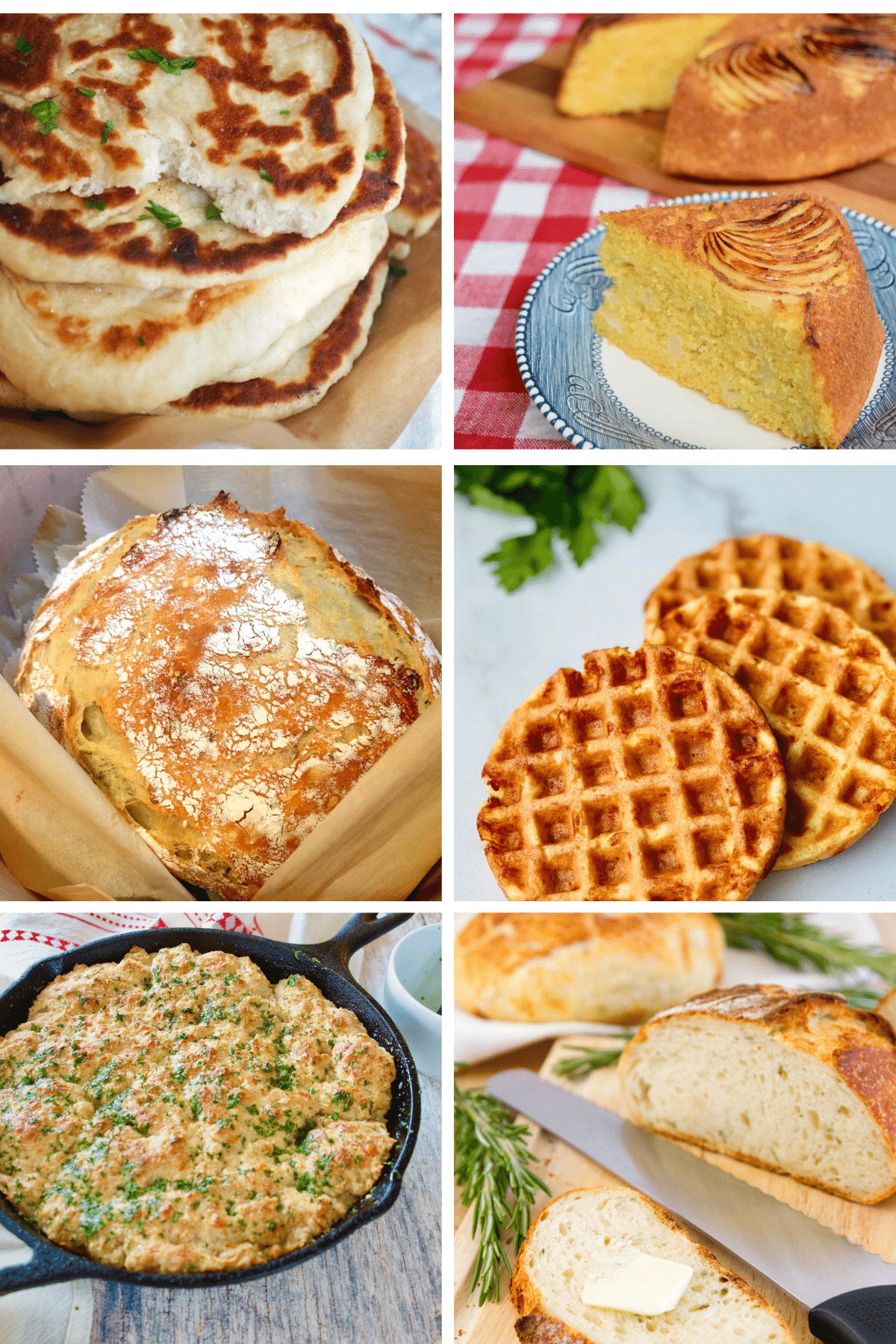 Use this handy table of contents below to take you directly to the section you are interested in. Or browse them all for some great soup and bread ideas!
Why these are the Best Bread for Soup
A huge variety, find everything from homemade bread bowls to artisan bread like focaccia. Quickbreads to light and airy yeasted breads; something for everyone!
For my gluten-free and celiac friends out there, I've got a whole section of Gluten-Free Bread recipes that go with soup too!
Fresh baked bread beats stale bread any day, unless you are making croutons or baked french toast, then stale bread rules!
Basic Bread Baking Ingredients
Every great recipe starts with quality ingredients, these are just a guide and my favorite bread baking ingredients. Be sure to browse the recipes below and print the recipe card.
FLOUR | every bread or roll recipe starts with flour, of some kind.
Bread Flour | I love King Arthur bread flour and Bob's Red Mill Bread Flour
Unbleached All Purpose Flour | I love using organic here, be sure to use the type of flour recommended in the recipe, the gluten content changes with the flour type.
Specialty Flours | Some recipes call for Whole Wheat flour, Rye Flour, Spelt flour, rice flour, garbanzo flour or Whole Wheat pastry flour
Gluten-Free Flour | There are many options and varieties out there, but my favorite GF blends are Bob's Red Mill 1-to-1 and King Arthur Cup for Cup.
LIQUID | Most bread recipes require some form of liquid.
Water | Read the recipe carefully, some recipes call for room temperature water or warm water.
Milk | some recipes use milk, it might use warm milk, heated milk, or room temperature milk, some recipes even use yogurt and plant based milks.
Types of YEAST
If making yeasted breads and rolls, you need yeast, there are actually 6 different types.
Active Dry Yeast (this is traditional yeast) – It needs to be activated in warm water.
Instant Yeast – pretty much the same as active dry yeast but does not need to be proofed or activated in warm water.
Bread Machine Yeast | this typically comes in a jar and while it is great for use in bread machines or with pizza dough, you can usually use it for other breads as well.
Fresh Yeast | I used to see this all the time at the grocery stores, it was stored near in the dairy products — nowadays you don't see it too often.
Rapid Rise Yeast | Rapid rise yeast works best when a short rise is needed.
Wild Yeast | commonly known as sourdough starter, yes, it's actually a yeast! Try my friend Julie's sourdough bread starter if you have never tried it!
SALT & SUGAR
Salt gives all baked goods great flavor and sugar; both granulated and brown sugar will aid in feeding the yeast.
OTHER | Some bread recipes call for eggs or an egg wash, I typically use large eggs for my baking. You might also find some recipes that use a little olive oil or other oils or even butter in some bread recipes.
Herbs, spices, molasses, dried fruit, and even coffee are found in some recipes. And even still there are unique breads that use seeds like caraway, fennel, poppy seeds and even sesame seeds.
Best Bread Baking Equipment
Here are a few tools you will find handy when baking bread, from easy recipes to the more complex Dutch Oven recipes,
Best Bread Baking Tips
If this is the first time you are making a recipe, read it all the way through — I cannot tell you how many times I've been caught with — allow to rise overnight in the fridge, or be sure to find a warm place for the second rise. So read it all the way through so you know what is ahead of you.
Unless otherwise called for, start your recipes using room temperature ingredients.
If it's a cold day and you keep your house cool, be sure to warm your oven to 100 degrees and then shut off BEFORE you place your dough in for the first rise.
Place some flour in a small airtight container and keep near your bread working surface, then you can grab a little bit of flour to dust the floured surface you will be working on.
Preheat your oven and while you are at it, invest in an oven thermometer so you know that your oven is heating to the correct temperature.
Store yeast in the fridge if not using often, and if less frequent, store in the freezer. Sealed in an airtight container.
Not sure if your yeast is still good? In a small bowl dissolve ½ teaspoon sugar in ¼ cup warm water and add one package or 2 teaspoons of yeast to the mixture, stir gently, wait 10 minutes. If the yeast is alive, it will smell yeasty and will be bubbly or foamy, if it's dead, it will pretty much look the same as when you started.
Frequently Asked Questions
What bread goes with soup?

Sourdough and Rye breads go great with hearty soups and tomato based soups.
A crusty bread like French bread, Italian bread or baguettes are great with both creamy and brothy soups as they hold up well to dipping.
White bread is super absorbent and doesn't have strong flavors, so it goes well with full-bodied and heartier soups.
Multigrain bread is perfect for the earthy soups, like Minestrone or a good Beef Stew.
Cornbread, Biscuits and Beer Bread all pair very well with chili's, stews, pot roasts that require sopping up.
Do you put bread in soup?
Yes, you sure can, just like you put croutons or a slice of toasted french bread with parmesan cheese into a steaming bowl of French Onion soup, you can actually bulk up or thicken a soup by adding pieces of bread to the soup.
What type of bread are bread bowls?
Typically a round, bowl-sized loaf of bread, with the top removed and the inside hollowed out to make room for the soup to be ladled in. Larger than a roll but smaller than a loaf of bread and are a great way to serve soup. The best part, you can eat your bowl! Try making your own bread bowls using this recipe from Sally's Baking Addiction.
Does all bread have to rise before baking?
Any bread with yeast, typically requires at least one rise, two rises for the best texture and flavor. But breads made without yeast; such as with baking powder, baking soda or other leavening agents will do their rising in the oven, while baking.
My Favorite Yeasted Bread & Roll Recipes
Here are the best yeasted bread recipes for soup. I know you will have fun browsing these great recipes from some of the best bloggers!
My personal favorite are these Easy Yeast Rolls. They are so stinking simple — what I would call a beginner bread recipe. But read on for many more great bread & roll recipes.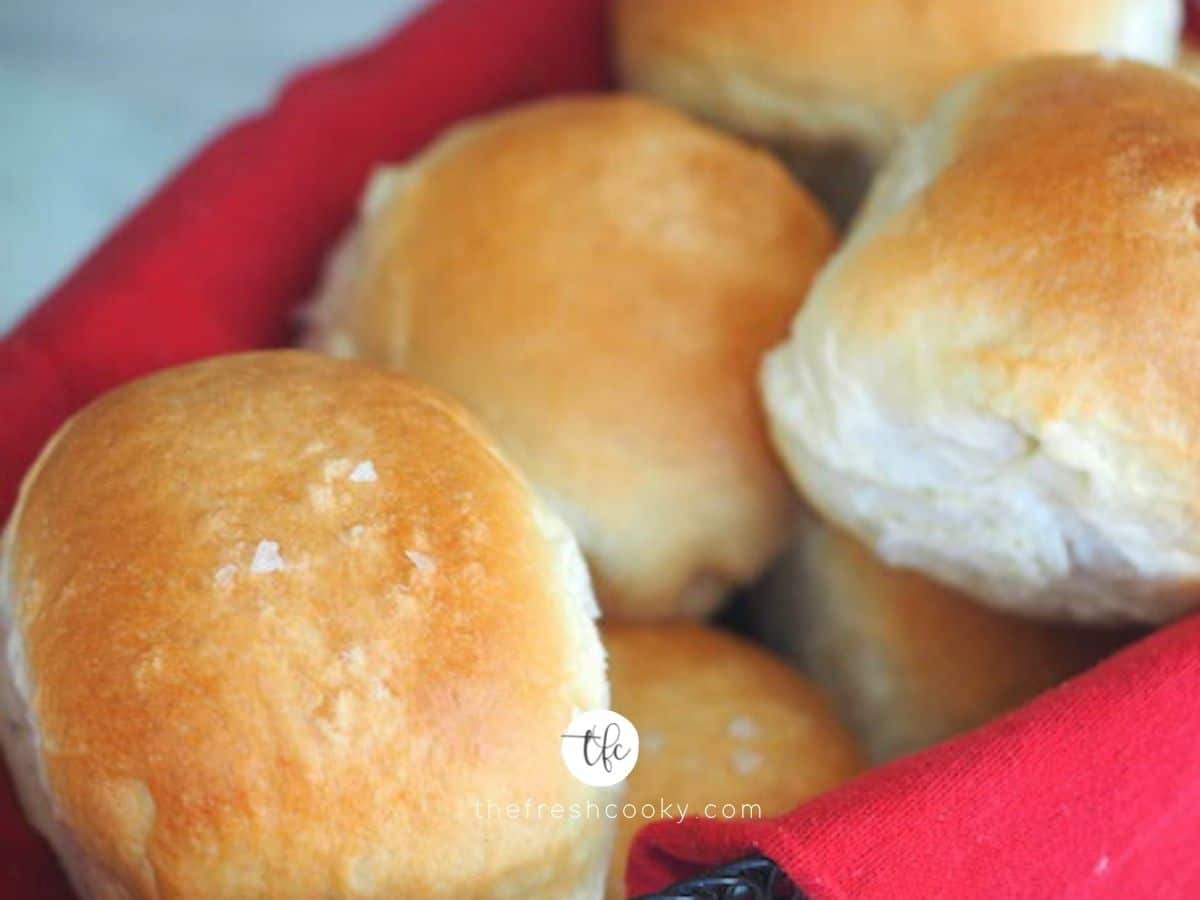 Best Yeasted Bread & Roll Recipes
Quickbread Recipes (Bread without yeast)
Here you will find everything from beer breads, to biscuits, to soda bread and more! No yeast required at all!
Quick Bread Recipes (without Yeast)
Cheater Bread Recipes
(Bread recipes using store bought bread, dough, biscuits, mix or rolls)
These recipes start with baked breads, or frozen rolls, canned biscuits or baking mix. Easy!
Cheater Bread Recipes (Recipes using Store bought bread, dough or rolls)
Gluten-Free Bread Recipes for Soup
For all of my gluten-free and celiac friends, bread and rolls all made gluten-free! Enjoy!
Gluten-Free Bread Recipes
Delicious gluten-free bread recipes perfect to serve with your favorite GF Soup!
Dairy-Free Bread Recipes (Vegan)
Mostly vegan recipes, meaning they don't use eggs or dairy in them! But they are still amazing!
Dairy Free Bread Recipes (Vegan)
Soups to Serve with Bread
A post about the best bread for soup would not be complete if I didn't provide you with a few soup recipes!
Simply hover over the image and then click on the recipe you want!
I hope you try these best bread for soup recipes — if you did, would you share your creation on Instagram, Facebook and Pinterest? And be sure to comment below!