As an Amazon Associate, I earn from qualifying purchases. Please read my disclosure policy.
Homemade naan, seriously, I love any homemade bread, but homemade naan is out of this world! Why you ask? Because it's homemade, and it's bread, and it's freshly baked and it might have some melted butter brushed on top and did I say it's easily homemade…with butter?!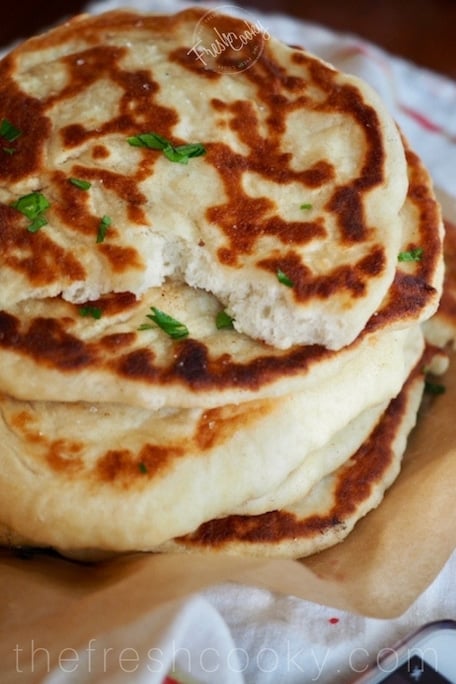 You don't need to be a baker (bread or otherwise) to make naan! It comes together quickly and easily and I'll take you through an easy step-by-step process. Your family will line up to eat the next hot naan fresh out of the pan!
HOW TO MAKE YOUR OWN, FRESH, SOFT, NAAN
Let's start with prepping our yeast, don't freak out on me if you've never worked with yeast before; it's fairly forgiving and before you know it you will have your own airy and light naan bread.

TIPS FOR WORKING WITH YEAST
In a medium glass or ceramic bowl, combine your yeast and sugar (yeast, LOVES sugar, metal not so much).
Pour in your hot (not boiling, just tap hot water) and give it a gentle stir until the yeast and sugar are dissolved.
Allow it to hang out for 5-10 minutes until it's frothy and rises a bit, it should smell yeast-y or breadlike.
MAKING NAAN DOUGH
While your yeast is doing it's thing, warm your milk in a small saucepan, just until warm, not hot, not boiling, you don't want to kill your yeast. It should feel warm, using the back of your index finger/knuckle to test.
Once your yeast smells like yeast; add flour, warm milk, yogurt, baking powder, baking soda and salt. Give it a good stir with a wooden spoon.
Mix with wooden spoon until it comes together and forms a sticky ball. Cover with plastic wrap sprayed with oil or a damp tea towel and set in a warm place for an hour.
BAKERS TIP | If you have a proof setting on your oven use that, if not, you can warm the oven to the lowest setting and turn off, then place the bowl inside oven, covered and allow to rise until doubled.
Shape dough into a disc, then divide using a knife or a bench scraper into 8 or 10 roughly equal parts. They do not need to be perfect, in fact it adds to the rustic look of the bread.
Do you Bake Naan?
On a lightly floured surface, one by one, roll out a dough ball into about 6-8 inch flat bread, not too thin. Repeat with the rest of the dough.
Now comes the fun part, it's time to bake your bread, but not in the oven, on a hot skillet.
Heat your skillet over medium-high heat until pan is hot. A cast iron skillet or even a dutch oven works great.
Brush both sides of naan dough with melted butter or olive oil. Try sprinkling on other spices as well, such as garlic, cumin or paprika.
One at a time, place the dough in the hot pan and cover with a lid and bake for one minute until bubbles form.
Flip and bake on other side until golden about 1-2 minutes. Remove and if desired, brush a little more butter and a sprinkle of a little kosher salt and a sprinkle of fresh chopped parsley or cilantro. Place warm naan in a cloth lined dish or basket to keep warm.
These homemade naan are best when eaten warm and fresh, however; they will keep well in a baggie in the fridge or freezer. Easily warm them by popping into the toaster on a low setting until warmed through.
Do I Have to Brush Naan Bread with Butter?
No, you don't, although I personally say, "why would you not brush with butter" but I get it, not everyone is a butter-aholic as I am! You may need to spray the pan with a little spray oil before "baking" though!
Try Naan with these recipes!
in place of any warm dinner bread or rolls.
This recipe is lightly adapted from Half Baked Harvest.
Sharing on my favorite link parties, check them out Meal Plan Monday & Weekend Potluck
Like this recipe?
Don't forget to give it a ⭐️⭐️⭐️⭐️⭐️ star rating and comment below the recipe!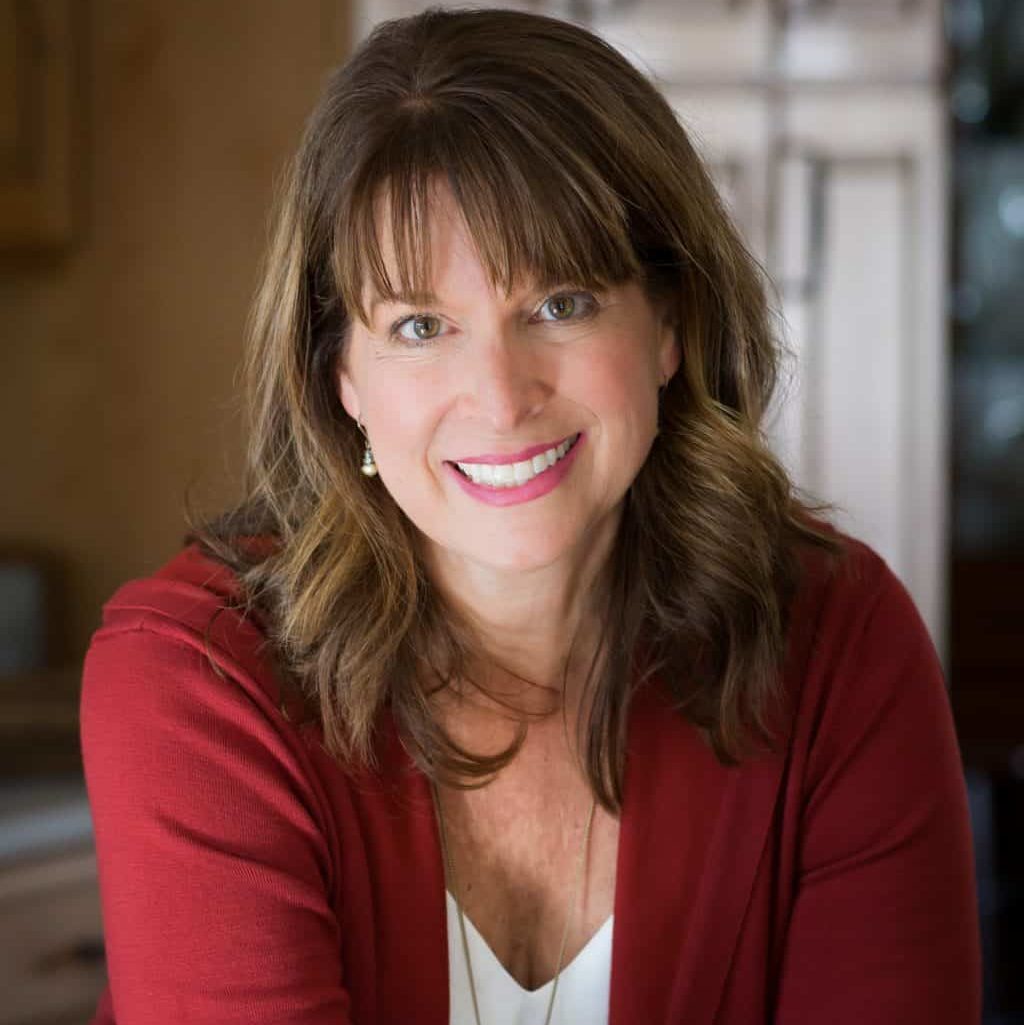 About Kathleen Pope
Recipe Innovator | Food Photographer | Food Writer
Hi, I'm Kathleen Pope. Here at The Fresh Cooky you will find easy, mostly from-scratch, trusted recipes for all occasions. From speedy dinners to tasty desserts, with easy step-by-step instructions. I am here to help teach you how to make mouthwatering recipes without spending hours in the kitchen. Read more about Kathleen here.