Easy Crockpot Butter Chicken (or Stovetop)
As an Amazon Associate, I earn from qualifying purchases. Please read my disclosure policy.
Melt in your mouth, healthier, easy crockpot butter chicken is a creamy Indian inspired dish, that is low carb, using anti-inflammatory rich spices, coconut milk, tomato paste, and yogurt.
A make ahead slow cooker or stovetop meal comes together quickly for a wholesome weeknight meal, or is perfect for a chilly winter weekend.
These are a few other of our favorite, make ahead and crockpot meals in our family: Barbacoa Beef Street Tacos, Firecracker (but not hot!) Chili, and Red Beans & Rice.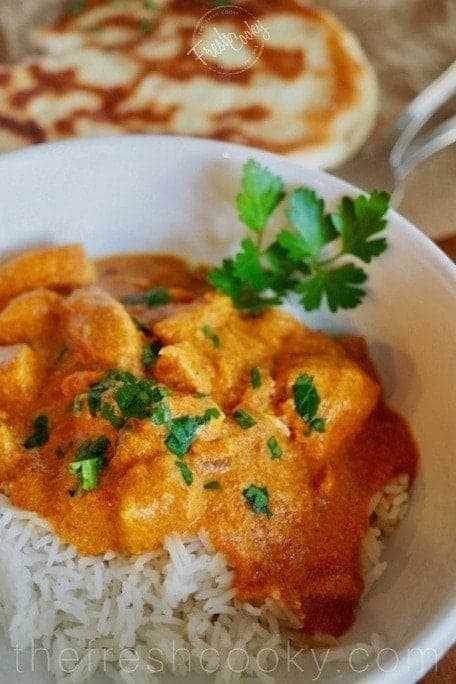 I'll admit I had never tried Butter Chicken; and shame on me, a butter lover that I am!!
Shocking I know, but the thought of spicy hot has always prevented me from trying this dish; oh and maybe the time I had horrible food poisoning after eating authentic Indian food.
Yet, I've matured, it's only taken me 30+ years to start giving Indian foods and curries a try again!
HOW SPICY IS SLOW COOKER BUTTER CHICKEN?
What lured me into making this dish was the amazing list of wholesome and clean ingredients and the fact that I could control the "heat" factor! BONUS! You toss it all together quickly in your crockpot friends, fix it and forget it!
So if you are a heat wimp like mujhe (Hindi for 'me'), then please give this recipe a try! I've dialed down the spices for our family, but provide full strength measurements as well!
How to Make Healthier Butter Chicken in the Crockpot
In a large mixing bowl, combine coconut milk, greek yogurt and cream, whisking well.
Whisk in tomato paste, Thai red curry paste, garlic, ginger and all of your powdered spices, mix until smooth and spices are evenly distributed throughout the sauce.
Set aside. Just look at those beautiful, rich, anti-inflammatory spices!
If you have a traditional ceramic or porcelain crock then spray or rub with a little oil.
Do I have to saute the onions ahead of time for healthy butter chicken?
While this step isn't necessary, I like taking the 10 extra minutes it takes to do this step as the flavors really stand out.
Heat a skillet over medium heat and add a tablespoon or so of oil and a small pat of butter.
Add diced onions and sauté until translucent and they begin to brown slightly, then toss in your garlic and stir around for a minute until aromatic. Set aside.
Add diced chicken to the crock pot, then sauteed onion and garlic mixture and finally pour the coconut milk mixture over the chicken until covered, give it a quick stir.
Butter in Butter Chicken?
Well, yes, but this just has a little bit, making it a bit healthier than others.
Place pats of butter on top of the mixture and placing the lid on top, the original instructions said to cook on high for 4 hours or low 6 hours, however; I find chicken can get really tough if cooked too long.
I cooked high for 1 hour, low for 3 hours and the chicken was tender.
Now head to work, walk away, take a nap, play a game with your kids, build a snowman, go for a walk; or simply sit and read a good book, in front of a crackling fire, with a cup of something that warms you….oh like my Chai Tea or maybe something a bit more adult-like like my Maple Whiskey Sour.
SLOW COOKER CHICKEN TIP | If you need to cook this for 4 or more hours, I suggest using whole (even frozen) chicken breasts instead of cut up, the key to cooking chicken in a slow cooker is less, not more time.
Better yet, if you have a warm setting on your crockpot, then set for 4 hours on low (with thawed cut up chicken) and make sure that it is set to go to warm.
IS BUTTER CHICKEN LOW CARB?
It sure is low carb and keto friendly! Loaded with healthy anti-inflammatory spices, coconut milk, a touch of cream, yogurt and tomato paste.
Serve healthy butter chicken over your favorite low carb "noodle" like spaghetti squash or zoodles and you have a healthy, keto, low-carb friendly meal!
Before serving, gently stir to mix flavors together and serve over rice, quinoa or spaghetti squash or zucchini noodles; garnish with a little fresh chopped parsley or cilantro.
Can I Make this Butter Chicken recipe on my stovetop?
YES! And it's quick and easy too!
Saute onions and garlic in pan as directed, scoot to the side of a large pan with lid, (this Staub Everyday pan is my favorite).
Add chopped chicken and stir until edges lightly browned, then add spices and sauce mixture. Simmer covered, over low heat until chicken cooked through. About 20-30 minutes.
That's it, I hope you enjoy this delicious Crock Pot Butter Chicken.
An exceptionally nice touch is to make homemade naan to serve with this dish! Oh my, it's over the top!
Don't forget to PIN to your favorite Slow Cooker Board.
Enjoy these other spicy, but not hot dishes!
Like this recipe?
Don't forget to give it a ⭐️⭐️⭐️⭐️⭐️ star rating and comment below the recipe!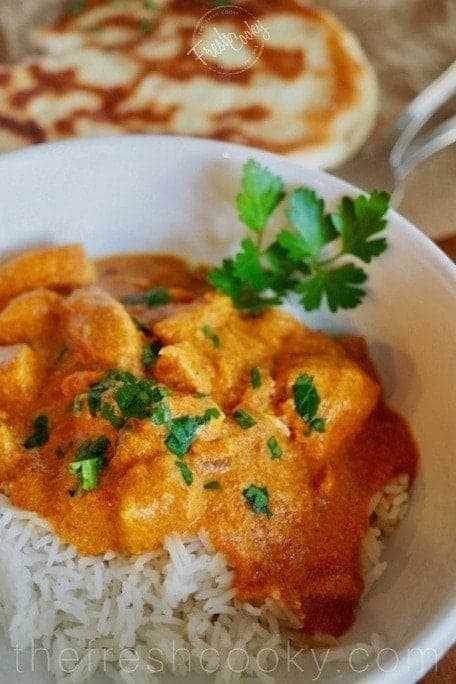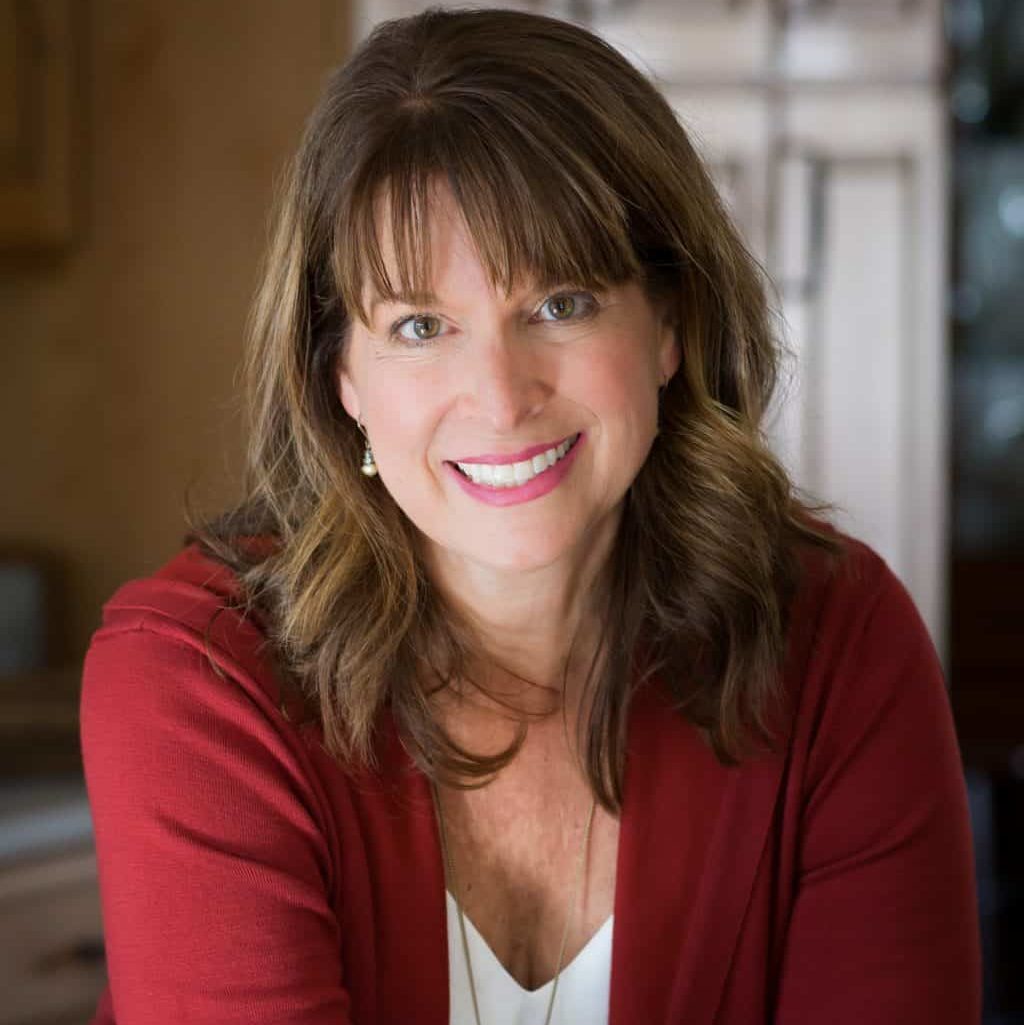 About Kathleen Pope
Recipe Innovator | Food Photographer | Food Writer
Hi, I'm Kathleen Pope. Here at The Fresh Cooky you will find easy, mostly from-scratch, trusted recipes for all occasions. From speedy dinners to tasty desserts, with easy step-by-step instructions. I am here to help teach you how to make mouthwatering recipes without spending hours in the kitchen. Read more about Kathleen here.