This is a spicy, but not hot Firecracker Chili and it's the perfect chilly night meal! Firecracker chili is an award winning family and neighbor favorite! Read on to discover the secret ingredient.
FIRECRACKER CHILI (BUT NOT HOT)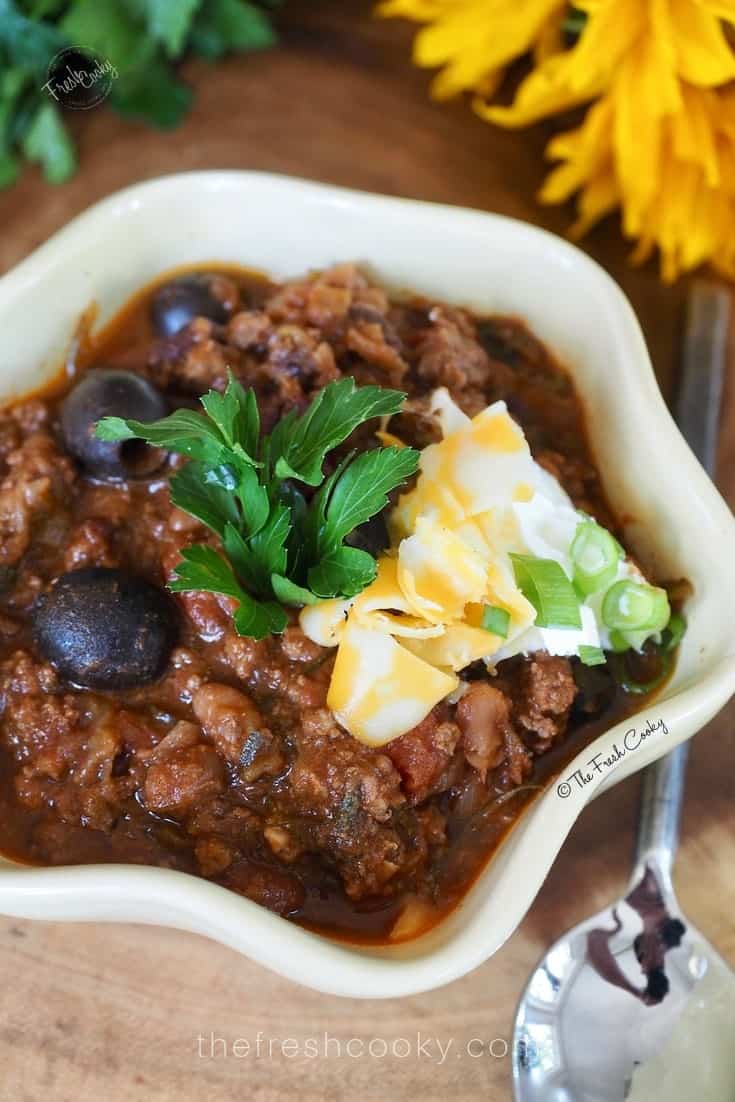 JOIN THE FRESH COOKY ON PINTEREST
Firecracker Chili is the ideal chilly day recipe! A great make-ahead meal for hungry trick-or-treaters, football game parties or anytime you need a BIG OL POT OF GOODNESS!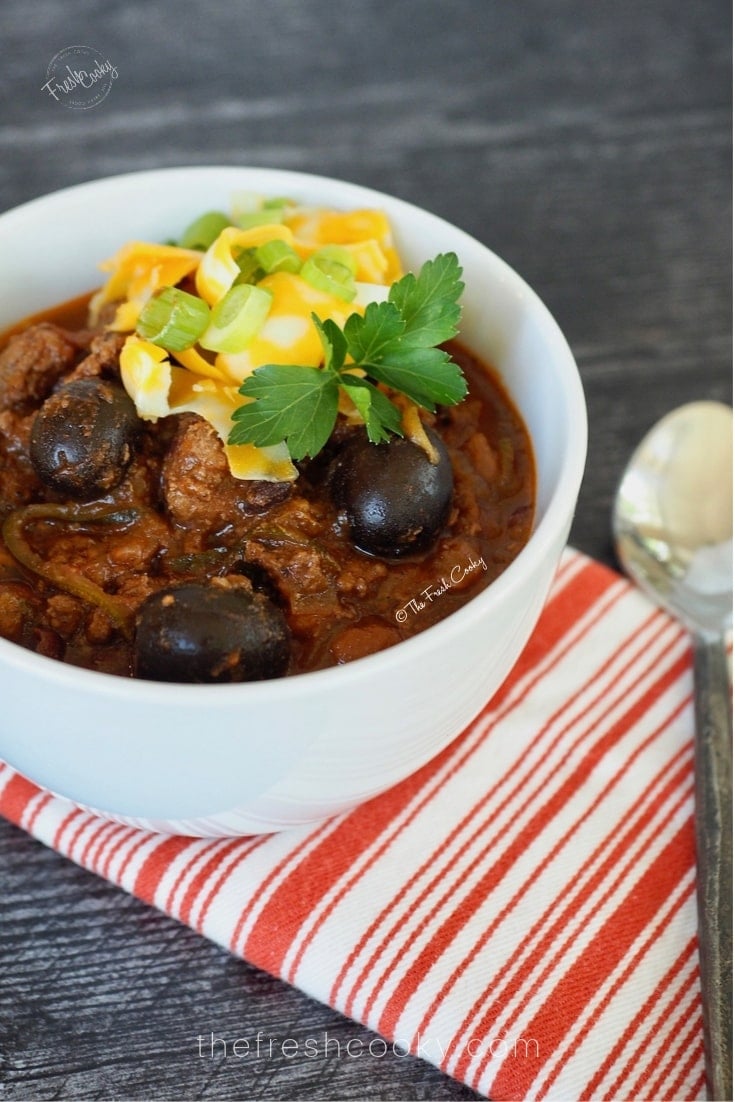 On a chilly day, after a long day of skiing, trick-or-treating, relaxing, sledding, or working…there is nothing like a crock pot hanging out doing it's thang, filling the air with amazing spices like this unique, warming chili.
I've added all sorts of things to Firecracker chili; try adding pumpkin puree, shredded zucchini and carrots — sneaking in some healthy veggies, or make it with ground chicken, turkey or my favorite bison!
Heat a good sized pan nice and hot (about medium-high) and toss in your ground beef. Love my cast iron pans!
Break it up using a heavy duty wooden spoon, or try one of these nifty tools; I bought this several years back from the Pampered Chef and I must say, I do love it, but you don't need it, a strong wooden spoon or spatula will do the trick!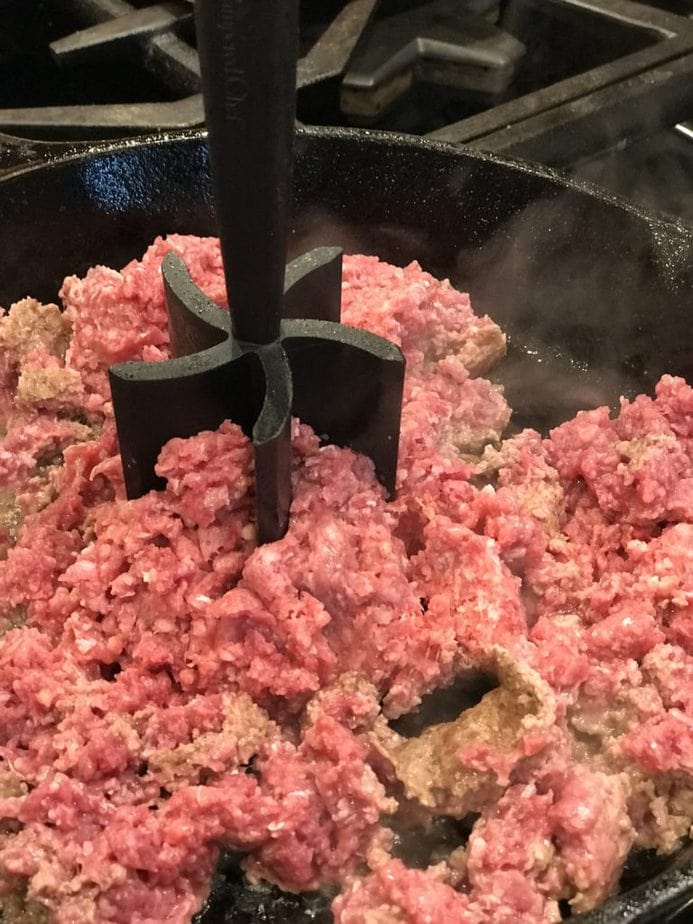 While your meat is browning, open your cans of beans and pour into a colander in the sink, rinsing them well. You can use traditional kidney beans or a mixture of beans as I have done here. I favor black beans over kidney beans.
⭐️ FREE, DELICIOUS RECIPES? YES, PLEASE! ⭐️
Place drained and rinsed beans in crock or soup pot.
And yes, that is an electric can opener...when I have a lot of cans to open, I pull that puppy out of the cupboard.
Once your meat has browned, drain any large amounts of fat and then place cooked meat in crockpot or large soup pot.
In the same pan you browned your meat in, add 2 tablespoons of butter over medium heat. Once melted, toss in your chopped onion and sauté for several (6-8) minutes until soft and a nice caramel color, once soft, add your garlic stirring until fragrant about a minute.
⭐️ FREE, DELICIOUS RECIPES? YES, PLEASE! ⭐️
NOTE | Depending on my mood, I will brown my onions and garlic first, adding the spices to bloom and THEN brown my beef in the same pan! So it soaks up all those yummy flavors!
While your onions are sautéing, pour your can of diced tomatoes (regular, unsalted, roasted, whatever you have in your pantry!) into the crockpot.
And then tomato sauce…
Also while your onions are sautéing, measure the spices in a small bowl, adjust your seasonings up or down based on taste.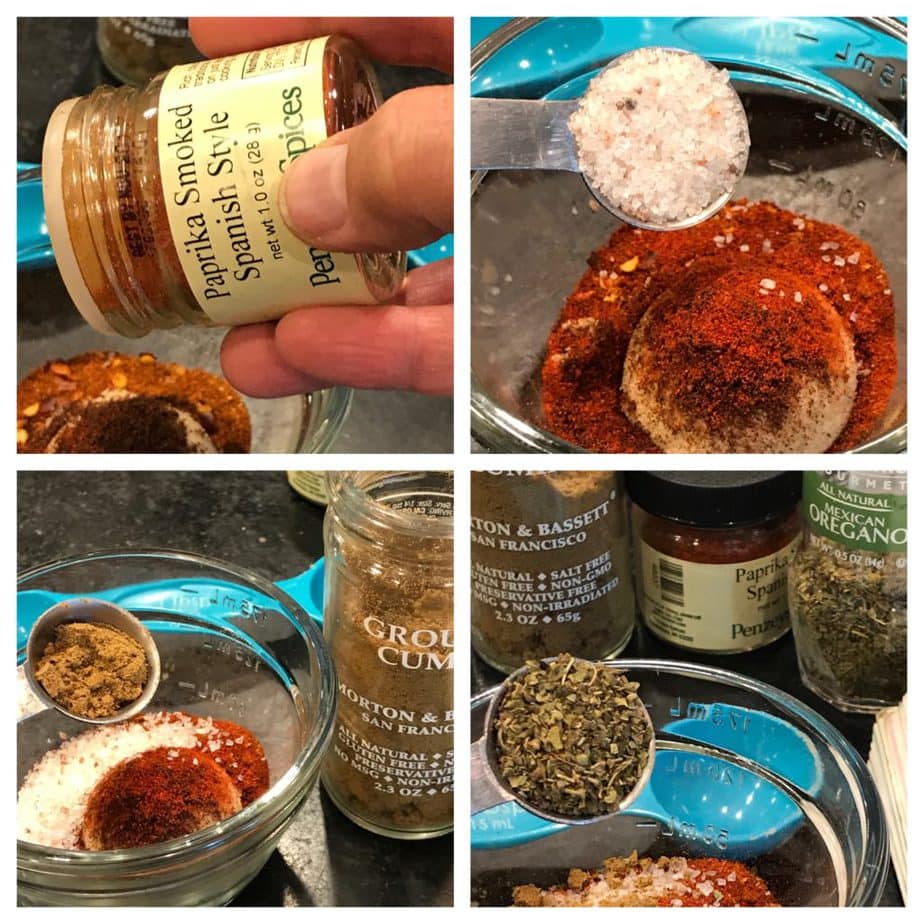 Next add paprika (I LOOOOVEEE smoked paprika), sea salt, cumin and oregano. Adjust the spices to your tastes, I'm not a huge fan of cumin, so I tend to put a scant teaspoon in, whereas, I love paprika so it's quite a few shakes for me! Mix it all around and add the spices to your soft and caramelized onions, stirring over low heat for a minute. This really "blooms" the spices allowing the flavors to come alive!
Now add those cinnamon sticks, yep, cinnamon sticks. Isn't it beautiful!? Okay, I admit I get a bit strange about these things.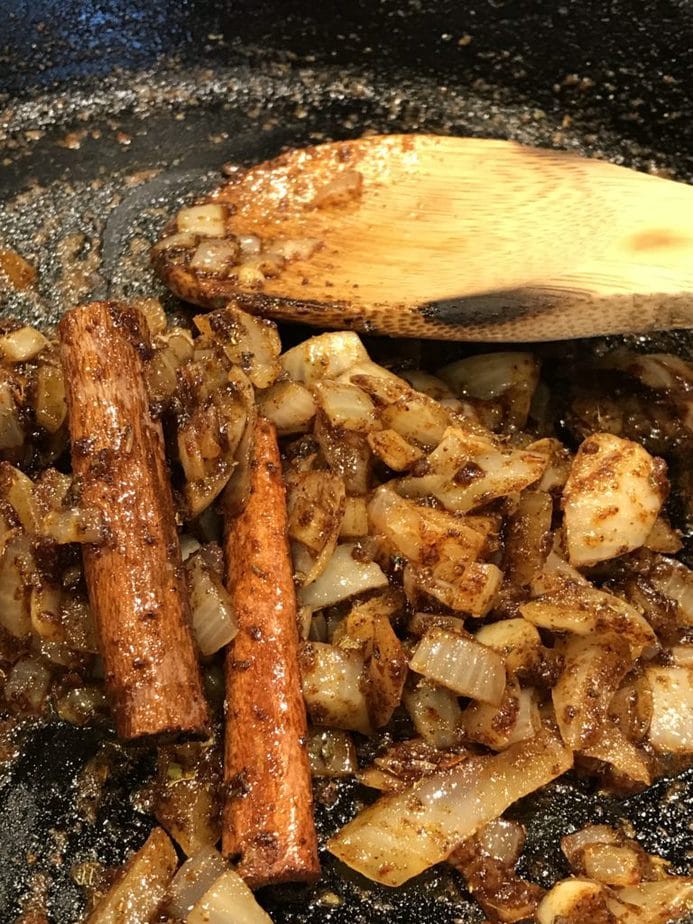 Take all of that goodness and pour it over your meat in the crockpot, scraping the pan to get every last beautiful morsel.
Next add fresh parsley. Don't have fresh? don't worry just toss in a small handful of dried.
For me, this is the best part of the chili, a can of black olives with their liquid!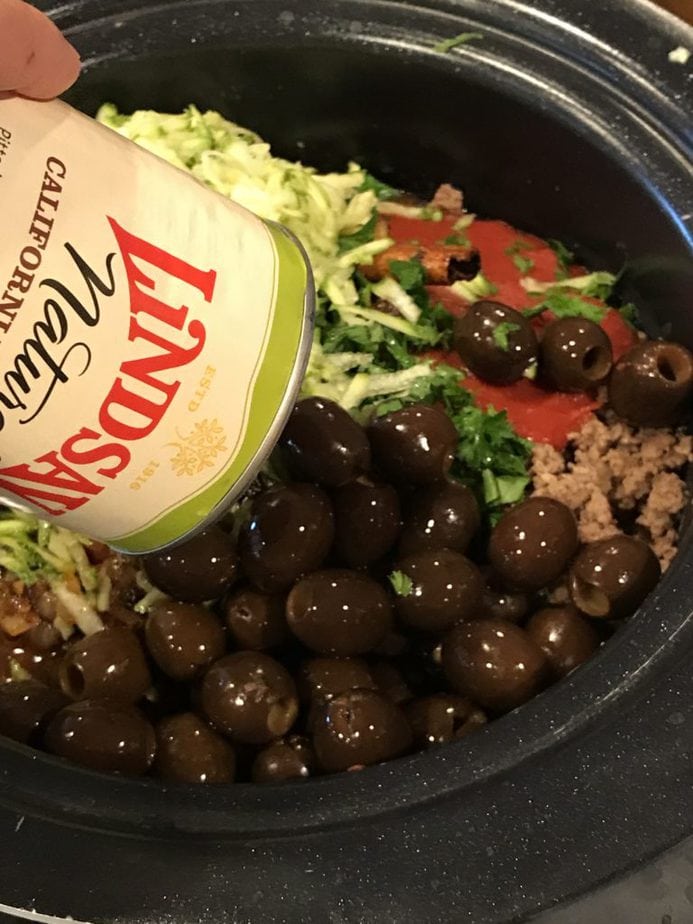 What Veggies Can I Add to Firecracker Chili
These next few items are optional, but they sure do add some great nutrition and fiber to your chili, sneaking some nutrient veggies in for picky eaters! The great part is they will not see or taste them as it cooks into the chili.
We'll start with zucchini, I grated one medium sized zucchini.
Shredded carrots (if desired) or try shredded butternut squash and/or 1 cup pumpkin puree!
Oh and don't forget the bay leaf, I somehow missed taking a picture of that, but it's in there! Just one!
That's it, now stir it all around and place the lid on the crock pot or soup pot, set the crockpot on low for 4-6 hours (it can go longer if needed, just add a ½ cup of additional water before covering it) or if doing on your stovetop, simmer on low for 3-4 hours, if it starts drying out, just add a ½ cup of hot water and stir it in. You may also cook on high for 4 hours.
I had some leftover barbecue brisket, so decided to dice that and toss that in also; I'm trying to be better about utilizing my leftovers instead of throwing them out after they have turned into science experiments in my refrigerator.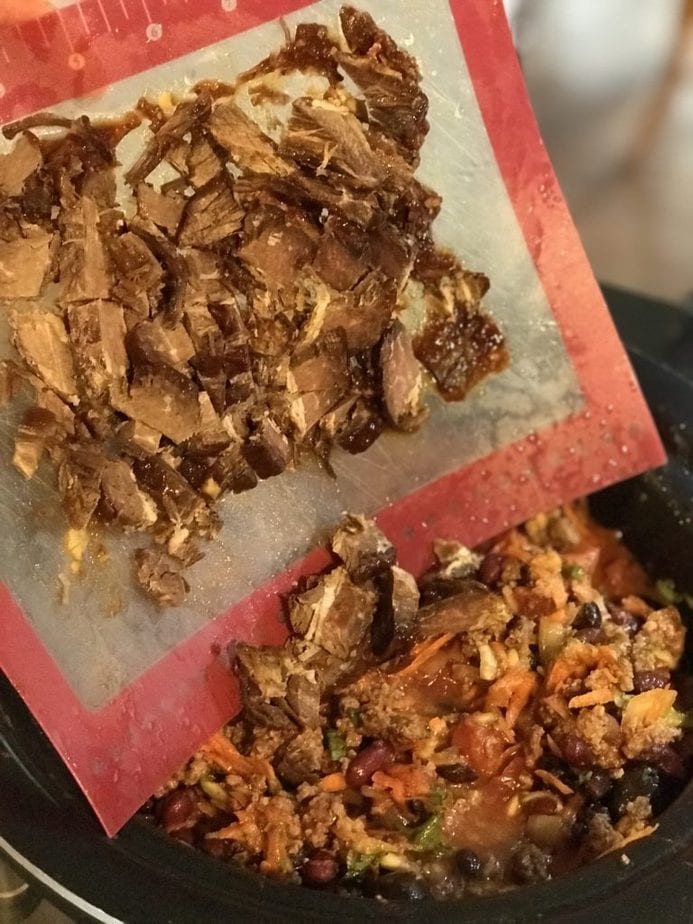 Place that lid on top and don't lift it until it's done!
Coming home after a long day of school "Fall" parties, wrangling 30 sugar-high, excited and squirmy kids for a game of pumpkin bowling or decorating their own pumpkin sugar cookie is exhausting…not joking, it truly is. Coming home to the exotic smell of chili is both warm and comforting, with a full meal all ready to tackle the busy school night, Halloween night, snowy night, or relaxed weekend night…you get the idea.
Once it's finished, give it a good stir, taste and adjust the salt and pepper if needed.
Scoop into bowls and top with your favorite toppings. We love sour cream, corn chips and a little shredded cheese. And don't forget the corn bread, especially if you make this moist, tender and simple Sweet Buttermilk Corn Bread!
Just look at this Sweet Buttermilk Corn Bread are you drooling? I am! It pairs so beautifully with this Firecracker Chili!
JOIN THE FRESH COOKY ON PINTEREST
Sure to warm you from the inside out!
Other incredible slow cooker or slow cooked recipes to warm you on a chilly day: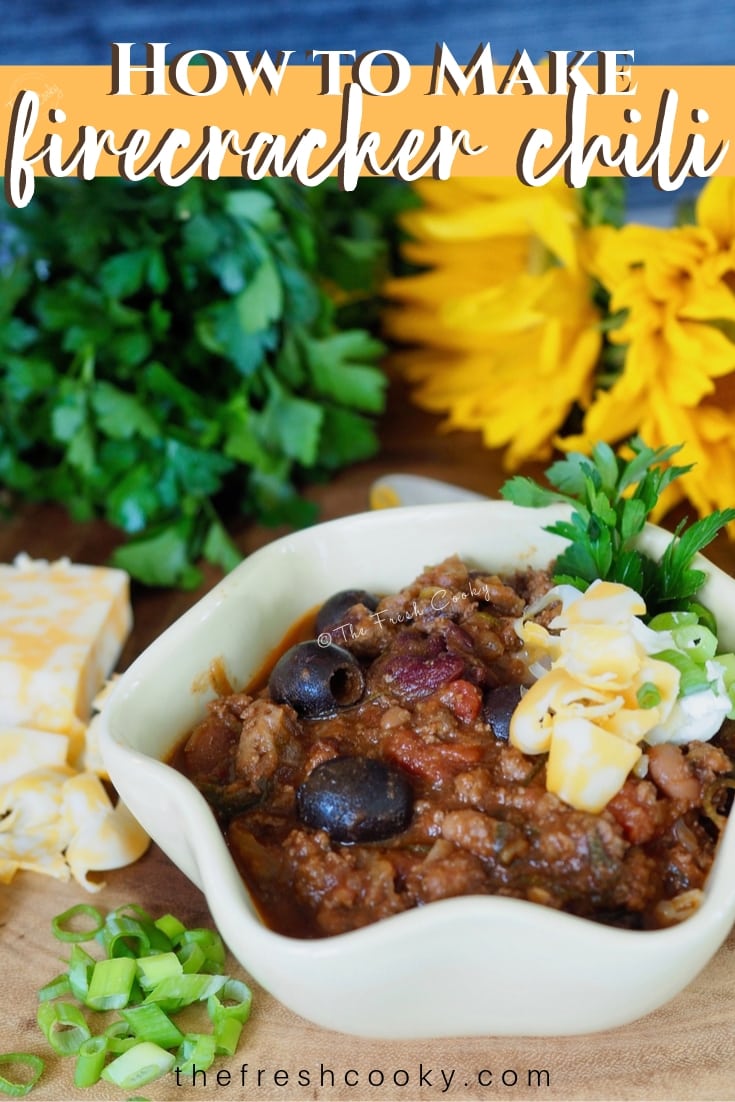 Like this recipe?
Don't forget to give it a ⭐️⭐️⭐️⭐️⭐️star rating in the recipe below!
Yield: 8-10 servings
Firecracker Chili (but not hot!)
Spicy, but not HOT Firecracker chili. Give this delicious, but unusually spiced chili a try, adding shredded veggies to increase the nutritional value and flavor!
Total Time
6 hours
20 minutes
Ingredients
1 ½ -2 lbs of ground beef (try bison, turkey or ground chicken)
3-16 oz cans of beans (I like kidney, black and pinto), drained and rinsed (sometimes I use more ground beef and one less can of beans)
1 large onion, chopped
1-2 cloves garlic, minced
2 tablespoons butter
1 15 oz can diced tomatoes, with juice
1 15 oz can tomato sauce
¼ cup fresh parsley, minced (or heaping tablespoon dried)
2 tablespoons chili powder (to taste, I use scant tablespoons, use more if you like more heat, less if you want really mild)
1 tablespoon brown sugar
1 teaspoon salt
1 teaspoon oregano (dried)
1 teaspoon cumin (I used scant, again to desired flavor)
½ teaspoon ground cloves
2 cinnamon sticks (2 -4 inch)
1 bay leaf
2-3 shakes (or ½ tsp) crushed red pepper (again to taste, less if you desire less heat)
3-5 shakes of paprika (smoked paprika is delicious)
Dash of Cayenne pepper (if desired)
1 large can pitted black olives, with liquid (optional, but add ½ cup water if not using)
1 zucchini, grated fine (optional)
3 carrots, grated fine (optional)
1 cup - 15 oz can pumpkin puree (optional)
TOPPING SUGGESTIONS
Shredded Cheese, 3 cheese Mexican is our favorite
Green onions, chopped
Sour Cream
Fritos Corn Chips
Instructions
Drain and rinse beans, add to crockpot or large soup pot. Brown and drain ground meat, add to crock or soup pot.
While meat is browning, measure out all spices and place in small bowl, stirring to blend. Set aside. Pour diced tomatoes and tomato sauce over brown meat and beans. In same pan you browned meat, over medium heat; add butter, once melted add diced onions and sauté until soft and caramel colored. About 6-7 minutes. Or swap and brown your onions and spices ahead of the beef, cooking the beef in the spices.
Add garlic and sauté 1 minute until fragrant. Add bowl of spices to the browned onions and garlic, stir around until spices are fragrant. Toss in bay leaf and cinnamon sticks and stir around, remove from heat and pour onion and spice mixture on top of tomatoes. If using, add shredded zucchini, carrots and/or pumpkin puree, mix in well. Empty can of olives into crock along with juices.
Cover and cook on low for 4-8 hours (if longer needed, stir in ½ cup water) or high 4 hours (be sure to add a little extra water). Serve hot with desired toppings.
Recommended Products
As an Amazon Associate and member of other affiliate programs, I earn from qualifying purchases.
Nutrition Information:
Yield:
10
Serving Size:
1
Amount Per Serving:
Calories:

872
Total Fat:

34g
Saturated Fat:

14g
Trans Fat:

1g
Unsaturated Fat:

15g
Cholesterol:

152mg
Sodium:

1417mg
Carbohydrates:

96g
Fiber:

11g
Sugar:

70g
Protein:

53g
The nutritional information is estimated and may not be entirely accurate, at times it pulls information for suggestions and options which may increase calories, etc.
GET FREE RECIPES DELIVERED RIGHT TO YOUR INBOX!
Love Wholesome & Delicious Recipes?
Follow along on Pinterest ★ Instagram ★ Facebook ★