As an Amazon Associate, I earn commissions from qualifying purchases (
disclosure policy
).
Delicious, healthier Panera Copycat Broccoli Cheese soup. Fresh broccoli, shredded carrots, in a flavorful, beautifully balanced, all-natural, creamy broth; with delicious, melted, gooey, sharp cheddar cheese. And it's SO easily converted to be gluten free and/or vegetarian.
I love a delicious soup just about any day, but copycat Panera Broccoli Cheese soup – YES! All day long! My family also loves this soup using real cheese, nothing fake in this soup!
If you are a soup lover, you might enjoy these other reader favorites: Creamy Chicken Poblano Soup, a spring favorite, Instant Pot Potato Leek Soup, or this hearty and healthy Cheeseburger Soup!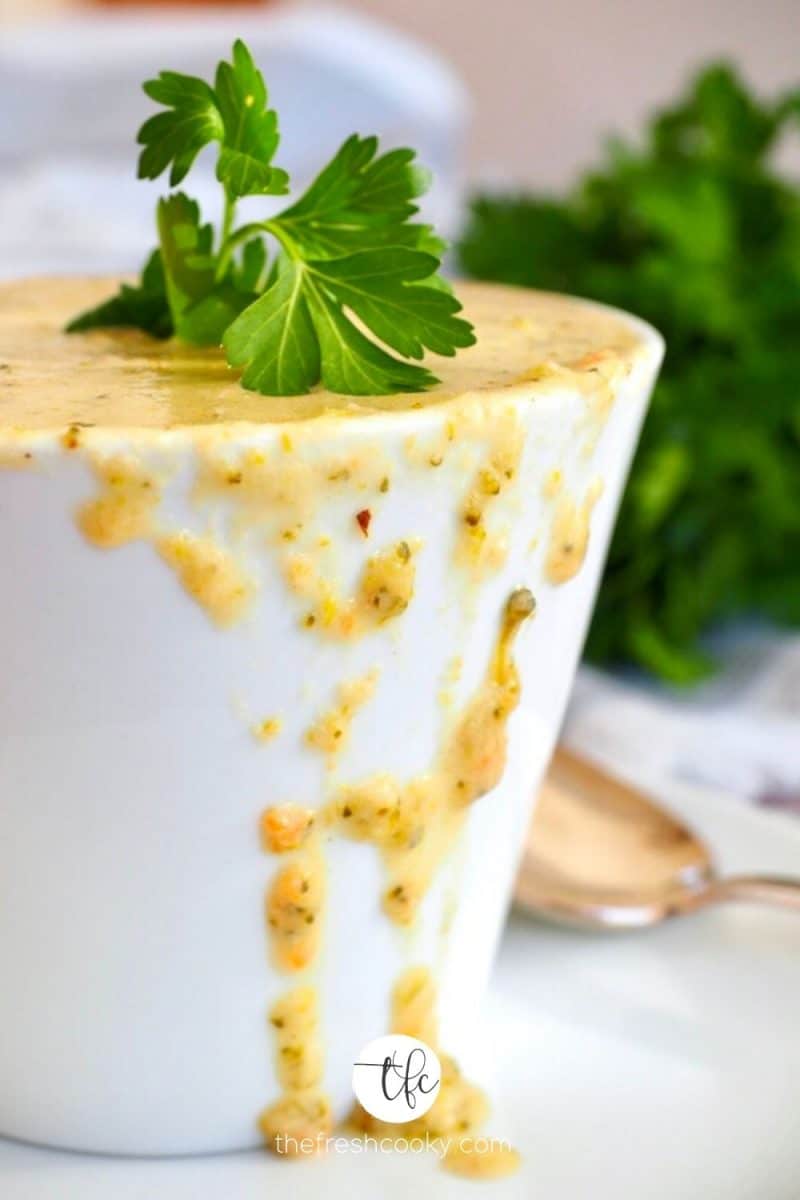 Nothing gets me going like a great soup! What about you? I think you are either a soup person…or not. I am soup people, I could eat it every night; brothy, creamy, tomato based — all types, I just don't do seafood.
I have never been a fan of "bottom-dwellers." A few years ago after taking Krill Oil as my omega for 6 months, I ended up in the doctor's office with a "classic shellfish" rash, it wasn't pretty!
While not a huge allergy, it was all I needed to hear to steer clear of shellfish. My poor, shellfish loving, New England raised husband; he loves all shellfish! Sorry honey!
Ah, but I digress…back to this amazing Better-than-Panera Broccoli Cheese Soup (with no shellfish) ;-).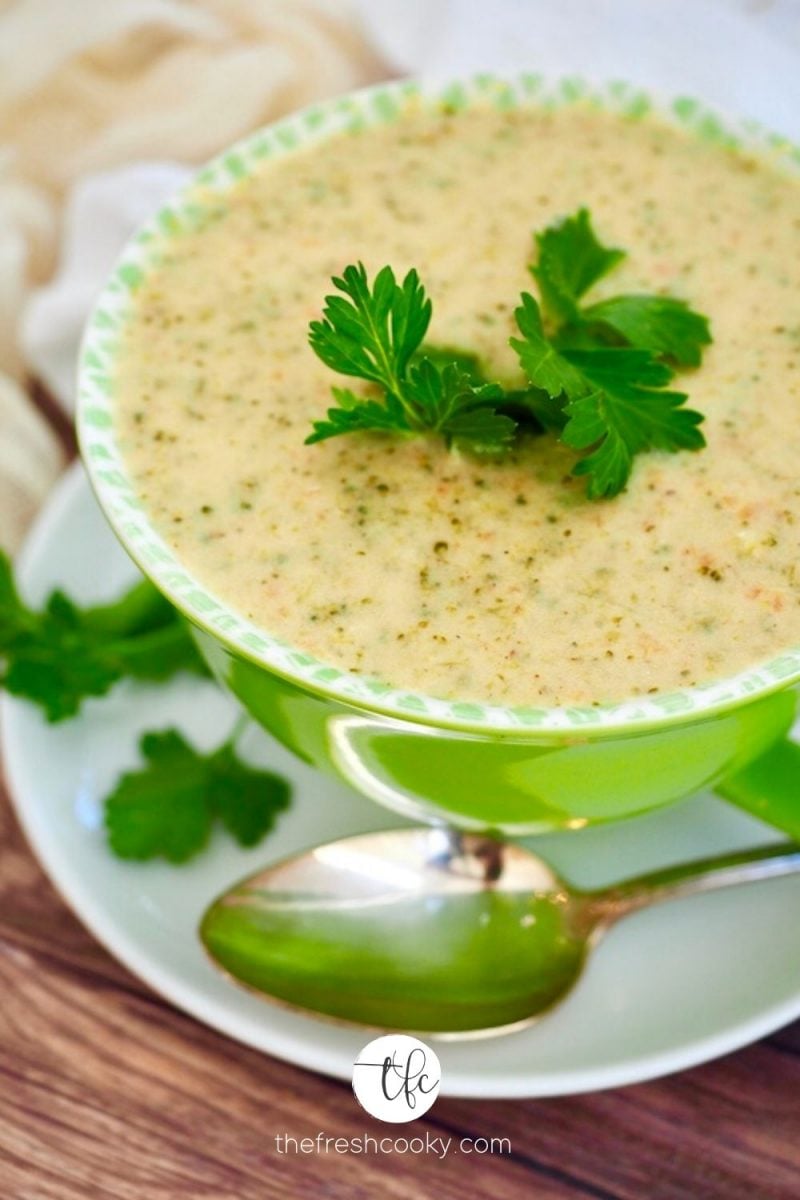 I've had this recipe sitting around for awhile, I was inspired to make this soup to bring to my dear friend who had surgery. I made a pot to bring to their family earlier this week, only to find out she hadn't been released from the hospital.
The docs were having a hard time controlling her pain; so along with making this soup, I sent texts to my prayer-warrior friends. Never, ever underestimate the power of prayerful petitions to our great, loving and compassionate God! So our family ate the soup instead, and I made her family a fresh pot later in the week.
Ingredients & Substitutions
It hit "the spot" that's for sure! I even dished it out in these cute little to-go soup cups, I'm a sucker for anything fun in the paper goods department. Great to bring to work for a quick, hot, nutritious, heat and serve lunch — or store in the fridge at home during a busy week, pop in the micro for a few seconds and presto, you have lunch!
Butter or Oil | used to caramelize the onions and make a roux to thicken the soup.
Onion | Your friendly simple flavor booster!
Flour | Use all purpose flour or Gluten Free All Purpose Flour, both work great!
Half-and-half | whole milk can also be used, this is what gives it that beautiful creaminess!
Chicken stock | If making vegetarian broccoli cheese soup, then please you a good veggie broth.
Fresh Broccoli | I used organic fresh broccoli, you can use frozen as well, but it will have a slightly different texture.
Carrots | Yes! These will actually help give the soup that beautiful orange tinted color, naturally
Nutmeg | a little fresh grated (or bottled) nutmeg will enhance the cheese and the flavors mightily!
Sharp Cheddar Cheese | The real stuff, best if off the block as there are not fillers, white or yellow your choice.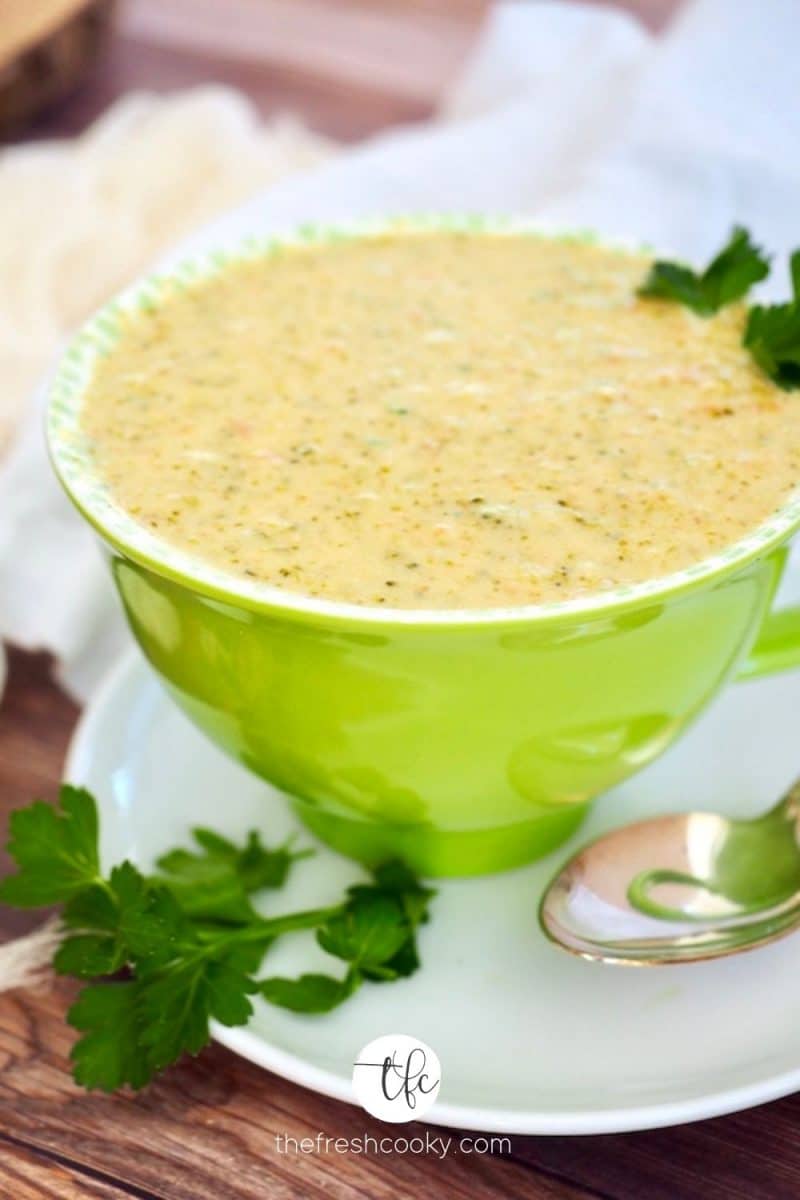 I hope you give it a try, it's better than any soup using condensed soups or Velveeta cheese, no fake cheese in this soup!! I wanted a soup where you could taste the cheese, not just tint it orange. The orange tinting actually comes from the carrots instead! And seriously, it's was pretty darn easy!
Steps to making the best cream soup
In a medium-sized soup pot, heat a tablespoon of butter over medium high heat. Toss in onions, browning or caramelizing, stirring occasionally.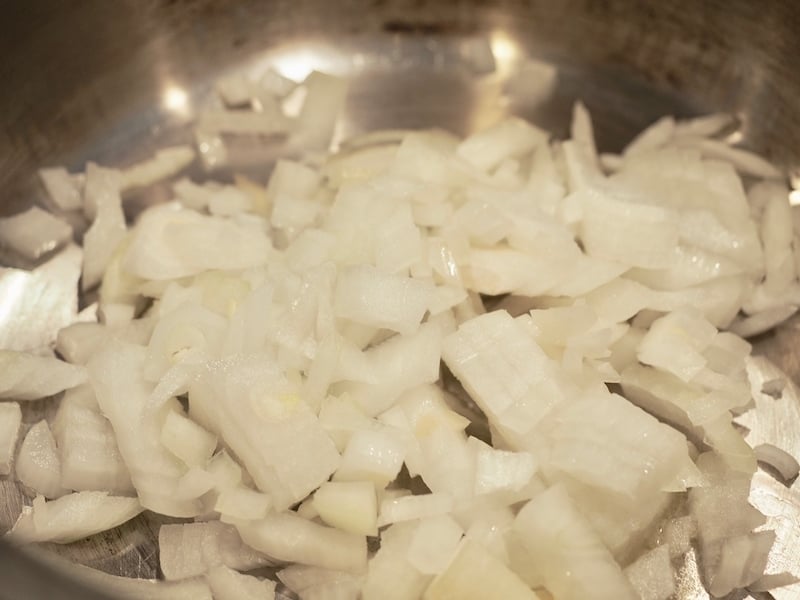 What's a Roux and how do you make it?
Remove the onions to a plate or bowl while you prepare the roux (roo)…
noun. 1. a cooked mixture of butter or other fat and flour used to thicken sauces, soups, etc. Origin of roux. Latin.
Gluten-Free Panera Broccoli Broccoli Cheese Soup Recipe
Melt ¼ cup of butter in the same pot used to brown your onions. Then add all-purpose flour (or sub with Gluten Free All-Purpose flour) and whisk or stir it until it thickens and turns a golden brown, about 2-3 minutes.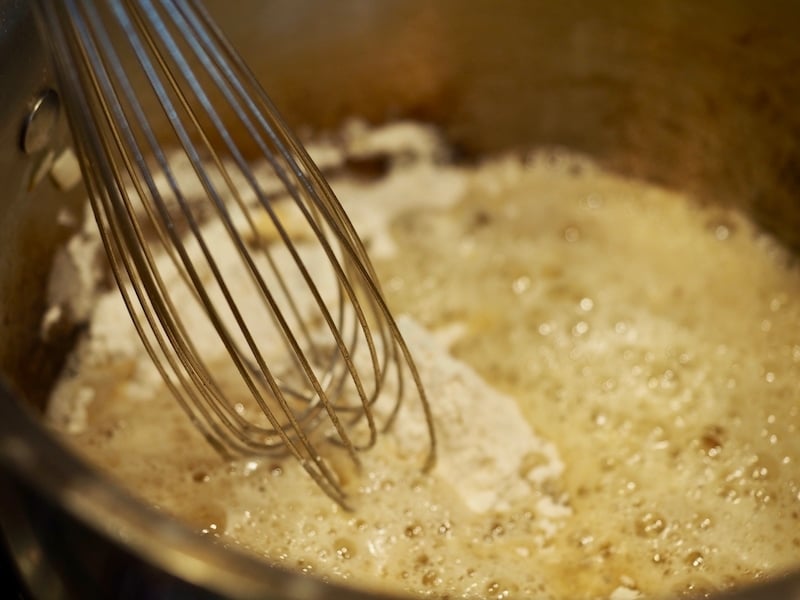 Slowly pour in half and half, whisking while you do, until the roux and fully incorporated with the cream, creating a nice, thick creamy base.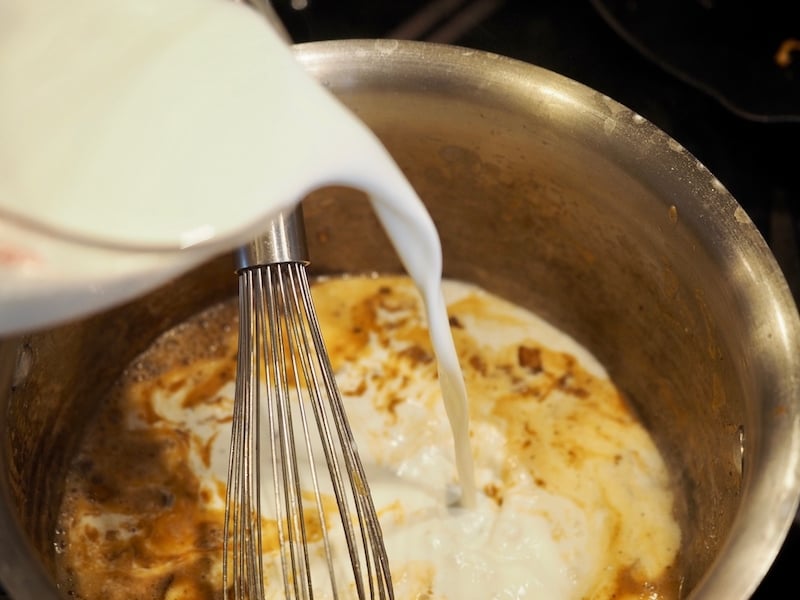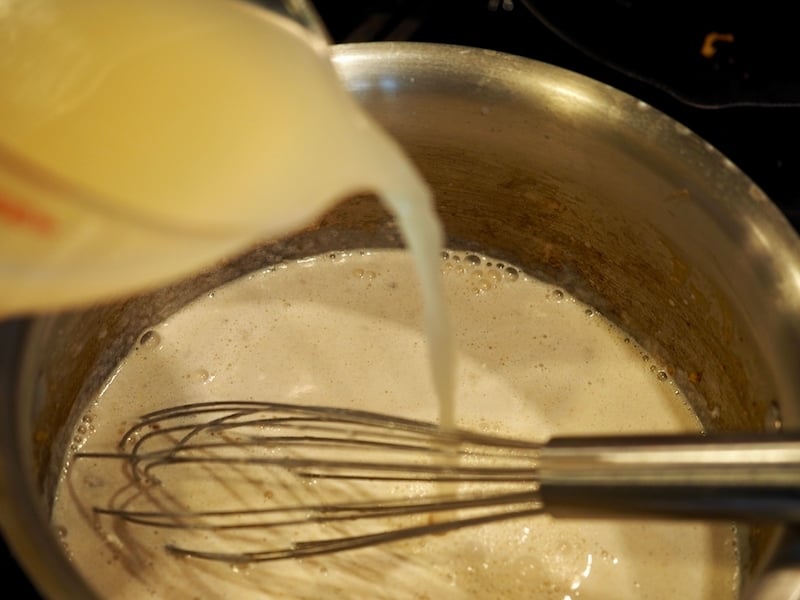 Increase heat slightly to bring it all to a simmer (watch closely, once it boils it can easily rise and boil right out of your pot, you don't want to lose any of this deliciousness).
Simmer for 10 minutes. It will thicken slightly, but not be too thick, the rest of the ingredients will helps to thicken it up.
Meanwhile, chop the broccoli into bite size pieces and grate the carrots (one large carrot did the trick) or use shredded carrots* from the grocery store, which are a great stand-by for soups and stews!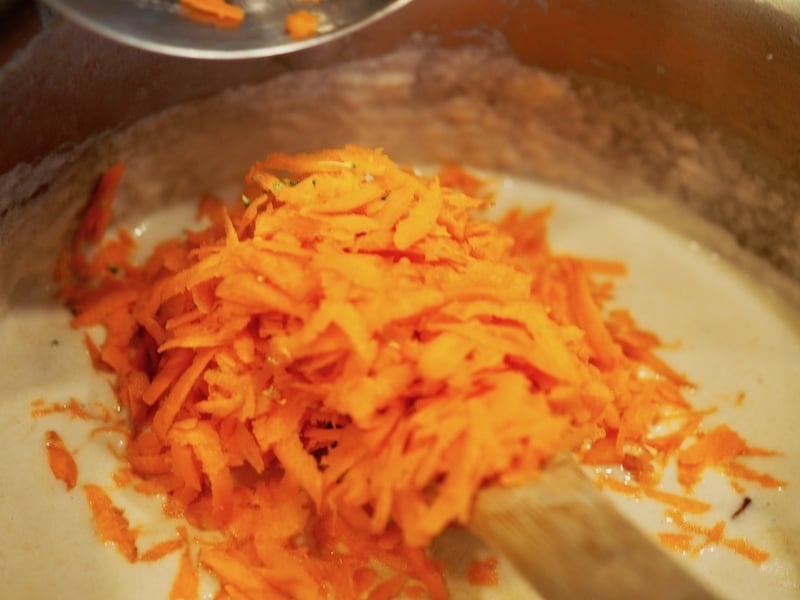 Add broccoli florets and carrots into soup and return caramelized onions to the pot as well.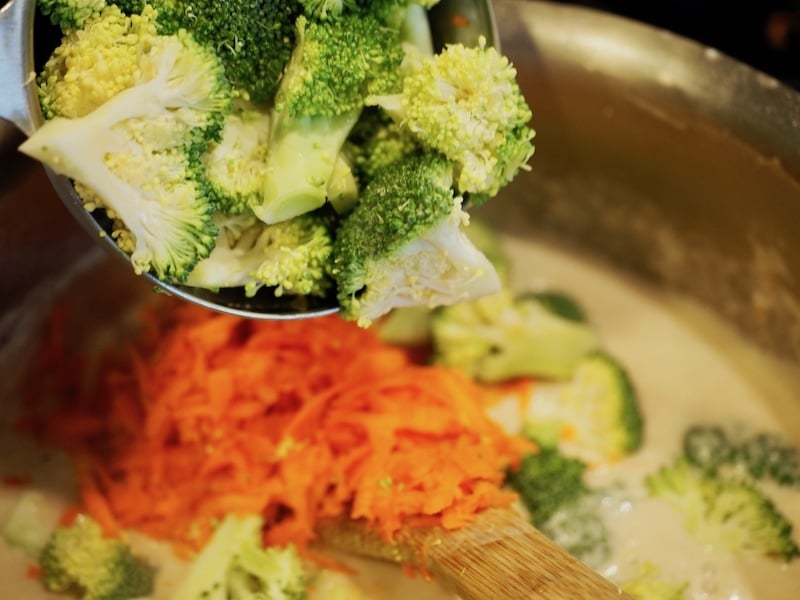 When veggies are tender, blend using an immersion blender, or remove 1-2 cups of the soup and pour into blender, blend until smooth, add back to the soup for a creamier soup.
You are not blending the entire pot of soup, but want to leave some chunks. Make it as smooth or chunky as you desire.
CARROT TIP | *Pre-shredded carrots from the grocery store are a bit thicker than home shredded, so be prepared to simmer your soup a bit longer, making sure your carrots are tender before blending.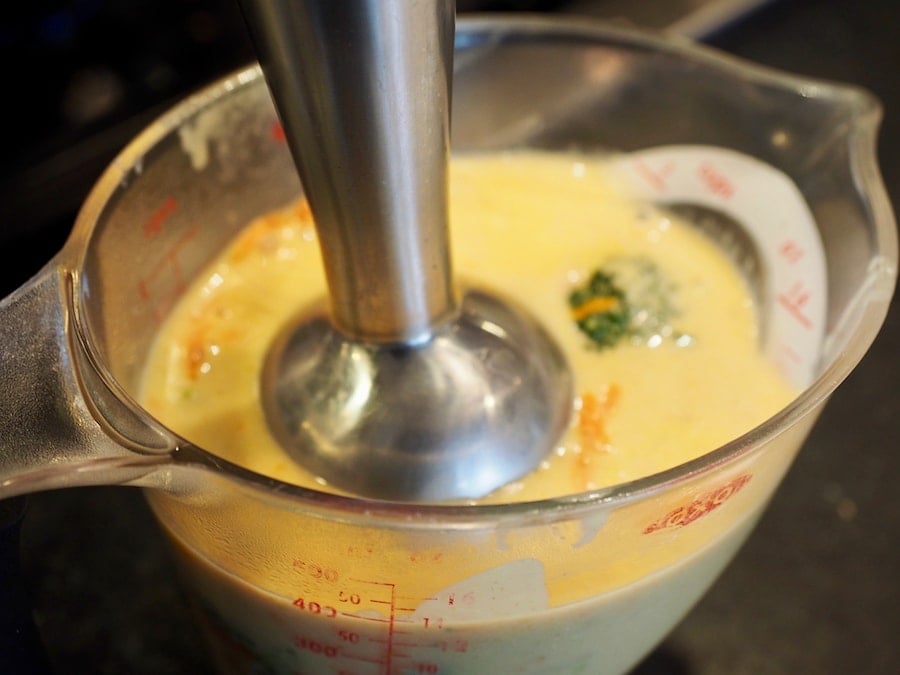 Next, add the grated sharp cheddar cheese, sea salt and pepper and stir to combine. Taste before adding salt, it might be salty enough.
Finally, add nutmeg, why? The subtle nuttiness of it blends so beautifully with the cheese and milk, enhancing all of the flavors of the soup. Fresh grated is best, but ground is fine too!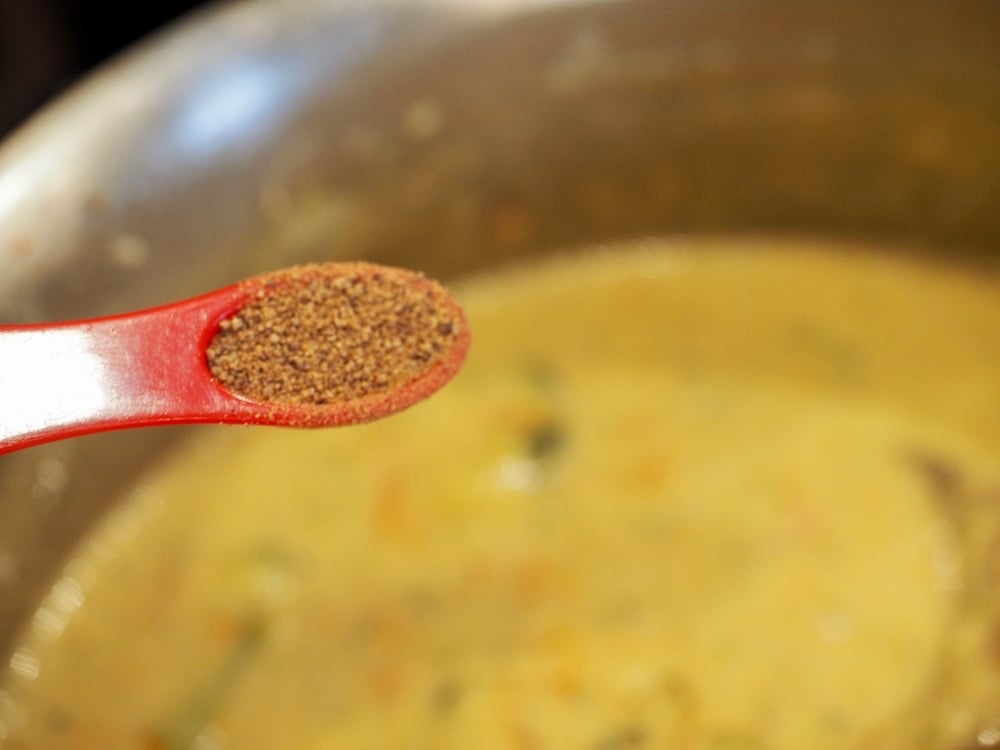 What Can I Serve with Soup
Even More Great Soup Recipes:
Sharing this week on Weekend Potluck!
Like this recipe?
Don't forget to give it a ⭐️⭐️⭐️⭐️⭐️ star rating and leave a comment below the recipe!
Broccoli Cheese Soup (Better than Panera)
Delicious, better-than-Panera Broccoli Cheese soup. Fresh broccoli, shredded carrots, rich in a flavorful beautifully balanced, cream soup base, finished with sharp cheddar cheese. Easily convert to gluten-free and/or vegetarian.
Click stars to rate now!
Print
Pin
Save
Saved!
Rate
Ingredients
¼

cup

+ 1 tablespoon butter

divided

½

medium chopped onion

[¼ cup all-purpose flour

or swap out All-Purpose Gluten Free Flour]

2

cups

half-and-half

whole milk can also be used

[2-4 cups chicken stock

or vegetable broth]

½

lb

fresh broccoli

about 3 cups chopped into bite size pieces

1

cup

carrot

grated/shredded (about 1–2 large carrots)

[1–1 ½ teaspoons sea salt

to taste, watch this, taste before adding salt, cheese can be salty]

black pepper to taste

8

oz

grated sharp cheddar

white or yellow cheese (about 2 cups)
Instructions
In a medium saucepan over medium heat, saute onion in 1 tablespoon of butter until caramelized (browned), remove from pot and reserve. About 5-7 minutes.

Place remaining ¼ cup of butter in the same saucepan, melt completely, whisk in flour, whisking constantly over medium heat until thickened and golden brown, about 2-3 minutes. Slowly, while whisking pour in half-and-half, will thicken up very quickly, keep adding until combined.

Add chicken broth (start with 4 cups) and whisk well to combine, bring to simmer (it'll take 3-5 minutes, watch closely, it will rise up quickly). Add broccoli, carrots and reserved caramelized onions, cover, simmering about 15-20 minutes until tender. If too thick, add more broth, up to 2 cups.

Add salt and pepper to taste. Remove 1-2 cups of the chunky mixture and blend in blender or lightly blend directly in the pot using an immersion blender. Return to soup pot and stir to combine. This will yield a smoother, creamier soup, but it's not necessary. Return to low heat and adding shredded cheese, stirring until completely melted.
Notes
This recipe easily doubles and can be kept warm in a crockpot!
Nutrition
Serving:
1
cup
|
Calories:
530
kcal
|
Carbohydrates:
15
g
|
Protein:
19
g
|
Fat:
45
g
|
Saturated Fat:
22
g
|
Polyunsaturated Fat:
4
g
|
Monounsaturated Fat:
14
g
|
Cholesterol:
99
mg
|
Sodium:
620
mg
|
Potassium:
511
mg
|
Fiber:
3
g
|
Sugar:
8
g
|
Vitamin A:
7203
IU
|
Vitamin C:
55
mg
|
Calcium:
575
mg
|
Iron:
1
mg