As an Amazon Associate, I earn from qualifying purchases. Please read my disclosure policy.
Ah, Old-Fashioned Chicken Noodle soup that's loaded with amazing flavors, simple ingredients and is ready in 30 minutes or less. A comfort food classic that's both hearty and quick!
OLD FASHIONED CHICKEN NOODLE SOUP
Anyone can make amazing Homemade Chicken Noodle soup, there isn't anything fancy about this soup, other than the "yum" taste!
Homemade Chicken Noodle Soup
I've made this soup for our family when we are feeling under the weather, it tastes so good and is my go-to soup when someone has had surgery, is not feeling well or needs a little pick-me-up. You can even make it in the summertime, it's not just a cool weather soup!

IS CHICKEN NOODLE SOUP MEDICINAL?
I don't know, but I DO know that I feel better when I sip on this soup. This soup is loaded with antioxidants and nutrients, especially when made with bone broth; the warmth feels good on a sore throat, seems to open up stuffy nasal passages and has a calming touch on a funny stomach.
Since colds are believed to be caused by viral infections in the upper respiratory tract, research has suggested the ingredients in the soup slows white blood cells from gathering in the lungs, therefore slowing the progress of irritating side effects, like coughing, sneezing, and a stuffy, runny nose. In addition to the nutrients from the vegetables and other ingredients, chicken soup also helps you stay hydrated – which is crucial when you're feeling under the weather. Read more
No need to wait until someone doesn't feel well though! Make a double-batch this weekend, eat some for dinner, jar up the rest and enjoy it all week.
EASY CHICKEN NOODLE SOUP
I start with a simple mirepoix – otherwise known as diced onions, carrots, and celery slowly cooked in butter or oil.
In a 4 quart heavy bottomed pan, over medium heat, add a tablespoon or so of olive oil and along a few teaspoons of butter. Toss the diced veggies into the pot and stir until the veggies have softened and become translucent and just a tinge of brown, about 7-10 minutes. Add your garlic and sauté for an extra minute.
Dump in your spices and sea salt and stir around to "wake-up" the spices, it's called blooming! I like tarragon and thyme and will sometimes add in rosemary. All ways are yummy! Pick the spices you love most.
Next add shredded rotisserie* chicken (or leftover chicken) and give it a stir as well, mixing it with the spices and veggies. I've also used leftover roast chicken as well as turkey.
TIP* | You can simmer a couple of chicken breast or thighs in a few cups of water ahead of time, save a cup or two of that broth and be sure to add to your soup.
Pour in your chicken stock or bone broth, go for the bone broth if you are sick and you have it on hand. I had some homemade chicken bone broth on hand so I used that, but you can certainly use a good boxed chicken stock or broth. Customize the amount of broth to your tastes, my family likes it pretty broth-y, so I typically add additional broth to the soup.
MAKE YOUR OWN BONE BROTH
When making my own chicken bone broth I follow my Beef Bone Broth recipe, substituting chicken feet (yes, feet) wings, thighs, carcass, etc. for the beef bones.
Stir and bring to a simmer for 10-15 minutes. Just before serving bring to rapid boil and add in your noodles, I love these fine German "soup" noodles personally (which I find in my local grocery store, on the Kosher/Import aisle; lots of gems there BTW!)
As you can see from my pictures, I've tossed in mixed noodles cleaning out my pantry. Funny, nobody seems to mind what the noodles look like as long as there are plenty of them!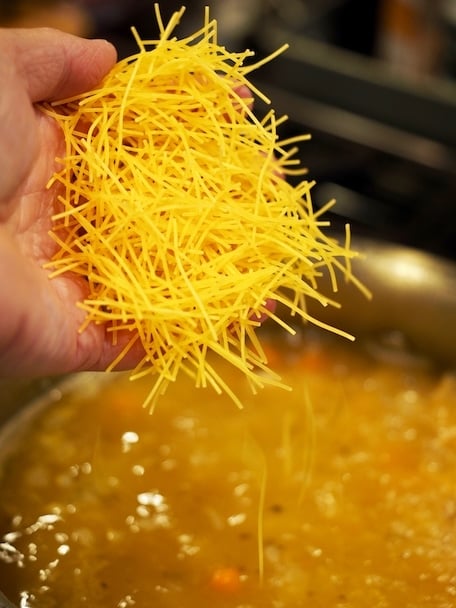 Boil until noodles are cooked and serve! Taste and adjust seasonings adding salt or pepper as desired. We love ours with a little parmesan cheese!
BEST WAY TO COOK NOODLES
The wider, bigger the noodle is, the more broth it will soak up, which is why I like thin noodles as they don't soak up very much. Have no fear, if yours do, when reheating just add more chicken broth to the pot or bowl!
Vegan Chicken Noodle Soup
Can you make Chicken Noodle Soup Vegan or Vegetarian! Yes, simply omit chicken, substituting chicken broth with a good vegetable broth, or even better try my immune boosting Mineral Veggie Broth and don't use egg noodles, but a high protein, whole grain noodle.
OTHER IMMUNE BOOSTING RECIPES
Sharing on Meal Plan Monday and Weekend Potluck!
Like this recipe?
Don't forget to give it a ⭐️⭐️⭐️⭐️⭐️ star rating and comment below the recipe!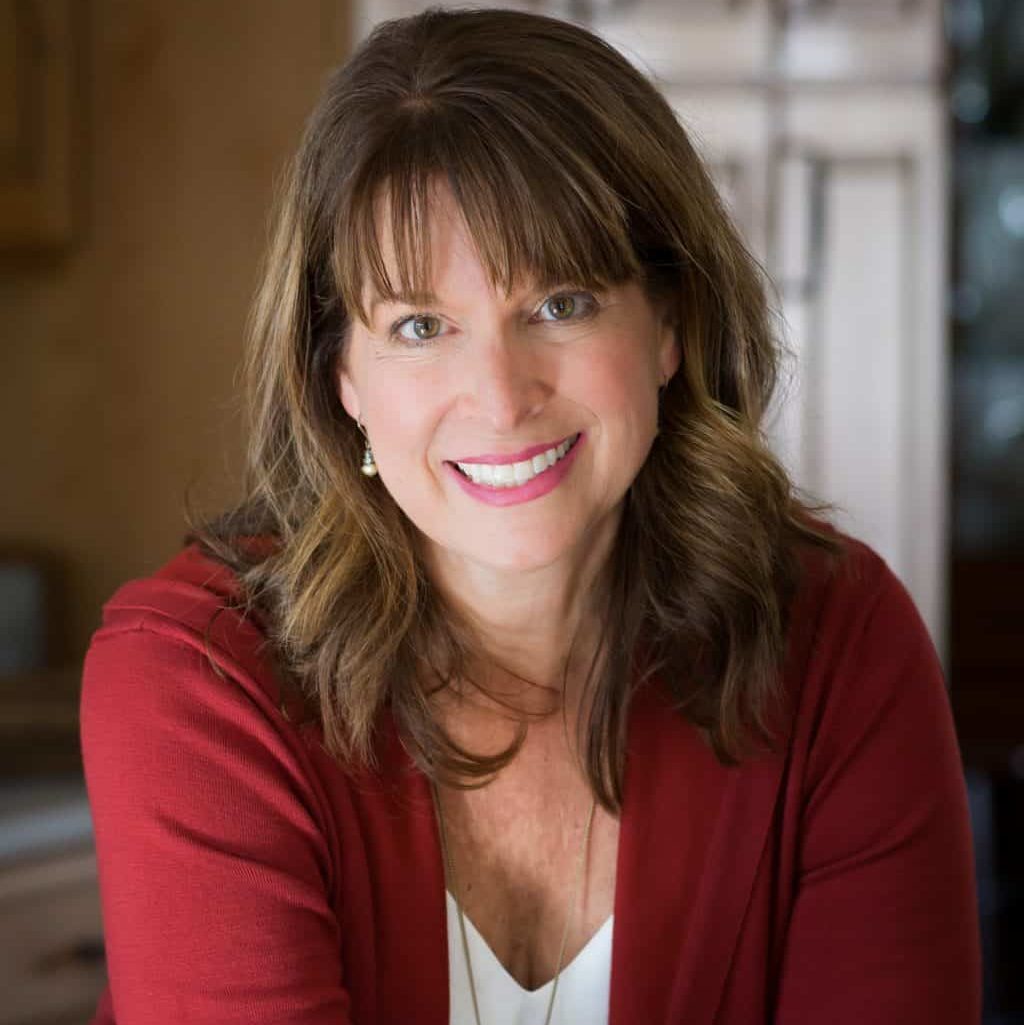 About Kathleen Pope
Recipe Innovator | Food Photographer | Food Writer
Hi, I'm Kathleen Pope. Here at The Fresh Cooky you will find easy, mostly from-scratch, trusted recipes for all occasions. From speedy dinners to tasty desserts, with easy step-by-step instructions. I am here to help teach you how to make mouthwatering recipes without spending hours in the kitchen. Read more about Kathleen here.