Healthy Cheeseburger Soup | Crockpot or Stovetop
As an Amazon Associate, I earn from qualifying purchases. Please read my disclosure policy.
Healthy Cheeseburger soup is filled with your favorite burger ingredients! Seasoned ground beef, caramelized onions, peppers, rich chopped tomatoes and beef broth, plus potatoes and pickles all combine to make a flavorful, hearty and simple soup. Make on the stove top or crockpot, plus it's gluten free and low carb!
Do you love easy recipes using ground beef? Us too; try this Thick, Rich Sloppy Joe Recipe, Skillet Shepherd's Pie and this Easy Spaghetti Pie.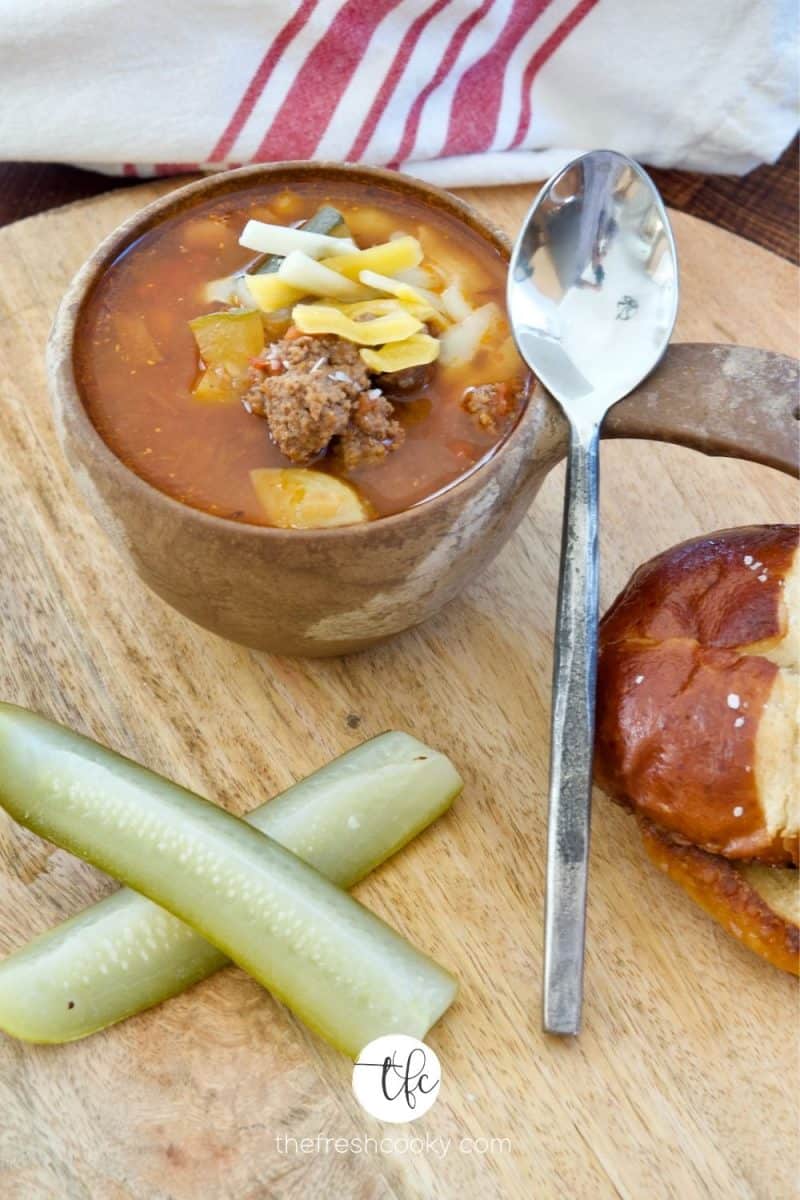 Well seasoned, packed with flavor, and includes pickles, tomatoes and yes even potatoes (think french fries, in cube form!) and of course topped with as much or little cheese as you like!
The resulting soup is lighter, freezer friendly and oh so delicious.
There are some amazing Cheeseburger soup recipes out there, but I developed this recipe like my hamburgers; simple, flavorful, chock full of good stuff.
Best Cheeseburger Soup
I loosely based this soup off of my sister-in-laws recipe for Solianka Russian Beef Soup, which I will post someday because it's AMAZING.
I made this keto Cheeseburger soup recipe when I was feeling under the weather, you know "feed a cold, starve a fever" and all, it just sounded good and boy did it taste great, plus it is delicious leftover.
Easy hamburger soup
Make a big ol' pot of this soup, it lasts for days in the fridge and is easy to reheat and enjoy a big warm bowl.
Crockpot Cheeseburger Soup
Making cheeseburger soup in your crockpot makes it that much easier!
Take a few extra minutes to brown your onions, carrots, garlic and peppers including the ground beef in a pan before transferring to crockpot.
Then add the rest of the soup ingredients, cover and set to low for 6-8 hours.
Serve with fresh grated cheese, warm pretzel rolls and some pickles.
Primary Ingredients
You might even have all of the ingredients for this delicious crockpot cheeseburger soup on hand in your pantry! Be sure to print the recipe for measurements and how to!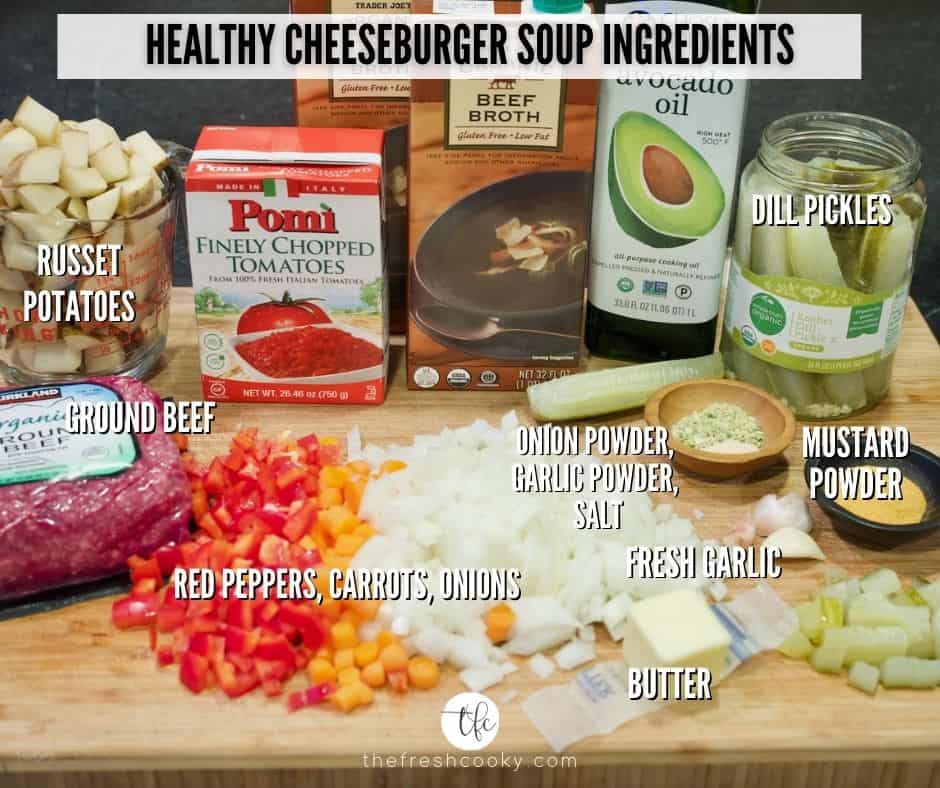 Butter & olive oil | For sauteing veggies
Onion | adds incredible flavor, white or yellow onion works great
Veggies | I loved using carrots, red bell pepper and garlic in my easy cheeseburger soup.
Ground beef | I used 85/15, organic ground beef, yum!
Garlic powder & Dry mustard, Seasoning Salt and Onion Powder are my seasonings of choice!
Worcestershire sauce (make sure Gluten Free) | adds zing and flavor
Russet potatoes | I used small russets, but any potato would work, omit for Keto
Diced tomatoes | I used Pomi finely chopped tomatoes 26.46 oz
Beef broth| I used organic beef broth
Dill Pickle spears & Juice | the secret ingredient
Shredded Cheddar | Cheese (or favorite burger cheese) garnish
How to Make Easy Cheeseburger Soup
Heat a large soup pot over medium heat, add butter and oil. Reduce heat to low and sauté onions, carrots, peppers for about 7-10 minutes, stirring occasionally, until nicely caramelized.
Add garlic and stir until fragrant, another 1-2 minutes. Scoot veggies to the side to make room for the ground beef, increase heat to medium and brown the beef, leaving some larger chunks.
Once browned, add seasoning salt, onion powder, garlic powder, dry mustard and Worcestershire sauce, stir to season for a minute or so.
Add chopped potatoes, sauteing for a minute. Increase heat to medium high and pour in beef broth, scraping any brown bits from the bottom.
May be added to slow cooker at this point if desired. Add chopped tomatoes and pickles and pickle juice, stirring to combine.
Bring to simmer over medium-high heat, cover, reduce to low and simmer for 30-45 minutes or until potatoes are soft when pierced. Or in slow cooker for 6-8 hours on low.
Taste and adjust seasonings if needed (salt, pepper). Serve with shredded cheddar cheese on top, a butter toasted hamburger bun if desired with a pickle spear.
Frequently Asked Questions
Can you Freeze Hamburger Soup?
Yes! Because this soup is not loaded with cheese in the soup base, this freezes beautifully.
COOL COMPLETELY before freezing in your favorite container or freezer baggie.
I like to portion into 2 serving portions in separate baggies for my husband and I to enjoy during the week.
Is Healthy Cheeseburger Soup Keto and Low Carb?
You bet it is! All you have to do is omit the potatoes, if desired, replace with similar amount of cauliflower florets and simmer until tender.

If you are inching up on your carb allotment, you may want to omit the carrots completely. Try substituting with celery.
How Do I Freeze Hamburger Potato Soup?
Always, when freezing anything, you should cool it completely before freezing.
Freezing hot soups will produce condensation, which can create freezer burn or mystery foods. We don't want that!
Place soup in freezer safe container or baggie. I like to portion it out for lunches during the week, then I can easily microwave or throw in a pot to heat for a quick lunch.
Can I use ground Turkey, Bison or Other Ground Meat?
Yes, adjust your seasonings accordingly, turkey and chicken are more bland and might need more seasonings.
You could even swap the beef broth for chicken or veggie broth if you prefer, it would change the flavor, but not necessarily in a bad way!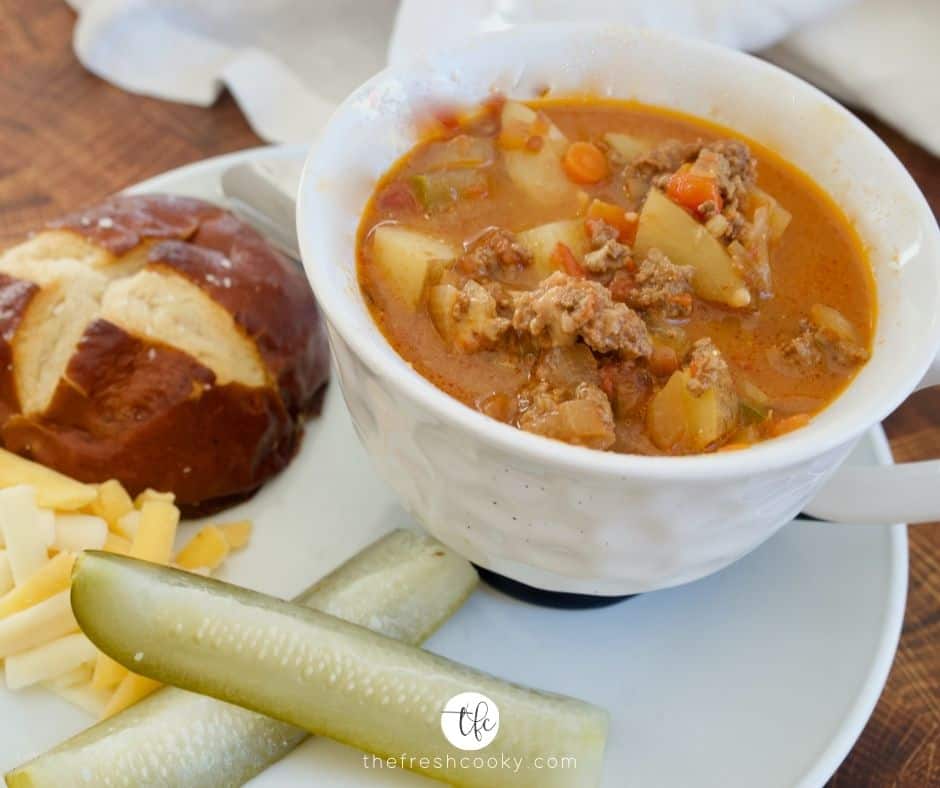 Gluten Free Cheeseburger Soup
This healthy cheeseburger soup is gluten free! Of course omitting the suggested serving with a bun suggestion or replacing with Gluten free bread roll.
Double check your Worcestershire sauce, Lee & Perrin's is gluten free, otherwise you are golden!
Winter Soup Serving Suggestions
I served this soup with a toasted pretzel bun and Pickle spears, yum! Or go crazy and make your own pretzels.
Delicious served with Buttermilk Cornbread
Try a crisp green salad, or sliced carrots, celery and cucumbers
Omit the potatoes and serve with some crispy french fries.
More great ground and shaved beef recipes
This recipe is perfect for a cold winter day, Super Bowl game day, or anytime you want a hearty, easy soup!
If you enjoyed this soup recipe and are looking for more free recipes, pop down to the bottom and sign up for my once weekly newsletter.
Like this recipe?
Don't forget to give it a ⭐️⭐️⭐️⭐️⭐️ star rating and comment below the recipe!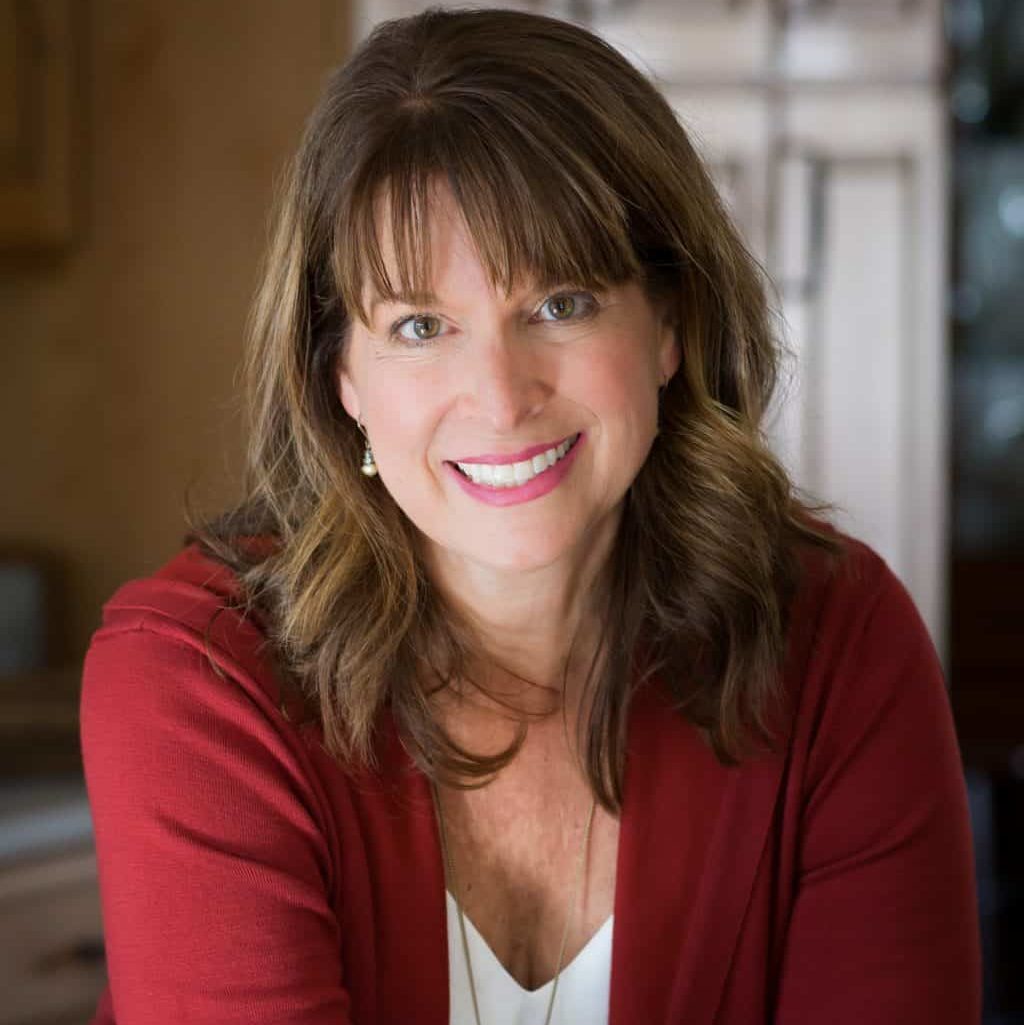 About Kathleen Pope
Recipe Innovator | Food Photographer | Food Writer
Hi, I'm Kathleen Pope. Here at The Fresh Cooky you will find easy, mostly from-scratch, trusted recipes for all occasions. From speedy dinners to tasty desserts, with easy step-by-step instructions. I am here to help teach you how to make mouthwatering recipes without spending hours in the kitchen. Read more about Kathleen here.