Tender chicken in a deliciously satisfying, creamy coconut sauce; mixed with earthy spices and the robust richness of tomatoes! It's a wonderful quick weeknight meal, done in under 30 minutes!
Easy Coconut Curry Chicken
Are you following a Paleo, Whole30, Keto or a low-carb lifestyle? This recipe is for you! Who am I kidding…it's for anyone who likes yummy food! Your whole family will love this Coconut Curry Chicken.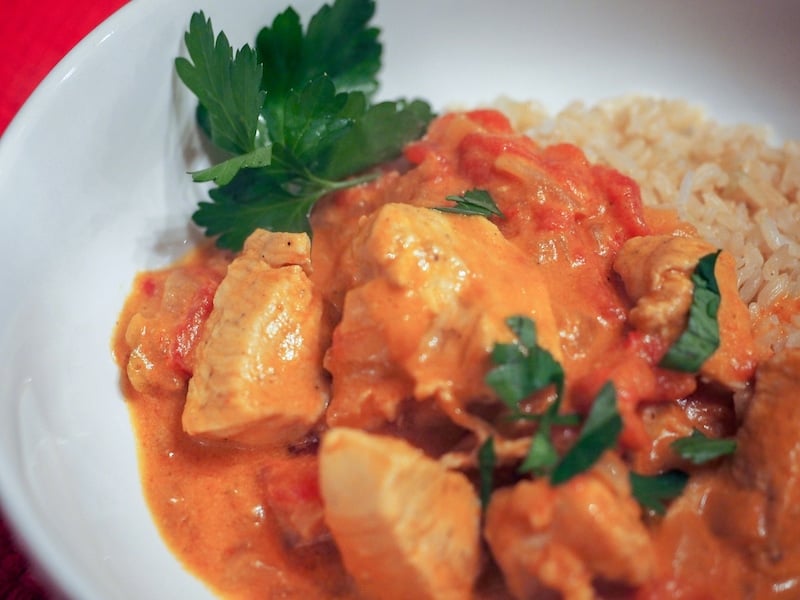 So, remember that post from a few weeks ago, the one where I said, I was good with me…done with dieting, yada, yada, yada? Do you also remember that I said that was my frame of mind that day…ha! Anyone else like that?
An Easy 30 Minute Meal
After skiing a few weeks ago, I decided I needed to get into better shape, I walk daily, but that doesn't work my core and more specifically it doesn't work my super flabby arms. As per usual with me, I am like a dog with a bone, once I make my mind up to do something I'm all in and decided along with exercise I wanted eat cleaner to help with inflammation, hormone balance and detox, at least for the next 3 weeks and then with balance.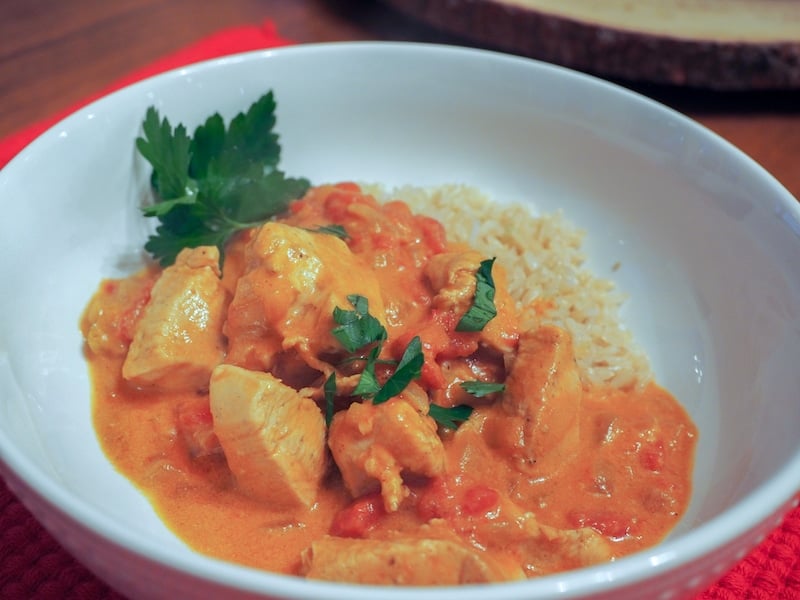 Last week I started the 3 Week Ketogenic diet, weight loss would be a bonus but I am doing it more for hormonal balance, detox, reduce inflammation and for general health reasons. 3 weeks isn't hard right? 21 days makes a habit and all that? Feel free to hold me accountable.
And as for the exercise to go along with it, I almost threw up the first day and it was only a 20 minute interval training exercise! Baby steps! It's a start and I'm striving to do these short but intense metabolic work outs 3-4 times a week. Feel free to encourage me.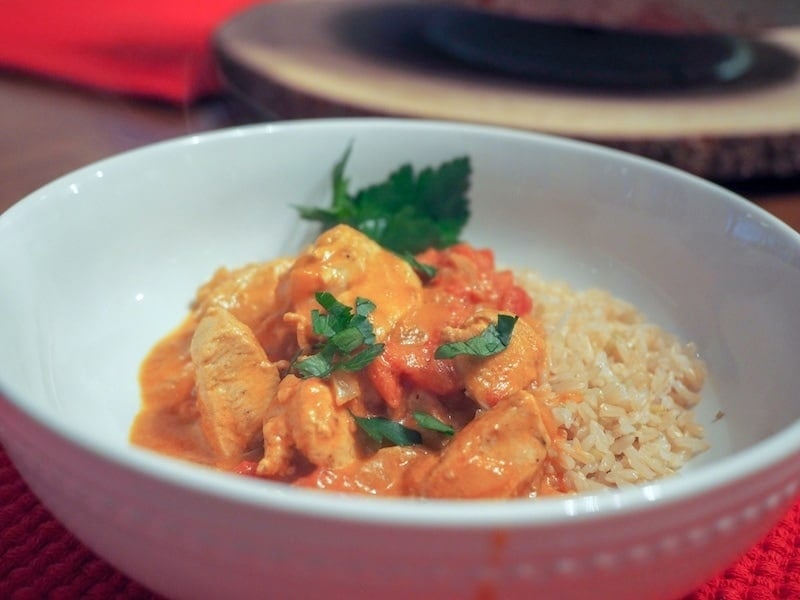 With that all said, I apologize for all of the dessert posts lately, especially to those of you who are doing a low-carb plan. Oddly enough when I cannot have certain food groups, there is something extremely satisfying to me about continuing to bake…for others. So don't be surprised if you see additional sweet posts.
This Coconut Curry Chicken is super satisfying and works well for most if not all of the low-carb plans. It's full of healthy fats that really satisfy your hunger.
Here are the ingredients, super simple; you probably have most of these already in your pantry (except the chicken, I hope that's in your fridge or freezer)!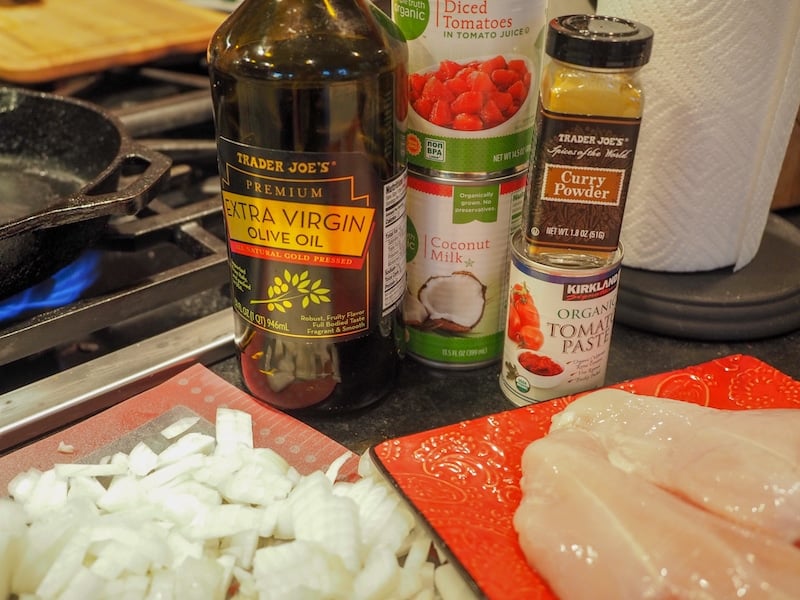 In a large pan (I love my [amazon_textlink asin='B00G2XGC88′ text='Lodge Cast Iron Pan' template='ProductLink' store='hefreshcoo0a-20′ marketplace='US' link_id='24ae827e-270b-11e8-ab45-3914c35bc18f']), drizzle in about a tablespoon of olive, avocado, or coconut oil. Sauté for about 6-7 minutes over medium heat, until onions are translucent.
Next add your salt and curry powder, more or less to taste – 2 teaspoons as the recipe calls for is very mild and yet flavorful; as spoken like a true spice wimp.
Stir it all up and sauté for a few minutes until aromatic and spices are well distributed. The curry will change the onions to a beautiful golden color.
Next add your chicken, if desired, scoot your onions aside and drizzle a couple teaspoons of oil on one side of the pan and place your diced chicken on the cleared side of the pan, sauté until slightly golden on all sides.
Mixing chicken in with the onions and spices, stir around for a minute or so over medium heat.
Stir in your coconut milk…
Add your tomatoes, about half a can…
and finally your tomato paste…
Stir to combine all ingredients and simmer for 10-12 minutes on low, until chicken is cooked through and sauce thickens slightly.
If desired, stir 3 cups of spinach into the mixture and cook for 3 minutes, but cooked spinach kind of makes me gag…texture eater!
Check seasonings and add additional salt if needed.
Serve immediately over steamed rice, quinoa or spiralize and sauté yourself some zucchini noodles. Garnish with a little chopped Italian parsley if desired.
I will leave you with the lyrics of very favorite hymn, if you don't know the story behind this beautiful hymn, watch this video.  Oh to be a person of faith, to pen words like these after numerous tragedies.
When peace like a river, attendeth my way,
When sorrows like sea billows roll;
Whatever my lot, Thou hast taught me to knowa
It is well, it is well, with my soul.

Refrain:
It is well, (it is well),
With my soul, (with my soul)
It is well, it is well, with my soul.

Though Satan should buffet, though trials should come,
Let this blest assurance control,
That Christ has regarded my helpless estate,
And hath shed His own blood for my soul.

My sin, oh, the bliss of this glorious thought!
My sin, not in part but the whole,
Is nailed to the cross, and I bear it no more,
Praise the Lord, praise the Lord, O my soul!

For me, be it Christ, be it Christ hence to live:
If Jordan above me shall roll,
No pang shall be mine, for in death as in life,
Thou wilt whisper Thy peace to my soul.

But Lord, 'tis for Thee, for Thy coming we wait,
The sky, not the grave, is our goal;
Oh, trump of the angel! Oh, voice of the Lord!
Blessed hope, blessed rest of my soul.

And Lord, haste the day when my faith shall be sight,
The clouds be rolled back as a scroll;
The trump shall resound, and the Lord shall descend,
A song in the night, oh my soul! b
If you try this recipe, be sure to tag @thefreshcooky on Instagram and hashtag #thefreshcooky.
Recommended for you!
[amazon_link asins='B00G2XGC88,B00269PM6K,B00M8VSKW4,B006R21EUK' template='ProductCarousel' store='hefreshcoo0a-20′ marketplace='US' link_id='d97a309b-270a-11e8-b389-fb800038d40c']
There may be Amazon affiliate links in this post. I participate in the Amazon Services LLC Associates Program, an affiliate advertising program designed to provide a means for me to earn fees by linking to Amazon.com. 
Like this recipe? Try these other similar recipes:
5 Easy Freezer Meals
30 Minute Penne ala Vodka
Print
Coconut Curry Chicken
Author:

Prep Time:

10 mins

Cook Time:

20 mins

Total Time:

30 mins

Yield:

4

-

6

servings

1

x
Category:

Low-Carb

Cuisine:

Easy Weeknight Dinner
---
---
---
---
Recipe Card powered by