Chocolate Chip Cookie Ice Cream Sandwiches
As an Amazon Associate, I earn from qualifying purchases. Please read my disclosure policy.
Anyone can make these festive Chocolate Chip Cookie Ice Cream Sandwiches. Creamy, cool ice cream, sandwiched between two delicious, chewy Chocolate Chip Cookies, dipped in sprinkles no less — the very essence of summertime!
CHOCOLATE CHIP COOKIE ICE CREAM SANDWICHES

These Ice Cream Sandwiches are perfect for any patriotic celebration, like the 4th of July! I LOVE the 4th!
Our neighborhood is kind of renowned for its 4th of July celebration. The day begins with our National Anthem sung by a group of neighborhood kids, it's fantastic. That blasts off the festivities for the day; Fun Run, Sparkler Tricycle Race, finishing the morning with our very own parade, it's pretty amazing.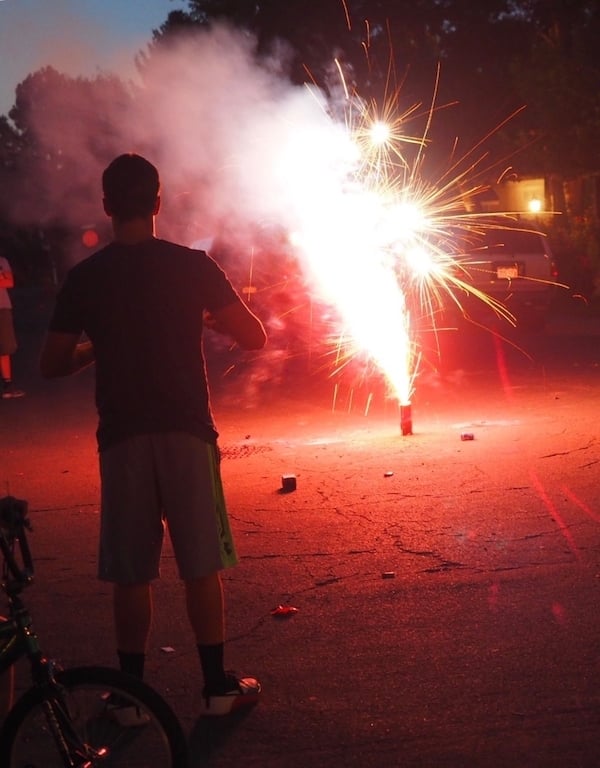 We head up to the pool for a community BBQ; with lawn games, a band, boat races, penny dive and of course a belly flop contest.
COOLING OFF AFTER A HOT 4TH OF JULY
We're usually exhausted from our fun-filled, patriotic, sun-kissed day that we drag ourselves home, take a cool shower, watch Independence Day, forage for something to eat, then head to a friends house for fireworks and drinks. It's fantabulous…I don't take our freedoms for granted!
These creamy Ice Cream Sandwiches will cool down the hottest patriotic participant!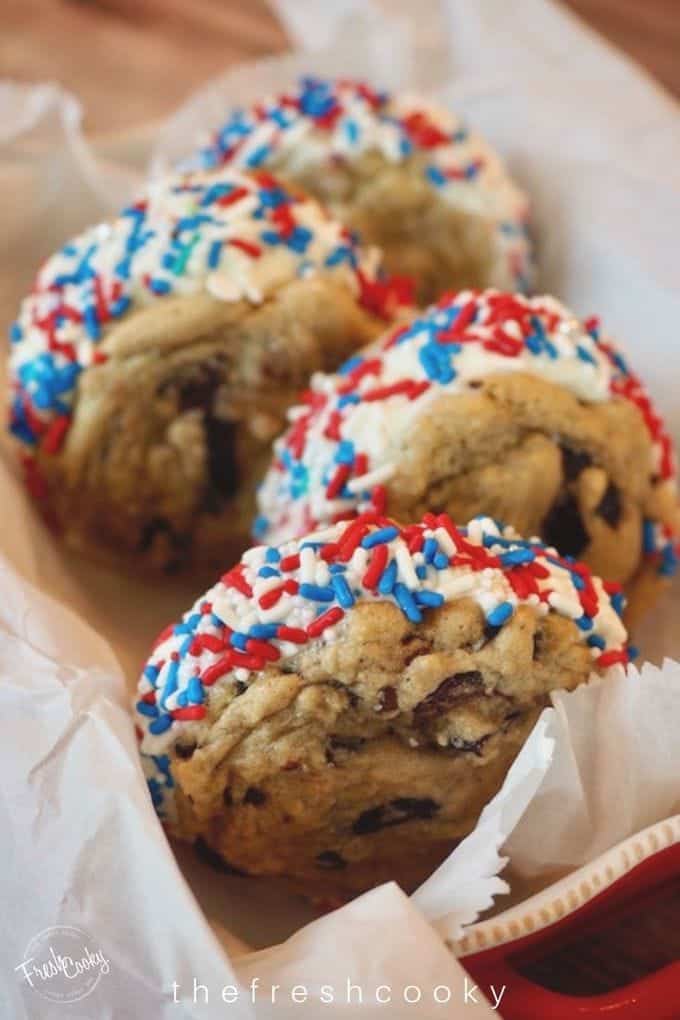 Change up the sprinkles depending on your holiday. Red, White and Blue for a patriotic holiday, Green for St Patrick's day, red or heart sprinkles for Valentine's Day…you get the idea!
May God bless America!
Tips for the chewiest-yummiest-cutest Ice Cream Sandwiches!
Any chocolate chip cookie ice cream sandwich worth its salt (yes, I put sea salt on my cookies) starts with the BEST and CHEWIEST Chocolate Chip Cookie! You can use a store bought cookie…but why would you??? And if you can't face turning your oven on, try these Edible Cookie Dough Sandwich Cookies instead!

FREEZE YOUR COOKIES | Once your chocolate chip cookies have cooled completely, pop them into the freezer until they are frozen, about 20 minutes.
Why, you ask? You don't want your cookies to turn into crumbs or mush when you press the two cookies together sandwiching the ice cream; freezing them provides structure and hardens the chocolate.

SOFTEN your ice cream by allowing it to sit on the counter* for about 10 minutes, making sure your cookies will be nice and frozen by the time the ice-cream is soft.*If you are in a hurry, you may zap it in the microwave in 10-15 second intervals, checking after each interval, until it's just soft enough to scoop, you don't want it soupy!

ICE CREAM | Make sure it's the highest quality, creamiest ice cream you can afford (which might mean going to your local grocery store and buying what's on sale!). For me that means Alden's Organic Vanilla Bean or Trader Joe's® French Vanilla. Any flavor works!

PREP | Place your sprinkles into shallow bowl(s) or I like to use a sturdy cupcake liner to hold the sprinkles, then once you are finished rolling your sandwiches in sprinkles, what little mess there is just gets tossed! Now you are ready to assemble.
ASSEMBLE | Place a generous scoop of ice cream on the bottom of your cookie, match it up with a similarly sized cookie and gently roll ice cream edges in sprinkles. Set on cookie sheet and repeat process. Be quick about it!

FREEZE | If doing more than 4 at a time, take them to the freezer in batches of 4 so they don't melt. Freeze for 20 minutes and then wrap tightly in plastic wrap for easy serving and storing.
That's it! You will brighten anyone's day by offering them a cool, creamy Chocolate Chip Cookie Ice Cream Sandwich!
In case you haven't noticed, sprinkles are kind of a big deal now, two of my favorites are Texan Sprinkles as well as Sweetapolita, you'll be hooked.
There are so many sprinkle options out there! I found that jimmies & confetti work really well, as do mini chocolate chips. I tried Mini M&M's which tasted great, but the colors ran all over the ice cream, next time I'll freeze the candies beforehand.
Chocolate Dipped Chocolate Chip Ice Cream Cookies
Want to kick them up one more notch?? To make these extra decadent, dip one half in melted chocolate (follow the instructions on your package of melting wafers or Chocolate Chips), then sprinkle on your favorite sprinkles!
Told ya I kicked it up a notch, your family and friends are worth it! Serve immediately or return to the freezer (wrapped once solid) until ready to eat. Grab a fork and share…or not!
I'm sharing this recipe on my favorite Link Parties | Foodie Friday | Meal Plan Monday
Try using other cookies for the sandwiches as well:

Or give these recipes a try:
Like this recipe?
Don't forget to give it a ⭐️⭐️⭐️⭐️⭐️ star rating and comment below the recipe!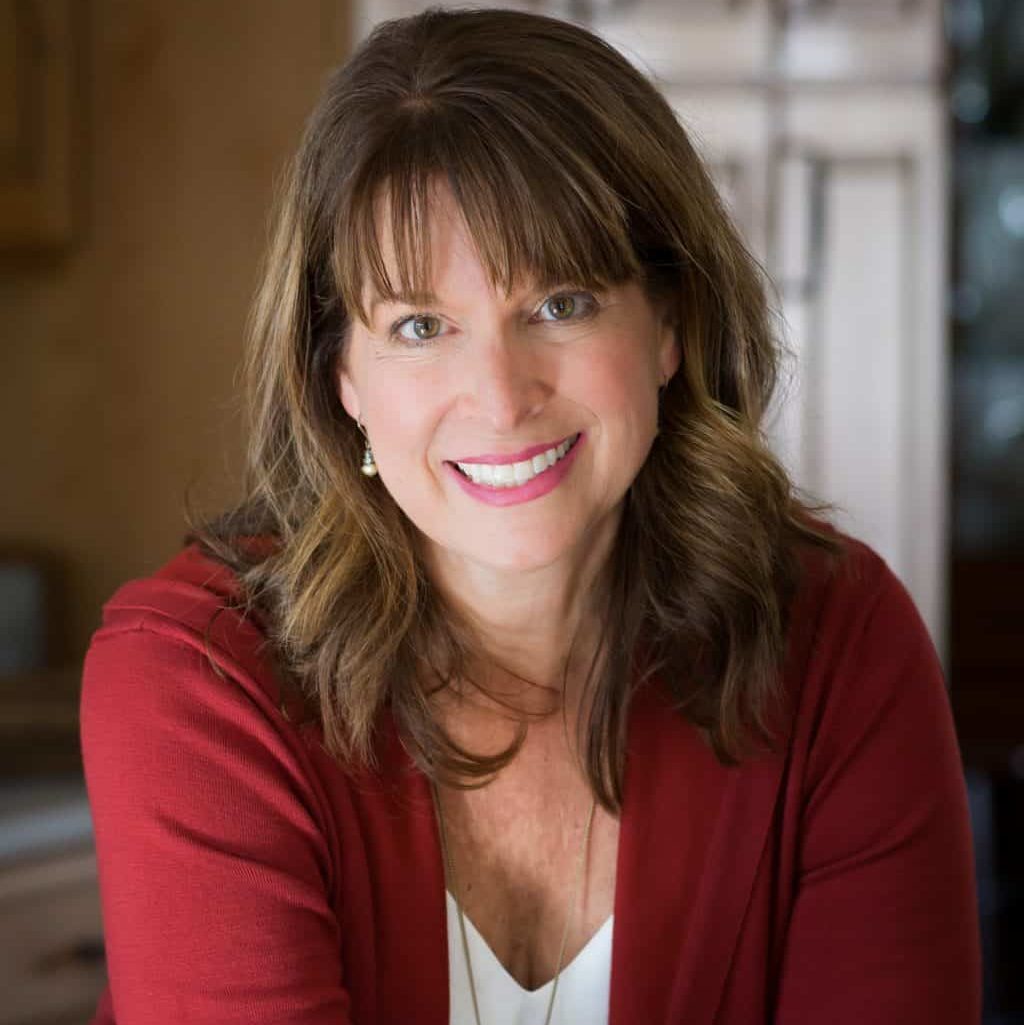 About Kathleen Pope
Recipe Innovator | Food Photographer | Food Writer
Hi, I'm Kathleen Pope. Here at The Fresh Cooky you will find easy, mostly from-scratch, trusted recipes for all occasions. From speedy dinners to tasty desserts, with easy step-by-step instructions. I am here to help teach you how to make mouthwatering recipes without spending hours in the kitchen. Read more about Kathleen here.