Air Fryer Fried Ice Cream Recipe
As an Amazon Associate, I earn from qualifying purchases. Please read my disclosure policy.
Use your air fryer to whip up my delicious air fryer fried ice cream! Enjoy this restaurant-quality delicious dessert, with none of the deep frying in hot oil and way less mess! Crunchy and crispy on the outside, smooth creamy vanilla ice cream on the inside.
Fried ice cream is such a treat. You've likely seen it in Mexican restaurants, but have you ever enjoyed it at home? I love this unique dessert so much, I've even turned it into a Fried Ice Cream cake!
If you are looking for recipes for Cinco de Mayo, Taco Tuesday, or because you are craving Mexican food; try my Instant Pot Carnitas, Copycat Chipotle Chicken Burrito Bowls, Tamale Pie, Spanish rice and for sure this easy 4 ingredient margarita!
This recipe may seem complicated to pull off, but with a little bit of prep and the proper equipment, it is easier than ever to re-create this specialty dessert at home!
The results are a light and crunchy crust and a deliciously creamy ice cream center. Below I'll teach you how to make fried ice cream!
Healthy Twist
I used real ice cream, no unpronounceable ingredients, pure whole ingredients (I used Haagen Daz Vanilla ice cream, but I also love Trader Joe's Vanilla ice cream)
I used organic corn flakes and organic and less sugar Cascadian Farm Cinnamon Crunch cereal.
The best part about this air fryer fried ice cream recipe is that there's no deep-frying involved. I prefer to use my air fryer here as it saves on excess grease, and it also makes cleanup a lot easier and it's healthier too!
Simple Ingredients
The full recipe and instructions are in the printable recipe card at the end of this post.
Vanilla Ice Cream | use an ice cream with cream as the first ingredient, it will freeze up firmer.
All-purpose Flour | you won't use much, this provides a barrier on the ice cream, and helps the other ingredients adhere, use gluten-free all-purpose flour if GF
Corn flakes cereal | Corn flakes are the classic coating, but I combined mine with another cereal for a bit more crunch, feel free to use one or the other or both like me!
Cinnamon Toast Crunch Cereal | Adding a little cinnamon sugar brings out all the great Mexican flavors.
Cinnamon | Adding a touch of ground cinnamon brings out great authentic flavor.
Egg whites | Egg whites will help bind the cereal to the ice cream, use the yolks and make this yummy lemon curd or my traditional Tiramisu.
Chocolate Sauce, Caramel Sauce and Hot Fudge are all optional toppings, don't forget the whipped cream and maraschino cherries.
Ice-Cream Ball Hack
Line a rimmed baking sheet with wax paper or parchment paper, scoop individual scoops of ice cream onto the tray and freeze until firm, this works great for this fried ice cream in the air fryer as well as for quick ice cream service for a crowd.
Or if you are in search of the perfect round scoop of ice cream straight from the container, use an ice cream scoop (my favorite one) that has been dipped in hot tap water (dry it off), then scooping using an "S" motion. This swivel action should be slow and smooth.
How to Make Air Fryer Fried Ice Cream
Top Tip
For best results, star a day ahead so you make sure you have plenty of freezing time, but can even be made several days in advance.
Step 1 | Form Ice Cream Balls
Form 8 evenly sized ice cream balls using ice cream scoops and your hands. Don't worry about perfection here, you will further shape them once you have rolled them in the dry ingredients!
Then, place the balls in a muffin tin or a parchment paper lined baking sheet that's been chilled in the freezer. Leave them to freeze for 1 hour.
Then roll the frozen ice cream balls in flour and freeze them again for another hour.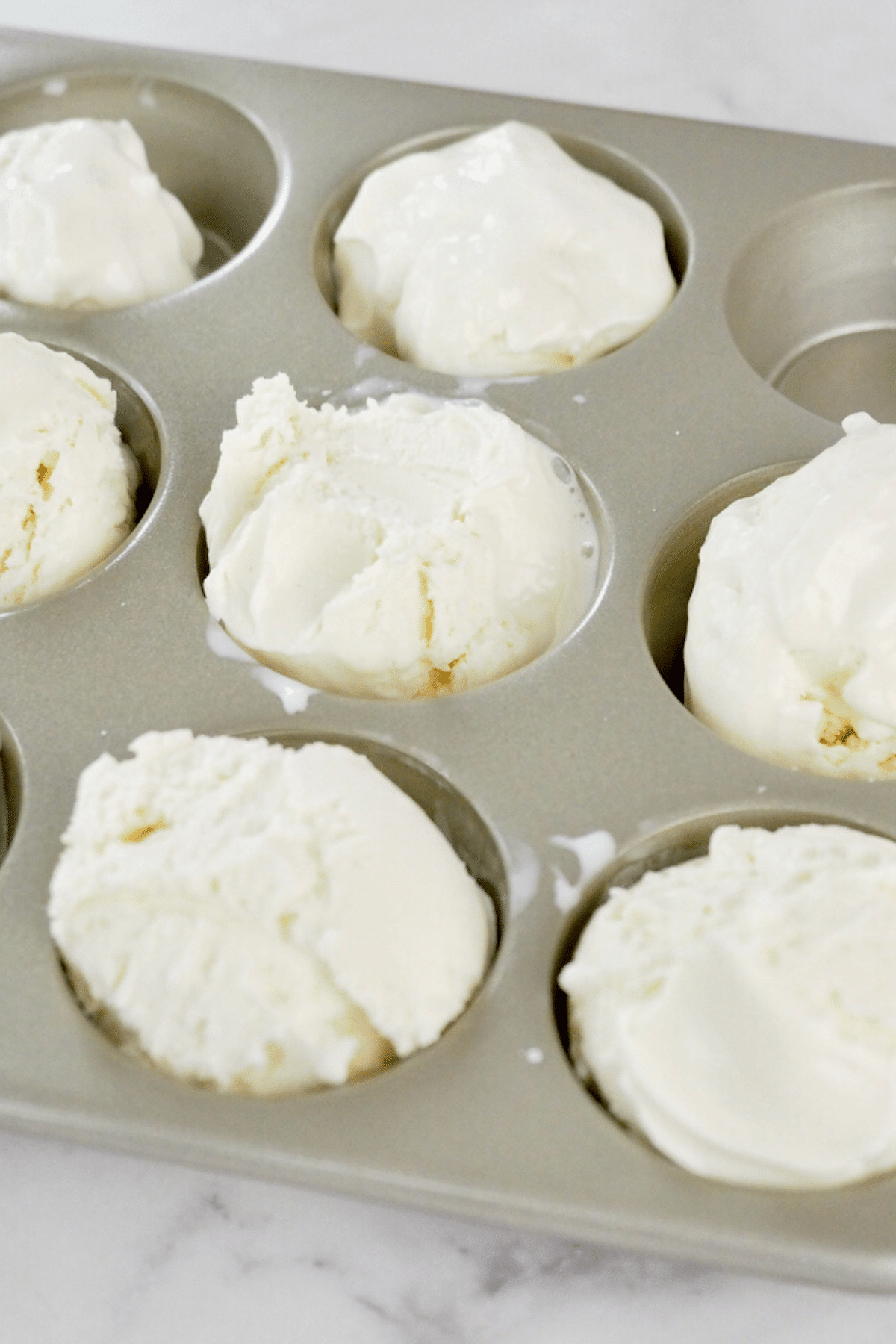 Step 2 | Add crunchy coating
It's time to prepare your crunchy crust! Place the cereal(s) in a plastic Ziplock bag and crush, using a rolling pin. Leave a few larger pieces for added crunch and texture, but you want it somewhat fine. Stir in the ground cinnamon to the crushed cornflakes in a medium-sized bowl.
Whisk together the egg whites until they turn foamy in another small bowl.
Take out your ice cream balls from the freezer and roll ice cream balls in egg whites, then roll in the cornflake and cinnamon mixture. This step is perfect for your kids to help out with!
Here is where you can really shape them into nice shaped balls, don't worry when you first scoop the ice cream. If you have areas where you see ice cream peaking out, repeat rolling the balls of ice cream into the egg whites and cereal mixture until completely coated and covered.
When they are completely covered, place them back inside the muffin tin to freeze for at least 4 hours, but overnight is better if you can. This will help prevent the coated ice cream balls from being exposed to the heat too quickly.
When they have frozen completely, it's time to air fry!
Step 3 | Air Frying Fried Ice Cream
Create a small shallow bowl out of aluminum foil and place it in the bottom of your air fryer basket. Preheat it to 400 degrees F for 2-minutes.
Air fry your ice cream balls, one at a time or at most 2 at a time, for 2-minutes. Remove from your air fryer with a long spoon, garnish with whipped cream, chocolate syrup, or your toppings of choice, and enjoy!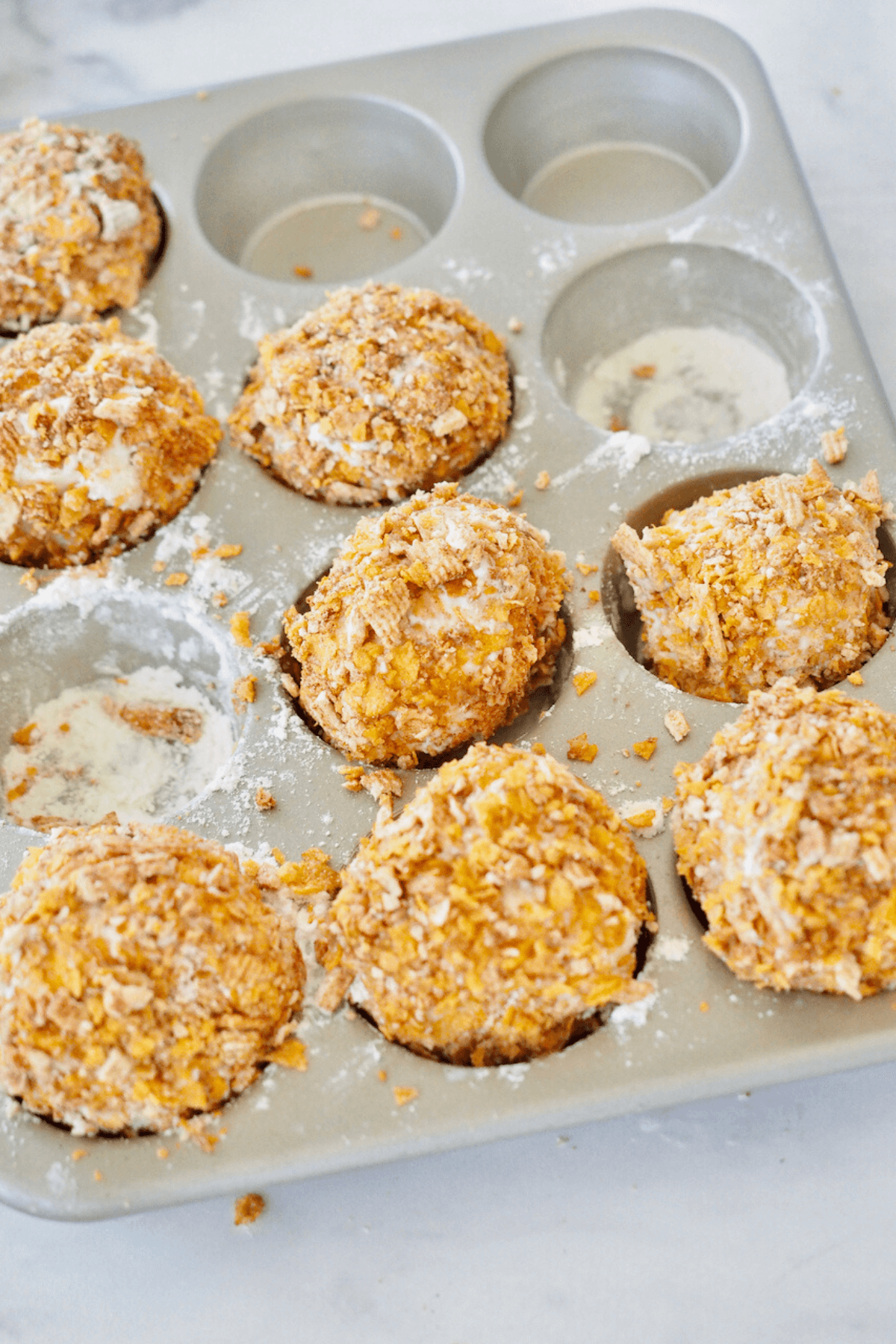 They will be lightly golden brown, but don't worry too much if they don't look much different, air fryer ice cream is decadent anyway you look at it.
Variations
If you don't have an air fryer, you can use the deep-fry method. I provide the how to below in the frequently asked questions.
Get creative and use your favorite ice cream flavor! Some suggestions include chocolate, cinnamon, coffee, or mocha.
Use Rice Krispies for the cereal coating instead of corn flakes or Cinnamon Toast cereal.
If you use a larger air fryer (I love the Breville Smart Oven Air Fryer Pro) you can air fry two-four ice cream balls at a time. Just make sure to create a small tray out of aluminum foil to hold them.
I read one recipe, that skipped the flour and egg whites, so I tried it on one of my ice cream balls and had a harder time getting the crushed cereal to attach.
Omit the egg whites and just roll the ice cream balls in a little honey or maple syrup before rolling in the cereal.
Frequently Asked Questions
Do I have to use egg whites to make fried ice cream?
No, you do not need to use the egg whites, but they will help the cereal coating stick much easier. Alternatively you may roll in a little honey, then in the cereal.
Is fried ice cream safe?
Yes! If you used pasteurized egg whites, your fried ice cream should be plenty safe to eat! If you are still scared to use them, then replace the egg whites with honey, though this will make them sweeter!
Can you put ice cream in an air fryer?
You can! Put ice cream in your air fryer if you coat it in a dry batter first. You won't have to air fry it for long (just 2-minutes), and make sure you use an aluminum foil barrier and cover all exposed parts of the ice cream with the crumb coating.
Can you batter fry in an air fryer?
Batter frying involves using a wet batter, like a tempura batter. You can not batter fry with an air fryer. That's why the batter on my air fryer fried ice cream recipe is a dry, crunchy coating!
Can I deep fry ice-cream?
Yes! When ready to serve, pour vegetable oil, at least 4 inches worth into a large Dutch oven or deep fryer and heat to 375 degrees F. Using a slotted spoon or spider, carefully place 1 or two into the hot oil and deep fry for 10-20 seconds, until golden brown, remove immediately to drain on a paper towel and enjoy this delicious dessert immediately.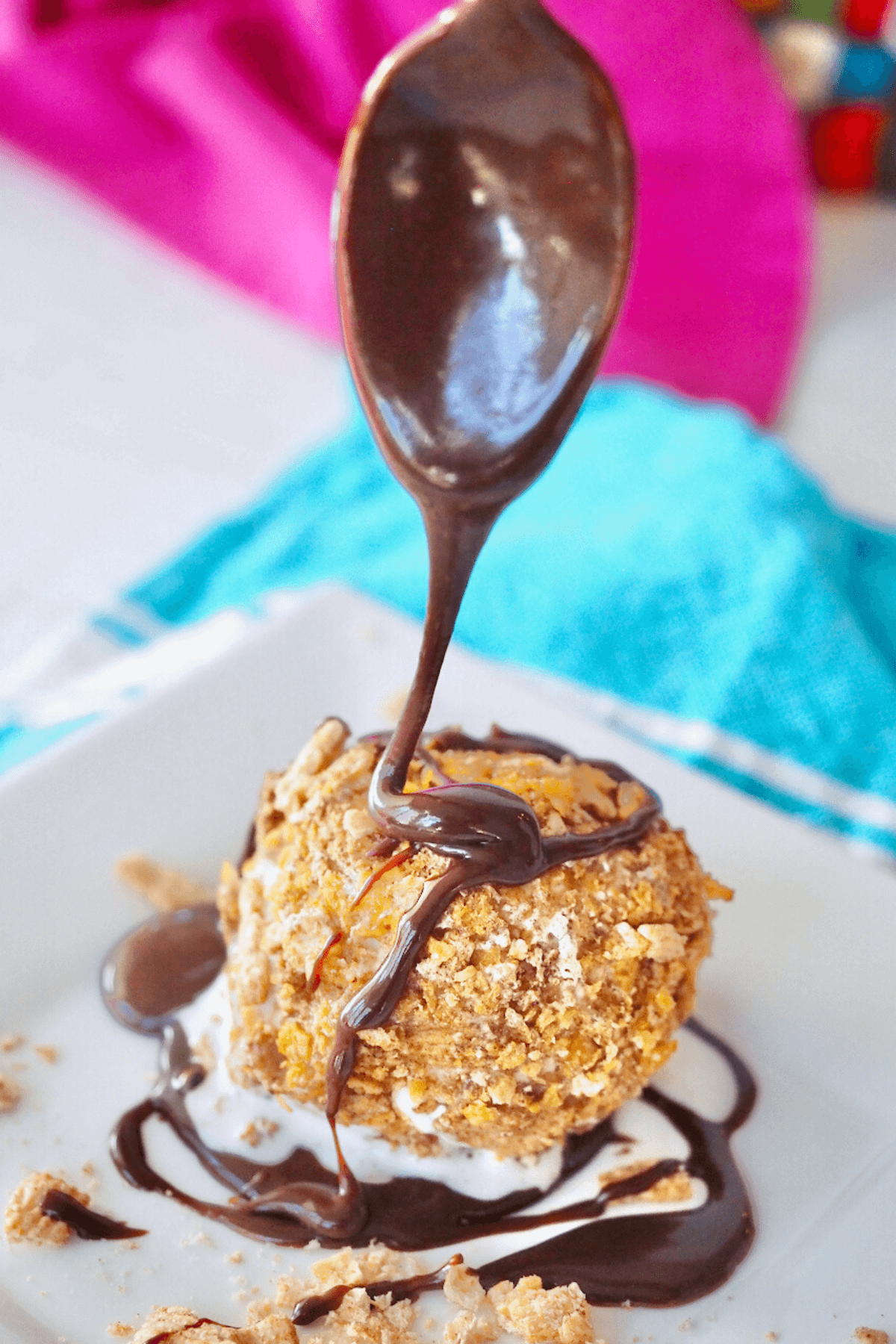 Make Ahead Instructions
Air Fryer Fried Ice Cream can be made weeks ahead of time, freeze cereal coated ice cream balls in Ziplock baggie or airtight container for up to 2 months. Then proceed with air frying instructions as detailed.
Or if you prefer them to be fully cooked ahead of time and served frozen solid, air fry each one, then immediately return to the freezer for one hour, then place in airtight baggie or container.
Does fried ice-cream still taste good if I put it in the freezer after making it?
I personally think it's better fresh from the fryer, however; if you want to cook them all up and then refreeze them, yes they will still taste good. Let them sit on a plate for 10 minutes to soften slightly before serving.
How to Serve Fried Ice Cream
My favorite part! Drizzle on your favorite toppings!
Hot Fudge (my fave)
Salted Caramel (I love a combo of the above and this!)
A drizzle of honey or maple syrup
Don't forget the whipped cream, try my super easy to pipe Stabilized Whipped cream
And the cherry on top, tradition is a maraschino cherry, but I love these Bing Cherries.
Recommended Equipment
More Air Fryer Recipes you will love!
Love it? Pin it!
I hope you enjoyed this recipe for air fryer Fried Ice Cream! If you did, leave a comment and 5 star rating below!
Like this recipe?
Don't forget to give it a ⭐️⭐️⭐️⭐️⭐️ star rating and comment below the recipe!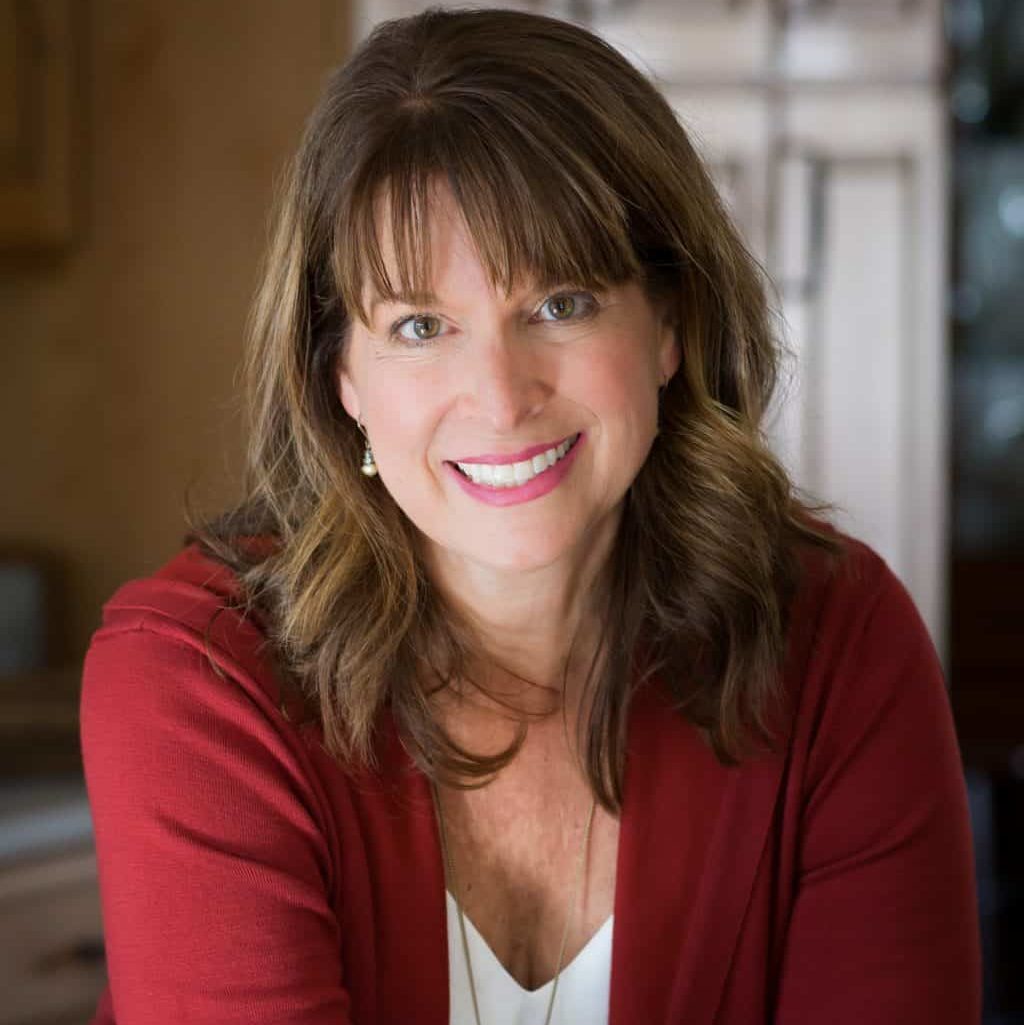 About Kathleen Pope
Recipe Innovator | Food Photographer | Food Writer
Hi, I'm Kathleen Pope. Here at The Fresh Cooky you will find easy, mostly from-scratch, trusted recipes for all occasions. From speedy dinners to tasty desserts, with easy step-by-step instructions. I am here to help teach you how to make mouthwatering recipes without spending hours in the kitchen. Read more about Kathleen here.