Old Fashioned Texas Sheet Cake Recipe
As an Amazon Associate, I earn from qualifying purchases. Please read my disclosure policy.
This Texas Sheet Cake Recipe is the best! Baked in a half sheet pan, it feeds a crowd and is perfect for a potluck! A large, thin cake, slightly chewy and a little dense, the perfect amount of chocolate, with a warm gooey chocolate frosting poured over the warm cake!
If you are into chocolate desserts, you won't want to miss these chocolate lovers favorites; like Death By Chocolate Cake (easier than it looks), One Pan Chocolate Fudge Brownies, Chocolate Chocolate Chip Bundt Cake <== a Nothing Bundt Cakes Copycat that uses a cake mix; or pretend to be all healthy with this Chocolate Zucchini Cake.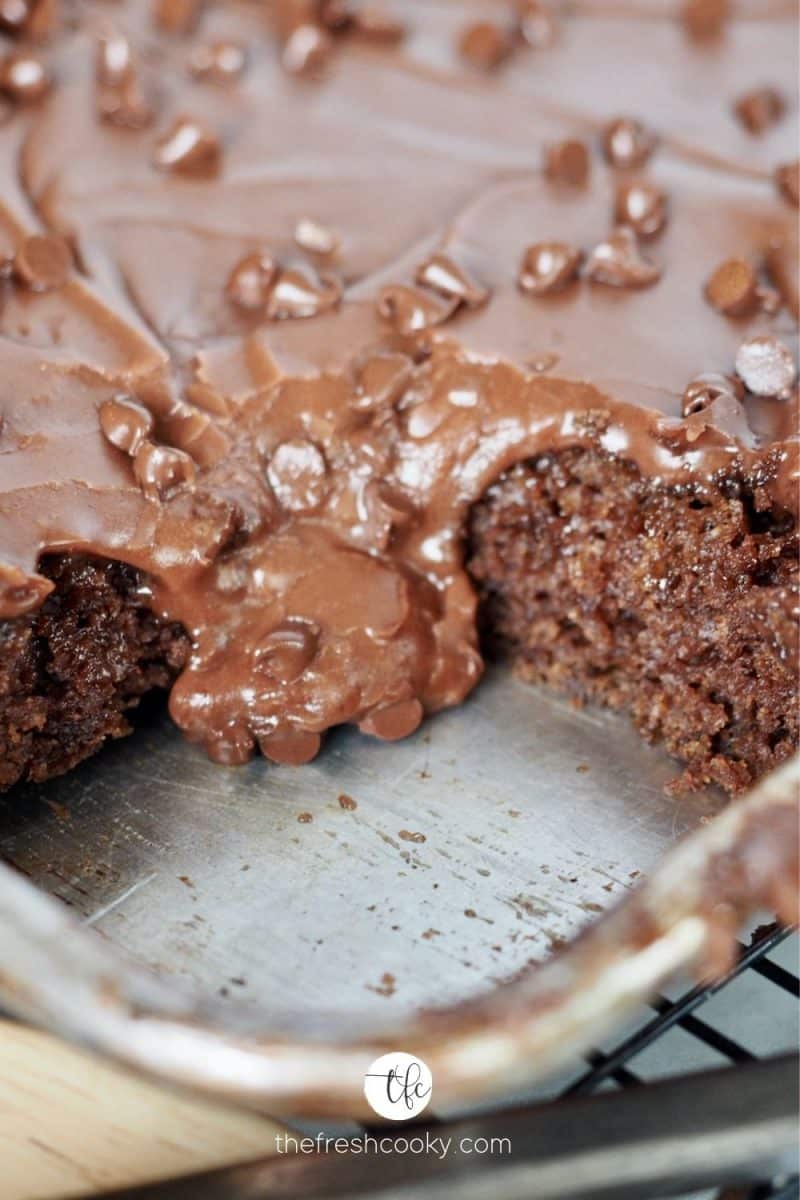 Why you will love this Pioneer Woman Chocolate Sheet Cake
Minutes of Hands On Time | It takes a few minutes to whip up the batter and 20 minutes in the oven to bake!
Feeds a Crowd | I love it when we're going to a potluck or meeting friends at the pool, making this Pioneer Woman inspired chocolate sheet cake recipe makes enough for everyone to enjoy, including the lifeguards!
CHOCOHOLICS FAVORITE | My family are all chocoholics! This is a favorite cake, tastes great by itself or ala mode!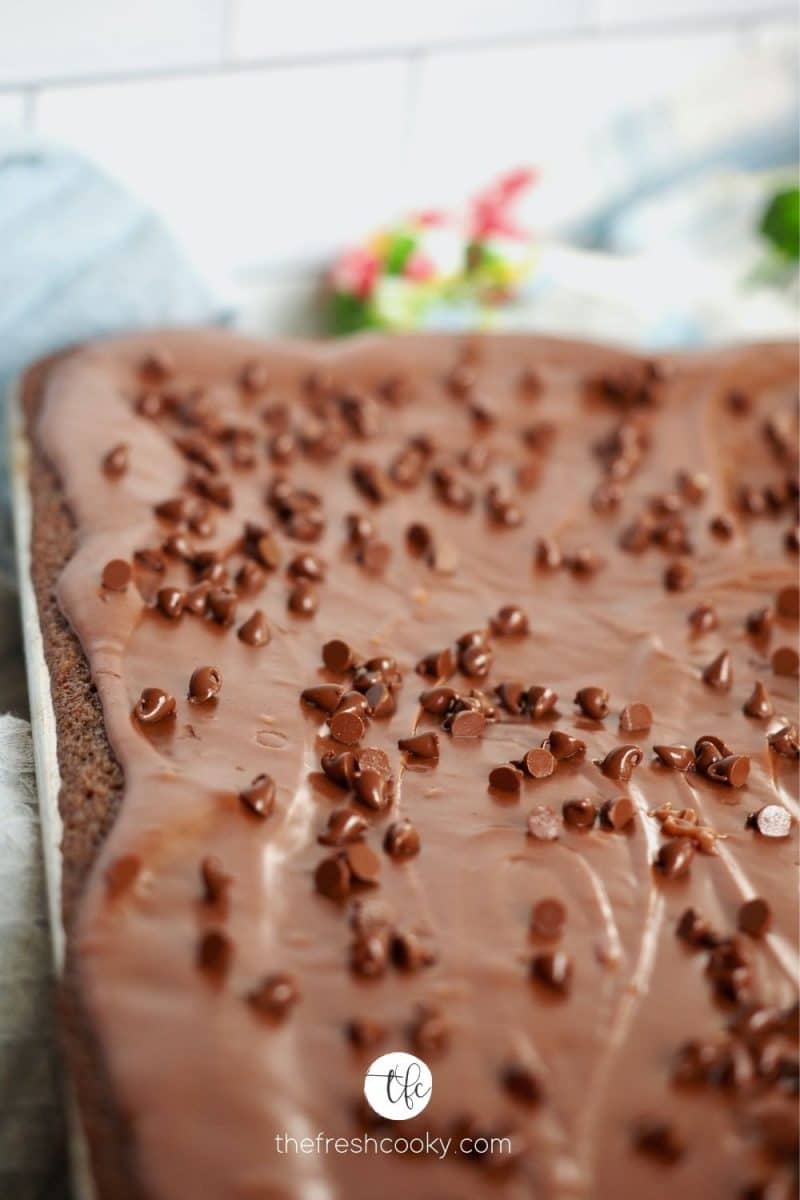 What is a Texas Sheet Cake?
Chocolate sheet cakes are not fussy. The batter comes together so quickly, it bakes in just 20 minutes, you make the frosting while it bakes and pour over the warm cake.
It's chocolate-y, but not overly so, allowing the slight tang of the buttermilk to shine through. While it's dense, it's also rich and has a slight chewy factor.
The easy, cooked chocolate frosting pours on while warm, then sets with a little crust that makes your taste buds scream for more.
Pioneer Woman Chocolate Sheet Cake
I have been making this Texas Sheet Cake recipe for years, in fact, it's from one of my favorite cookbook authors and bloggers, the Pioneer Woman. It's an oldie but such a goodie! We use buttermilk in our recipe, which we think makes it the best Texas Sheet cake recipe, adding moisture, richness and all around deliciousness.
I have definitely made some tweaks to make it work for high altitude, but have no fear you sea level dwellers, I have the original amounts as well.
Recipe adapted from The Pioneer Woman.
Why is it called Texas Sheet Cake?
Where'd it get its name? Legend has it, because it's huge, like the state of Texas.
Others say it's because it's dark and rich, like the oil that flows from the ground in Texas.
Still others say it's because it's loaded with Texas-y ingredients like buttermilk and pecans or to the fact that the recipe is similar to one submitted to the Dallas Morning News in 1957 that subsequently swept the country. (Source)
Regardless of what you call it, Pioneer Woman chocolate sheet cake or Old Fashioned Texas Sheet Cake or the "Get-in-my-mouth-now" cake — I don't really care, but you and your loved ones will care very much when they sink their teeth into this rich, slightly chewy, chocolatey cake.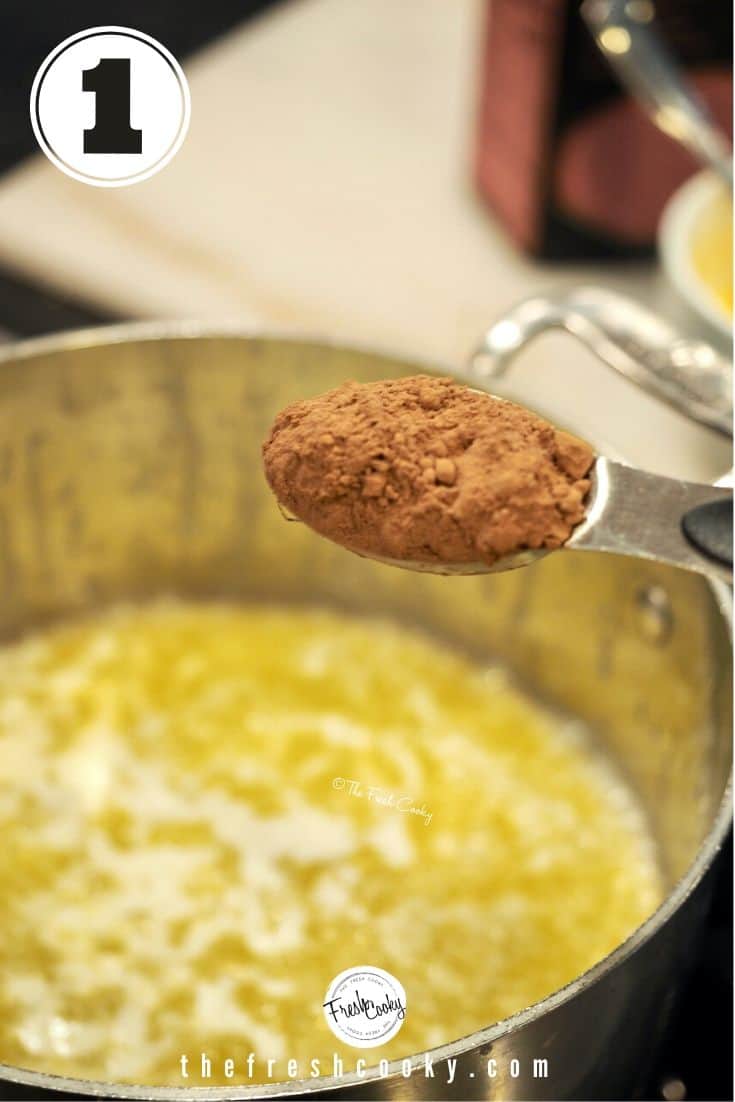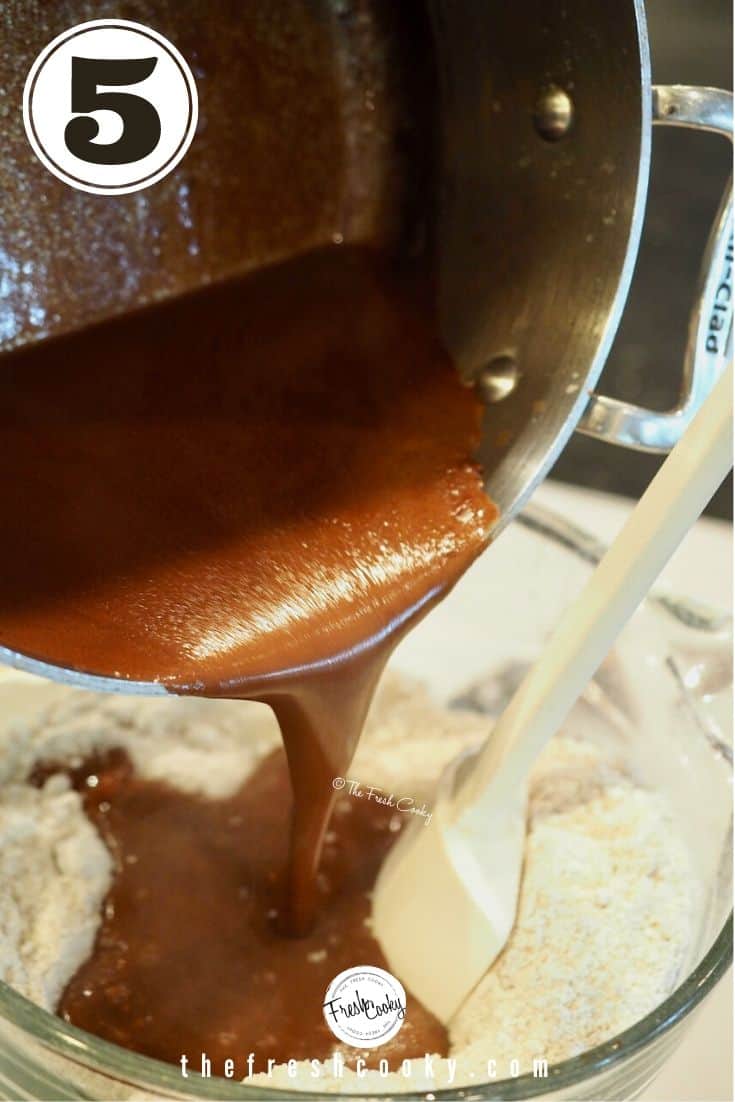 INGREDIENTS
all-purpose flour | I use organic unbleached all purpose flour, regular flour is fine, just not self-rising.
granulated sugar | I use all natural cane sugar, but you can replace it with white sugar
light brown sugar | this is my addition, to add a bit more of a molasses taste and a bit more chewiness
salt
cocoa powder | use whatever kind you have, I love Rodelle's Dutch Process Cocoa Powder
butter | the real deal please, my mantra "If it's soft coming out of the fridge, it's not real butter" no oil blends
boiling water | does a little sciencey magic thing — blooming the cocoa powder!
buttermilk | No buttermilk? No problem, see my handy substitutions chart for this and many other baking ingredients substitutions. I use whole full fat buttermilk, cause it's so good in this cake!
eggs | provides the lovely lift and lightness to the cake
baking soda | Make sure it's fresh and not out of date
vanilla extract | I always put a little extra in and homemade vanilla is the BEST!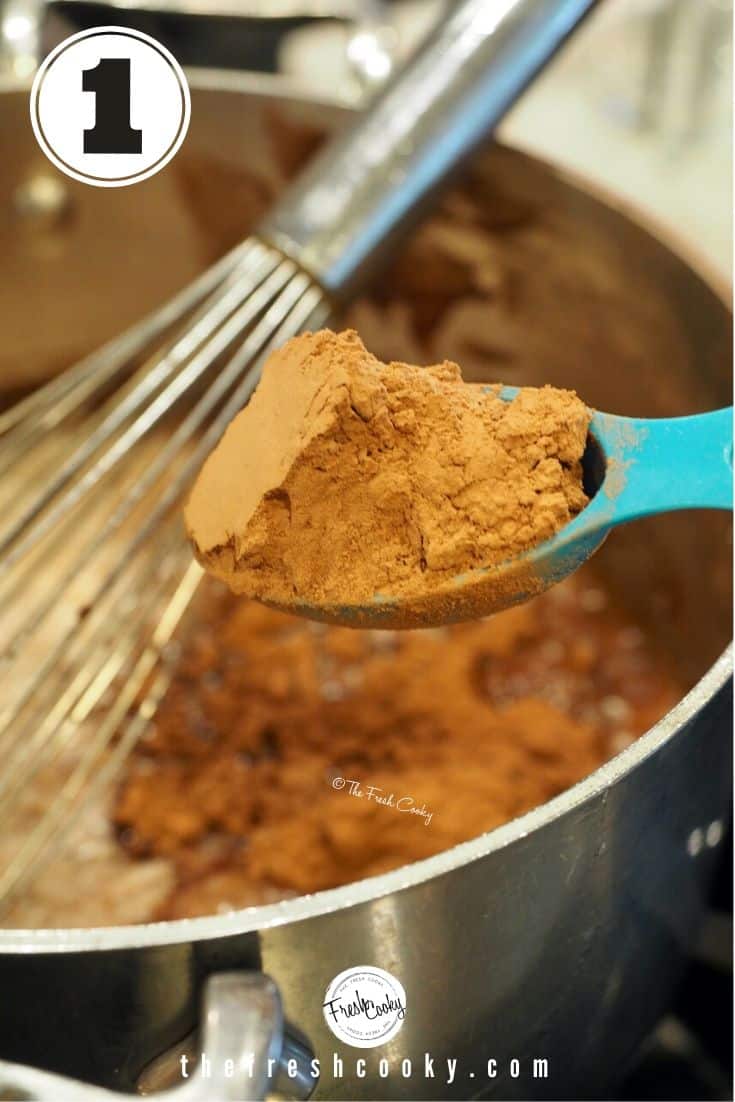 Cooked Chocolate Frosting Ingredients
Texas sheet cake frosting is the bomb, you don't even need to wash your pan from the cake! Simply toss your ingredients into the same pan, melt, stir, whisk until smooth!
butter | see above so there isn't any gnashing of teeth happening 🙂
cocoa powder | same kind you used in the cake
milk| but you can also substitute half and half or heavy cream as well
vanilla | the best flavor in the world, nothing "plain" about it!
powdered sugar | also called confectioners sugar, the powdery white sugar!
mini chocolate chips | optional, but they add a nice touch
chopped pecans | optional again, my son has tree nut allergies, sadly I cannot use them, but they are yummy!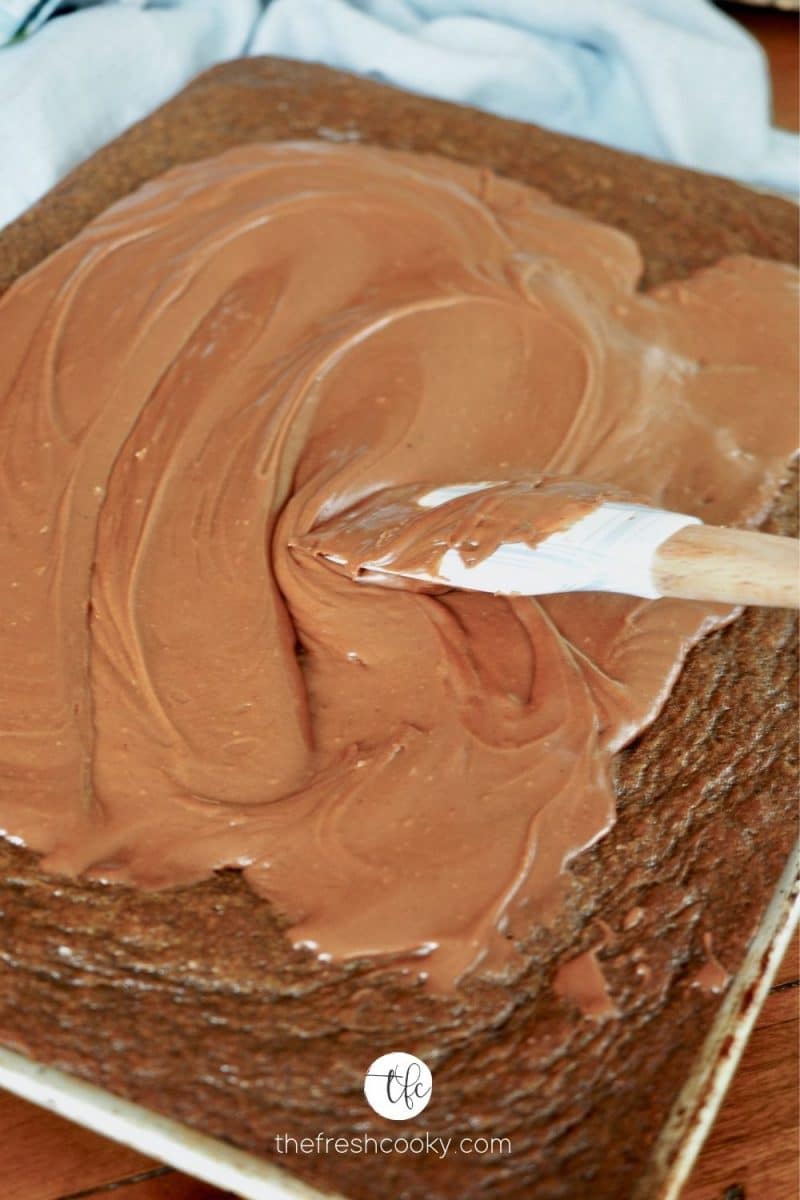 What Size Pan is used to make the Best Texas Sheet Cake?
A full sheet pan is 18″ x 26″ which is enormous and most of us don't have ovens large enough to fit one.
So technically speaking, what we are using is a half sheet pan which is 18″ x 13″, also called a baking sheet, but what I commonly use as a cookie sheet and have four or five in my kitchen.

A 10×15 inch jelly roll pan or a 9×13 baking pan may work. You will need to adjust the baking times since both pans are smaller and will take longer for the cake to bake through. Be careful with the jelly roll pan as it could overflow, you might want to spoon some of that batter into a square baking pan.
If it starts browning too quickly at the edges, simply place foil around the edges of the pan or lightly place a sheet of foil over the top. I have not make this cake in smaller pans, so please provide with caution.
Bake until the cake springs back when lightly touched or there are only fine crumbs on a toothpick when inserted.
HIGH ALTITUDE CAKE BAKING TIPS
Cakes can be finicky at normal altitudes, but the higher the altitude the more testy they become, here are my tips for high altitude baking, sometimes you need to try a recipe few times to figure out the best for your oven and altitude. This recipe was tested at 5280 feet above sea level (Mile High City).
Decrease the double-acting baking powder or baking soda by one-quarter to one-half teaspoon for every teaspoon called for in the recipe, and add an extra egg, but do not over beat the eggs.
Increase the liquid by three to four tablespoons for each cup liquid indicated.
Decrease the sugar two to three tablespoons for each cup in the recipe.
Increase the flour by one to two tablespoons for each cup called for. Increase the baking temperature about 25 degrees.
Be sure to grease your pan extremely well and only fill ½ full as cakes like to stick more at altitude and will tend to rise quicker.
Use an oven thermometer to make sure your oven is heating at the correct temperature.
Frequently Asked Questions
How many servings does it make?
13″ x 18″ baking sheet or half sheet pan and are cutting the cake into 2×2″ slices, you will have 59 slices
2 x 3″ slices will yield about 39 servings
Slicing into 3 x 3″ slices you will get about 24 servings! Slice it anyway you like it!
Do I need to refrigerate my sheet cake?
If not eating within 2-3 days, then yes, I would recommend refrigerating, but be sure to cover well with plastic wrap. Otherwise it should be fine covered on the counter.
I have yet to have much, if any of this delectable cake leftover after a gathering. In fact, I made it for the 4th of July potluck and people came back for seconds and thirds! It's that yummy!
Can you Make Old Fashioned Texas Sheet Cake Ahead of Time?
While the beauty of this cake is eating it warm from the oven, it still tastes great the next day — just be sure to cover tightly with plastic wrap and keep on the counter.
If you want to serve it warm heat your oven to 200 degrees F and pop the cake (icing and all) into the oven for about 15 minutes.
RECOMMENDED TOOLS
Lastly, we think this Texas sheet cake recipe with buttermilk is best warm with a generous scoop of Old-Fashioned Vanilla Bean Ice Cream or chocolate ice cream!!
More Chocolate Dessert Recipes You Will LOVE!
Like this recipe?
Don't forget to give it a ⭐️⭐️⭐️⭐️⭐️ star rating and comment below the recipe!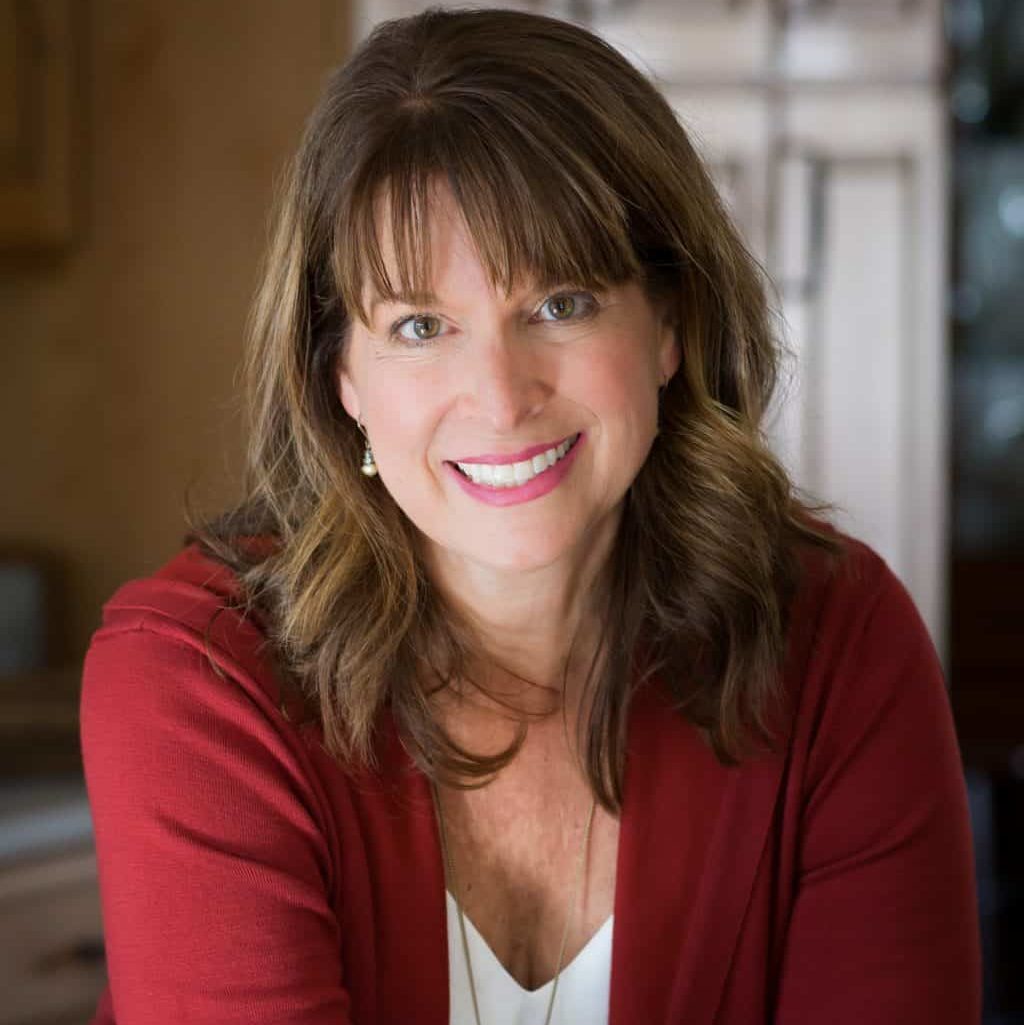 About Kathleen Pope
Recipe Innovator | Food Photographer | Food Writer
Hi, I'm Kathleen Pope. Here at The Fresh Cooky you will find easy, mostly from-scratch, trusted recipes for all occasions. From speedy dinners to tasty desserts, with easy step-by-step instructions. I am here to help teach you how to make mouthwatering recipes without spending hours in the kitchen. Read more about Kathleen here.