Red, White and Blue Ice Cream
As an Amazon Associate, I earn from qualifying purchases. Please read my disclosure policy.
The perfect treat to serve and celebrate for Patriotic red, white and blue holidays! This easy recipe for red, white and blue ice cream has won rave reviews in our home! Only 3 ingredients to this no-churn ice cream and a few mix-ins and you'll be making your own red, white and blue frozen treat!
I love our country and this year for the 4th of July, I whipped up, yup, literally and figuratively this beautiful Red, White and Blue Ice Cream!
If you love some red, white and blue treats, then try these festive Ice Cream Sandwich Cookies, or these healthier, Red, White and Blueberry Yogurt Parfaits, or this beautiful Red, White & Blueberry Cocktail.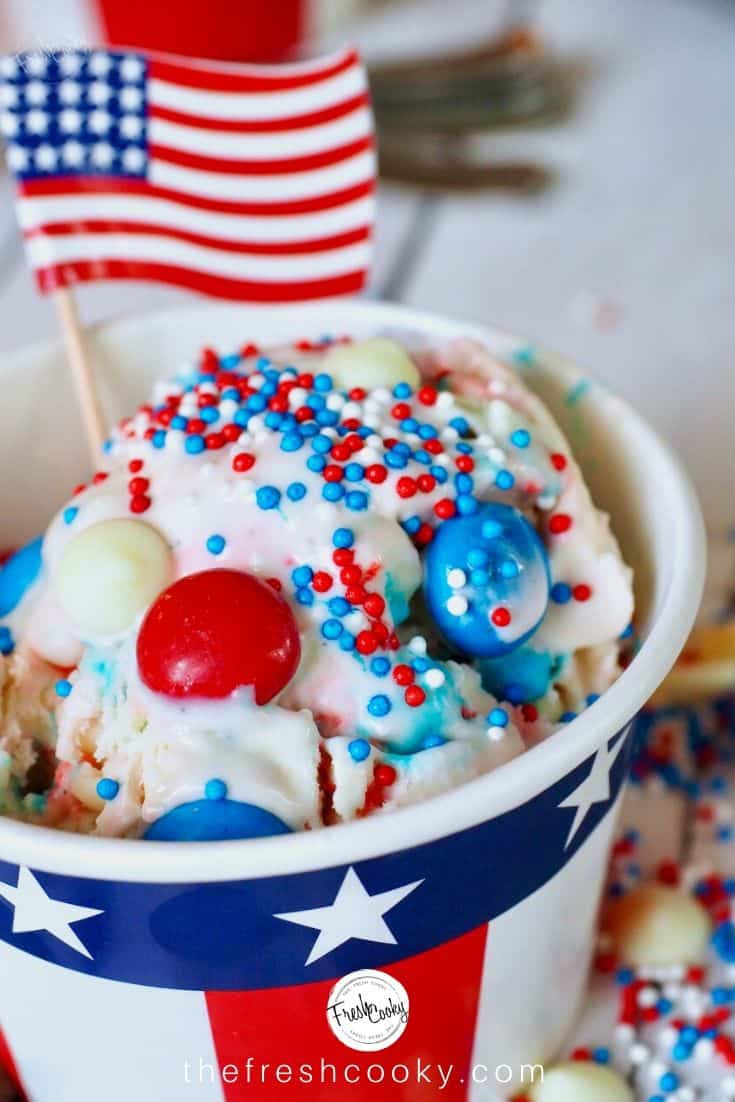 Why You Will Love Patriotic Ice Cream
No Churn means it's ready to go into the freezer in minutes! Just 3 ingredients, no ice cream machine necessary!
Fun, festive and has all your favorite patriotic colors — RED, WHITE & BLUE!
Easy if you can whip whipped cream, you can make this ice cream!
Studded with red and blue m&m's along with white chocolate chips and KAPOW! SHAZAM! ZOINKS!
I personally think ice cream is still better from the ice cream maker vs. no churn, but you cannot beat no churn ice cream for a quick, low cost, E-A-S-Y, no bake dessert. Simply whip this up ahead of time, freeze overnight and you will have people screaming for ice cream.
Which by the way — my people; more specifically my man-children; LOVE this ice cream and my other no churn ice cream Circus Animal No Churn Ice Cream or try this Rose Ice Cream recipe.
Our oldest informed me (while shoveling spoonfuls of ice cream into his mouth), that I should make TONS of this ice cream and open a shop! From the mouth of teens!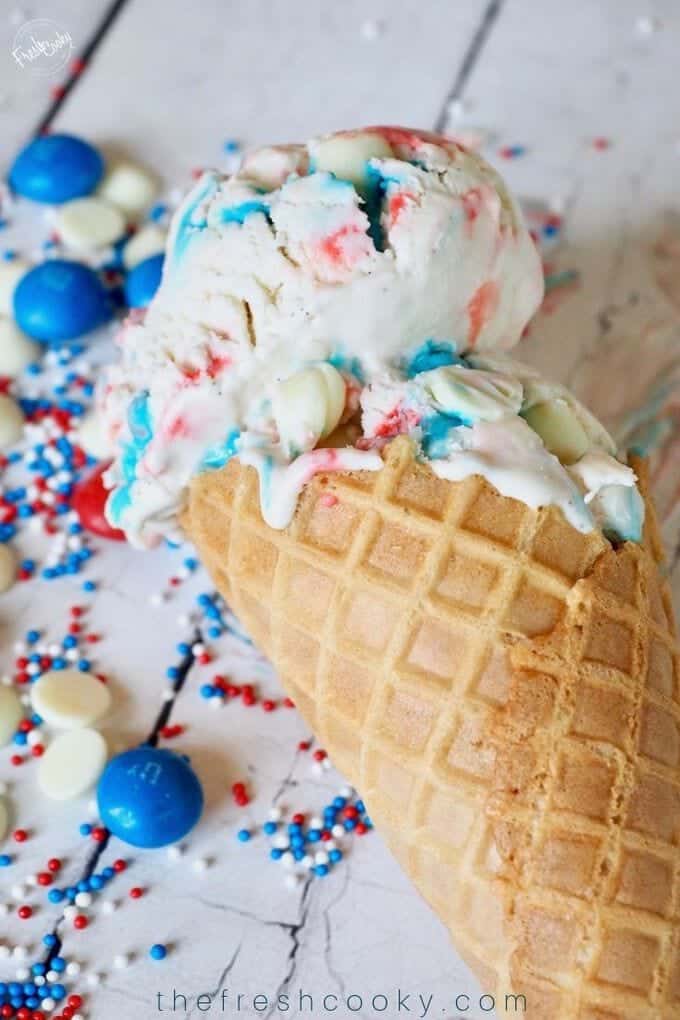 Basic Vanilla No Churn Ice Cream Recipe
Simple Ingredients
Heavy cream, whipped (I used organic)
Sweetened condensed milk (I used organic)
Vanilla extract or paste, I used Vanilla Bean Paste
red, white and blue M&M's (or sort out red and blue, about 1/3 of a cup)
White chocolate chips (I used Ghirardelli)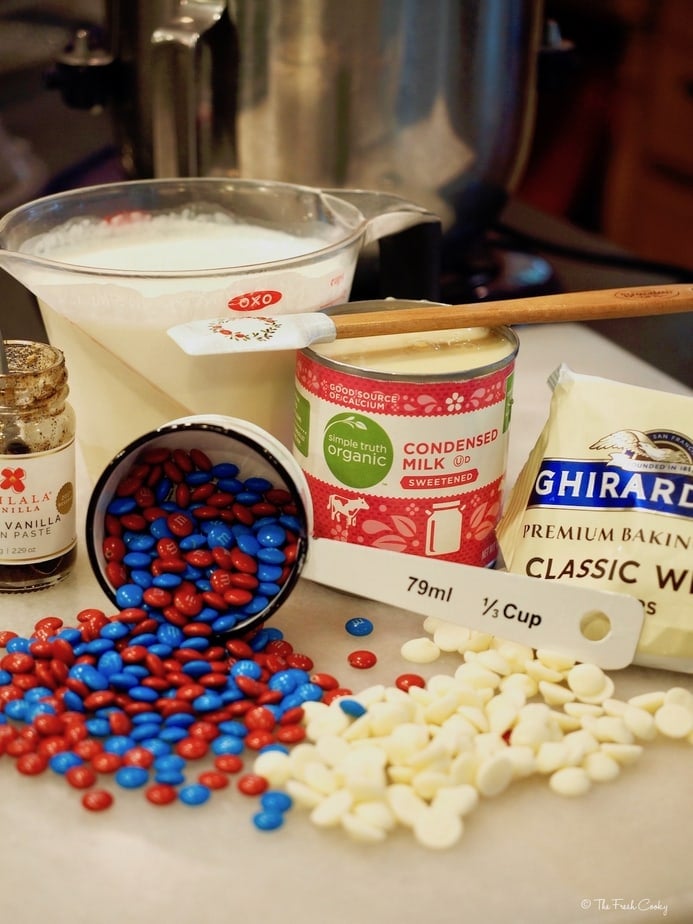 How to make Red, White and Blue Ice Cream
Simply whip your whipping cream until stiff peaks form, then slowly pour in your sweetened condensed milk and vanilla, mix until combined and pour into a standard 9×5 loaf pan or storage container.
If using mixins, stir in and then smooth into the loaf pan.
Fresh Tip
The M&M's will bleed, but that's kind of the beauty of the ice cream. Don't stir them in too long, you want them to freeze with the streaks of colors. Unless you want to turn your ice cream blue, or red ice cream, then stir until your hearts content!
Freeze until solid, serve alone, or top with this Bourbon Caramel Vanilla Sauce or Rich & Chewy Hot Fudge or maybe this gorgeous blueberry syrup!
Red, white and blue ice cream (no churn!)
I couldn't find Red, White and Blue M&M's this year, so I resorted to using a package of mini M&M's and sorting out the red and blue ones, then thought, I should toss in white chocolate chips for the white! Tada! A legend is born, okay — maybe not, but I guarantee two things: 1. It's SO EASY and 2. It's SO delicious!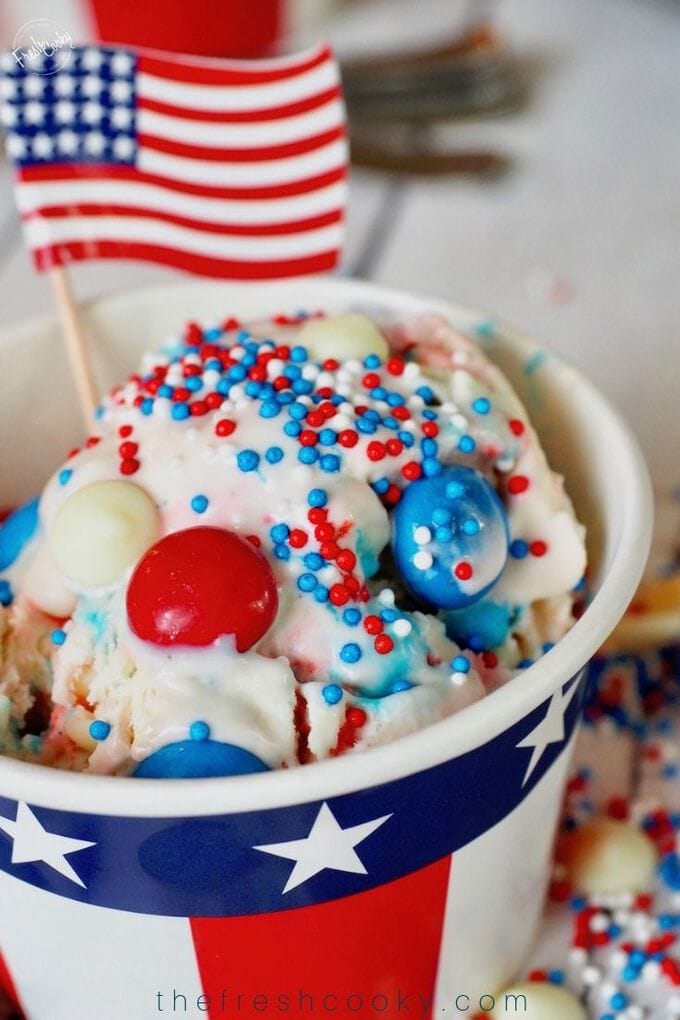 Variations & Mix-in Ideas
By the way, mix in anything you want! The basic vanilla recipe is included, be creative, here are thoughts I've had.
Chopped Reese's Peanut Butter Cups or Reese's Pieces

Rich Chewy Hot Fudge

Swirled and maybe chocolate chips
Butterscotch chips with some Bourbon Caramel Vanilla sauce

swirled in.

Fresh summer fruits!! Slice strawberries, peaches, mangoes and more. Stir in blueberries, blackberries, raspberries and cherries (pits removed please)
Chopped Andes Mints, 1/2-1 teaspoon mint extract and maybe a swirl of hot fudge.
1-2 Tablespoons Espresso Powder, Toasted Almonds and Chocolate Fudge (drooling!)
Stir in 1/2 cup Lemon Curd or 6 tablespoons lemon juice plus 2 teaspoons lemon zest
1-3 Tablespoons cinnamon and swirl in 1/3 cup dulche de leche
Frequently Asked Question
How do I make blue ice cream?
If you want the base of this ice cream to be all blue, stir in the blue m&m's only or a touch of blue food coloring and stir until desired color, then decorate finished blue ice cream with red, white and blue m&m's and sprinkles.
What is Smurf's Ice Cream?
Also called Blue Moon Ice cream, Smurf's ice cream is a delicious creamy ice cream that is tinted bright Smurf blue and traditionally it has marshmallow in the ice cream too.
Hopefully this will get your creative juices going! Just think of your favorite ice creams and mix it in! And in case this recipe didn't float your boat, check the following recipes out!
Looking for more cool, summertime treats?
Like this recipe?
Don't forget to give it a ⭐️⭐️⭐️⭐️⭐️ star rating and comment below the recipe!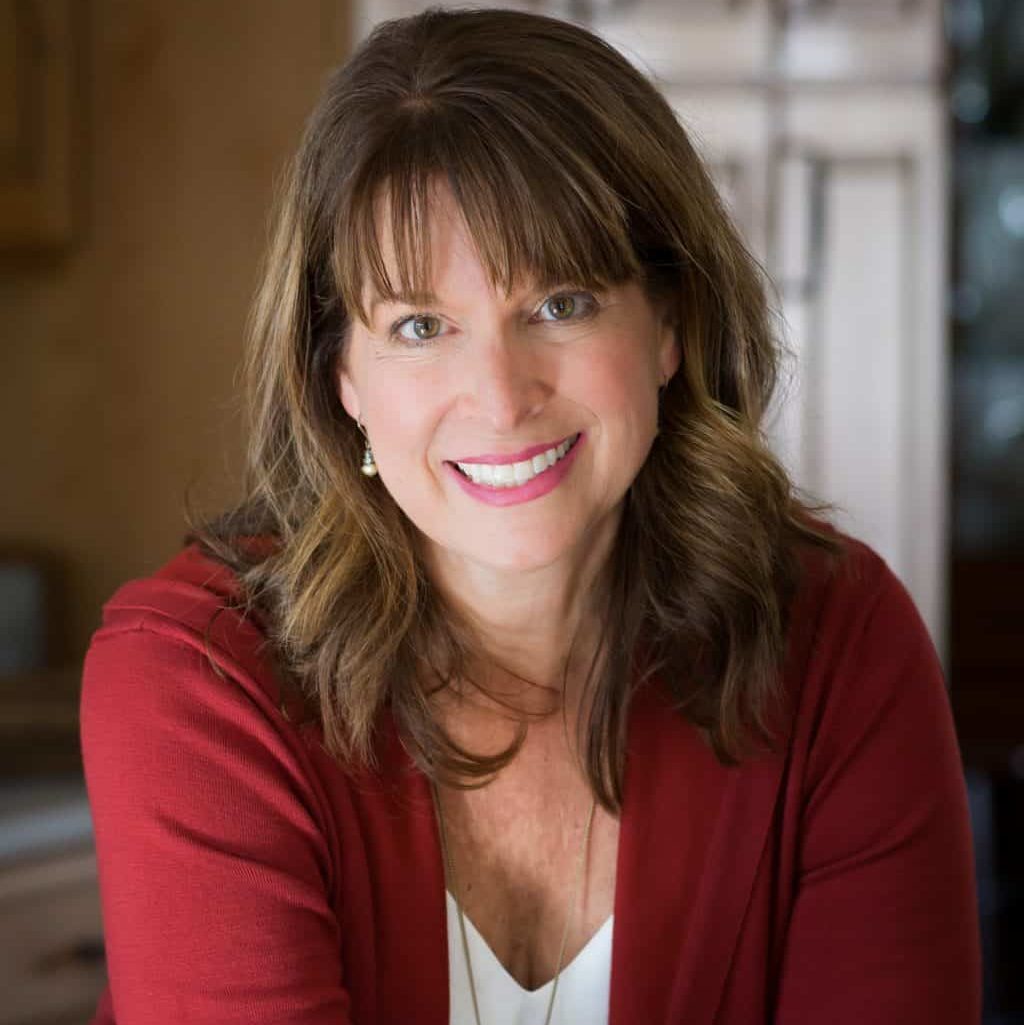 About Kathleen Pope
Recipe Innovator | Food Photographer | Food Writer
Hi, I'm Kathleen Pope. Here at The Fresh Cooky you will find easy, mostly from-scratch, trusted recipes for all occasions. From speedy dinners to tasty desserts, with easy step-by-step instructions. I am here to help teach you how to make mouthwatering recipes without spending hours in the kitchen. Read more about Kathleen here.