Chocolate Brownie Ice Cream
As an Amazon Associate, I earn from qualifying purchases. Please read my disclosure policy.
Cool and creamy, deliciously thick chocolatey ice cream! Rich, fudgy, chocolate brownie ice cream is easy to make and even easier to eat! A machine churned gourmet ice cream combined with homemade brownies makes the most decadent ice cream!
We have all bought the expensive pint of Ben & Jerry's Chocolate Fudge Brownie Ice Cream and I am here to tell you, that you (yes, YOU!) can make a half gallon of this ice cream for less than you'd buy a pint of Ben & Jerry's! And dare I say it's creamier, more delicious, more chocolatey and certainly has a whole lot more fudge brownie bites!
Lover of all things chocolate? Yeah, so is everyone I know! Grab these other reader chocolate favorites! Like this Ferrero Rocher Ice Cream, Copycat Nothing Bundt Cake Chocolate Chip Cake, Easy Chocolate Shortcake, or this Rich Chocolate Zucchini Cake!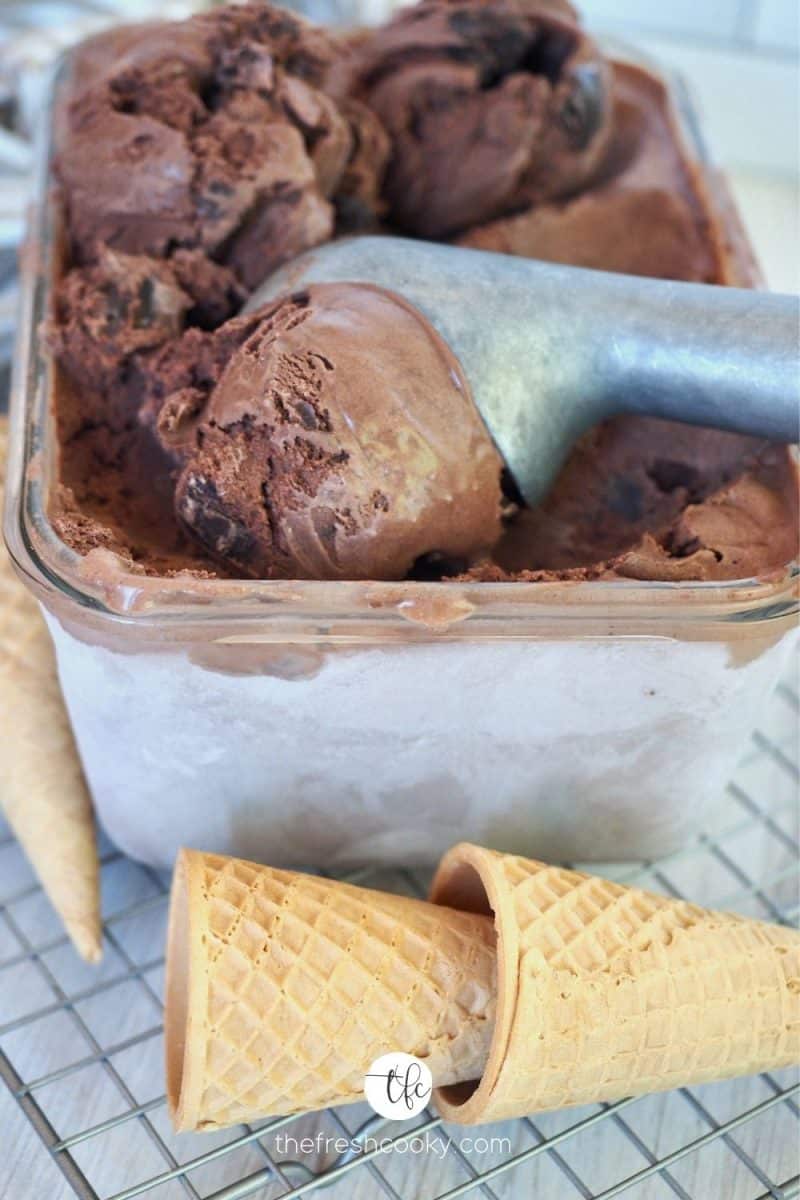 Why You Will Love this Chocolate Fudge Brownie Ice Cream
Besides being cold, creamy and delicious? It is loaded with good for you cocoa powder, no fake ingredients and it is riddled with gooey, chewy brownie bites. Plus you get to make my famous Old Fashioned Chocolate Ice Cream, one of my most popular summer recipes!
The gourmet chocolate ice cream itself is only 5 simple ingredients.
You can easily bake up the brownies ahead of time and use them when you are ready.
Once finished, you will plenty in the freezer to feed a crowd or your family for a week (at least in our house!)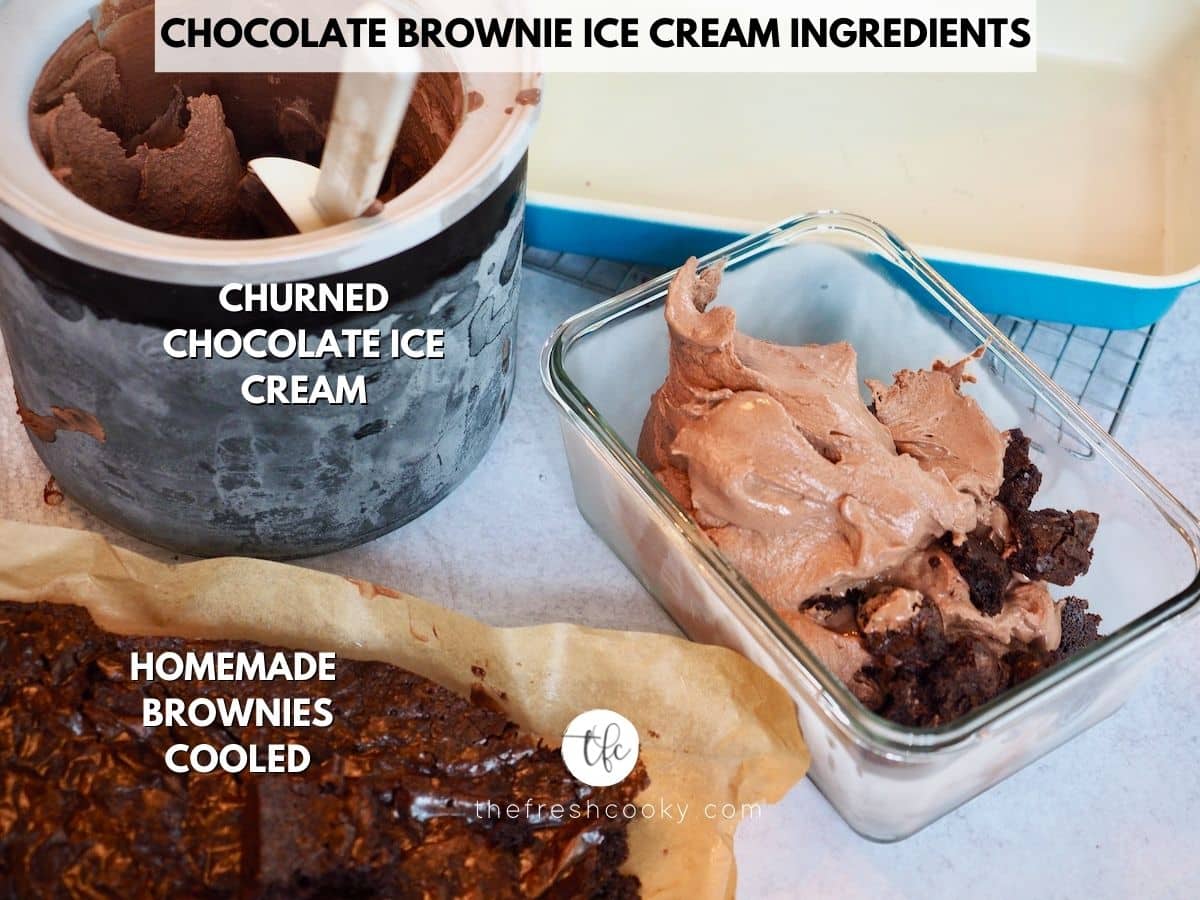 Ingredients
Simple fresh ingredients, that's what you need!
Chocolate Ice Cream | Recipe and ingredients for Chocolate Ice Cream (don't worry all the details are below)
Brownies | try these drool worthy brownies, or purchase and make up a pan of your favorite box mix <= (my fave) or even purchase a pan of soft brownies! Use a gluten free brownie mix if keeping GF!
Freezer pan | I use either a loaf pan or a large rectangular size plastic or glass container with a lid, love these! It should be enough to hold 2 quarts or half gallon = 8 cups.
Ingredients for Chocolate Ice Cream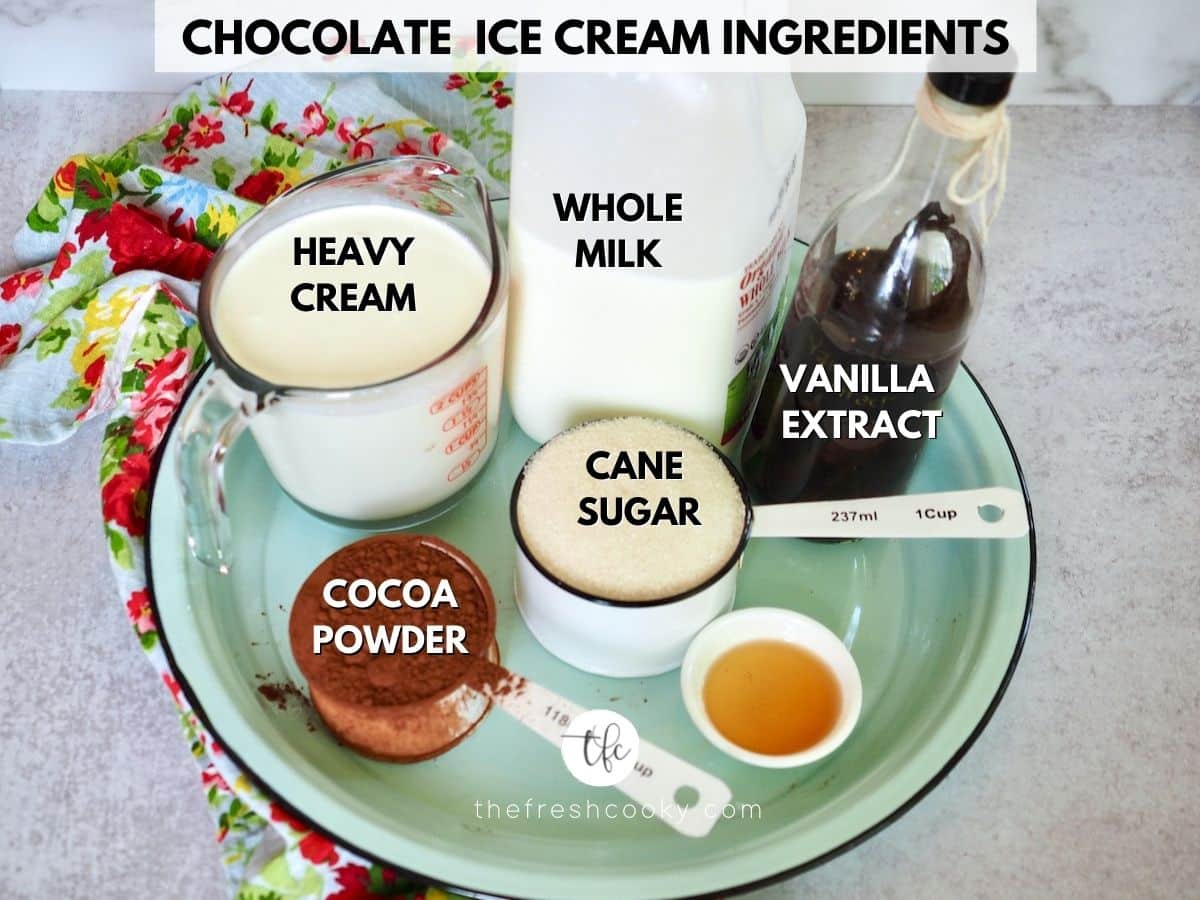 How to Make Ben & Jerry's Chocolate Fudge Brownie Ice Cream
Step 1 | Make Fudge Brownies
Whether you make brownies from the box, homemade (recipe linked above) or purchase already prepared, you will want to have enough time to cool these before adding to the ice cream. Make a day ahead, or let them cool at least 20 minutes on the counter, then pop in the freezer for 20 minutes.
Step 2 | Make the Chocolate Ice Cream Batter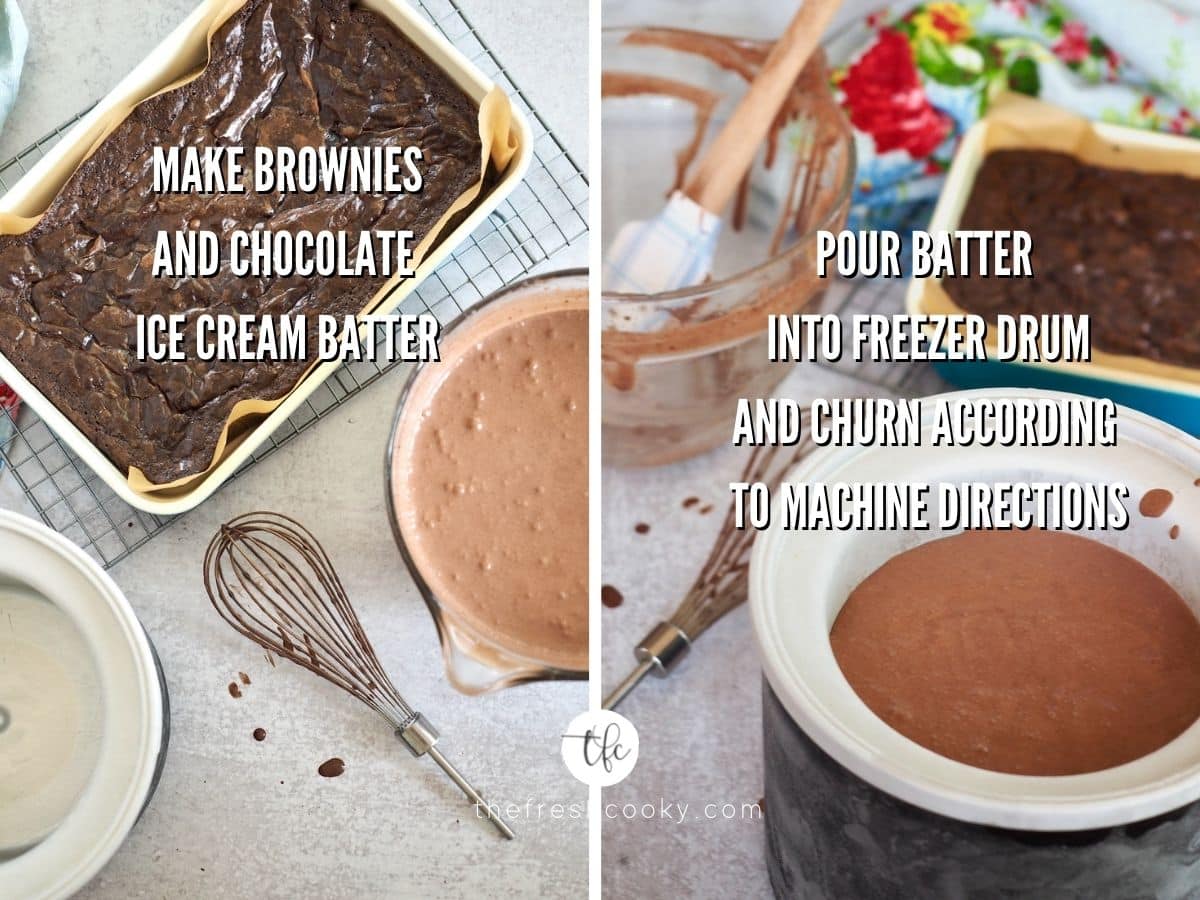 Grab your batter bowl and whisk (or use a hand mixer) together milk, cocoa powder, vanilla until cocoa powder and sugar are dissolved and combined, for about 2 minutes.
Pour in heavy cream, whip or whisk well, another 2-3 minutes until thickened and no sugar granules can be seen. Refrigerate ice cream base for 30 minutes or longer, prior to placing it in the ice cream freezer.
By allowing it to hang out in the fridge, it will help it freeze faster, greatly improve the texture AND allows the cocoa powder to get to know the milk and the cream.
Before pouring the ice cream base into the ice cream freezer, stir or whisk again one last time — ensure everything is mixed well.
Then pour into your ice cream freezer and follow the directions on your ice cream machine. Mine takes about 20 minutes.
Step 3 | Make the Chocolate Fudge Brownie Ice Cream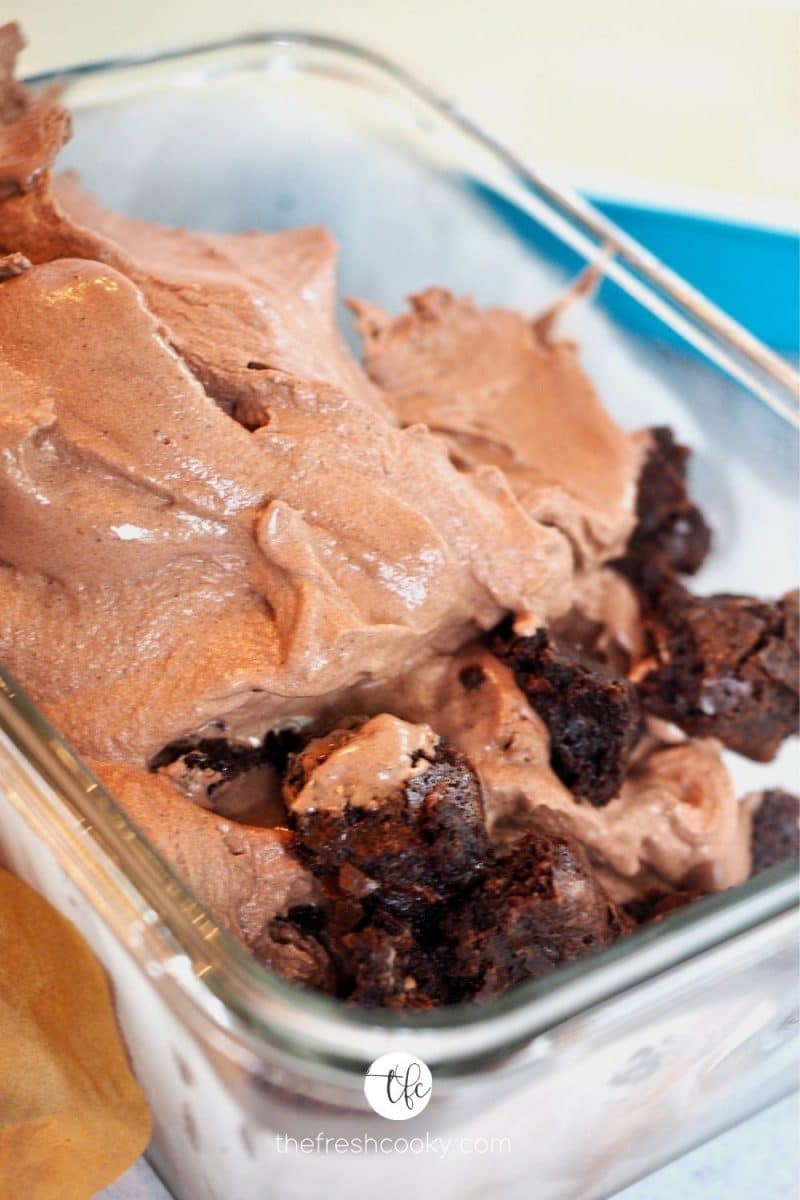 Pinch off little pieces of brownies, or cut into little squares, tossing them into your ice cream freezer container.
Add 1/3 the ice cream and give a gentle stir.
Repeat until all of the ice cream is used, you probably won't use all of the brownies, about 1 cup or so, but you can figure out a way to use these brownies I am assuming!
Smooth and freeze for 4-6 hours until firm, it will still be soft, but doable, if a firm ice cream is desired, then freeze overnight.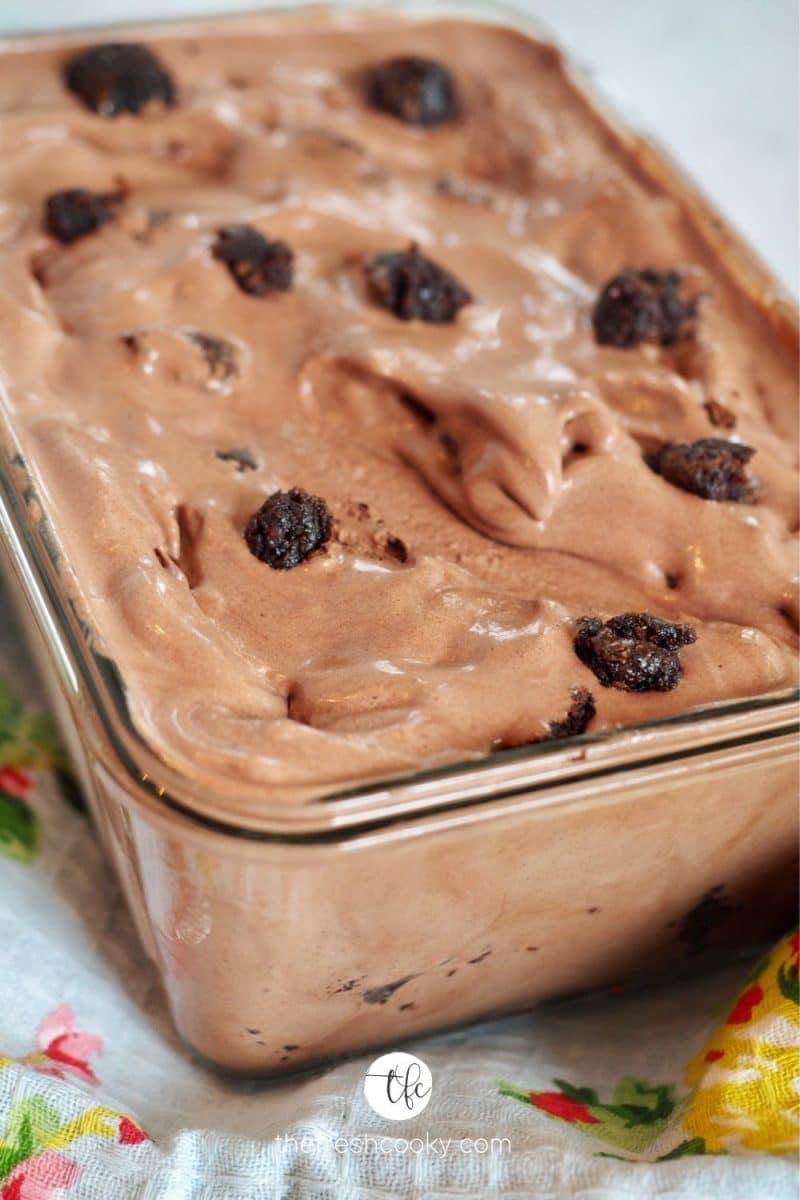 Tips
BAKE THE BROWNIES AHEAD | This will allow them time to cool.
MAKE CHOCOLATE ICE CREAM BATTER AHEAD | You can make the batter for the chocolate fudge brownie ice cream ahead of time too, keep it in the fridge and the flavors will marry and be ready for churning. Whisky before putting in the ice cream machine.
UNDER-BAKE THE BROWNIES | Since you are freezing the brownies in the ice cream, a softer brownie bite is desired, slightly under-bake the brownies, brownies are better under-baked anyway!
MAKE 24 HOURS AHEAD | If you want a really frozen for scooping onto ice cream cones, you want to make the ice cream 24 hours before you need it, this will allow it time to get nice and firm.
Frequently Asked Questions
Can I make this Gluten Free?
Yes, make or purchase a box of good GF brownie mix and then follow the rest of the instructions. The chocolate ice cream is already gluten free.
Can I use store bought ice cream?
I encourage you to make your own ice cream, you CAN do this! It is so easy and tastes so much better, however we are about making it yours, so yes, buy a half gallon of your favorite chocolate ice cream and allow to sit on the counter for 10-15 minutes to soften, then proceed as directed.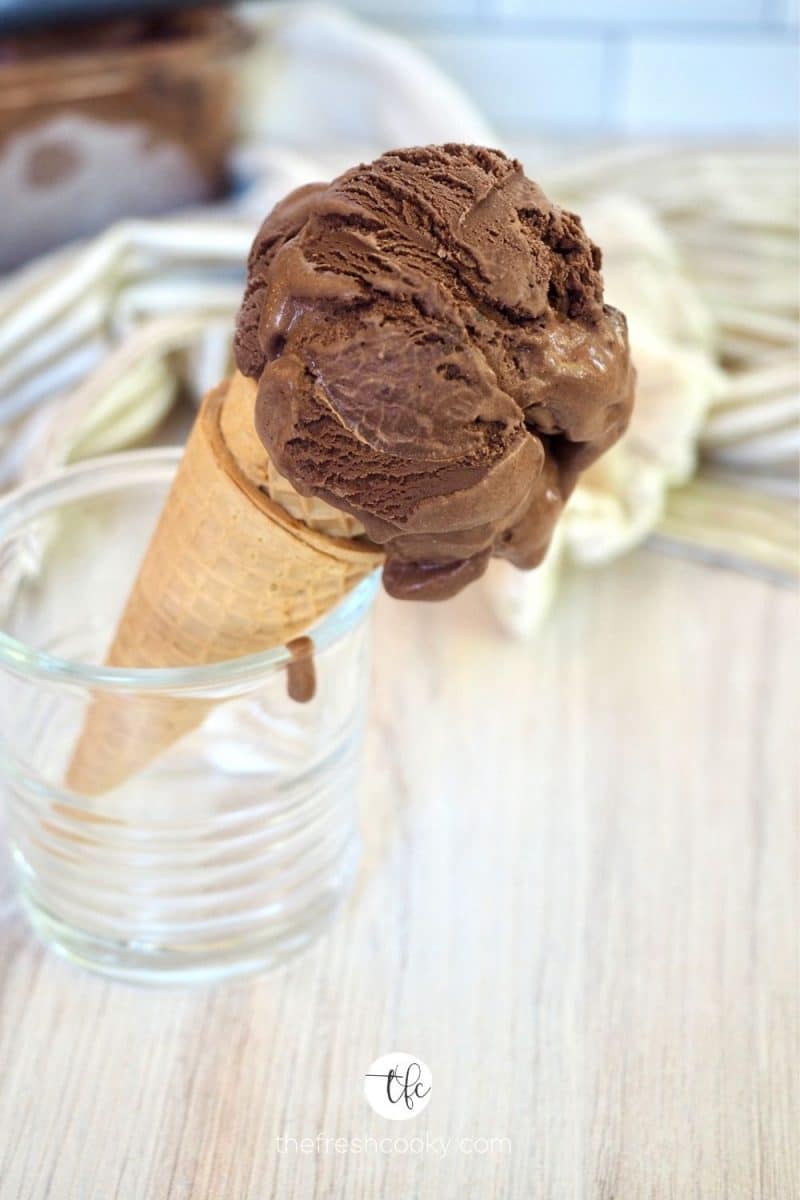 RECOMMENDED TOOLS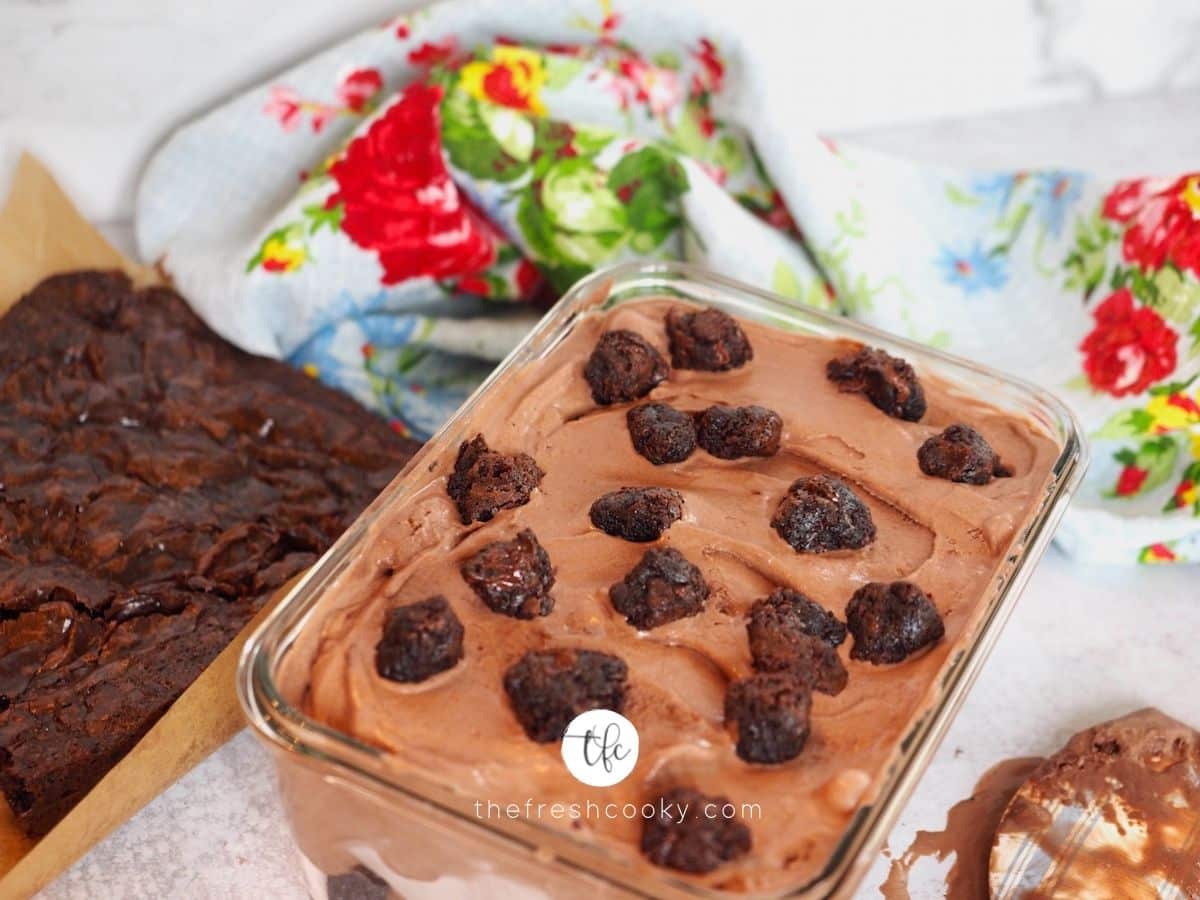 Mix-Ins Ideas
Fudge ripple brownie ice cream | Swirl ribbons of hot fudge sauce (cooled) into the ice cream while layering the brownies. You might want to use a butter knife and gently swirl the ice cream.
Cookies & Cream | Mix In Crushed Oreo (regular, Gluten Free or Golden) in place of the brownies for a delicious cookies and cream chocolate ice cream.
Chocolate Moose Tracks | Stir in mini or chopped up peanut butter cups, a ribbon of fudge sauce and you have fabulous copycat.
Mocha Almond Fudge | Oh yeah! Stir in 2 tablespoons of espresso powder into the chocolate ice cream batter, then once frozen, swirl in hot fudge (cooled) and 1/2 cup of chopped dry roasted almonds.
MAKE YOUR OWN HOT FUDGE, EASY & TASTES FAR BETTER THAN STORE BOUGHT!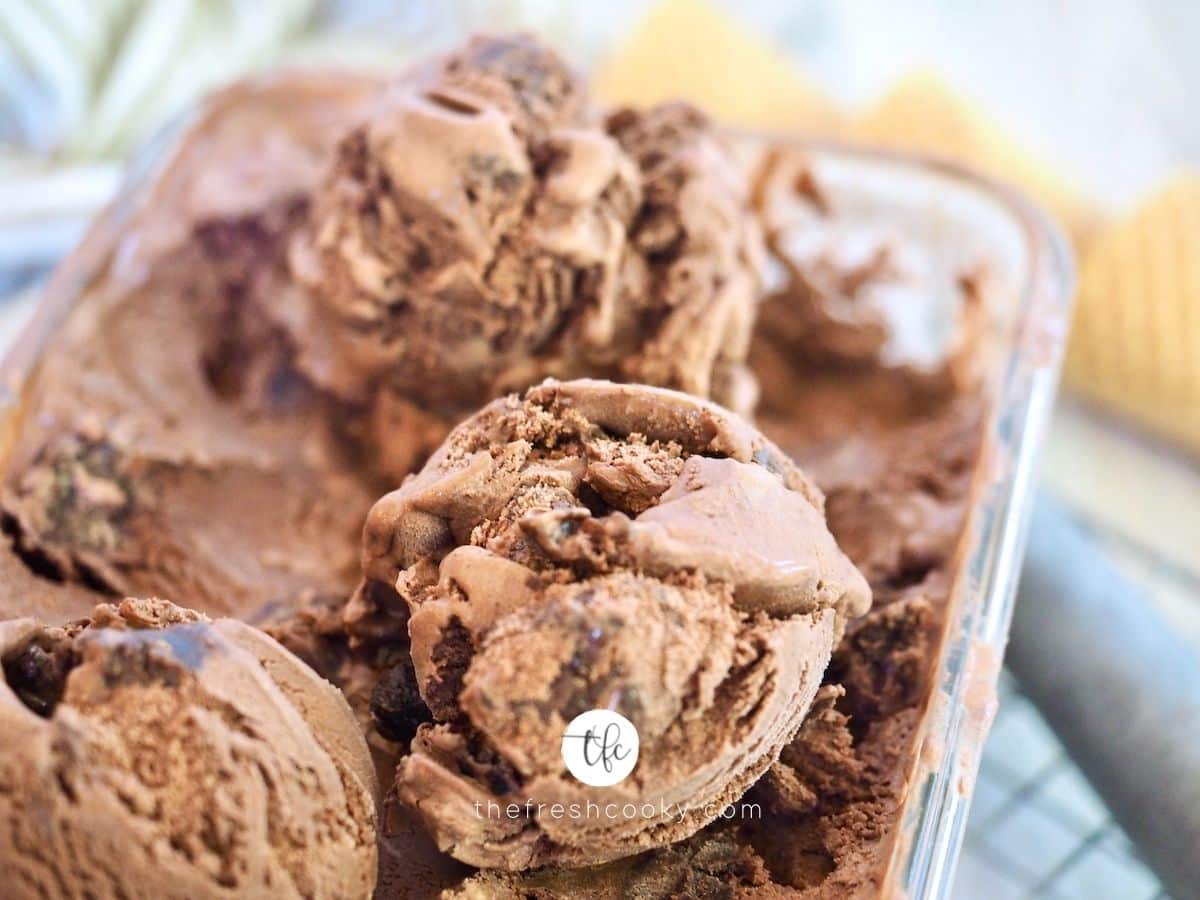 More Ice Cream Recipes
Don't forget to make your own delicious ice cream toppings and sauces!
Like this recipe?
Don't forget to give it a ⭐️⭐️⭐️⭐️⭐️ star rating and comment below the recipe!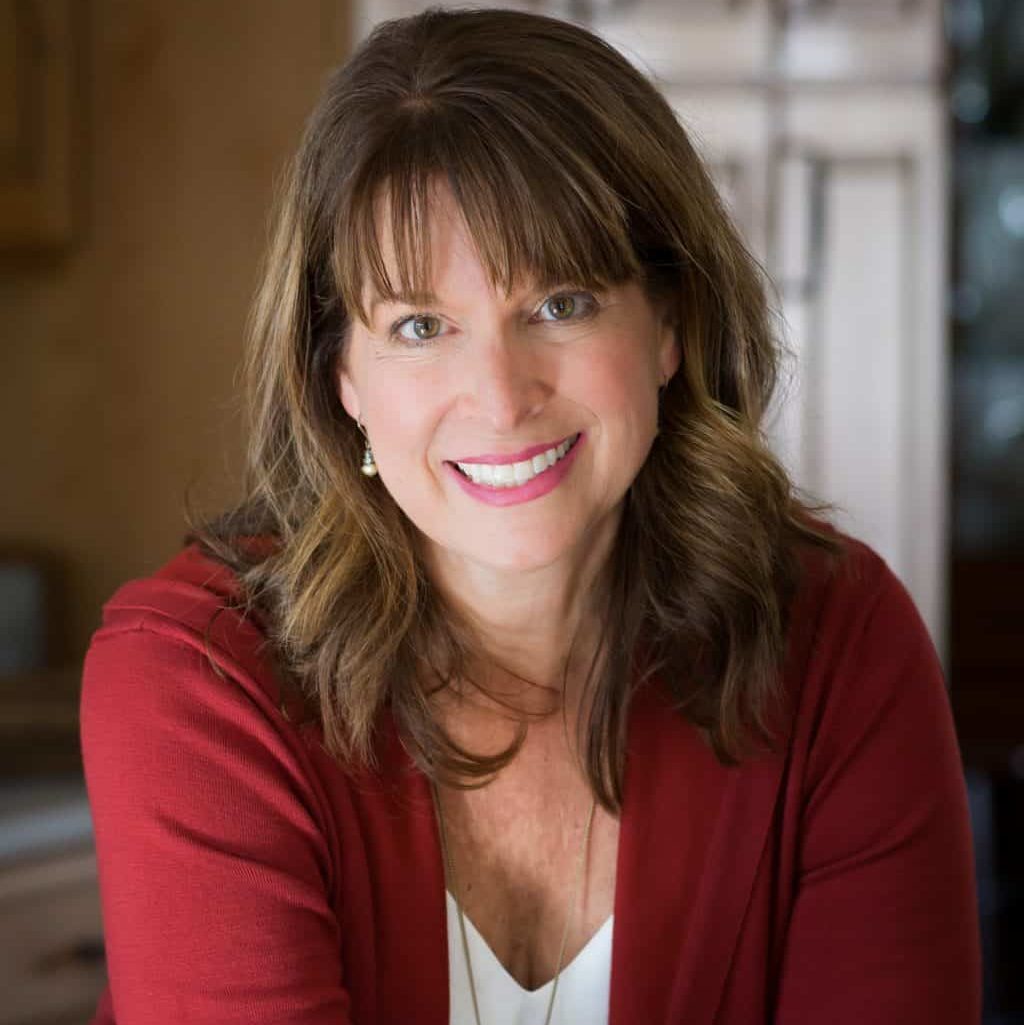 About Kathleen Pope
Recipe Innovator | Food Photographer | Food Writer
Hi, I'm Kathleen Pope. Here at The Fresh Cooky you will find easy, mostly from-scratch, trusted recipes for all occasions. From speedy dinners to tasty desserts, with easy step-by-step instructions. I am here to help teach you how to make mouthwatering recipes without spending hours in the kitchen. Read more about Kathleen here.