Chicken Quesadillas with Caramelized Peppers & Onions
As an Amazon Associate, I earn from qualifying purchases. Please read my disclosure policy.
A bodacious baked chicken quesadilla bursting with caramelized peppers and onions, filled with a mixture of chicken, parmesan, goat, cheddar and cream cheeses.
I love a good appetizer, in fact, I could eat appetizers for dinner most nights, I love the variety and small bites. Like these amazing cheese dips or this creamy white queso, mmmmm! Great for a family dinner, sporting event, game day, dinner party, potluck; anywhere you can use a heavy appetizer.
Back in my MOPS (Mothers of Preschoolers) days, we moms were desperate for simple, filling, quick meals; whether it was for simple entertaining or for our families. We have a cookbook filled with wonderful recipes like this one; my creative and very talented friend, Allison was the contributor of this beauty.
SIDE NOTE | If you have little ones (infants – preschool ages) and are not involved in a moms group, stop what you are doing and look one up, get involved. These precious woman are still in my life, encouraging, consoling, laughing, crying and praying for me.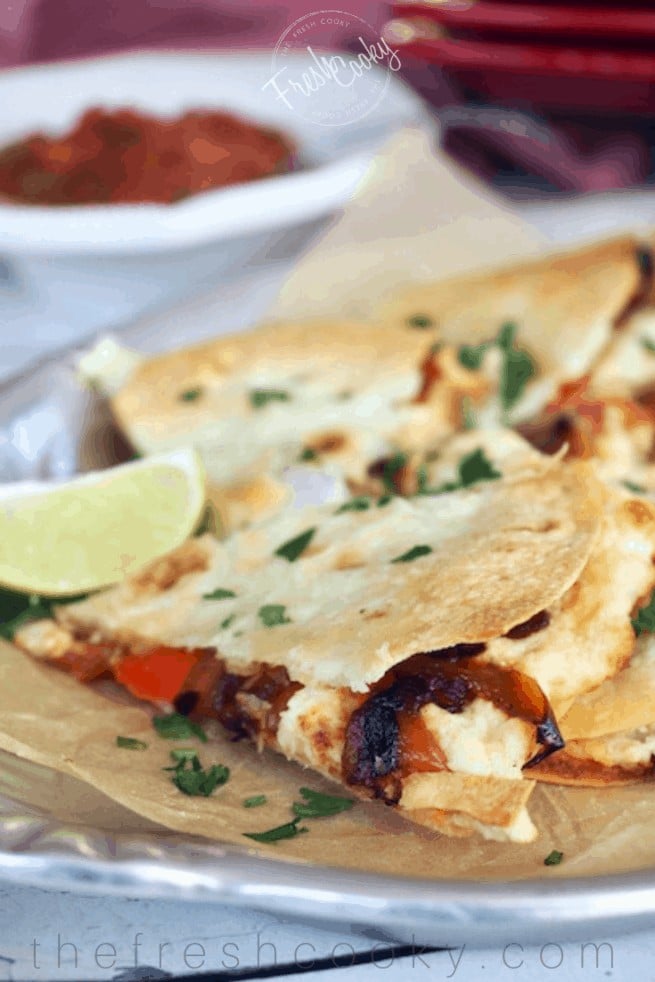 Chicken Quesadilla Ingredients
The original recipe calls for the amounts shown below, but it makes a lot, normally I'll cut the recipe in half. I added goat cheese which wasn't in the original recipe. Oh how I love goat cheese; creamy, filled with flavor, a slight tang…my mouth is watering. Have you tried smoked goat cheese, wowza!!!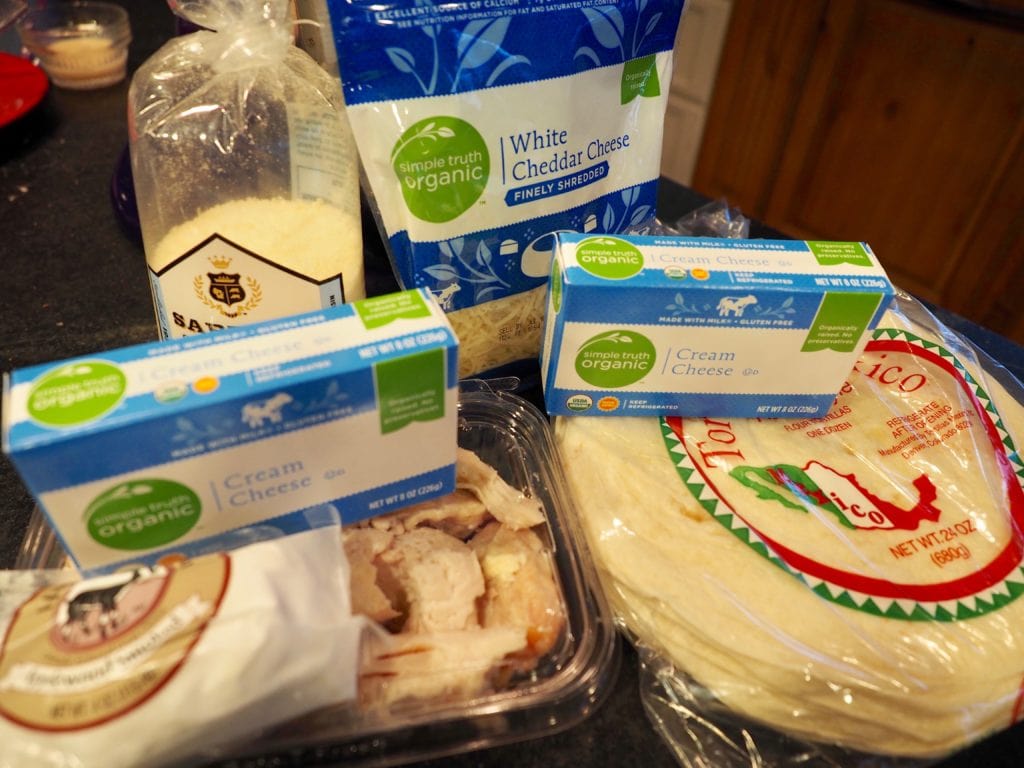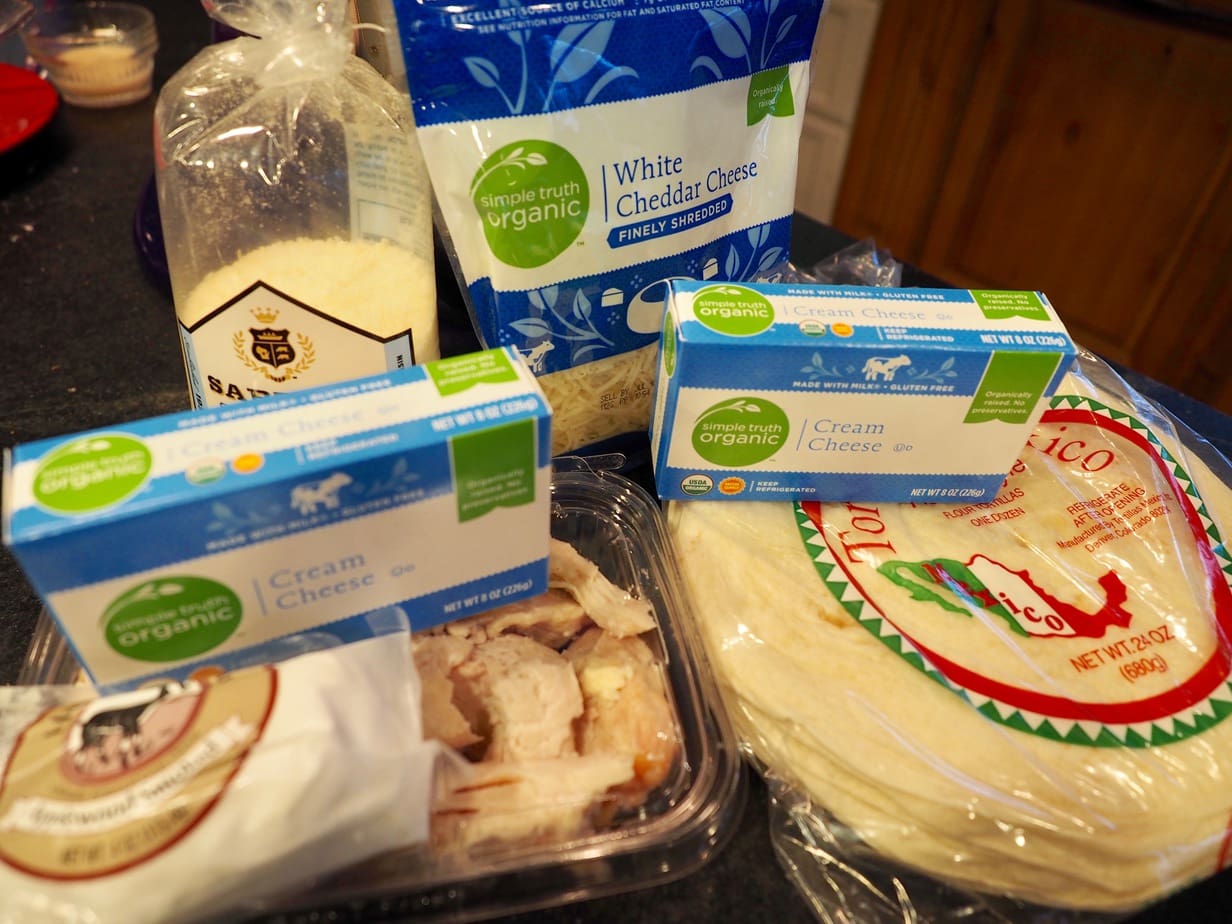 How to Caramelize Peppers & Onions
This is the prettiest part of the quesadilla, because after all, quesadillas in general are pretty bland looking. In fact, you can make your caramelized onions and peppers ahead of time and warm them before assembling your quesadillas.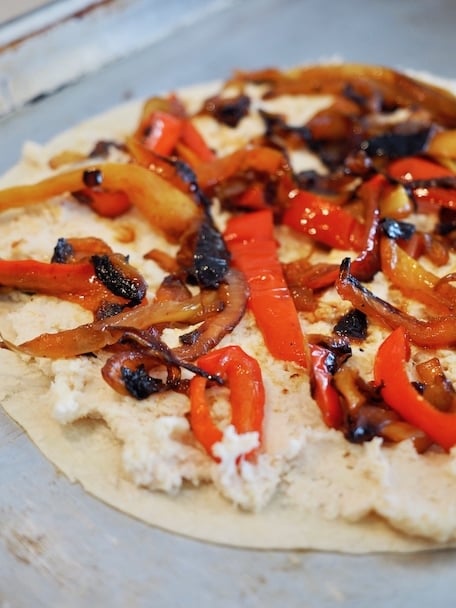 Slice peppers and onions, pour a tablespoon or so of olive oil into a saute pan and over medium heat. Cover and cook the peppers and onions, stirring occasionally until they boast a bodacious caramelized color. You may need to turn your heat down, watch them and stir occasionally. Though a few krispies are never bad!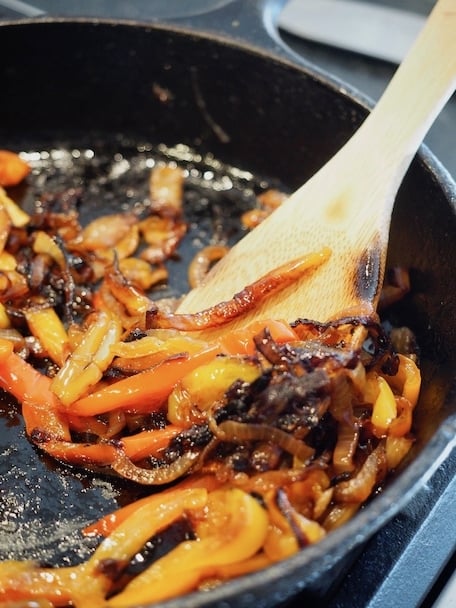 While your onions and peppers are doing their caramel-y thing; place your softened cream cheese, rotisserie chicken, parmesan, cheddar and goat cheese (optional) in a mixer bowl (stand mixer or handheld, either works) and mix until cheese is smooth and chicken has become part of the "batter".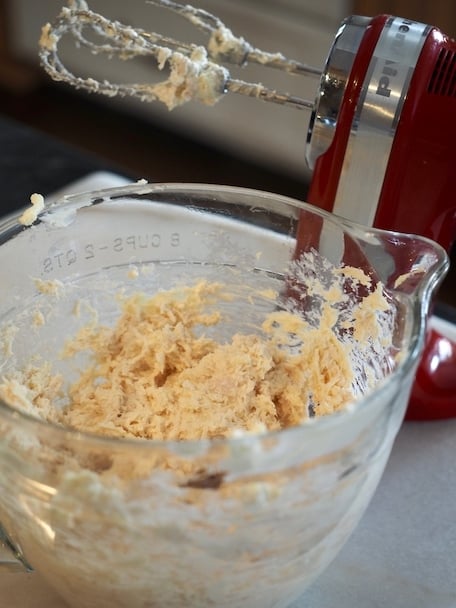 Set aside until ready to spread onto tortillas. Preheat oven to 425° F. May also be made ahead of time, keep refrigerated until ready to use and bring to room temp for about 20 minutes prior to assembling the quesadillas.
Cheesy Chicken Mixture
Once the peppers and onions are finished and you've made your cheesy chicken mixture, spray the bottom of two tortillas (any size desired, mine were about 10 in) with spray oil (may be baked dry as well) and place on cookie sheet. Spread a healthy ¼ – 1/2 cup of chicken cheesy mixture on top of the tortilla.
I love spray Grapeseed oil, or Avocado spray oil, they are great at high heat.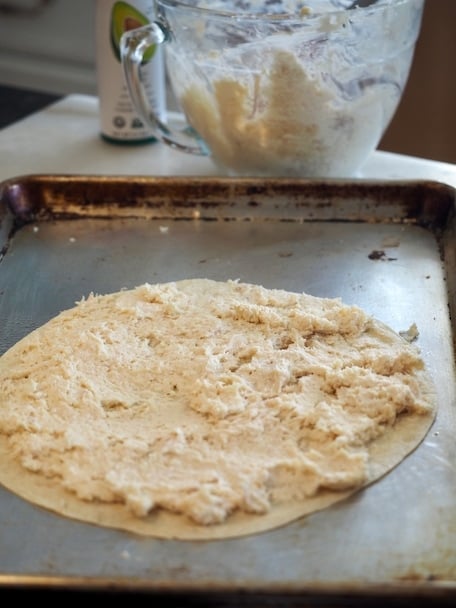 Place some of the caramelized veggies on top of the chicken mixture and spread evenly.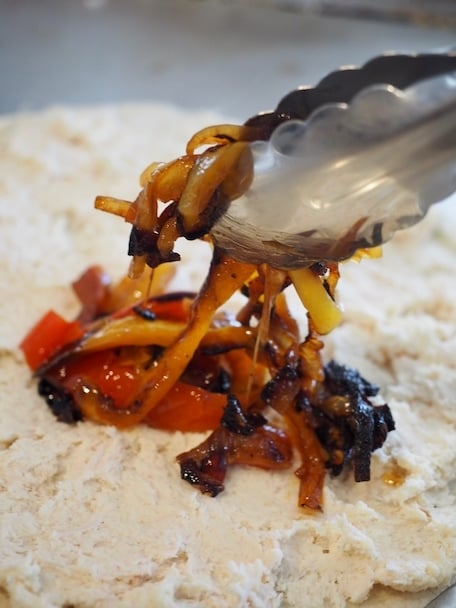 Top with another tortilla, pressing down slightly and spray with spray oil. Bake at 425° for 10-12 minutes until crispy, cool for 1 minute before cutting.
CAN I PAN FRY OR GRILL THE QUESADILLAS?
Absolutely! Quesadillas may also be pan fried if you want to avoid turning on your oven or even grilled! Place an older baking sheet*, baking stone, or sheet of heavy aluminum on your grill, with grill at medium heat, place tortillas on pan for 6 minutes or so per side, watching closely. *Note | depending on your grill your baking sheet or stone may become blackened, so I recommend using one you are not using much anymore.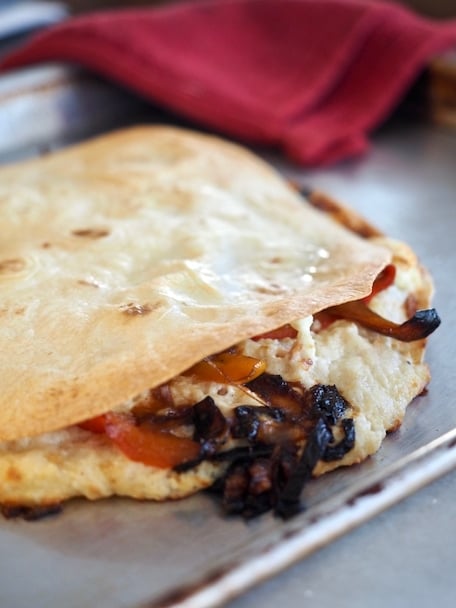 Cut into 4 or 6 triangles, I've found it's so easy cutting quesadillas using my pizza cutter! Serve immediately!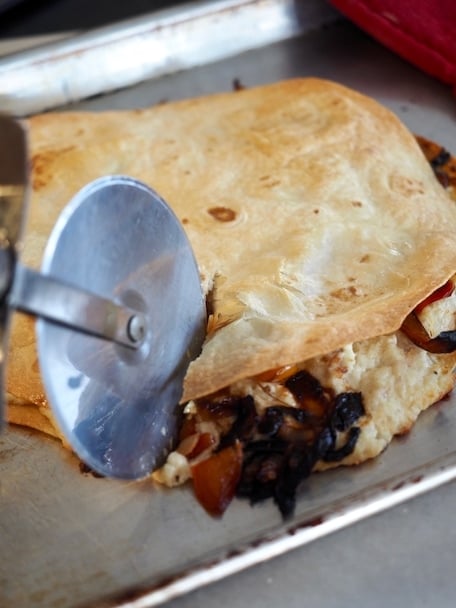 Quesadillas may also be baked in a skillet or griddle the traditional way, melt a little butter into a medium hot pan and sizzle until browned, turn and repeat the process on the other side.
If you like this recipe, give these other cheese-y recipes a try!
Like this recipe?
Don't forget to give it a ⭐️⭐️⭐️⭐️⭐️ star rating and comment below the recipe!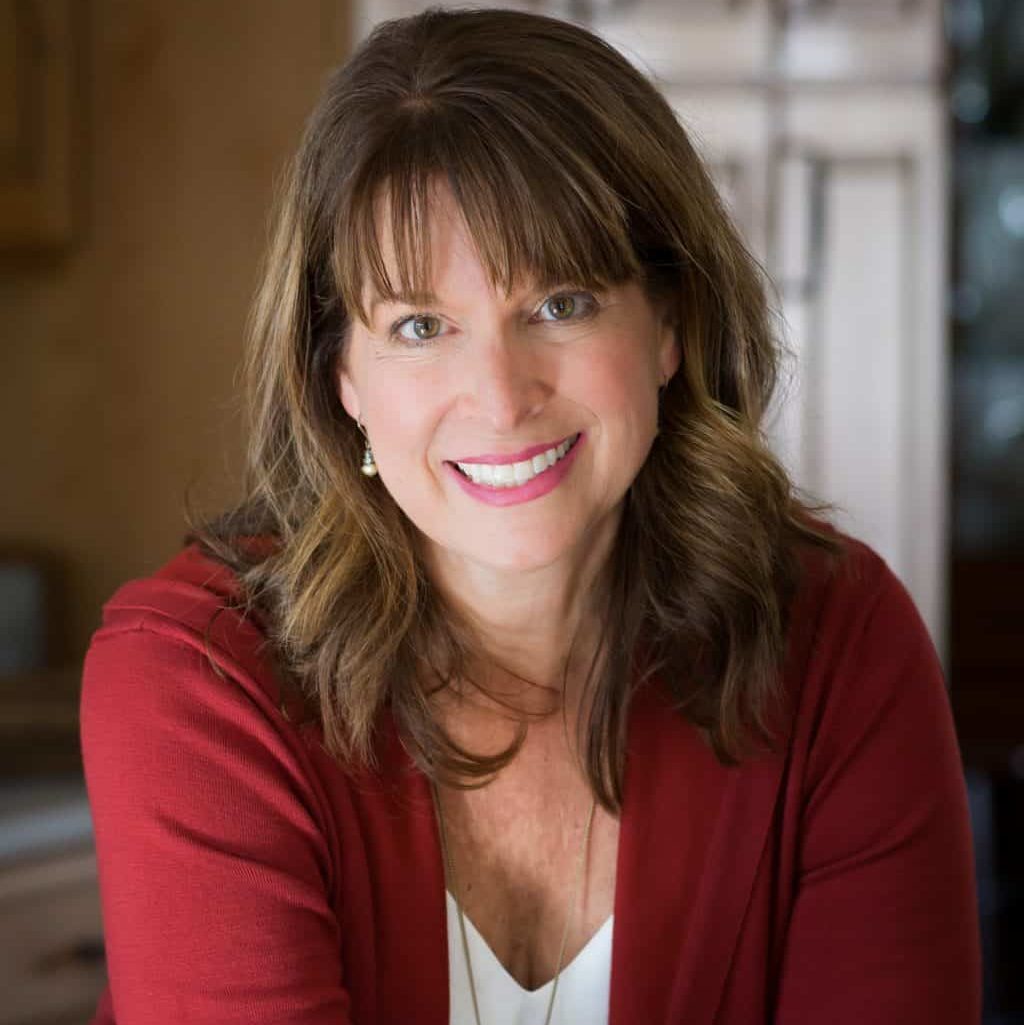 About Kathleen Pope
Recipe Innovator | Food Photographer | Food Writer
Hi, I'm Kathleen Pope. Here at The Fresh Cooky you will find easy, mostly from-scratch, trusted recipes for all occasions. From speedy dinners to tasty desserts, with easy step-by-step instructions. I am here to help teach you how to make mouthwatering recipes without spending hours in the kitchen. Read more about Kathleen here.