How to Make Beef Bone Broth
As an Amazon Associate, I earn from qualifying purchases. Please read my disclosure policy.
Beef Bone Broth is one of the most powerful superfoods there is and is extremely nutrient rich. In a relatively short period of time you will be sipping on this amazing broth or using it for soups and stews.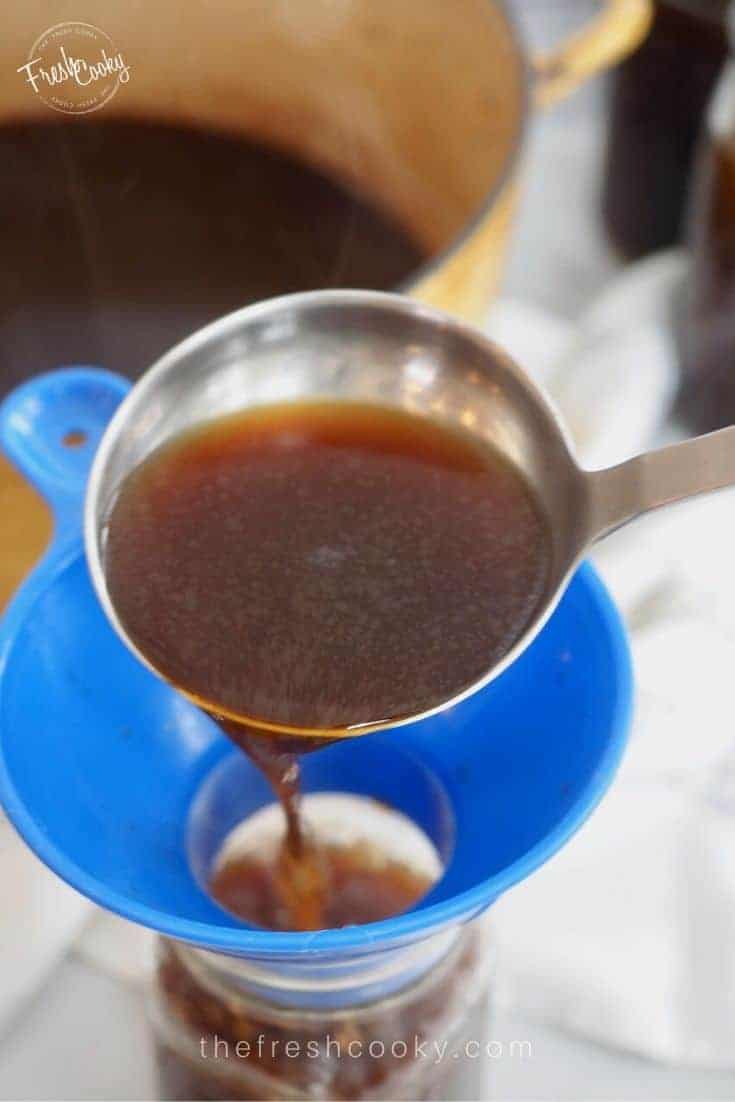 Before we begin the exciting holiday season where family, parties, wonderful food, indulgent desserts, get-togethers, homemade gifts and so much more take over our lives, I thought I'd preempt all of the sugary, high-fat recipes with an immune boosting, cold and flu fighting recipe.
***This Post was Updated 3/22/20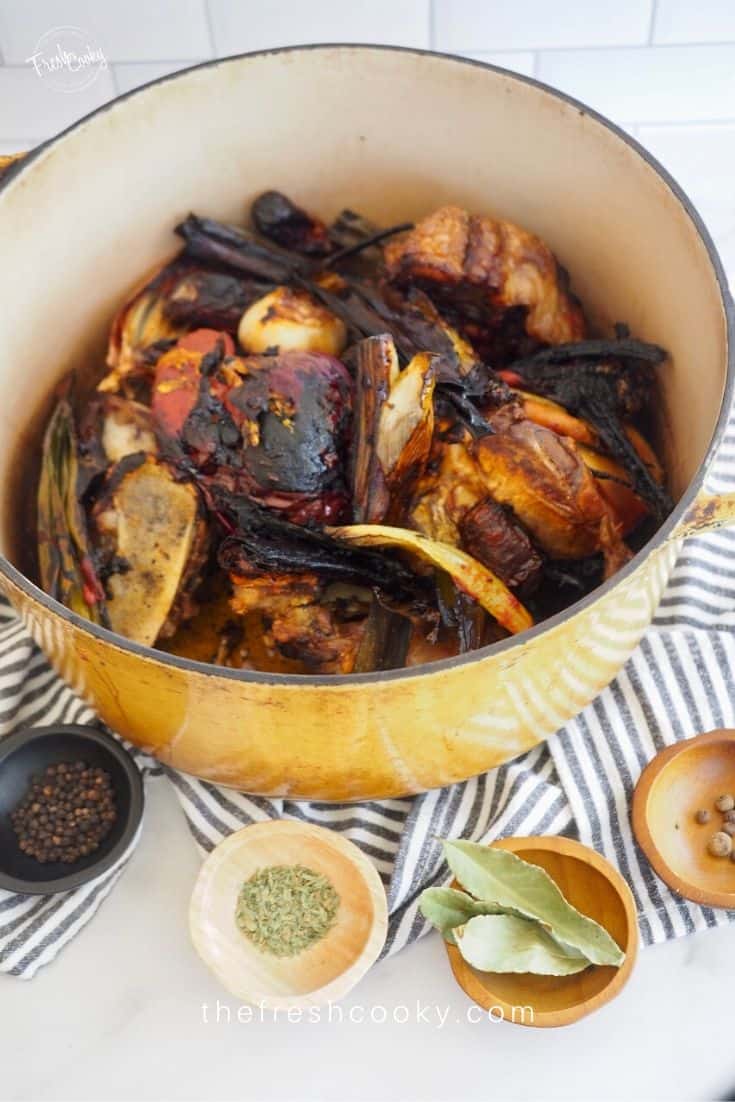 4 Health Improving Reasons to Drink Bone Broth
Bone broth is filled with good-for-you, gut healing nutrients! It is anti-inflammatory, high in antioxidants, loaded with rich vitamins and minerals; in fact, I'm sipping a nice warm mug of it right now, by a nice cozy fire while writing this post.
Why Drink Bone Broth?
Besides tasting absolutely amazing, there are so very many benefits from bone broth, I probably began to realize how many benefits when a group of friends in my neighborhood banded together to help a mutual friend battle Multiple Sclerosis by using food to heal; traditional medicine had only temporarily helped and foods were and still are helping.
BONE BROTH HELPED WITH MS
Part of her regimen was drinking bone broth in large quantities daily. I did a little poking around for recommended consumption amounts and it kind of all depends on what your body is doing, but a good general guideline is a cup (8 oz) a day, or at least 4 times a week for regular immune support and balance.
SIP BONE BROTH WHEN SICK OR HAVING AN AUTOIMMUNE FLARE-UP
If you're under the weather from a current cold or flu infection, sip it around the clock. If you're in the throes of an autoimmune flare up, ditch coffee and tea, and savor at least three cups a day (around breakfast, lunch, and dinner).
My favorite Czech and dear, sweet friend, Linda is the originator of this fantastic recipe! She's an AMAZING cook, baker, bartender and cookie decorator! She served us beef bone broth, who'd have thunk it would taste so amazing, filling and flavorful!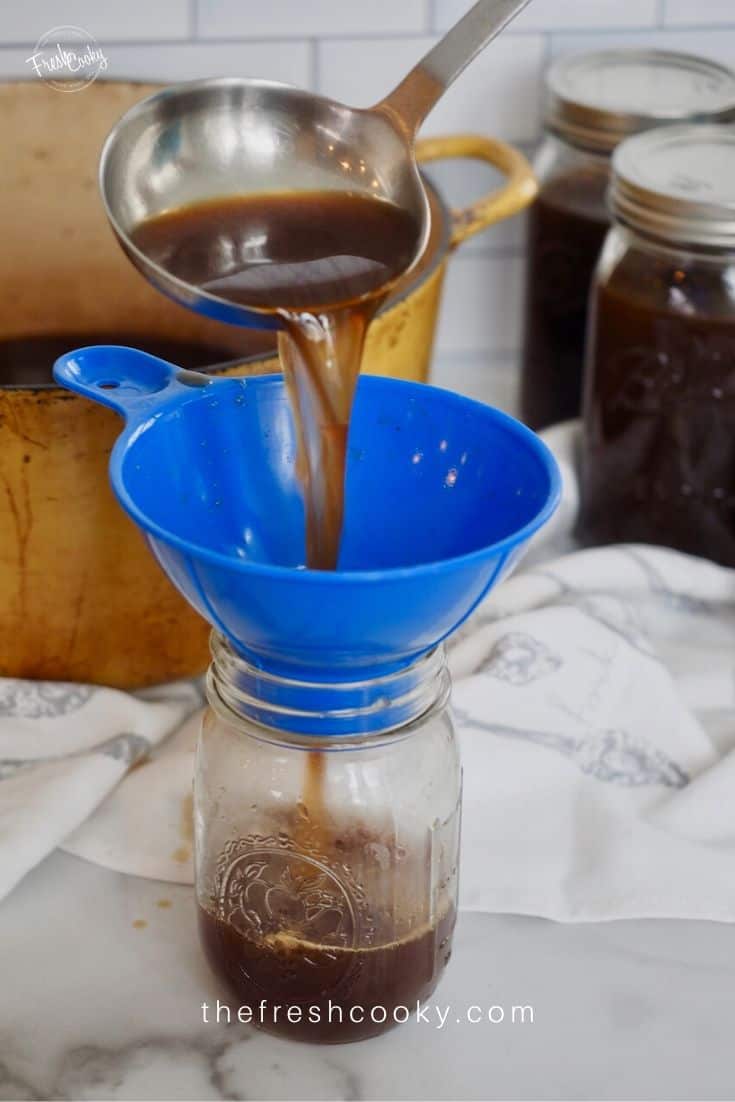 AMAZING BENEFITS OF BONE BROTH
I drink bone broth for 4 main reasons, but there are many other amazing benefits of bone broth.
High in antioxidants
Anti-Inflammatory, joint health
Repairs leaky gut
Alleviates food allergies
Immune support
Bone health
There are numerous articles out there and as with all things nutrition based, there are many who will tell you it's all fooey. However; there are numerous posts proving it's great value and sometimes, just like faith, you need to believe because of what others have experienced and try it yourself.
Nutrition researchers of the Weston A. Price Foundation explain that bone broths contain minerals in forms that your body can easily absorb: calcium, magnesium, phosphorus, silicon, sulphur and others. They contain chondroitin sulfate and glucosamine, the compounds sold as pricey supplements to reduce inflammation, arthritis and joint pain. National Institutes of Health
TOP 10 BENEFITS OF BONE BROTH
This infographic below is a phenomenal visual to see the vast benefits of drinking bone broth.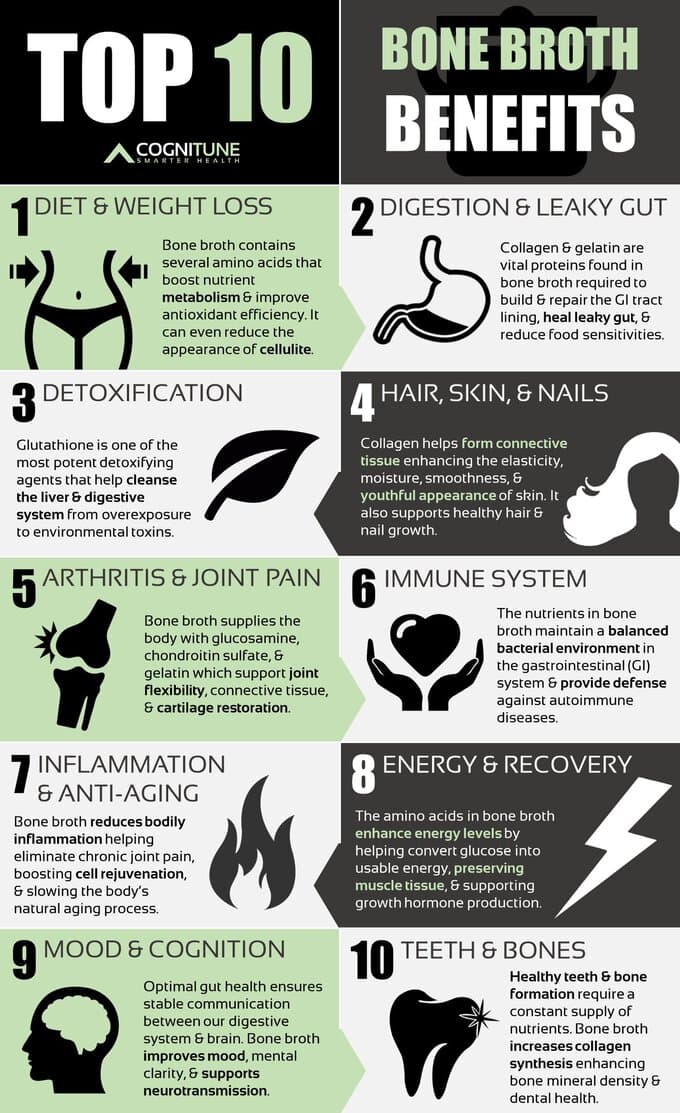 VEGETARIAN BONE BROTH
Please try this amazing, flavorful Mineral Vegetable Broth
INGREDIENTS & TOOLS NEEDED FOR BEEF BONE BROTH
Here are the cast of characters; try and buy as much organic as you can afford or find, but be sure to buy organic grass-fed beef or chicken bones, I found mine at Whole Foods.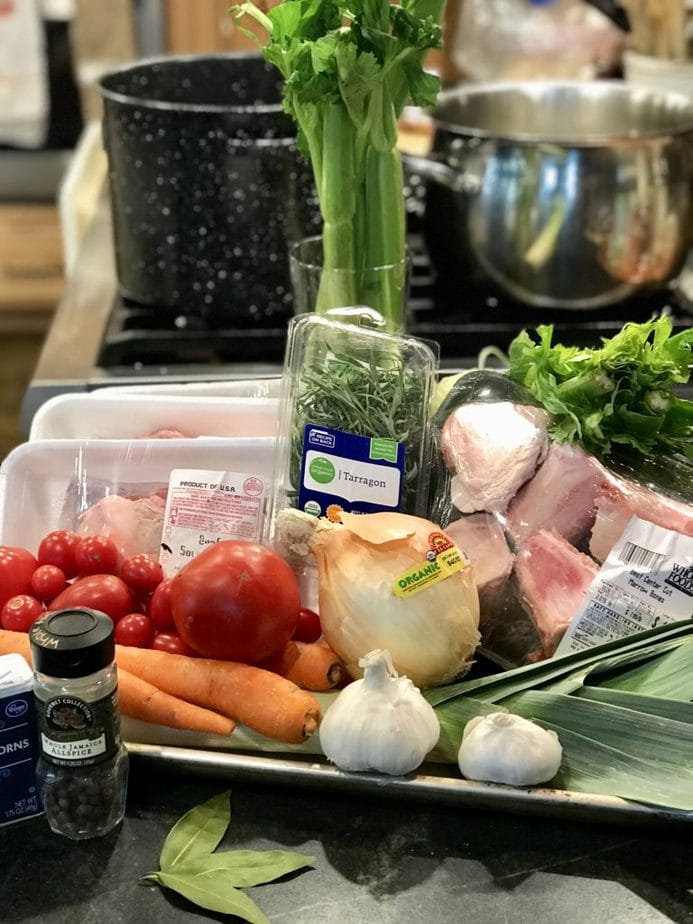 VEGGIES PLAY A BIG PART IN BEEF BONE BROTH
Prepping the veggies. The beauty of this amazing bone broth is this all comes together quickly and it's only the roasting and simmering that take time and get out all of that good-good for you marrow, collagen and minerals. I prefer not to do this in my Instant Pot, because the yield is so much greater on the stovetop and there is a little magic that happens in the slow boil and extraction.
Veggies just need to be washed and rough chopped, no need to be fancy or make it look good. Start by rinsing your onions (skins and all), I used both a regular and red onion, simplY chop in half and toss onto a half sheet pan, then place your bones evenly on cookie sheet.
How to Roast Bones & Veggies
Wash tomatoes if using fresh (a great opportunity to use aging tomatoes), if you have large ones, cut in half and place on cookie sheet. If using canned, just drain and place whole tomatoes on cookie sheet. I had a lovely assortment from my mom and brother of their harvest before a freeze, some were wrinkling, not great for eating, but perfect for roasting.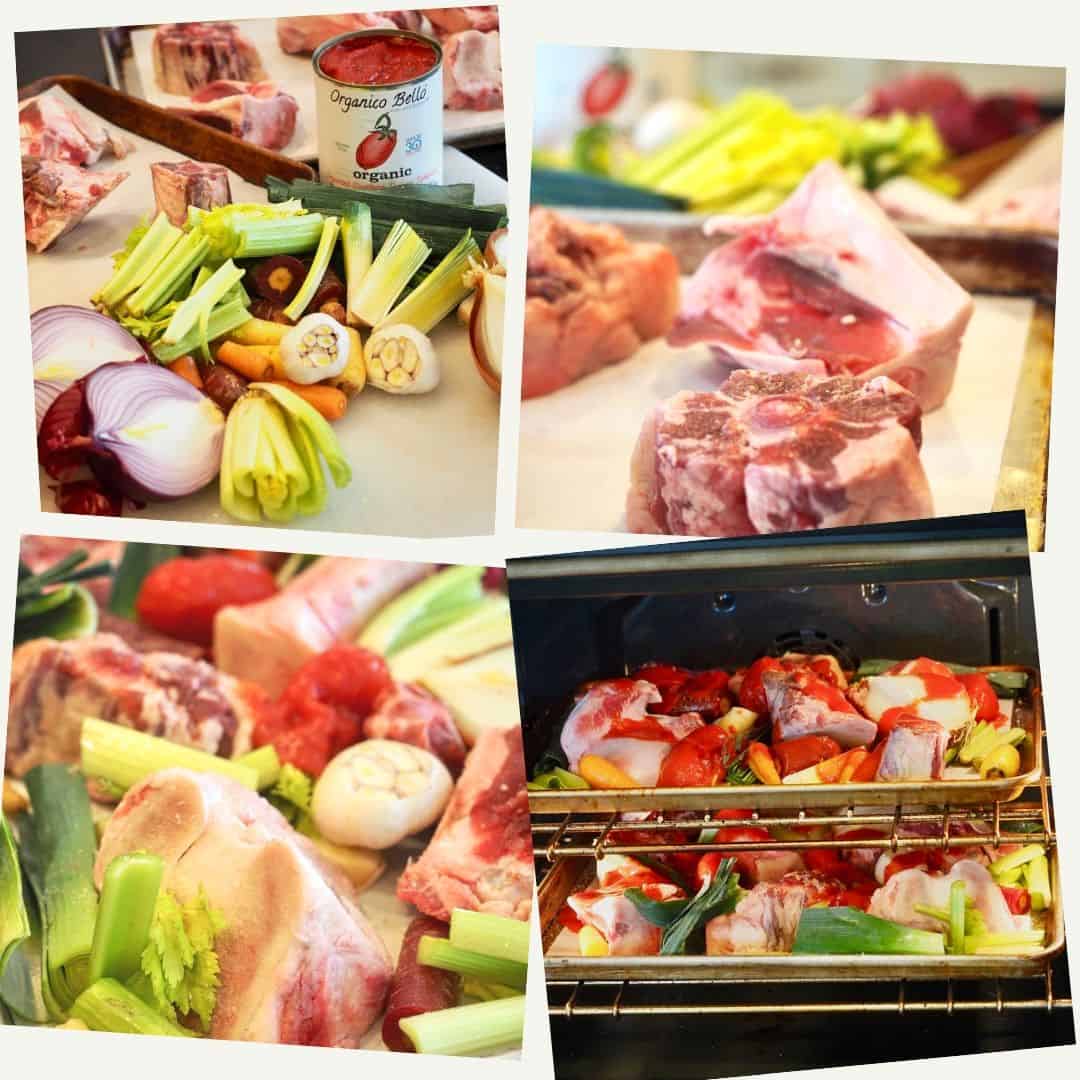 Got carrots!? Wash and rough chop your carrots and then place onto cookie sheet, snuggling around the bones and other veggies.
This one is a bit tricky, chop up leek, but rinse really well; leeks tend to be very sandy, try to get as much out as possible. Place around the bones and other veggies. Use the entire leek.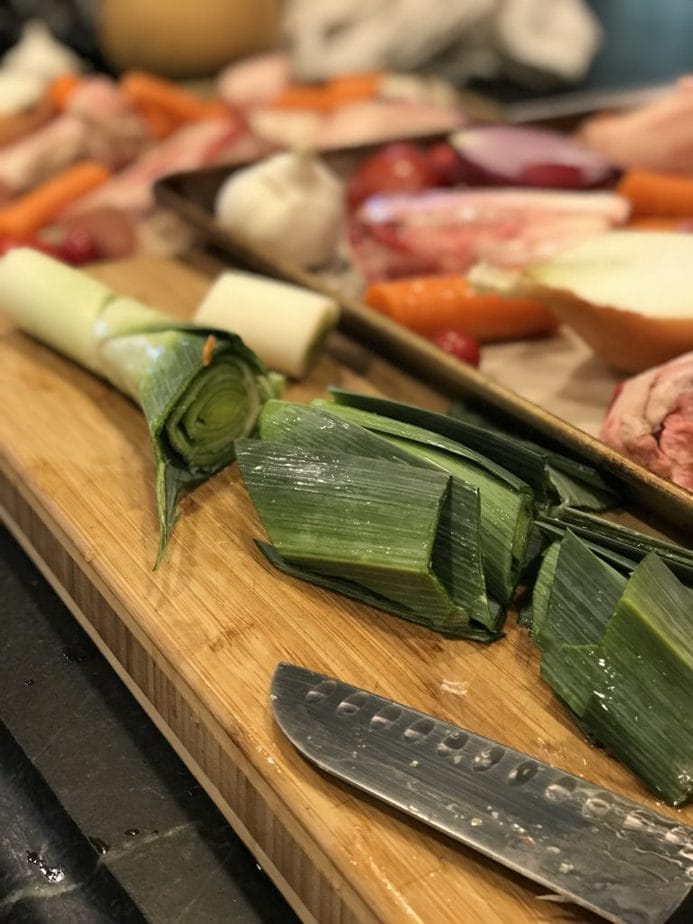 Wash and rough chop celery, heart, leaves and all; then place on cookie sheet around veggies and bones (depending on how many bones you have you may have to use two sheets).
Rinse garlic head and chop through the top of the head, taking a small amount off, then place on sheet with the rest of the veggies and bones.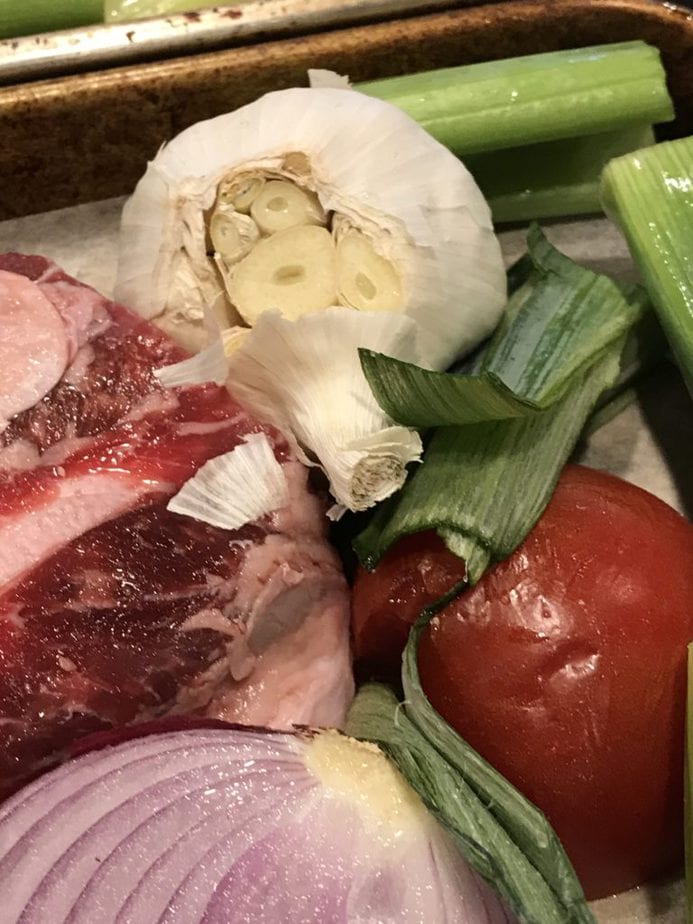 Lightly salt* the meat and veggies.
*Use a good quality, real sea salt, it doesn't have to be Pink Himalayan, just a good sea salt.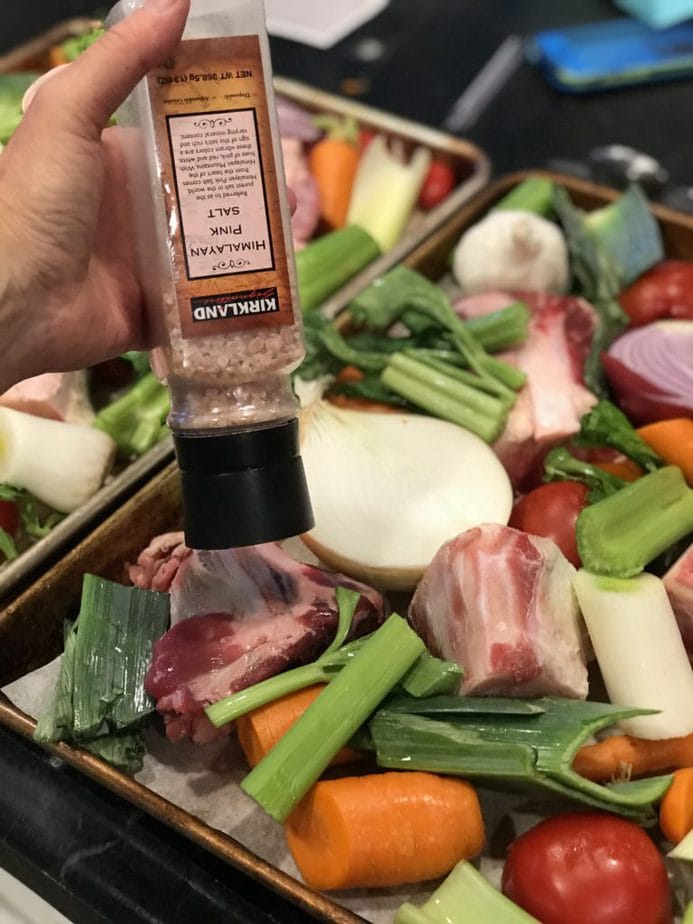 Roast in preheated oven at 425° for 1 and a half hours. Or in Linda's cute Czech-American accent said, "roast the heck out of it!" That will release amazing flavors from the veggies and from the meat.
After it's completely messed up your newly cleaned oven (sigh) remove the baking sheets from the oven.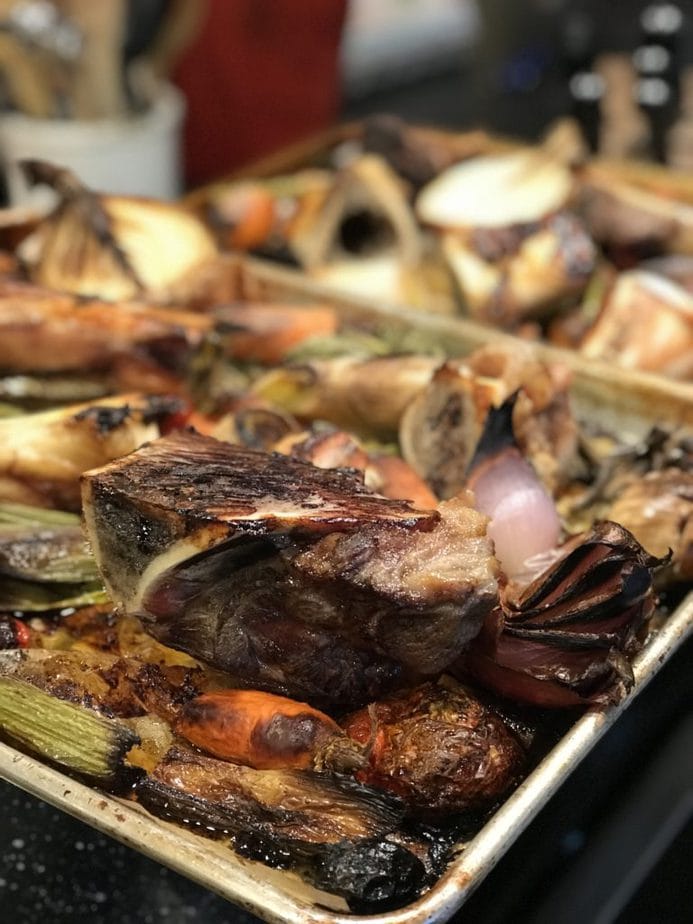 Extracting Marrow
Place all contents into a large stockpot, at least 8 quarts. I split it between two large pots, hoping to yield a bit more. If splitting, try and do so as evenly as possible, adding some extra veggies if desired.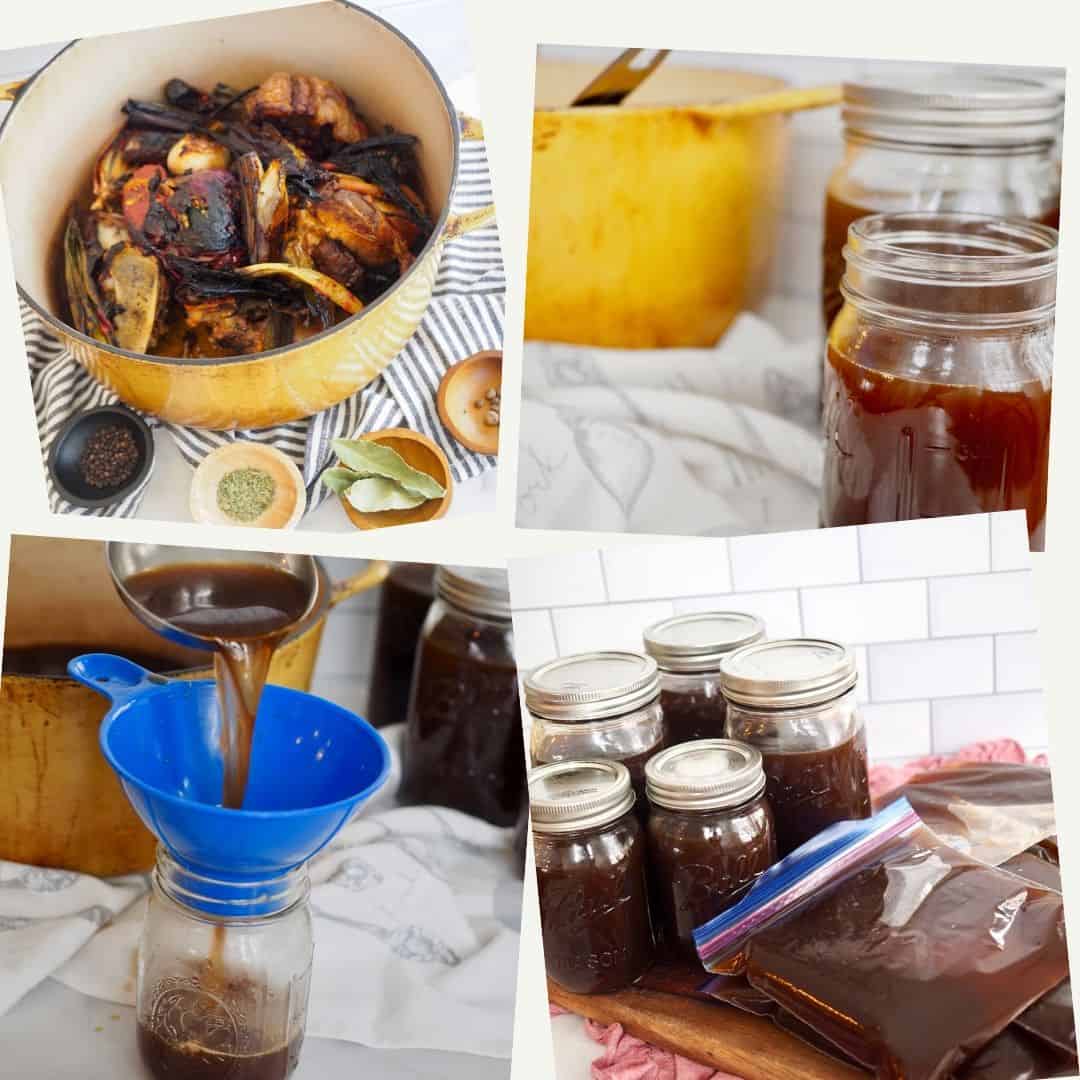 While filling pot with cold, filtered water (you'll need about 8 quarts or so, filling to about an inch from the top of the pan). Add herbs and spices.
HEALTH BENEFITS OF HERBS AND SPICES
Bay Leaves

| rich in vitamins A, C, magnesium, calcium, manganese, potassium, and iron.
Black Peppercorns | rich source of minerals like manganese, copper, magnesium, calcium, phosphorous, iron, potassium, and vitamins like riboflavin, vitamin C, K, and B6.
Whole Allspice | The eugenol found in allspice can eliminate digestive issues such as diarrhea, nausea, vomiting, and constipation, while also stimulating regularity, which reduces bloating and excess flatulence. The anti-inflammatory aspect of allspice further eases cramps, which can ease the entire process of digestion.
Fresh Tarragon | good source of Niacin, Phosphorus and Copper, and a very good source of Vitamin A, Vitamin C, Riboflavin, Vitamin B6, Folate, Calcium, Iron, Magnesium, Potassium and Manganese.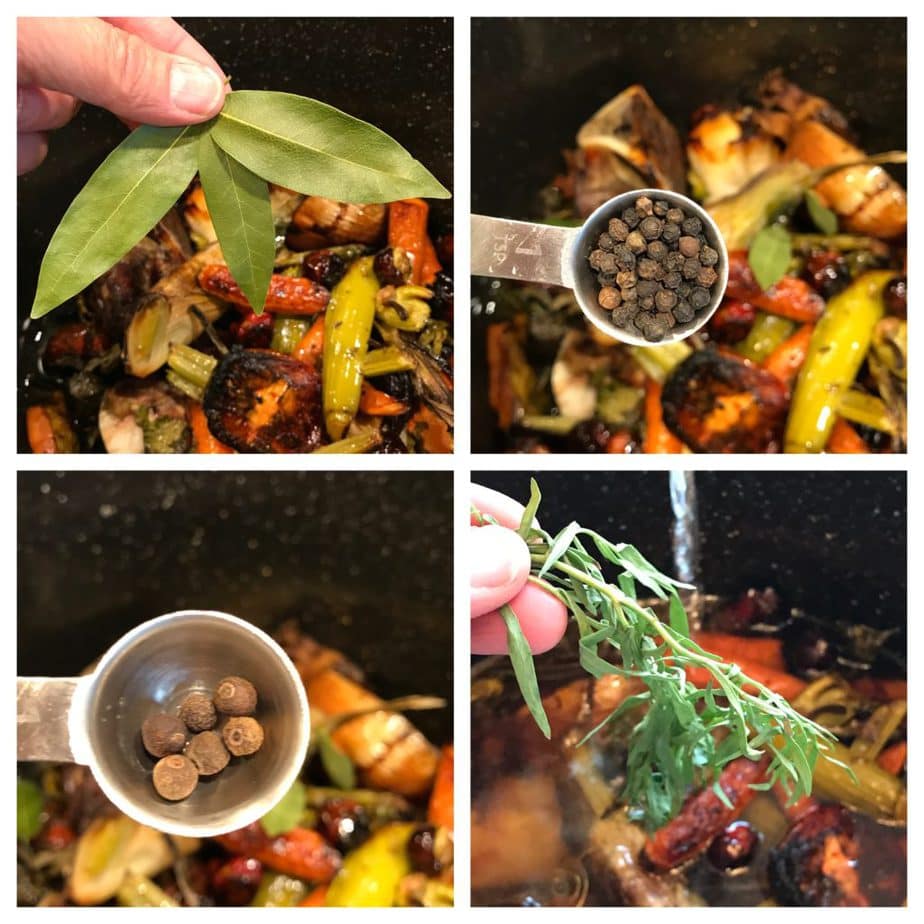 With lid(s) on, bring to a boil, if any foam develops after bringing to a boil, skim off with a spoon, these are the impurities. Then reduce to low, remove the lid(s) and allow to simmer for 8-12 hours (overnight if you feel comfortable; if not, cover, turn off overnight, leave on stovetop and start again in the morning, bringing to a boil, then removing the lid(s), simmer for a total of 8-12 hours, the longer the better to get all of the good stuff out.
Simmering causes the bones and ligaments to release healing compounds like collagen, proline, glycine and glutamine that have the power to transform your health. Plus flavor, it helps pull rich flavors into the broth.
Once simmered 8-12 hours, pour through mesh strainer into another large bowl or pot to catch the wonderful broth. You can do two rounds from the same bones and veggies. Take the reserved bones and veggies and return to the pot.
Add another round of water* (do not do a second extraction if you are using chicken bones for chicken bone broth) to the top and simmer again to get even more of the good stuff out. Repeat all remaining steps. Simmer for 4 hours, strain through mesh strainer, cool, remove fat cap, add to other broth, portion into containers and freeze.
Is Bone Broth Good for Dogs
YES! Just like humans our dogs need important nutrients and minerals extracted from these bones!
If you have a dog, save all of the meat from the bones, carrots and some of the solid bones (some had splintered, I only gave her the round bones). I give her a little each night, she devours it. The large bones, I give her outside on a nice day and she munches on them for hours! I had to show a picture of our sweet Bella, our 10+ year old boxer. We lost our sweet Bella in May 2019, we miss her so!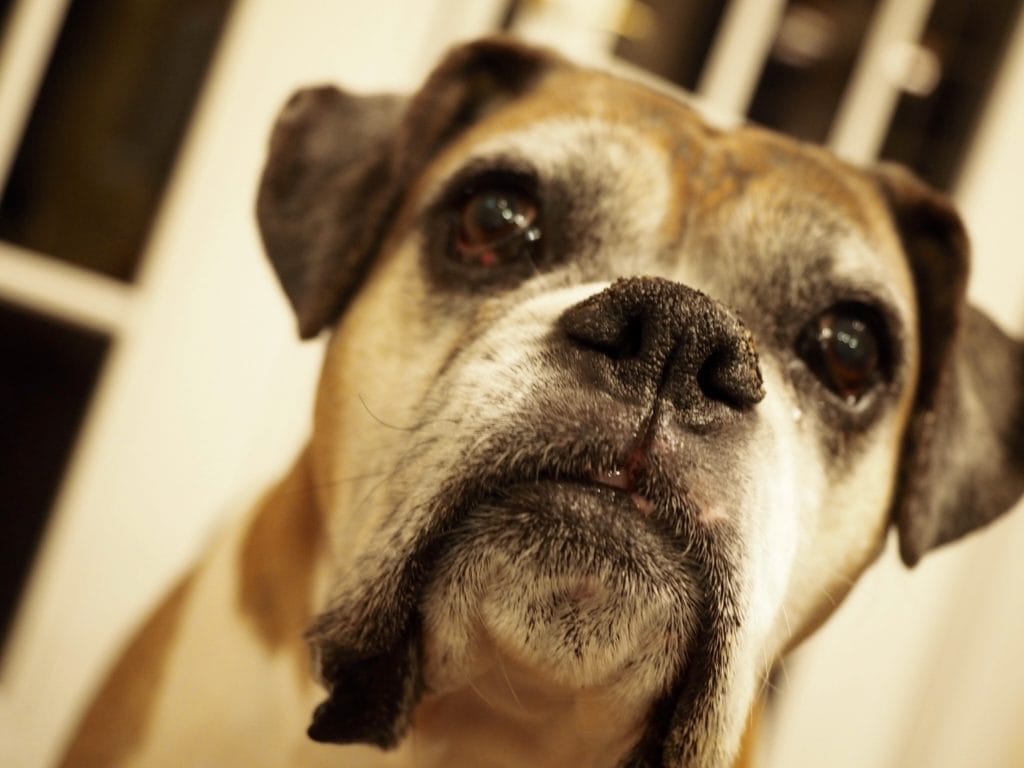 Extract More Marrow from the Bones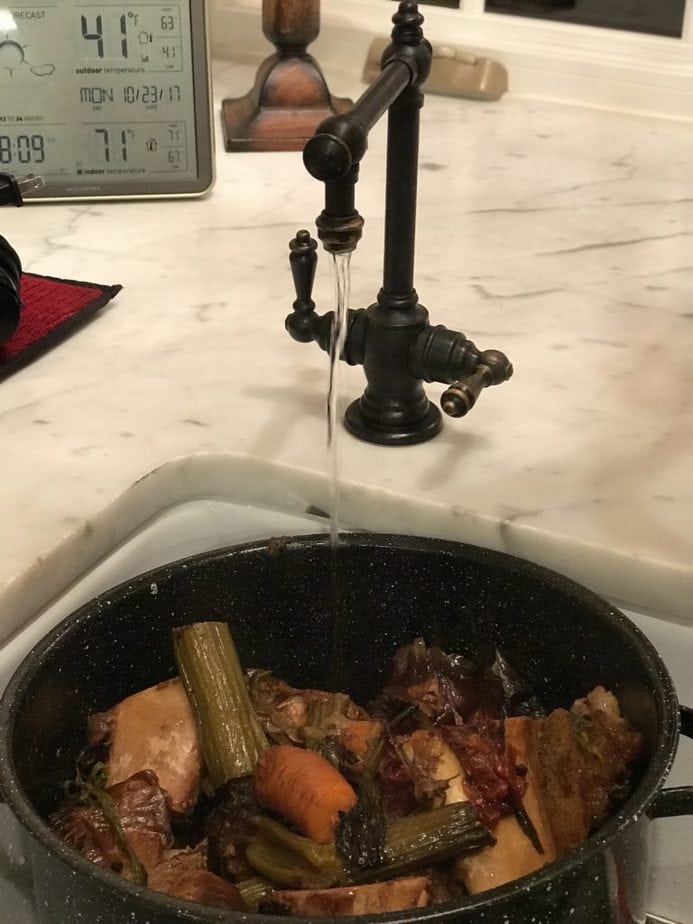 Removing the "Fat-Cap"
Meanwhile, cool first broth on counter, once cooled place the pot of the finished broth in the fridge; a layer of fat will develop on top, once that has developed remove the "fat cap" as my friend calls it, simply scoop it out with a spoon and toss it in the trash, this will reduce the greasiness of the broth. It is a bit gross, but just toss away and you won't see it again!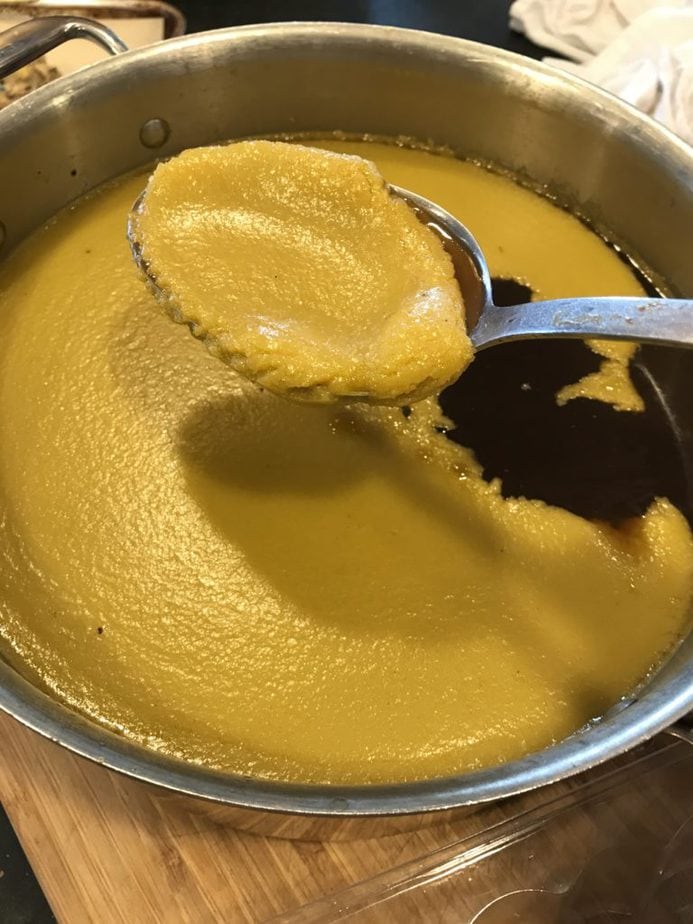 To easily ladle the broth into jars for storage, I heated the broth back up as all it's wonderful gelatin thickens it and makes it all jiggly, don't fear the jiggle, this gelatin is the really good stuff!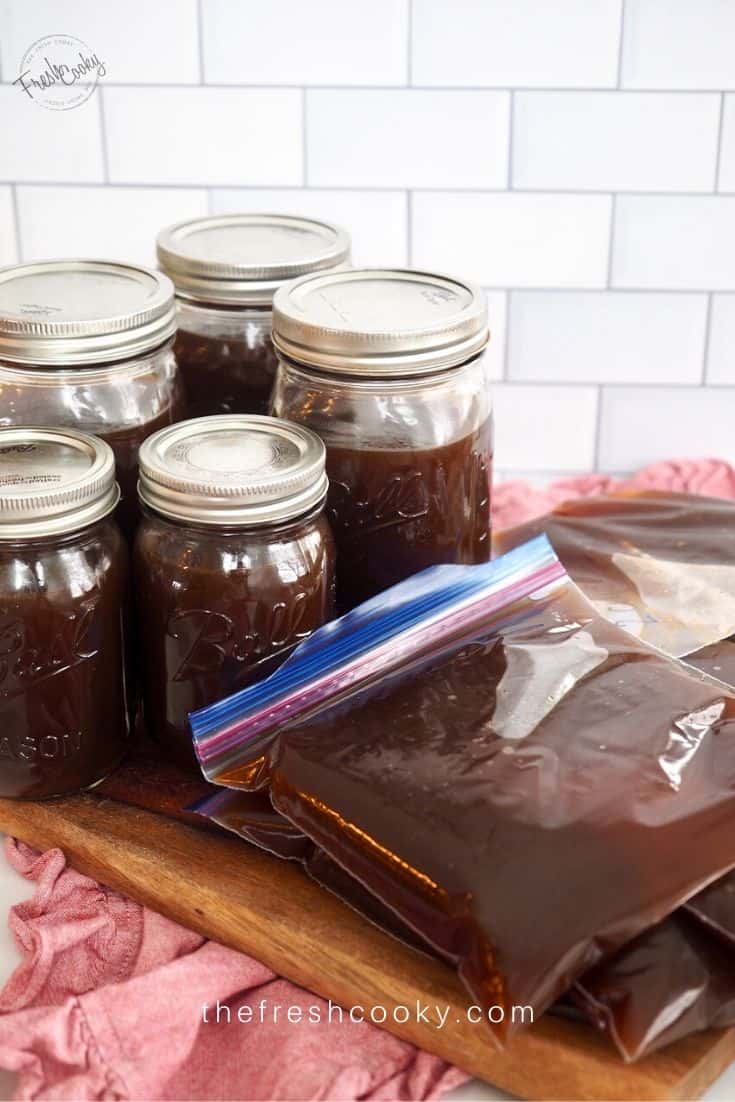 How to Mock Can Beef Bone Broth
Use quart sized canning jars, but you could also measure out 32 oz and pour into a freezer bag, remove any air and freeze laying flat in the freezer, stacking the bags on top of each other, this saves a lot of space in your freezer.
I also like to freeze in one or two cup servings for easy use in recipes.
Ladle

into jars, using a

wide mouth canning funnel

, making it super easy.
Ladle vs. pour into jars
Don't lose any of this precious broth, ladle vs. pour into jars or baggies.

There is sometimes debris on the bottom of the pot, ladling ensures it won't go into the jars.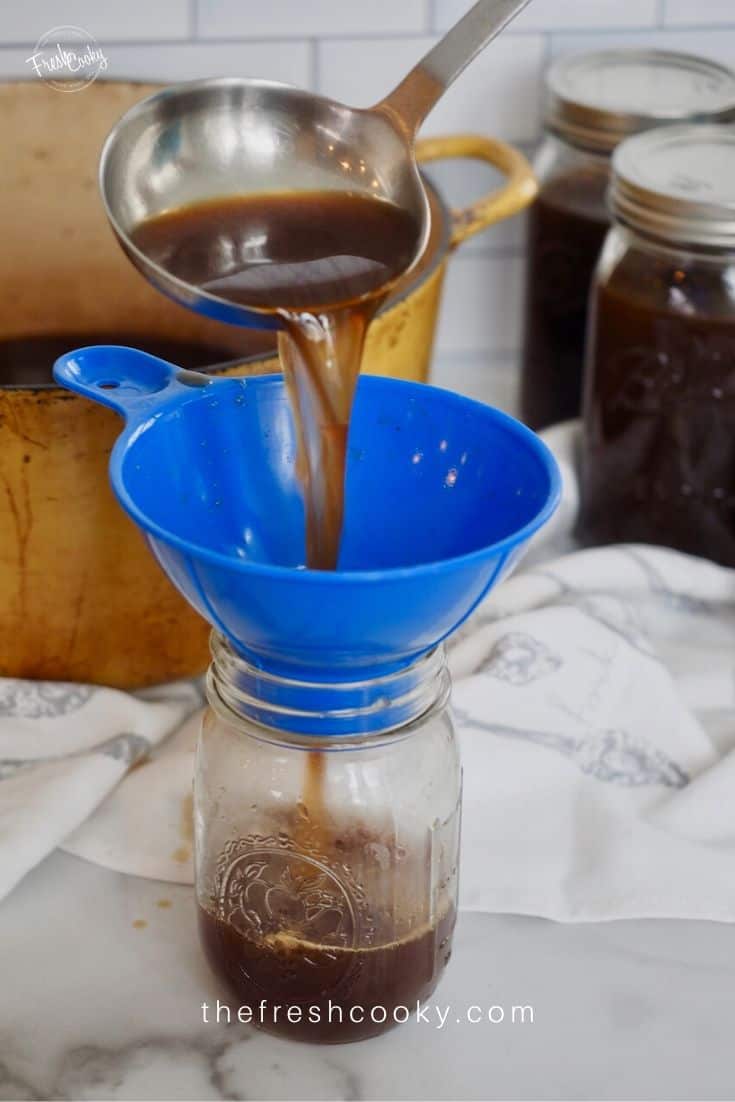 Yields between 6- 8 quarts of broth! That's 28-32 cups, not too shabby!
We sip it, but also use it in soups and stews, anywhere you use beef broth.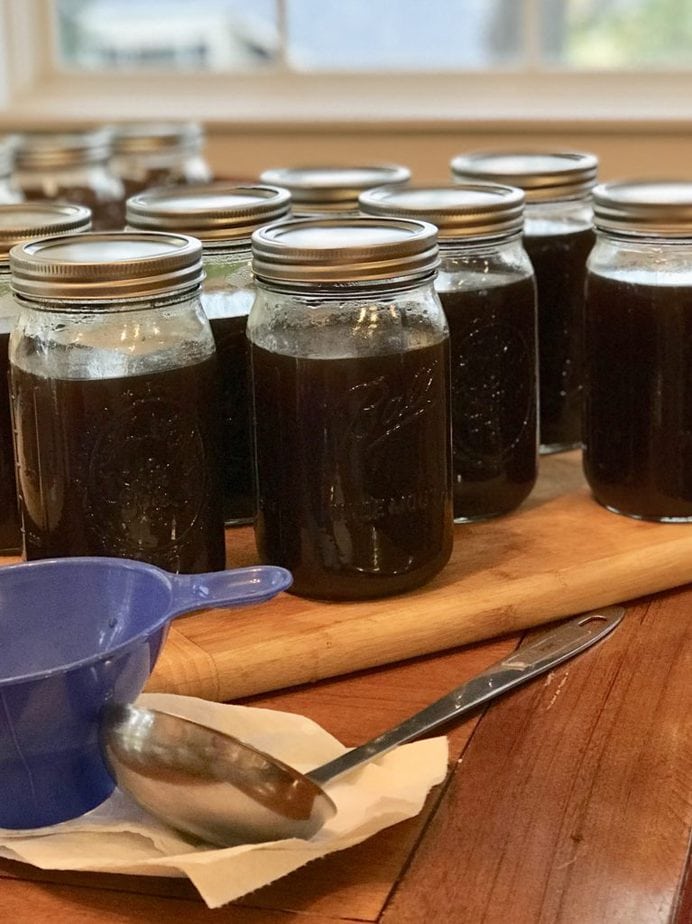 HOW TO FREEZE LIQUIDS IN GLASS JARS
If you are freezing in glass, be very careful not to pour past the "shoulders" of the jars, the wider mouth jars have higher shoulders and allow you to fill it higher and freeze without it bursting your glass jars. A few other freezer tips:
Leave the lids untightened until frozen
Make sure the broth is completely cooled before freezing
Don't fill past the "shoulders" of the jar.
Use a cloth, paper towels to put between the jars while freezing, or leave plenty of space if possible.
Once frozen, tighten lids.
Store in your fridge for 4-5 days (it will become gelatinous — that's a good thing — but heating will bring it all back to liquid state), may be stored in your freezer for up to 4-6 months.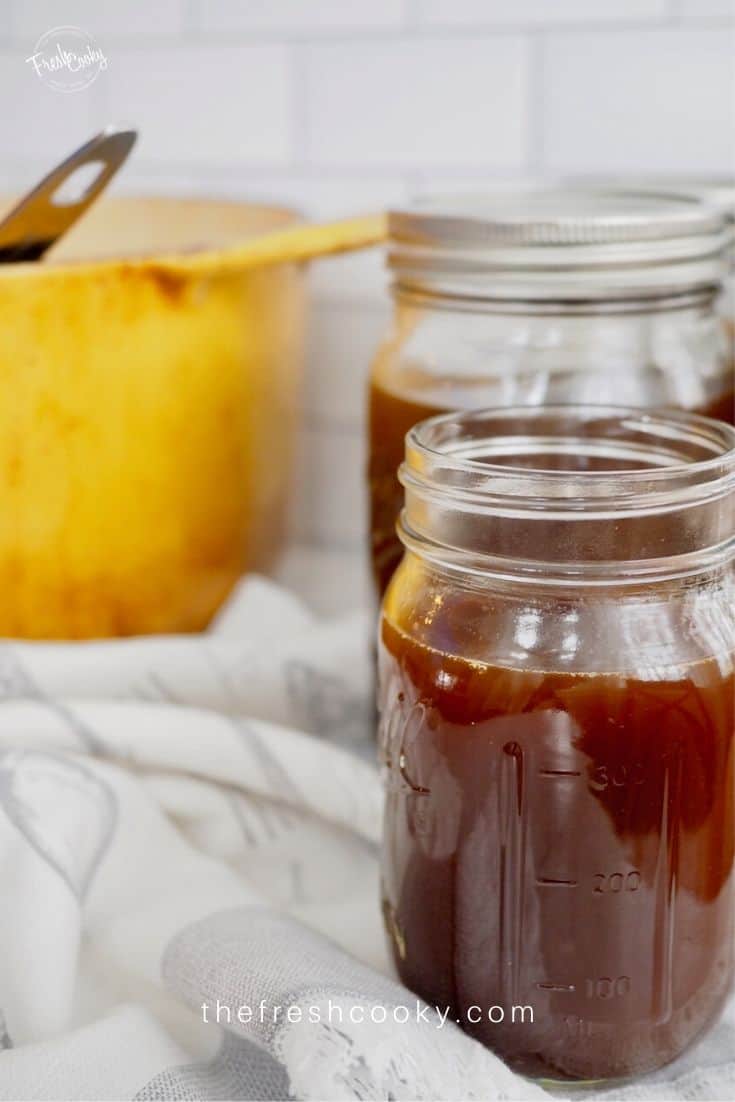 Chicken Bone Broth
This recipe easily converts to Chicken Bone Broth, simply replace an equal amount of Chicken bones (feet, legs, wings, carcass — any part of the chicken will work, the bonier the better) and proceed with recipe as described. BUT DO NOT DO A SECOND EXTRACTION (BOIL).
MORE immune boosting recipes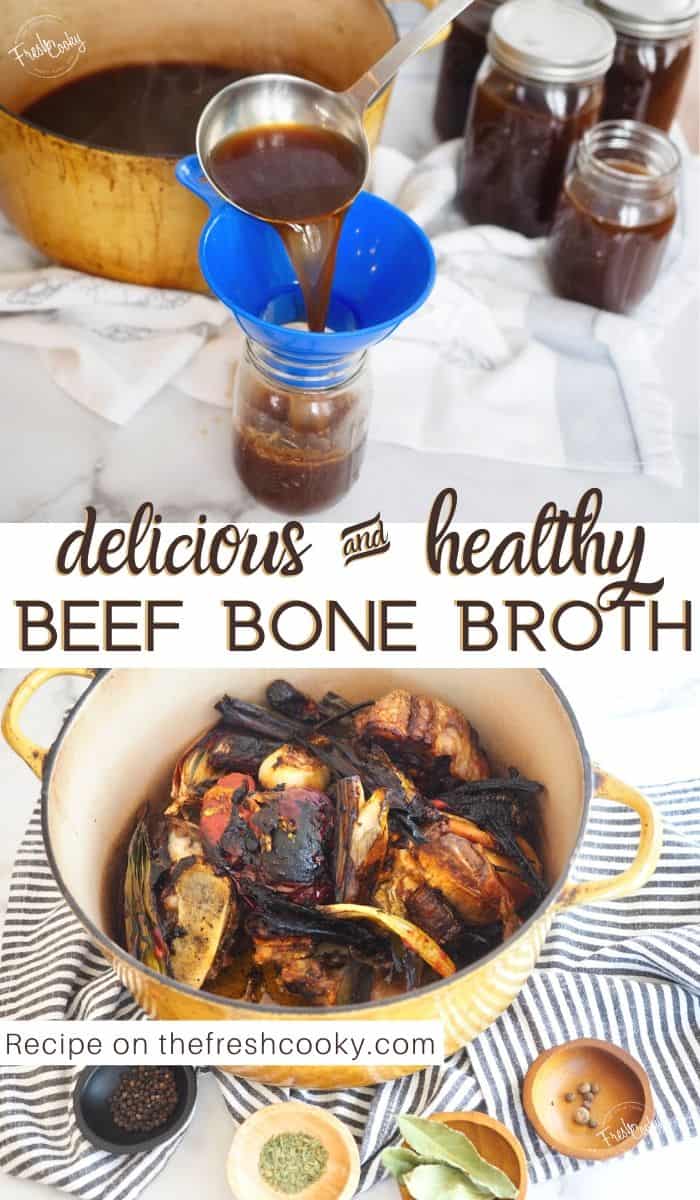 Happily sharing this week on Meal Plan Monday & Weekend Potluck
Like this recipe?
Don't forget to give it a ⭐️⭐️⭐️⭐️⭐️ star rating and comment below the recipe!
Beef Bone Broth
This recipe for Beef Bone Broth is one of the most powerful superfoods there is and is extremely nutrient rich. In a relatively short period of time you will be sipping on this amazing broth or using it for soups and stews. Easily convert this bone broth to Chicken Bone Broth.
Ingredients
4-6

lbs

of organic

,

grass-fed beef bones, some with meat on if possible (Oxtail, knuckle bones and round bones)

4-6

carrots

,

washed and rough chopped

1

bulb of garlic

,

washed and top of head cut

2

Leeks

,

washed well to remove sand, rough chopped, all parts

4-6

celery stalks

,

including leaves and heart, washed and rough chopped

1 – 28

oz

can whole tomatoes

,

drained or 4-6 fresh tomatoes, washed and halved

1

regular onion

,

washed (with skin, cut in half)

1

red onion

,

washed (with skin, cut in half)

3

bay leaves

1

teaspoon

peppercorns

6

whole allspice

1-2

sprigs of fresh tarragon

,

optional

Sea Salt to taste

Cold

,

room temp filtered water
Instructions
Preheat oven to 425°F. Place a sheet of

parchment paper

on a large baking sheet (if desired, easier for clean up). Remove bones from package and place spaced apart on cookie/baking sheet. Wash and rough chop all veggies nestling around the bones on the sheet. If necessary, use two pans.

Sprinkle generously with sea salt. Roast at 425° for 1 and a half hours until everything is nicely browned. Place all bones, veggies and all roasted bits into a large stock pot (or two if need be). Add bay leaves, peppercorns, allspice and tarragon to pot (double up if using more than 1 pot). Fill pot with cold (room temp) filtered water, to about 1 inch from top, cover and bring to a boil. If it starts to foam, skim the foam off the top and discard (the impurities).

Remove lid and reduce heat to a simmer. Simmer for 8-12 hours (overnight if you feel comfortable) if not, turn off, cover and allow to sit on stovetop overnight, starting back up in the morning.

Pour through mesh strainer into a large pot or bowl, reserving the solid pieces (bones & veggies). Return reserved solid pieces to a stock pot and refill with water (by this time you can probably combine the solid pieces into one pot) for a second round to extract even more good stuff. Repeat the process, simmering for about 4-6 hours, straining and cooling broth.

Combine both broths together, add salt to taste (I probably added around 1-2 tablespoons), stir to combine. Cool broth on counter, once cooled, place in refrigerator.

A hardened "fat cap" will form once cooled, spoon off the fat cap and discard. The broth should be nice and gelatinous, once ready to store, heat just until it's easily pourable and ladle into quart size jars.

If freezing in glass jars, do not fill above the "shoulders" of jar, leave lid on loosely and leave space or place a cloth in between jars. Once frozen, tighten the lids. Or ladle smaller amounts into freezer baggies, lie flat in freezer.

Once ready to use, thaw in refrigerator and use in soups, stews, or just warm a cup and drink. Store in refrigerator 4-5 days, in freezer up to 4-6 months.
✱ Kathleen's Tips
TIP | Don't have as long to cook or making in your Instant Pot? Use cold bones and soak with 2 TBSP vinegar to 1 gallon of water for chicken or 1/4 c. vinegar to one gallon for beef for an hour before you turn on the heat. By using a vinegar soak, you can unlock the minerals and other essential components. A vinegar pre-soak before applying heat ensures that minerals will be pulled out of the bones and into the stock.
How to Convert to Chicken Bone Broth
This recipe easily converts to Chicken Bone Broth, simply replace an equal amount of organic chicken bones (feet, legs, wings, carcass — any part of the chicken will work, the bonier the better) and proceed with recipe as described. Just don't do the second boil down, just the first one.
Nutrition
Serving:
1
Calories:
194
kcal
Carbohydrates:
5
g
Protein:
17
g
Fat:
12
g
Saturated Fat:
5
g
Polyunsaturated Fat:
6
g
Cholesterol:
53
mg
Sodium:
72
mg
Fiber:
1
g
Sugar:
2
g
Nutrition Disclaimer
The Fresh Cooky is not a dietician or nutritionist, and any nutritional information shared is only an estimate. We recommend running the ingredients through an online nutritional calculator if you need to verify any information.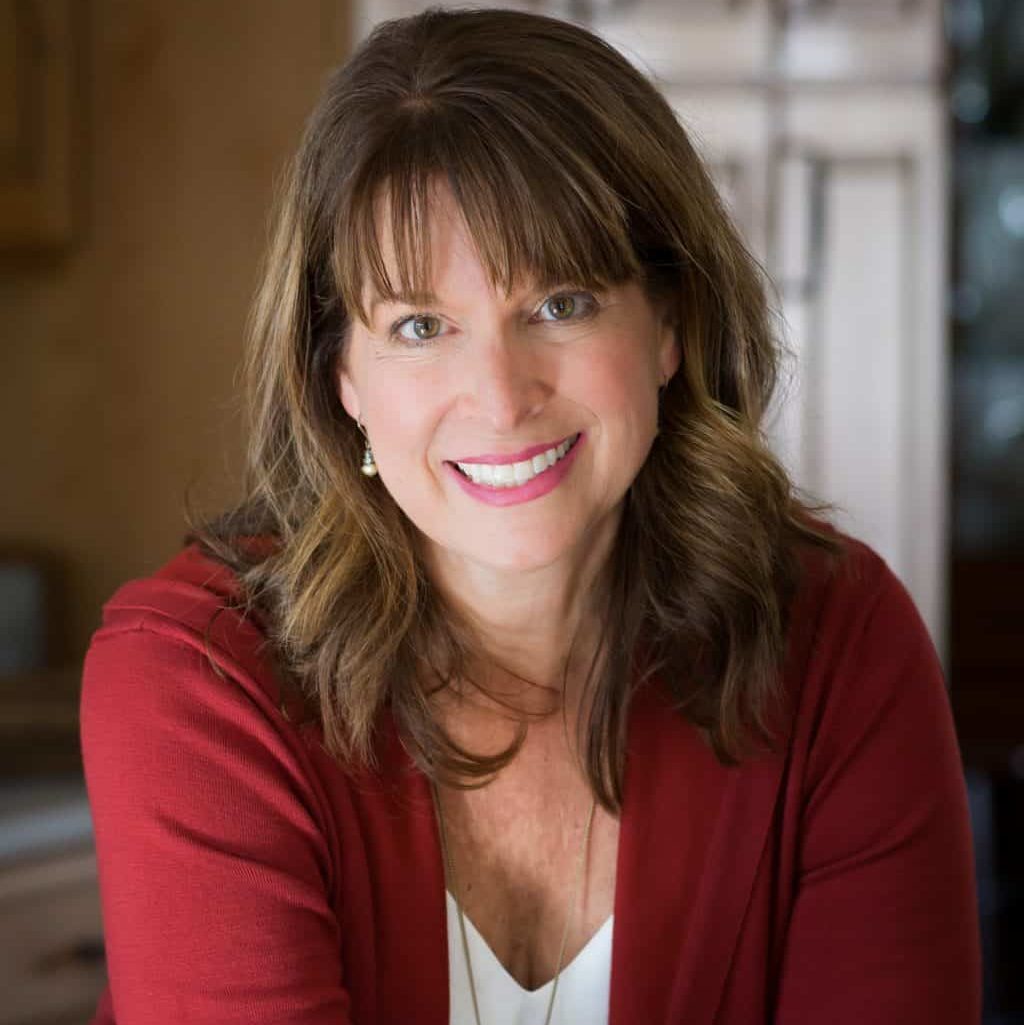 About Kathleen Pope
Recipe Innovator | Food Photographer | Food Writer
Hi, I'm Kathleen Pope. Here at The Fresh Cooky you will find easy, mostly from-scratch, trusted recipes for all occasions. From speedy dinners to tasty desserts, with easy step-by-step instructions. I am here to help teach you how to make mouthwatering recipes without spending hours in the kitchen. Read more about Kathleen here.