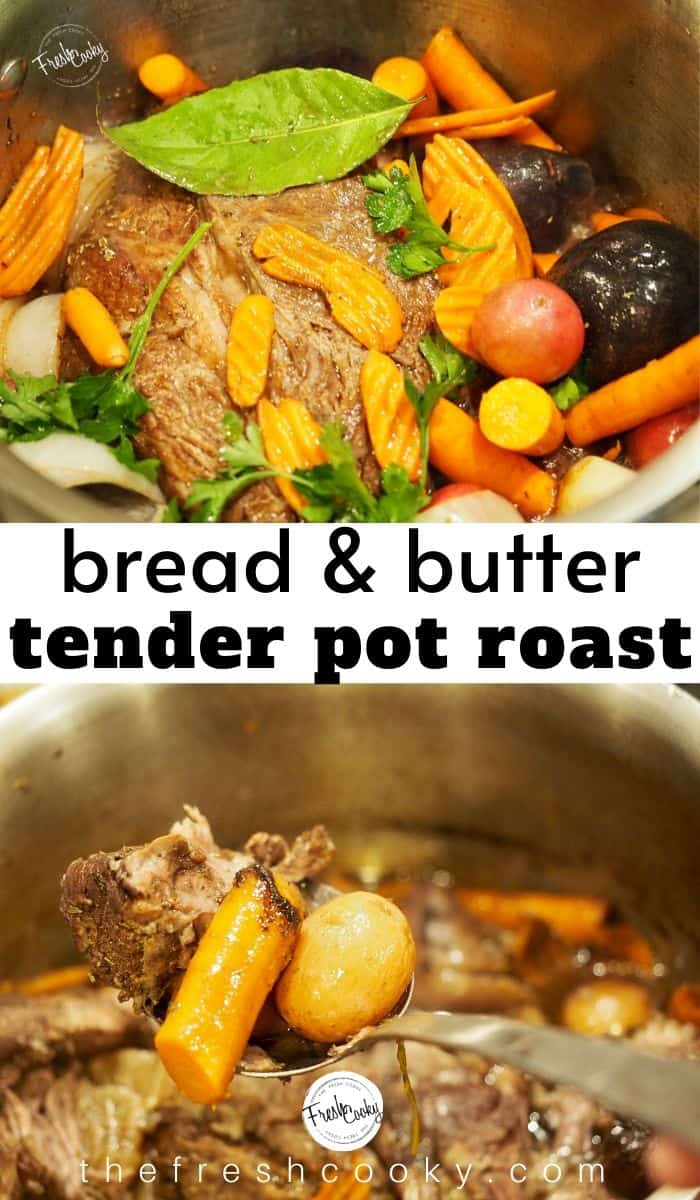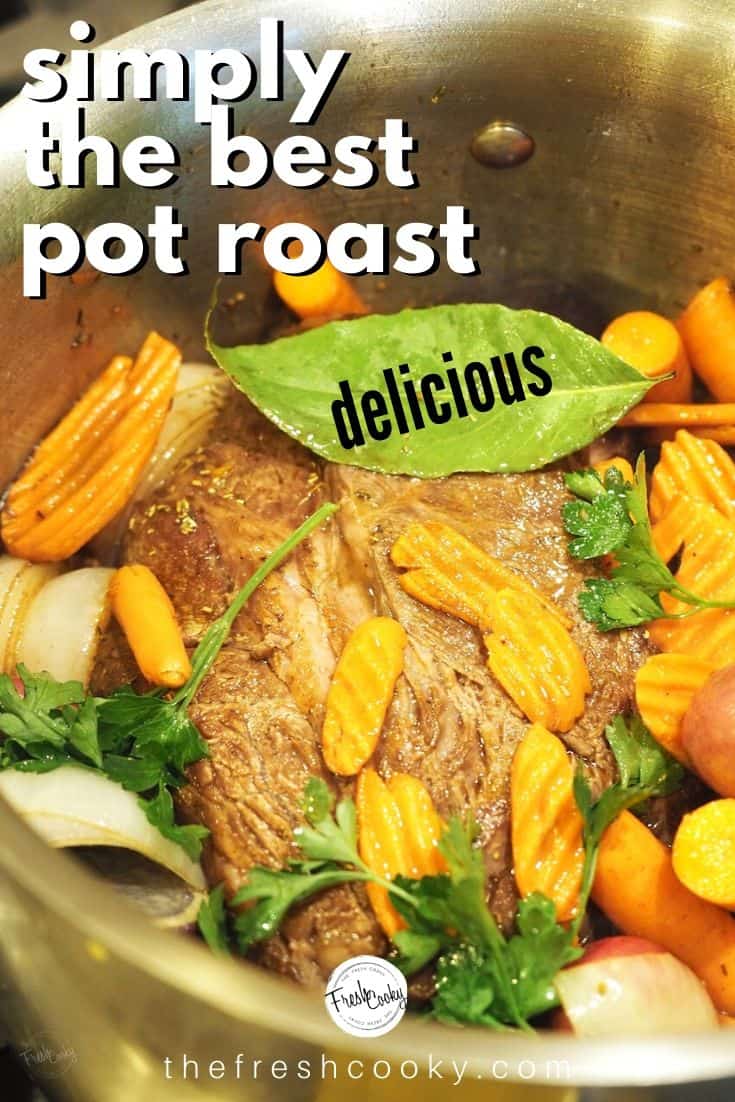 The aroma of a savory, Sunday Pot Roast loaded with winter veggies, slow cooked until it's fall apart tender, in a fabulous beef broth will have you hoping for chilly weather!
Pot Roast lends itself to crisp afternoons, leaves gently raining to the ground, crunching underfoot. A crackling fire, frosty mornings, the cheers, grunts and whistles of a football game on TV…Autumn has officially arrived and along with it, comes my desire for slow-cooked, hearty meals, like this Sunday Pot Roast, paired with a with a loaf of Russian Black bread and a crisp green salad and well, that's dinner folks!
⭐️ FREE, DELICIOUS RECIPES? YES, PLEASE! ⭐️
I love coming together after a busy week and sitting down to dinner with one another; nothing seems to draw people to the table like the smell of a savory, slow cooked meal like this tender Sunday pot roast, slow roasting in the oven for hours on a quiet (or not so quiet) Sunday afternoon.
This is a recipe from The Pioneer Woman, don't you love her? I do! Everything I've ever made of hers I have liked loved, she's my kind of gal! I've modified it slightly for my tastes.
Why is my Pot Roast Tough?
Low & Slow! Pot roast is typically a pretty inexpensive cut of beef and in order to make it tender, you need to cook it LOW & SLOW. Longer in the oven, at lower temps.
Sear! I am also a big believer in searing the meat before cooking, giving the outside a crispy brown, flavorful bite, preserving the juices inside the meat.
Don't peak! The steam that develops in the pot while cooking, brings moisture and tenderness to the meat. I usually only take a peak near the very end to make sure that it still has enough liquid and if you haven't done it early, to pop in your carrots.
Let it Rest! Once you take the meat from the oven, allow it to rest for a minimum of 15, preferably 20-30 minutes.
How to make a Tender, Bread & Butter Sunday Pot Roast
Now would be a good time to make sure your pot will fit (with the lid) into the oven, moving racks if needed and preheat to 275°.
Start by cutting two onions in half, removing the outer skin. Heat your oil on medium to high heat, on the hotter side (but not smoking) and carefully place your onions in your dutch oven or large soup pot, cut side down. Brown for a few minutes on each side. Remove to a plate.
While your onions are browning, cut your carrots into 2 inch chunks, you can peel them, but you don't need too, adds to the rustic look of the dish, but please wash them well. The onions look more burned that brown, but I think it's the photo, because they were a lovely brown.
Once your onions are browned, remove them to a plate. Add your carrots to the hot pan and toss them around until slightly browned, a minute or two.
Salt and pepper your pot roast. Use your hand to rub it in, salt all 4 sides, it's a large cut of meat! Set aside.
MEAT TIP: You want a well marbled (fat) cut of meat, the flavor will increase greatly with marbling and that fat melts away into the meat while slow cooking, making a normally tough cut of meat, tender.
You can add potatoes if you'd like, I love slow cooked potatoes, but not everyone loves them so this is completely optional. If you don't like potatoes, whip up a batch of mashed potatoes or if you have fingerlings or other small potatoes, you can just toss them in with the roast when you put it into the oven.
Why do you sear meat?
Searing your meat, provides flavor (from the brown crust), locks in moisture and preps your meat for low and slow cooking. To sear the meat, get that temperature back up nice and high, you want a good crusty sear on each side of the roast. If needed, add a few more teaspoons of olive oil or a couple pats of butter.
Carefully place meat in the dutch oven, it should steam and spit and spurt at you! That's good! Sear for about 1 minute on each side, you may need to hold it on the short sides with tongs. Remove roast to plate.
With the burner still on high to medium-high, deglaze your pan using either red wine (yum) or beef broth (also yum). Pour in about a cup, while hot and carefully scrape the bottom to remove all of those delicious brown bits from the bottom of the pan and release them into the sauce. You can use a wooden spoon or a whisk.
Once you've released all of those juicy, flavorful bits, place the roast back in the pot and add enough beef broth to cover the meat about halfway up, 2-3 cups should do nicely. Return the onions, carrots and potatoes to the pot, tucking them in and around the meat.
Next add sprigs of rosemary and thyme, fresh is yummier, but dried will work fine.
Fresh thyme…
It's ready for you to put the lid on and place in that preheated 275° oven, don't be tempted to open it either, slow cook at least 3 hours before you peak, it can easily cook longer if needed, at about 5 hours you might need to check the liquid levels, if it has cooked down too much you can add a bit more beef stock, but return to the oven for at least and hour so those flavors can blend.
To round the meal out, let's make some Russian Black bread. This is a hearty bread, that pairs so well with the pot roast, the flavors complement one another perfectly and you can use this soft, hearty bread to sop up all those wonderful bits and juices left from the pot roast and veggies.
For the recipe and instructions, click here for Russian Black Bread.
Once you have the roast in the oven and your bread ingredients in the machine, feel free to go and take a long nap, light a fire and read a good book, watch your favorite football team, crunch through some leaves…relax and watch the magic happen as the smells start to waft through the house, I love that word, waft, don't you!
⭐️ FREE, DELICIOUS RECIPES? YES, PLEASE! ⭐️
When it's slow cooked a sufficient amount of time, at least 3 hours for a smaller roast and 4-6 for a larger roast, carefully remove from the oven and plate the roast, allow it to rest 15-30 minutes (covered) before breaking into serving size pieces; or just serve right from the pot, just be careful.
What to Serve with a Bread and Butter Roast
You don't need much since this is a one pan (pot) meal, however a crisp green salad adds some brightness and ruffage.
My favorite way to eat Pot Roast hails from the Black Eyed Pea restaurant, Pot Roast Stuffed Spud! Bake up some large russet potatoes and spoon hunks of pot roast, carrots and sauce over your split (and buttered, just saying) baked potato! Dreamy!
A warm and delicious loaf Russian Black bread or try these easy Cheddar Beer Popovers
Perhaps instead of cooking carrots with the roast, you want them on the side, these tender Tarragon carrots would go great!
And a nice, light dessert is in order as well, like this make ahead Tiramisu or a simple Butter Pound cake.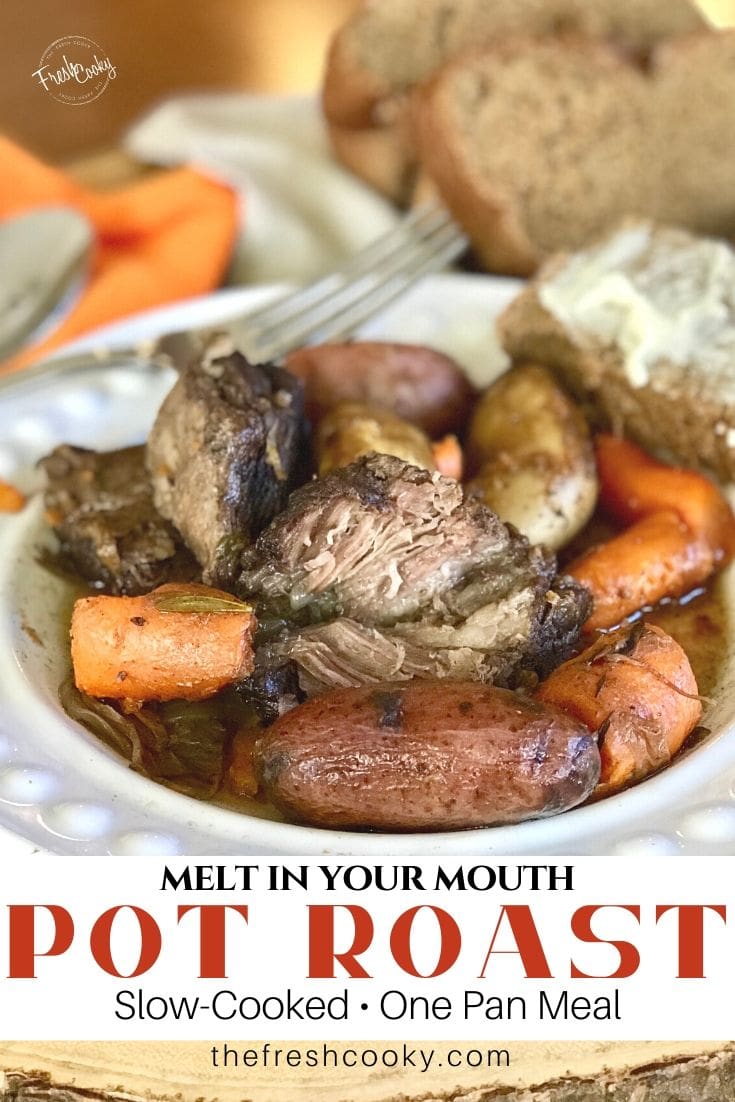 Give these other tender, tasty recipes a try!
⭐️ FREE, DELICIOUS RECIPES? YES, PLEASE! ⭐️
Like this recipe?
Don't forget to give it a ⭐️⭐️⭐️⭐️⭐️star rating in the recipe below!
Yield: 6 servings
Sunday Pot Roast
A slow-cooked wonder. This pot roast is so simple; fork-tender, flavorful beef, soft and creamy carrots, caramelized onions and rich potatoes, the perfect Sunday dinner...or for any weeknight.
Total Time
4 hours
30 minutes
Ingredients
1 whole (3-5 pound) Chuck Roast (well marbled with fat, will yield a more tender pot roast)
2-4 Tablespoons olive oil (or 2 TBL olive oil and 2 TBL butter)
2 whole onions, peeled and cut in half
6-8 whole carrots, washed, cut into 2 in pieces (peeling is optional)
4-8 potatoes (if using russet, just 2-4 small medium ones, if using baby potatoes or fingerlings as many as you think your family will eat), cut potatoes that are larger in half or thirds
Salt and Pepper to taste
1 cup red wine (optional, beef broth or stock may be used instead)
2-3 cups beef broth or stock
3 sprigs fresh Thyme (or 1 teaspoon dried thyme)
3-4 sprigs fresh Rosemary (or 1 teaspoon dried rosemary)
1 bay leaf
2-3 sprigs fresh parsley (optional)
Instructions
Preheat oven to 275° F, moving racks to make sure your pot (with the lid) will fit in the oven.
Heat oil (and butter if desired) in a large dutch oven or pot, medium to medium high heat, until hot but not smoking. Salt and pepper your chuck roast well, it's a large piece of meat, don't be shy about salting it. Set aside.
Cut onions in half and carefully place cut side down in hot oil, brown for 1-2 minutes per side, remove to plate.
While pot still hot, toss in cut carrots (2 inches or so) and stir around hot pan until lightly browned, about a minute. Remove to plate.
Turn up the heat a bit, so that the pan is screaming hot, but still not smoking. Carefully, using tongs add your meat to the pot, searing well on each side for about 1-2 minutes per side. Once all sides are seared, remove to plate.
Next keeping the temp up on the pot, deglaze your pan by pouring in 1 cup of wine or broth, using a whisk or wooden spoon stir around until reduced slightly and all of the yummy brown bits are scraped off the bottom of the pan.
Return meat to the pot, tucking in the carrots, potatoes and onions all around. Pour in additional beef broth until about halfway up the side of the meat. Add sprigs (or dried) of rosemary, parsley, thyme, and bay leaf tucking around the veggies and meat.
Cover and don't peak, cook for 3 hours (for a smaller roast) and 4-6 hours for a larger roast. Serve with warm Russian Black Bread and a crisp green salad.
Recommended Products
As an Amazon Associate and member of other affiliate programs, I earn from qualifying purchases.
Nutrition Information:
Yield:
6
Serving Size:
1
Amount Per Serving:
Calories:

465
Total Fat:

13g
Saturated Fat:

3g
Trans Fat:

0g
Unsaturated Fat:

10g
Cholesterol:

18mg
Sodium:

1072mg
Carbohydrates:

66g
Fiber:

8g
Sugar:

8g
Protein:

16g
The nutritional information is estimated and may not be entirely accurate, at times it pulls information for suggestions and options which may increase calories, etc.
GET FREE RECIPES DELIVERED RIGHT TO YOUR INBOX!
Love Wholesome & Delicious Recipes?
Follow along on Pinterest ★ Instagram ★ Facebook ★