Slow Cooker Red Beans and Rice
As an Amazon Associate, I earn from qualifying purchases. Please read my disclosure policy.
Slow Cooker Red Beans and Rice is chock full of smoky sausage (add chicken or ham too), delicious creole cajun spices, veggies and healthy red beans. Perfect for Mardi Gras, or anytime you need some delicious comfort food! Vegetarian option too!
I am all about easy, healthy, filling meals; especially with two teenage boys in the house! I love fast foods, no, not the golden arches type; I'm talking easy meals you can make or assemble lickety-split!
You will also love this Crockpot London Broil, Outback Potato Soup Recipe (Slow Cooker or Stovetop), these tender Cheesesteak Sandwich or a hearty Sloppy Joes Recipe.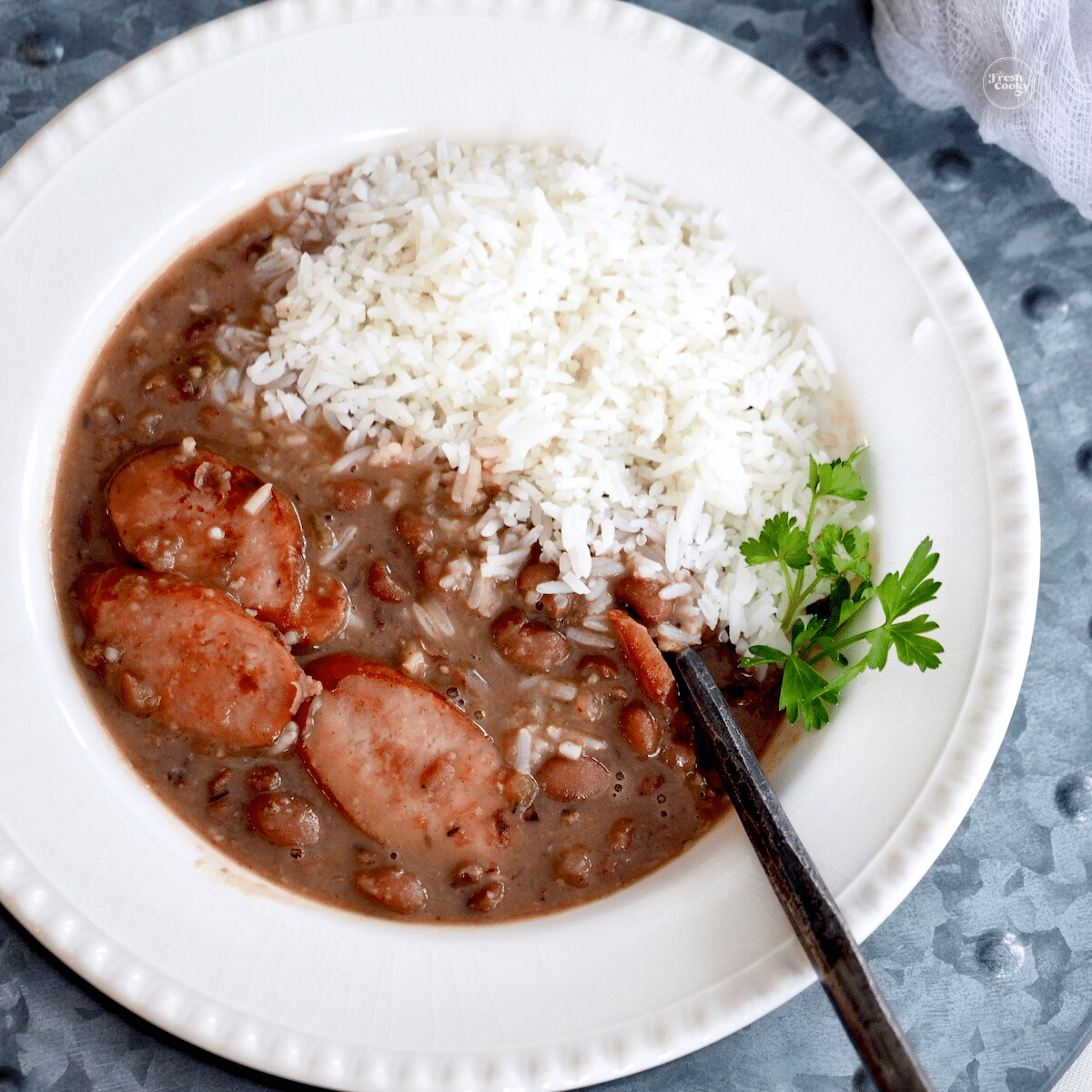 I adore slow cooked meals or crockpot meals; there is something about walking in the house after being gone all day and smelling dinner ready and waiting as you walk in the door.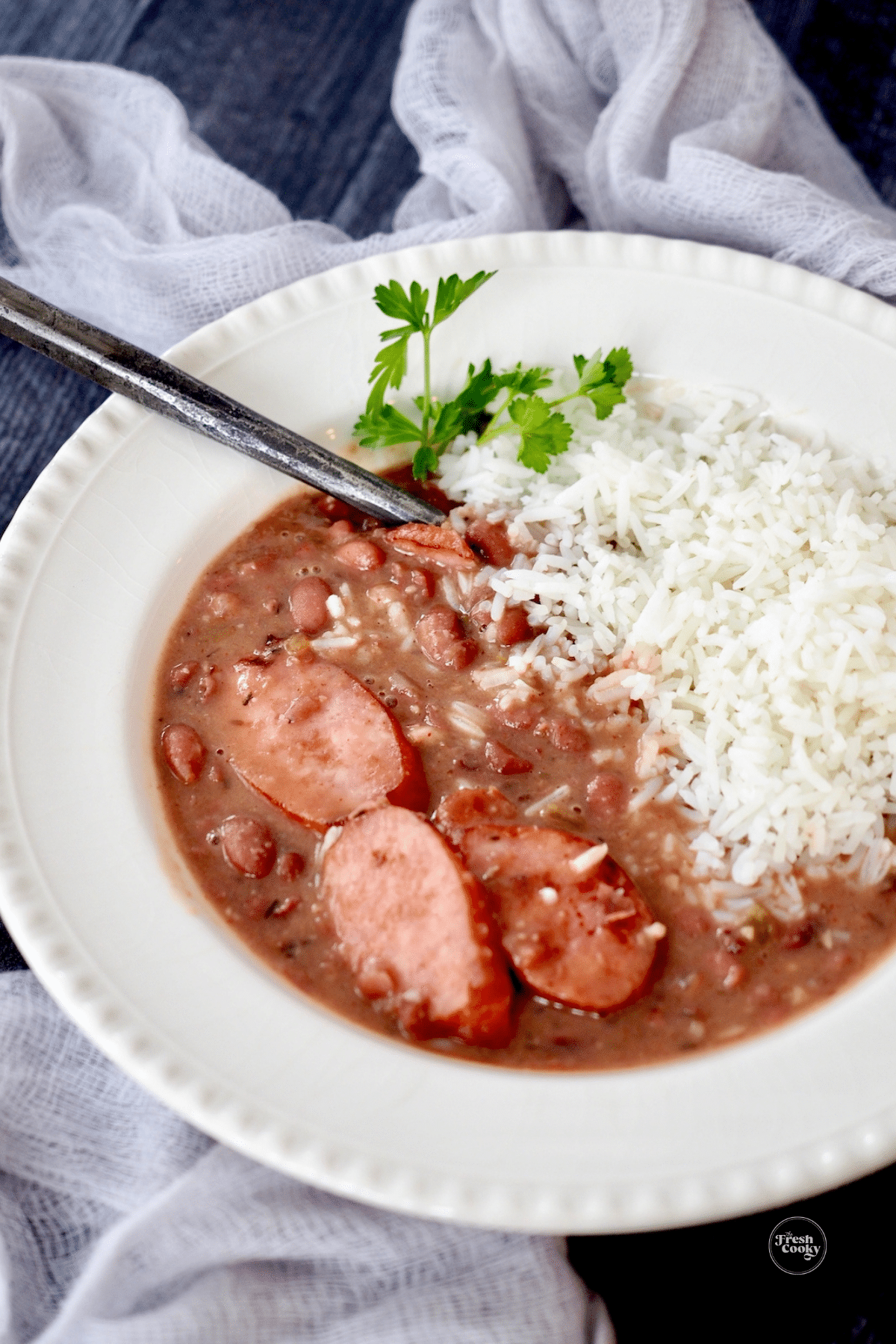 Red beans and rice in a crock pot IS that meal! Don't misread anything here, I love my Instant Pot, am infatuated with 30 minute meals, but I am not about to throw out my crockpot!
Authentic Louisiana Red Beans and Rice
Are these authentic red beans and rice? Honestly, I have no idea, I have never lived in the south, but I sure have a lot of friends who do and besides; my family really, really likes this meal. So does it really matter if it's not purely authentic?
Substitutions in Red Beans and Rice in a Crock Pot
I am all about customizing flavors, spices, meats to what our family will eat! Our tagline is Make It Yours! For instance, the original recipe from Kylee Cooks, calls for smoked boneless pork chops and a teaspoon of cayenne pepper.
I wouldn't even know where to start looking for smoked pork chops (though you can replace with ham) and I am way too big of a spice wimp to use an entire teaspoon of cayenne pepper! Her recipe is great, probably much more authentic, but that's what I am saying! Make it yours!
Key Ingredients and Suggestions
Below are the main ingredients, you can of course get the entire ingredient list, quantities and how to make this delicious Red Beans and Rice by printing the recipe at the bottom of the post.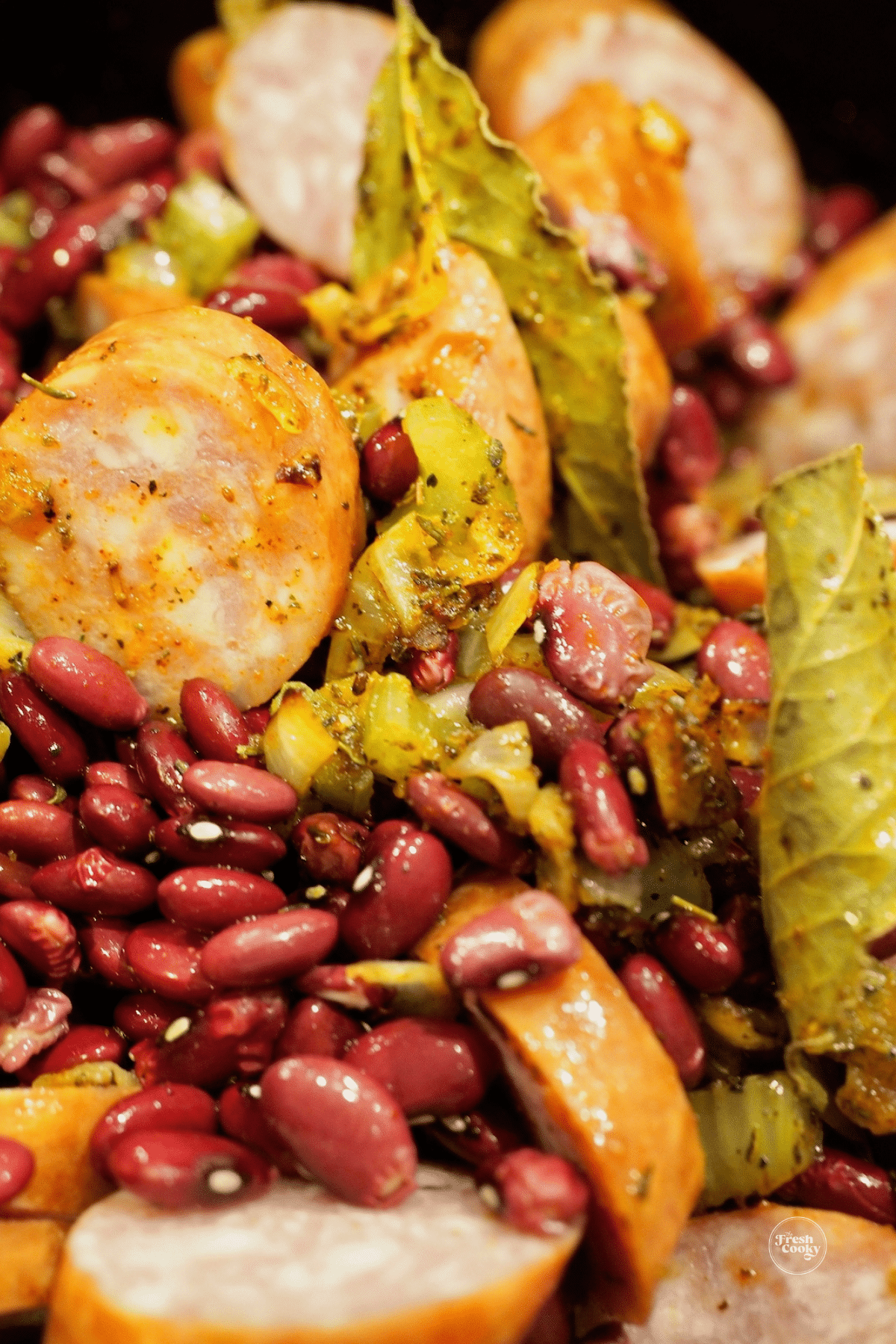 What does it mean to sort and rinse beans?
Rinsing we've got! Dump dry beans into a sieve and rinse with water! But the sorting, even the back of the package just says "sort". So I did some research and here's what I discovered with regard to sorting beans.
Fresh Tips for Sorting Dried Beans
During the packaging, debris can find its way into the beans, remove any sticks, rocks, dust or other debris, obviously!
But also be on the lookout for funny smells (probably moldy), mold, shriveled beans, broken pieces, weevils (ew!), etc. If only some shriveled and broken beans they should be fine, just toss (sort) those out.
If you smell something off, find something crawling or see any fuzzy beans, throw out (or return) the entire package.
Once I have rinsed my beans, I toss onto a sheet pan and "sort" them.
How to Make Slow Cooker Beans and Rice
Heat a skillet over medium heat and add a couple tablespoons of olive oil (or if you have a slow cooker to stove insert, do this in your insert)
Saute onions, celery until translucent and slightly golden, toss in garlic for the last minute until fragrant.
Add spices to onion mixture, stir for a minute to bloom the spices.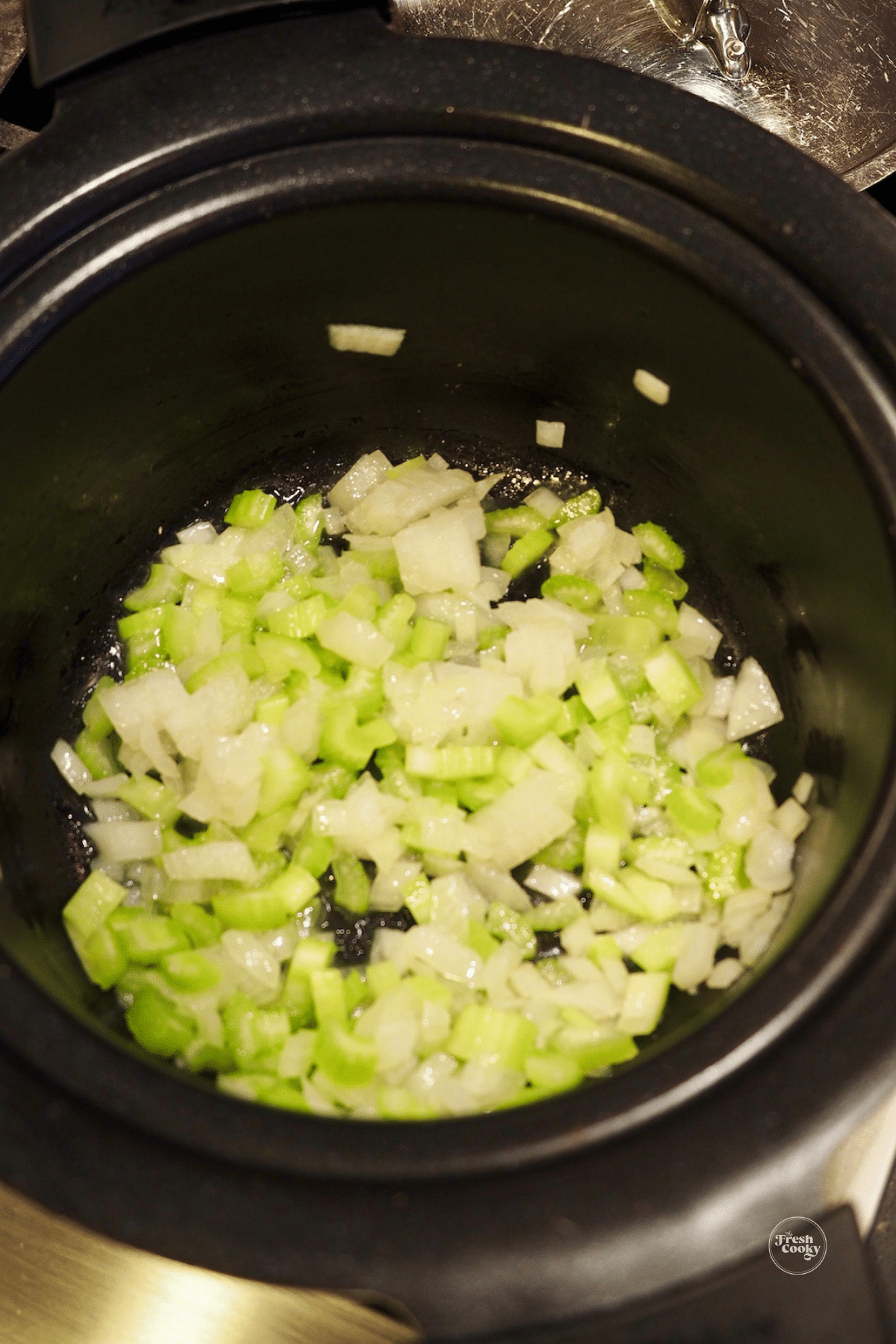 You may skip the sautéing step and toss the raw onions, celery, garlic and spices directly in the crockpot, but for me it's worth the time, as it blooms the flavors and adds depth to the dish.
Place all ingredients (except rice) into crockpot (slow cooker).
Pour about 6 cups water, enough to cover everything by about ½ inch.
Stir to mix everything, cover and set slow cooker on high between 6-8 hours or on low between 8-10 hours.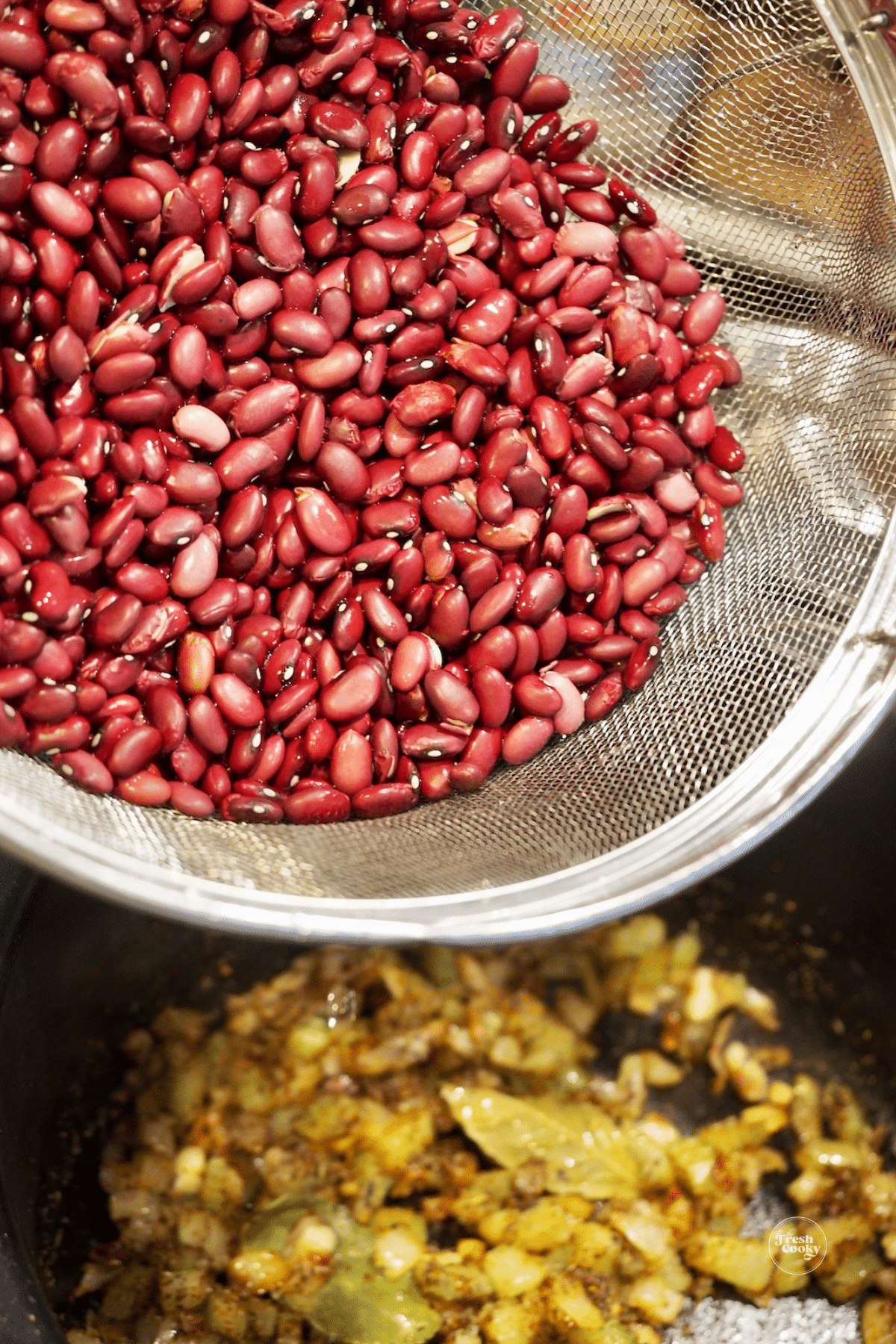 If making red beans and rice with chicken, add chicken breasts to crockpot about 4 hours before serving.
How to Marinate Chicken in Liquid Smoke
If desired, soak boneless chicken breasts or thighs in a solution of water and 1 tablespoon liquid smoke (your flavor choice) for 1-4 hours in the fridge. It adds a wonderful, smokey flavor to the red beans and rice.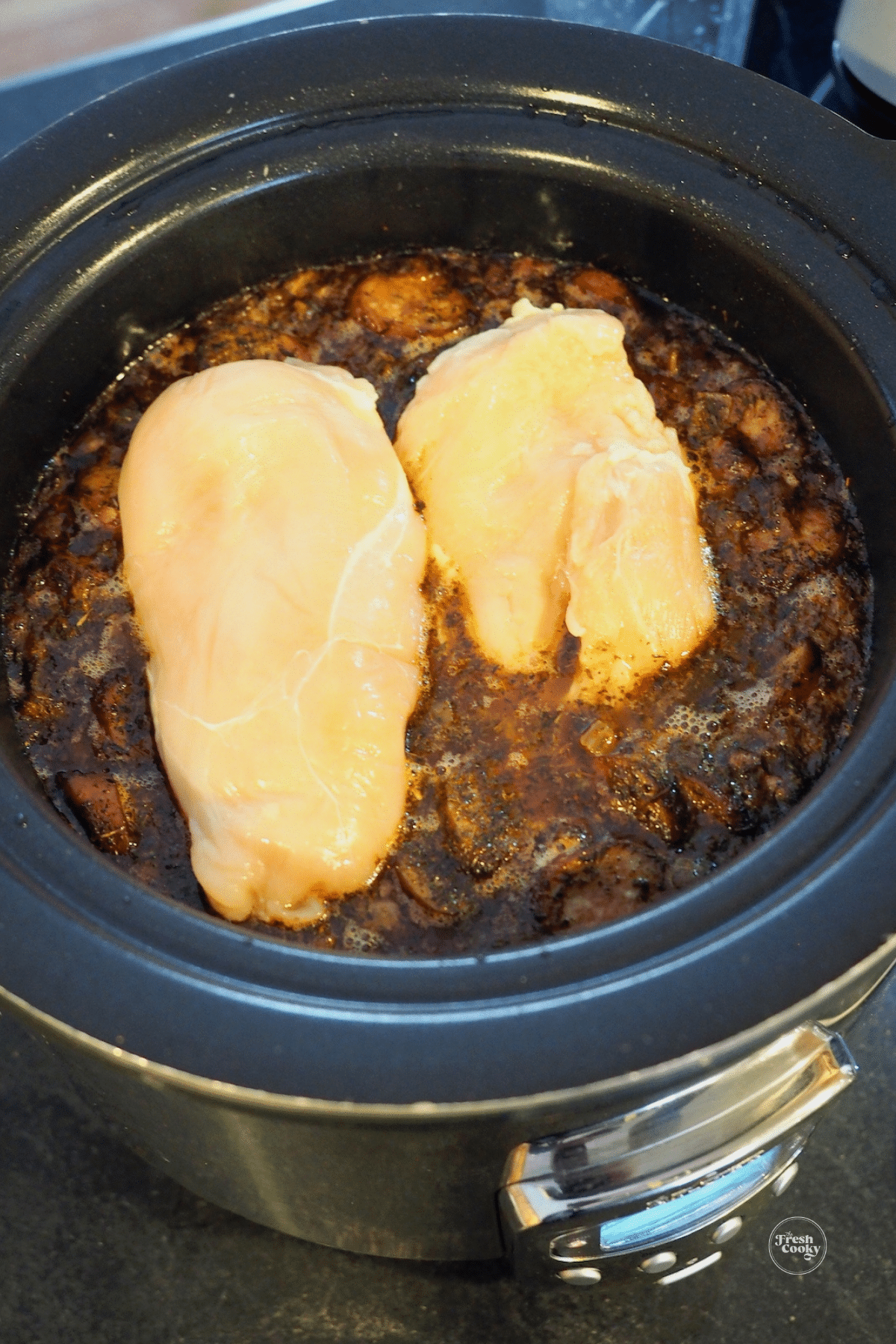 How to thicken red beans and rice in the slow cooker
To thicken, use a potato masher and mash some of the beans, stir and cook an hour longer or so. If you want it a lot thicker, combine 1-2 tablespoons cornstarch into equal amounts cold chicken broth or water. Slowly stir into the red beans and rice mixture, cover and cook an additional 30-60 minutes.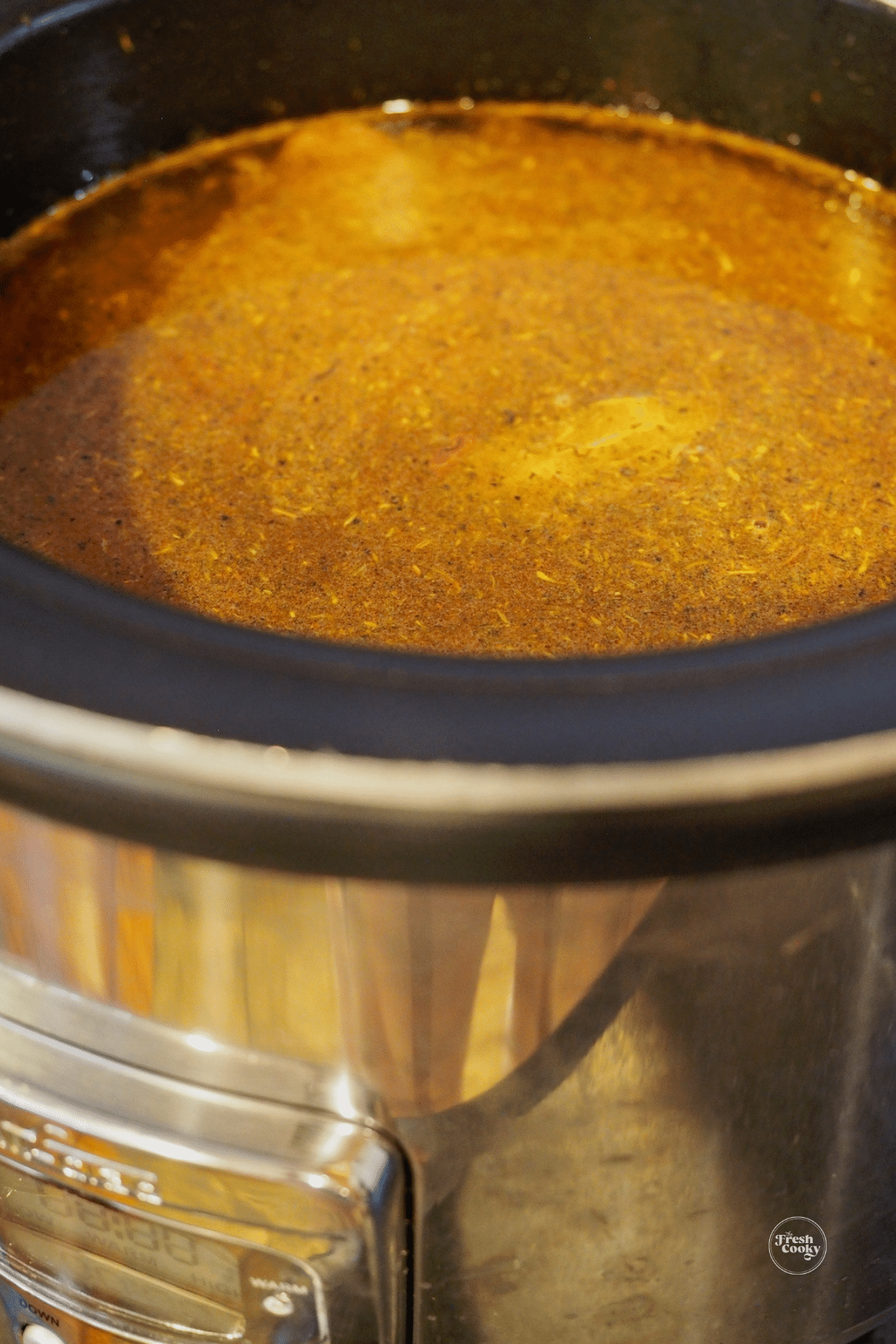 Taste before serving, adding additional sea salt and pepper, if needed. Remove bay leaves as you uncover them.
Serve red beans over bowls of cooked rice (white or brown).
What to serve with red beans and rice?
Classic sides to serve with red beans and rice are an ice cold beer and some corn bread, but there are some other delicious recipes you might consider that are part of Creole cuisine.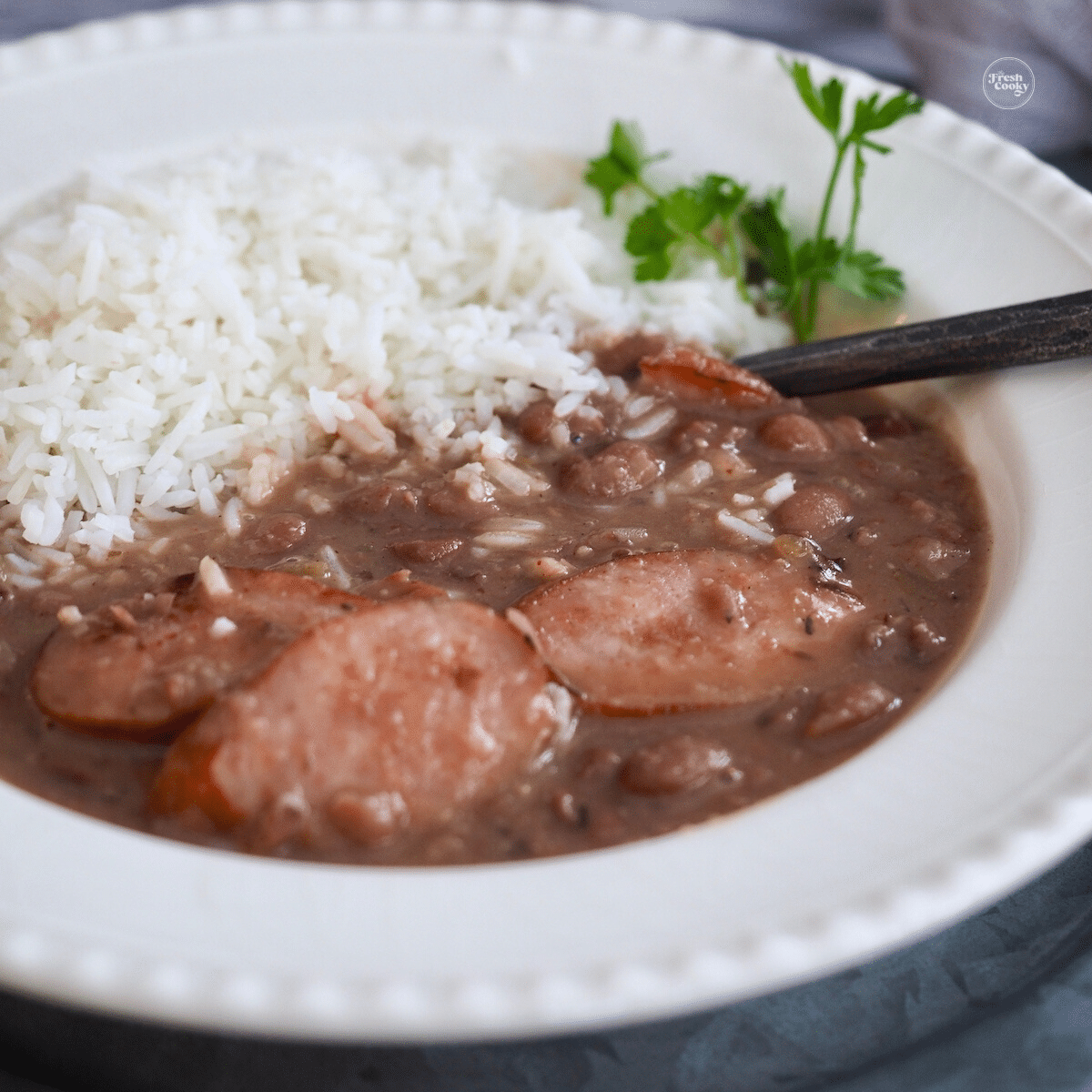 Frequently Asked Questions
Can I use dried black beans for red beans and rice?
Yes, rinse and sort just like the red beans, and cook as planned for a delicious version of Slow Cooker black beans and rice!
Can I use canned beans in slow cooker beans and rice?
Of course, drain and rinse your preferred beans. Try canned black beans, kidney beans, or if you can find them, canned red beans. Reduce crock pot time to 6-8 hours.
Do you have to soak red beans before cooking in a crock pot?
The beauty of cooking beans in a slow cooker is you don't need to soak the beans beforehand. Rinse and sort the beans as per directions. Red kidney beans are the exception here. For dried red kidney beans, always soak first and then boil for 20 minutes before preparing in the slow cooker, this makes them more digestible, or just use canned kidney beans! 🙂
How to you thicken red beans and rice?
My thickening method just requires a potato masher, get in there and mash some of those red beans, then allow it to slow cook an hour longer. If that's still not thick enough for you, combine 1-2 tablespoons cornstarch into equal amounts cold chicken broth or water, slowly stir into the red beans and rice in the crock pot, and cook for another hour.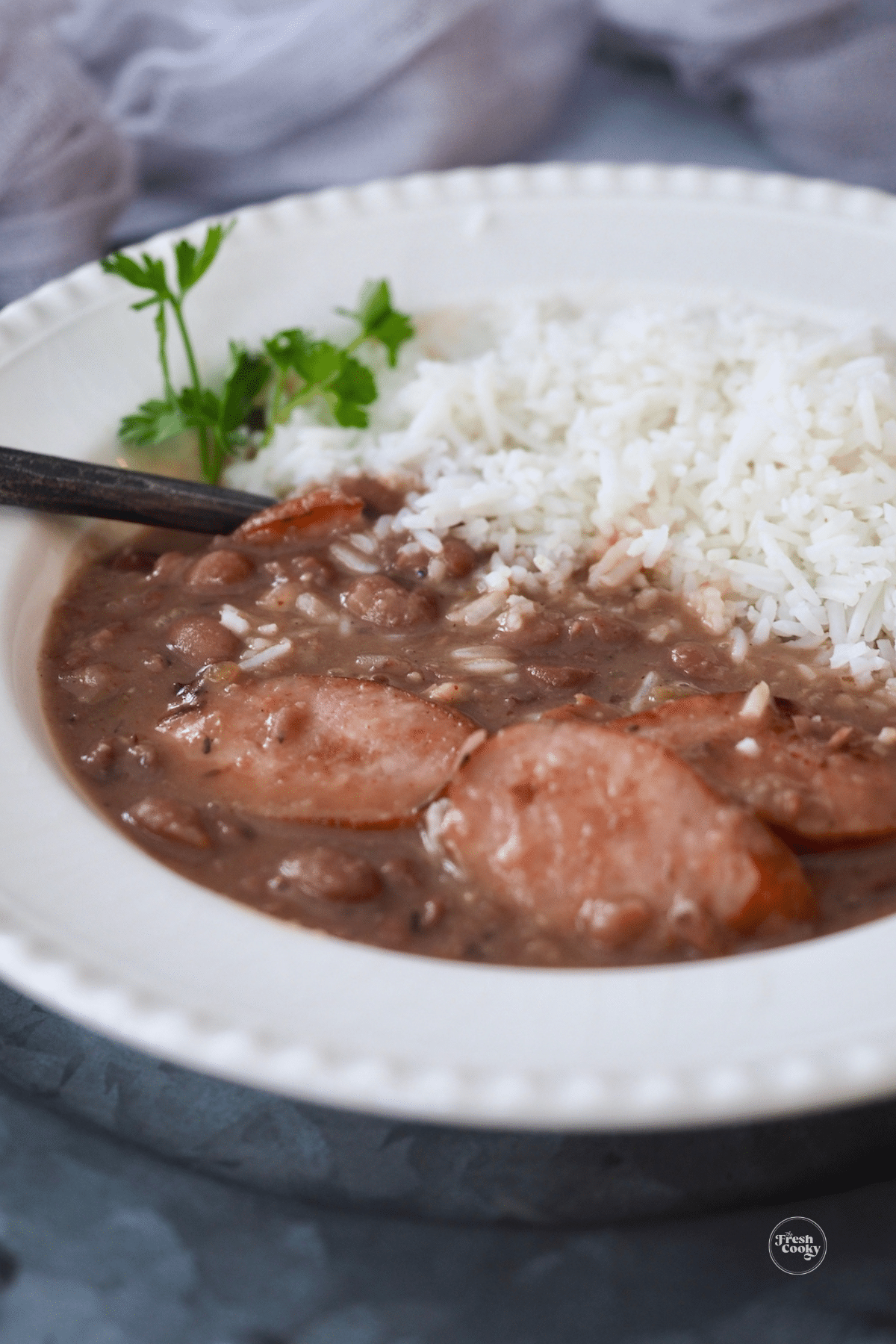 Vegan or Vegetarian Red Beans and Rice in Slow Cooker
This is a super simple recipe to adjust to be vegetarian!
And if you happen to be looking for other fun, Creole types of meals for Mardi Gras coming up, then this meal would be perfect or this Instant Pot (or Stovetop) Jambalaya! Both guaranteed to please! And be sure to serve with these easy Mini King Cakes!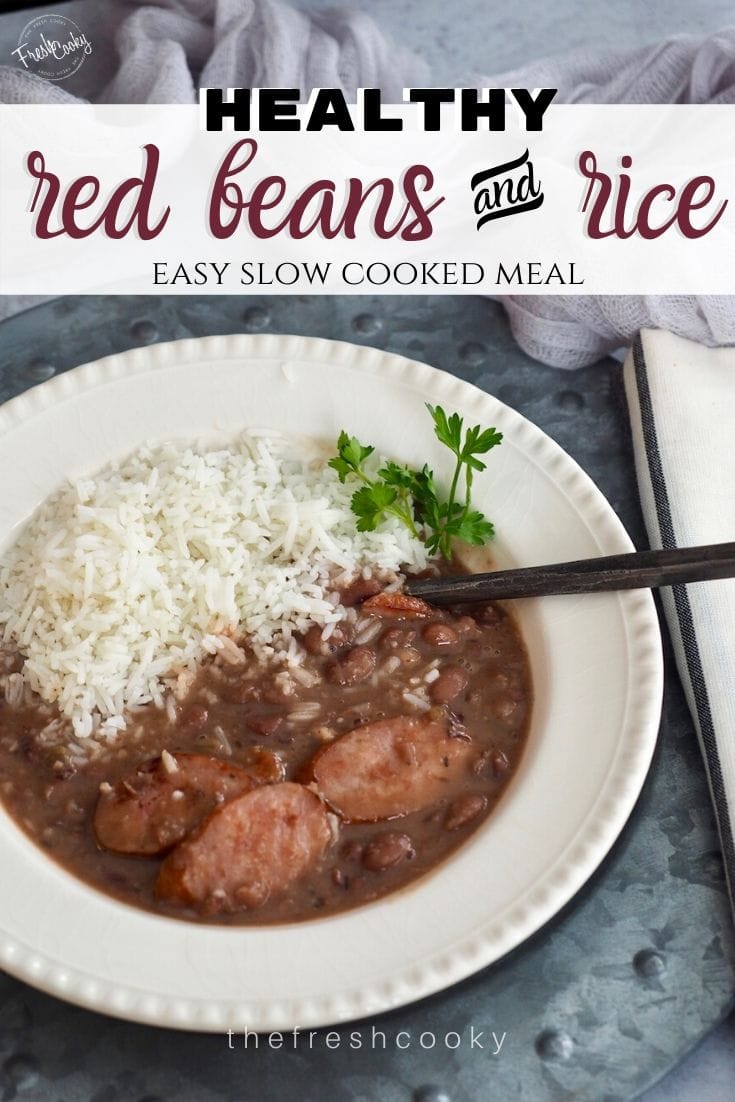 More Creole or Louisiana Inspired Recipes
I hope you loved this recipe for slow cooker red beans and rice — if you did, would you share your creation on Instagram, Facebook and Pinterest? And be sure to comment below!
Like this recipe?
Don't forget to give it a ⭐️⭐️⭐️⭐️⭐️ star rating and comment below the recipe!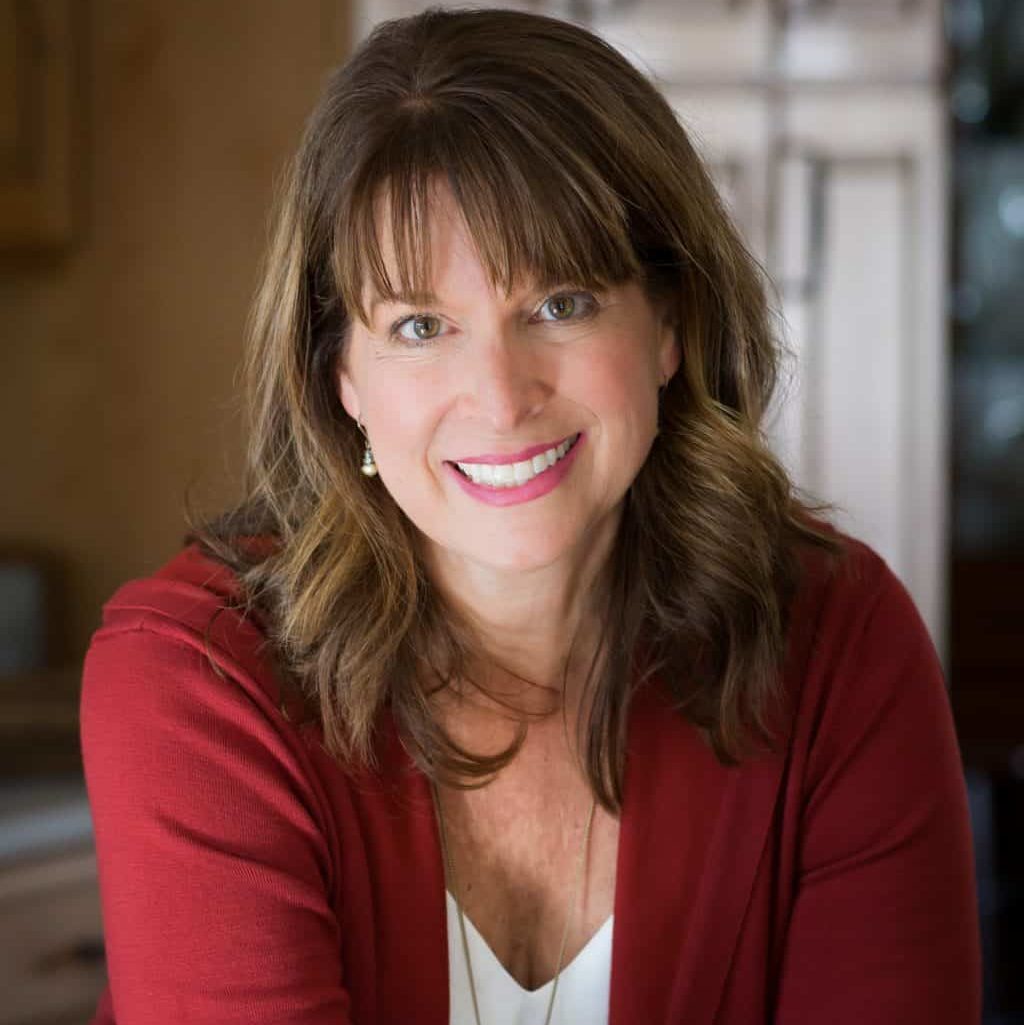 About Kathleen Pope
Recipe Innovator | Food Photographer | Food Writer
Hi, I'm Kathleen Pope. Here at The Fresh Cooky you will find easy, mostly from-scratch, trusted recipes for all occasions. From speedy dinners to tasty desserts, with easy step-by-step instructions. I am here to help teach you how to make mouthwatering recipes without spending hours in the kitchen. Read more about Kathleen here.