Easy Crockpot Peanut Clusters
As an Amazon Associate, I earn from qualifying purchases. Please read my disclosure policy.
5 ingredients and one hour is all it takes to make crockpot peanut clusters that are delicious year-round! Decadent chocolate and peanut butter chips melt together with crunchy peanuts for crockpot candy that the whole family will love.
If homemade candy is your thing, try my Champagne Truffles or these mouth-watering Brown Butter Buckeye Bars.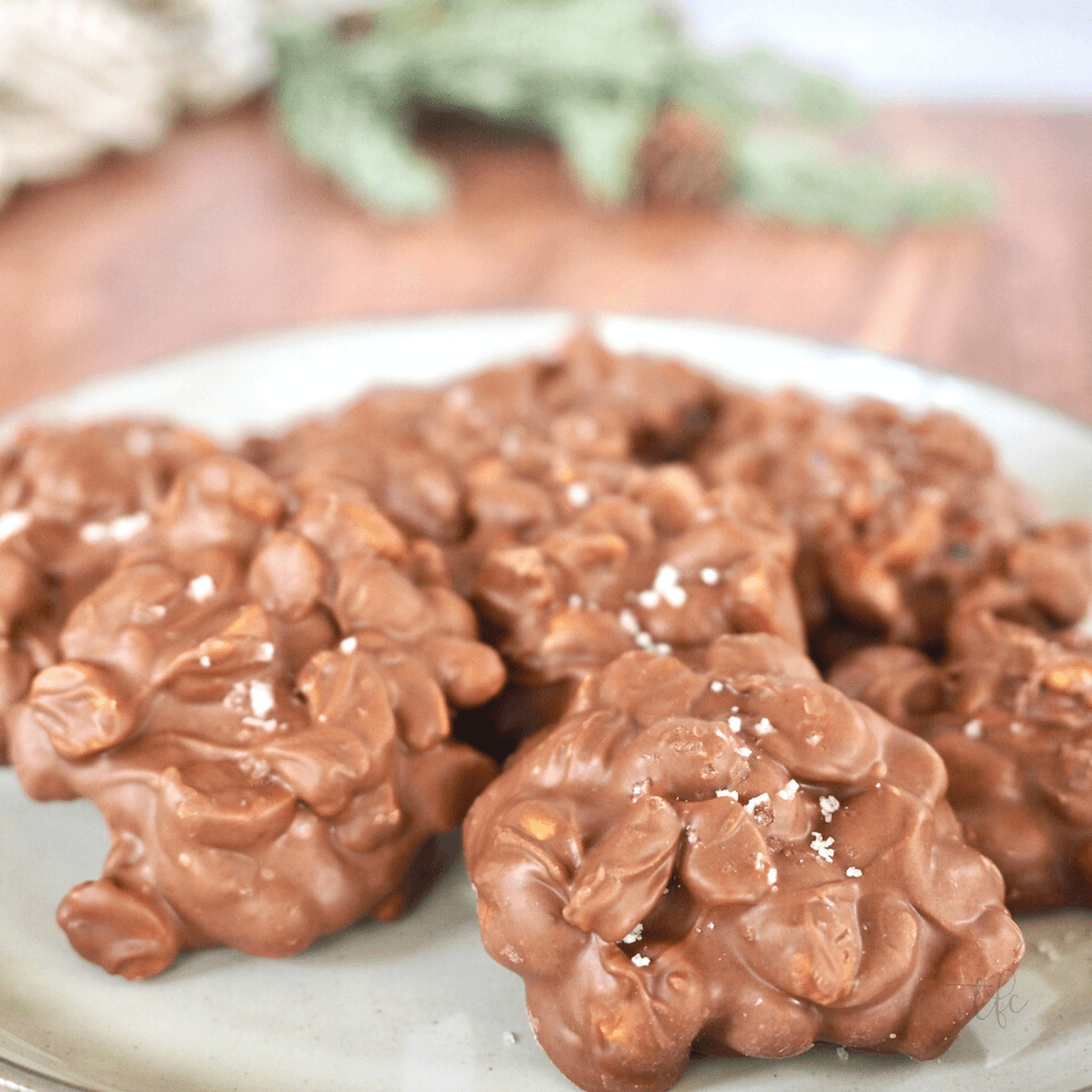 I absolutely love making nutty cluster candies around the holiday season. They make a great wrapped edible gift! It's so fun to package these treats in cello bags and tie a little gift tag to give to friends and neighbors.
The thing that sets these crockpot chocolate peanut clusters apart is there is no white almond bark. Almond bark, also called "candy coating" has some additives that I'm not a fan of, and this recipe is a great alternative that is just as delicious — if not more!
And if you're searching for other food gifts for a sweet treat, check out all of my food gift ideas!
Simple Ingredients
The full recipe and measurements are in the printable recipe card at the end of this post.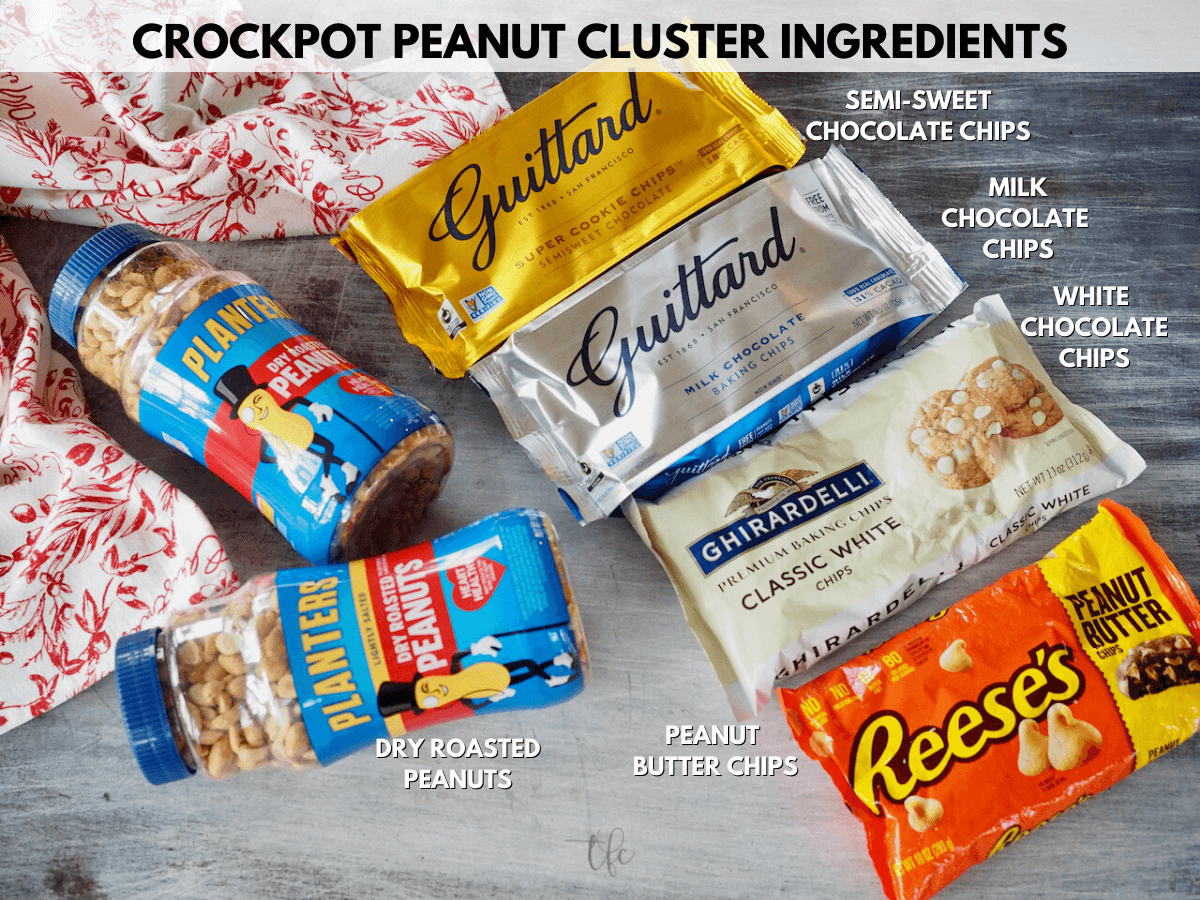 Dry Roasted Peanuts | Salty, crunchy, and satisfying! You may also use red-skinned peanuts or cocktail peanuts if you'd like.
Milk Chocolate Chips | Nice and sweet, these chips melt easily and will help balance all of the flavors in this treat.
Semisweet Chocolate Chips | Balance the bitter and sweet flavors in these crockpot peanut clusters by using either semi-sweet or dark morsels, based on your own preferences.
Peanut Butter Chips | You can easily replace these chips with another flavor of your choosing. See variations for options.
White Chocolate Chips | These morsels are sweet and rich, adding a delicate vanilla flavor that is perfect for our crockpot peanut clusters!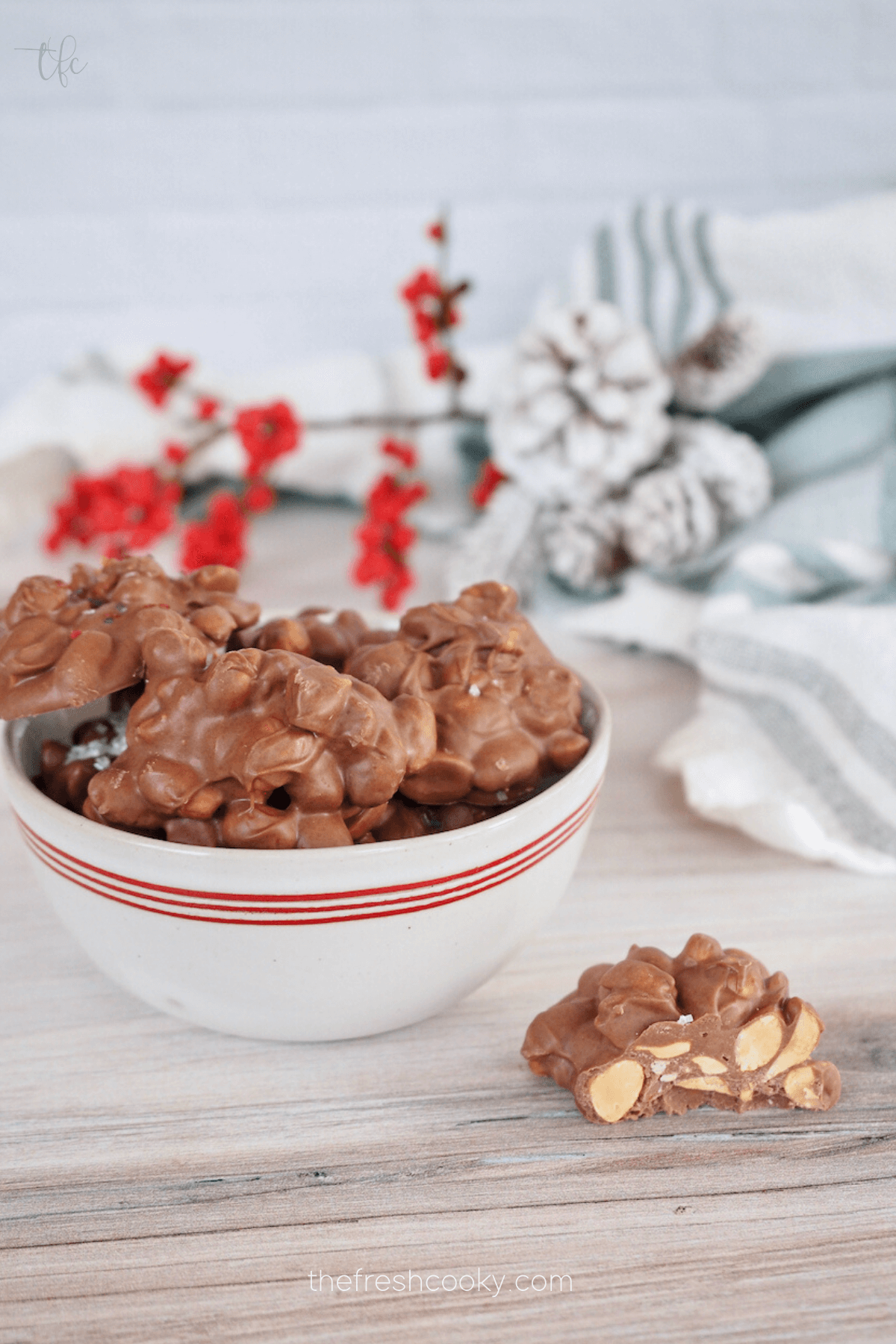 Top Tips
Use high-quality chips | Whether it is the peanut butter, milk chocolate or white chocolate, the higher the quality of the chip, the less additives there are. My favorite brands are Ghirardelli and Guittard, but the bottom line, buy the best chocolate you can afford.
Every crockpot or slow cooker heats differently, watch and be sure to set a timer at least every 15 minutes to stir, once the mixture starts getting dry and thick at the bottom remove the crockpot from heat.
Place a clean tea towel between the lid and the crockpot to absorb any moisture.
Stir Well | In recipes where you are melting chocolate (like my chocolate ganache), stirring is key to helping things melt! So remove from heat when there are still some whole pieces of chocolate, keep stirring they will disappear.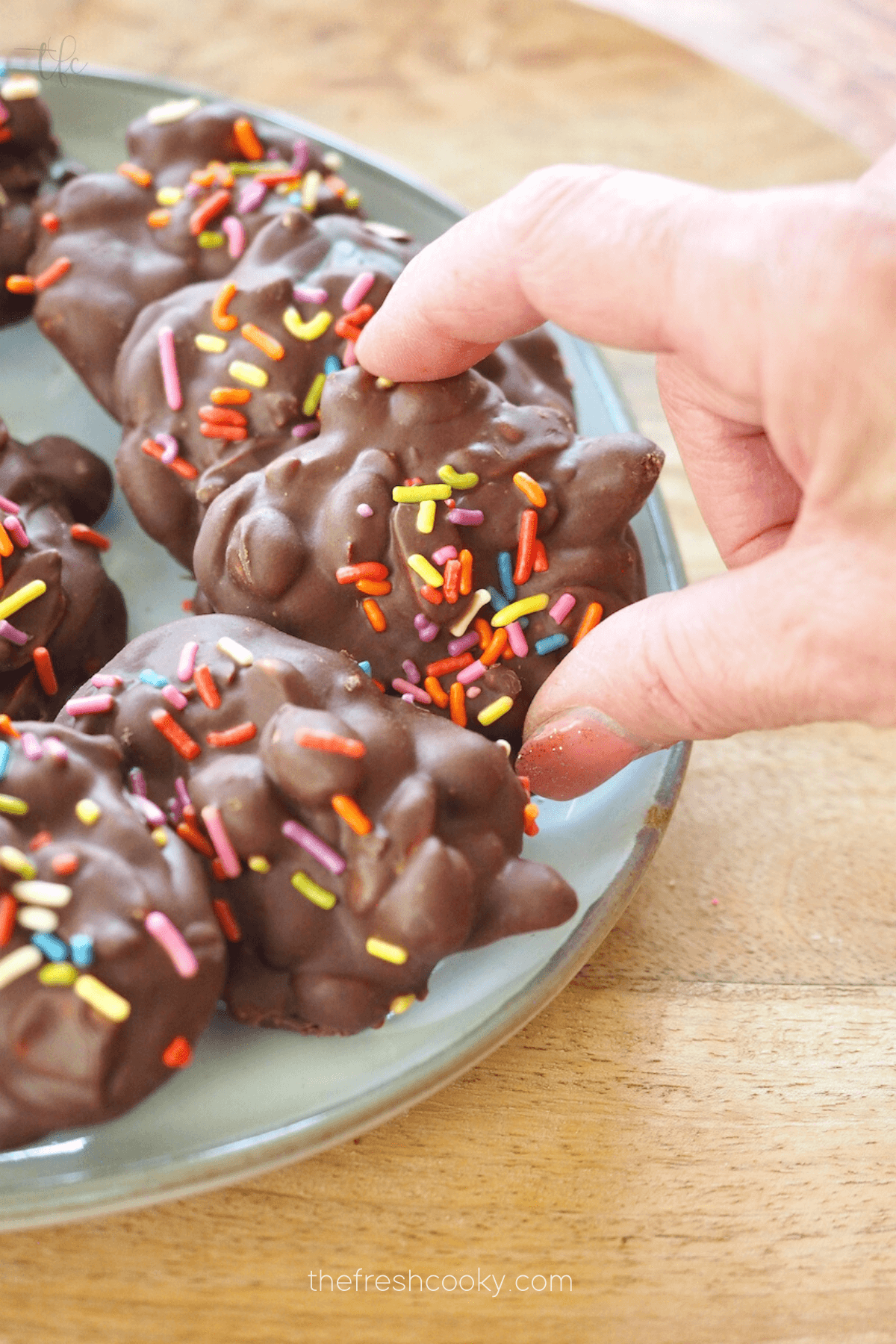 Recommended Equipment
Crockpot or Slow Cooker | What's the difference? Crockpot is a brand name, slow cooker is what the appliance does! You will want at least a 6 quart crockpot for this recipe. I like this that this classic crockpot locks for travel!
Medium Cookie Scoop or small cookie scoop, if you want to make a whole lot of candy!
How to make Peanut Cluster Recipe
Evenly spread the dry roasted peanuts on the bottom of the slow cooker. Sprinkle the semi-sweet chocolate chips over top, followed by your milk chocolate, peanut butter, and finally the white.
Place a tea towel beneath the lid to collect condensation. Cover your slow cooker and cook on low heat for 1 hour, stirring every 15 minutes.
When all ingredients are mostly melted, remove the insert. The heat from the crock will continue to melt the mixture as you stir everything until smooth, be sure to give the melted chocolate a good stir.
Now we're going to make our slow cooker chocolate peanut clusters! Working quickly, use a medium cookie scoop (2 tablespoons) to portion out treats onto cookie sheets lined with parchment paper or wax paper. Use a small cookie scoop for smaller candies!
Tap the tops of the candies with the back of the scoop or wooden spoon to flatten them. This is a fun step for the kids to help with!
Allow your crockpot peanut clusters to set up on the counter on the baking sheet. You can also refrigerate them for 15-30 minutes to set them fast. This easy recipe makes a lot of candy, about 60 generous pieces. Perfect for holiday gifts, Valentine's day or anytime a peanut butter chocolate craving hits.
Variations
Try other flavors | I also recommend cinnamon chips, butterscotch, Andes Mints, caramel nibs, or Heath toffee bits for varied and delicious flavors! Just make sure the quantities are the same as written for this crockpot peanut clusters recipe. Roughly, a few ounces here and there won't impact it.
Garnishes | While your crockpot chocolate peanut clusters are still gooey and melty, add some sprinkles or (my favorite) flaky sea salt. This is especially delicious if you're using Heath bits.
Dark Chocolate Peanut Clusters | Use your favorite dark chocolate to make this easy chocolate peanut candy.
Use different nuts! Pecans, cashews, hazelnuts, macadamias and almonds would all be absolutely delicious here.
Valentine's Day Slow Cooker Peanut Clusters
I dressed some of mine up by scooping them into silicone heart shaped molds, for a fun and easy Valentine's day chocolate. Use other silicone shaped molds for various holidays and change your sprinkles to match.
Dairy Free Peanut Clusters
Lily's and Enjoy Life are dairy-free and gluten-free and they claim to melt just like regular chips. I have not tried it, let me know if you do!
Recipe for Sugar Free Peanut Clusters
Lily's are also sugar free, so these are great to make for a low-carb, Keto or sugar-free diet. Use your favorite sugar free chip combination, I suggest adding 3-4 tablespoons of no-sugar peanut butter in place of peanut butter chips, unless you can find sugar-free!
TFC Pro Tips
Patience!! — keep your crockpot on low! Using the high setting could overheat and burn the mixture.
Several times when I've made this recipe, the chocolate to peanuts ratio was a little off towards the end of scooping. Stir in a ¼ cup of additional peanuts at the end. It helps to stir the mixture occasionally while scooping.
Every slow cooker heats differently. This recipe takes 45 minutes for me, but I've heard others say it can take as long as 1 ½ hours. Stirring frequently will keep your mixture from burning. If it starts to look "dry," it's time to remove from the heat or switch to your "warm" setting if more melting is needed. And whatever you do, keep stirring!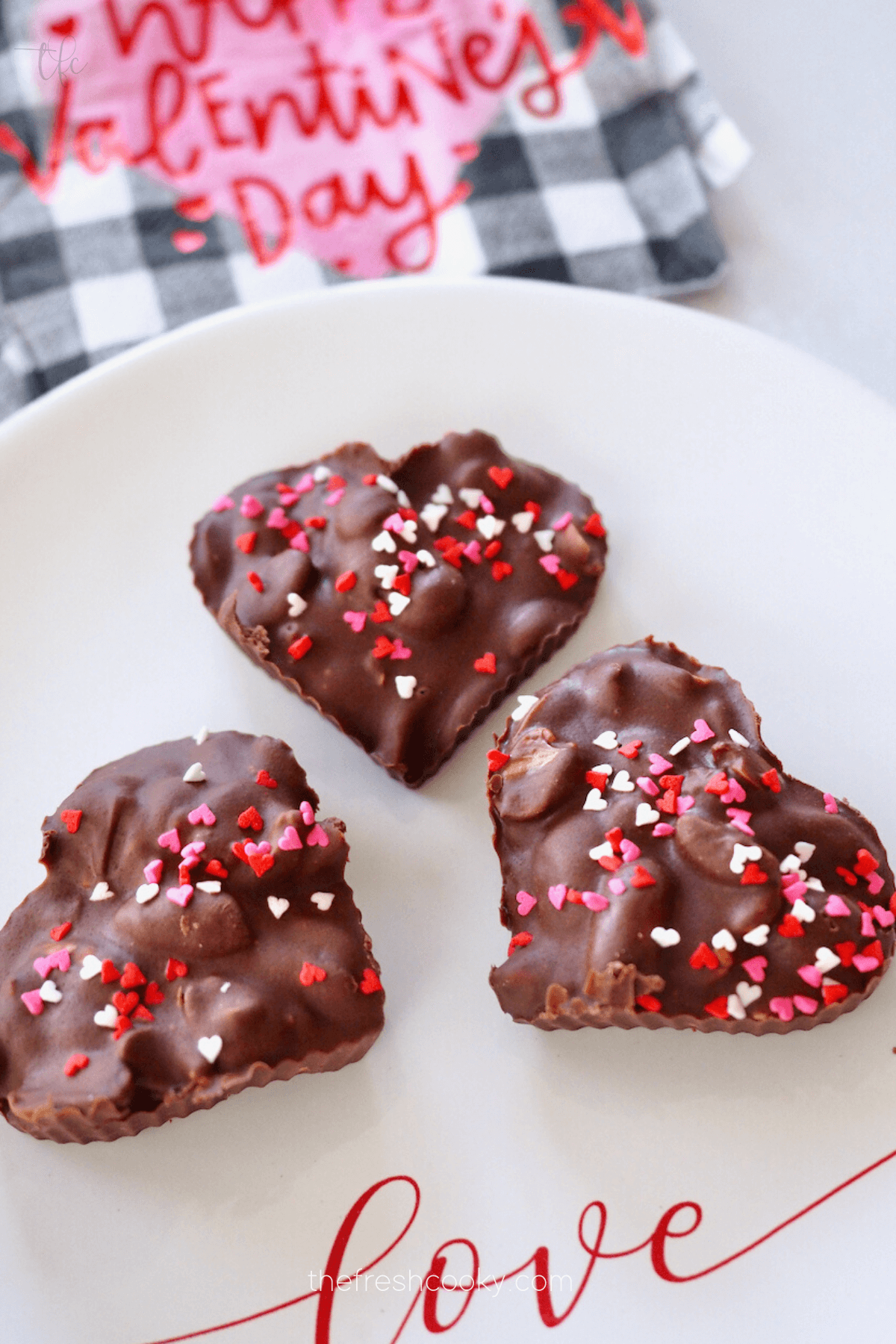 Frequently Asked Questions
Should crockpot peanut clusters be refrigerated?
No, these candies do not need to be kept in the fridge! I recommend storing them right on the counter in an airtight container for up to 2 weeks. Though you can quickly firm them up in the fridge.
What is the white coating on my crockpot chocolate peanut clusters?
We call that "chocolate bloom." It's totally harmless! It messes with the presentation a smidge, but the crockpot peanut clusters will be just as delicious.
What do I do if my chocolate won't melt?
Chocolate chips are basically engineered to keep their shape, so some brands have trouble melting. If this happens, add a tiny bit of coconut or vegetable oil and stir. Add small amounts at a time until you get a nice, smooth texture.
Can I make a half batch of easy crock pot peanut clusters?
Yes! Cut the ingredients in half and watch the time too, I recommend you stir every 10 minutes, until you have melted chocolate and a creamy texture.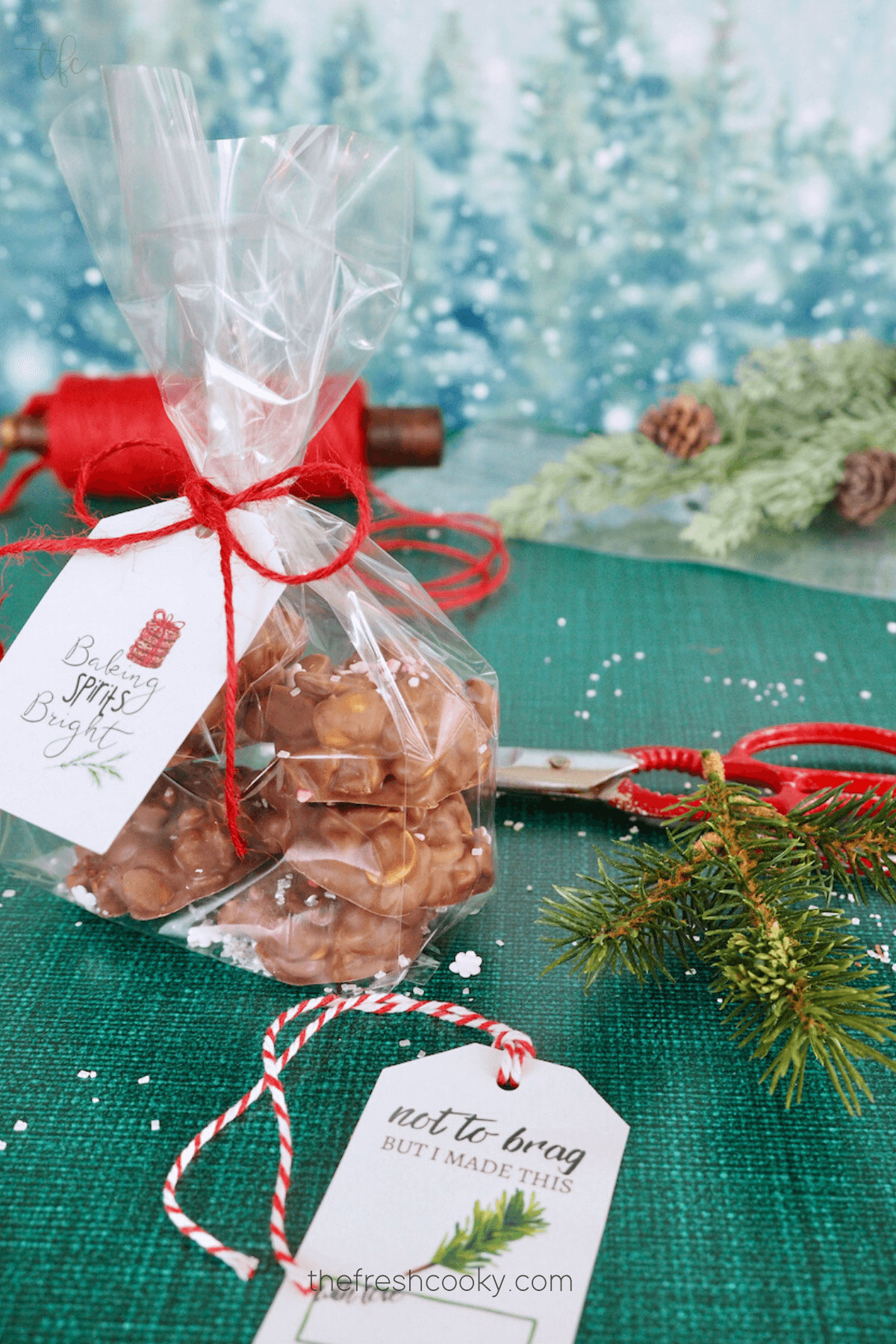 Storage
Store your chocolate peanut clusters in an airtight container, in a cool place for 2-3 weeks (yes, weeks!). Or keep in fridge, up to 1 month.
Can I freeze Slow Cooker Peanut Clusters?
If stored for longer, they may be frozen in an airtight container or baggie for up to 3-4 months. To thaw, set in the fridge for a few hours, then bring to room temperature. This will discourage condensation. But it's kind of hard to hurt these candies, so don't stress and enjoy your chocolate.
I hope you enjoyed this easy candy recipe! Be sure to pop down to the comments below!
It's Chocolate Week and this is my last recipe contribution this week! Starbucks White Hot Chocolate and Ferrero Rocher Ice Cream were my other new recipes! Check them out and all of the great recipes from other bloggers below!
More Chocolate Recipes
More Easy Slow Cooker Recipes
Love it? PIN it!
Like this recipe?
Don't forget to give it a ⭐️⭐️⭐️⭐️⭐️ star rating and comment below the recipe!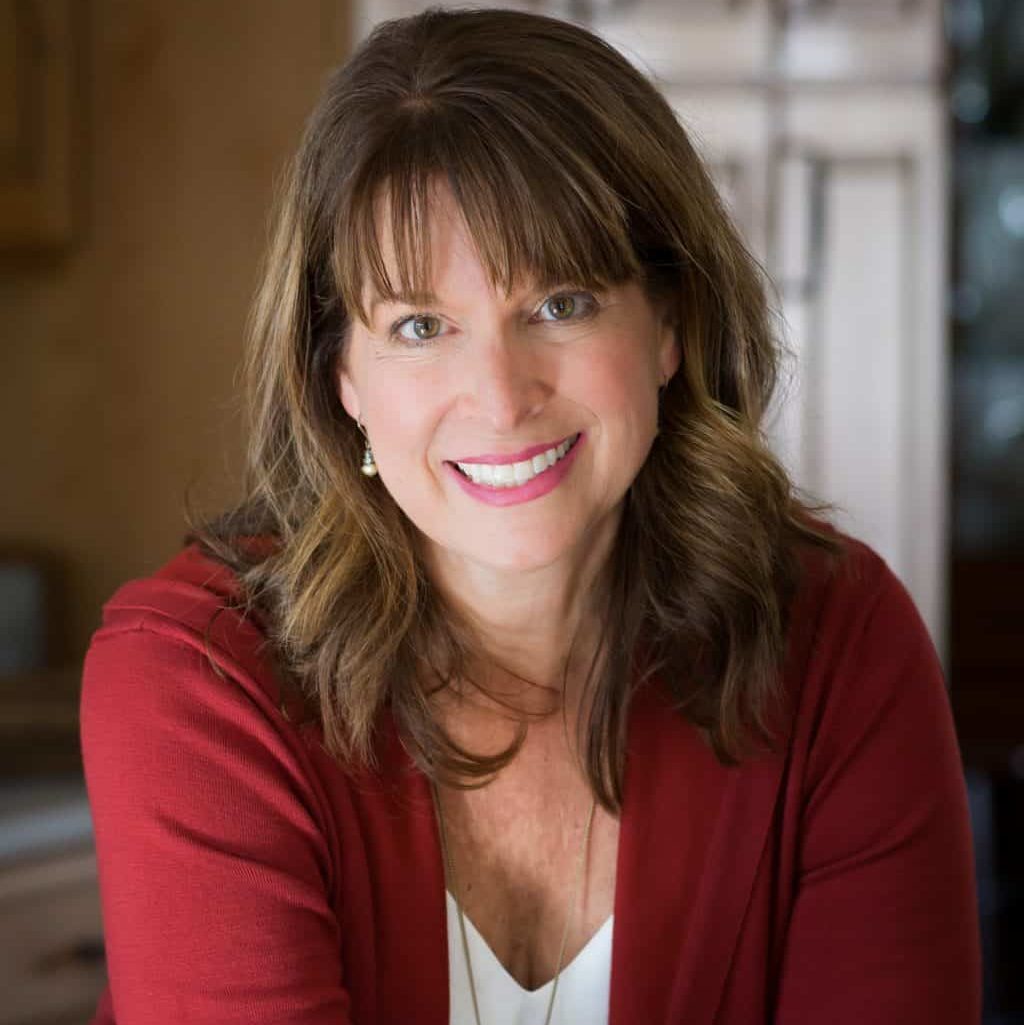 About Kathleen Pope
Recipe Innovator | Food Photographer | Food Writer
Hi, I'm Kathleen Pope. Here at The Fresh Cooky you will find easy, mostly from-scratch, trusted recipes for all occasions. From speedy dinners to tasty desserts, with easy step-by-step instructions. I am here to help teach you how to make mouthwatering recipes without spending hours in the kitchen. Read more about Kathleen here.