This is the Best Pizza Sauce recipe, and it is so easy! The tomatoes, oregano, and red pepper flakes make your taste buds sing. I even have a secret to cut the acidity of the tomatoes. After you try this homemade Pizza Sauce recipe, you'll want to keep it on hand!
If you're a pizza lover like me, try The Best Easy Calzones full of pepperoni, sausage, and cheese! Here's Penne alla Vodka—you're going to love the sweetness of the tomatoes. And if you're in the mood for chicken, try Easy Chicken Parmesan—ready in 30 minutes!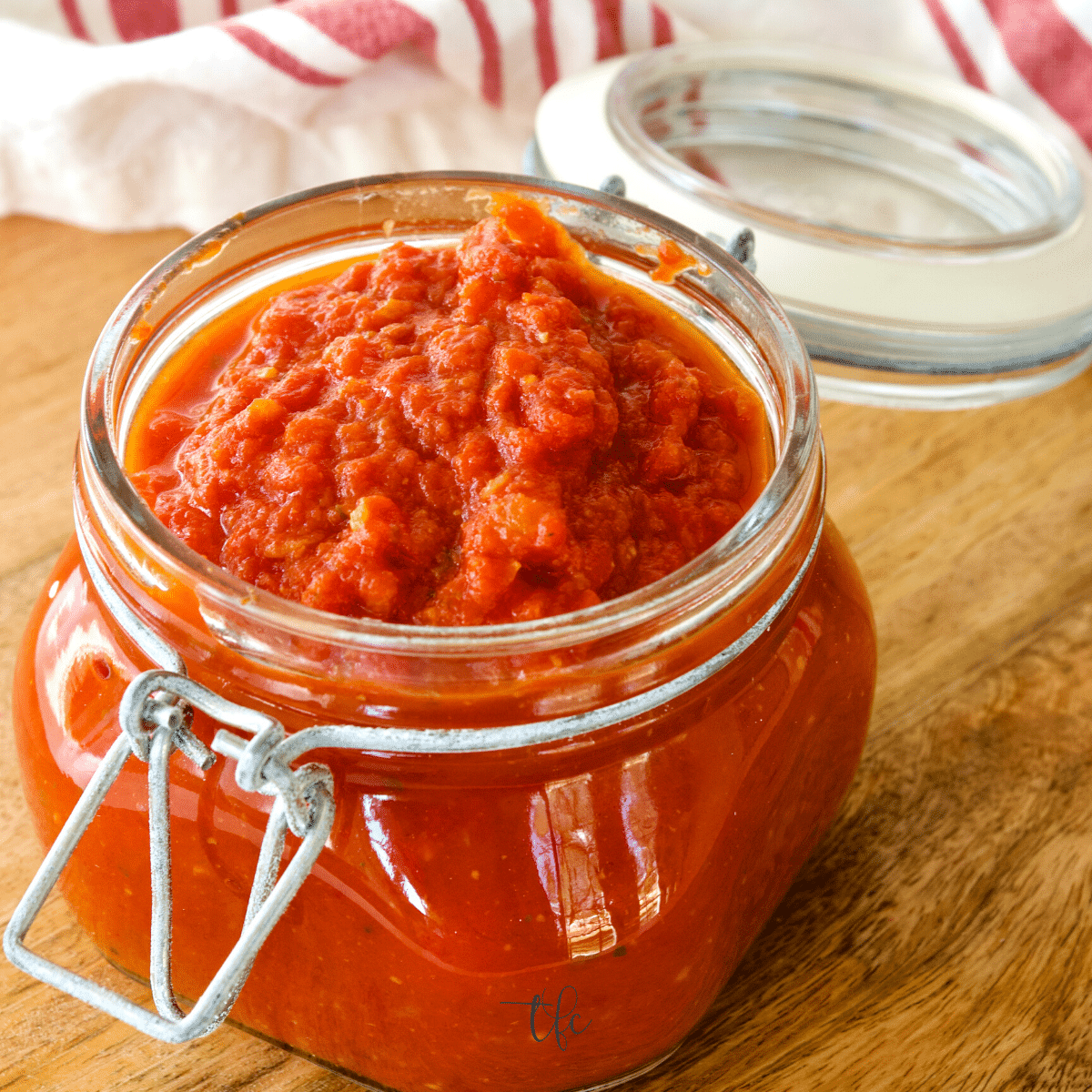 Pizza is a favorite and keeping extra homemade pizza sauce in the freezer, makes it extra simple to whip out whenever you have the craving. This easy Pizza Sauce is a winner for parties, family get-togethers, or even for a date night.
Primary Ingredients
It's easy to keep these delicious ingredients on hand for this simple recipe! Open the pantry, and you're practically done! Measurements in the recipe card at bottom of post.
Canned crushed tomatoes | Tomatoes are at the heart of this recipe. You will NOT want to use tomato paste, but pureed tomatoes, or whole canned will work. See notes in variations below and how to use fresh tomatoes.
Butter | regular or unsalted will do, but use the good stuff for the best pizza sauce ever!
Onion and garlic | No Italian dish is complete without onion and garlic. If you want to try something new, use leeks for their great onion flavor.
Seasoning | Salt, oregano, and red pepper flakes are my trio. But you can use basil with equally good results.
Sugar | That's right! This is the secret ingredient to cut the acidity of tomatoes, but it's purely optional. Both granulated or brown sugar work! It's just a touch!
Instructions
You can double this delicious recipe! And freeze the second batch for another day to save even more time.
Melt the butter in your saucepan over medium heat. I love the taste of real butter compared to margarine.
Add in the onion, oregano, salt, and optional red pepper flakes; stirring until golden. This only takes about 5 minutes.
Add in the garlic, and stir until fragrant! It only takes about 1-2 minutes! And your house is going to smell so delicious!
Add the tomatoes and optional sugar. I love to use Organic all-natural cane sugar.
Allow your sauce to simmer for about 30 minutes until the sauce reduces to about 2 ½ cups for a single batch. That's it! You've got your Best Pizza Sauce!
Variations
Spaghetti sauce | Most red tomato-based sauces will work as a variation, in a pinch. Here's Grandpa Frank's Spaghetti Sauce to use as an alternative for your pizza, however most pasta sauces are thinner and will result in a soggier pizza.
Pesto | Fresh pesto is another great option for your pizza! Try it with fresh tomatoes and mozzarella!
Whole San Marzano Tomatoes | If you only have whole tomatoes, go ahead and use them, use the same quantity and just whir near the end with your immersion blender.
Homemade Pizza Sauce with Fresh Tomatoes | Is your garden bursting with fresh plum or Roma tomatoes? These are the best to use in homemade pizza sauce and you can replace the canned tomatoes with about 2 lbs of fresh tomatoes. Simply rinse and simmer for at least 30 minutes before blending with an immersion blender, adjusting salt and spices as needed. Then simmer until reduced.
TFC Pro Tips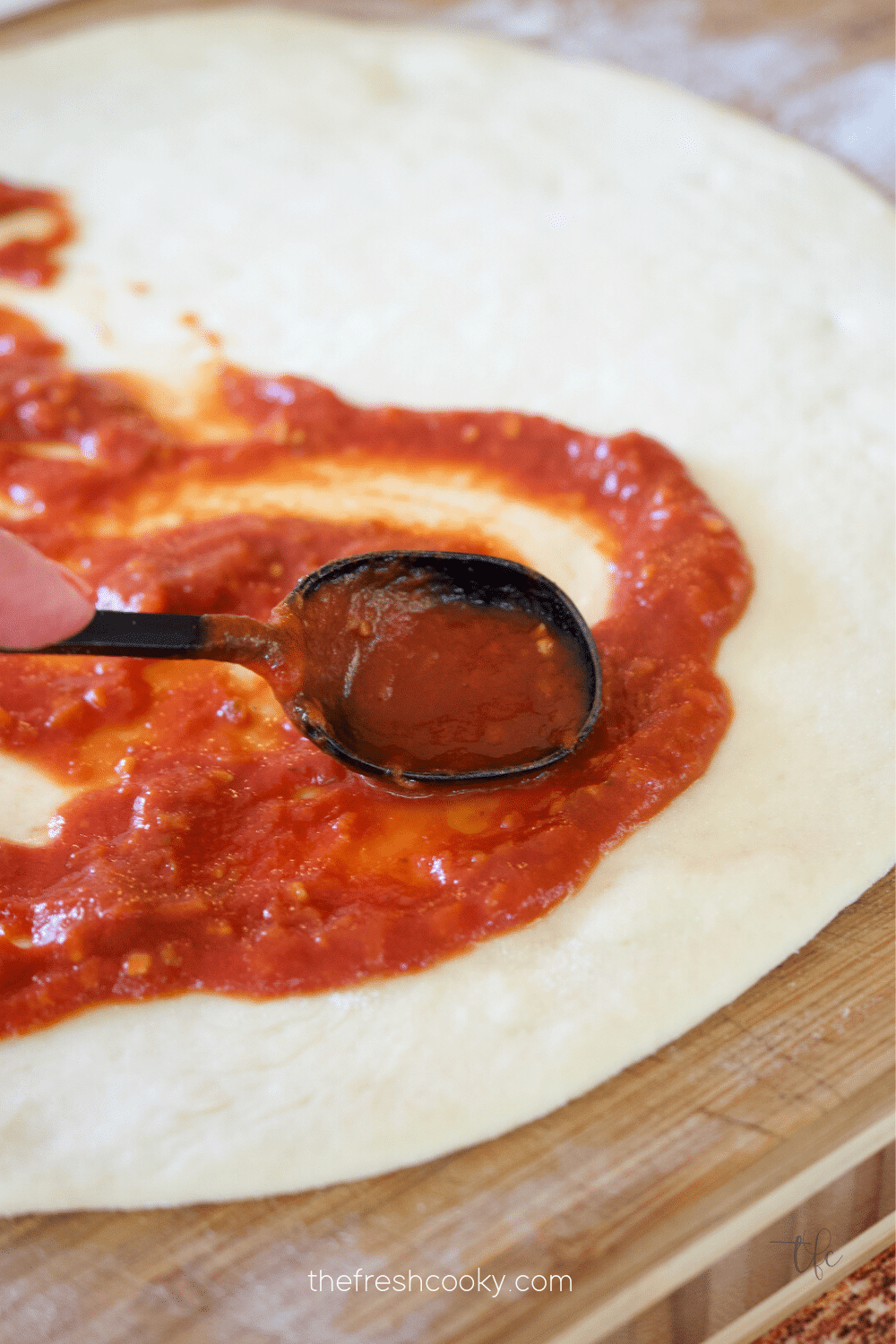 This recipe is adapted from Sally's Baking Addiction.
Frequently Asked Questions
How can I thicken my pizza sauce?
First, simmer it on your stovetop a little longer. If you still want to thicken it, you can add a small amount of starch like cornstarch, tapioca, or potato.
Are tomato sauce and pizza sauce the same thing?
Nope! Tomato sauce is missing herbs and simmering time to blend the flavors. Your pizza is going to be way more flavorful if you use my best pizza sauce recipe. Plus, you will have a more interesting flavor than a plain tomato sauce!
What can easy pizza sauce be used for?
Pizza sauce can be a dip for appetizers, relish for eggs, and can even be added to meatloaf and soup. It's so flexible, you'll find tons of places to use it!
Can I use pasta sauce for pizza?
I would not recommend it, marinara sauce is quite a bit thinner and will yield a soggier crust. Homemade pizza sauce is thicker, holds together and has incredible flavor and will not make the crust soggy.
Pizza Dough Recipe
Don't forget to get your homemade pizza dough going at the same time, it will take less time to ready this no rise pizza dough than it will to make the sauce and it's so worth it!
Crazy about homemade sauces?
Like this recipe?
Don't forget to give it a ⭐️⭐️⭐️⭐️⭐️star rating in the recipe below!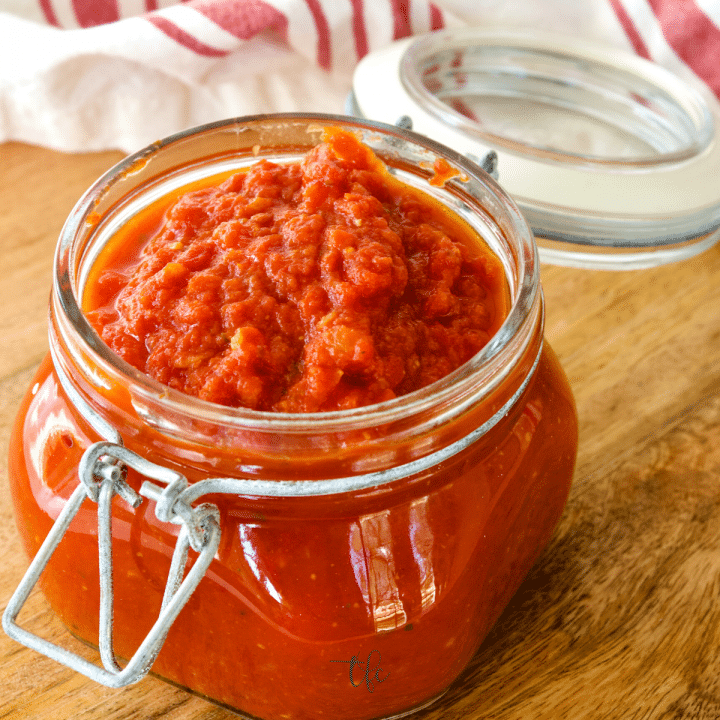 Yield:

2 ½ cups
Best Pizza Sauce
This is the Best Pizza Sauce recipe, and it is so easy! The tomatoes, oregano, and red pepper flakes make your taste buds sing. I even have a secret to cut the acidity of the tomatoes. After you try this homemade Pizza Sauce recipe, you'll want to keep it on hand!
Ingredients
2 TBL butter (regular or unsalted)
1 small onion, grated on a cheese grater (about ⅓ of a cup)
3 garlic cloves, minced
¾- 1 teaspoon kosher salt
1 teaspoon dried oregano
½ teaspoon crushed red pepper flakes (optional, but so good)
1-28 oz can crushed tomatoes*
¼ teaspoon granulated or brown sugar (optional)
Instructions
Melt butter in a medium saucepan over medium heat. Then add grated onion, oregano, salt, and red pepper flakes, stirring occasionally until lightly browned/golden, about 5 minutes. During the last 2 minutes, add minced garlic and stir until fragrant, about 1-2 minutes.
Add the tomatoes and sugar if using, stirring to combine. Reduce heat to simmer or low and allow to simmer until the sauce is thick, fragrant and rich in color, about 30 minutes. The sauce should reduce to about 2 ½ cups at this point, if it looks like more, continue simmering until it reduces further. Remove from heat and set aside until ready to use.
Spread on pizza crust and build pizza as desired. This pizza sauce works great on deep dish pizzas, thin crust, regular crust, even on french bread or store bought pizza crust. Note: allow to cool 15-20 minutes before using on thinner unbaked crusts, to avoid soggy crusts.
If not using sauce immediately, cool completely and store in airtight container or freezer baggie until ready to use. Refrigerated keeps 4-6 days, frozen up to 3 months.
Notes
*Pureed tomatoes will work as well, or I have also used whole San Marzano tomatoes and blended them for a minute in the blender. You may also use fresh plum or Roma tomatoes, about 2 lbs.
If using fresh tomatoes, add when you would add the canned tomatoes and simmer at least 30 minutes, then blend with immersion blender or in regular blender in batches (careful it's hot) until desired texture.
If a smooth sauce is desired, using an immersion blender or regular blender; blend until smooth or desired texture.
I like to double this recipe and freeze in 1-1 ½ cup portions for future pizza recipes. Cool sauce completely and place in freezer containers, be sure to mark your sauce so you don't have mystery tomato sauce.
This recipe is adapted from Sally's Baking Addiction .
Recommended Products
As an Amazon Associate and member of other affiliate programs, I earn from qualifying purchases.
Nutrition Information:
Yield:
18
Serving Size:
1
Amount Per Serving:
Calories:

28
Total Fat:

1g
Saturated Fat:

1g
Trans Fat:

0g
Unsaturated Fat:

0g
Cholesterol:

3mg
Sodium:

162mg
Carbohydrates:

4g
Fiber:

1g
Sugar:

2g
Protein:

1g
The nutritional information is estimated and may not be entirely accurate, at times it pulls information for suggestions and options which may increase calories, etc. Nutritional information will change based on used ingredients, quantities used, etc.
ABOUT KATHLEEN
I enjoy sharing easy recipes that are wholesome and delicious. I am fed by my faith, family, friends & food! Welcome to my kitchen! Read more...