As an Amazon Associate, I earn commissions from qualifying purchases (
disclosure policy
).
Easy calzones? You bet! These calzones are chock full of your favorite pizza ingredients like pepperoni, Italian sausage, ricotta and Mozzarella cheeses, pesto, and much more. A fun twist on pizza night, or lunch or snack!
If you love pizza, I can almost guarantee you will love calzones! It's just an inside out pizza really! I don't put the sauce inside, as it makes it soggy, but make plenty to use as dipping sauce!
Try my Grandpa Frank's Spaghetti Sauce for dipping and if you love dinners with red sauce, then try this Chicken Parmesan or Penne alla vodka! And if you are going for the gusto, make your own thick and chunky pizza sauce (great for dipping) and pizza dough!
Typically one package of pizza dough will make 3 small Calzone's or 2 large ones, if you want to make a large, family style calzone, use the whole thing like you would a pizza.
You can also make mini-snack size calzones, think of them as your personal pizza pockets! Reduce the fillings, making them the size of your hand instead.
One thing I love about calzone's is that they are totally customizable, alter the amounts and variety of the ingredients to each persons preferences.
Start out by having all of your toppings open and ready, because once you get your hands dirty, you don't want to try to open packages, get a spoon, etc. I know this, first (messy) hand!
Easy Calzone Filling Suggestions
Ricotta Cheese
Mozzarella, Parmesan or other Italian cheeses
Sun Dried Tomatoes
Pesto
Pepperoni
Italian Sausage (cooked)
Artichoke hearts
olives (black or green or kalamata)
fresh sliced onions or peppers
pepperoncini's
mushrooms
anchovies
make a barbecue chicken pizza
pineapple & Canadian bacon
You get the idea!
When I was pregnant with our second son, my husband had to work back east for about 12 weeks, so with a toddler in tow and pregnancy cravings in full gear, and to help the long days without my husband around, I would walk across the street to a little Italian place to buy dinner.
It wasn't fancy, you ordered at the counter and my toddler and I would sit share a calzone.
We'd sit and watch a baseball game on one of the TV's and have our dinner, it helped fill some lonely evenings, little blessings.
Every bite was a surprise, I loved them then and still love them now. They were so good, I don't think I'd put ricotta in mine up until then, that is a game changer in my book!
Our God was gracious; Brad found another job back here in Denver, with a a ⅔ pay cut (ouch) and arriving home just 4 weeks before our youngest was born!
To say that it was a tense season, would be an understatement, but we made it and are better for it.
How to Make Easy Calzones
Now would be a good time to preheat your oven to 400 degrees.
After you've allowed your dough to rest for about 20 minutes in the package on the counter, turn it out onto a generously floured surface.
I find it's easiest to just turn the bag inside out and let the dough plop on the surface.
Using a bench scraper or knife, cut the dough in half or thirds.
Then roll it out flat, not too thin, you don't want your ingredients oozing out onto the baking sheet. About the size of a small pizza, or slightly under the size of a dinner plate. You don't need to be precise.
On one half, spread on a little bit of pesto sauce (I like this in place of spreading some pizza sauce, as it doesn't get the dough too mushy). But don't worry, you'll still have red sauce, lots of it, hot and ready for dipping!
Then pile on your ingredients, I started with ricotta cheese, a few (blurry) dollops will do…
…then your meat choices if you are a meat eater. Here I've put Italian Sausage (pre-cooked) and Pepperoni…
Next place desired toppings; I put sun-dried tomatoes and caramelized peppers and onions.
Oh and don't forget the artichoke hearts (they are peeking out under the cheese)…next add a handful of shredded mozzarella cheese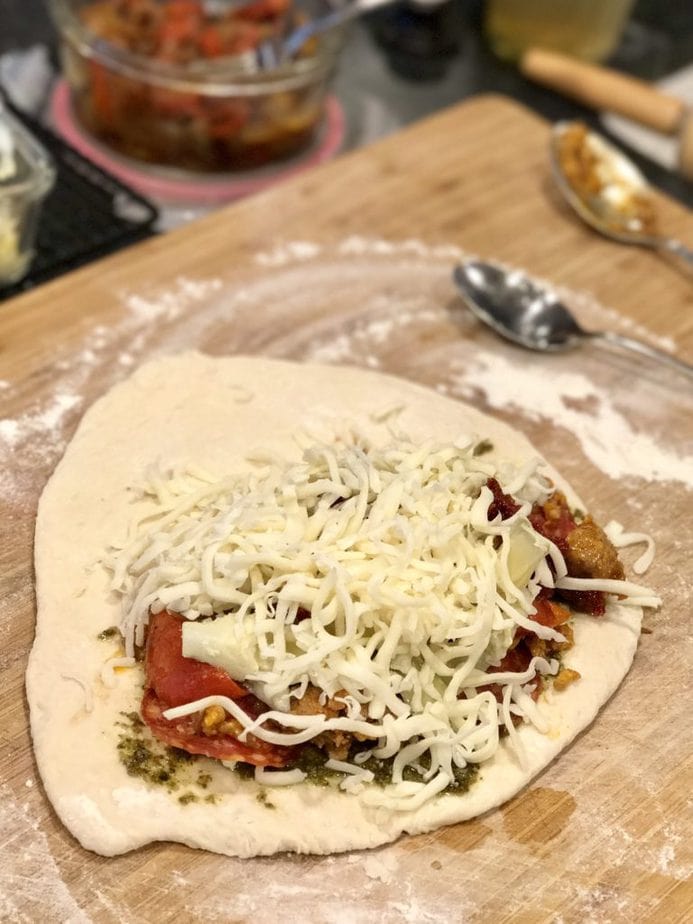 Then fold the top over, pushing, stretching, maneuvering all of your toppings to stay in your dough pocket you have created. It stretches further than you'd think.
Crimp and pinch the sides and edges together, to make a good and full seal. If needed, using a little water on your fingers, rub on one edge of the dough, helping them to seal together.
Then using a sharp knife, cut 3-4 slits into the top, to allow for venting during baking.
Transfer to a baking sheet lined with parchment paper.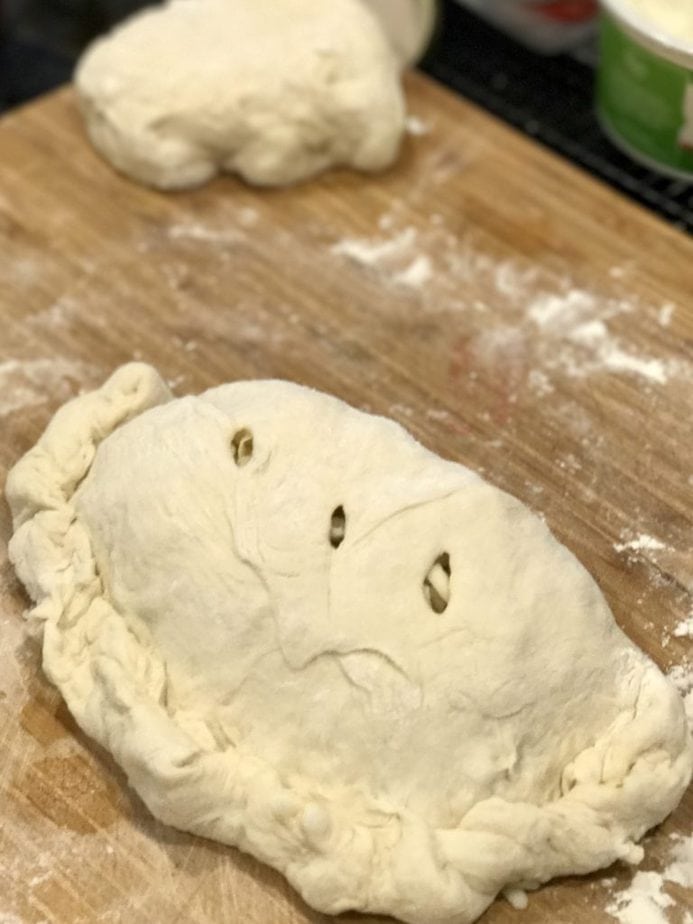 How do I made my Easy Calzones Glossy on Top?
If a glossy finish is desired, brush with a beaten egg and bake as directed.
I used olive oil for mine, for the more rustic look, sprinkle with a little flaky sea salt.
Place calzone's on a parchment lined baking sheet, this comes in handy if you are making customized calzone's, as you can write on the parchment whose calzone belongs to whom.
Repeat above steps until you have finished all of your calzone making.
You can fit about 4 on a large cookie sheet, but try to give them a little space between, they will rise slightly with baking.
Bake at 400° for 10-20 minutes, depends a lot upon the thickness of the dough, the amount of toppings. They should be bubbly and nicely browned.
Best Calzone Dipping Sauce
Meanwhile, heat up your favorite marinara or spaghetti sauce. Homemade is fabulous and my Grandpa Frank's Famous Spaghetti sauce recipe is linked at the top, a jar of marinara sauce will work just fine!
Watch them after about 15 minutes if they have risen and are nicely browned and you see a little cheese or something bubbling out of one of the sides, they are done.
Frequently Asked Questions
What is the difference between Calzone and Stromboli?
The major difference between a calzone and a stromboli is how they are sealed. If you wanted a very straightford comparison, here you go: a calzone is like a taco, and a stromboli is like a burrito. Tacos and calzones are always folded. Burritos and stromboli are always rolled. You seal a calzone by folding it in half and crimping the edges. You seal a stromboli by rolling it in a spiral and folding some extra dough back over the stromboli. Both get an egg wash to make sure the dough stays out. (Source)
Can I freeze calzones?
Yes! Allow to cool completely, then wrap in parchment paper sealing in a freezer baggie. It's best to undercook slightly removing them at about 12 minutes, then simply reheat from frozen in a 350 degree oven for 15-25 minutes until bubble.
Un-cooked calzones may also be frozen — flash freeze on parchment paper for 30 minutes, then wrap tightly in plastic wrap, place in freezer baggie. Bake from frozen in a preheated 400 degree oven for 20-25 minutes, if they get too brown, place a piece of foil over the top.
If you enjoyed this easy calzone recipe, give these other recipes a try!
Like this recipe?
Don't forget to give it a ⭐️⭐️⭐️⭐️⭐️ star rating and leave a comment below the recipe!
Easy Calzone's
Crispy pocket pizza's, filled with all the best pizza toppings, customized to your taste. Calzones are a wonderful, filling anytime meal. Perfect for an easy weeknight dinner, an alternative to pizza night or just for snacking!
Click stars to rate now!
Print
Pin
Save
Saved!
Rate
Ingredients
2

packages ready made Pizza Dough

or make your own
SUGGESTED FILLINGS
Pesto Sauce

Ricotta Cheese

Italian Sausage

Pepperoni

Artichoke Hearts

brined or marinated

Caramelized Onions and Peppers

Sun-Dried Tomatoes

Mozzarella Cheese

shredded

Pepperoncini

Sliced Olives

green or black

Mushrooms

Canadian Bacon and Pineapple

Chicken and Barbecue sauce

Any topping you'd like to put on a pizza

Olive Oil or Egg wash for brushing

optional

Sea Salt
Instructions
Allow pizza dough to sit on counter in package for 30 minutes

On a generously floured surface turn out dough and using bench scraper, cut into 2 or 3 even sections.

Roll out one section at a time, to small pizza sized shape (slightly smaller than a dinner plate).

On one half place spoon a little pesto and spread up, leaving ¾ inch to edge

Place 2-3 dollops of ricotta cheese on top of the pesto (using a tablespoon)

Then place the rest of desired toppings on top, finishing with a generous handful of shredded of mozzarella cheese

Fold the unfilled half over the fillings, stretching the dough so that you form a half moon.

Pinch edges together, if necessary, rub a bit of water between the seams and then pinch together, securing a good seal.

Gently move calzone's onto a parchment paper lined baking sheet, if desired, write names on parchment for each calzone.

Using a sharp knife, slice 3 little slits in the top for venting.

Repeat steps until finished with dough, each baking sheet can hold about 4 smaller sized calzone's.

Brush tops with olive oil and sprinkle with a little kosher sea salt. Or if glossy finish is desired, beat an egg and brush on top of calzone, sprinkle with a little kosher sea salt.

Bake one at a time at 400 degrees for 15-20 minutes, until browned and bubbly.

If freezing, allow calzone to cool completely (slightly undercook at 12-15 minutes) before wrapping in parchment or wax paper.

Wrap tightly in parchment or wax paper, place in freezer ziplock baggie, squeeze out all air and freeze.

Heating instructions for frozen calzone's, 400 degrees for 15-20 minutes. Slightly longer if cooking from frozen.
Notes
Easy Calzones may also be frozen prior to cooking. Flash freeze on baking sheet (parchment lined helps) for 30 minutes, then wrap well in plastic wrap and place in freezer baggie. Bake at 400 degrees from frozen for 25-35 minutes, covering with foil if getting too brown.
Nutrition
Serving:
1
1 serving
|
Calories:
335
kcal
|
Carbohydrates:
24
g
|
Protein:
14
g
|
Fat:
21
g
|
Saturated Fat:
7
g
|
Polyunsaturated Fat:
13
g
|
Cholesterol:
63
mg
|
Sodium:
786
mg
|
Fiber:
2
g
|
Sugar:
4
g