Giant Cheese Stuffed Shells Recipe (Olive Garden)
As an Amazon Associate, I earn from qualifying purchases. Please read my disclosure policy.
A Giant Cheese Stuffed Shells Recipe filled with a delicious mix of Italian cheeses, nestled in marinara sauce and topped with creamy Alfredo with an optional crunchy breadcrumb topping! A copycat Olive Garden stuffed shells recipe.
A perfect vegetarian copycat recipe of Olive Garden's giant cheese stuffed shells, one of their most popular pasta dishes and one that will become a favorite for your busy weeknights too.
I enjoy giving precise details in my recipe posts to lead my readers through any questions. If you're just here for the printable recipe, feel free to click "Jump to Recipe" right under the title of this post, and you'll head straight there!
What are Giant Cheese Stuffed Shells?
Giant stuffed shells are a popular Italian-American dish, similar to manicotti or cannelloni, made by filling large pasta shells (called conchiglie) with a mixture of ingredients, typically cheese, meat, and vegetables.
Enjoy stuffed shells as a main course or a side dish at family gatherings and celebrations. When prepared in advance and baked just before serving, it makes a convenient and delicious option for entertaining guests.
I grew up making jumbo stuffed shells with my family and figured it was high time I posted our fantastic and easy recipe. And since so many love the Olive Garden version, I also wanted to provide tips for making this copycat recipe. But have no fear; this is a traditional stuffed shell recipe using authentic Italian ingredients; you will love them!
Tips for Two
This Olive Garden stuffed shells recipe makes about eight servings. Cut the recipe in half, or simply make the whole thing, and divide. I'll show you how later in the post, freeze the stuffed shells individually, or in the sauce, then they are ready when you are!
Simple Ingredients
Ingredients, directions and nutritional information in the printable recipe card at the end of the post.
Pasta shells | This recipe requires about 24 jumbo pasta shells or around 16 giant pasta shells. And yes, there are two sizes of jumbo, I could not find super jumbo shells for the life of me, everywhere I went they were out. As long as they are large, you should be fine!
Marinara sauce | Make an easy homemade marinara sauce or use a good quality store-bought Marinara.
Ricotta cheese | I used thick whole milk Ricotta cheese! If using low-fat ricotta, dump cheese into a fine mesh strainer placed over a bowl, and let it strain while you prep the rest of the ingredients.
Parmesan cheese | Freshly grated parmesan cheese is best. Don't use the green can or jar of parmesan. A grated block of parmesan cheese will melt and mix into the rest of the cheese much better than pre-grated.
Mozzarella | Again, it's best to freshly shred the mozzarella cheese to make a smooth, melty, and cheesy filling.
Provolone cheese | Add freshly grated provolone cheese or smoked mozzarella to the cheese mixture for a more distinct flavor. If desired, you may replace all the individual cheeses with a few handfuls of shredded Italian cheese blend.
Egg | Adding an egg to the cheese filling helps bind the cheeses together and bakes into an almost fluffy texture.
Garlic | Minced garlic cloves are an optional addition.
Fresh herbs | Add refreshing and earthy notes to the shell filling by incorporating chopped fresh basil leaves and parsley. If preferred, you may use a pinch of dried basil and a couple of spoonfuls of dried parsley.
Optional Olive Garden Stuffed Shell Toppings
For that authentic Olive Garden-style stuffed shells dish, add the buttery breadcrumb topping and creamy Alfredo sauce.
Bread Crumb Topping Ingredients
Breadcrumbs & Butter | Italian seasoned breadcrumbs, you may also mix plain breadcrumbs or Panko, tossing in 1 teaspoon of Italian seasoning.
Homemade Alfredo Sauce Ingredients
Make the complete recipe for my Alfredo sauce and freeze it for another meal – cook once, eat twice!
Butter, heavy whipping cream, Garlic, Parmesan cheese, Nutmeg, Salt and Pepper are the ingredients you will need to make your own creamy Alfredo sauce.
How to Make Olive Garden Giant Cheese Stuffed Shells
Step 1 | Preheat and cook pasta
Start by preheating the oven to 375°F/190°C so it's ready for the jumbo cheese stuffed shells Olive Garden style.
Next, cook the pasta shells. Take out a large pot and add cold water and about two tablespoons (yes, tablespoons) of kosher salt. Once rapidly boiling, carefully add the box of pasta and cook according to the package directions, al dente. Remember to stir frequently, so the pasta doesn't stick.
Reserve 1/2 cup of pasta water to thin your sauces if needed when the pasta is fully cooked. Then, drain the shells into a large strainer. If not using shells right away, after draining, return shells to the pan, covering shells in lukewarm or cool water to the pot of shells to keep them from sticking.
If not using shells right away, after draining, return shells to the pan, covering shells in lukewarm or cool water to keep them from sticking.
You do not need to heat the jarred sauce; it might take an extra minute or two in the oven.
Step 2 | Make the cheese filling
Take out a large bowl, crack one egg into the bowl, and lightly beat. Next, add ricotta cheese, mozzarella, provolone, parmesan cheese, salt, pepper, garlic (if using), chopped basil, and parsley. Mix the filling ingredients until thoroughly combined.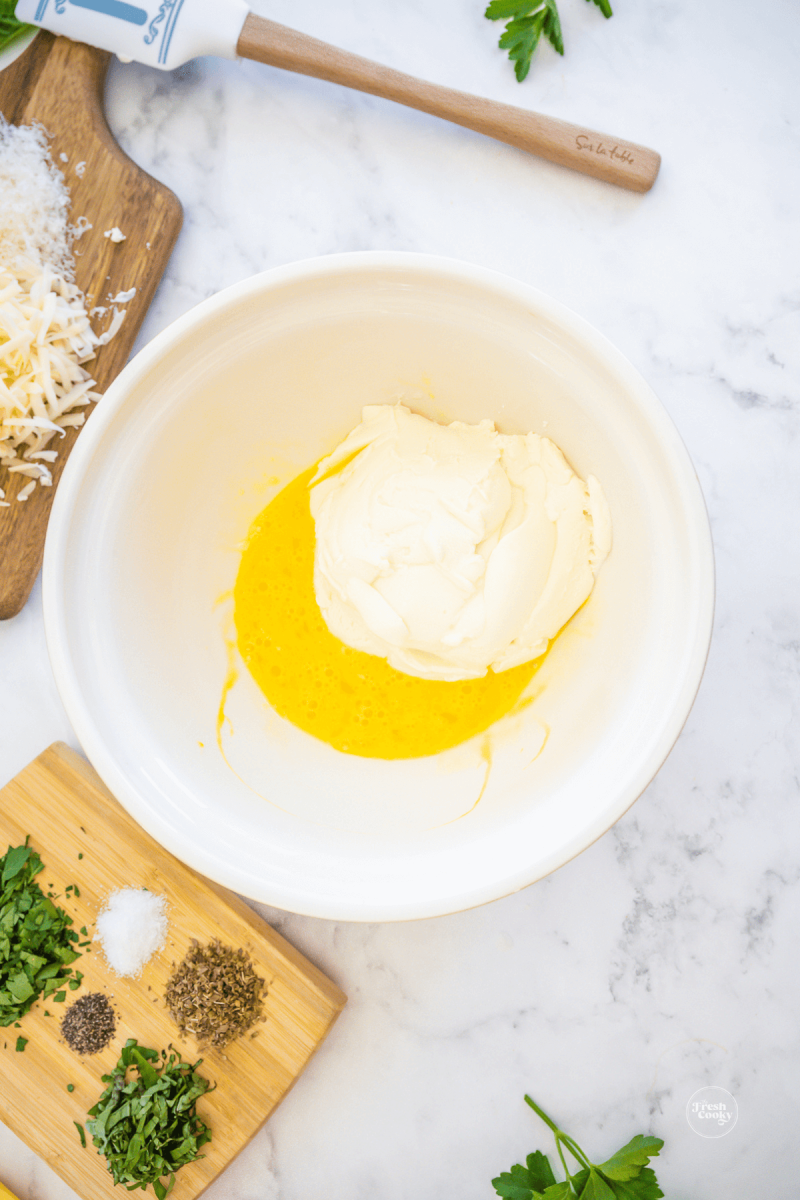 Step 3 | Stuff and bake the shells
Very gently, grab one cooked shell and hold it in the palm of your hand. If you cooked them al dente, they should only break on you if you overstuff them. Use a tablespoon or a small cookie scoop to stuff the shell carefully. Then, set the shell on a cookie sheet and continue until all the shells are filled with the cheese and herb mixture.
Next, pour about two or three cups of marinara sauce into the bottom of the 9×13-inch casserole dish (or split between dishes if you are dividing and freezing). If you like extra saucy stuffed shells, use more marinara sauce. Or use the remaining sauce to add when serving the shells. Then, carefully nestle the stuffed shells into the sauce in a single layer and sprinkle them with the remaining cheese.
Cover the oven-safe dish with oil-sprayed foil and bake for 30-40 minutes until the shells are hot and bubbly! Then, broil for a couple more minutes for golden cheese—YUM!
Step 4 | Make the Alfredo Sauce
While your giant cheese stuffed shells bake, make your creamy Alfredo if using.
Add butter to a medium skillet or medium saucepan over medium-low heat. Once melted, toss the garlic in, constantly stirring until it's fragrant. If you use garlic powder rather than fresh garlic cloves, just melt the butter and move to the next step, adding the garlic powder later.
Next, add the heavy cream to the garlic-butter mixture. Stir or whisk to combine the ingredients and bring to a low simmer, not a boil. Then, reduce heat to low and stir in the nutmeg, salt, pepper, and garlic powder if you're not using fresh garlic.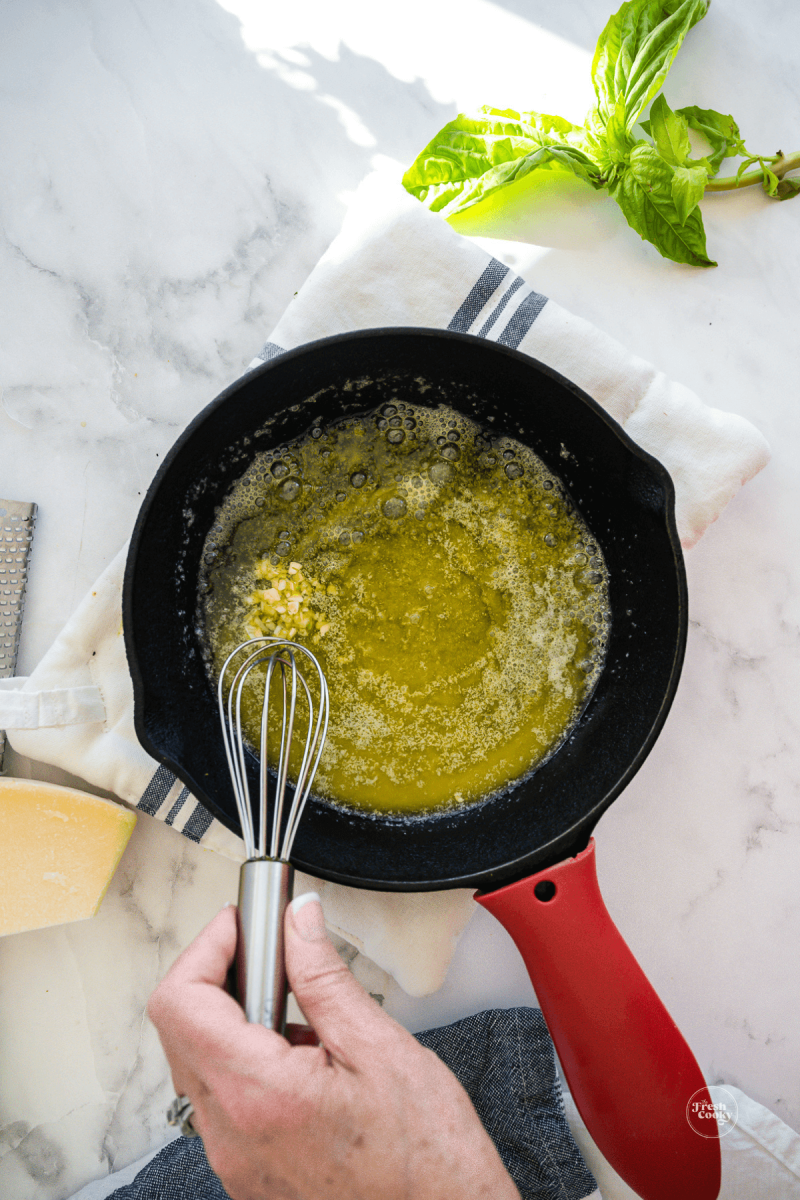 Then, sprinkle on the freshly grated parmesan cheese and stir into the cream mixture until smooth.
Finally, garnish your from-scratch Alfredo sauce with chopped parsley. Remember to taste the creamy sauce and make any adjustments, like stirring in more salt.
Step 5 | Make toasted breadcrumbs (optional)
The Alfredo sauce and crunchy breadcrumbs are Olive Garden's signature touch, taking this easy stuffed shells recipe to the next level.
Place a small skillet over medium heat, adding a tablespoon of butter. Next, add the seasoned breadcrumbs, stirring to coat with butter thoroughly. Continue stirring occasionally and watch the bread crumbs turn to a golden brown. Keep a close eye on the toasting breadcrumbs, or they may burn quickly! Remove from heat until ready to use.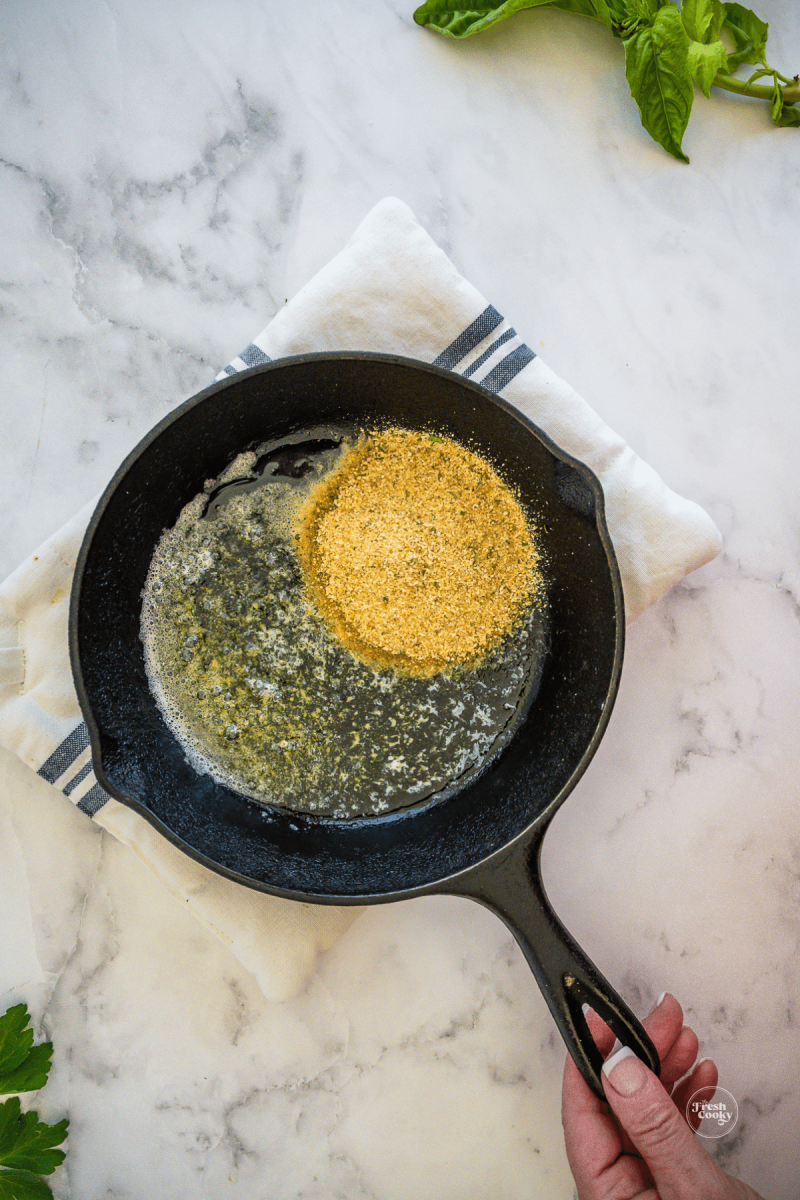 Step 6 | Serve
Remove the baked shells in the marinara sauce from the oven, drizzle them with a little Alfredo sauce, sprinkle on the seasoned breadcrumbs, and add a pinch of chopped fresh parsley—That's it! Now, you can enjoy your favorite restaurant meal, made entirely in your own kitchen!
Pro Tips
You can use a quality store-bought Alfredo sauce if you like. However, Alfredo sauce takes minutes to make, and it's SO worth it!
If preferred, serve Alfredo sauce and breadcrumbs on the side, allowing guests to drizzle as desired.
Because it is common for pasta shells to break or tear as they bake or when you stuff them, I always suggest you cook 6-8 more than you need.
If not using shells immediately, add lukewarm water to the pot of shells (after draining) to keep them from sticking.
If you're a fan of Olive Garden, try my other Olive Garden copycats, Crock Pot Chicken (4-ingredients) and creamy Steak Alfredo (fancy looking, but easy).
And a few more popular copycat recipes, my Panera Orange Scones, Crumbl Chocolate Chip Cookies, and this Cracker Barrel Hashbrown Casserole – see all Copycat Recipes.
Variations & Substitutions
Gluten-Free Stuffed Shells: the sauces and fillings are gluten-free, substitute with your favorite gluten-free giant shells, or use GF lasagna noodles instead and layer.
Stuffed Shells with Meat: To make this dish more like a complete meal, add some meat, like cooked bulk Italian sausage, ground beef, pork, or chicken. Just mix the well-chopped, browned meat into the ricotta mixture before stuffing the shells. It would also be great with my Sausage and Peppers on the side.
Add even more flavor and sprinkle a spoonful of pesto over the top of the shells.
Add veggies | You can add fresh baby spinach, sauted peppers, onions, zucchini, and more to the cheese mixture if desired.
Substitute the marinara with a cup of spaghetti sauce instead, use a quality spaghetti sauce, or make my Italian pasta sauce.
Stuffed Shells with Vodka Sauce: YUM! Make my Vodka Sauce and substitute for the marinara and Alfredo sauce.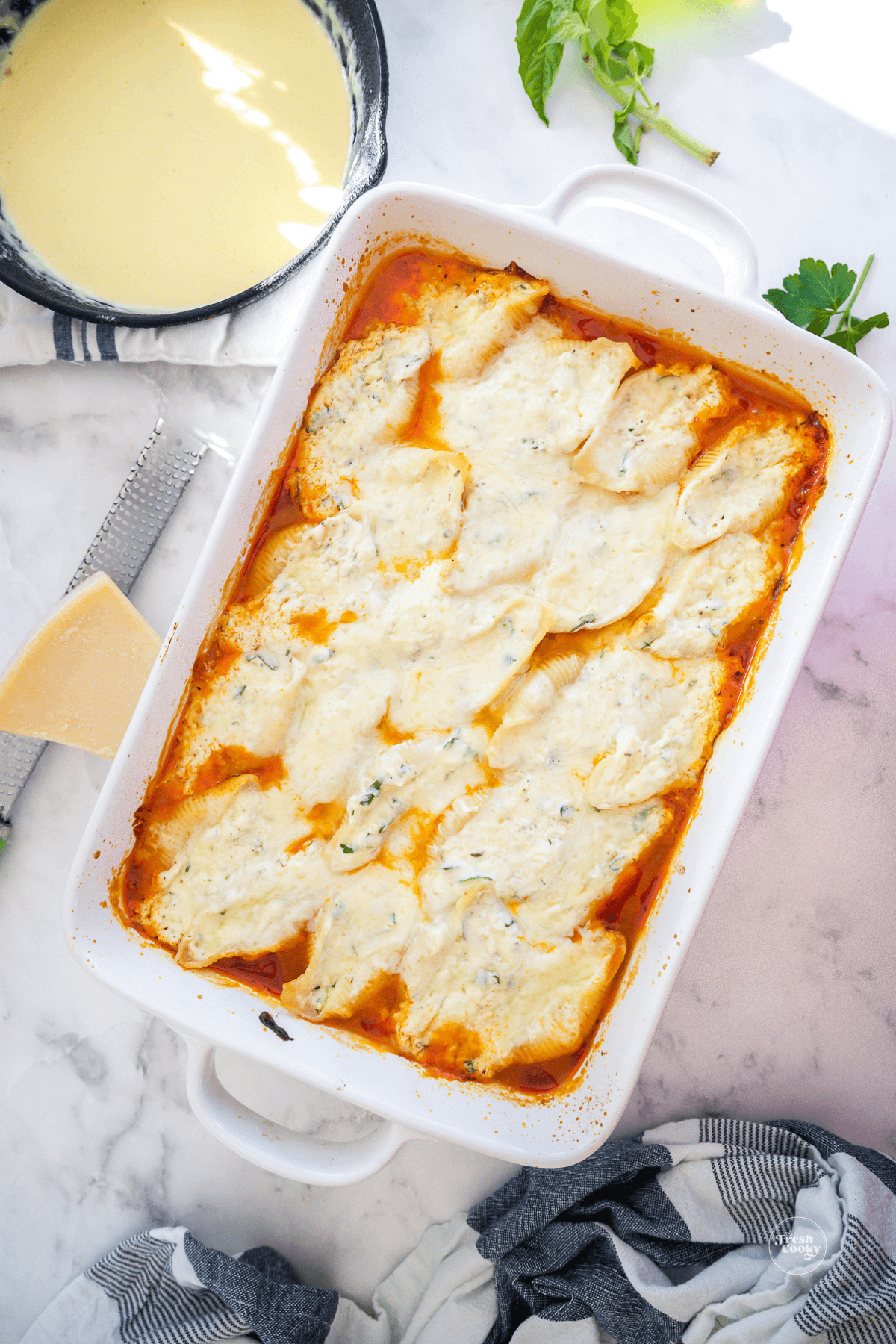 Shop this Post

Make Ahead Jumbo Cheese Stuffed Shells
Refrigerate | Assemble the entire recipe, ensuring all ingredients are cooled before, covering tightly with aluminum foil and placing in the fridge for up to 2 days. Bake as directed, adding 5-10 minutes, and be sure your pan can go from fridge to oven. I recommend removing the casserole dish from the fridge while preheating the oven.
Freezer | Assemble the recipe as directed; cool completely. Then, seal the baking dish tightly with a sheet of aluminum foil and freeze. It also helps to label the top with a permanent marker, baking temp, and time so you remember what it is. Please take a look at the tips below for baking from frozen.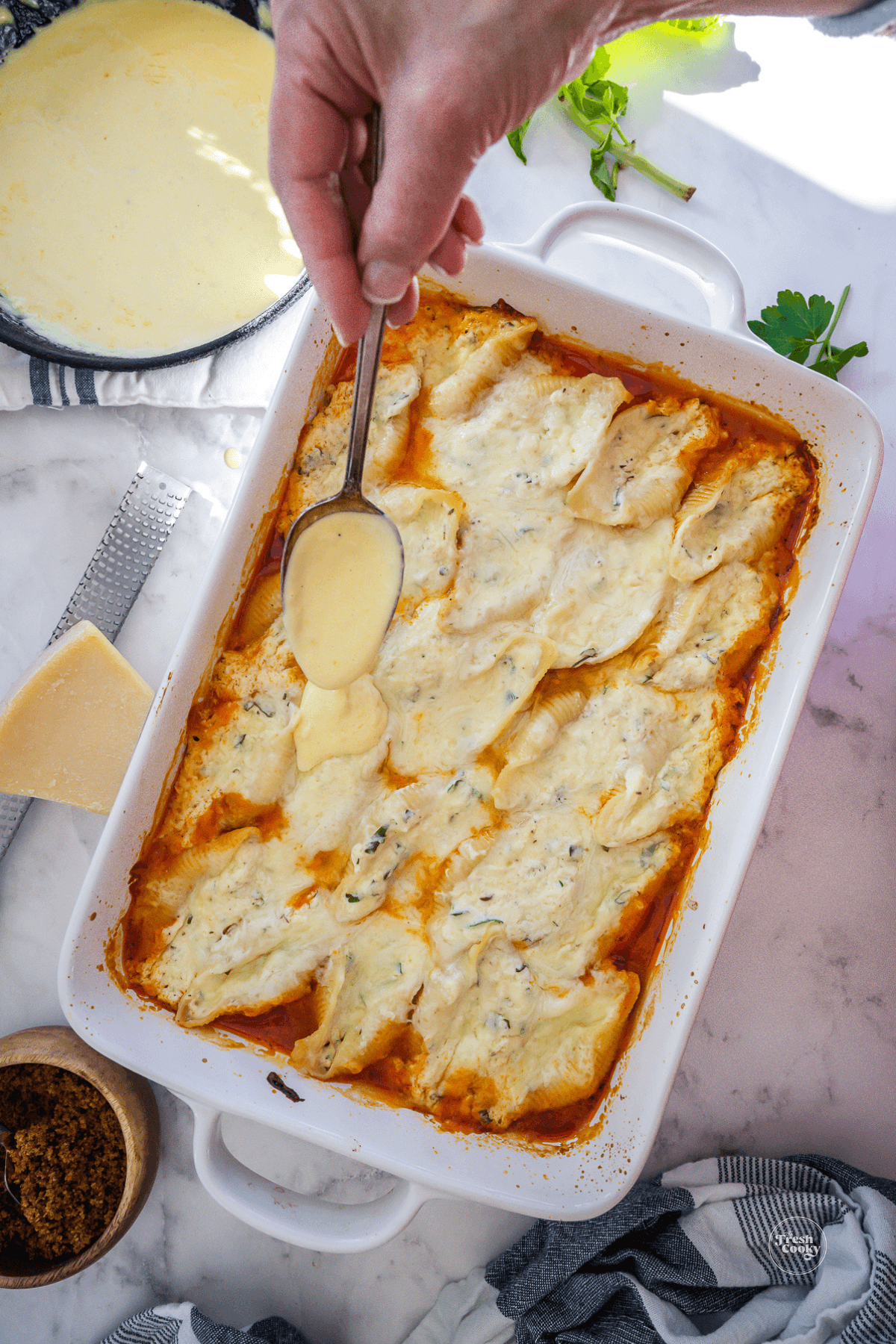 Storage Tips
Refrigerate Leftovers: First, allow the shells to cool completely before storing them in the refrigerator. Then, wrap them in plastic wrap, with aluminum foil, or in an airtight container and store them in the fridge for up to five days!
How to Reheat Stuffed Shells: Reheat the covered shells in a preheated 300°F/149°C oven for 15-20 minutes. You may also use the microwave to warm them or set the air fryer to 300 degrees and bake them for about 10 minutes.
Microwave Pro Tip
When reheating in the microwave, I recommend sprinkling a tablespoon of water over the top and covering it with a microwave cover or a paper towel.
Can you freeze stuffed shells?
Yes! I do this all the time for our small family. Two easy methods will help you freeze this dish the best.
Place unbaked stuffed shells on a parchment-lined cookie sheet and flash-freeze them for around an hour. Then, transfer the frozen shells to an airtight baggie or container and keep them in the freezer for up to 2 months.
Or you can assemble the recipe with the marinara sauce and shells, sprinkling on some mozzarella cheese. Then, seal the baking dish tightly with a sheet of aluminum foil and freeze. It also helps to label the top with a permanent marker, baking temp, and time so you remember what it is. Make sure your sauce is cooled before freezing.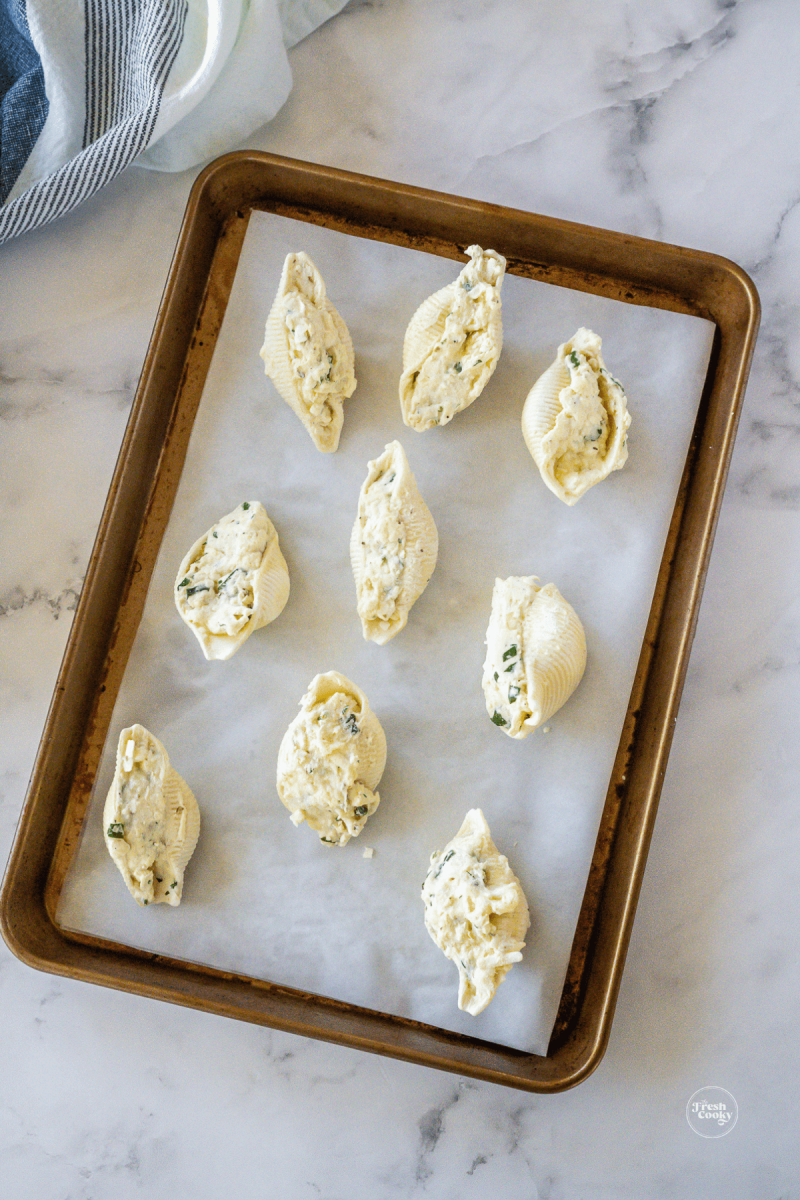 How to Cook Stuffed Shells from Frozen
These directions work for Costco stuffed shells, frozen Olive Garden Stuffed Shells, or any other frozen stuffed shells you might have.
For either freezing method, preheat the oven to 350°F/176°C. While it preheats, remove shells from the freezer and place them in an oven-safe baking dish if not already in one. If you haven't added marinara, do that now and nestle the frozen shells on top, sprinkling with a bit of mozzarella cheese if desired.
Next, cover the dish with aluminum foil and slip the frozen shells into the oven. Use an oven-safe container to transfer from the freezer to the hot oven. Then, cook them for 40-60 minutes until the top is hot and bubbling!
Frequently Asked Questions
Can I bake it in a glass casserole dish?
Yes, and it's a beautiful presentation. Just be careful if you plan to broil to brown the cheese on top; most glass casseroles are only safe to 475°F/246°C, so instead of broiling, remove foil and bake for 3-5 minutes at 475°.
Where can I buy jumbo shell pasta?
They are common, usually in your grocery store on the pasta aisle.
Why are my stuffed shells watery?
Be sure to drain the cooked jumbo shells well in a colander, giving the strainer a few shakes to get the water out.
Why are my stuffed shells hard?
They needed to be cooked longer; follow the instructions on your package and cook to al dente the next time you make the recipe.
What is Al Dente?
Al dente, directly translated from Italian, means "to the tooth." Simply put, the pasta should still be firm when bitten.
What sides go well with Olive Garden Stuffed Shells Recipe
Rich and cheesy, stuffed shells are pretty much a meal in themselves, however; here are a few ideas to serve alongside this Italian classic. Check out all of my easy side dishes here.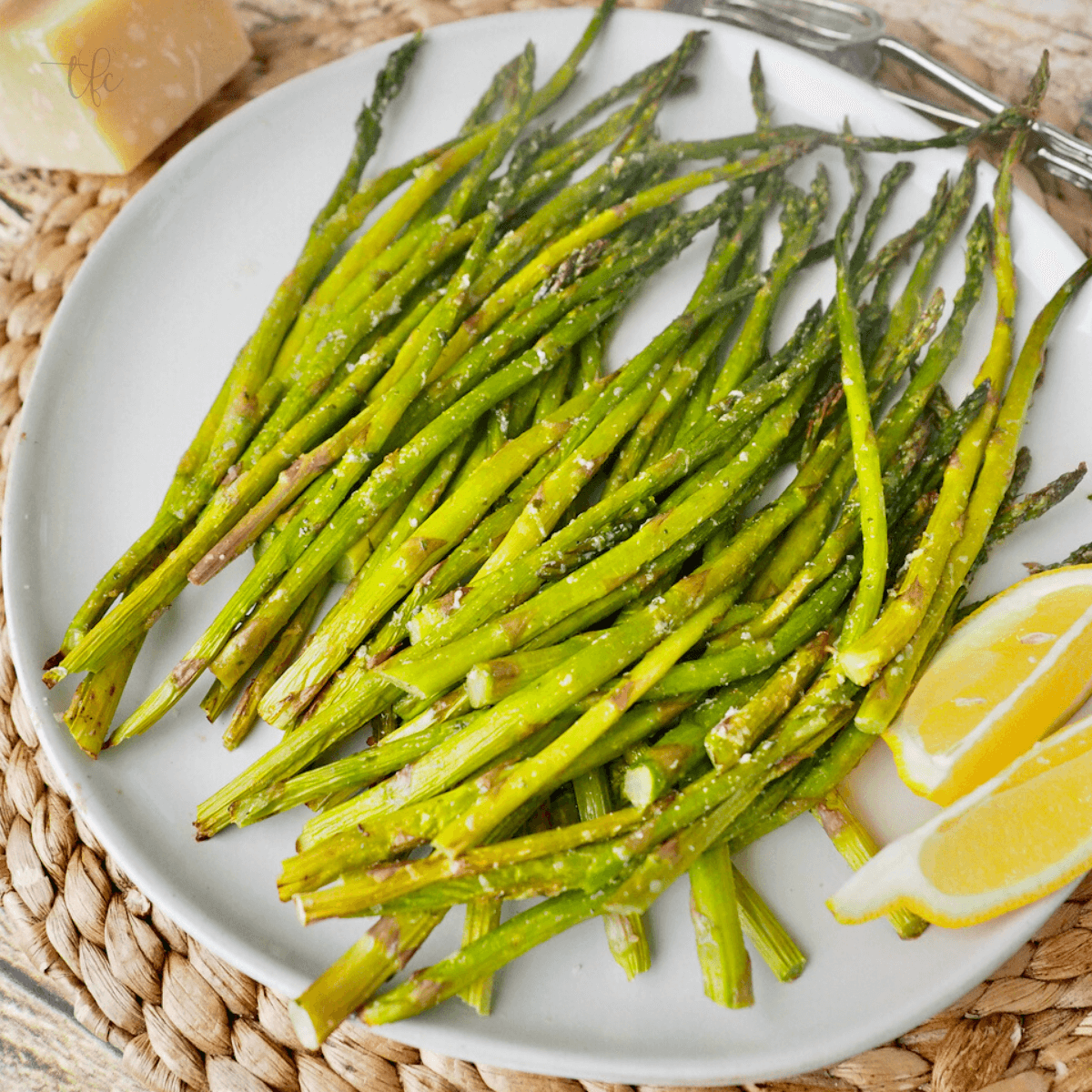 Air Fryer Asparagus
Quick and easy, and tender, crisp asparagus every time, this will go perfectly with your Olive Garden Stuffed Shells recipe.
Cheesy Garlic Bread
Take your Italian meal over the top with this classic cheesy garlic bread.
What desserts go well with Stuffed Shells
Because dessert should be served with this beautiful, fancy meal, find two of my favorites below, but be sure to explore all of our desserts.
Easy Tiramisu
A classic Italian dessert, this light, not-to-sweet Tiramisu is a classic treat.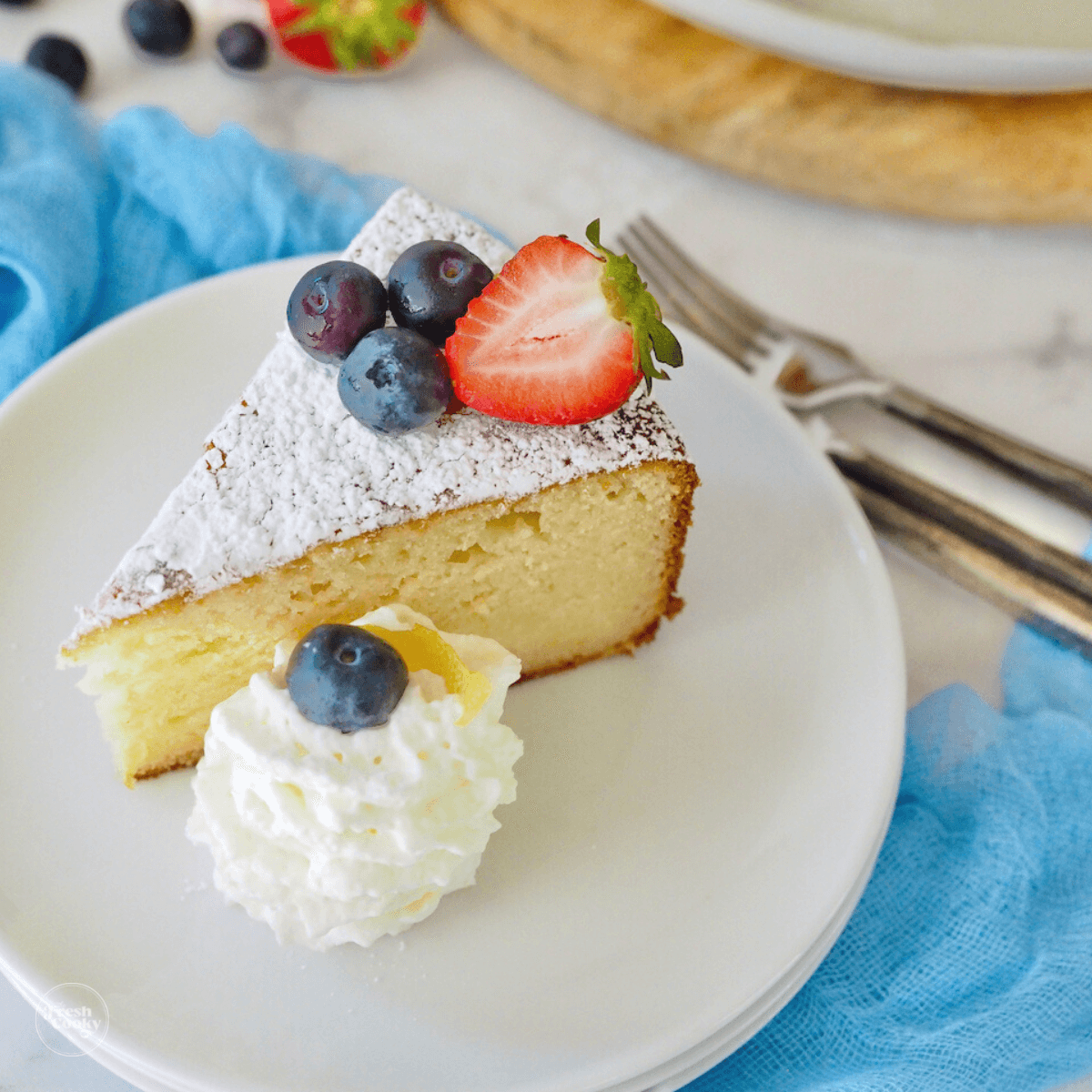 Italian Lemon Ricotta Cake
Another traditional dessert, dense, moist and lemony.
Please do not be intimidated by stuffed shells; they are much easier than you might think, and using a small spoon or cookie scoop makes stuffing them even easier.
I hope you loved this Olive Garden Stuffed Shells Recipe — if you did, would you share your creation on Instagram, Facebook, and Pinterest? And be sure to comment below!
Like this recipe?
Don't forget to give it a ⭐️⭐️⭐️⭐️⭐️ star rating and comment below the recipe!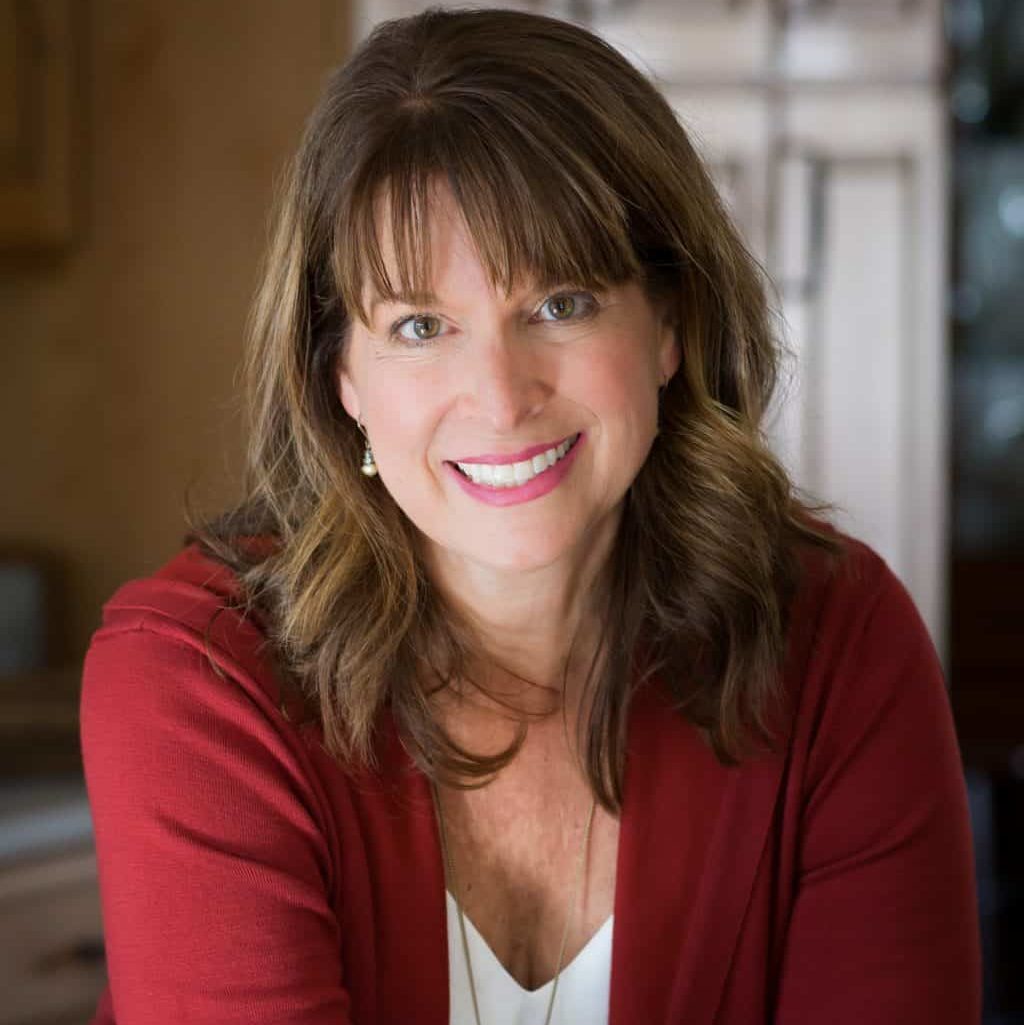 About Kathleen Pope
Recipe Innovator | Food Photographer | Food Writer
Hi, I'm Kathleen Pope. Here at The Fresh Cooky you will find easy, mostly from-scratch, trusted recipes for all occasions. From speedy dinners to tasty desserts, with easy step-by-step instructions. I am here to help teach you how to make mouthwatering recipes without spending hours in the kitchen. Read more about Kathleen here.