Comparing Marinara vs Pasta Sauce
As an Amazon Associate, I earn from qualifying purchases. Please read my disclosure policy.
Marinara and pasta sauce are both tomato-based sauces but with differences. Also called spaghetti sauce, dipping sauce, or red sauce and may be used as pizza sauce. Let's explore the differences between Marinara vs. Pasta Sauce.
After reading through this post, you'll quickly learn everything there is to know about Marinara vs Pasta Sauce, from the ingredients that make them different to the recipes that use them and more!
Marinara vs Pasta Sauce – What's the Diff?
Before we dive further into the ingredients and uses of these two often-confused sauces, let's do a quick fly-over.
Authentic Marinara sauce requires only a few ingredients and doesn't include meat.
Pasta sauce, typically has a longer list of ingredients and often includes meat. The main difference, though, is how the two are used.
Pasta sauce is also commonly called spaghetti sauce, red sauce, even gravy.
Pasta Sauce Ingredients (Spaghetti Sauce)
In my grandfather's authentic pasta sauce or spaghetti sauce, you'll see a simple list of ingredients, including whole tomatoes, olive oil, crushed tomatoes, tomato paste, roasted garlic, and Italian spices and herbs.
As mentioned, the addition of meat, like sausage or ground beef, is referred to as meat sauce or more traditionally known as a ragù. Adding meat does not make it a bolognese sauce, bolognese sauce while also slow-cooked, contains more meat than tomatoes and typically has added milk.
Marinara Sauce Ingredients
Marinara uses an even simpler list of ingredients to create a tasty red sauce. All you need are tomatoes, olive oil, garlic, onion, basil, salt, and red pepper flakes. Canned San Marzano tomatoes are most commonly used, but whole fresh tomatoes from the grocery store are even better!
Comparing Uses for Marinara vs. Spaghetti Sauce
Best Ways to Use Pasta Sauce
As you may assume, this type of tomato sauce is what you will find on spaghetti dishes. But it is also used for baked lasagna, manicotti, baked ziti, and chicken parmesan. It is primarily used as a pasta sauce but can be used as a substitute for pizza sauce. Additionally, it does the trick when you need something to replace marinara.
Marinara Sauce Uses
This tomato-based sauce is mainly used as a dipping sauce for breadsticks, garlic toast, pizza, toasted ravioli, mozzarella sticks, and so much more! Traditionally, in Italian cuisine, marinara sauce is used on pasta or pizza. However, it has been used much more frequently for dipping in the United States.
How are Pasta Sauce and Marinara Sauce Different?
If they still sound too similar to tell apart, don't worry! We're venturing deeper into the details. The following are the key differences between marinara vs. pasta sauce:
Cooking Method: Pasta sauce is cooked low, slow, and longer in most cases.
Flavor: Pasta sauce boasts a more intricate taste compared to marinara due to added ingredients and a lengthier cooking process.
Consistency: Traditional marinara sauce can be a bit thinner, while pasta sauce has a thicker consistency from the slow cooking process.
Ingredients: Marinara has much fewer ingredients than pasta sauce.
Color: Did you know that Mariana sauce has a brighter red color compared to pasta sauce? That's because Mariana sauce doesn't simmer for as long as pasta sauce does, so its flavors and colors don't deepen as much. On the other hand, pasta sauce tends to be much darker because it simmers for a longer period of time. Pretty cool, huh?
Uses: As we have covered, marinara is often a dipping sauce, while pasta sauce dresses various pasta dishes.
What do Pasta Sauce and Marinara Sauce Have in Common?
Pasta sauce and marinara are often confused because of their similarities. However, they have many differences. Here are some characteristics that make these sauces similar:
NOT Pizza Sauce: Neither pasta sauce nor marinara are the same sauce used for traditional pizzas. However, they are sometimes used as a replacement for homemade pizza sauce, you should try my easy homemade pizza sauce though!
Tomato-Based: The main ingredient for both sauces is tomatoes.
Similar Key Ingredients: Both recipes contain basic ingredients, like onions, garlic, Italian seasoning, and olive oil.
Sauce Flavor Boosters
Add red pepper flakes for heat, roasted garlic for a deep garlic flavor, or caramelized onions (yellow or red). Sauté onions, garlic, mushrooms, or red peppers for extra flavor.
Add fresh tomatoes | A great use for older, wrinkly tomatoes, plum tomatoes are the best! Chop them or pulse them in a blender or food processor.
Herbs | Fresh herbs like basil, bay leaves, oregano, and Italian parsley — a handful of fresh herbs will really boost flavor.
Sugar | Canned tomatoes' acidity varies with the season. Adding some sugar (regular or brown) can balance it out. My Grandpa always used light brown sugar.
Cheese | Add grated Parmesan cheese or a Parmesan rind for a stronger flavor. Mozzarella and other Italian cheeses are optional but stick to Parmesan to avoid a cheesy, gooey sauce.
Seasoning | Boost flavors by adding seasonings like kosher salt, dried basil, oregano, fennel seeds, paprika, Italian seasoning, and black pepper. Add a little at a time until it fits your taste.
Liquid Boosters | Have a half glass of leftover red wine? Stir it in, or try adding a tablespoon of balsamic vinegar or Worcestershire sauce.
Healthier | Shredded veggies add flavor, thickness, and hidden nutrition. Try shredded carrots, zucchini, summer squash, and chopped green peppers.
Meat | Meat adds amazing flavor to pasta sauce. Add browned ground beef, Italian sausage, ground turkey, or sautéed salt pork.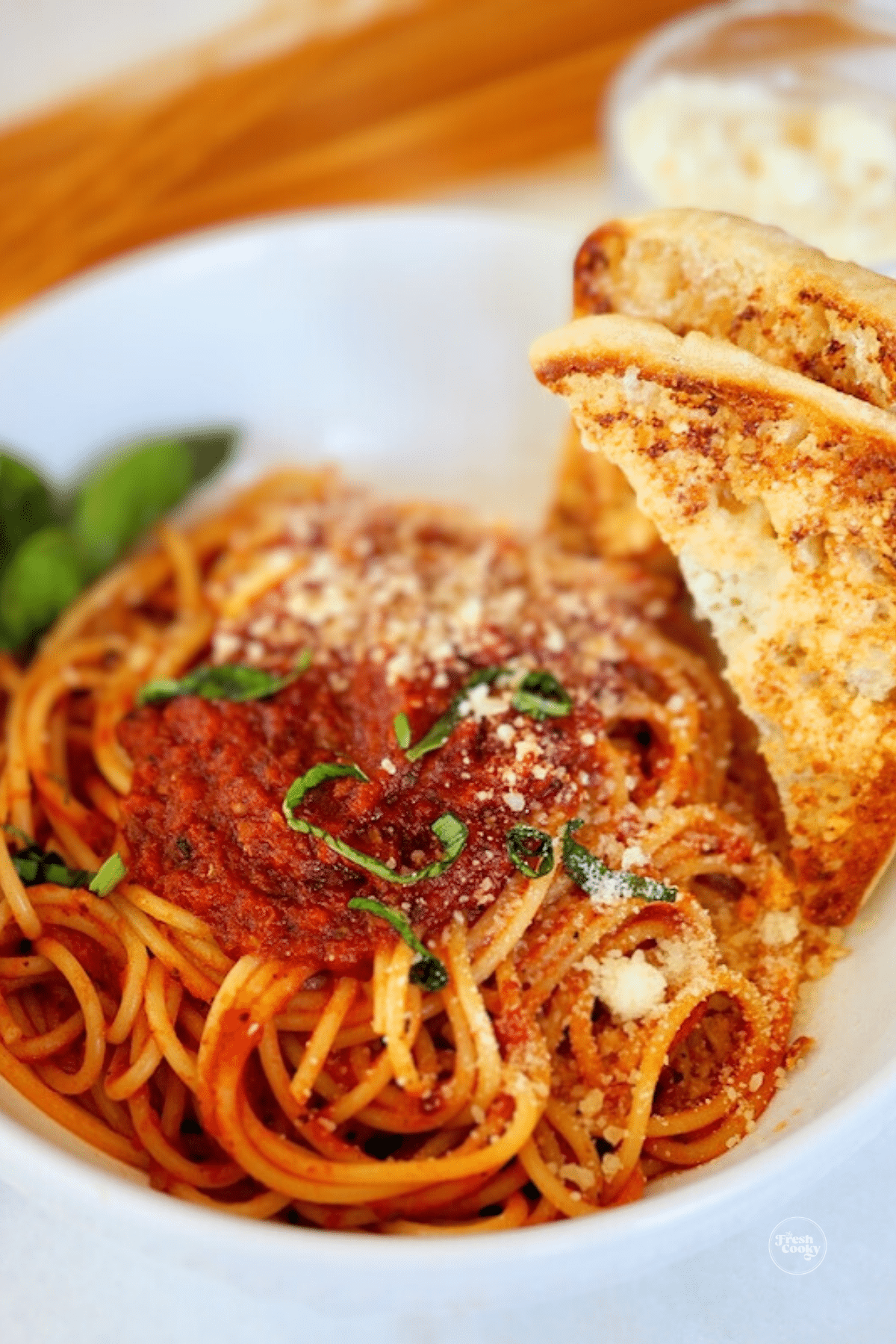 Frequently Asked Questions
How do you thicken marinara and pasta sauce?
Cook it for longer on lower heat or make it in your slow cooker! While you can artificially thicken it by mixing cornstarch and water, then adding it to the pasta sauce or marinara, I don't recommend this little trick, stick to cooking low and slow. It's the key to a thicker sauce. And, of course, you could always add extra pureed tomatoes, tomato paste, or sauce to thicken the consistency.
And for a thinner sauce, try adding some water, tomato juice, or broth. Swirl ½ cup of water into your tomato cans to gather all of those leftover juices and use that to thin out your Italian sauce.
Can you freeze tomato sauce?
Yes! These sauces easily freeze. Cool sauce completely (or else you will get nasty freezer burn) and spoon it into an air-tight container or freezer baggies, label, and freeze for up to 4 months. When you're ready to serve it, thaw it overnight in the fridge and add it to a saucepan, bringing it to a low simmer before using it over your favorite type of pasta, or in your favorite recipe.
Can you use marinara sauce as pasta sauce?
Of course! Marinara and pasta sauce are certainly interchangeable. Try it over your favorite cooked pasta!
Can you use marinara or spaghetti sauce for pizza?
Yes! While pizza sauce is also slightly different from the other two tomato-based sauces, either works well as a substitute because they share the same base ingredient. If you have the flexibility, marinara sauce is the better choice for homemade pizza. It is a bit closer in texture, and is faster to prepare. But if you're making homemade versions, you can make thicker pizza sauce.
Check out my easy pizza sauce recipe here!
How to Use Marinara vs. Pasta Sauce
Now that you know the difference between marinara vs. pasta sauce, check out some of the following recipes to see how you can use these similar sauces the RIGHT way!
Delicious Ways to Use Marinara or Pasta Sauce
Try these easy and delicious Italian Stuffed Shells, baked in a rich and easy Marinara sauce.
Homemade Pizza is a great way to use your marinara sauce.
My favorite is to dip these Calzones into your favorite marinara sauce.
Make up a batch of homemade marinara sauce and use it to dip this easy Stromboli into!
Use either recipe when baking my Easy Baked Spaghetti Pie
Try it in this healthier 30-minute Chicken Parmesan
Use either one as a dipping sauce for breadsticks, garlic knots, toasted ravioli, or fried mozzarella cheese sticks.
More Homemade Sauce Recipes
Some of my favorite Italian recipes are those below, but also be sure to make this Italian Cream Puff Cake and this Authentic Tiramisu dessert recipe!
Pizza Rustica
A delicious egg, meat and cheese pizza pie recipe, much like a quiche!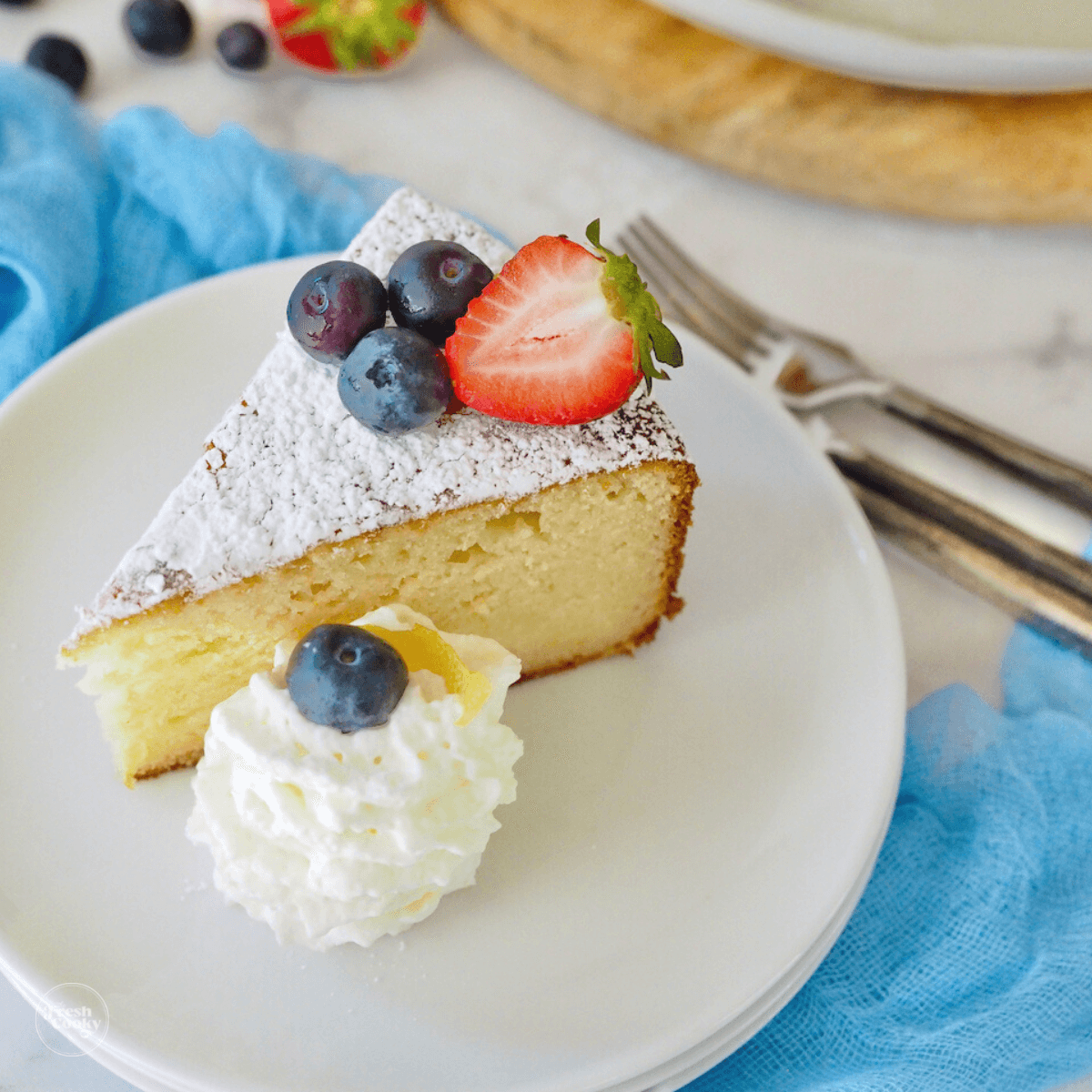 Italian Lemon Ricotta Cake
Italian lemon ricotta cake is a soft and moist cake made with ricotta cheese and fresh lemon zest. It has a light and airy texture with a slightly tangy and sweet taste.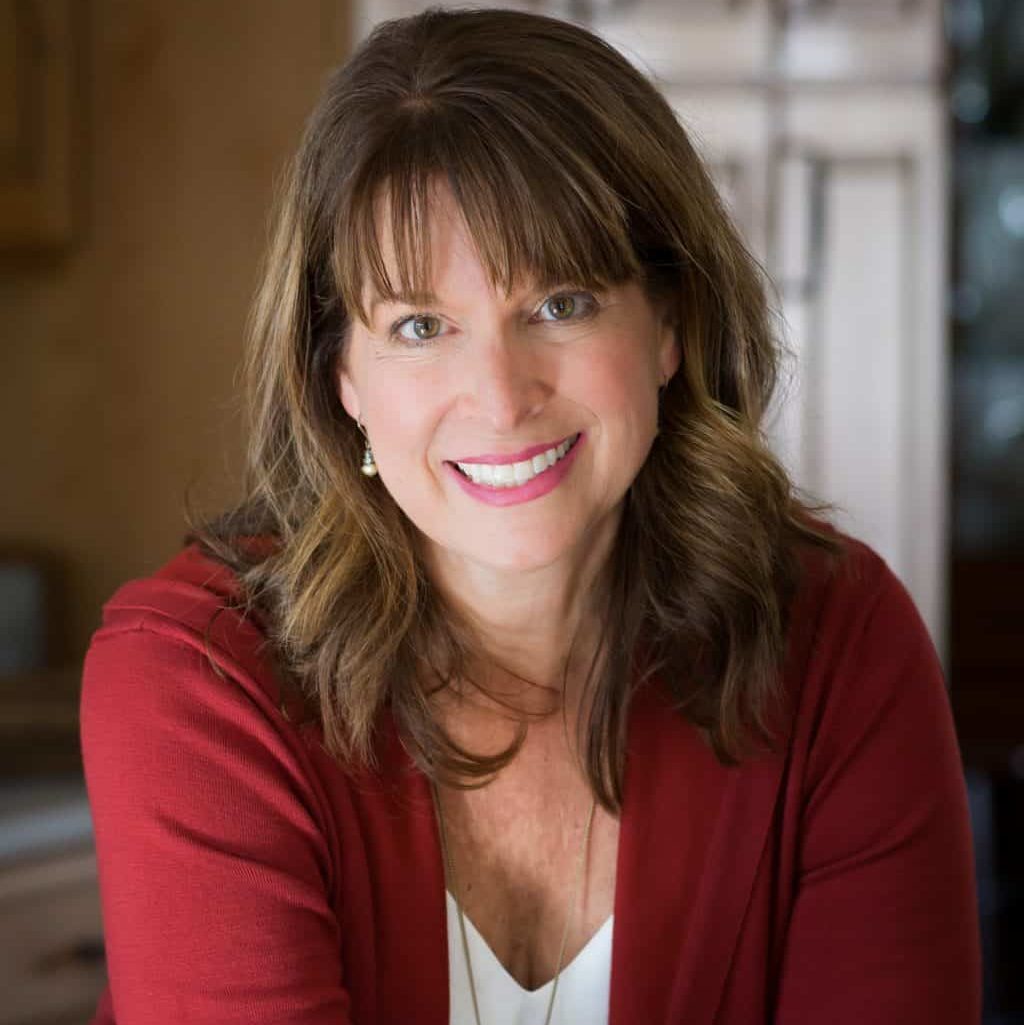 About Kathleen Pope
Recipe Innovator | Food Photographer | Food Writer
Hi, I'm Kathleen Pope. Here at The Fresh Cooky you will find easy, mostly from-scratch, trusted recipes for all occasions. From speedy dinners to tasty desserts, with easy step-by-step instructions. I am here to help teach you how to make mouthwatering recipes without spending hours in the kitchen. Read more about Kathleen here.