Air Fryer Steak Tips (Bites)
As an Amazon Associate, I earn from qualifying purchases. Please read my disclosure policy.
My air fryer steak tips are marinated with a variety of seasonings and balsamic vinegar for maximum flavor. Cook them in about 15 minutes for an easy weeknight dinner!
Steaks are a staple no matter what time of year it is. Flank steaks with a balsamic or teriyaki marinade are on rotation in our house, as is this shaved steak cheesesteak sandwich or this indulgent Steak Bomb Recipe! When I really want to indulge, I make this Olive Garden Alfredo dish.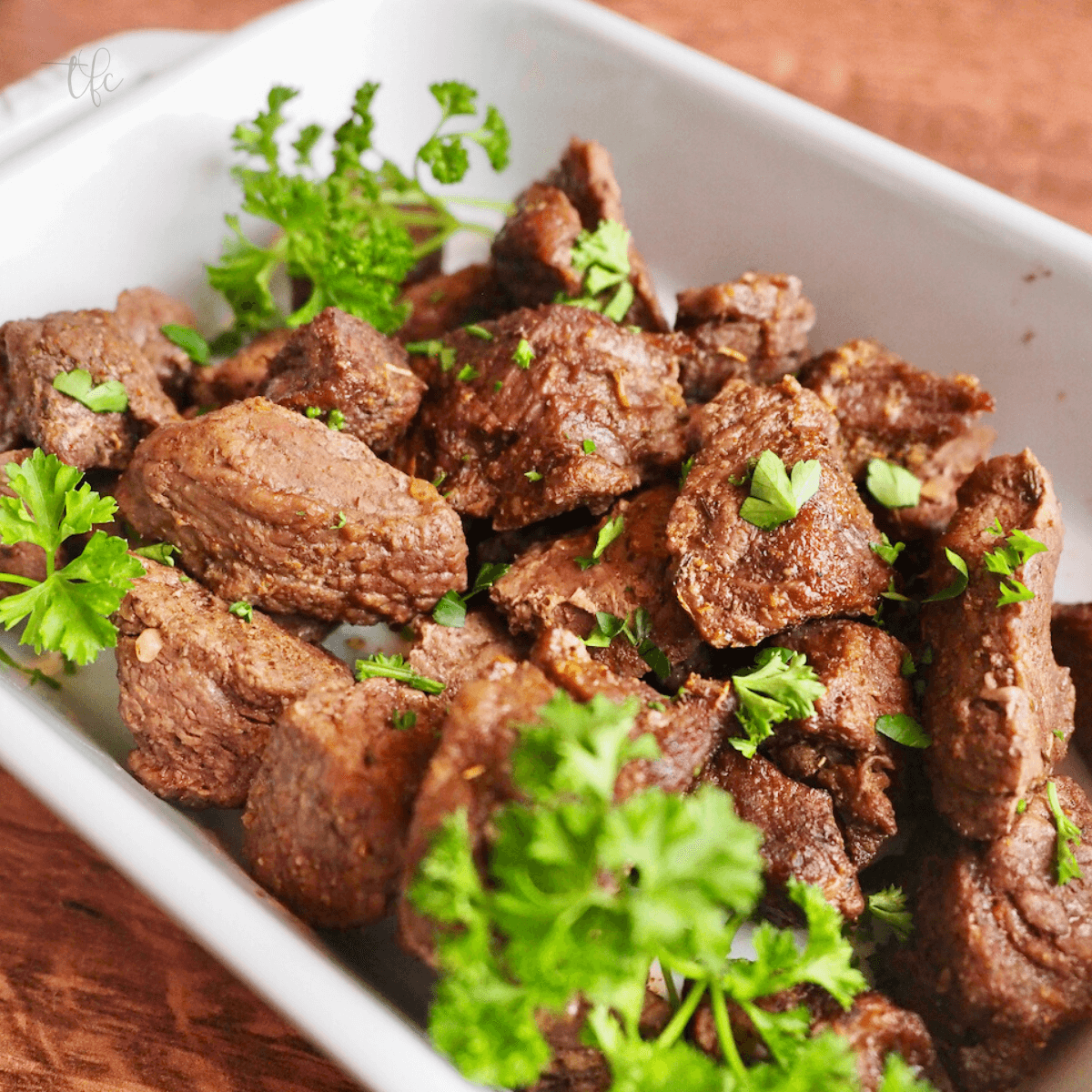 But as much as I adore the results from grilling, sometimes I don't have the time. Other times it's too cold or snowy.
Enter this simple air fryer recipe: create deliciously charred steak tips in the air fryer without the hassle of breaking out your grill or stepping one foot outside your kitchen!
Why You Will Love This Air Fryer Steak Tips Recipe
There's no need to use a grill: When you cook air fryer beef tips at a high temperature using hot air you'll draw out the same flavors and texture you'll get with a grill — crispy on the outside without being overcooked on the inside.
Enjoy next to no clean-up: I could go on and on about how convenient this appliance is! I like using my Breville SmartOven because of its large capacity. And, cleanup is a breeze. You should deep clean your appliances monthly, but you can get away with a light cleaning after each use.
No dangerous grease splatters: Using this countertop appliance means that drippings are collected in the bottom of the air fryer basket, versus making steak tips in a cast iron skillet.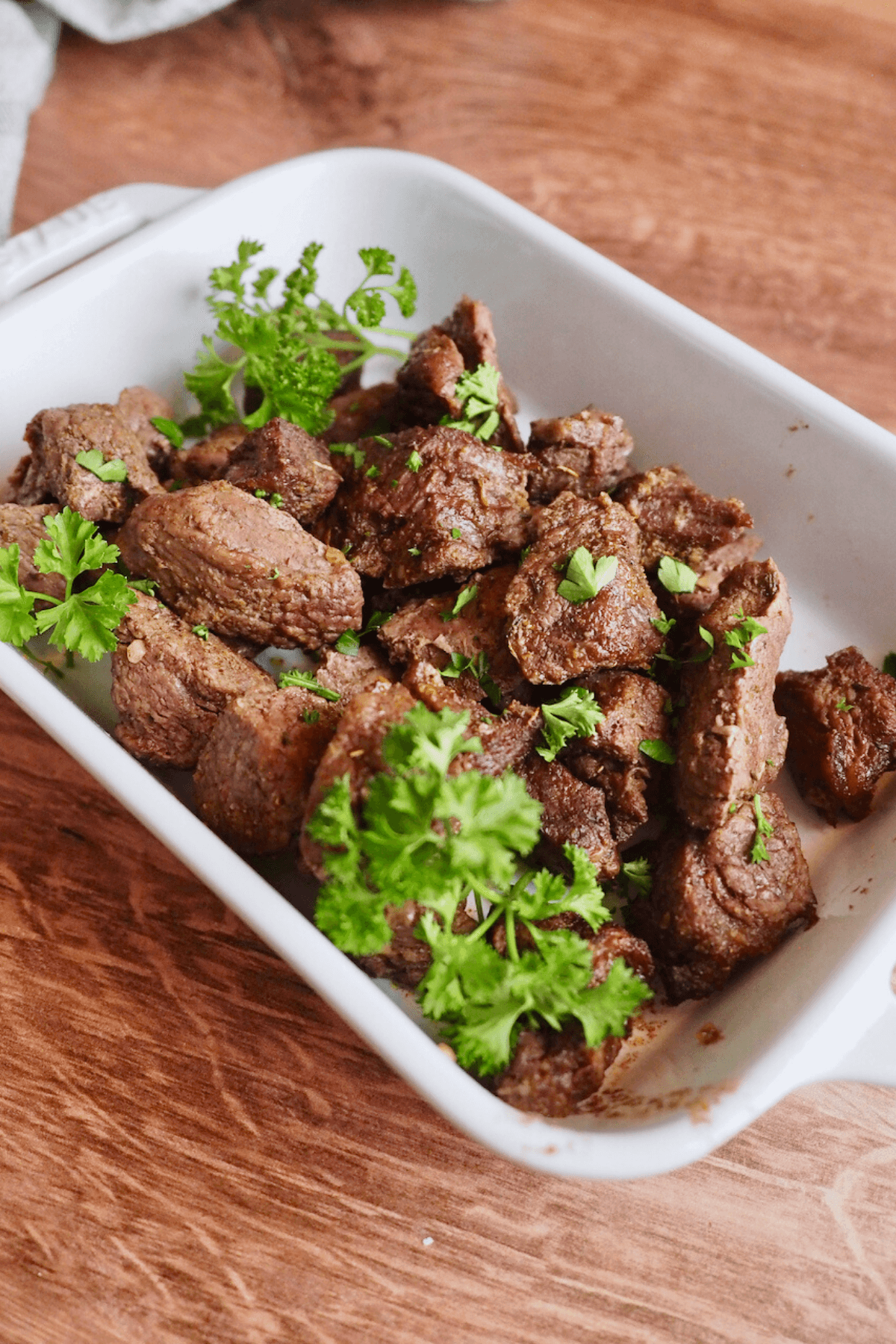 Simple Ingredients
The full recipe and instructions are in the recipe card at the end of this post.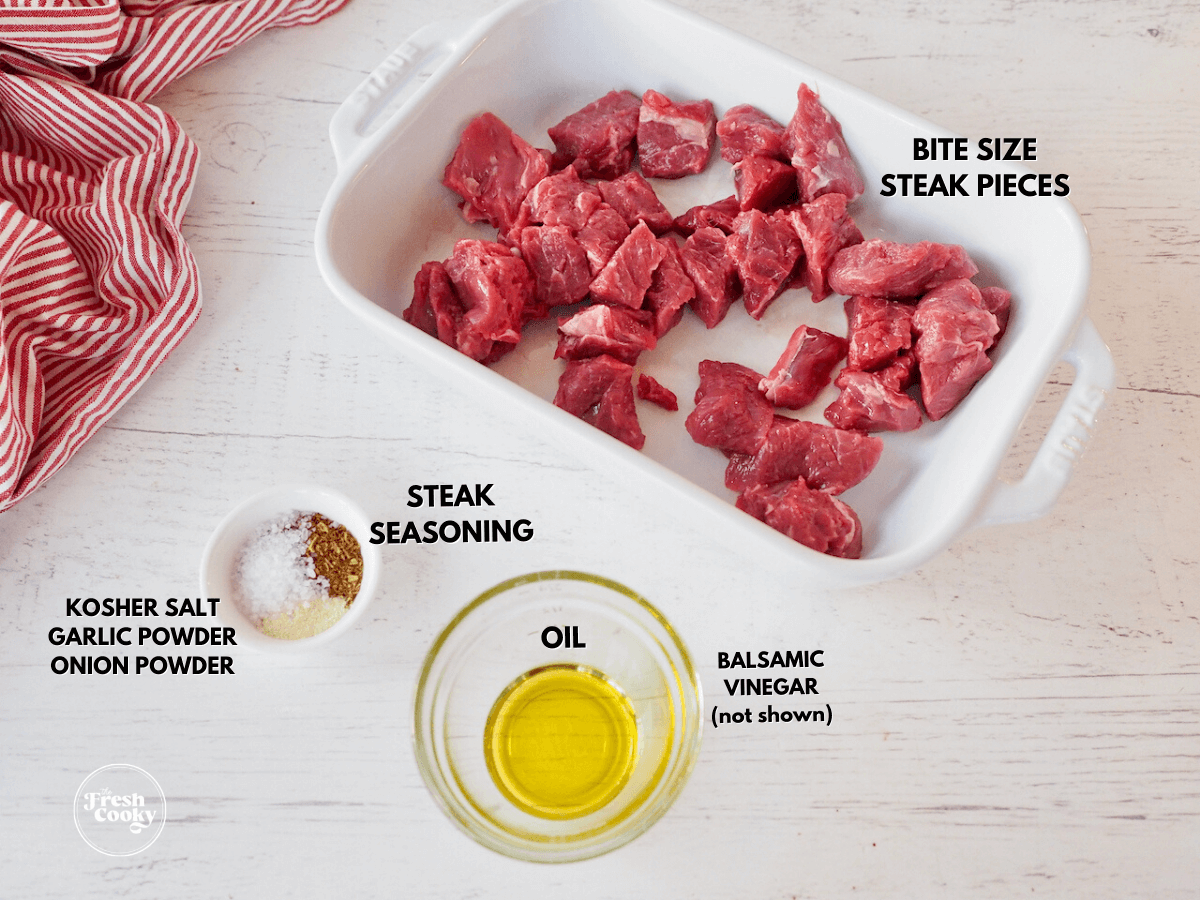 Whole Steak | Use your preferred cut of steak, I've used Ribeye steak, Sirloin steak, New York or Tri Tip, or pre-packaged Steak Tips, love these from ButcherBox.
Olive oil
Balsamic vinegar
Seasonings | Kosher Salt, Black pepper and Carrabba's Grill Seasoning or similar (See variations for more ideas)
Instructions
Preheat air fryer to 400 degrees F. While you wait, remove any excess fat from the beef and cut it into 1-inch bite size pieces.
Make your marinade in a small bowl, then toss the meat in it. You can make them right away, but if you allow to marinate for 30 minutes at least it will intensify the flavors.
If you prefer, you can let the beef marinate for up to 4 hours in the fridge for a more intense flavor. Just be sure to bring it to room temperature for 30 minutes before you place it in the basket.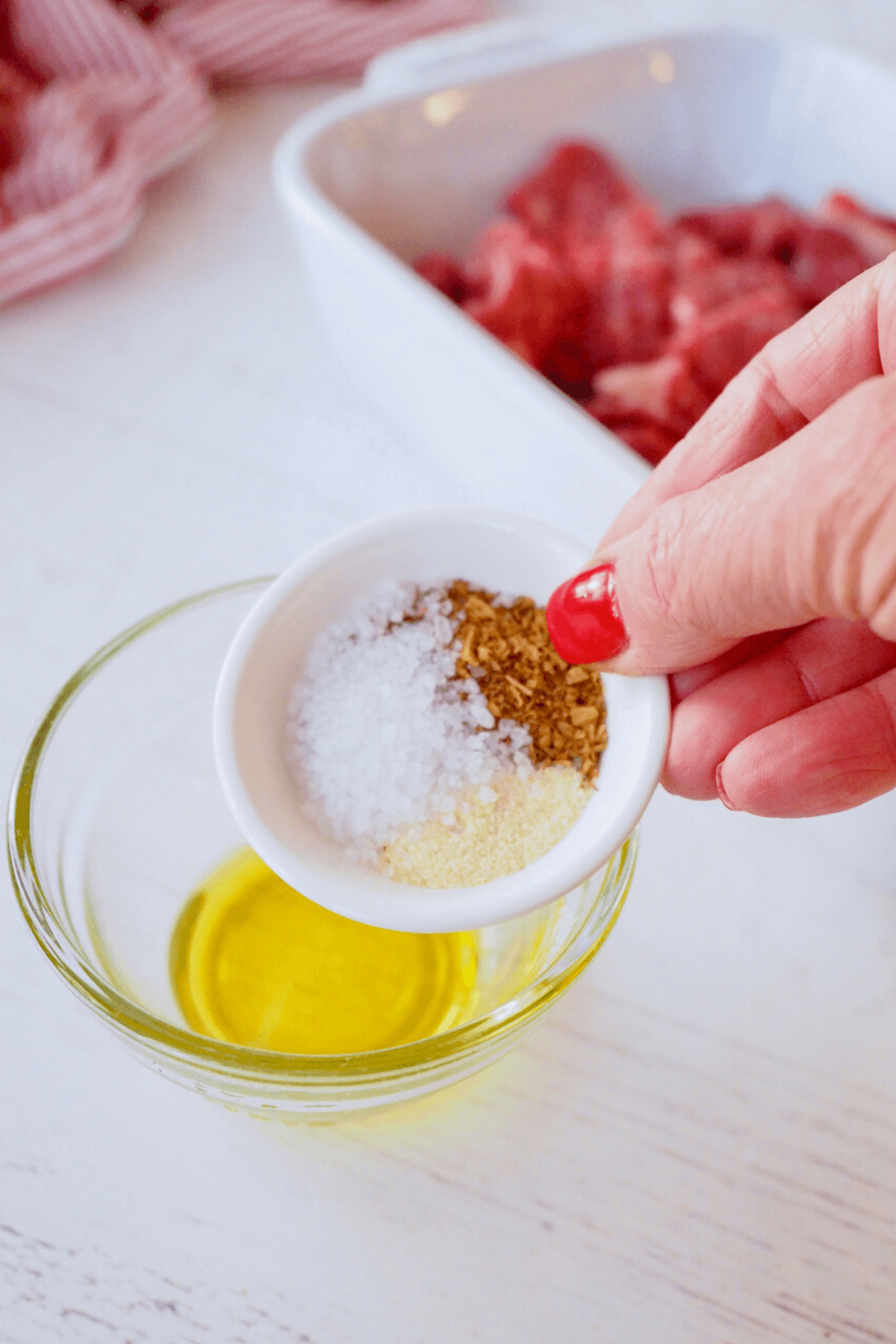 Place the steak pieces in a single layer in your basket. Different air fryers have varying basket sizes, if you have a smaller appliance, you may need to cook in batches.
The cooking time for the steak tips in the air fryer is 7-9 minutes, then flip and cook for 3 minutes more. If you'd like, you can add some chopped green veggies for the last 3-4 minutes of cooking. This will add a nice charred flavor to your vegetables! Or make these delicious Air Fryer Asparagus.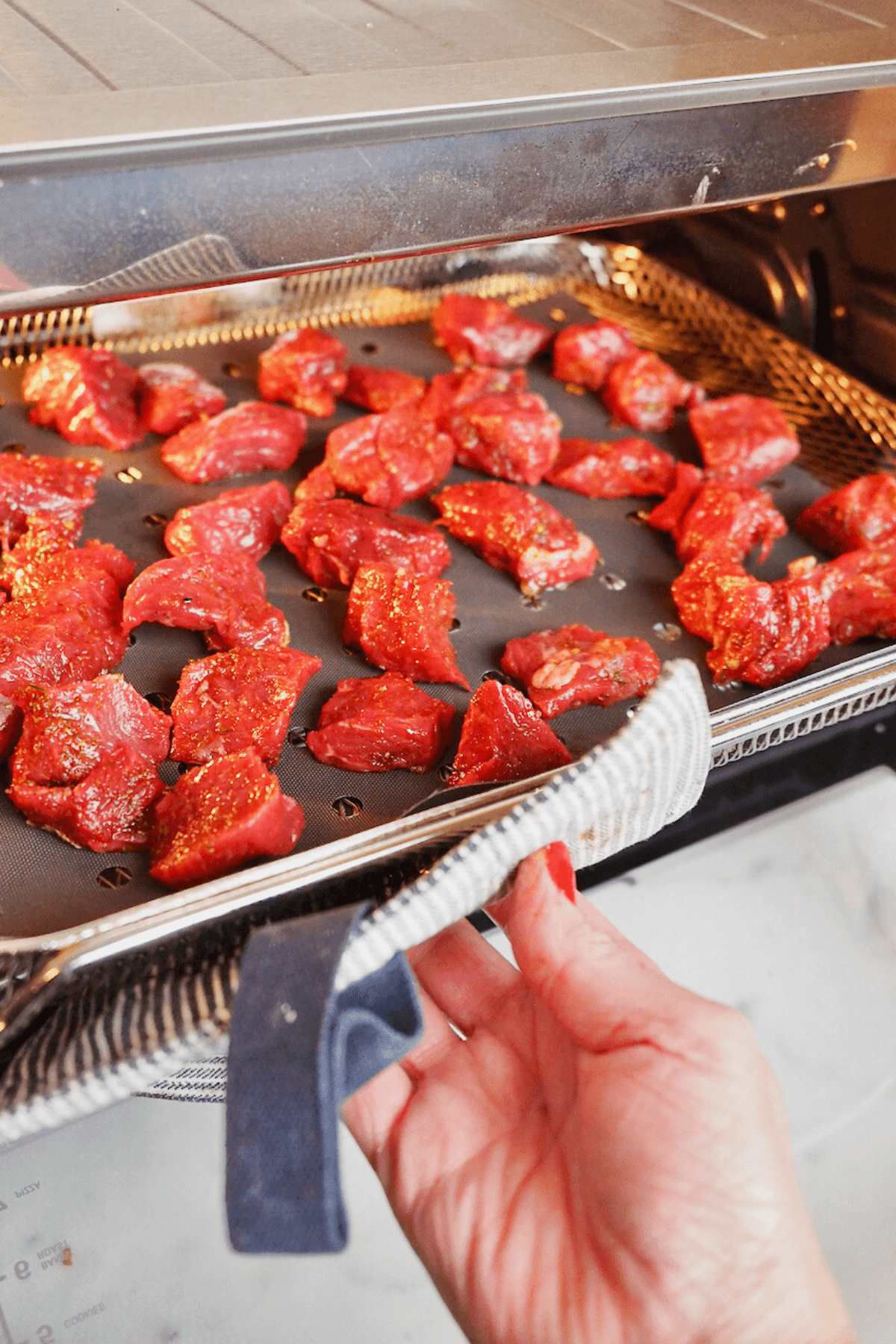 Variations
You can also substitute Montreal Steak Seasoning, Cajun or Italian seasonings. Just keep an eye out for any added MSG! There isn't much oil in this marinade, so apply it to the meat like you would dry rub.
If preferred, try using Worcestershire sauce in place of the balsamic vinegar
If desired, brush a little melted butter over the top of the steak bites before serving or amp up the flavor even more, by sautéing 1-2 cloves of minced garlic in 2-3 tablespoons of butter for 1 minute, then pour the garlic butter sauce over the steak tips.
Fresh Tips
For even less clean up, use a plastic storage bag for the marinade. Simply discard once the beef is cooking.
Don't be tempted to overcrowd the basket! It's better to cook in batches — the circulating heat will ensure a nice crispy and charred outer layer.
Serve alongside with French fries, mashed potatoes, red potatoes, roasted vegetables, or pasta salad for a well-rounded meal.
Even though I live in cattle country, I sometimes have trouble finding good, tender, grass-fed beef. I love Butcher Box, their meats are clean, tender and reasonably priced. Check it out, they are always offering some great deals and you can customize your box, delivery frequency and more!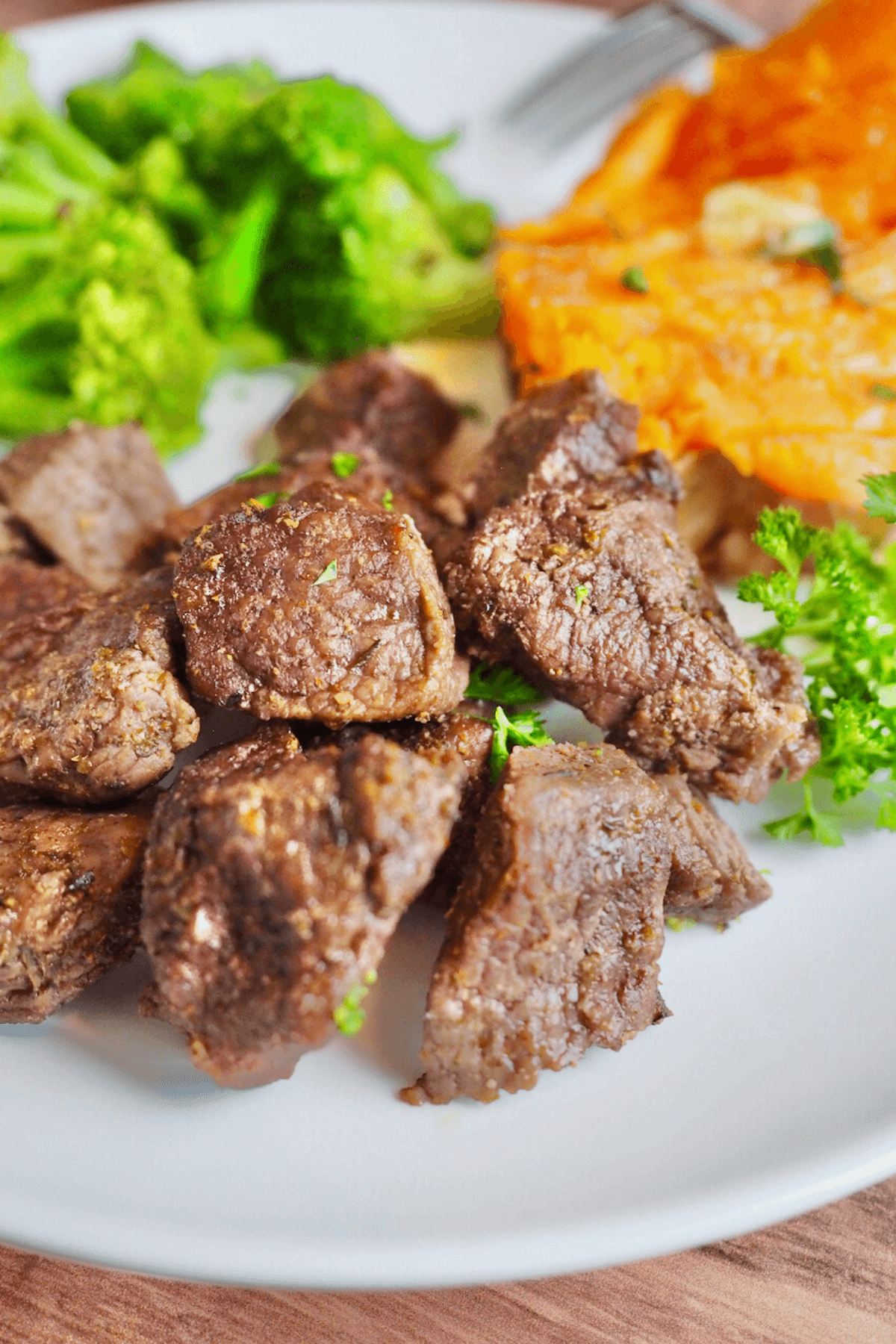 Frequently Asked Questions
What Cut of Meat is Used for Steak Tips?
I use rib eye, New York strip, or tri-tip varieties for my air fryer steak bites recipe, but you can also use flank steak or sirloin steak. Authentic beef tips are typically made with sirloin and round cuts. Choose whichever cut is available in your budget and that you enjoy eating.
How Do You Keep Steaks Juicy in the Air Fryer?
Make sure you preheat the air fryer 400 degrees F and that your meat is at room temperature. Remember not to overcrowd the basket to ensure that the bites cook evenly, and let them rest, covered for at least 5 minutes before serving.

It's generally very easy to avoid dried-out food thanks to the quick cook time! Using your air fryer is a great way to prep this steak recipe and is an easy and healthy quick dinner recipe.
What Temperature Should Beef Be Cooked To?
Whether you enjoy your meat rare, medium, or well-done, the USDA does recommend a minimum internal temperature of 145 degree F to stay safe. If you are concerned use a meat thermometer to test your air fryer steak tips before you dig in.
Air Fryer Steak Tips with Garlic Butter sauce
Sauté some 1-2 cloves of minced garlic in 2-3 tablespoons of butter for 1 minute, then pour the garlic butter sauce over the steak tips, for the perfect air fryer steak.
I hope you enjoyed this low carb air fryer steak recipe and try more of my air fryer recipes.
Stovetop Steak Tips
No air fryer? I have you covered!
Heat a heavy bottomed skillet (a cast iron pan would be great) over medium-high heat and add 1-2 tablespoons high heat oil (Avocado or Grapeseed oil work best under high heat).
Then add ⅓ of the steak tips at a time, letting brown on one side before stirring to brown the other side.
Brown about 3 minutes on the first side, then 1-2 minutes on the other side. Remove and cover, repeating with remaining steak bites until done. Allow meat to rest covered 5-10 minutes.
What should I serve with Steak Tips?
Love it? Pin it!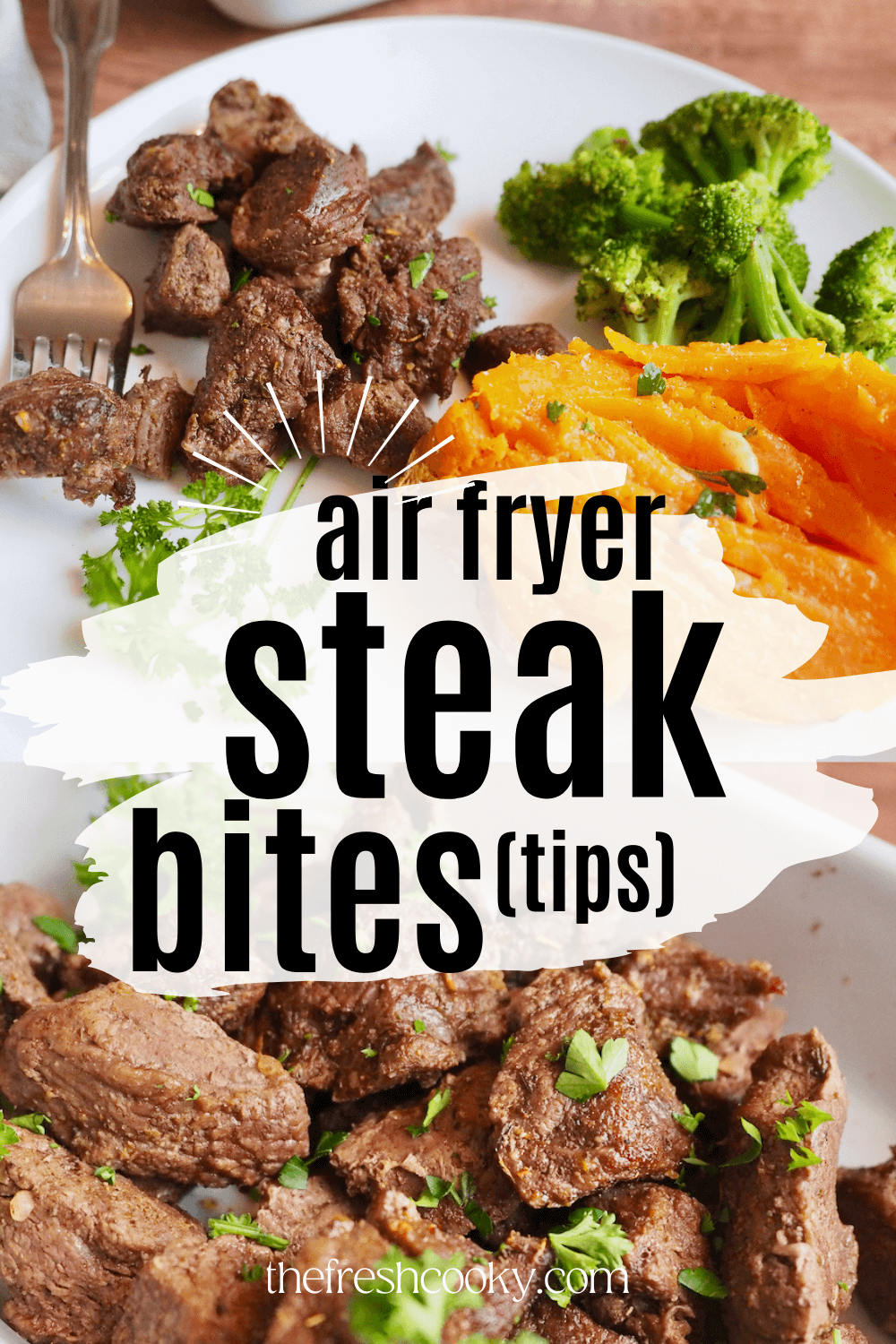 Be sure to browse through our other 30 Minute Meals, I know you will find something you love!
Like this recipe?
Don't forget to give it a ⭐️⭐️⭐️⭐️⭐️ star rating and comment below the recipe!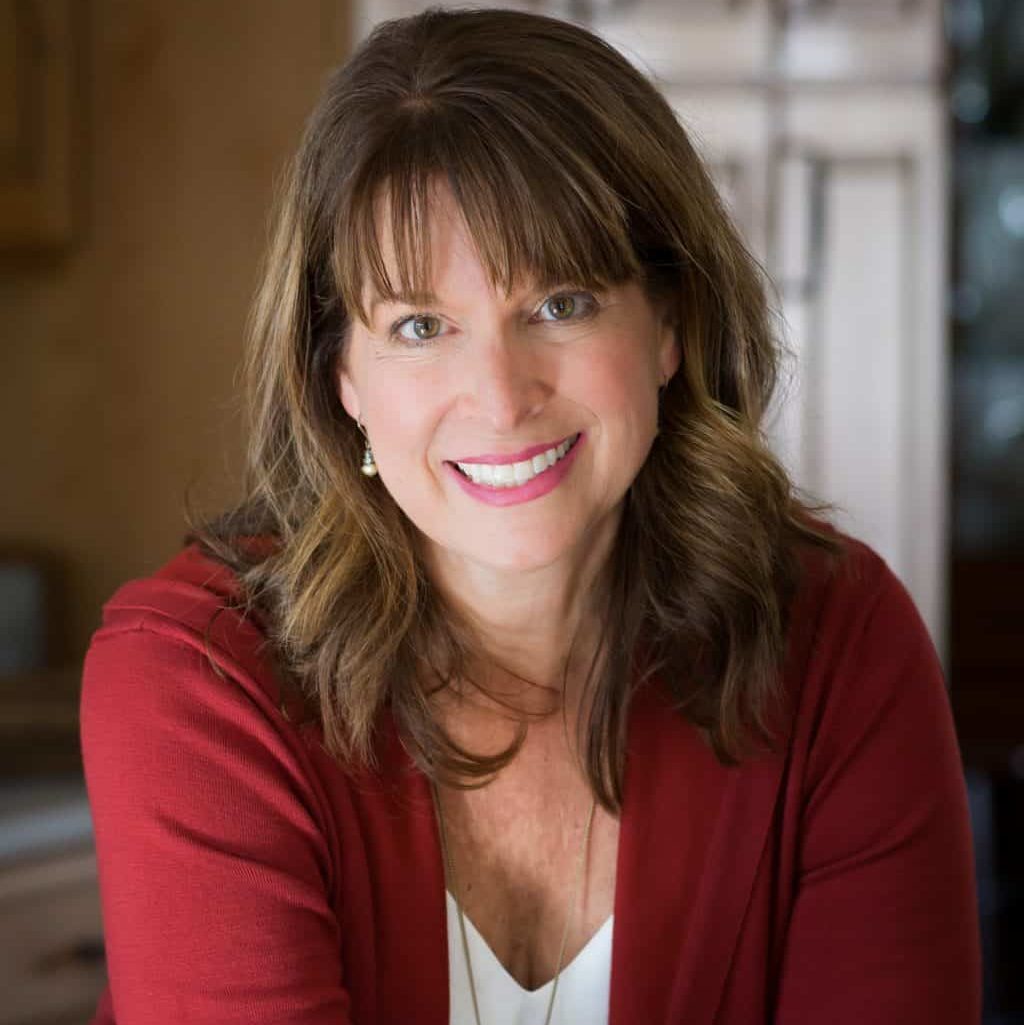 About Kathleen Pope
Recipe Innovator | Food Photographer | Food Writer
Hi, I'm Kathleen Pope. Here at The Fresh Cooky you will find easy, mostly from-scratch, trusted recipes for all occasions. From speedy dinners to tasty desserts, with easy step-by-step instructions. I am here to help teach you how to make mouthwatering recipes without spending hours in the kitchen. Read more about Kathleen here.