As an Amazon Associate, I earn from qualifying purchases. Please read my disclosure policy.
Raviolis take on a whole new texture and flavor when breaded and toasted in the air fryer. Not only are these trendy air fryer ravioli delicious, but since they are air fried, they are healthier and less messy than fried ravioli. Plus they make quick and tasty appetizer, perfect for game day, holiday parties, or even a light meal.
I am excited to share this easy appetizer recipe with you, especially with the holidays around the corner; where mouthwatering appetizers are at their peak; like this Sausage and Cheese Dip; a super simple appetizer that is a winner every-single-time, but don't judge it by the pictures, it is way more appetizing than it looks!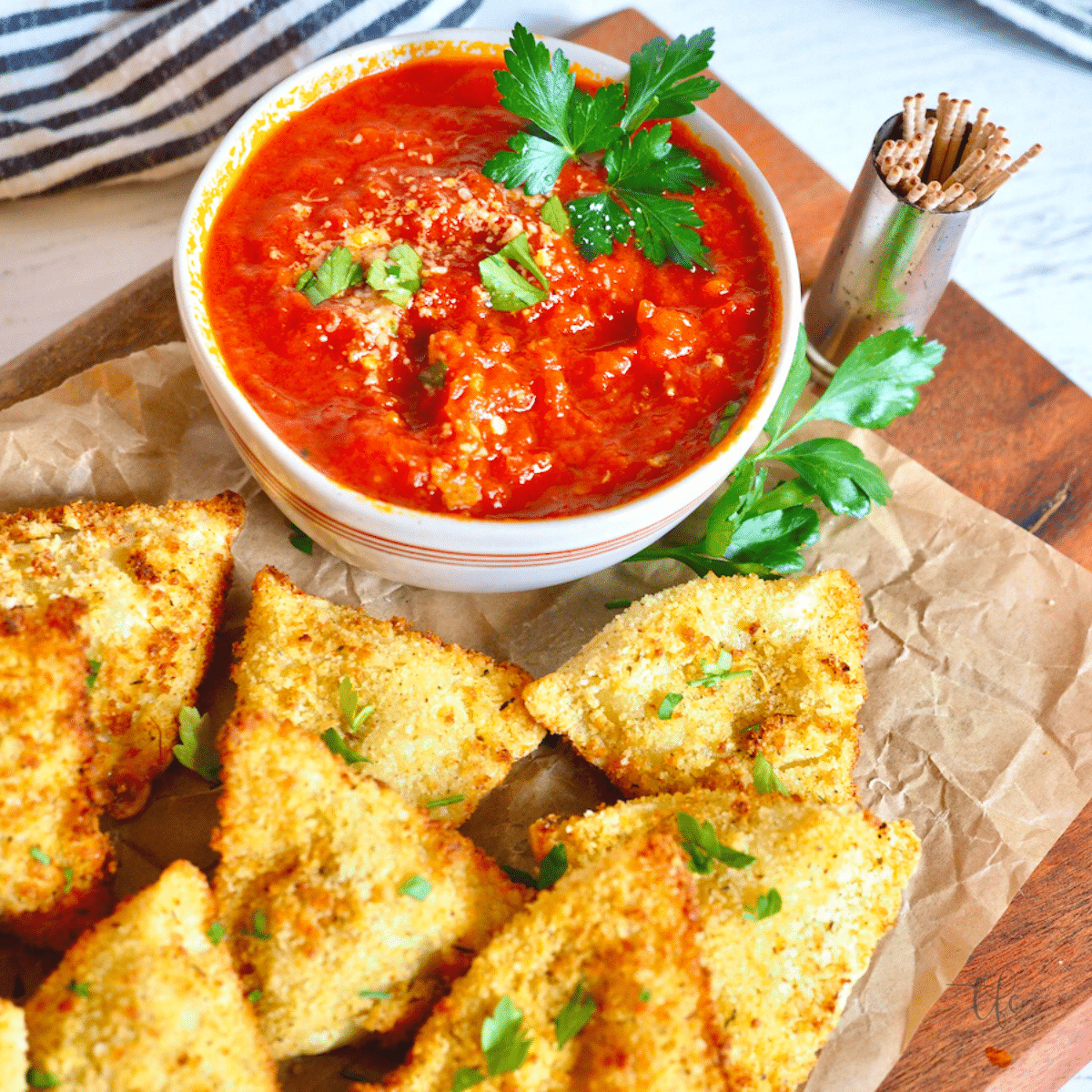 If you dig easy Italian recipes, then try my Baked Spaghetti Pie, 30 minute Chicken Parmesan and this knock-your-socks-off Tomato Bruschetta.
Primary Ingredients
This recipe comes together so quickly, a couple ingredients and you'll have a fabulous appetizer. The full recipe and quantities are in the printable recipe at the end of the post.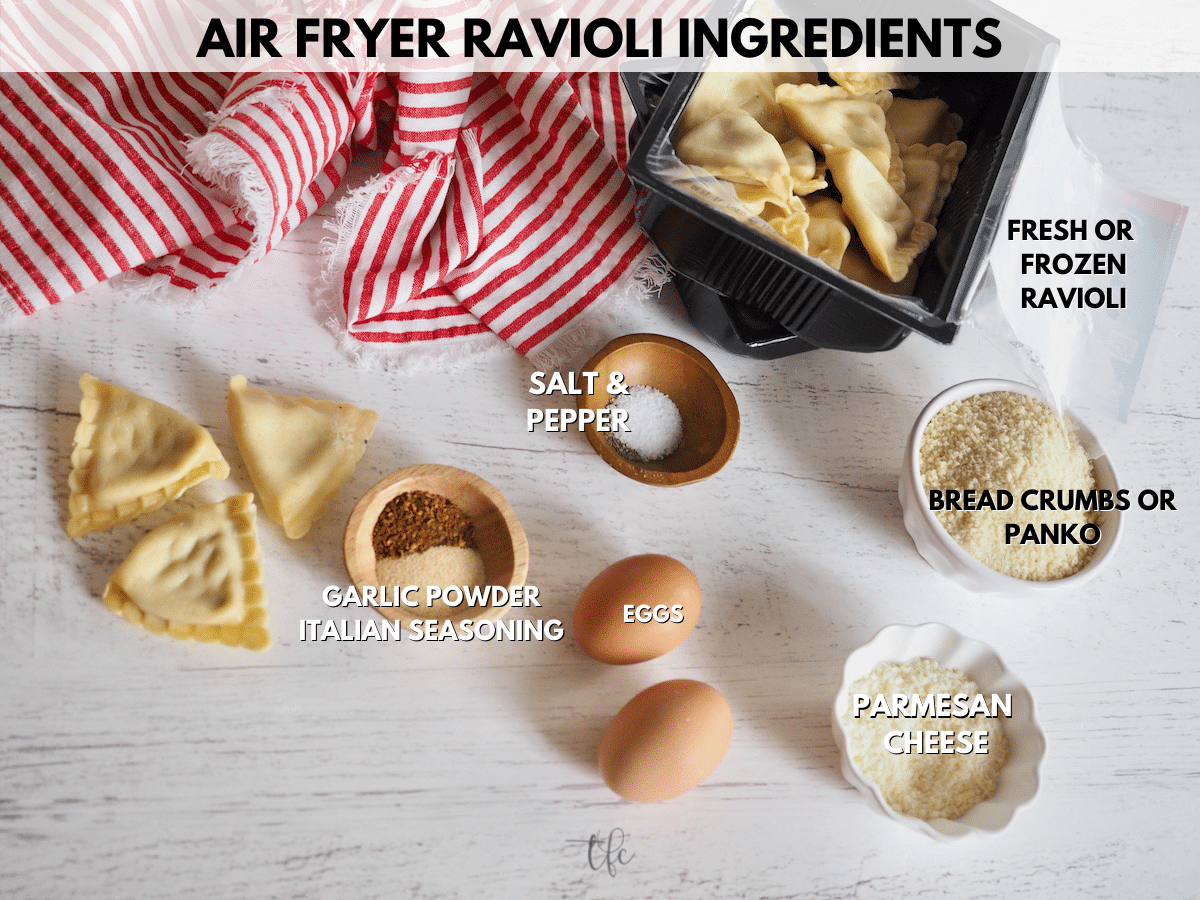 Ravioli | Choose your favorite raviolis, fresh or frozen* (see thawing notes)
Eggs | you need the egg wash for the breading to stick, this also provides a bit of lift when air frying
Panko or Bread Crumbs | I used Panko, you can use either, seasoned or unseasoned is fine, we'll add plenty of seasoning
Spices | A little garlic powder, kosher salt, pepper and Italian seasoning will flavor the breadcrumbs
Parmesan Cheese | Mixed into the Panko, the cheese adds WOW flavor as well as acts as a binder
Marinara Sauce | Use your favorite bottled brand or try this delicious Chunky Tomato Sauce works as a delicious dipping sauce.
Freaky Friday and Air Fryer Ravioli
What does fried ravioli have to do with a Freaky Friday, other than it's perfect to make on a Friday evening, freaky or not!?

Our Freaky Friday Blog Hop creator is Michaela from An Affair from the Heart, where she secretly assigns participating bloggers to another blog to remake a recipe of their choice.
We make their recipe, photograph it as if it were our own, write a post about it in our own words, then all share our posts on the selected Friday. Mostly, I hope you take the time to get to know Jennifer and her blog, it is a great way to meet new foodies, get new recipes and drool your way through the internet.
Here are a my previous Freaky Friday recipes; Old Fashioned Lemon Squares, Creamy Bow Tie Pasta Recipe, Cranberry Bourbon Sour, Sweet Molasses Brown Bread, Mint Fudge Brownies, and Oatmeal Rolled Sugar Cookies.
Meet Jennifer from Take Two Tapas
You are in for a treat today and by treat, I mean tapas sized treats; perfect for entertaining and nibbling, grazing and noshing! Jennifer blogs at Take Two Tapas, a food blog dedicated to smaller plates, simple uncomplicated recipes.
You know what Tapas are don't you? Tapas by definition are small savory dishes, typically served with drinks at a bar and is derived from the Spanish word tapar, which means to cover. So Jennifer, "has you covered" because her site is LOADED with amazing, smaller, bite sized dishes and a bounty of bar beverages!
I love the way Jennifer describes how her blog can help you; "Helping you entertain guests at your house like a BOSS!"
Entertain like a BOSS!
I first "met" Jennifer when she shared a cocktail recipe of mine on her blog, she is as delightful as her blog is bountiful!
A two boy mom! We both have two boys, and us boy moms have to stick together!
Uncomplicated Recipes | I love grazing my way through a meal, her love of appetizers for dinner fits perfectly with me, I love variety and smaller plates allow for you to make a couple different recipes to enjoy!
Cookbook Collector | The best recipes are those old church and family cookbooks and Jennifer has worked hard collecting recipe books from the South, she modified their size and then incorporated the rich stories that accompany them — party worthy recipes.
Cocktail City | We need something delicious to wash down our tapas and Jennifer has oodles of amazing cocktail recipes you need to peruse. In fact, I was really torn when trying to determine which of her recipes I would choose, I mean this Pineapple Bourbon Lemonade was calling my name!
When it came time to choose from her vast recipe index, I was drooling over her Roast Beef Sliders, the must have Puff Pastry Pigs in a Blanket, I so wanted this Blooming Onion, and honestly these Chocolate Covered Sugar Cookie Bars were calling my name. But in the end, I wanted to inaugurate my new air fryer with an easy air fryer recipe! Enter Air Fryer Toasted Raviolis!
How to Make Air Fryer Ravioli
Be sure to read the whole recipe before starting, but this is a super simple recipe, you can even make them ahead and keep them warm in the oven.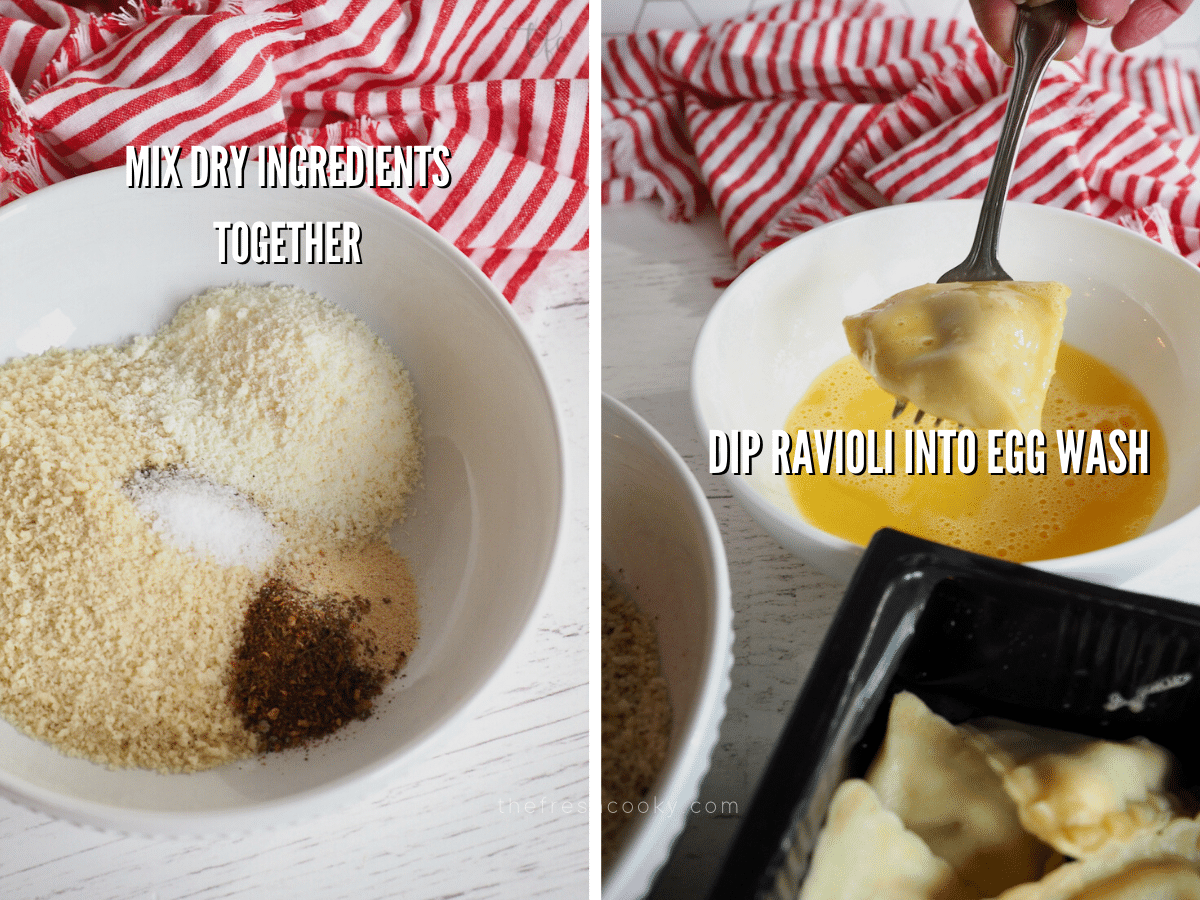 Using a shallow bowl, prep the egg wash by beating eggs until smooth and well combined, I added a teaspoon of water.
In another shallow bowl, add the dry ingredients and mix together. Bread crumbs (or Panko), parmesan cheese, and all seasonings, use a fork to combine.
Preheat the air fryer to 400F degrees and use a wire rack inside a sheet pan or line with parchment paper for easy clean up. Line another baking sheet with parchment and preheat oven to 275F degrees to keep the freshly air fried toasted raviolis, well toasty.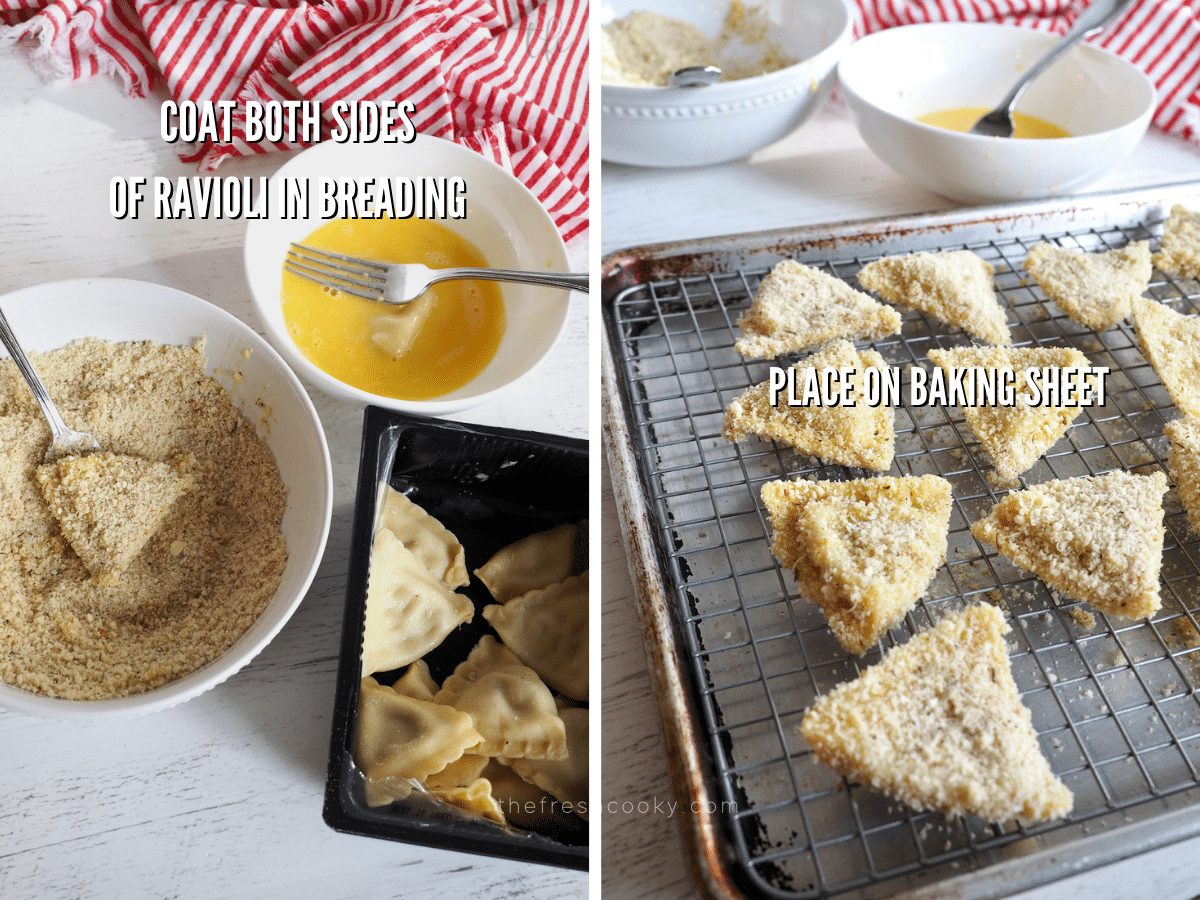 Dip the ravioli in the egg wash and allow to drip for a second, then coat both sides into the breading mixture, lifting onto the wire rack, repeat until you have desired number of raviolis.
Spray raviolis with a little oil, I love using Avocado oil, it performs well at high heat and its heart healthy too.
Place raviolis in a single layer leaving a bit of space around each one, close the lid; air fry for 4-5 minutes. If they are not crisp enough, flip half way through, spraying the other side with oil and frying a few more minutes. Mine were golden, cooked, puffed and crispy at 5 minutes, without flipping.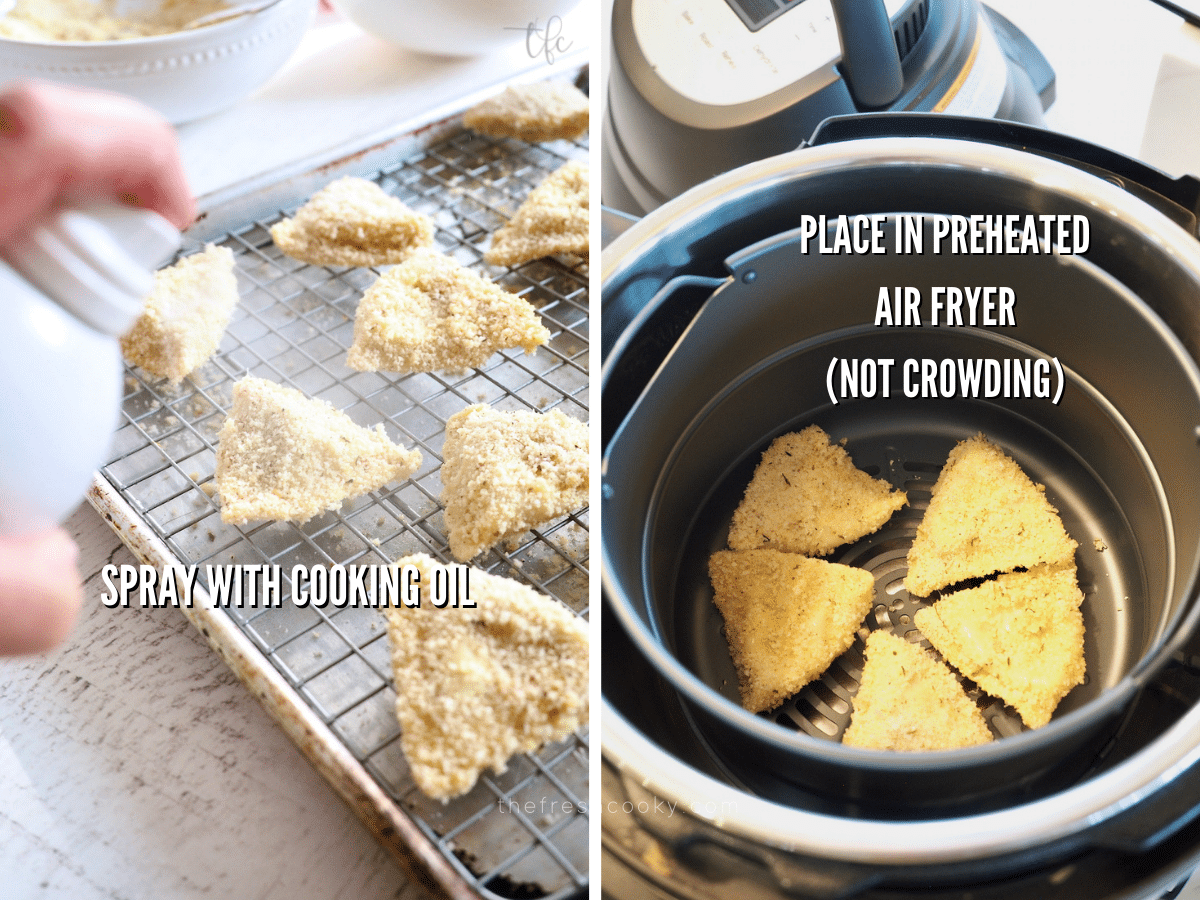 Continue breading while you have raviolis toasting in the air fryer, or dip and bread all of them, then air fry!
Remove toasted raviolis from air fryer to prepared sheet pan and keep warm in the oven, repeat until you have desired number of raviolis.
To serve, warm up the marinara sauce, I used Rao's — place in a bowl, sprinkle toasted ravioli with a little chopped Italian Parsley if desired.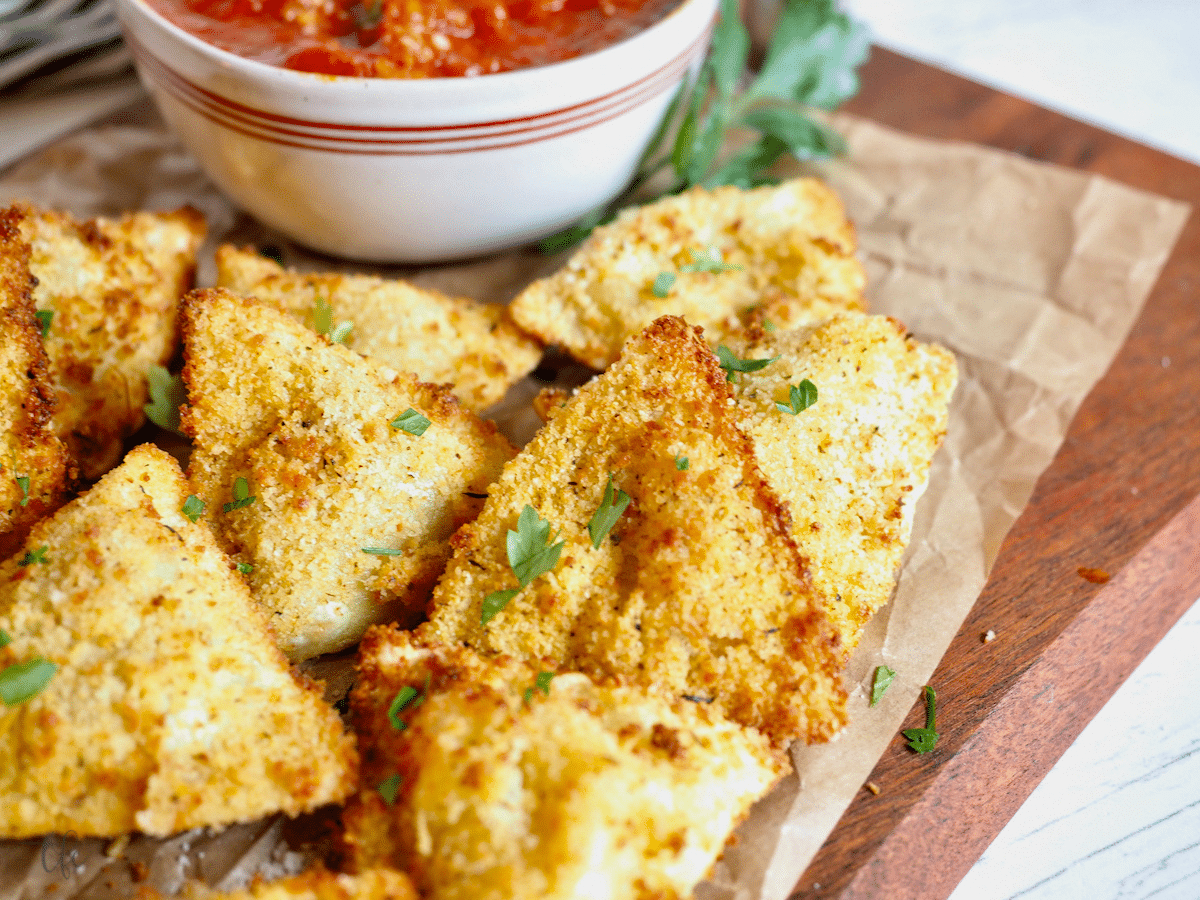 Deep Fryer v Air Fryer
So what's the difference between a deep fryer v air fryer? These are my highlights:
Air fryers are less messy and easier to clean up than a deep fryer.
No hauling out gallons of oil and then trying to figure out what to do with said oil once you are done frying.
HEALTHIER | Air fryers use a minuscule amount of oil v. a deep fryer where the food is immersed in the oil.
Which Air Fryer Should I Buy?
It took me a while to get on the air fryer wagon, I bought my first air fryer in Costco. Didn't like it, just too large, so I returned it. However, I purchased the Instant Pot Air Fryer lid that fits on my 6 qt Instant Pot, one less large small appliance to store, and since we are almost empty nesters, we do not need a large one.
If you are thinking about an air fryer, I would base your purchase on the size of your family, for larger families I would recommend the Breville Smart Oven and for smaller families or college students, I would definitely recommend this Instant Pot Air Fryer Combo. It comes with the Instant Pot, Air Fryer and regular lid, air fryer basket, dehydrator ledge, a resting spot for the hot lid. I am smitten! Small appliances do that for me! Haha!
More Air Fryer recipes coming!
Why You Will Love this Air Fryer Appetizer
They are healthier than their deep-fried ravioli cousins!
You control what type of ravioli filling, by purchasing your favorite raviolis, fresh or frozen! No pre-boiling or cooking required!
Makes a great appetizer; just in time for holiday parties.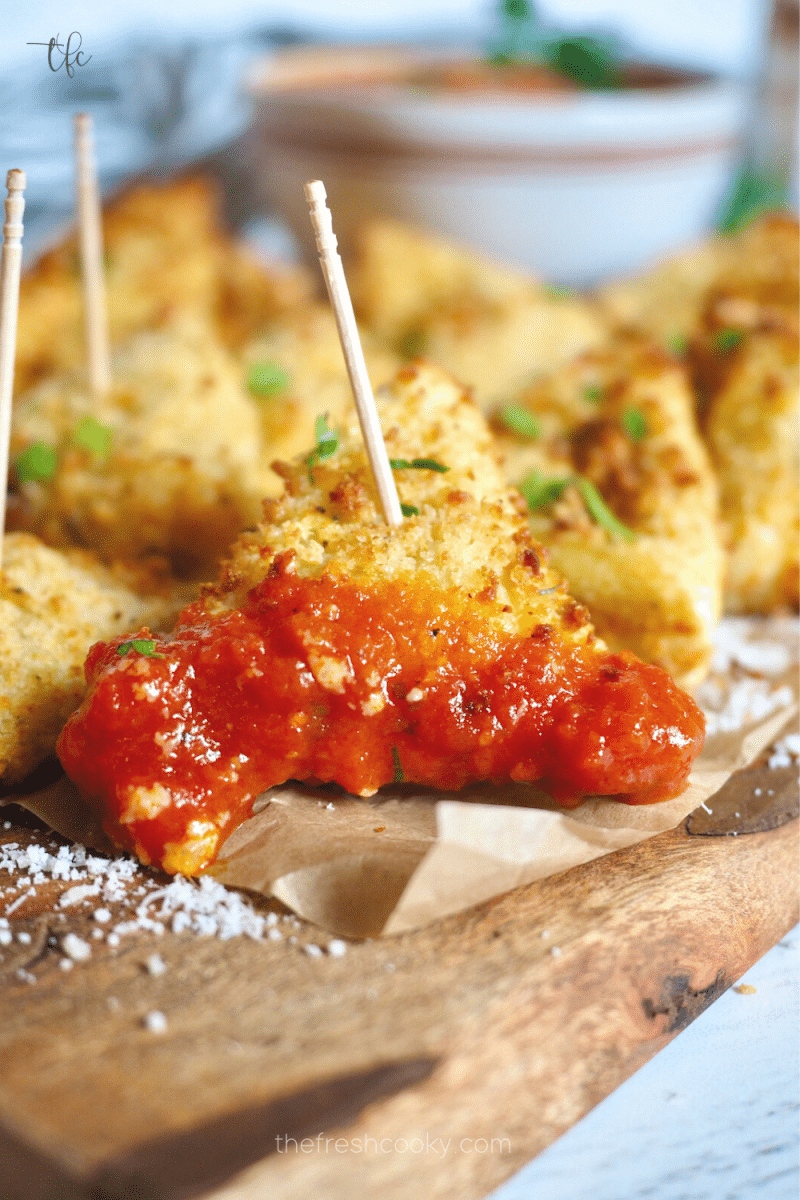 Frequently Asked Questions
Can I use frozen ravioli for fried ravioli?
Yes! Thaw according to package directions before air frying.
I don't have an air fryer, can I bake these in the oven?
Absolutely! Preheat oven to 350F degrees, line a pan with parchment paper or foil. Spray breaded ravioli with cooking spray, then bake 10-15 minutes; flip, spray with oil and bake additional 5 minutes (actual bake time depends on brand of ravioli). For extra crispy fried ravioli, Jennifer recommends broiling for 2-3 minutes watching carefully so they don't burn.
Can I freeze air fryer ravioli?
Yes! Allow to cool completely, then place in an airtight container in freezer up to 3 months. To reheat preheat air fryer to 350F degrees, place as many on your basket without crowding and reheat for 5-8 minutes.
Fresh Tips for the Best Fried Ravioli
Prep | I pre-measure prepping many of my ingredients, even when I am not shooting for a recipe. It makes the whole recipe go smoother and you are less likely to forget an ingredient or a step.
Preheat oven and the air fryer, line the baking sheets with parchment or foil — start warming marinara sauce on low.
Using forks for dipping will keep your hands clean while breading the raviolis. Plus it allows the excess to drip off.
Use good tongs for placing the raviolis in the air fryer, keeping your hands safe and making for easy placement.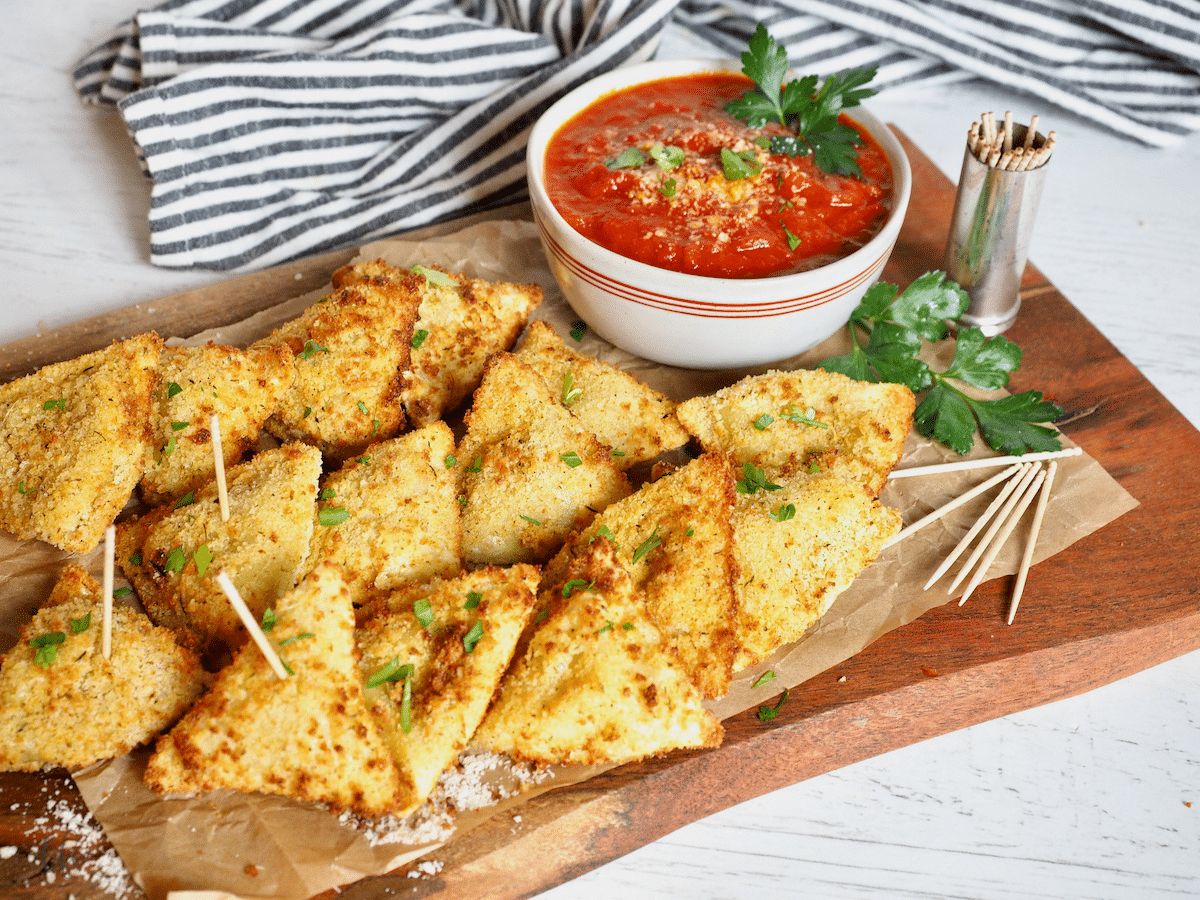 Variations
Choose your favorite ravioli to change the taste of the recipe, here are a few fun ideas:
Pumpkin Ravioli | Try pumpkin or butternut squash ravioli (like from Trader Joe's – YUM!). Use sweet spices like cinnamon, a touch of cardamom, a little nutmeg along with a little sage. Then pair it with a pumpkin pasta sauce or a simple Alfredo sauce.
Cheese Toasted Ravioli with 3 Dipping sauces | Try marinara sauce, pesto sauce and creamy Buttermilk Ranch.
Barbecue Toasted Ravioli | Try 4 cheese or chicken ravioli, add 1/4-1/2 teaspoon smoked paprika to the breading mixture, dip in this BBQ Sauce for dipping.
What to serve with Air Fryer Ravioli
I hope you enjoyed getting to know Jennifer from Take Two Tapas through this recipe — and guess what, she has another blog called Leftovers Then Breakfast for those who want a hearty meal on the table! You're welcome!
Be sure to browse through ALL of our Freaky Friday recipes and contributors below!
More Italian recipes to make your mouth water!
Take a look at all of our 2021 Freaky Friday Fall Edition Recipes:
Like this recipe?
Don't forget to give it a ⭐️⭐️⭐️⭐️⭐️ star rating and comment below the recipe!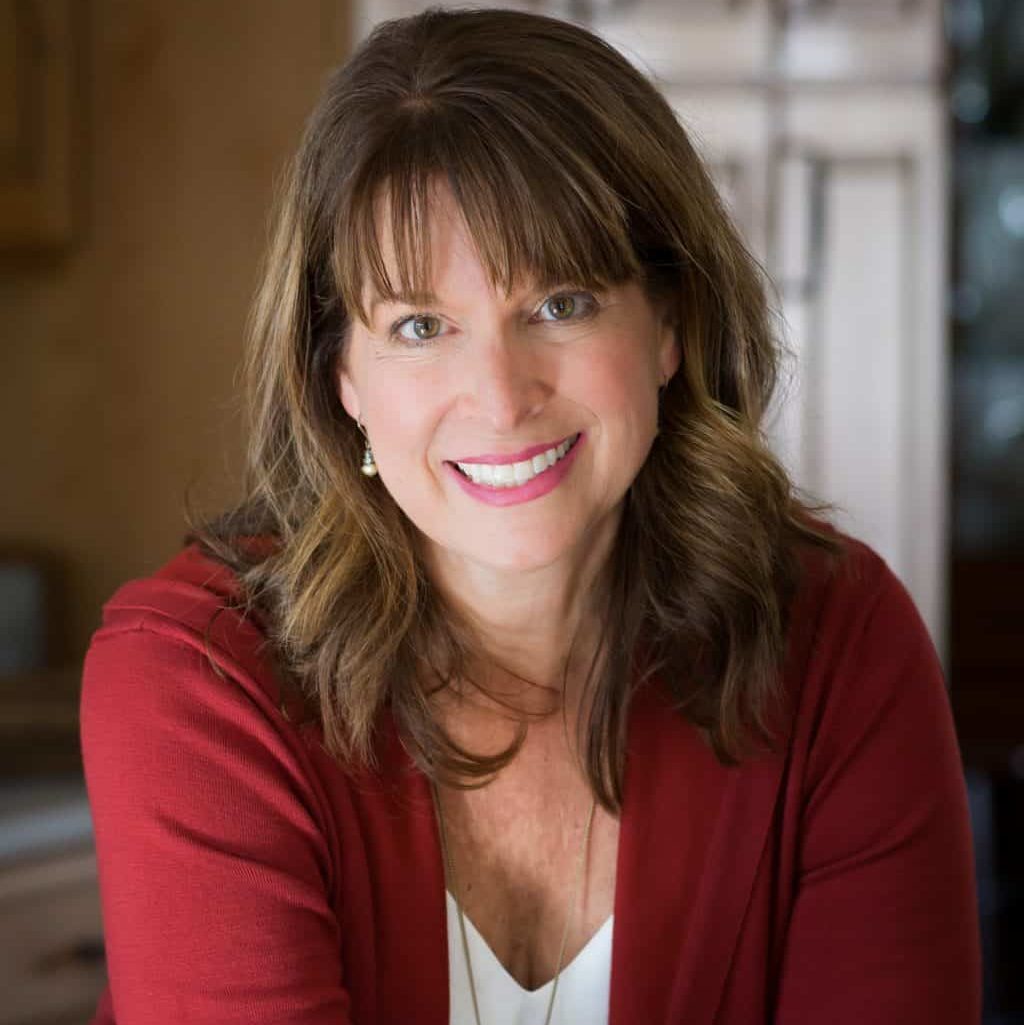 About Kathleen Pope
Recipe Innovator | Food Photographer | Food Writer
Hi, I'm Kathleen Pope. Here at The Fresh Cooky you will find easy, mostly from-scratch, trusted recipes for all occasions. From speedy dinners to tasty desserts, with easy step-by-step instructions. I am here to help teach you how to make mouthwatering recipes without spending hours in the kitchen. Read more about Kathleen here.