Hot Chocolate Marshmallow Cookies Recipe
As an Amazon Associate, I earn from qualifying purchases. Please read my disclosure policy.
Mmmm… Hot Chocolate Cookies are chewy, chocolatey perfection topped with sweet gooey marshmallow fluff. An easy holiday cookie recipe using hot chocolate mix, that kids will love to eat and help bake.
It's time to step up your cookie game and bring something unique to your next Christmas cookie exchange! These festive hot chocolate cookies are simply irresistible.
Add to your Christmas cookie offering with these popular traditional shortbread cookies, Crumbl Chocolate Chip Cookies, Pfeffernusse or Koulourakia Butter Cookies.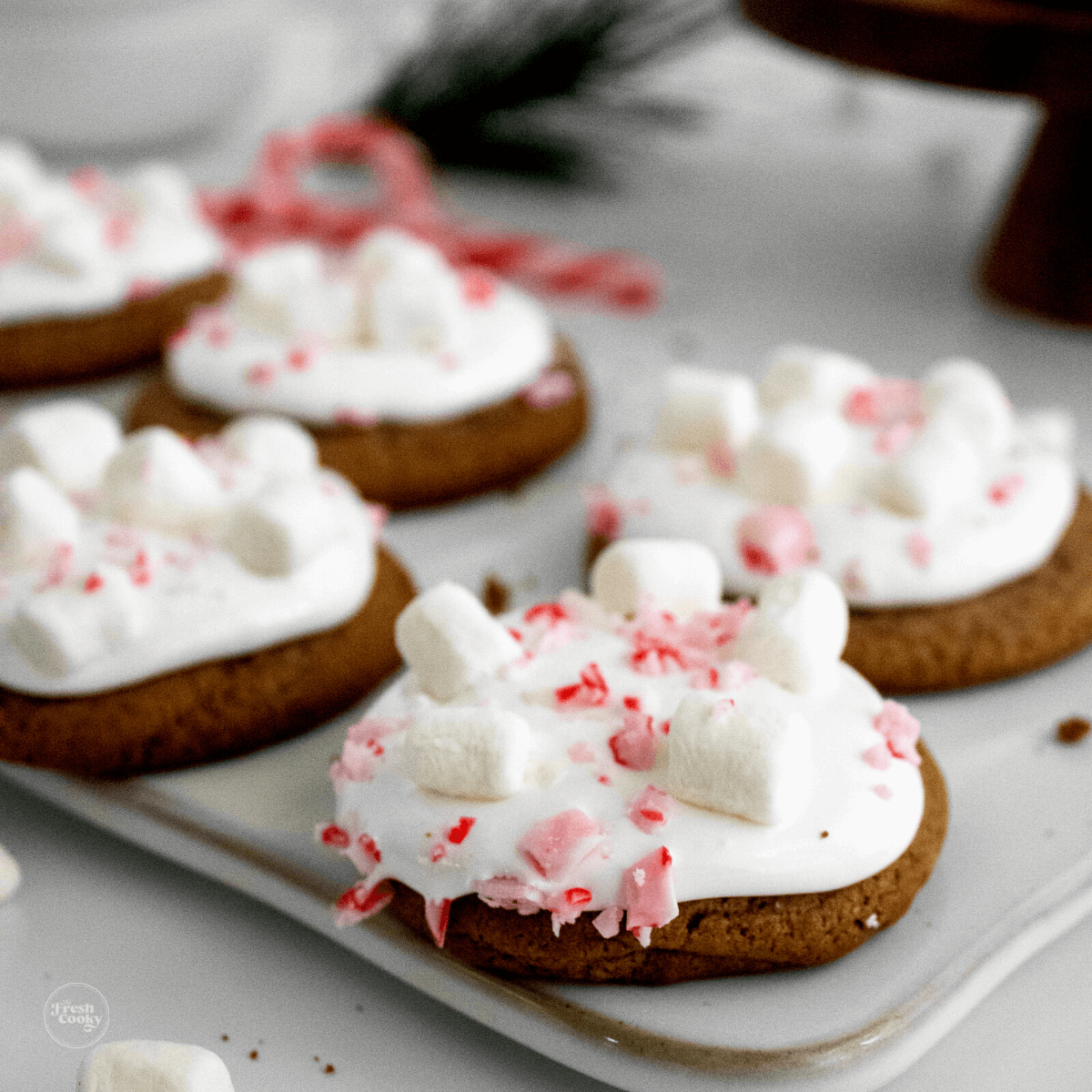 Why You Will Love this Recipe
Festive Flavors | Hot chocolate season! Curl up with a rich mug of hot cocoa paired with these hot chocolate cookies and taste all the sweet flavors of winter!
Easy Recipe | No melting of chocolate, we use hot cocoa mix instead, you won't even need unsweetened cocoa powder.
Key Ingredients
Ingredients, directions and nutritional information in the printable recipe card at the end of the post.
All-Purpose Flour | I use organic, unbleached all-purpose flour in my baking recipes.
Hot chocolate mix | Use your favorite hot cocoa mix for that famous hot chocolate flavor. I like all-natural Silly Cow Hot Chocolate Mix.
Kosher Salt | Just a sprinkle of salt will enhance the sweetness of this recipe.
Baking powder and baking soda | Gives lift, make sure yours isn't expired!
Butter | I typically use salted butter because it's what I have on hand, make sure it's soft. If using unsalted butter, add ¼ teaspoon additional salt.
Sugars | For this cookie recipe, you'll add both brown sugar (light or dark) and granulated sugar to the dough. I use all-natural cane sugar in my baking.
Eggs | I use large, room temperature eggs in all of baking.
Vanilla | A couple of drops of vanilla extract give the recipe rich and warm notes.
Marshmallow fluff | Use a dollop of marshmallow fluff or marshmallow creme to top each cookie and complete the iconic hot chocolate flavors.
Optional toppings | If desired, you can sprinkle these hot chocolate cookies with crushed candy canes and mini marshmallows.
How to Make Hot Chocolate Cookies
This chocolate marshmallow cookie recipe only takes about 15 minutes to prepare and around 10 minutes cook time. Makes 36 mouth-watering holiday cookies.
Step 1 | Cream the Wet Ingredients
First, preheat the oven to 350 degrees (375 for high altitude) and line several cookie sheets with parchment paper or silicone mat. Set it aside for now until you're ready to scoop the tasty cookie dough onto it.
Next, grab a large mixing bowl or in the bowl of a stand mixer, cream the butter, granulated sugar, and brown sugar. Beat until it is light and fluffy, 2-3 minutes, a little longer if using natural cane sugar. Then, add the eggs one at a time beating 1 minute between additions and the vanilla extract.
Step 2 | Measure and Mix the Dry Ingredients
Add dry ingredients to a mixing bowl, then add the all-purpose flour, salt, baking soda, baking powder, and hot chocolate mix. Then, give that a quick whisk to incorporate.
Add a ½ cup at a time of the dry mixture into the bowl of wet ingredients and mix until just combined, avoid over mixing.
Next, use a rubber spatula to scrape the cookie dough and wrap it in plastic wrap or leave it in the bowl and cover. Allow the chocolate cookie dough to chill in the refrigerator for at least an hour.
Step 3 | Form the Cookie Dough and Bake
After adequately chilling, use a cookie scoop or your hands to form one-inch balls of dough and place them on a parchment lined baking sheet. Remember to leave about an inch of space between all the cookies.
I prefer using a cookie scoop when baking cookies, then they are all uniform in size and bake evenly. They are one of the most used tools in my kitchen.
Finally, bake the cocoa cookies as directed in the recipe card.
Step 4 | Cool and Add Topping
Allow the cookies to cool on a wire rack completely, so they do not fall apart or melt the gooey topping.
Drop a small spoonful of marshmallow fluff in the middle of each hot chocolate cookie. You won't need much since the creamy marshmallow will spread over the top and flatten on its own.
If desired, garnish the tops of your delicious hot chocolate cookies with a few dehydrated mini marshmallows and sprinkle with crushed candy canes!
Fresh Tips
DON'T RUSH | It's best not to rush the recipe—Don't skip chilling the cookie dough before scooping it onto the sheet. Otherwise, the cookies will spread a little too much, resulting in a thinner and wider shape – which may affect how they bake.
Marshmallow Fluff Tip | Start with a smaller amount when topping hot cocoa cookies, you can always add more if preferred. Marshmallow fluff spreads and flattens over the surface of the cookies and will run off the sides and make quite a mess if you use too much.
These cookies have been tested at sea level and high altitude, adjust accordingly. I bake at 5280 feet above sea level.
High Altitude Tips Hot Chocolate Cookies
Increase the oven temperature to 375 degrees F. Typically I bake my cookies a little less. Be sure to keep an eye on them to avoid over-baking the recipe.
Increase flour by 2 level tablespoons
Decrease baking soda to ¾ teaspoon
Decrease baking powder to ¾ teaspoon
Decrease granulated sugar to ¾ cup
Toppings
Mini marshmallows and sweet crushed candy canes are an optional topping for these incredible festive treats. Shake on some "snowy" powdered sugar or colored sugar for a different look.
But to put this recipe over the top, drizzle the cooled cookies with chocolate ganache—YUM!
Variations & Substitutions
Add Chocolate Chips | Add up to 1 cup of chocolate chips, or chocolate chunks, or even white chocolate chips stirring into the dough before chilling.
Mimic a Real Hot Chocolate | Top the cooled cookies with a quick swirl of whipped cream just like you would do with a steaming mug of hot chocolate!
Chocolate Dipped | Can you ever have too much chocolate? For a pretty presentation and even more chocolate flavor, dip the cookies in melted chocolate- dark, milk, or white- and allow the chocolate to harden. Like my Peppermint White Chocolate Cookies.
Skip the Marshmallow Fluff | Instead top the cookies with a swirl of chocolate or vanilla buttercream. Kind of like the Crumbl Frozen Hot Chocolate Cookies.
White Hot Chocolate Cookies | Replace the hot chocolate mix with white hot chocolate mix.
Storage Tips
Your hot cocoa cookies can be stored in an airtight container at room temperature for about one week. But like my whoopie pies, they are also delicious when chilled!
Freeze | You can freeze the cookies for up to three months, wrap well so they don't absorb freezer flavors. I suggest skipping the topping until you are ready to eat the cookies and after they have completely thawed.
Refrigerate | You can also store the cookies in an airtight container in the refrigerator for about five days.
Make Ahead Hot Chocolate Cookie Dough
If you'd like to get a jump start on your holiday baking, make up the hot chocolate cookie dough up to 3 days ahead of time. Place dough in airtight container in fridge. To scoop, it might be quite hard, remove from fridge and allow to soften; about 30 minutes.
Frequently Asked Questions
Can you use hot chocolate powder instead of cocoa powder for cookies?
Yes! That's exactly what we did here, substituted hot cocoa mix (powder) in place of cocoa powder, reducing the sugar slightly as well. You can typically substitute it for cocoa powder in many recipes.
Can you make gluten-free hot chocolate cookies?
You sure can! Replace the flour with a good all-purpose gluten free flour, and you've got yourself a gluten-free version of this tasty recipe! Most hot chocolate mixes will be gluten-free, you'll want to double-check.
Can I make these into jumbo cookies?
These hot chocolate cookies are perfect for making into jumbo cookies! All you need to do is double-scoop (or triple) the dough onto the cookie sheet and slightly adjust the baking time. Check out my Oreo Crumbl Cookie recipe for tips and tricks about making delicious giant cookies.
More Cookie Recipes for Holiday Baking
What to serve with Chocolate Marshmallow Cookies
These hot cocoa cookies are best enjoyed with a steaming cup of hot chocolate or another seasonal drink. Here are some of my delicious recipes to pair with these cookies:
I hope you loved this Hot Chocolate Cookie Recipe — if you did, would you share your creation on Instagram, Facebook and Pinterest? And be sure to comment below!
Don't forget to chill the cookie dough for at least one hour before scooping and baking. This will ensure your cookies come out in the perfect shape and do not spread or flatten too much.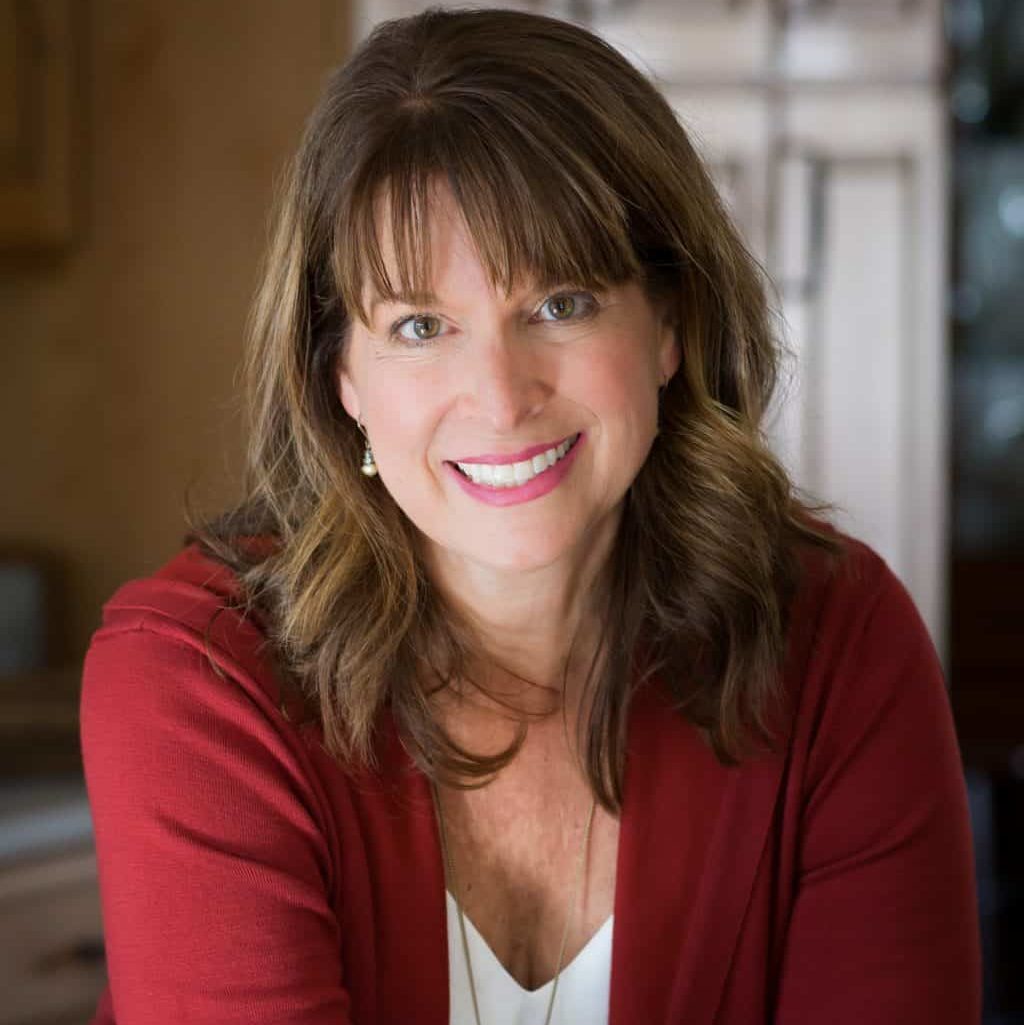 About Kathleen Pope
Recipe Innovator | Food Photographer | Food Writer
Hi, I'm Kathleen Pope. Here at The Fresh Cooky you will find easy, mostly from-scratch, trusted recipes for all occasions. From speedy dinners to tasty desserts, with easy step-by-step instructions. I am here to help teach you how to make mouthwatering recipes without spending hours in the kitchen. Read more about Kathleen here.