Best Gluten-Free Chocolate Chip Cookies Recipe
As an Amazon Associate, I earn from qualifying purchases. Please read my disclosure policy.
The Best Gluten-Free Chocolate Chip Cookies are gooey, melty and chewy on the inside, golden and crisp on the outside. Loaded with chocolate chips with a sprinkling of flaky sea salt on top. You might be fooled into thinking these are regular chocolate chip cookies.
I suspect that everyone has a friend who is gluten-free or celiac. Many of my friends and family are gluten-free, which is why I started labeling so many of my recipes gluten-free and dairy-free! Oh and did I mention, I've also given you high altitude gluten-free chocolate chip cookie adjustments!
Check out these other delicious gluten-free dessert recipes: Buckeye Bars, Healthy Breakfast Cookies, and these Peanut Butter Cookies!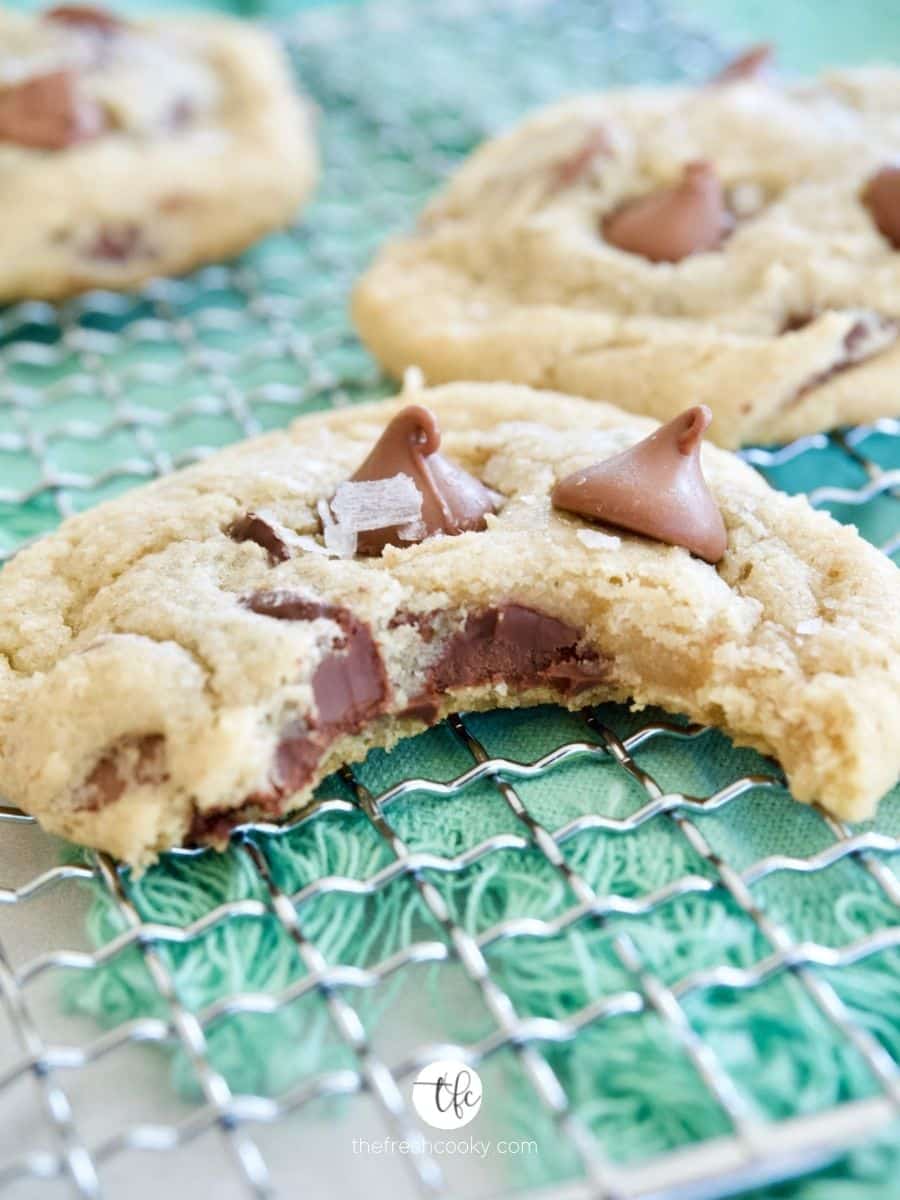 Why You Will Love these GF Chocolate Chip Cookies
These are chewy and gooey, just like a gluten-filled chocolate chip cookie, thanks to some oat flour!
I use between two and three types of chocolate chips in my cookies, chocolate in every bite.
Tastes amazingly like regular CCC, no off-tasting, gritty textures.
Dough balls are freezable, always! GF Choc Chip cookies anytime! Woot!
Two Gluten-Free flours that are easy to find in your grocery store!
High Altitude adjustments and sea level so that everyone can enjoy these gluten-free chocolate chip cookies!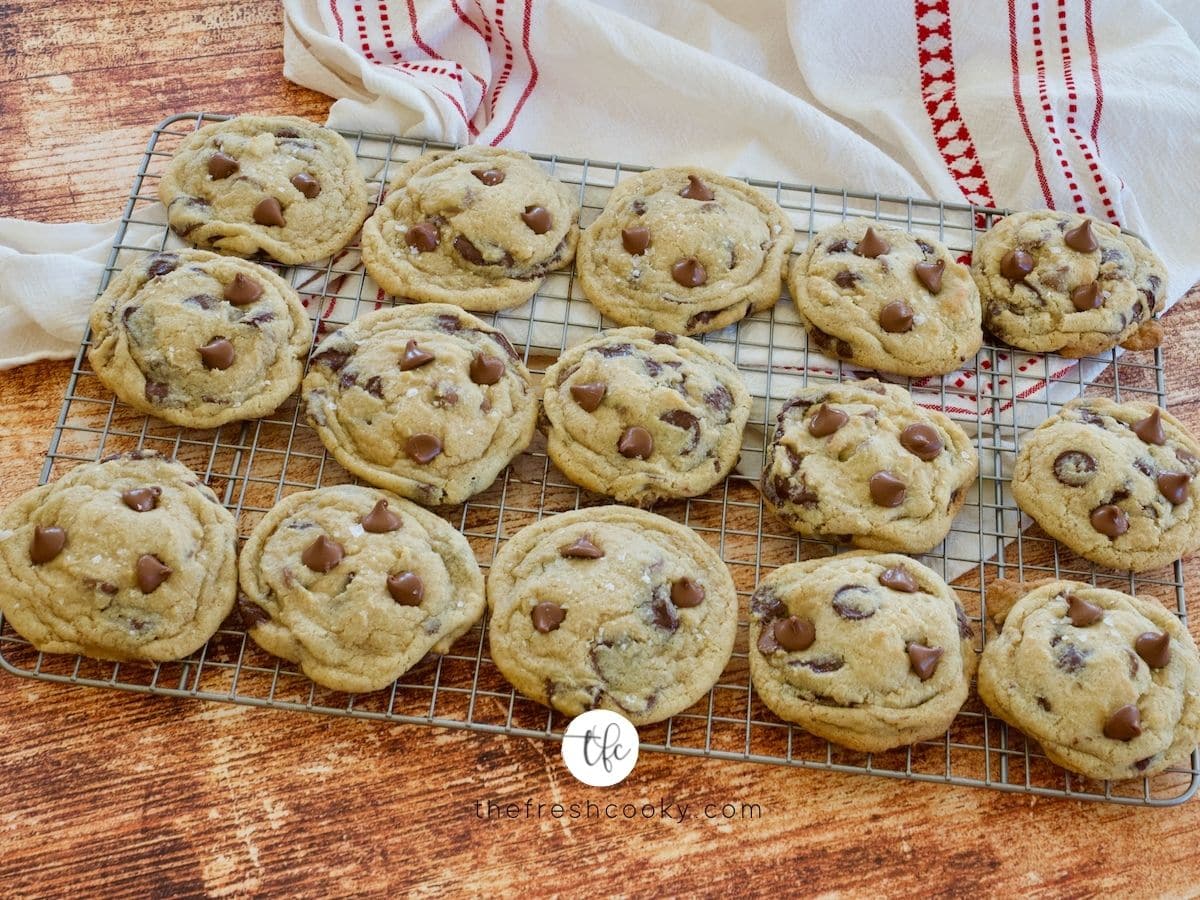 A dear friend asked if I had a good GF cookie recipe she could make for her son's rehearsal dinner. I offered to make the Gluten Free Chocolate Chip Cookies recipe for her, one less thing to do.
I knew I could do it, up until now, I didn't have a reason to try! Love me a challenge!!
Her daughter and a few others in attendance are gluten-free; she came back with rave reviews saying everyone wanted one, even those who weren't gluten-free!
Simple Ingredients
Ingredients, directions and nutritional information in the printable recipe card at the end of the post.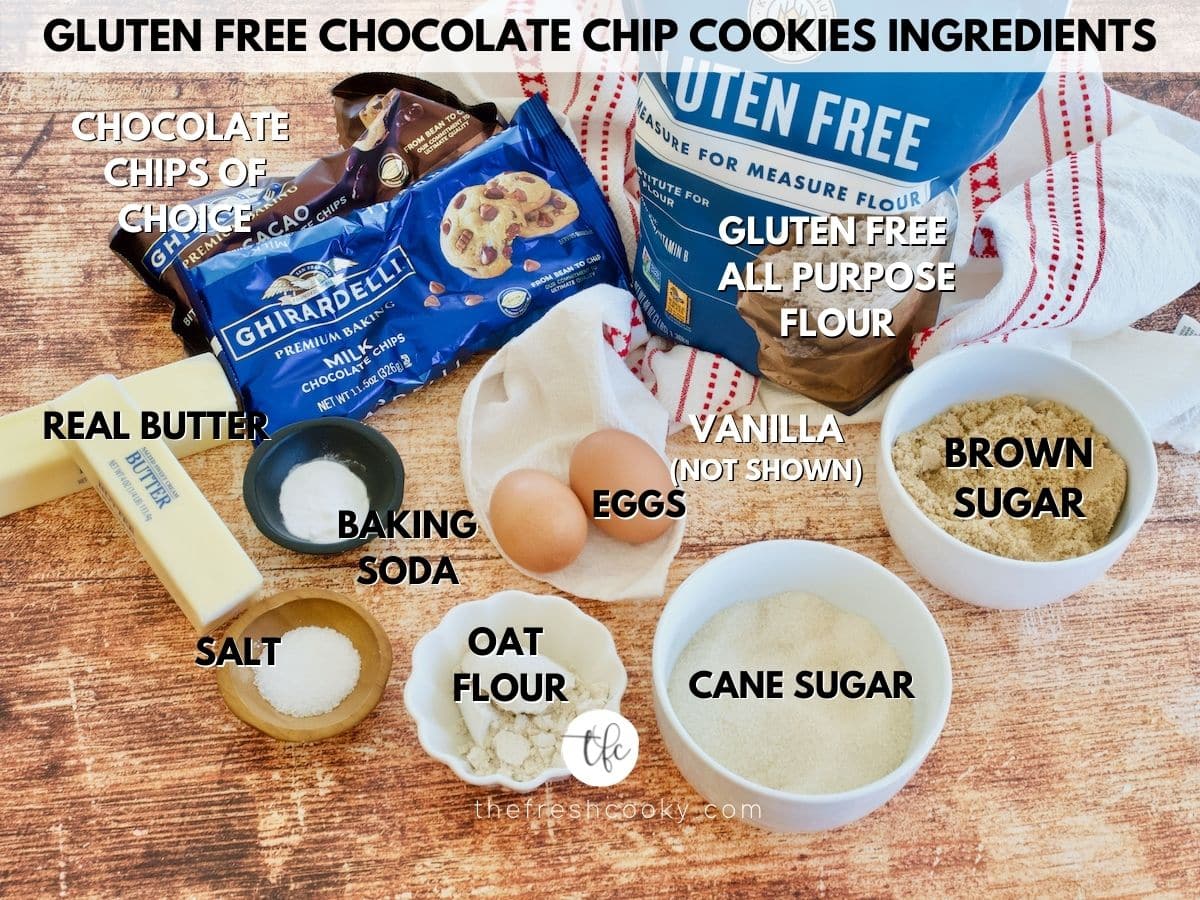 BUTTER | You know I like to harp on using REAL cream butter for baked goods, if it's soft coming out of the fridge, it's not real butter. You may also use solid coconut oil for dairy free or a good plant-based butter.
CANE SUGAR | I use organic all natural cane sugar in my baking, regular white sugar may be substituted.
BROWN SUGAR | I use organic light brown sugar typically in my baking, but you could also use dark brown sugar.
EGGS | I use large eggs in all of my baking ventures! Want to make these vegan? Try flax eggs, and let me know how it turns out!
VANILLA EXTRACT | Love this stuff, so much so that I make my own!
GLUTEN-FREE ALL-PURPOSE FLOUR | These are my favorite AP Gluten Free Flour blends that are typically available at most stores; King Arthur Measure for Measure GF Flour, Bob's Red Mill 1 to 1 GF All Purpose Flour and Pamela's GF AP Flour.
OAT FLOUR | Be sure if baking for celiac, that this is gluten free oat flour.
CHOCOLATE CHIPS & CHUNKS | Use a variety of your favorite, I like using mini chocolate chips, semi-sweet or bittersweet chocolate chips and chocolate chunks and milk chocolate chips. Be sure if making dairy free, you purchase a dairy free chocolate chip.
FLAKY SEA SALT | People poo-poo adding flaky sea salt to their cookies, I don't know why because that little burst of salty sunshine totally enhances and makes the chocolate POP!
How to make gluten-free cookie dough
Follow a few simple steps and in no time you will have your own best gluten free chocolate chip cookies!
Start by preheating oven to 375 degrees F, then in the bowl of a stand mixer or using a hand mixer, cream room temperature butter until light and fluffy, about 2-3 minutes.
Beat in cane sugar and brown sugar, on medium-high for 2-4 minutes (4 minutes if using all natural cane sugar), scraping down sides of bowl mid-way through.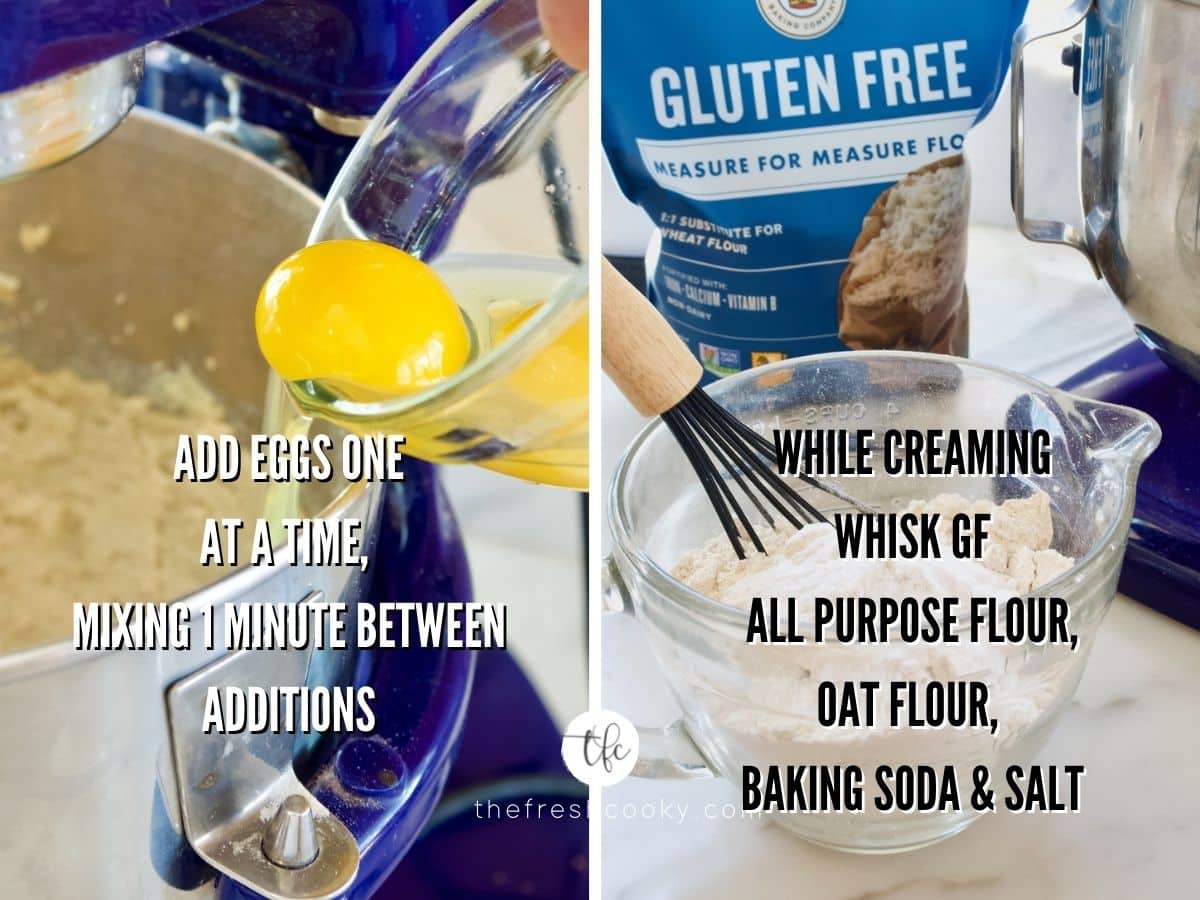 Add eggs, one at a time and mix on medium-high for 1 minute per egg.
Measure gluten free all-purpose flour, oat flour, baking soda and salt and whisk together in large bowl.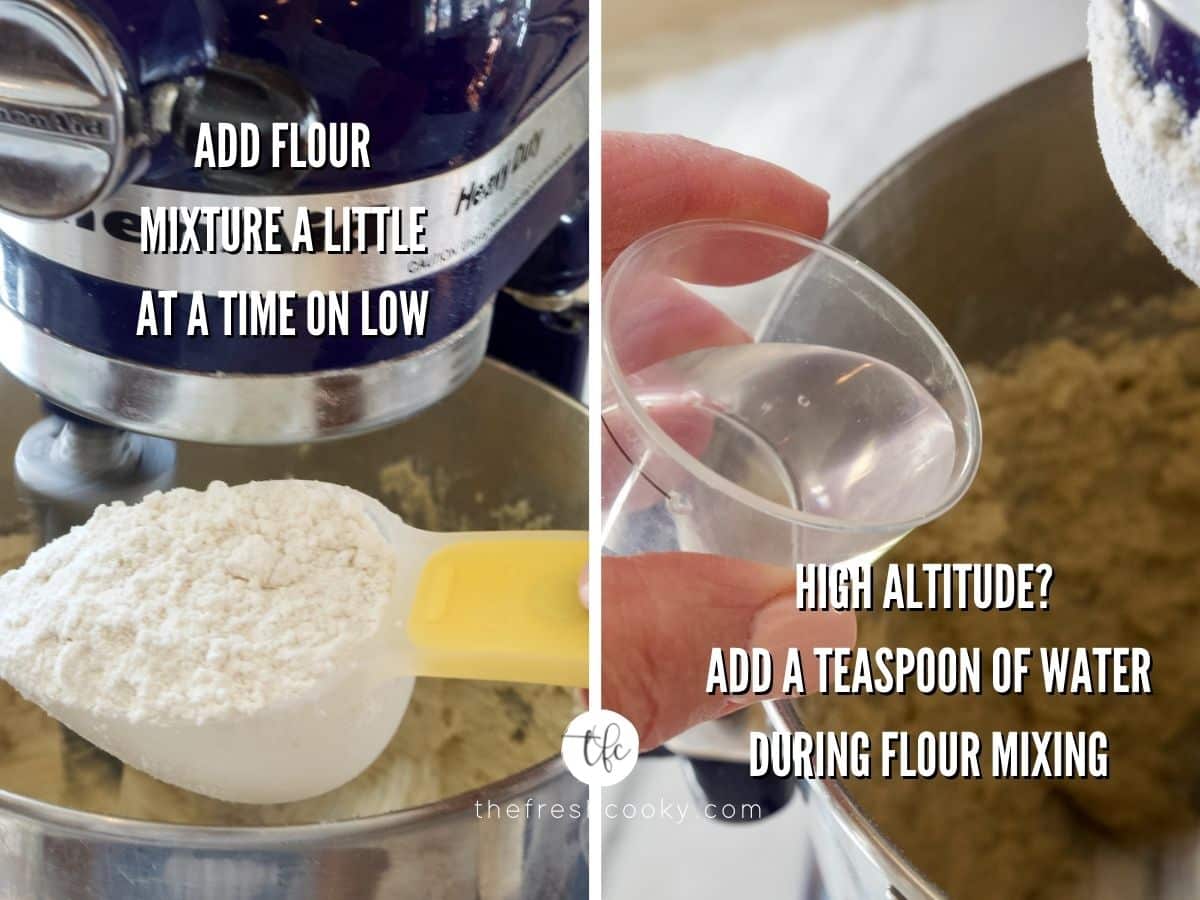 Scrape down sides of mixing bowl, then with mixer on low, add flour mixture in about 1/3-1/2 cup at a time just until incorporate, do not over mix.
If baking at high altitude (I am at 5280 above sea level), alternate flour with a teaspoon or two of water.
Do not over mix this batter, the flour should all be combined and it should be light and fluffy.
With mixer on stir setting or mix in by hand, your chosen variety of chocolate chips.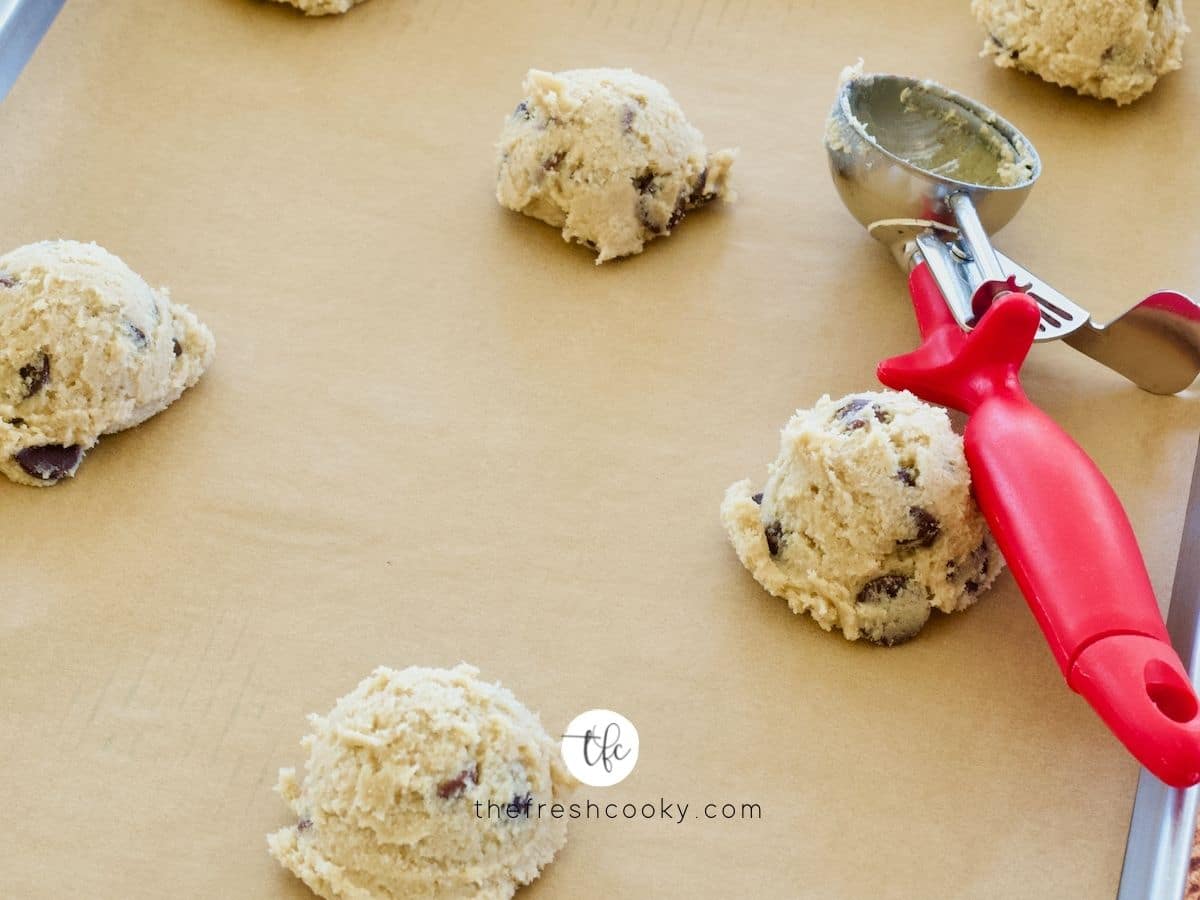 Using a 2 tablespoon medium cookie scoop, scoop dough into balls onto parchment lined baking sheet. Place a few inches apart allowing for the cookies to spread, but first…
And I know people hate this part, but it really is the key (especially for gluten free cookies) to refrigerate the dough balls for 10 minutes prior to baking.
Bake in preheated 375 degree oven for 8-10 minutes. They will look under-cooked, do not over-bake these cookies, then they will be dry and crumbly!
Remove, from oven, allow to cool on cookie sheet for 2 minutes, then transfer to wire rack to cool completely. Sprinkle with flaky sea salt as they come out of the oven.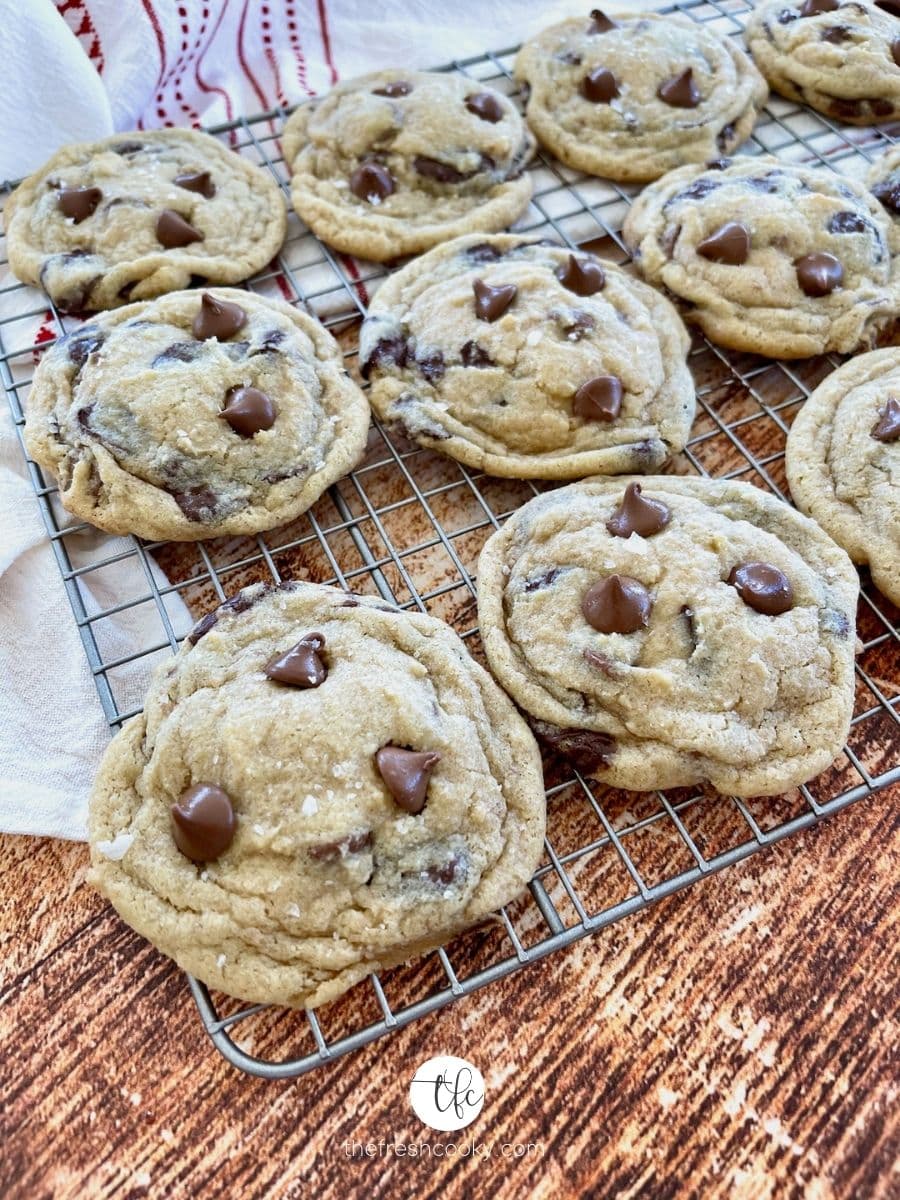 Frequently Asked Questions
Why are my GF Chocolate Chip Cookies dry and crumbly?
The most frequent reason is because they were over baked, take the cookies out when the edges are set and the centers are still slightly soft and a little glossy, they will finish baking as they cool.
Can I use other flour combinations?
Yes, but know that it could change the texture, taste and structure of the cookie and my testing was done with a good King Arthur GF All Purpose flour and gluten-free oat flour.
Are chocolate chips gluten-free?
The majority of Ghirardelli (my favorite), Hershey's and Nestle's (excluding their Butterscotch chips) are naturally gluten-free, as well as Enjoy Life chocolate chips. Read the packaging when in doubt.
Can I freeze the cookie dough?
YES! Wrap well in parchment and then place in freezer ziplock baggie. Remove from freezer and lay on cookie sheets for about 20 minutes prior to baking to soften slightly, bake as directed. See this post on how to package cookie dough. Will last in freezer 3-6 months when properly stored.
Tips & Tricks for soft, chewy GF cookies
Follow these tips for the best, soft chewy, gluten free chocolate chip cookies ever!
Use a high quality GF All Purpose Flour. I tested this recipe using King Arthur's GF AP Flour which yielded great texture, chewy factor and taste.
Refrigerate dough balls after scooping (it's easier than refrigerating the dough in bulk, but if you want an arm workout, feel free!) Refrigerate at least 10 minutes, longer if needed.
Do NOT OVERMIX the batter, mix until flours are just combined, then stir chocolate chips in by hand or on low setting of the mixer.
Do NOT OVER BAKE the cookies, this will yield a crumbly, dry cookie. Slightly under-baking them is best!
High Altitude Gluten-Free Cookies
Baking cookies at altitude can often times make us pull our hair out! A few things to make sure you are doing when baking at altitude.
Use the adjusted amounts of sugar (typically less) and a little more flour.
Watch your baking times, oven temps vary and we can easily overbake cookies at altitude
Allow them to cool on the pan for 2 minutes before transferring them to a wire rack.
Follow the beating and chilling instructions!
Remember ovens vary significantly in temperatures, it's okay to check early to make sure they aren't baking too fast. I highly suggest purchasing an oven thermometer and if necessary increase or decrease oven temp until you get desired results.
More Gluten-Free Recipes
Try these other tried and true gluten-free recipes or browse through the GF Archives!
May you found this recipe thinking it was for regular chocolate chip cookies, you might enjoy these gluten-full cookie recipes too!
I hope you enjoyed this GF Chocolate Chip Cookie recipe, if you did would you take a minute to give it a star rating?
Like this recipe?
Don't forget to give it a ⭐️⭐️⭐️⭐️⭐️ star rating and comment below the recipe!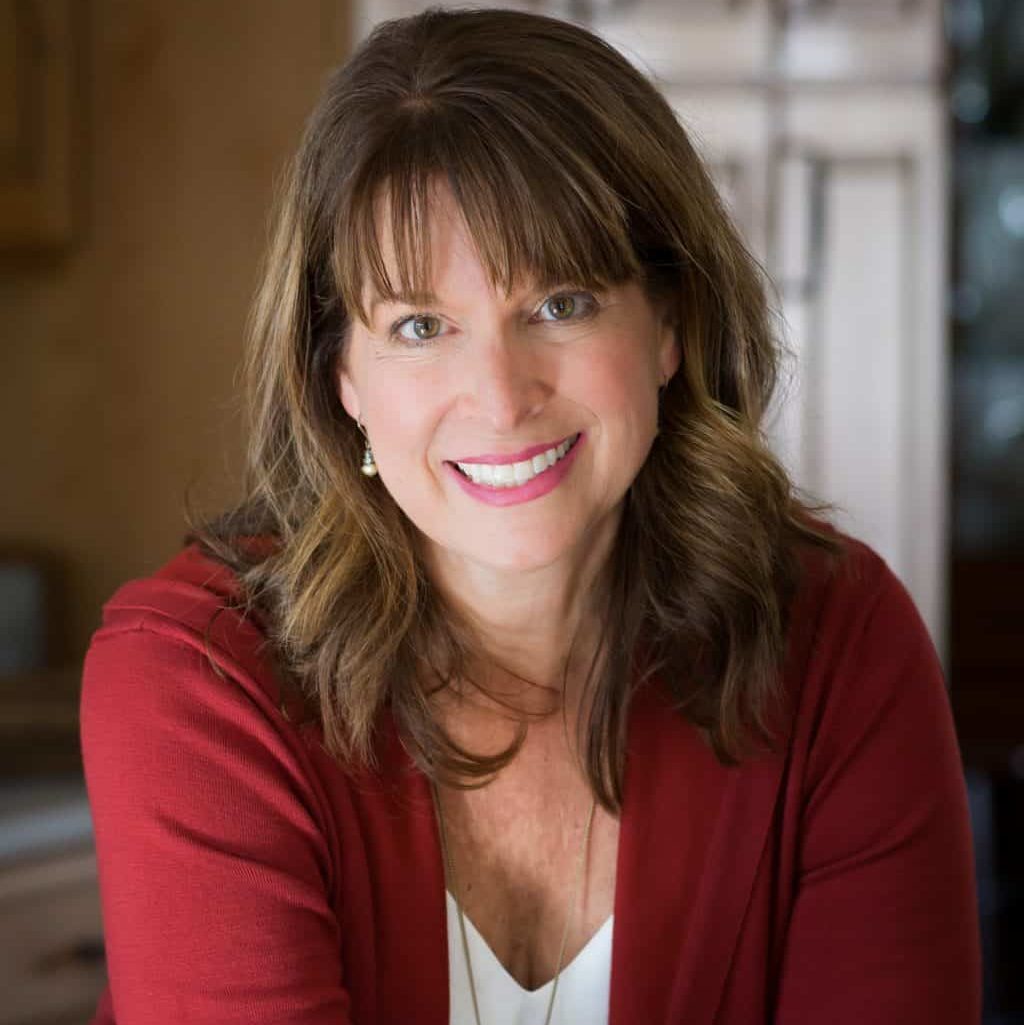 About Kathleen Pope
Recipe Innovator | Food Photographer | Food Writer
Hi, I'm Kathleen Pope. Here at The Fresh Cooky you will find easy, mostly from-scratch, trusted recipes for all occasions. From speedy dinners to tasty desserts, with easy step-by-step instructions. I am here to help teach you how to make mouthwatering recipes without spending hours in the kitchen. Read more about Kathleen here.