Christmas Reindeer Muddy Buddies (Puppy Chow) + Free Gift Tags
As an Amazon Associate, I earn from qualifying purchases. Please read my disclosure policy.
Who can resist a sweet, crunchy, easy to make snack? Not me! My Christmas Muddy Buddy recipe is the perfect sweet treat for this time of year. This easy recipe comes together with a few simple ingredients and makes a festive holiday treat that everyone will love! I like to call it a big bowl of holiday magic, you can call it the best Christmas Reindeer Chex Mix recipe!
Looking for a great holiday food gift? Grab the kids and mix up a big batch of this sweet snack. My Christmas Muddy Buddy recipe is a little different you get free printable gift tags for a perfect Christmas gift to teachers, friends, co-workers, family and neighbors.
For other delicious Christmas recipes this holiday season, try my easy Crockpot Peanut Clusters, White Chocolate Peppermint Cookies or my Pfeffernusse German Spice Cookies (yum!) and nobody EVER turned down these amazing Crumbl Chocolate Chip Cookies, ever!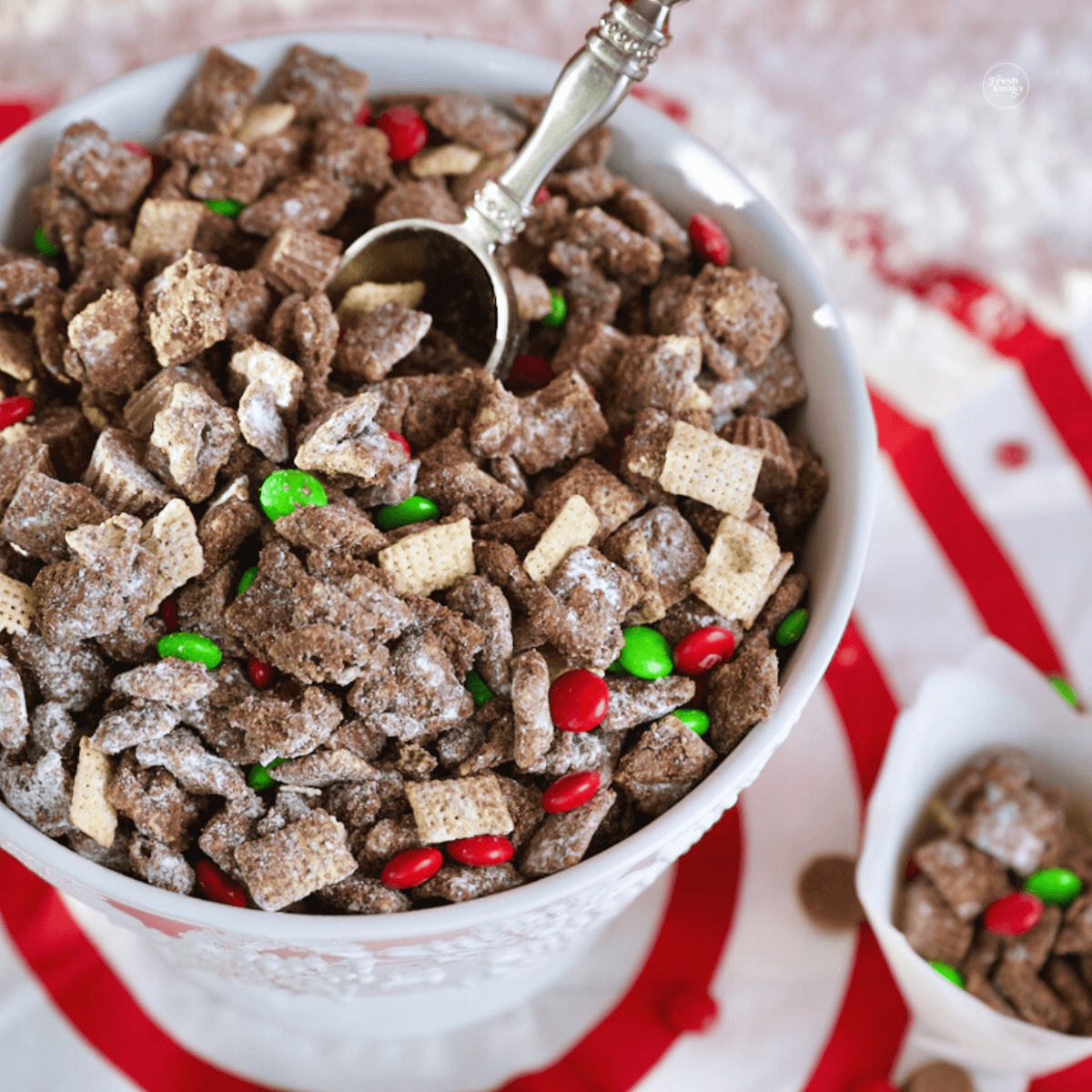 Why You Will Love Christmas Muddy Buddies Recipe
Easy Reindeer Chow | Who doesn't love an easy recipe…a huge hit, especially during the holiday season! It's the perfect treat to take to Christmas parties or to have ready made for holiday visitors.
Delicious | Creamy peanut butter, melted chocolate, crunchy Chex mix cereal, holiday M&M's. Christmas crack? Don't tell Santa!
Great Gifts | It is worth repeating – one batch of this Christmas version of a muddy buddies recipe will help you check off a multitude of gifts on your list! Think teachers, neighbors, co-workers, kids school parties, how will you use this reindeer puppy chow?
Key Ingredients & Optional Add-Ins
Ingredients, directions and nutritional information in the printable recipe card at the end of the post.
Crispy Rice Cereal | I used Rice Chex and Chocolate Chex, but you can use any combo or other similar cereal, like Crispix. I don't recommend using the wheat Chex though, their texture is a bit different.
Chocolate chips | Semi-sweet chocolate chips are my go to. You can also try milk chocolate, dark chocolate, peanut butter chips, butterscotch chips or any chocolate chip mixture.
Peanut butter | Creamy is a must. Or use the creamy version of almond butter, sun butter or your favorite nut butter for muddy buddies without peanut butter. I used a natural peanut butter, just make sure it's really well stirred!
Cookie butter | For an even sweeter treat use all cookie butter YUM! Just try not to eat it out of the jar! 🙂 This ingredient is optional, just increase your peanut butter if not using.
Vanilla | When I run out of my own vanilla extract, I love using Rodelle Vanilla, so rich and delicious!
Powdered sugar | Adds a delicious velvety coating to the mixture, giving it that traditional puppy chow look.
Holiday M&M's | Pick up a couple of bags of those holiday m&m as soon as you see them on the shelves. These go fast during the Christmas season! In fact, I had to sort through a large bag of regular m&m's for red and green m&m pieces! My husband with sorting, red, green in the bowl, every other color in his mouth! 😉
Optional Add-Ins for Christmas Snack Mix
Mini peanut butter cups make for a delicious, festive treat, or try mini Rolos, chocolate kisses, malted milk balls, oh yeah, now we're talking! You could even add red hots for a fun Rudolph look!
Add Mini Pretzels | they look kinda like reindeer antlers, dontcha think? Plus hello, salty pretzels!
Mini Marshmallows, Crushed Candy Canes, use different extracts too!
Be Creative | You do not need to use my exact ingredients, use about the same measurements and you are goof to go with this fun treat.
Let's Make Christmas Muddy Buddies
Step 1 | Prep baking sheets
Line two half sheet baking pans with parchment paper or wax paper, set aside. In a (VERY) large bowl pour in cereal.
Step 2 | Melt & Stir
Melt chocolate chips by adding chocolate chips, peanut butter, cookie butter and butter to a microwave-safe bowl. Cook on high for 45 seconds, stir really well and then microwave in 30 second intervals stirring really well* in between each heating.
Stir in vanilla extract and stir until smooth and pourable.
Fresh Pro Tip
*The chocolate continues to melt while you are stirring, so don't place it back in the microwave too soon, this can cause your chocolate to seize. Stir well between each microwave heating. See my post on how to make chocolate ganache for how to fix seized chocolate.
Step 3 | Pour and Mix
In a large mixing bowl, pour the chocolate, cookie butter and peanut butter mixture over the dry cereal, using a large spoon to turn to coat, carefully turning until the chocolate has coated most of the Chex mix.
Tip | I just poured a little over the top, stirred it in, then poured the rest. Allow to cool for a little bit unless your want your powdered sugar to melt in. See tips below for clumpy puppy chow.
Next, once the mixture has cooled until just tacky, add the powdered sugar, gently using a spoon or spatula to turn and coat the entire Chex mix mixture.
Step 4 | Cool
Spread Reindeer mix onto the prepared baking sheet, spreading out evenly and allow to cool to at least room temperature.
Keep a little powdered sugar in reserves and using a sieve, sprinkle over the areas that didn't get a good coating when mixing.
Don't add the m&ms or peanut butter cups too soon, make sure the mixture has cooled completely or you might have some melting.
Once cooled completely, stir in desired add-ins, m & m's, peanut butter cups, pretzels, etc. or you may layer add-ins while assembling Chex mix into gift bags or containers. Or store in an airtight container and enjoy yourself!
Variations & Substitutions
Tree nut or peanut allergies? Use sunflower butter or all cookie butter instead of peanut butter, muddy buddies without peanut butter! Ta-da! If not allergic to tree nuts use almond butter or even Nutella (hazelnut and chocolate).
Replace some of the semi-sweet chocolate chips with white chocolate chips; makes great reindeer food!
Use your favorite Chex flavors; like Corn Chex (or similar brands), use your favorite! Although Wheat Chex don't have the best texture for this muddy buddy treat.
Instead of tossing with powdered sugar in the large bowl, transfer the mix to a large clean, brown paper bag and place chocolate covered Chex mix into the paper bag, then dust with powdered sugar. Close the bag and gently shake the bag to coat all of the cereal. May also be done in batches in gallon Ziploc bags.
How to Store Christmas Reindeer Chex Mix Recip
Do I need to refrigerate Christmas Muddy Buddies?
No, but you can! It can easily be stored on the counter in an airtight container up to one week (if it lasts that long). But you can also refrigerate up to one week (make sure it's in an airtight container so it doesn't absorb fridge flavors).
Can you freeze homemade Chex mix?
Yes, it actually freezes well! Freeze up to 3 months in an airtight container, if desired, thaw on counter or enjoy it as a frozen treat. This goes for both the sweet and the savory versions.
Frequently Asked Questions
Where did puppy chow originate?
Rumor has it that Puppy Chow originated in the midwest; it resembles dog kibble. Most often made with gluten-free rice or corn Chex mix and occasionally Crispix. When the makers of Chex Mix found out about it, they renamed it to Muddy Buddies and started printing the recipe on the back of the box. A legend was born!
Can you feed Puppy Chow to dogs or puppies?
No! This chocolatey, sweet treat is not safe for animals and is meant for human munching! 🙂
Why are my Muddy Buddies soggy?
It is very important to immediately spread the chocolate and peanut butter covered cereal onto the baking sheets and spread evenly so that it cools quickly. This will allow the fats in the chocolate to cool quicker, as opposed to soaking into the cereal if all clumped together.
Is Puppy Chow or Muddy Buddies Gluten-Free
As long as you are making it with a gluten-free cereal (like rice Chex or Corn Chex) AND you replace the cookie butter with additional peanut butter, this Christmas Puppy Chow is entirely gluten-free!
How to make clumpy puppy chow?
Cooling puppy chow or muddy buddies on a baking sheet in a single layer, will yield more individually coated pieces of Chex. If you load it up in little piles and pop it in the freezer for 15-30 minutes then break it up before it's fully firm, you will have beautiful, chocolatey clumps. You want the chocolate to be slightly tacky, then toss with your powdered sugar on a baking sheet and Bingo, clumpy puppy chow!
Free Printable Christmas Reindeer Chex Mix Recipe Gift Tags
Simply click on the button below. A window will open where you pop in your email address and I'll send you the link to the free, printable gift tags in an email, shazaam!
Each of the labels are formatted for a 2×3 rectangle. You can either purchase some printable sticky labels, hand cut them, or purchase a 2×3 inch tag punch.
You will receive both designs, print one style or print them both! There is one design on each sheet that will print 8 tags. I suggest printing on nicer paper, glossy paper, or cardstock that will work in your printer.
I love food gifts and this would be a great snack food to give to volunteers, teachers, kids or neighbors. Either put your own name in the box, or individually write names of your recipients.
Or you might also like these gift tags that are a bit more generic! Christmas gifts from the kitchen gift tags.
Ways to Serve Reindeer Chex Mix recipe
Serve in a large festive bowl at your holiday parties, it's the perfect holiday treat!
Place in a pretty ice bucket or a decorative bowl and don't forget the scoop, provide some some cups for people to serve themselves — this would be great at a holiday Favorite Things Party!
Package the Christmas Muddy Buddies mix into cellophane bags or cute Christmas containers, tie with your favorite ribbon and affix a gift tag, or put in cute cupcake liners.
Recommended Items for Gift Bag, Package Decorating
Bakers twine is my favorite; of course at Christmas one of my favorites is the classic red and white, this trio of three is perfect.
Nothing wrong with soft and off white classic bakers twine, plus you can tie up your turkey with it too!
Jute is fun too! Rustic and farmhouse feeling, I love this sampler pack of 12 jute colors of twine.
Don't forget a totally different look, like this vine garland, make mini wreaths to go onto your packages.
Accent pieces are great, be creative, clip some evergreen from your yard (or a neighbors, but ask first), berries, a cinnamon stick, rustic or classic jingle bells, be creative, I bet you have little ornaments you could use too!
This easy treat goes by many names; like Christmas Puppy Chow recipe, Reindeer Chow Muddy Buddies, Christmas Reindeer Chex Mix recipe, Reindeer munch, and of course Christmas Muddy Buddy Recipe. Whatever you call it, you will love this tasty treat, perfect for gifting at Christmas time!
More Treats and Printables
I hope you loved this Christmas Reindeer Chex Mix Recipe — if you did, would you share your creation on Instagram, Facebook and Pinterest? And be sure to comment below!
Like this recipe?
Don't forget to give it a ⭐️⭐️⭐️⭐️⭐️ star rating and comment below the recipe!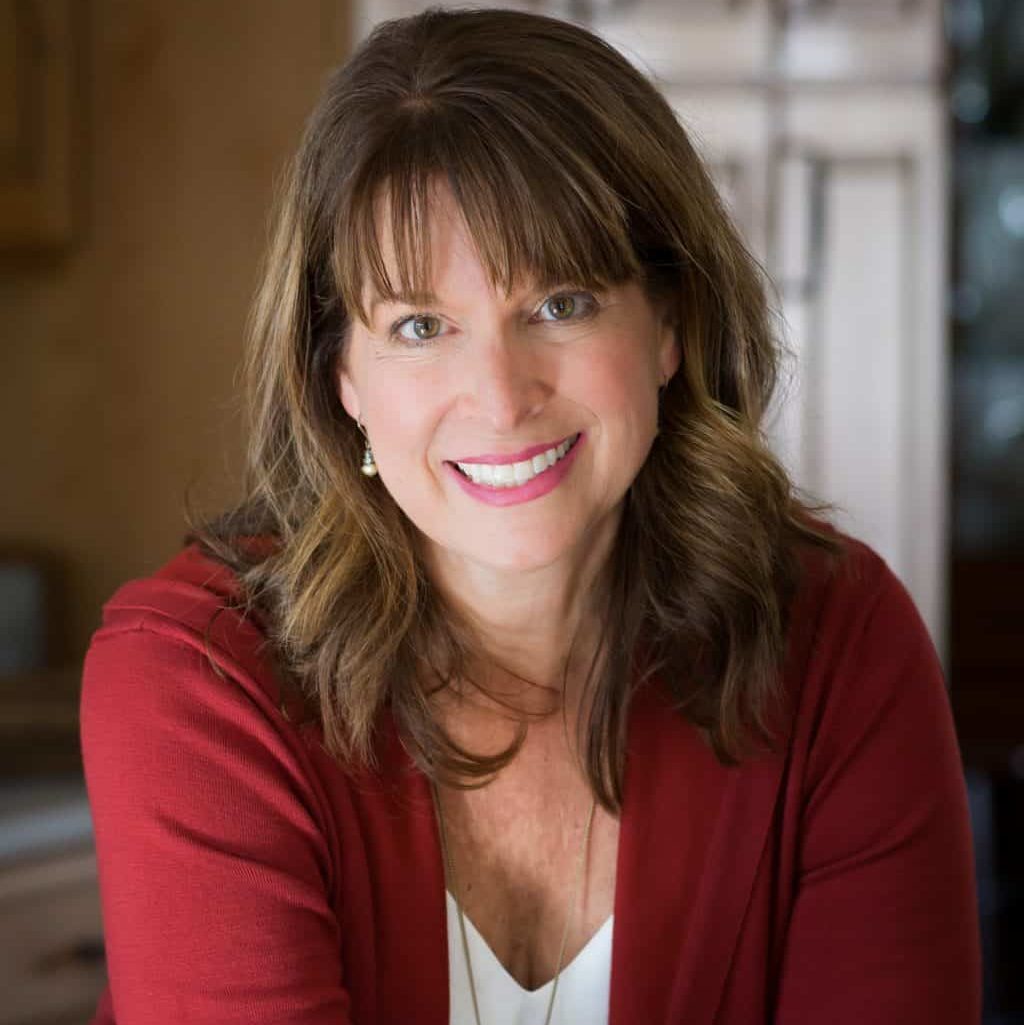 About Kathleen Pope
Recipe Innovator | Food Photographer | Food Writer
Hi, I'm Kathleen Pope. Here at The Fresh Cooky you will find easy, mostly from-scratch, trusted recipes for all occasions. From speedy dinners to tasty desserts, with easy step-by-step instructions. I am here to help teach you how to make mouthwatering recipes without spending hours in the kitchen. Read more about Kathleen here.