Chocolate Fluffernutter Whoopie Pies
As an Amazon Associate, I earn from qualifying purchases. Please read my disclosure policy.
Chocolate Fluffernutter Whoopie Pies! Dark, chocolate mini cakes with an amazing peanut-buttery, marshmallow-y frosting sandwiched between. A match made in heaven!
Whoopie pies, cream pies, sandwich cookies, I don't care what you call them, just call me when you make them!
If you are a sandwich cookie lover, try these Oatmeal Sandwich Cookies, Lemon Shortbread Cookies or Brownie Sandwich Cookies.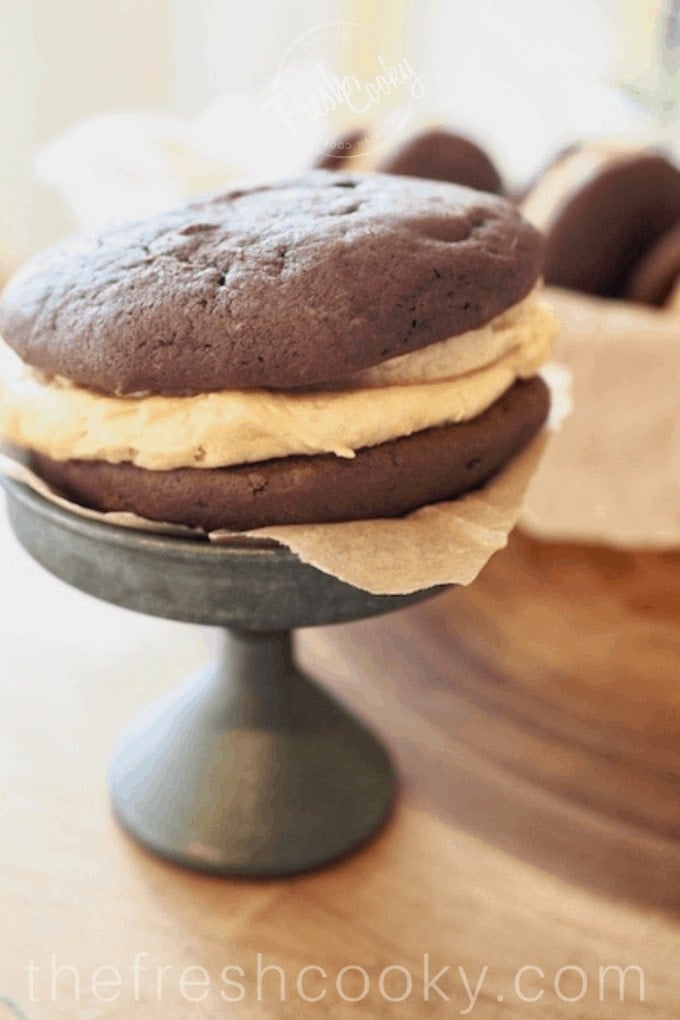 Simply bake up a batch of my chocolate whoopie pies (recipe included) and then put together this fluffernutter buttercream frosting to sandwich between the "pies".
Whoopie Pie Ingredients
First you need to make up your "pies" and these are the simple ingredients:
How to Make Fluffernutter Frosting
This frosting would also be fabulous piped atop these rich, fudgy brownies or these espresso brownie bites.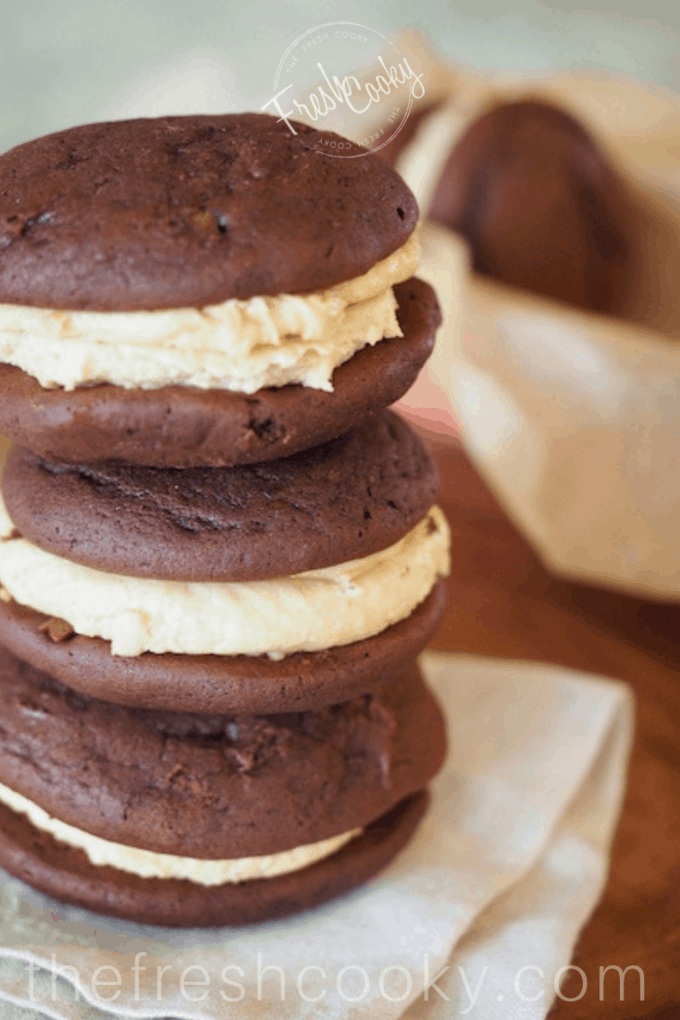 How to Make the Fluffernutter Frosting
Start by tossing all of your frosting ingredients (except the powdered sugar and milk) into the bowl of a stand mixer fit with a paddle attachment and whip on medium-high for 1-2 minutes until combined and fluffy.
Scrape down sides of bowl; on low slowly pour in powdered sugar, alternating with milk. Once combined, increase speed to medium-high and mix for 1-2 minutes until smooth.
Using a medium scoop, place a heaping scoop of fluffernutter filling on the "bottom" of a whoopie pie, place the matching "pie" on top, gently pressing down to fill the pie.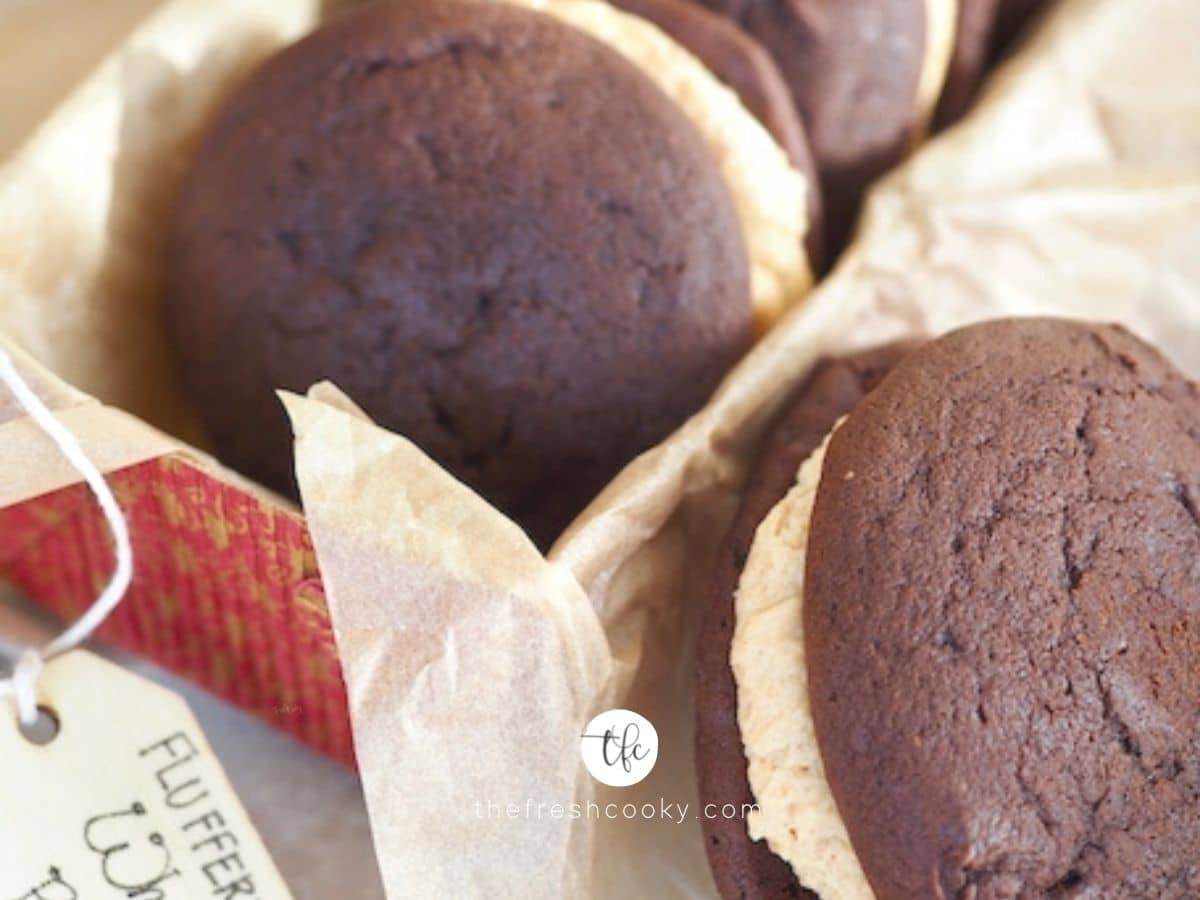 Recommended Tools
How Do You Store Whoopie Pies
I like to individually wrap my whoopie pies with plastic wrap and store them in the freezer, then you can pop them in a lunch box, they'll thaw by lunch time.
They will keep in an airtight container for 3-5 days, or wrap individually and toss in the refrigerator up to 7 days.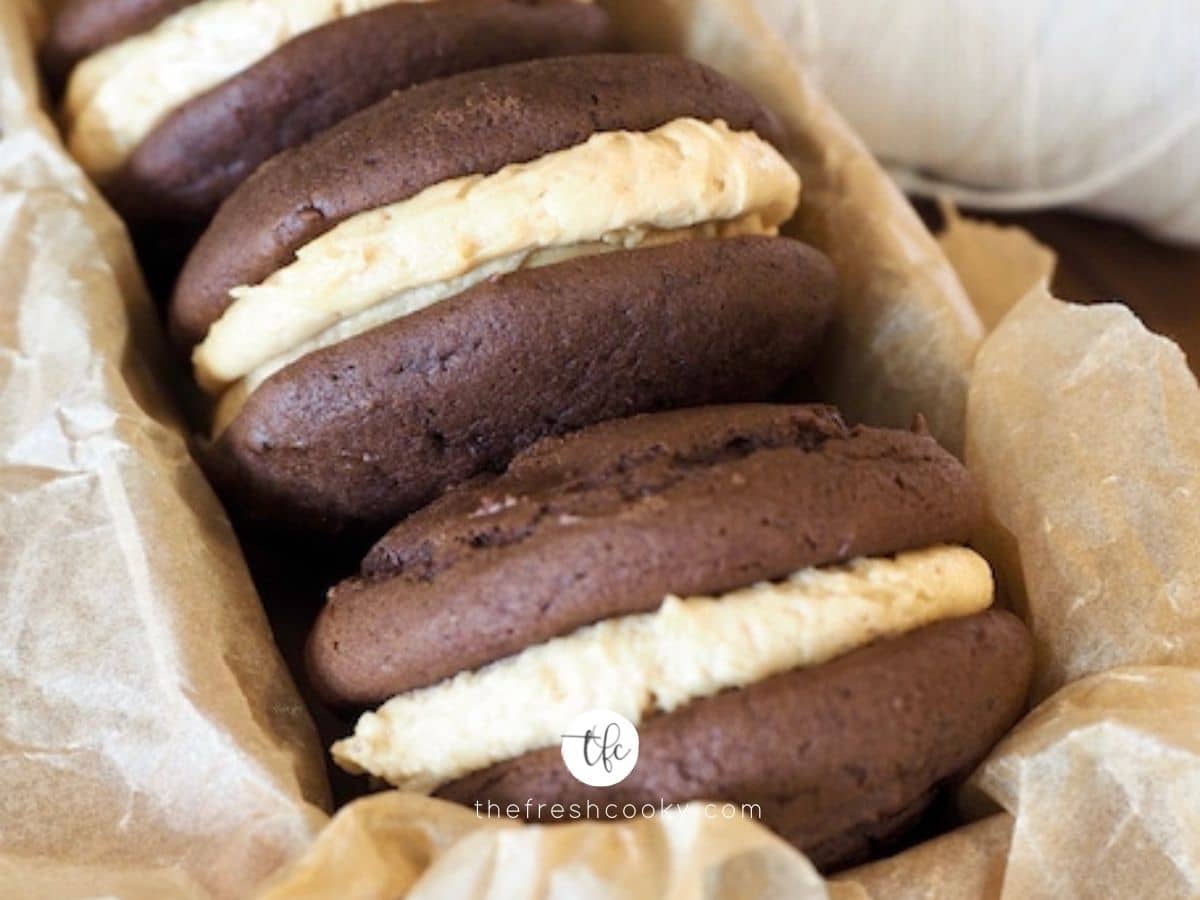 Funny thing is, I'm not even a cake lover, but these, little portable, handheld pies can make me swoon.
I'm sorry and you're welcome!
Oh and if you want to stay all Classic New England, then please try my Classic Maine whoopie pies with traditional marshmallow buttercream.
These are New England approved by my husband's family in Maine and New Hampshire!
More Great Chocolate Recipes
Like this recipe?
Don't forget to give it a ⭐️⭐️⭐️⭐️⭐️ star rating and comment below the recipe!