Chocolate Fluffernutter Whoopie Pies! Dark, chocolate mini cakes with an amazing peanut-buttery, marshmallow-y frosting sandwiched between. A match made in heaven!
Whoopie pies, cream pies, sandwich cookies, I don't care what you call them, just call me when you make them!
If you are a sandwich cookie lover, try these Oatmeal Sandwich Cookies, Lemon Shortbread Cookies or Brownie Sandwich Cookies.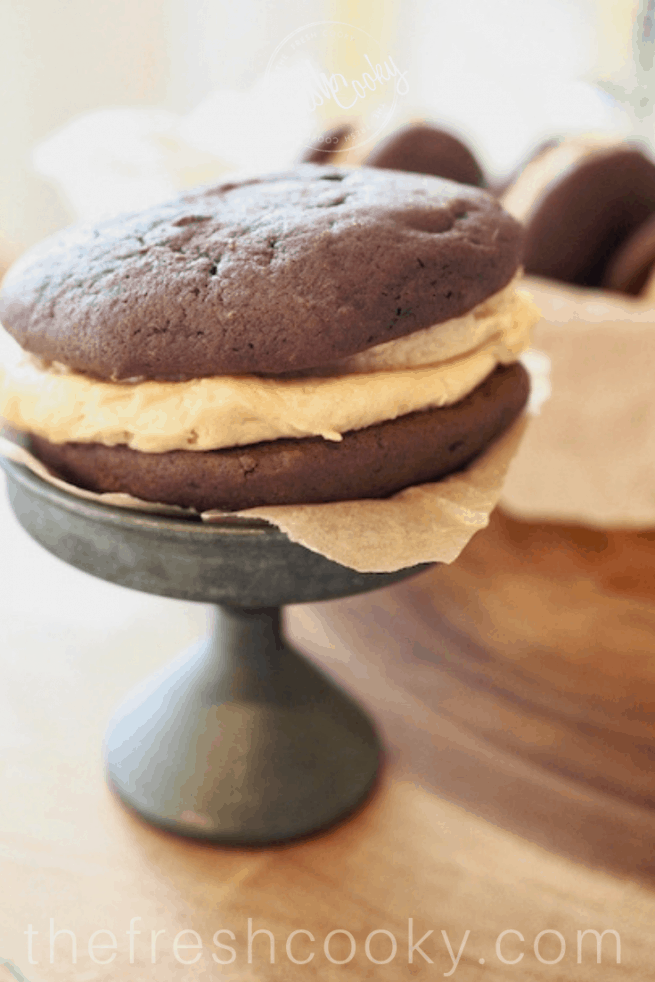 Simply bake up a batch of my chocolate whoopie pies (recipe included) and then put together this fluffernutter buttercream frosting to sandwich between the "pies".
Whoopie Pie Ingredients
First you need to make up your "pies" and these are the simple ingredients:
How to Make Fluffernutter Frosting
This frosting would also be fabulous piped atop these rich, fudgy brownies or these espresso brownie bites.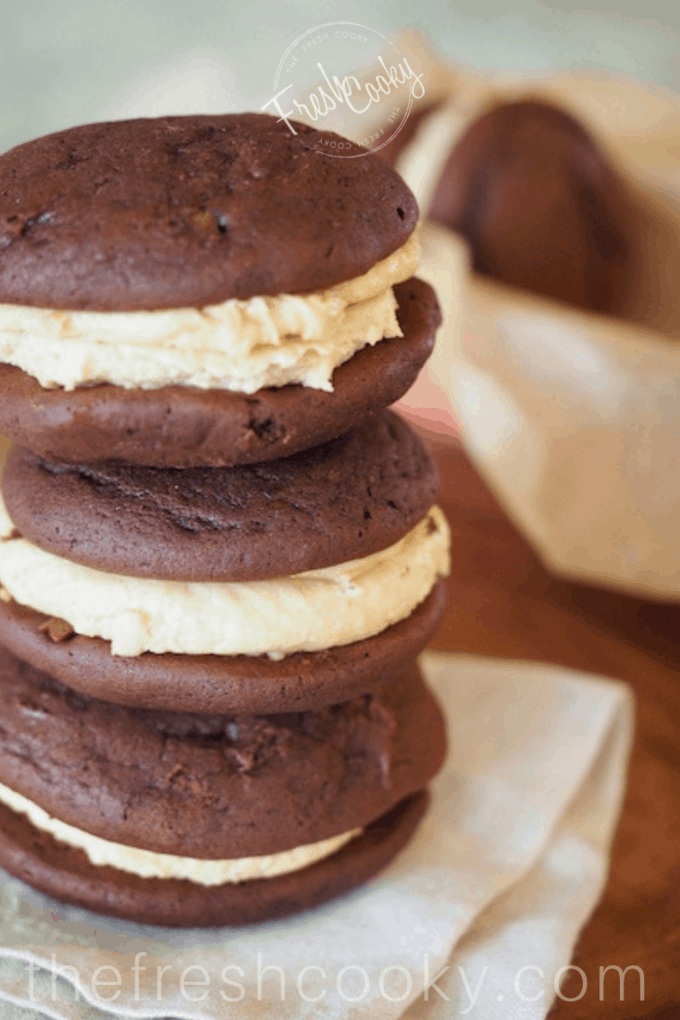 How to Make the Fluffernutter Frosting
Start by tossing all of your frosting ingredients (except the powdered sugar and milk) into the bowl of a stand mixer fit with a paddle attachment and whip on medium-high for 1-2 minutes until combined and fluffy.
Scrape down sides of bowl; on low slowly pour in powdered sugar, alternating with milk. Once combined, increase speed to medium-high and mix for 1-2 minutes until smooth.
Using a medium scoop, place a heaping scoop of fluffernutter filling on the "bottom" of a whoopie pie, place the matching "pie" on top, gently pressing down to fill the pie.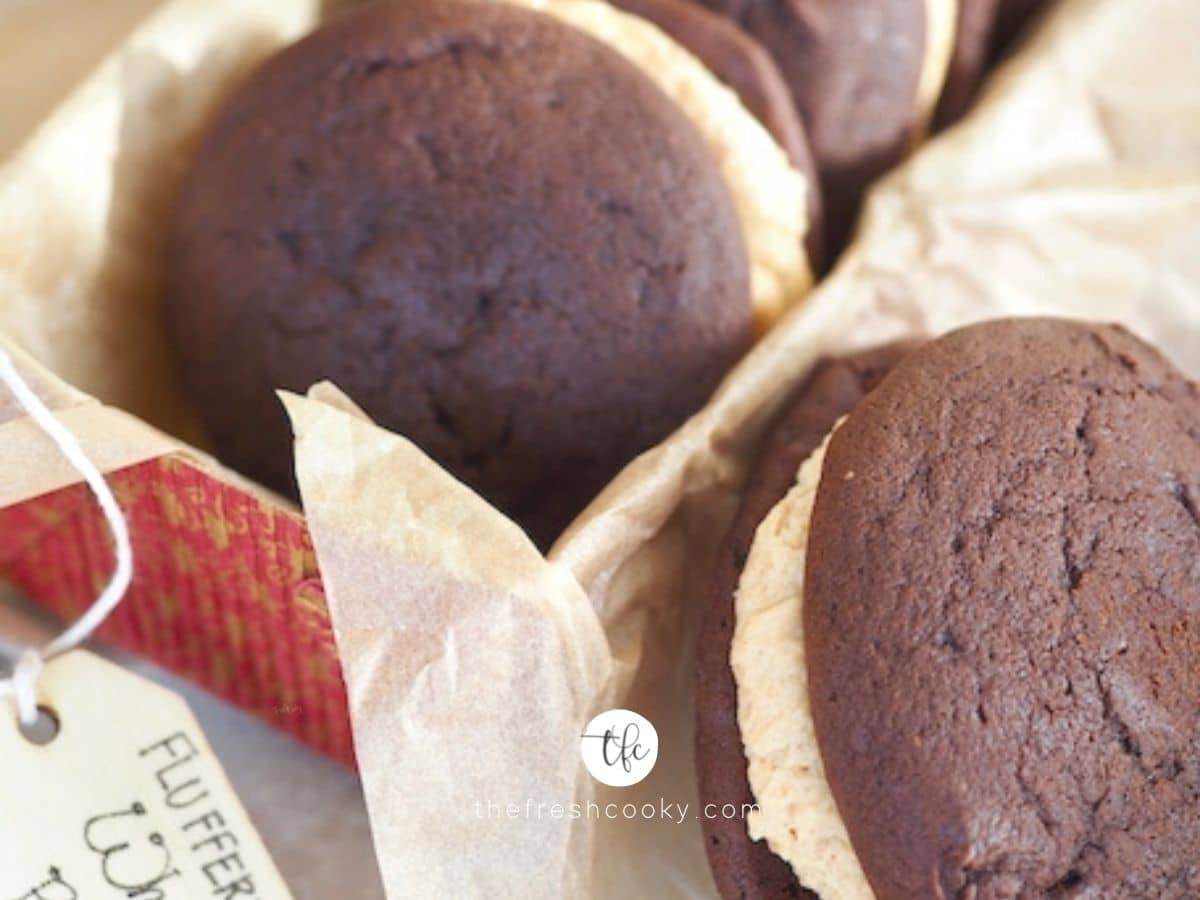 Recommended Tools
How Do You Store Whoopie Pies
I like to individually wrap my whoopie pies with plastic wrap and store them in the freezer, then you can pop them in a lunch box, they'll thaw by lunch time.
They will keep in an airtight container for 3-5 days, or wrap individually and toss in the refrigerator up to 7 days.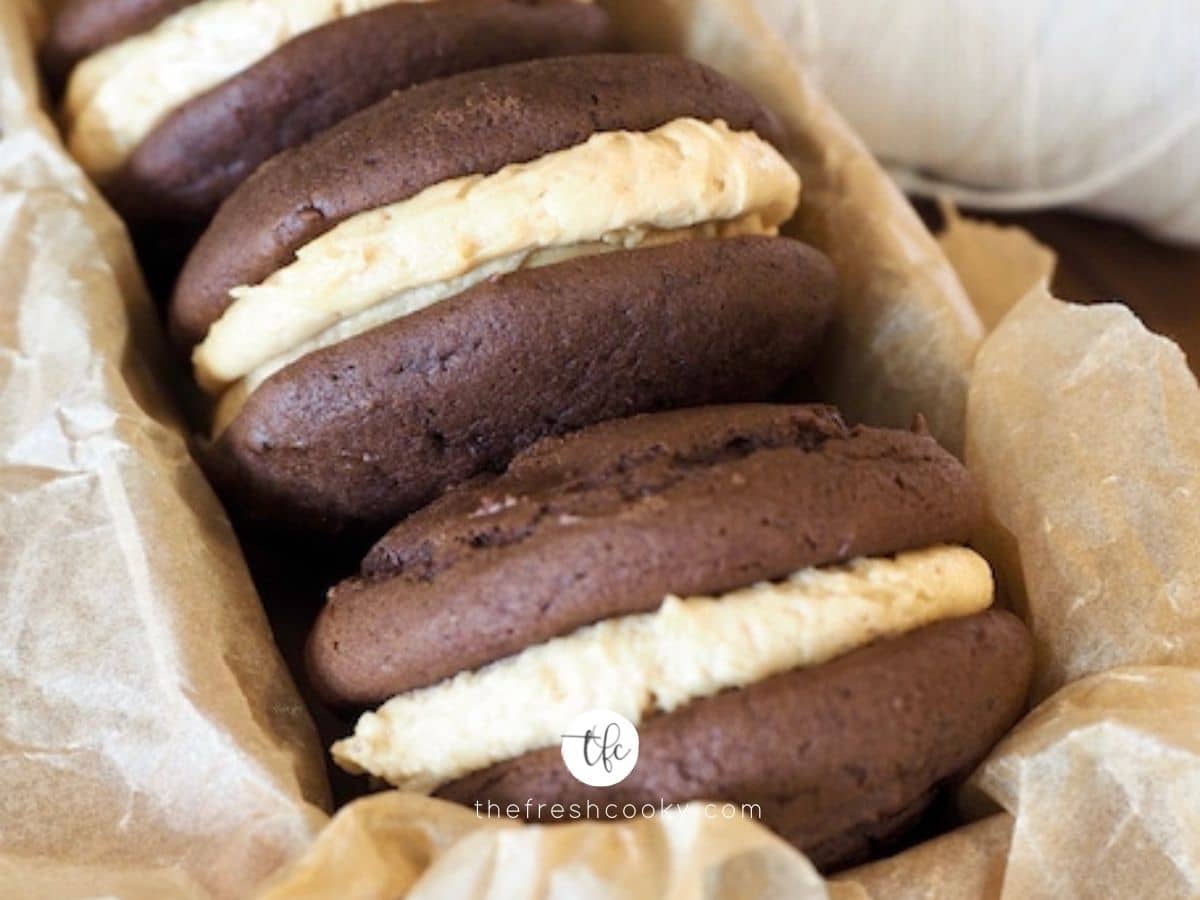 Funny thing is, I'm not even a cake lover, but these, little portable, handheld pies can make me swoon.
I'm sorry and you're welcome!
Oh and if you want to stay all Classic New England, then please try my Classic Maine whoopie pies with traditional marshmallow buttercream.
These are New England approved by my husband's family in Maine and New Hampshire!
More Great Chocolate Recipes
⭐️⭐️ JOIN THE FRESH COOKY RECIPE CLUB! ⭐️⭐️
NEW DELICIOUS RECIPES WEEKLY!
Like this recipe?
Don't forget to give it a ⭐️⭐️⭐️⭐️⭐️star rating in the recipe below!
Yield:

12-16 pies
Chocolate Fluffernutter Whoopie Pies
Chocolate Fluffernutter Whoopie Pies! Rich, chocolate mini cakes with an amazing peanut-buttery, marshmallow-y frosting sandwiched between.
Ingredients
Whoopie Pie Batter
¾ cup hot water
⅔ cup unsweetened cocoa powder (sifted after measuring, if lumpy)
1 tsp baking soda
2 cups all-purpose flour
1 tsp baking powder
¾ tsp salt
1 ½ cups light brown sugar, packed
½ cup butter, softened
1 large egg
2 tsp vanilla extract
½ cup sour cream
Fluffernutter Frosting
1 7 oz container marshmallow creme or about 1 cup of marshmallow fluff
2/3 cup creamy peanut butter, I used all-natural peanut butter
1/2 cup butter, softened
1/2 teaspoon vanilla
1/4 teaspoon kosher salt
1 2/3 - 2 cups powdered sugar
2-3 tablespoons milk or cream
Instructions
Preheat oven to 350°. In a 2 cup or larger bowl or measuring cup, pour in hot water, stir in cocoa powder and baking soda with a fork until smooth; the mixture will foam up (a lot) and darken. Let the mixture stand until the foaming subsides and the mixture has cooled down. NOTE: you will be adding sour cream to this mixture after it cools, use a large enough bowl or cup.
In a medium bowl, place all purpose flour, baking powder and salt, gently stir with whisk to mix. Set aside.
In a large bowl of an electric mixer, beat together the butter and brown sugar on medium-high until well blended and creamy, about 2 minutes. Scrape down sides of bowl. Add the egg and vanilla and beat until light and fluffy, about 2 more minutes, scraping sides often.
Beat in half the flour mixture; scraping down the sides several times. Stir the sour cream into the cooled cocoa mixture. On low speed, beat the cocoa mixture and the remaining flour mixture, into the brown sugar mixture until even incorporated, Scraping down sides until you no longer see any of the white flour or creamed mixture.
Using a medium to large scoop, drop the dough onto parchment lined baking sheets, spacing about 3 inches apart. As these are a sandwich cookie, try and make an even number of cookies so they match up.
Bake the cookies at 350, one sheet at a time, in the middle of the oven for about 10-12 minutes, or until they spring back when lightly pressed in the center. Transfer the sheet to a wire rack and let stand until cookies firm up, 4-5 minutes. Using spatula, transfer the cookies to wire racks. Let stand until completely cool.
After cooling, the cookies may be placed in freezer storage bags, layer using wax paper in between. Lay flat in the freezer. You may fill them straight from the freezer, sometimes frosting them is easier.
Marshmallow Fluffernutter Buttercream
In the large bowl of a mixer, on medium speed, beat together the butter, powdered sugar, vanilla and salt until well blended and fluffy. Add the peanut butter and milk and mix into butter & sugar mixture until light, scrape down sides of bowl. Add the marshmallow cream and beat until evenly incorporated.
Using a medium or large scoop, plop a generous portion of frosting onto "bottom" of cookie, leaving a ½ " border around the edge. Top with matching cookie top. Pressing gently to sandwich them together, just until filling reaches edges.Store cookies in individual plastic bags or wrap in plastic wrap.
Refrigerate or freeze (great to put in a lunch box) until ready to enjoy. WHOOPIE!!!!
Notes
TIP | If the frosting is too soft or runny, add a little more powdered sugar until it thickens & scoopable.
Recommended Products
As an Amazon Associate and member of other affiliate programs, I earn from qualifying purchases.
Nutrition Information:
Yield:
16
Serving Size:
1
Amount Per Serving:
Calories:

490
Total Fat:

21g
Saturated Fat:

10g
Trans Fat:

1g
Unsaturated Fat:

9g
Cholesterol:

49mg
Sodium:

431mg
Carbohydrates:

72g
Fiber:

2g
Sugar:

51g
Protein:

6g
The nutritional information is estimated and may not be entirely accurate, at times it pulls information for suggestions and options which may increase calories, etc.
ABOUT KATHLEEN
I enjoy sharing easy recipes that are wholesome and delicious. I am fed by my faith, family, friends & food! Welcome to my kitchen! Read more...