Homemade Hot Chocolate with Chocolate Chips
As an Amazon Associate, I earn from qualifying purchases. Please read my disclosure policy.
A simple and delicious homemade hot chocolate with chocolate chips, this all-natural Hot Chocolate for two (or four or more) uses common pantry ingredients. This is like a rich European hot chocolate recipe. PLUS, how to make these amazing whipped cream bombs!
We all need a simple, go-to hot cocoa recipe, right? My hubby and boys are huge hot chocolate fans, thus I have been on a mission to create the perfect hot chocolate recipe that yields a rich, chocolatey cup of steaming hot cocoa!
If you are all about hot drinks, try this Starbucks White Hot Chocolate, Chai Tea Latte, Hot Buttered Rum or this calming Golden Milk Tea Mix.
I do not know how many times I have gone to my pantry to discover we are out of hot chocolate mix. And yes, I use a mix! Guilty as charged, though I try for all natural, organic. But they still contain lot of sugar!
This homemade hot chocolate with Chocolate Chips is so easy to whip up, it might have you putting the box of Hot Cocoa mix back on the shelf and it is creamier, like a European Hot Chocolate recipe.
Enter this delicious, homemade hot chocolate recipe that uses chocolate chips to make it extra chocolatey and rich. Kind of a sipping chocolate if you will.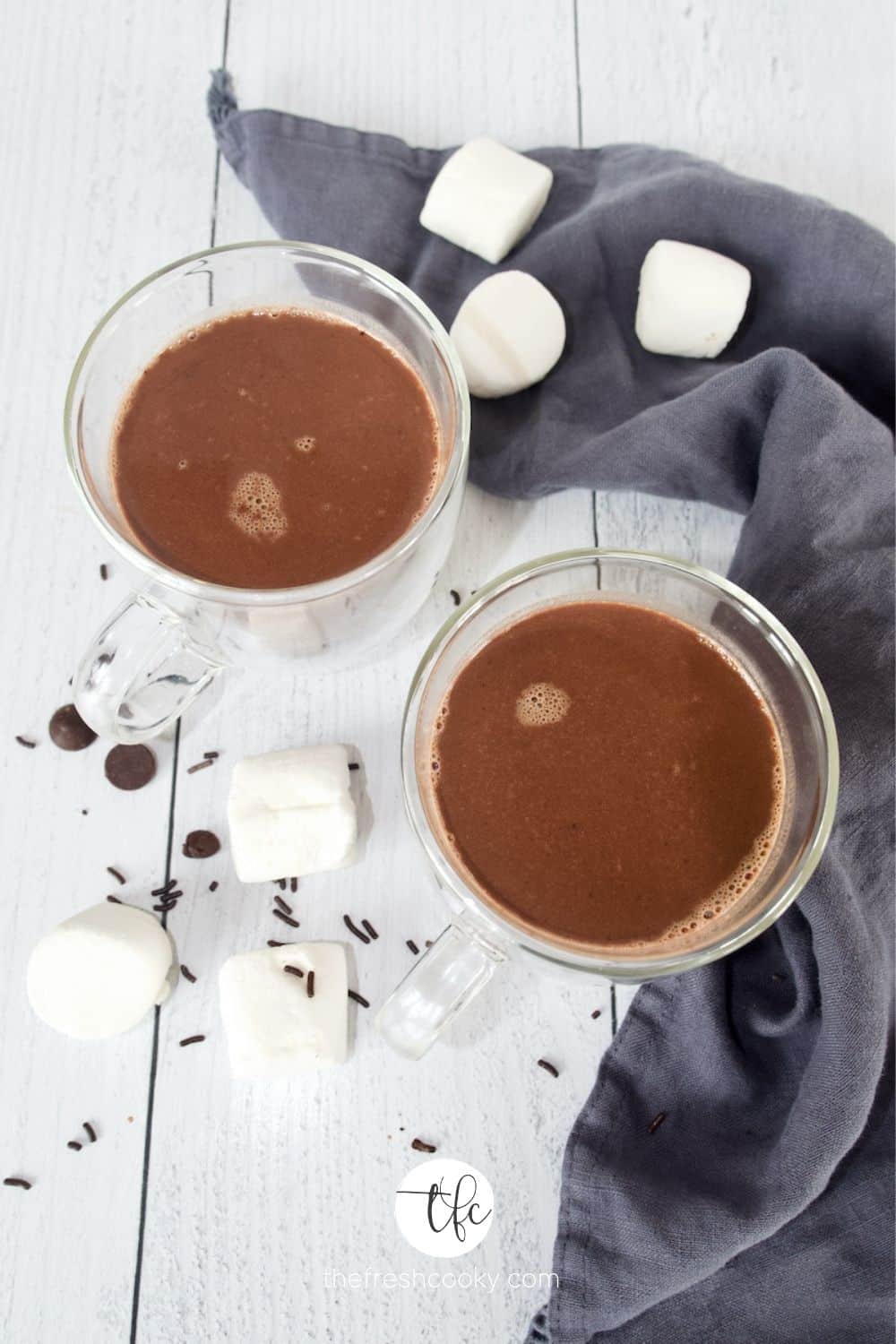 Why You Will Love This Recipe for Homemade Hot Chocolate
EASY | Just 6 pantry ingredients makes this so easy, 7 minutes is all you need.
CHOCOLATEY | By adding chocolate chips, you reduce the amount of sugar needed, adding chocolatey richness and flavor to the hot cocoa.
TWO, FOUR, MORE | Whether you are making for two, four or more, this recipe easily doubles, triples and more!
REHEATED | Made too much, or just need a few ounces to sip on? It stores great in the fridge for up to 5 days, simple warm on the stovetop until warm (not boiling).
It's so very simple, let's start with the 6 basic pantry ingredients you will need: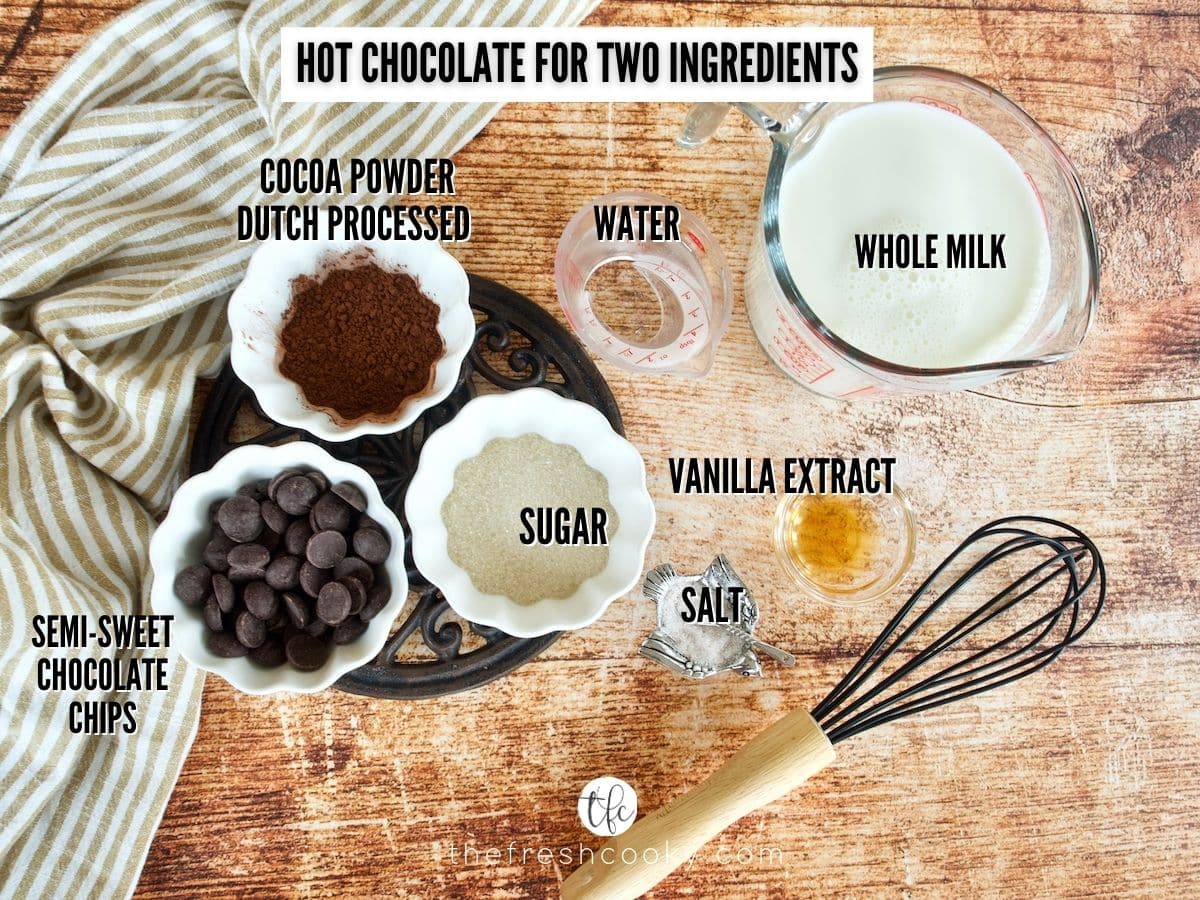 RECIPE INGREDIENTS
COCOA POWDER | Dutch processed <–(this is my favorite) is a good one to use here in this recipe, but also try regular, and dark cocoa powders as well.
WHOLE MILK | I like using whole milk in general, the higher fat content lends a richness and also binds the chocolate and cocoa powder together. You could even use half and half!
SEMI-SWEET CHOCOLATE | I use chocolate chips, since I typically have them on hand, you can also chop chocolate (about 3-3 ½ oz). I have also used 60% cocoa chocolate chips.
SUGAR | This is a taste preference, I typically use about 2 tablespoons, increase or decrease based on taste. I always use all-natural cane sugar in my baking.
SEA SALT | Or table salt, a finer salt is more preferable in this recipe so it dissolves easily.
VANILLA EXTRACT | adds amazing depth, flavor and balance to the hot cocoa, I use regular or my homemade bourbon vanilla for a special cup.
How to Make Homemade Hot Chocolate With Chocolate Chips
Start by whisking together your cocoa powder and water in a small saucepan.
Turn heat to medium-high, pour in milk, whisking to combine. Whisk occasionally, but do not let the mixture boil, just heat until steaming.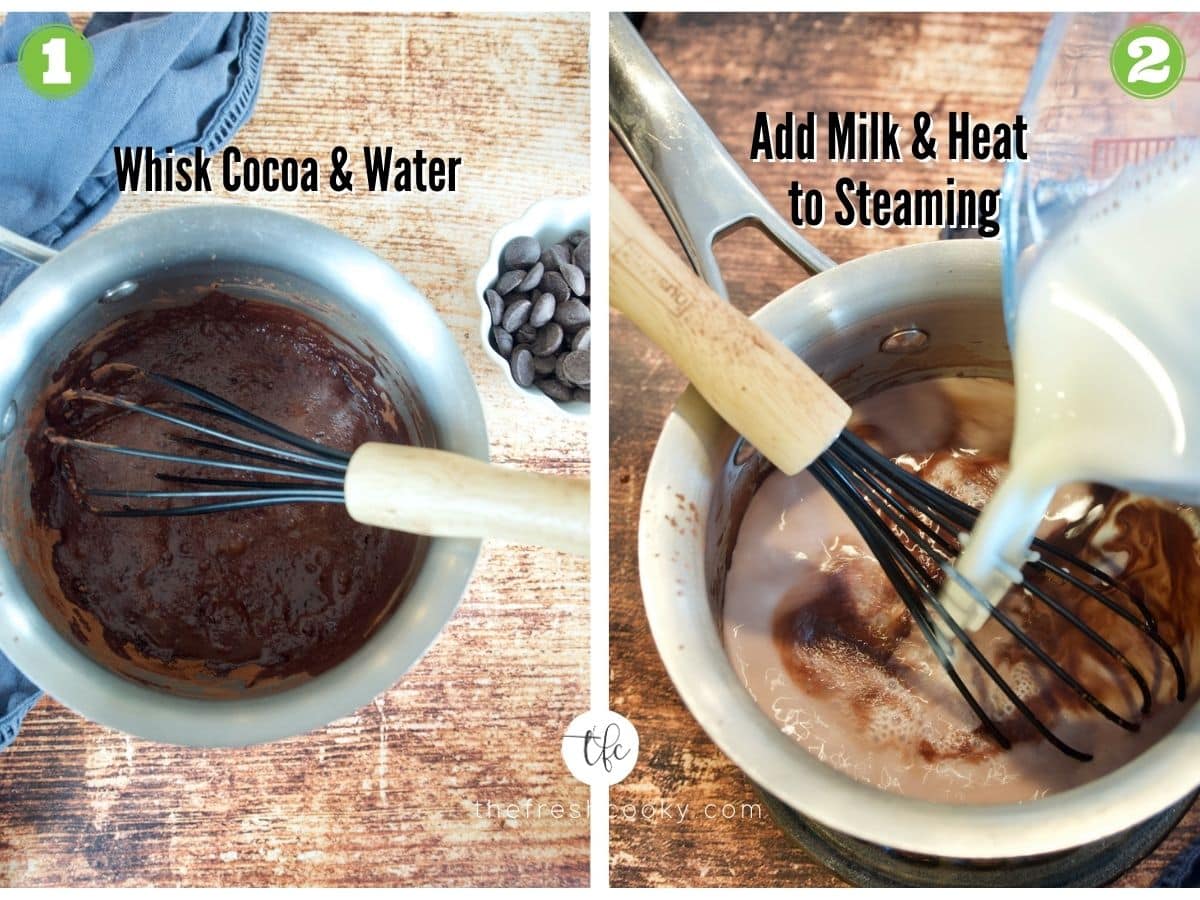 Reduce heat to low, adding chocolate chips. Let stand for 30 seconds until chocolate is melted, then whisk or stir to combine.
Add sugar a tablespoon at a time until desired sweetness acheived. Add a little salt (less for sweeter hot chocolate). Continue stirring until warmed through. Stir in vanilla extract and serve.
WAYS TO TOP HOT CHOCOLATE
Top with whipping cream; from a can, homemade or frozen.
Marshmallows | the classic way to top hot chocolate! Make homemade marshmallows <– my friend Tasia's recipe.
Naked | this would be my youngest sons preference, keep the marshmallows on the side, maybe drizzle a little chocolate sauce on the sides of the glass.
Cocoa Powder | Sprinkle with a light dusting of cocoa powder
Chocolate Jimmies | Why not? These are my favorite all natural jimmies.
Get the Look
Hot chocolate or any hot drink looks amazing in a glass mug.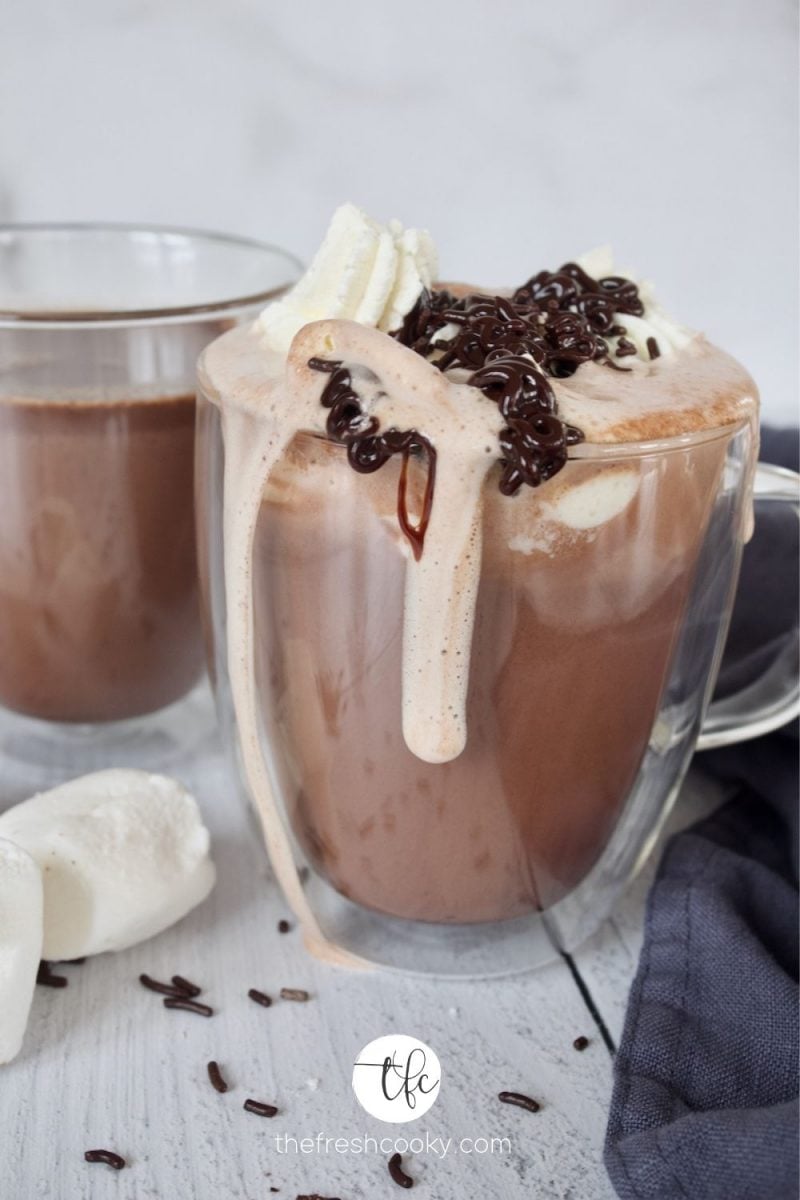 How to Make Whipped Cream Bombs
Using an ice cube mold or even small tupperware, or use those silicone chocolate bomb molds you bought the hot chocolate bomb craze.
Whip real whipping cream until thick, add a couple of tablespoons of powdered sugar and a splash of vanilla, continue whipping until really thick (almost butter).
Using a spoon or spatula, scoop and smooth whipped cream into desired mold, freeze for at least 6 hours, preferable overnight.
Run under warm water for 30-60 seconds to release from mold, place in mug and pour hot chocolate over the top or place on top.
Frequently Asked Questions
Can I Make Homemade Hot Chocolate Sugar Free?
Yes, be sure you are using a sugar free or really low sugar chocolate (the more bitter, the less sugar). Then substitute your favorite sugar substitute; Monk Sugar, Stevia, etc. according to your taste.
How to make hot chocolate for a crowd?
Yes, this recipe easily doubles and triples. If making for a crowd, add ingredients to crock and heat on high for about 1 hour 30 minutes, stirring well after the first 30 minutes.
Can I Make Hot Cocoa Ahead and Refrigerate?
Yes! Allow to cool to room temperature, refrigerate until ready to reheat.
How Do I Reheat Homemade Hot Chocolate?
My preferred method, is to pour into saucepan, bring to steaming over medium-low heat, stirring occasionally, being careful not to boil.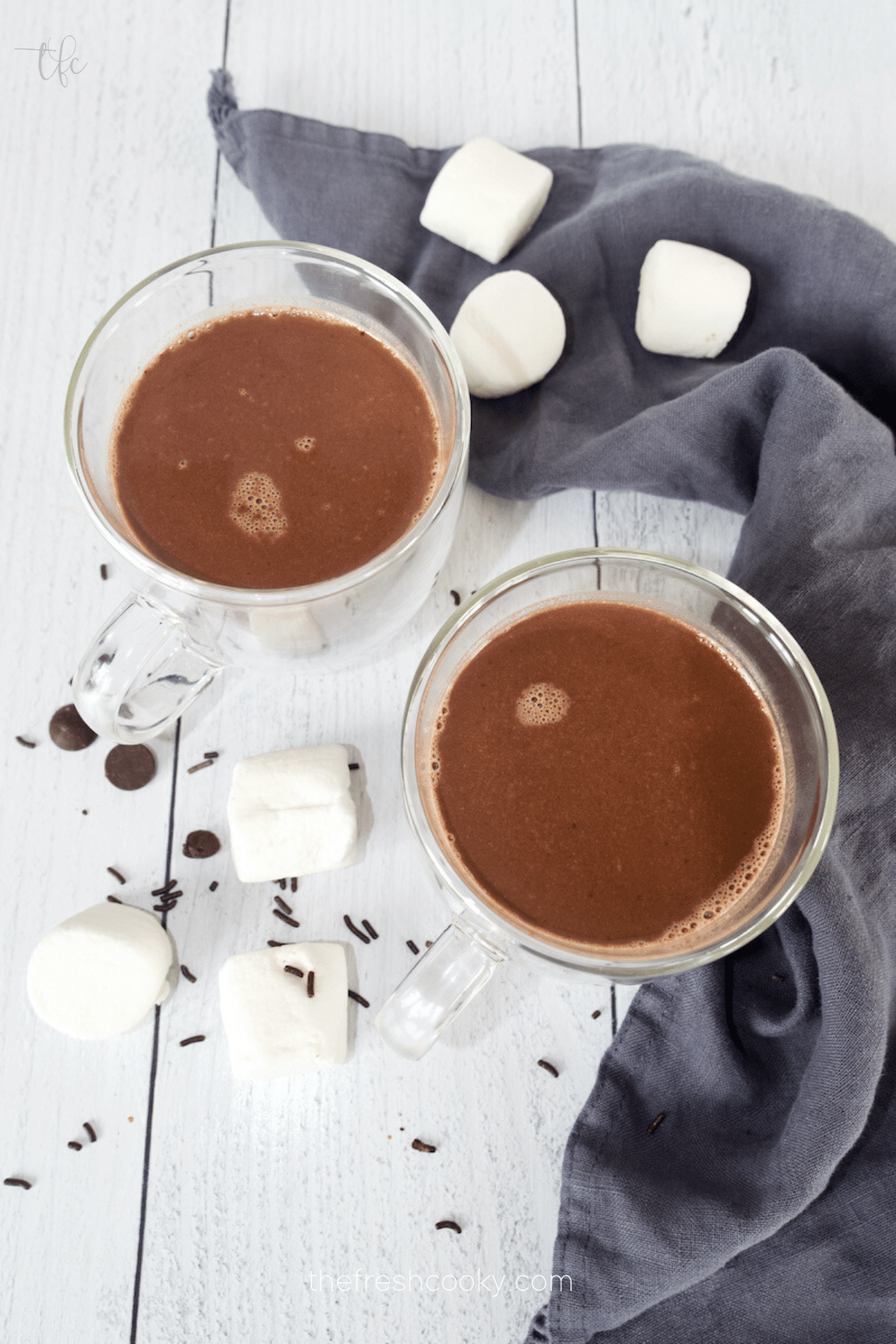 Does Hot Chocolate Help You Sleep?
The short answer, yes! Warm milk has been used for centuries to calm the body and help you sleep. And chocolate has so many calming and health benefits.
In fact, it was first cultivated by the Mayans, the first known sippers of cocoa before bedtime, who prepared it by roasting cocoa beans, hot water and a pinch of spices. (Source)
I suggest you omit the sugar all together in this recipe, it's still pretty sweet with the chocolate chips alone. Sweet dreams! Let me know how it works for you! You might also enjoy this Turmeric Tea Recipe.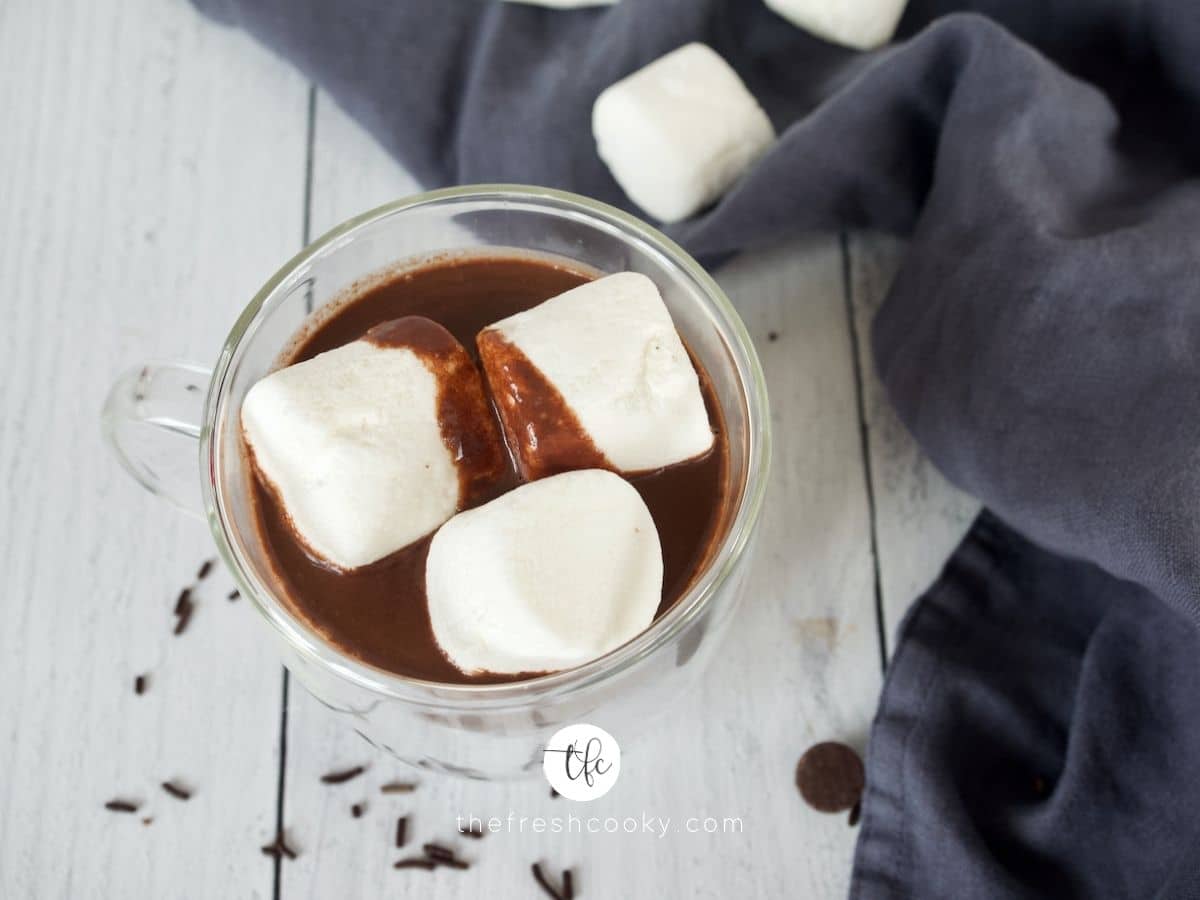 Dairy Free Hot Chocolate
YES! You can make this hot chocolate dairy free! My favorite way to make Oat milk hot chocolate, I don't know why, I think that the nutty oat milk, is creamy and compliments the flavors just beautifully! But use any plant based milk that is your favorite!
Tips
PREP | Measure ingredients ahead of time, it will make it all come together much quicker.
DO NOT BOIL | When you allow milk to boil, it will develop a skin and in some cases some separation; so once you start, stick around, it's done in minutes!
OTHER MILKS | I have not tried it with less than whole milk, usually the milk fat helps bind it all together, but give it a go with 2%, or plant based milks.
I hope you enjoyed this recipe! Here are a few other rich chocolate recipes you might enjoy!
Don't forget to PIN!
Like this recipe?
Don't forget to give it a ⭐️⭐️⭐️⭐️⭐️ star rating and comment below the recipe!