Easy Homemade Hot Chocolate Recipe (with Chocolate Chips)
As an Amazon Associate, I earn from qualifying purchases. Please read my disclosure policy.
Today I will show you how to make hot chocolate with chocolate chips, this all-natural Hot Chocolate for two (or four or more) uses common pantry ingredients. This is like a rich European hot chocolate recipe and is the best hot chocolate.
We all need a simple, go-to hot cocoa recipe, right? My hubby and boys are huge hot chocolate fans, thus I have been on a mission to create the perfect creamy hot chocolate recipe that yields a rich, chocolatey cup of steaming hot cocoa and only takes minutes to make, the bonus is, there is real melted chocolate in it.
So on those cold winter days, when the kids come home from school chilled, or have been out shoveling or playing in the snow, serve them this easy homemade hot chocolate. Then try my Starbucks White Hot Chocolate, Chai Tea Latte, Eggnog Latte or this calming Golden Milk Tea Mix.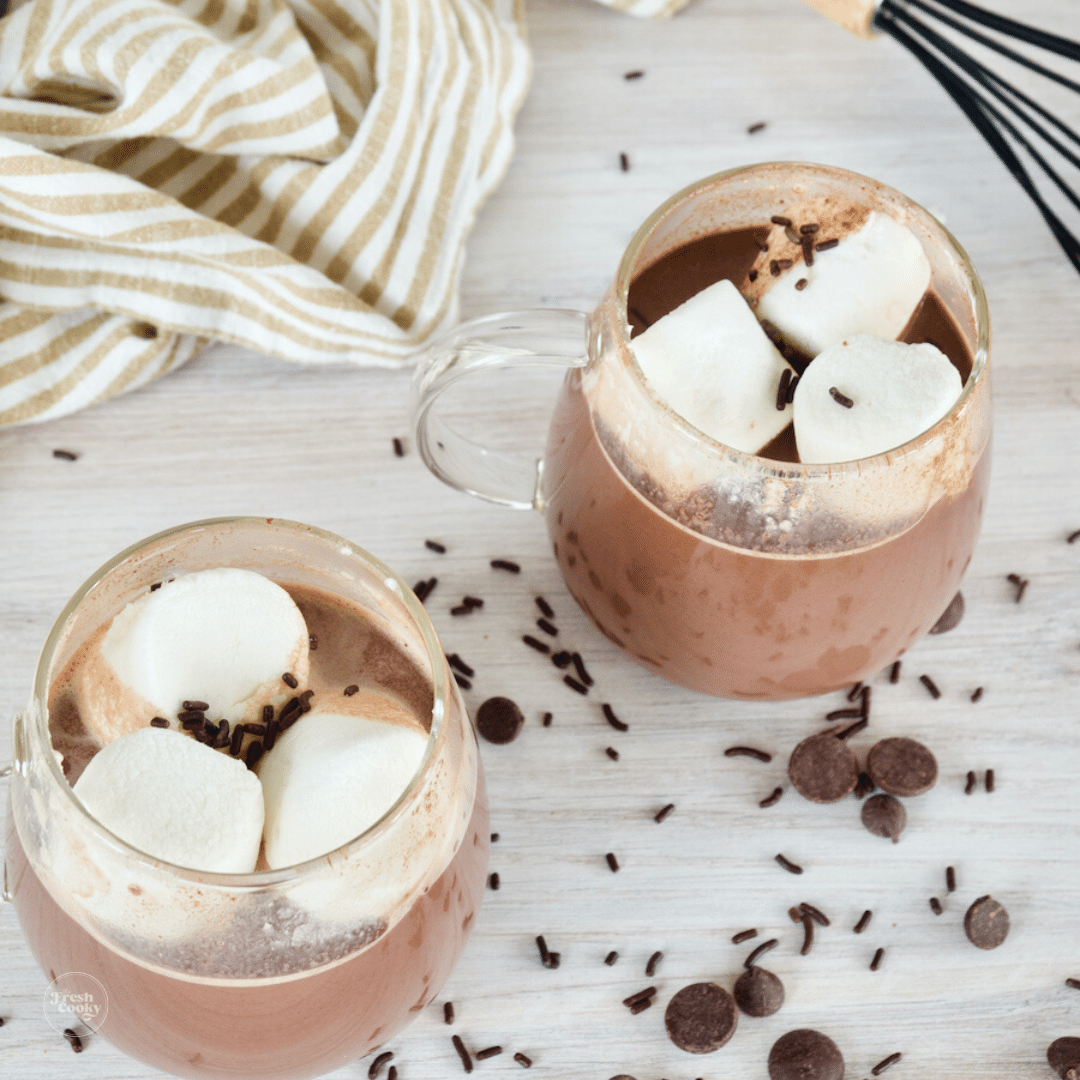 I do not know how many times I have gone to my pantry to discover we are out of hot chocolate mix. And yes, I use a mix! Guilty as charged, though I try for all natural, organic, not Swiss Miss. But they still contain lot of sugar!
This delicious recipe for homemade hot chocolate with Chocolate Chips is so easy to whip up, it might have you putting the box of Hot Cocoa mix back on the shelf.
Our homemade hot chocolate recipe uses real chocolate and rich cocoa power. Chocolate chips make it extra chocolatey and rich. Kind of a sipping chocolate if you will.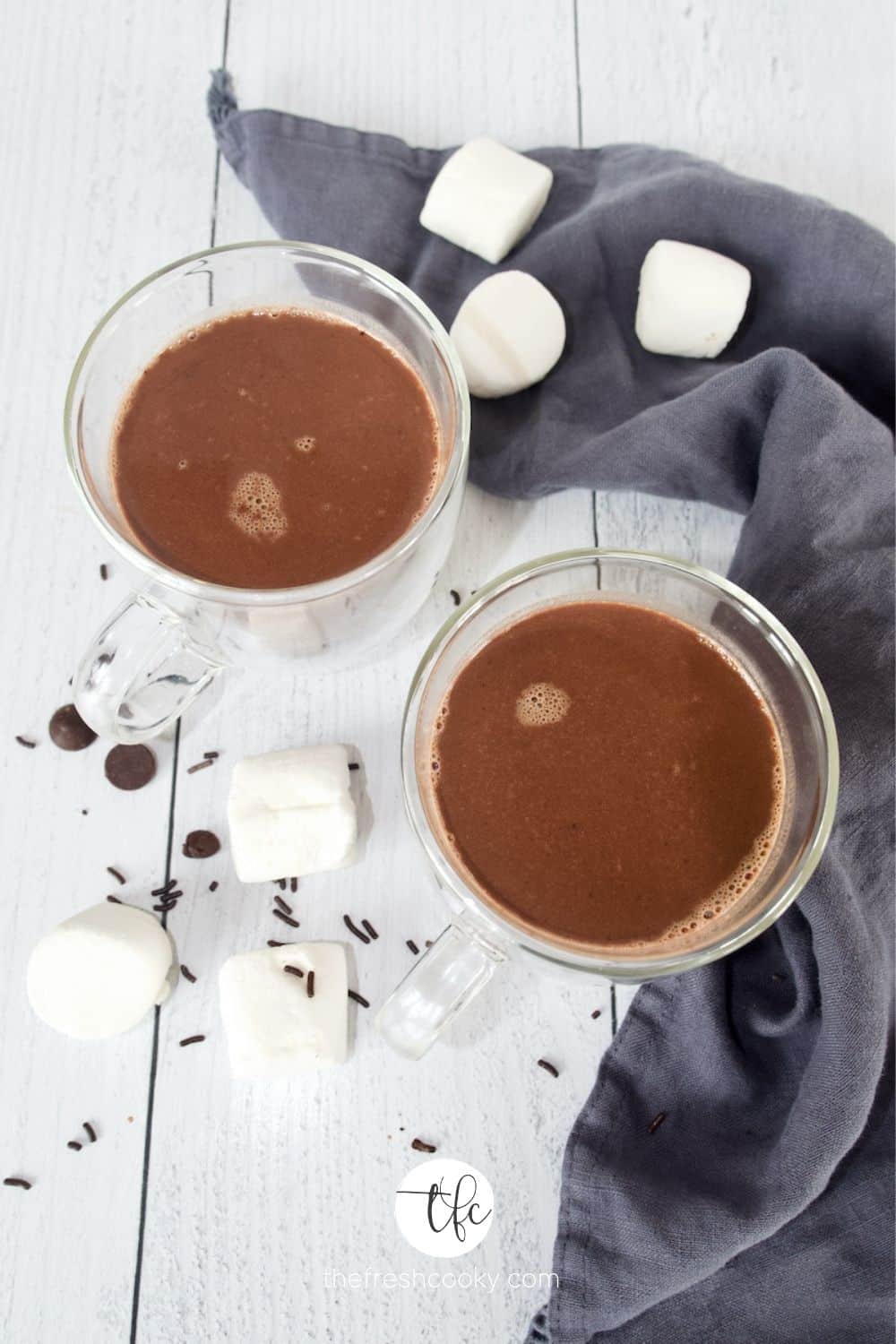 Why You Will Love this Recipe for Homemade Hot Chocolate
EASY | Just 6 pantry ingredients makes this so easy, 7 minutes is all you need.
CHOCOLATEY | By using dark chocolate chips, you reduce the amount of sugar needed, adding chocolatey richness and flavor to the hot cocoa.
TWO, FOUR, MORE | Whether you are making for two, four or more, this recipe easily doubles, triples and more!
REHEATED | Got leftover hot chocolate or just need a few ounces to sip on? It stores great in the fridge for up to 5 days, simple warm on the stovetop until warm (not boiling), or stir into your morning coffee.
Simple Ingredients
Ingredients, directions and nutritional information in the printable recipe card at the end of the post.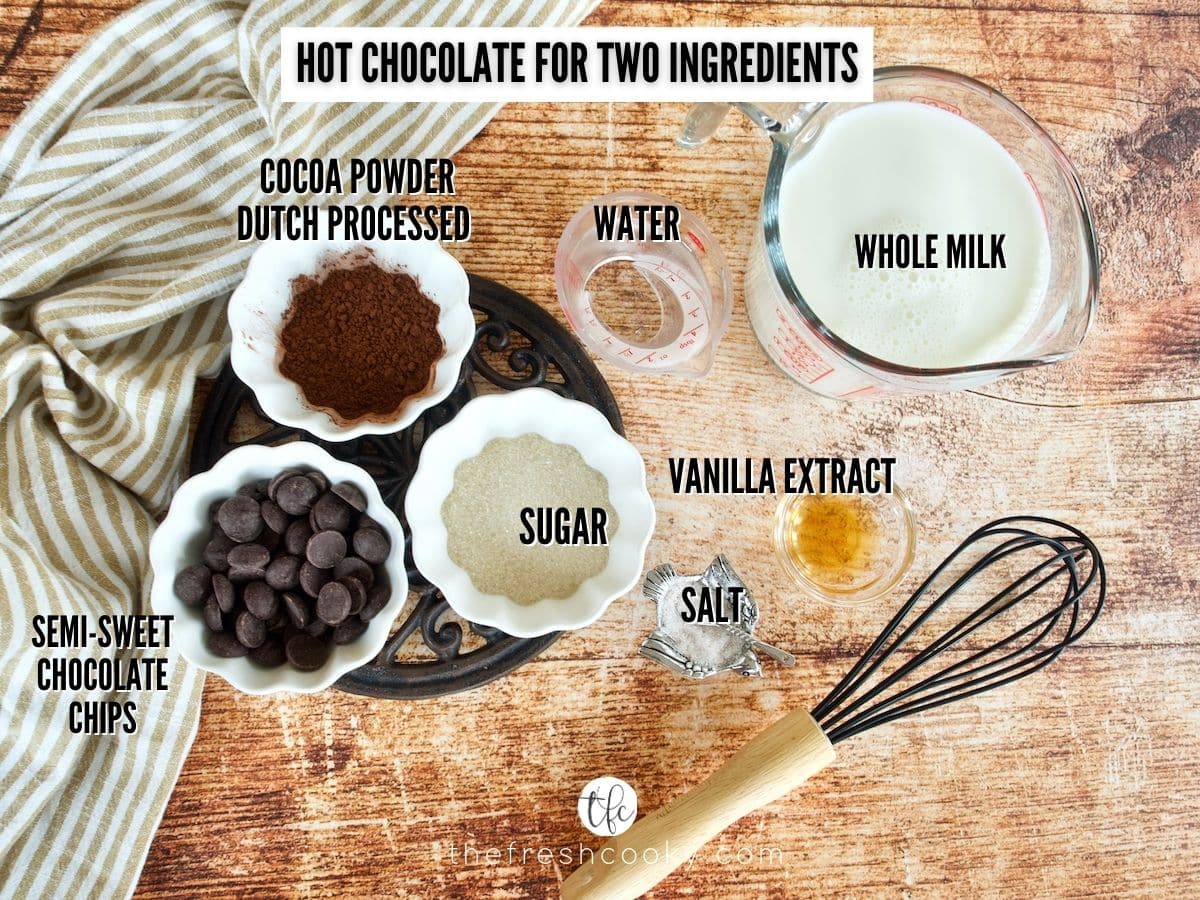 COCOA POWDER | Dutch processed unsweetened cocoa powder <–(this is my favorite) is a good one to use here in this recipe, but also try regular, and dark cocoa powders as well.
WHOLE MILK | I like using whole milk in general, the higher fat content lends a richness and also binds the chocolate and cocoa powder together. You could even use half and half or heavy cream, see variations for other milks, lower % milks may also be used.
SEMI-SWEET CHOCOLATE CHIPS | I use chocolate chips, since I typically have them on hand, you can also chop chocolate (about 3-3 ½ oz). I have also used 60% cocoa chocolate chips, milk chocolate chips. Be creative!
SUGAR | This is a taste preference, I typically use about 2 tablespoons, increase or decrease based on taste. I always use all-natural cane sugar in my baking.
SEA SALT | Or table salt, a finer salt is more preferable in this recipe so it dissolves easily.
VANILLA EXTRACT | adds amazing depth, flavor and balance to the hot cocoa, I use regular or my homemade bourbon vanilla for a special cup.
How to Make Homemade Hot Chocolate With Chocolate Chips
The best way to start is by whisking together the cocoa powder and water in a small saucepan.
Turn heat to medium-high, pour in milk, whisking to combine, heat milk while occasionally whisking, but do not let the mixture boil, just heat until steaming.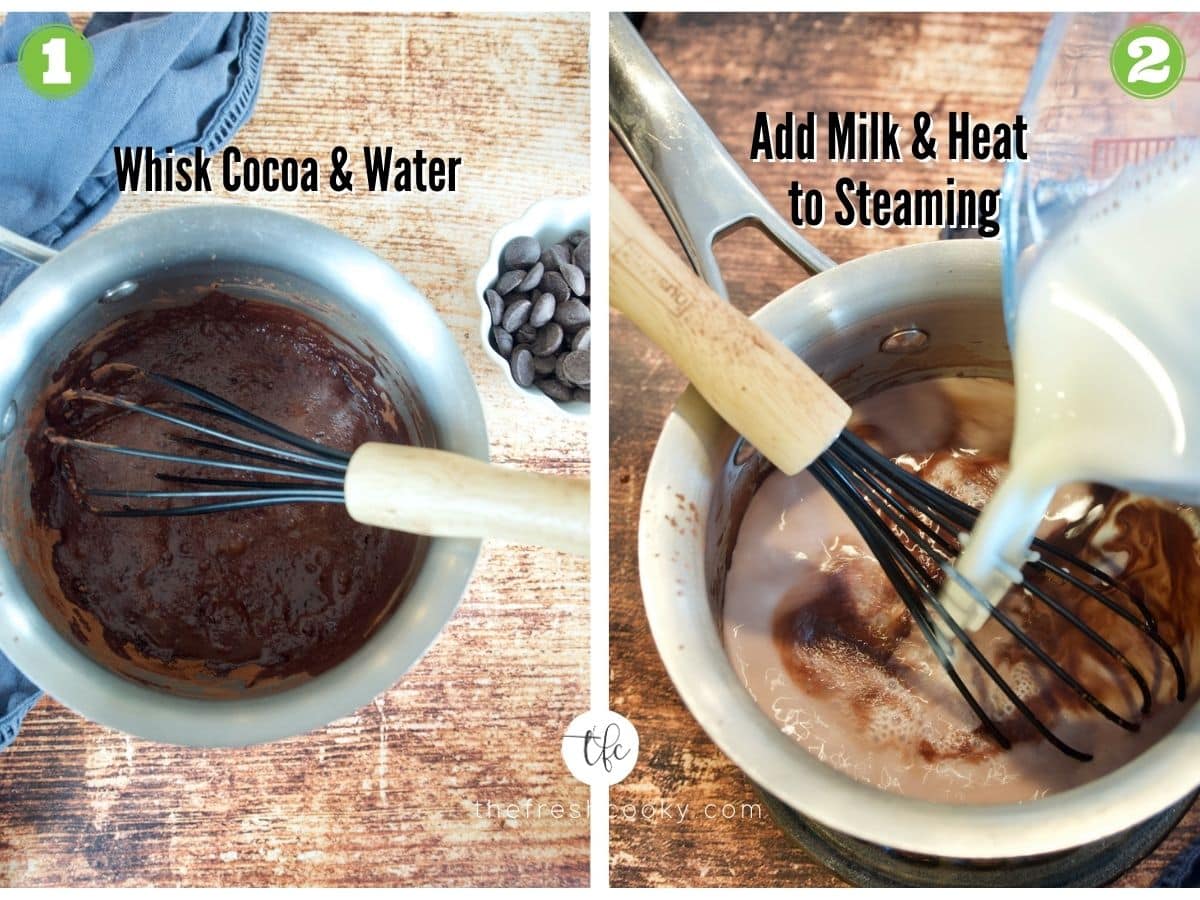 Reduce heat to low, adding chocolate chips. Let stand for 30 seconds until chocolate is melted, then whisk or stir to combine.
Add sugar a tablespoon at a time until desired sweetness achieved. Add a little salt (less for sweeter hot chocolate). Continue stirring until warmed through. Stir in vanilla extract and serve.
WAYS TO TOP HOT CHOCOLATE
Top with whipping cream; from a can, homemade or frozen.
Marshmallows | the classic way to top hot chocolate! Make homemade marshmallows <– my friend Tasia's recipe.
Naked | this would be my youngest sons preference, keep the mini marshmallows on the side, maybe drizzle a little chocolate sauce on the sides of the glass.
Dust with Cocoa | Sprinkle with a light dusting of cocoa powder
Chocolate Jimmies | Why not? These are my favorite all natural jimmies.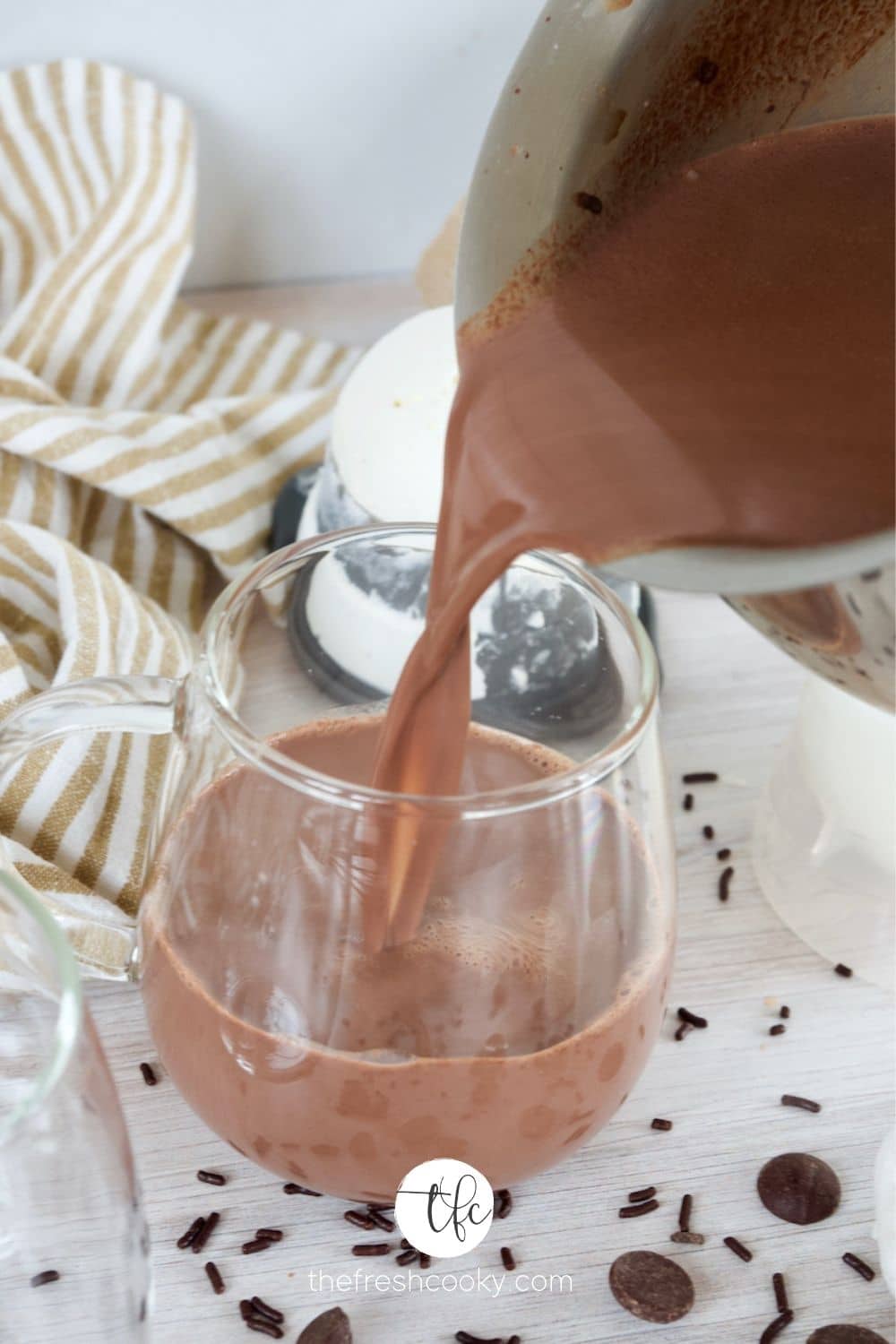 Get the Look
Hot chocolate or any hot drink looks amazing in a glass mug.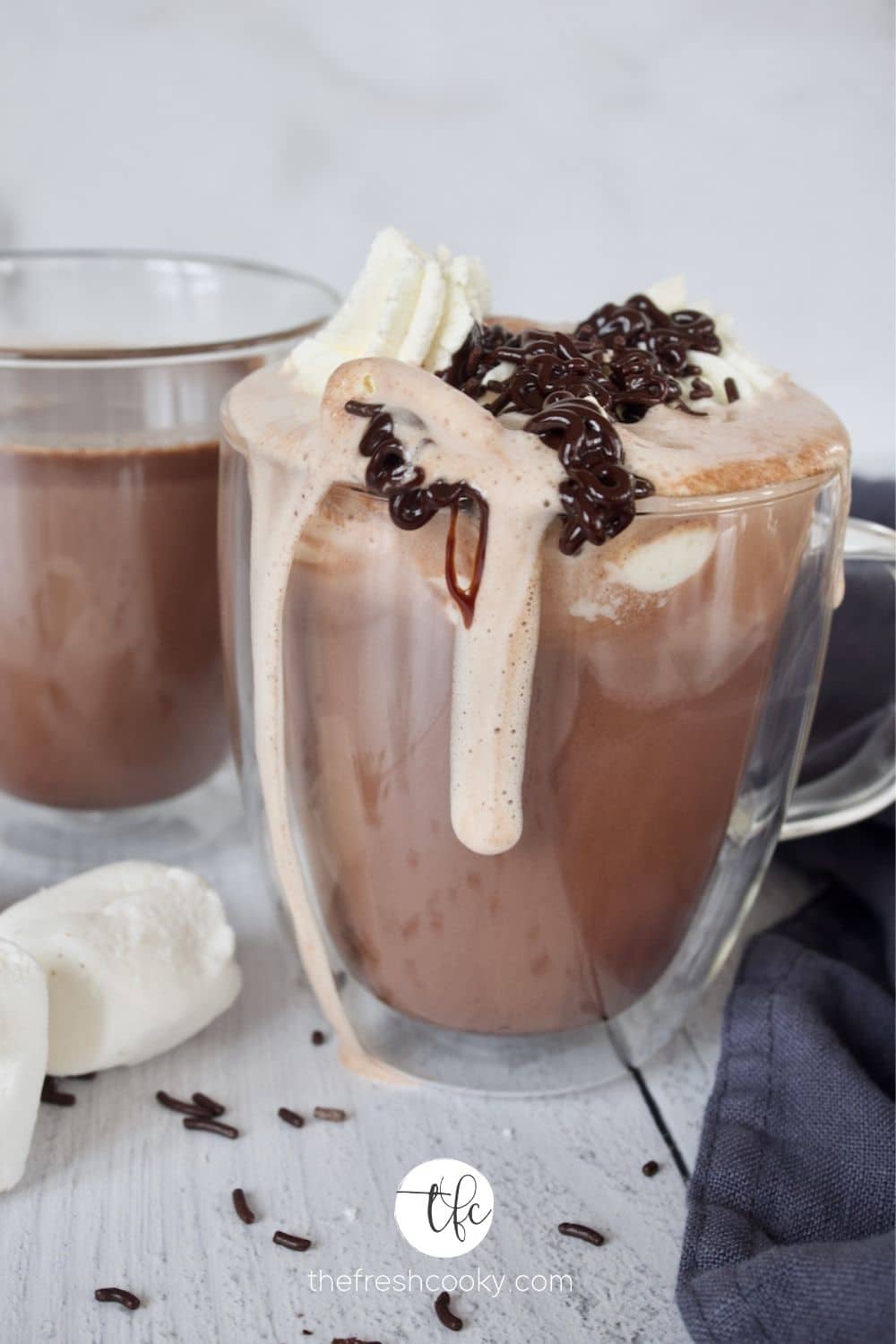 How to Make Whipped Cream Bombs
Using an ice cube mold or even small tupperware, or use those silicone chocolate bomb molds you bought for the hot chocolate bomb craze.
Whip real whipping cream until thick, add a couple of tablespoons of powdered sugar (or maple syrup) and a splash of vanilla extract, continue whipping until really thick (almost butter).
Using a spoon or spatula, scoop and smooth whipped cream into desired mold, freeze for at least 6 hours, preferable overnight.
Run under warm water for 30-60 seconds to release from mold, place in mug and pour hot chocolate over the top or place on top.
Frequently Asked Questions
Can I Make Homemade Hot Chocolate Sugar Free?
Yes, be sure you are using a sugar free or really low sugar chocolate (the more bitter, the less sugar). Then substitute your favorite sugar substitute; Monk Sugar, Stevia, etc. according to your taste.
How to make hot chocolate for a crowd?
Yes, this recipe easily doubles and triples. If making for a crowd, add ingredients to a crockpot and heat on high for about 1 hour 30 minutes, stirring well after the first 30 minutes.
Can I Make Hot Cocoa Ahead and Refrigerate?
Yes! Allow to cool to room temperature, refrigerate until ready to reheat.
How Do I Reheat Homemade Hot Chocolate?
My preferred method, is to pour into saucepan, bring to steaming over medium-low heat, stirring occasionally, being careful not to boil.
Is hot chocolate good for sore throat?
Actually dark chocolate is very good for a sore throat and cough. However; milk can increase phlegm, so instead of milk make with water, or even better, make this Medicine Ball Tea Recipe or this easy Wassail hot cider recipe.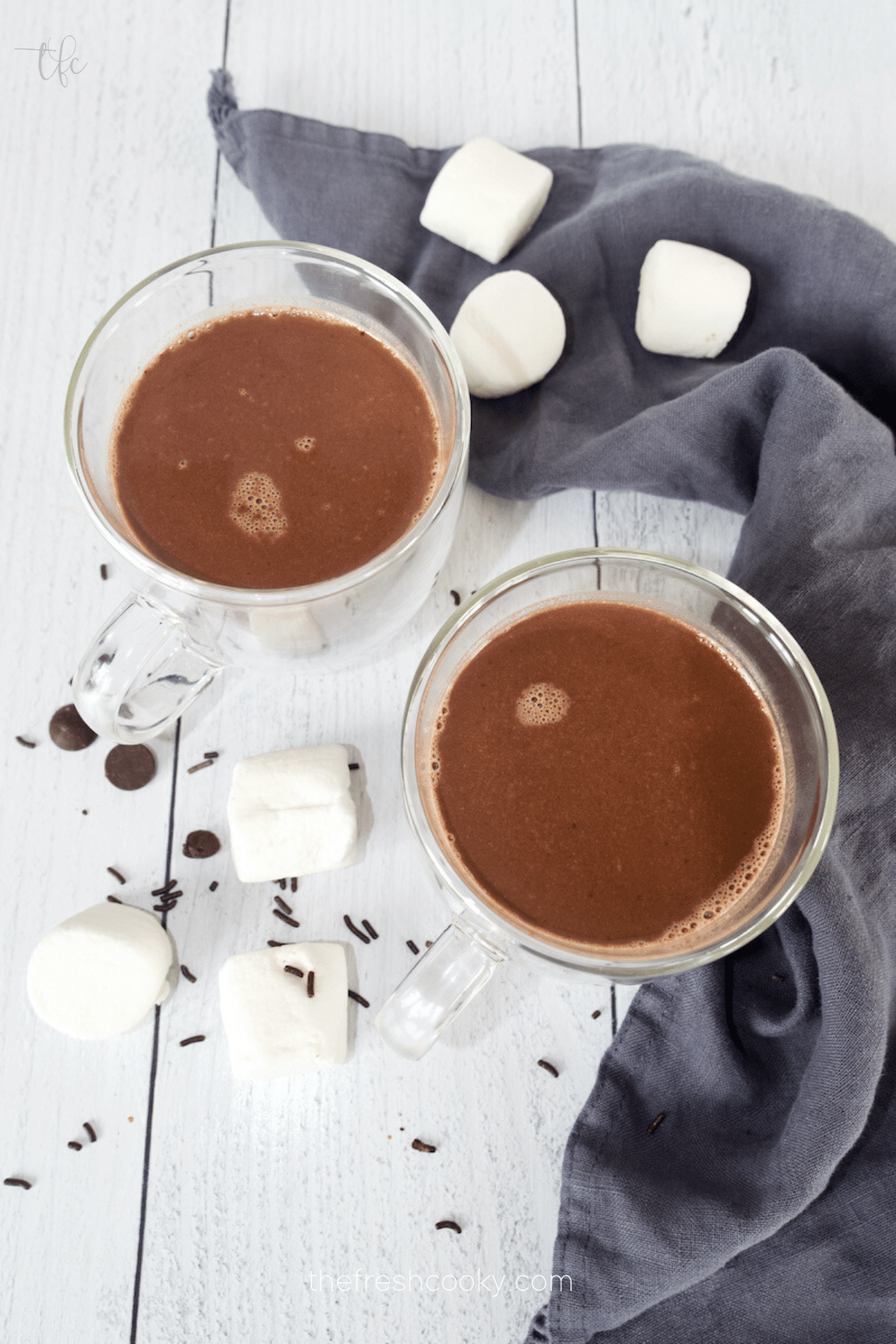 Does Hot Chocolate Help You Sleep?
The short answer, yes! Warm milk has been used for centuries to calm the body and help you sleep. And chocolate has so many calming and health benefits.
In fact, it was first cultivated by the Mayans, the first known sippers of cocoa before bedtime, who prepared it by roasting cocoa beans, hot water and a pinch of spices. (Source)
I suggest you omit the sugar all together in this recipe, it's still pretty sweet with the chocolate chips alone. Sweet dreams! Let me know how it works for you! You might also enjoy this Turmeric Tea Recipe.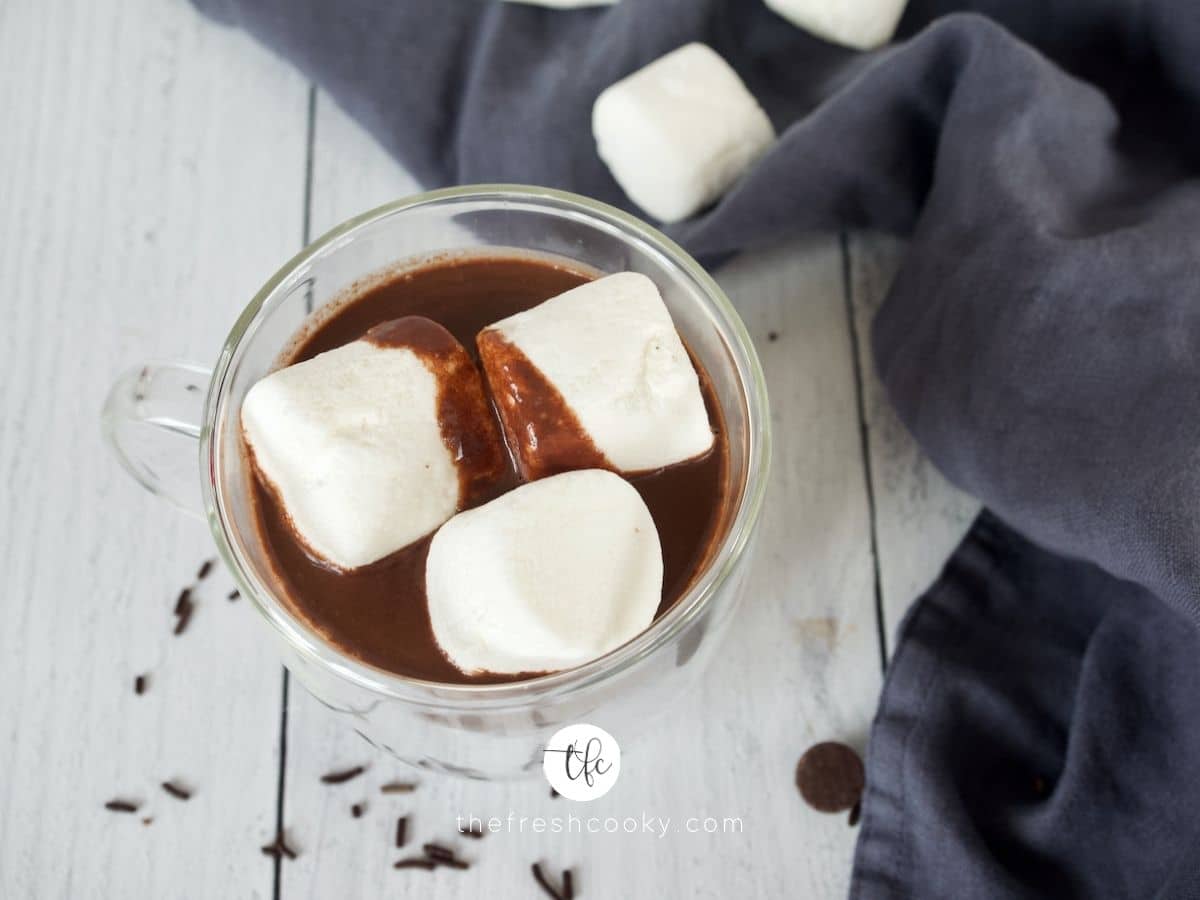 Variations & Substitutions
Dairy-Free Hot Chocolate (Vegan) | You can make this hot chocolate dairy free! Use any plant-based milk, I have used oat milk and almond milk, they are the creamiest and my favorites, but coconut milk or your favorite plant-based milk works . Purchase some dairy-free chocolate chips and you are all set.
Hot Chocolate Bar | Put out bowls of various chocolate chips, including white chocolate chips and peanut butter chips (yum!), try a candy cane for the holidays, fun to stir with, some various chocolate sauces, maybe a caramel sauce, definitely marshmallows and a can of whipped cream (I love my whipped cream dispenser, homemade whipped cream in seconds!).
Sugar-Free Hot Chocolate | Start with unsweetened chocolate chips or chocolate bar, don't add sugar, but instead try using monk fruit a great no-calorie alternative.
Baileys Hot Chocolate | Add 1-2 ounces of Irish Cream Liqueur (yum!)
Mint or Mocha Hot Chocolate | Add some peppermint extract or syrup, for a mocha hot chocolate, add a shot of espresso in place of some water or add a teaspoon of espresso powder.
Pro Tips
PREP | Measure ingredients ahead of time, it will make it all come together much quicker.
DO NOT BOIL | When you allow milk to boil, it will develop a skin and in some cases some separation; so once you start, stick around, it's done in minutes!
I hope you enjoyed this easy hot chocolate recipe! Here are a few other rich chocolate recipes you might enjoy!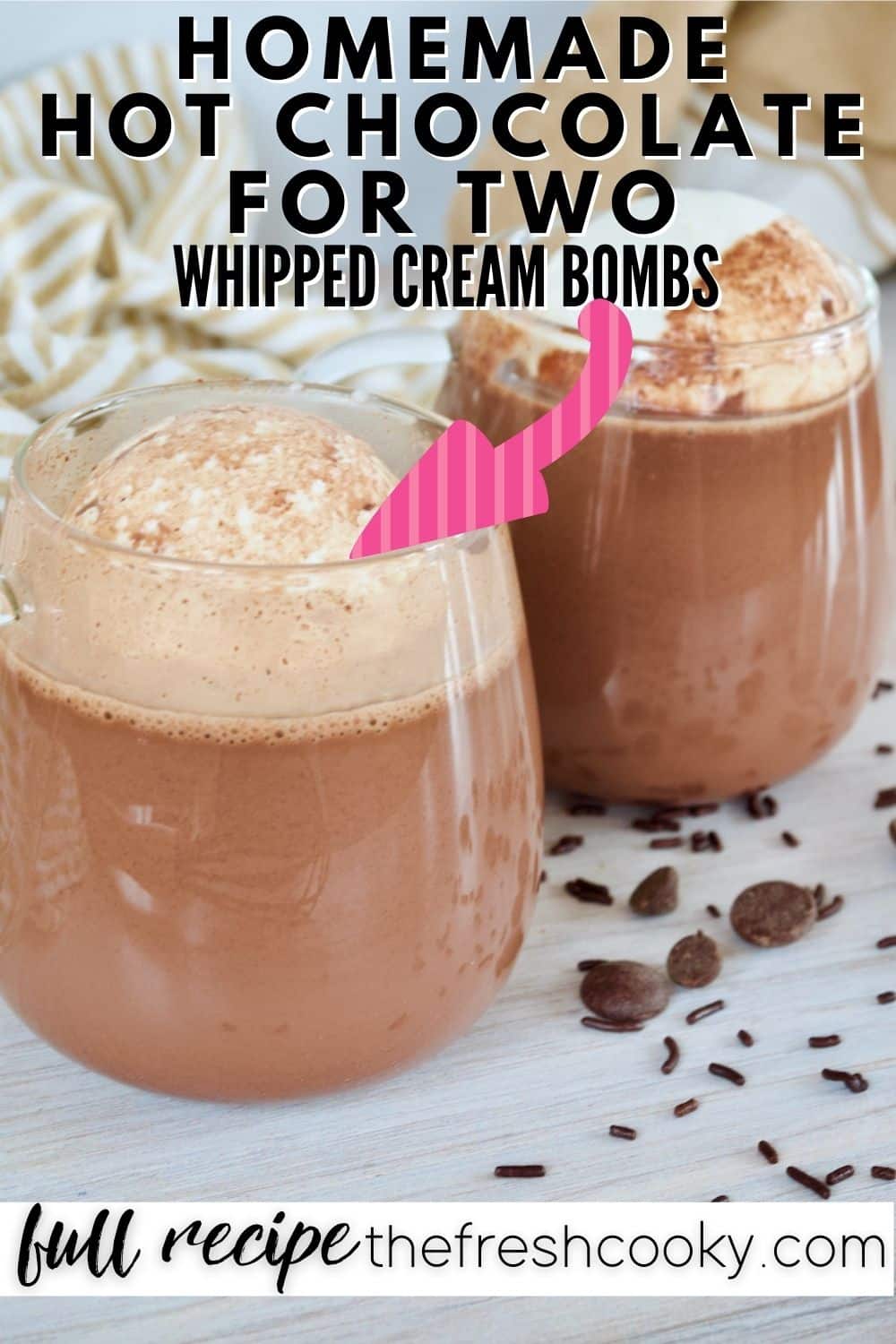 I hope you loved this Simple Peach Cobbler Recipe — if you did, would you share your creation on Instagram, Facebook and Pinterest? And be sure to comment below!
Like this recipe?
Don't forget to give it a ⭐️⭐️⭐️⭐️⭐️ star rating and comment below the recipe!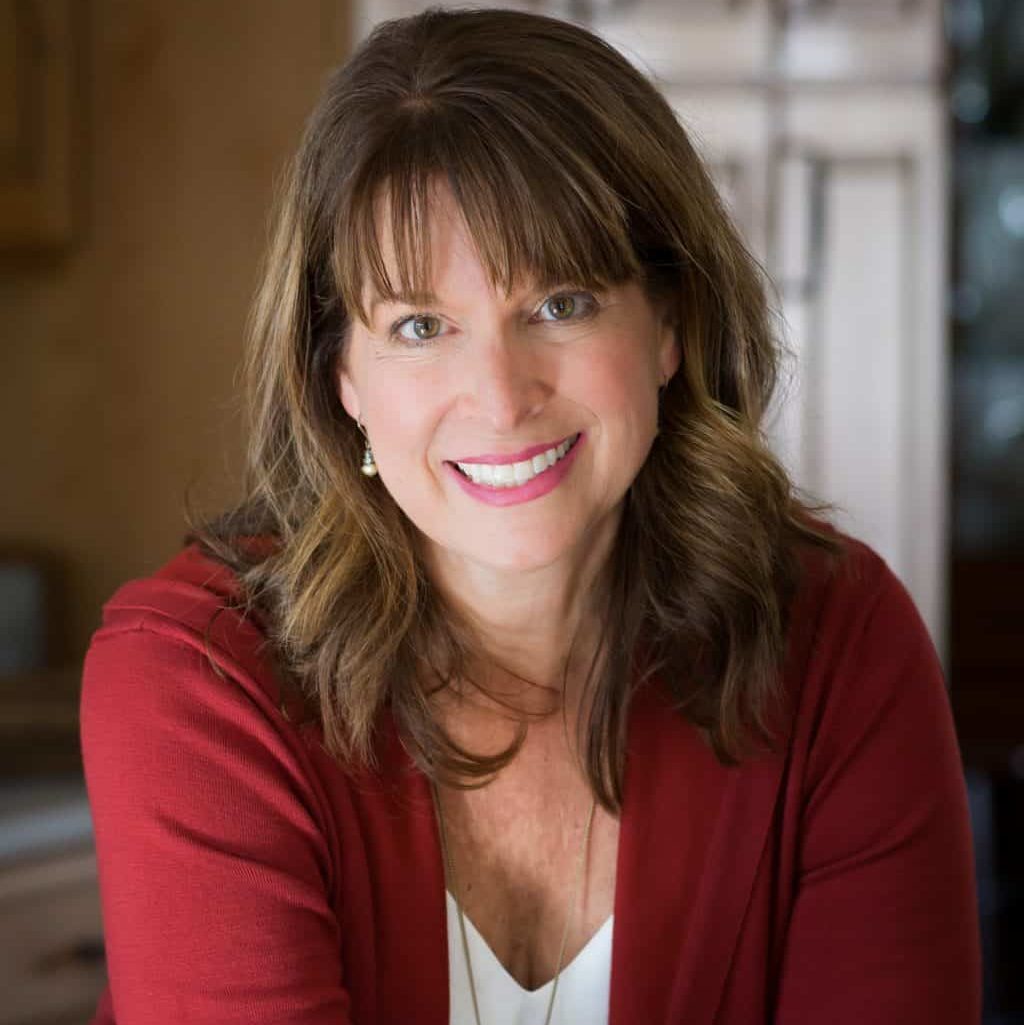 About Kathleen Pope
Recipe Innovator | Food Photographer | Food Writer
Hi, I'm Kathleen Pope. Here at The Fresh Cooky you will find easy, mostly from-scratch, trusted recipes for all occasions. From speedy dinners to tasty desserts, with easy step-by-step instructions. I am here to help teach you how to make mouthwatering recipes without spending hours in the kitchen. Read more about Kathleen here.