Frosted Sugar Cookie Bars & Bites
As an Amazon Associate, I earn from qualifying purchases. Please read my disclosure policy.
This is the best Sugar Cookie Bar (and bite) recipe out there! These Frosted Sugar Cookie Bars are fast to make, easy and they feed a crowd. Soft, chewy, tender and piled high with a creamy vanilla buttercream frosting.
Whether you decide to cut these into cookie bars, or use a cookie cutter and make one bite bites, these cookies might just rock your world!
If you are looking for more large batch recipes that are simple, but make a lot, try these Espresso Brownie Bites, Mint Fudge Brownies or Easy Blondies.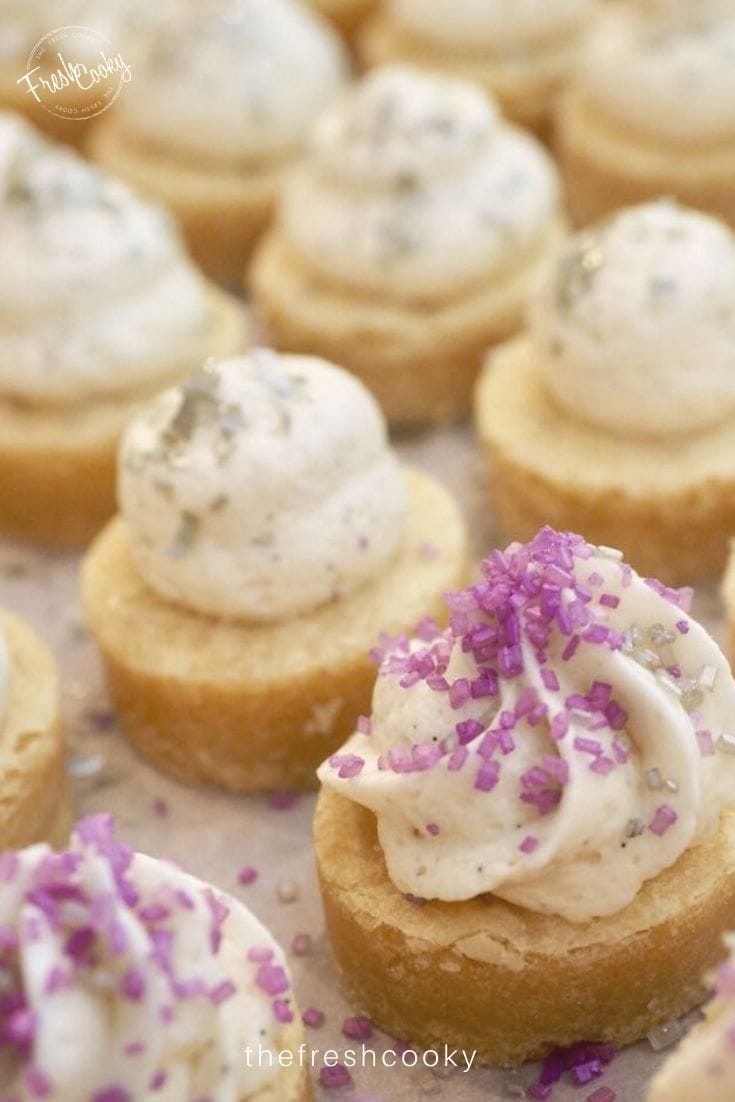 Whether for a church event, team feed, pot-luck, school party, baby or bridal shower or even for a wedding, these cookies rock!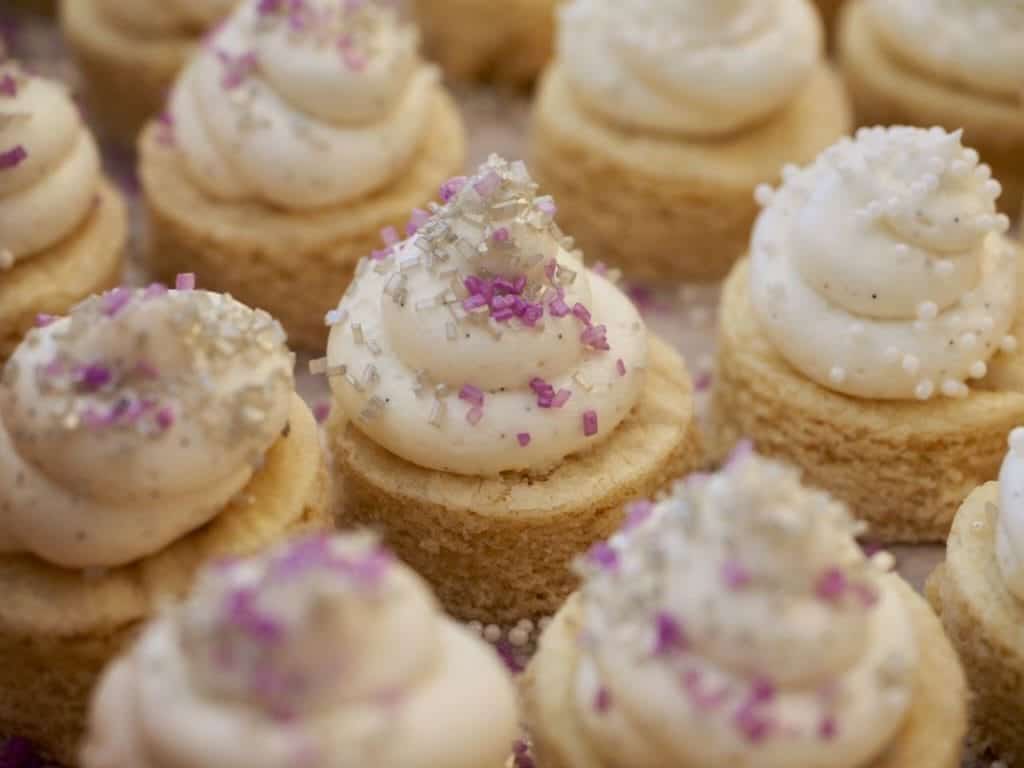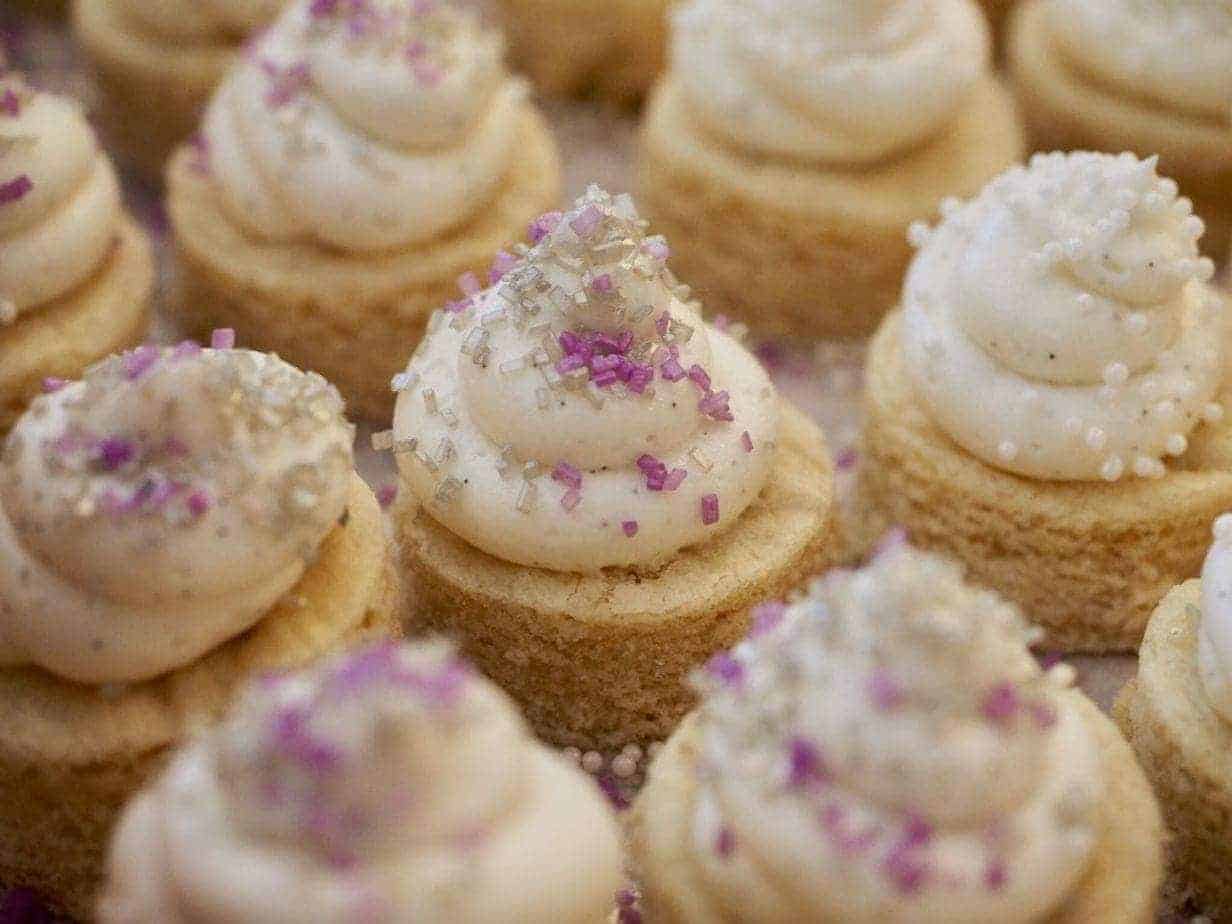 I made these for a work retreat, meals are assigned by condo, so we all pitched in to make these mini meatballs for Italian Wedding Soup along with Cobb Salad, Green Chicken Chili, Asian Ramen Noodle Salad, and several other items!
Patty, the beautiful blonde in the middle is the one who gave me the Italian Wedding soup recipe!
Julie, the sweet-hearted beauty on the far right, gave me the wonderful Easy Yeast Rolls recipe.
And Janice, the darling rock star on the far left, saved our family a few weeks ago when we had all been sick by bringing us a delicious taco bar dinner. I am surrounded by wonderful cooks!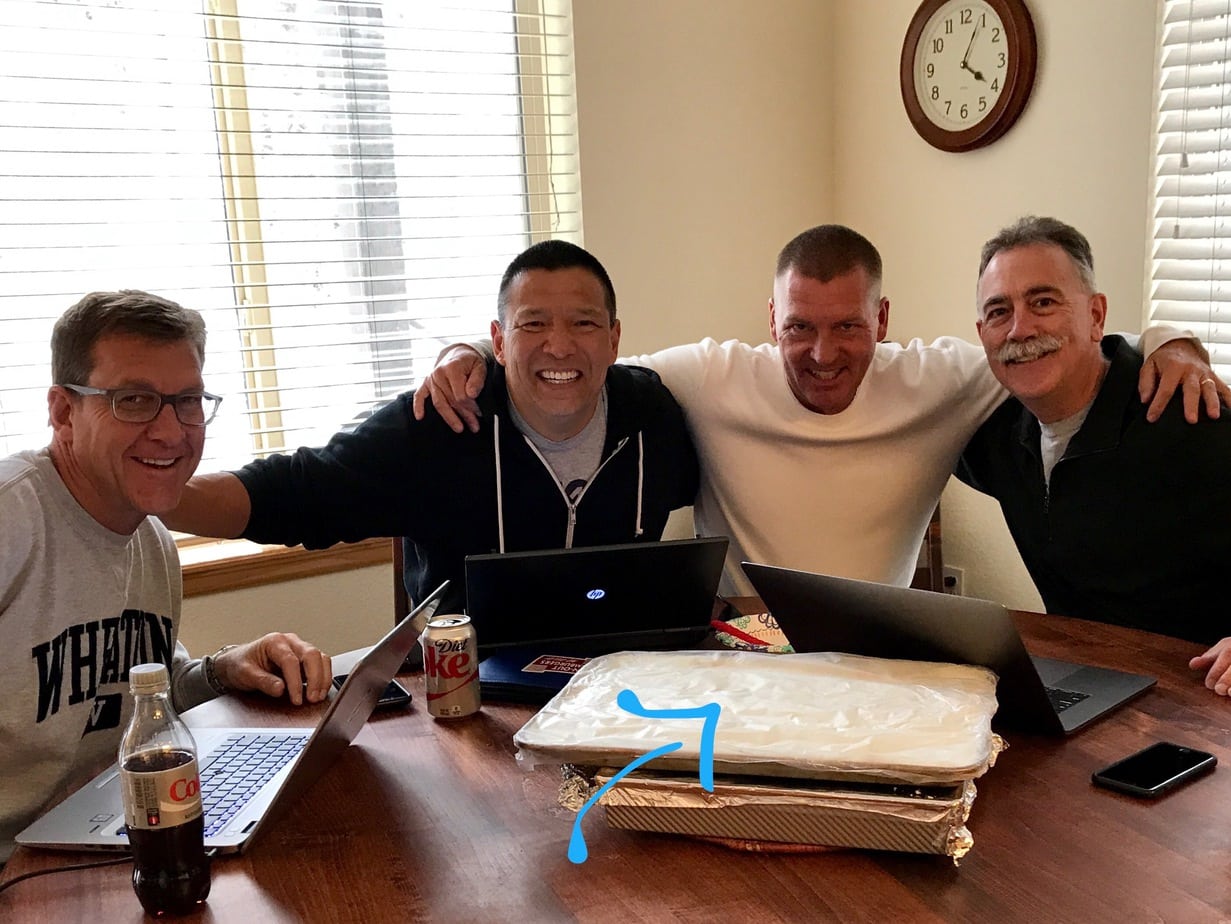 And our hubby's…well they were all working hard…on work!
Notice what is on the table in front of them? The sheet pan of frosted sugar cookie bars! We've shared a lot of life together over the years with these families, whatever you do, do not do life alone!
THE BEST SUGAR COOKIE BARS & BITES
Start by preheating your oven to 375° and lining a cookie sheet with parchment paper or non-stick spray.
For extra thick sugar cookie bars (like those shown above), line a 9×13 baking pan with parchment paper and press into pan, baking for about 10-12 minutes (max) if you want them super soft.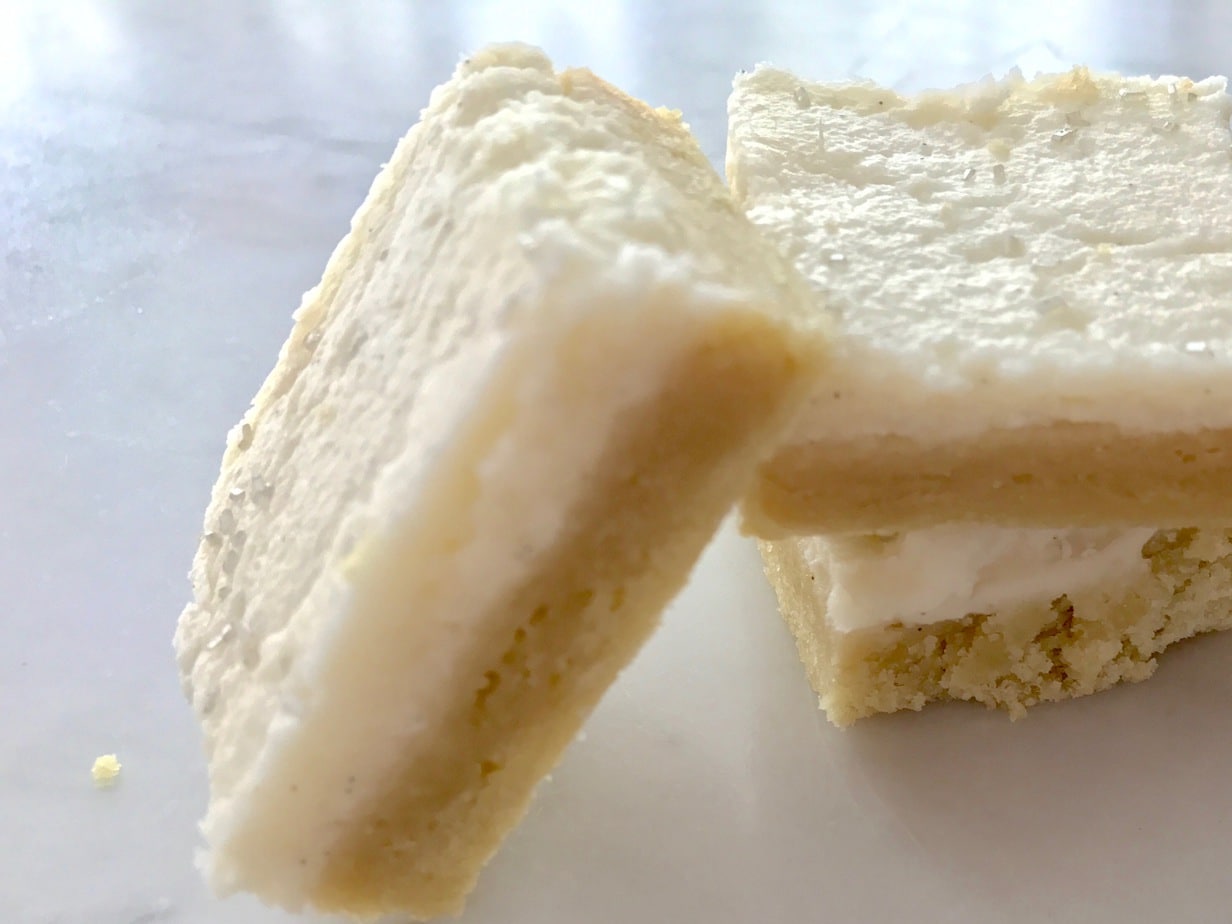 Start by plopping your room temp butter into your mixer bowl, then pour in your all natural cane sugar.
BUTTER SOFTENING TIP | Remember, if you forget to take your butter out, just microwave it for 8-12 seconds (every microwave is different, so start out on the low end).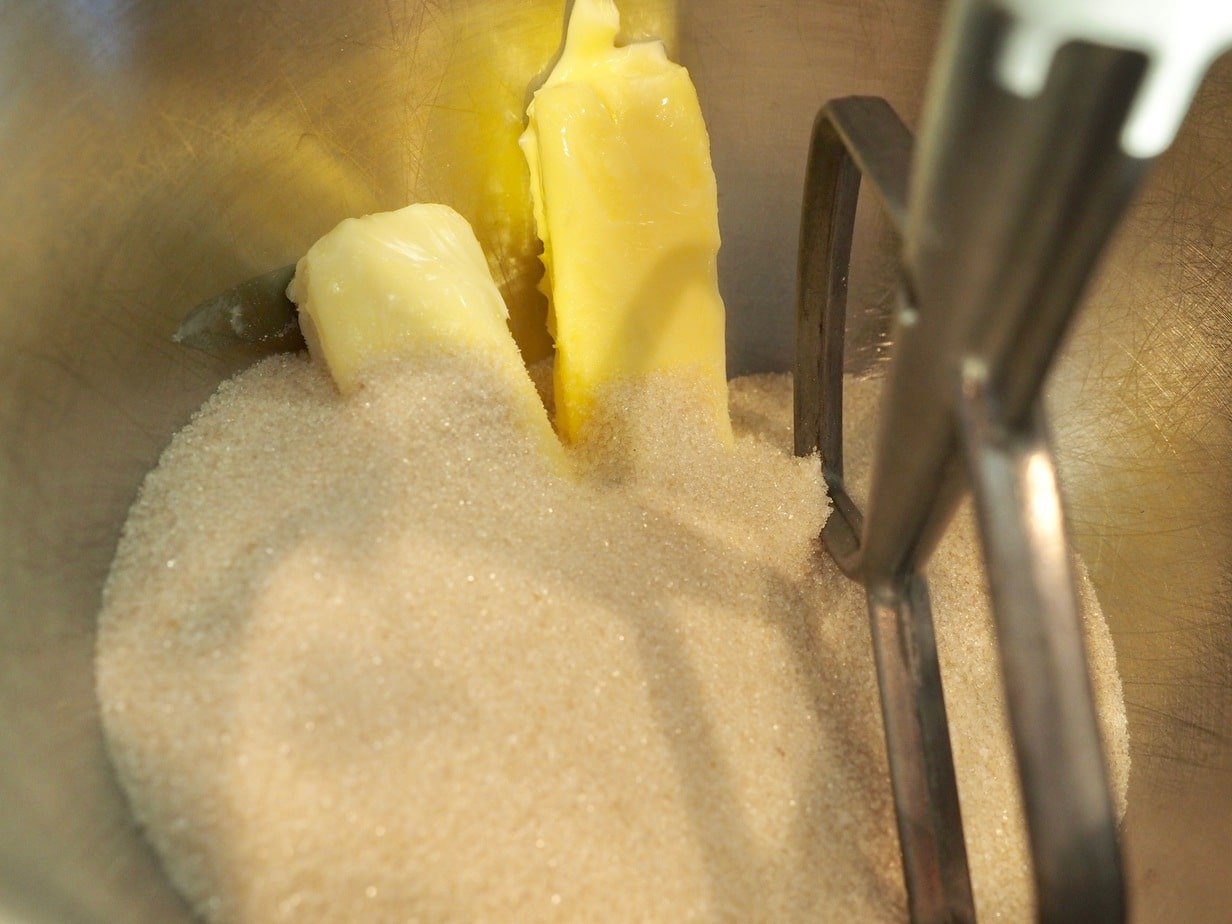 CREAM BUTTER & SUGAR FOR SOFT, CHEWY COOKIES
Cream sugar and butter for a couple of minutes (3-5 minutes) at medium to medium-high speed.
I use all natural cane sugar, which is not bleached and not quite as fine as bleached white sugar, so it takes a bit longer to cream into fluffy perfection. Scrape down sides before adding eggs.
Add eggs, one at a time, mixing on medium for about 1 minute per egg! Scraping down sides after each addition.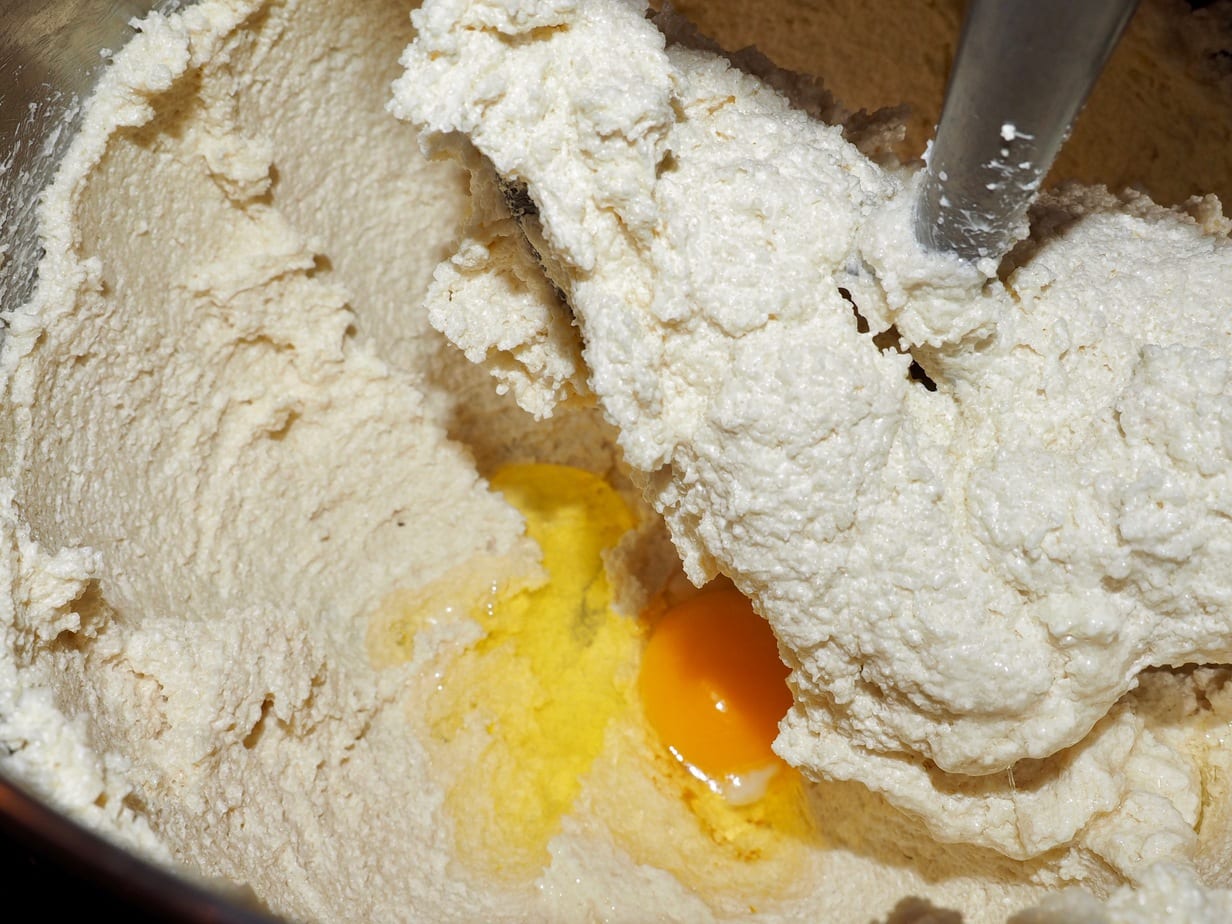 While your eggs are whipping up, in a medium bowl mix together all purpose flour, baking soda and salt with a whisk, set aside.
Pour in a few teaspoons of vanilla, and then add flour mixture into your batter, ½ cup at a time, mixing on low until blended, scraping down sides often.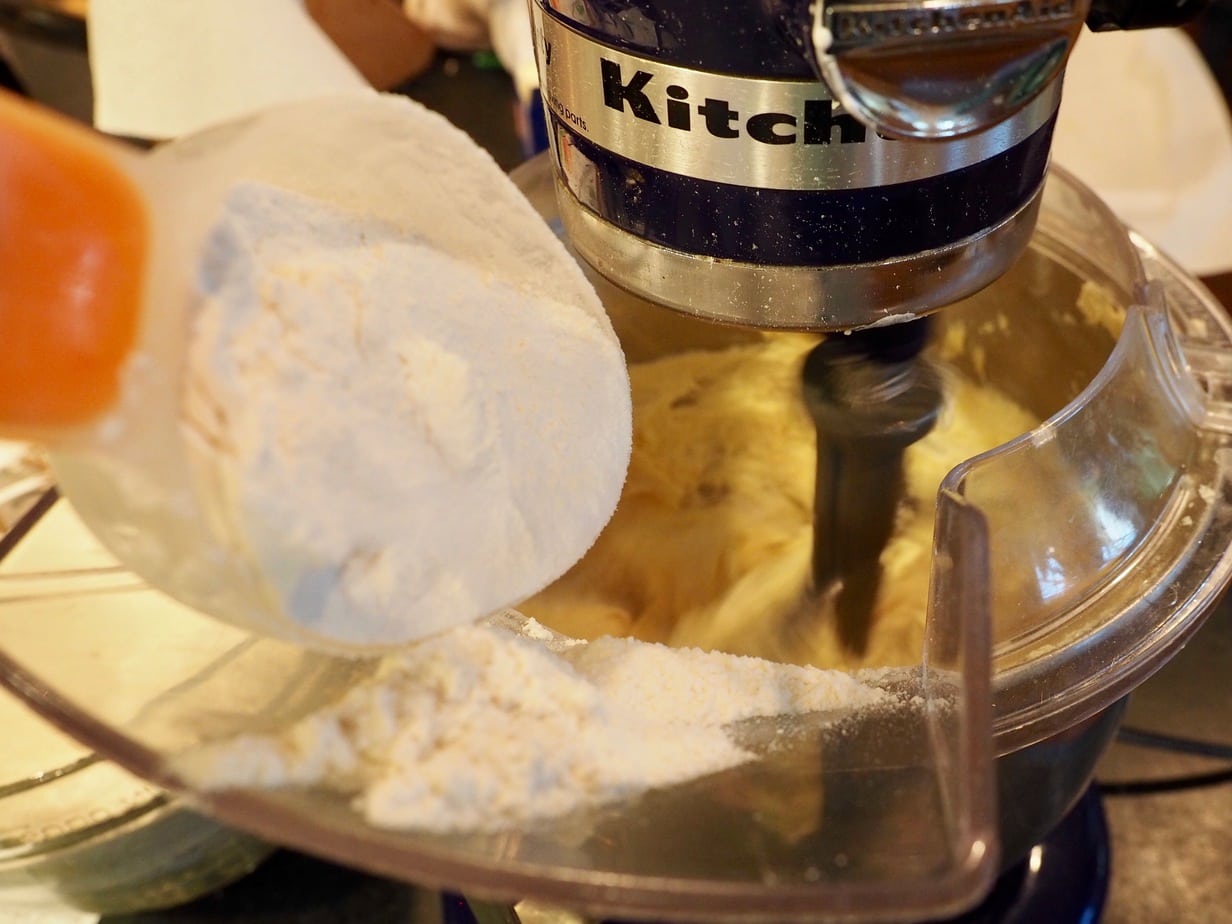 Try and not overmix, but make sure all of your flour is incorporated.
Dump dough into the prepared 1/2 sheet pan or 9×13 pan for thicker sugar cookie bars, if there is a little bit of flour and crumbly parts, just knead it into the dough.
Spray a non-stick piece of plastic wrap or parchment paper and put on top of dough to aid in spreading. Smoothing to the corners to evenly distribute the dough.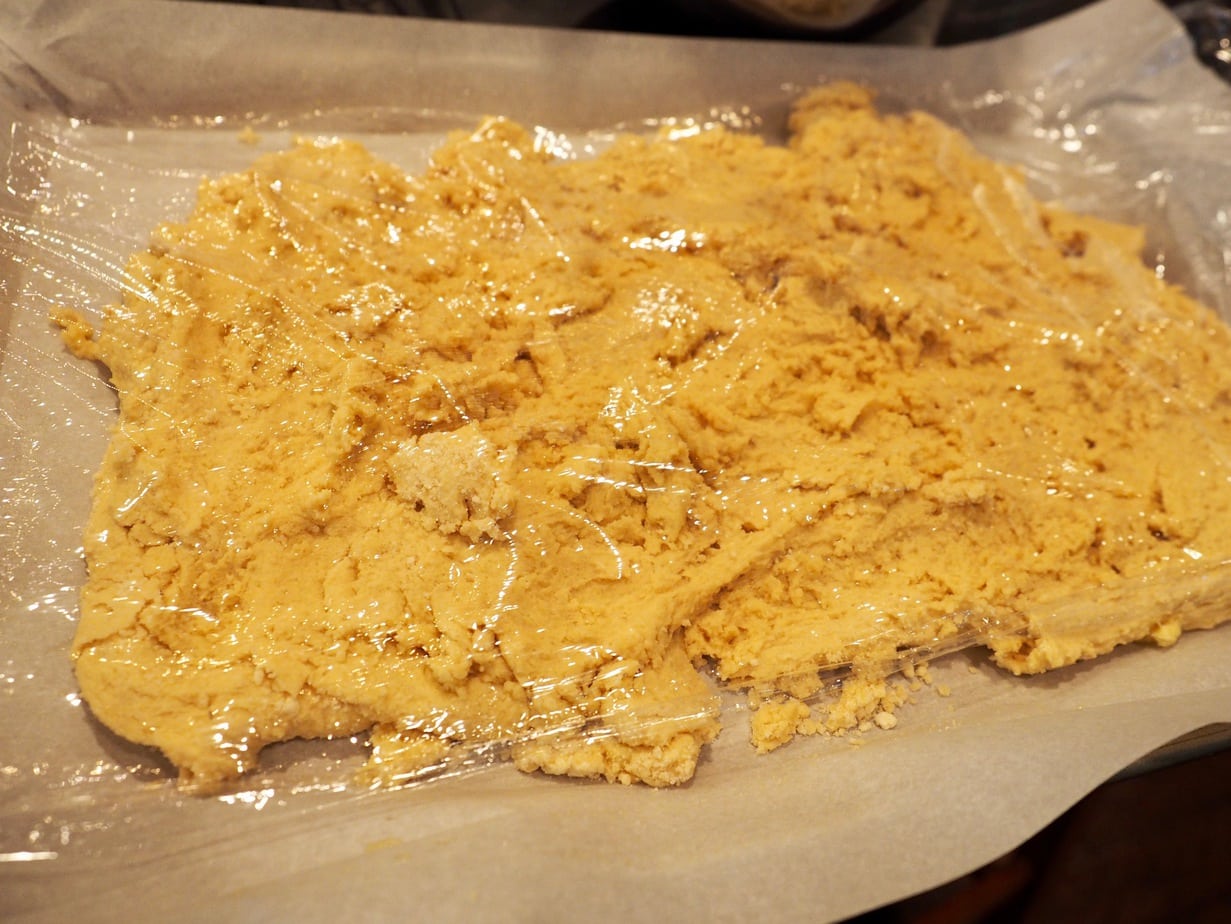 When I'm doing my sugar cookie "button" bites, I line the pan with parchment or foil so I can lift them out for easier cutting.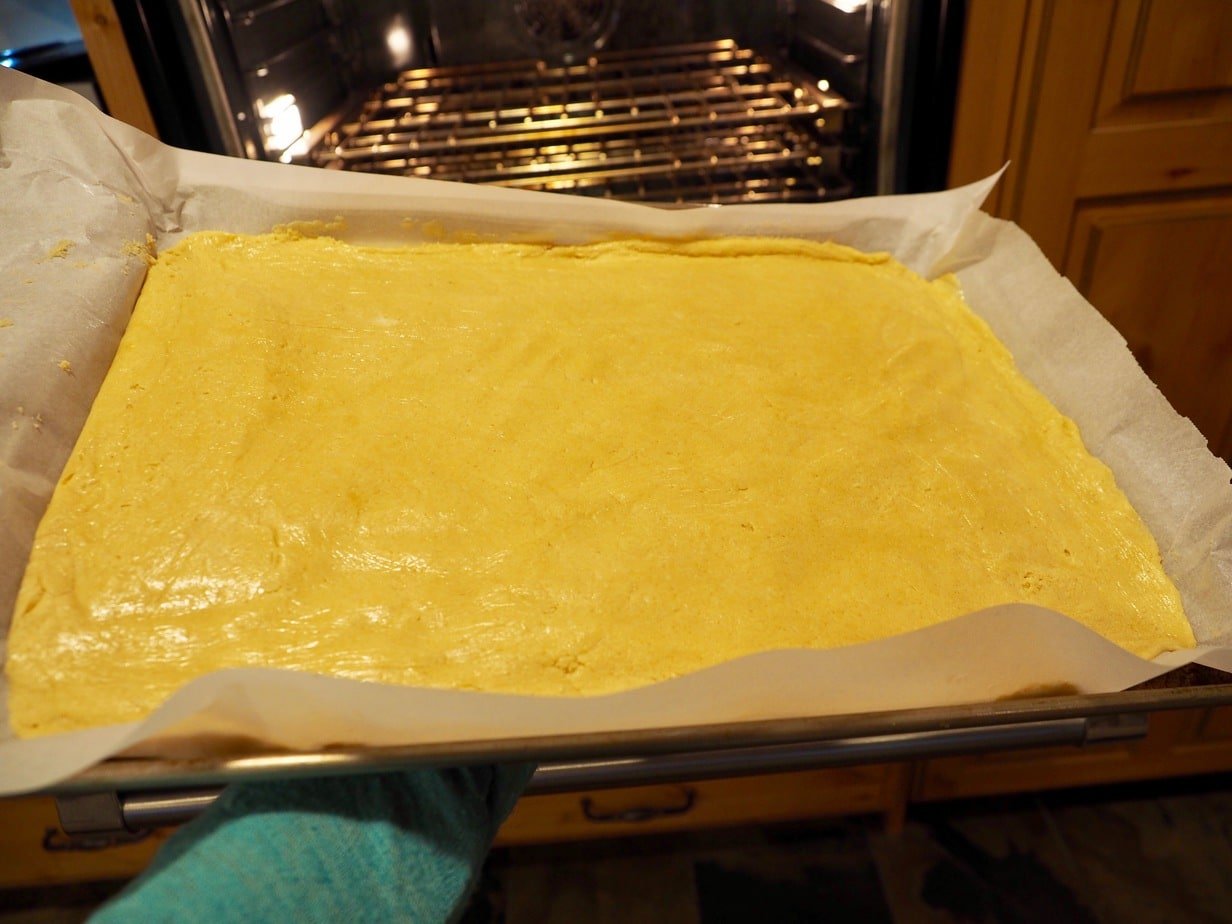 How Long to Bake Sugar Cookie Bars for the Softest Sugar Cookies
Bake for 10 minutes, no longer, they will look pale and undone, therein lies the beauty of these babies!
Remove from oven and cool completely prior to frosting.
If you don't have one, get a reliable kitchen timer, get one that is long, loud, annoying and goes for a bit so you can hear it anywhere in the house.
DO NOT OVERBAKE YOUR SUGAR COOKIE BARS
Resist the urge to bake for longer than 10 minutes, if you are a baker, you will think they are undercooked.
But if you bake them longer, instead of chewy soft cookies, you will instead get a crumbly, dry cookie, trust me on this one!
Edges should barely be golden and center look almost undone.
I typically cool mine and then cover with foil or tight plastic wrap and frost the following day.
MAKE AHEAD TIP
If making multiple batches for a large crowd, I suggest you freeze the entire cookie in the pan; once frozen, remove cookie "slab" using the parchment paper.
Wrap tightly in plastic wrap, place back in freezer, repeat with other batches, stacking one on top of the other.
When ready to cut, allow to sit at room temp for about 10-15 minutes, cut as planned.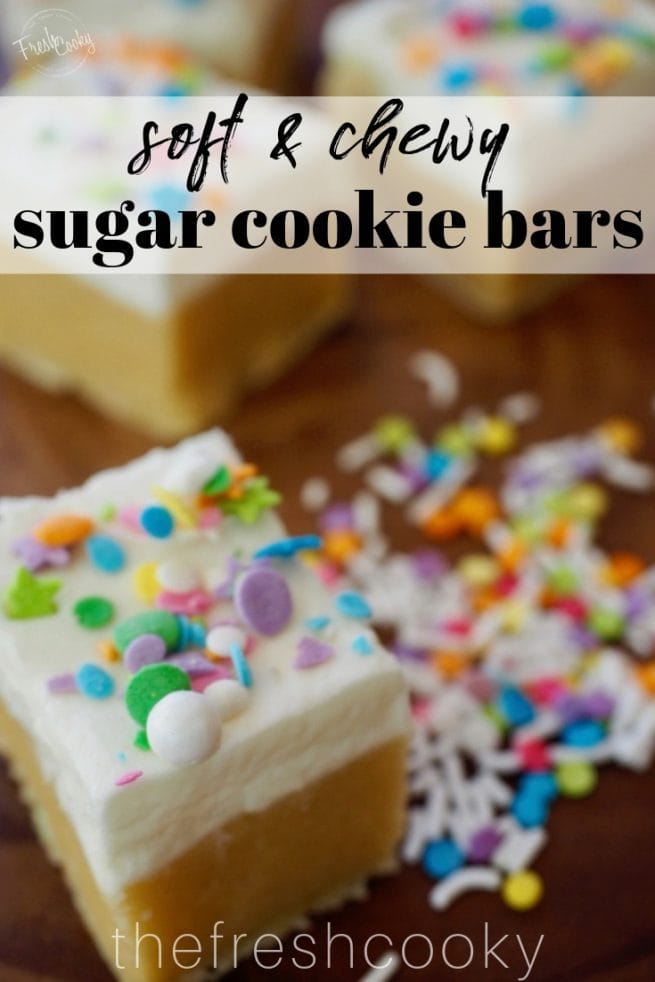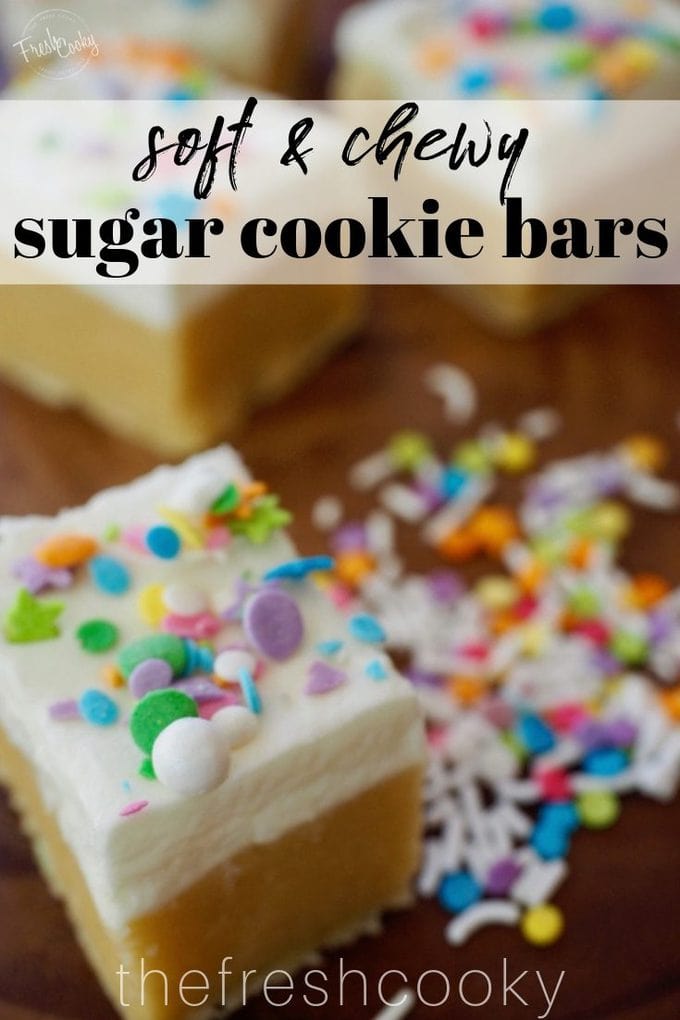 How to Best Frost or Pipe for Sugar Cookie Bars
This is a delicious, light, fluffy, buttery, out-of-this-world creamy frosting!
If piping the frosting, reduce the amount of cream/milk for slightly stiffer frosting, but this frosting may be easily spread over the top of the bars as well.
If desired, tint buttercream with food coloring, add sprinkles or keep plain and simple, nothing wrong with that!
How to Cut Frosted Sugar Cookie Bars | Clean and Easy
Once frosted, I like to cut through cookies with a hot knife scoring through the frosting.
Chill for 30-60 minutes to allow frosting to firm up slightly before cutting completely. Make as big or small as you like!
Sprinkle with seasonal sprinkles, this is a fun assortment or I like these all-natural colored sugars.
Bottom line, dress them up or keep them plain, your choice!!
PRO TIP | I typically cut off the brown, uneven edges in order to get nice clean sliced and evenly sized cookies.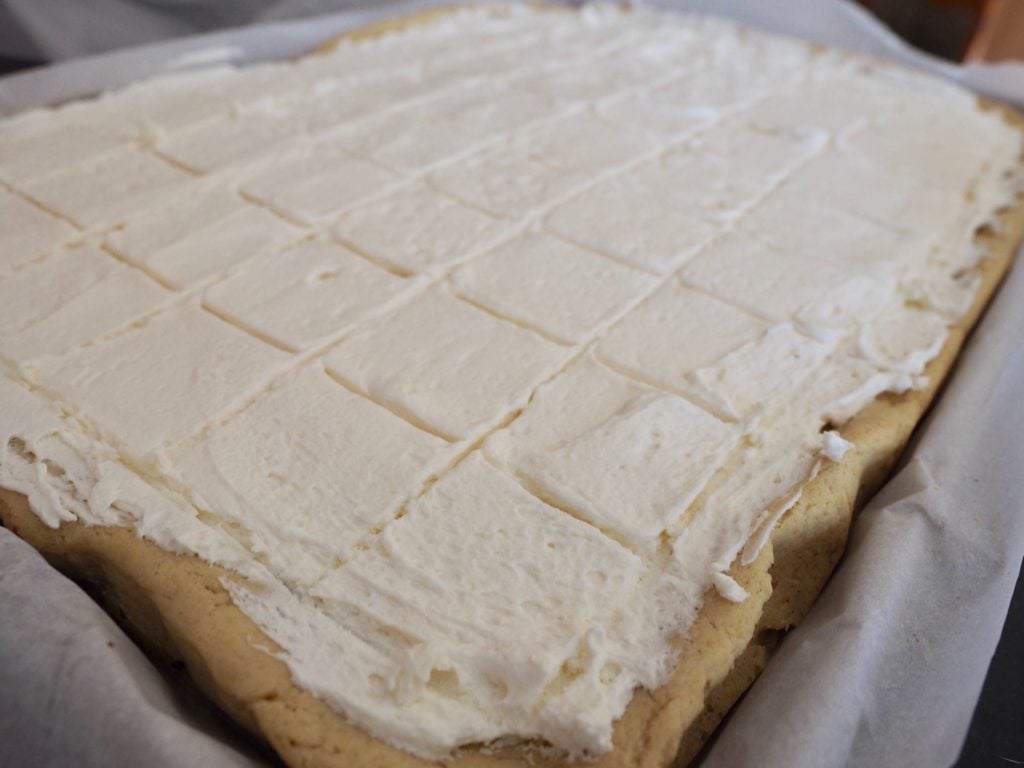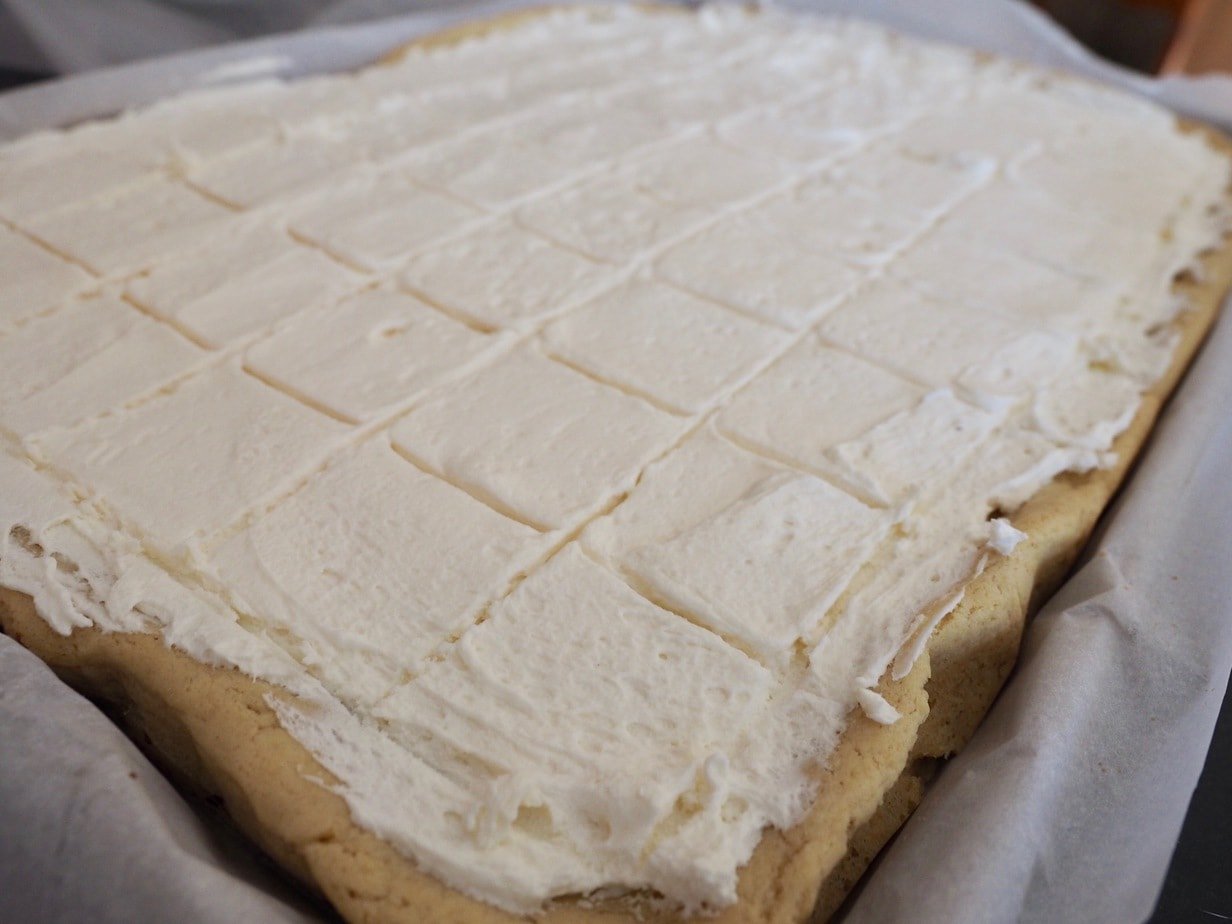 Divine!
HOW TO MAKE SUGAR COOKIE BUTTONS OR BITES
If you are making the Sugar Cookie Buttons/Bites using the parchment or foil, remove your cookie "slab" from the pan.
Place cookie slab on a large cutting board and using a 1″ round or square cookie cutter, cut buttons/squares of cookies as close together as possible.
Don't throw away the cookie "guts," the little leftover pieces after cutting out buttons.
Uses for cookie guts:
crumble on ice cream
stir into homemade ice cream
stick in a baggie and toss in a lunch box
Mix into a decadent milkshake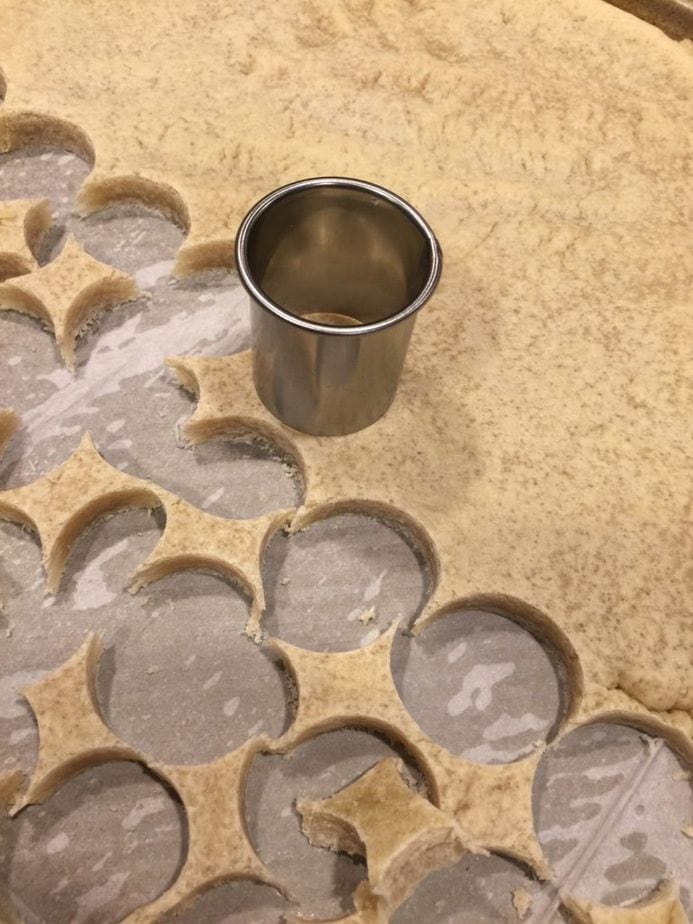 If piping frosting onto the bites, place frosting in piping bag fit with the tip of your choice, I used both the Wilton 1A large tip and the Wilton 32 star tip for the swirled look.
PIPING PRO TIP | Fold over the top of the piping bag and then place piping bag inside of a large glass while filling, it will make it easier to fill and keep it ready at hand.
Pipe a small swirl of frosting onto each button. If using sprinkles, pipe several cookies and then put sprinkles on before frosting has a chance to set up, if not, sprinkles will fall right off!
Change up frosting tips if desired for different effects.
If you know you will change your tips, either put frosting and tips on two different pastry bags, or make sure you use a frosting coupler so you can easily change the tip out, double check to make sure the coupler fits your frosting tip.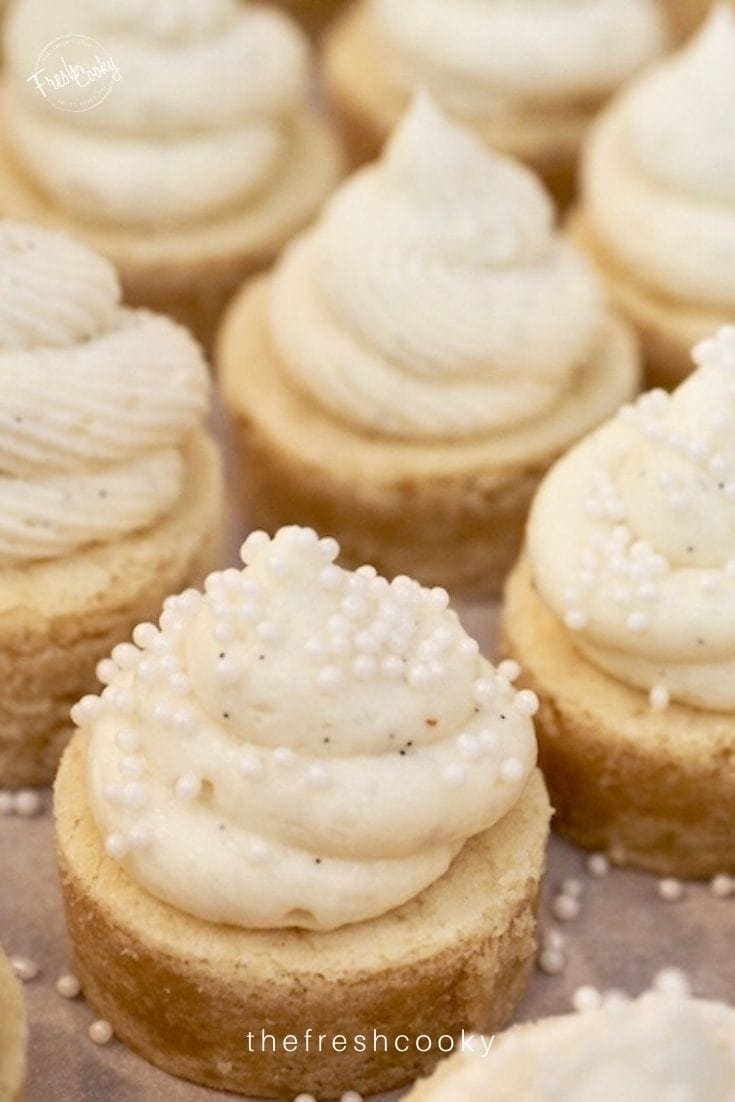 Can you see my reflection in the silver dragee?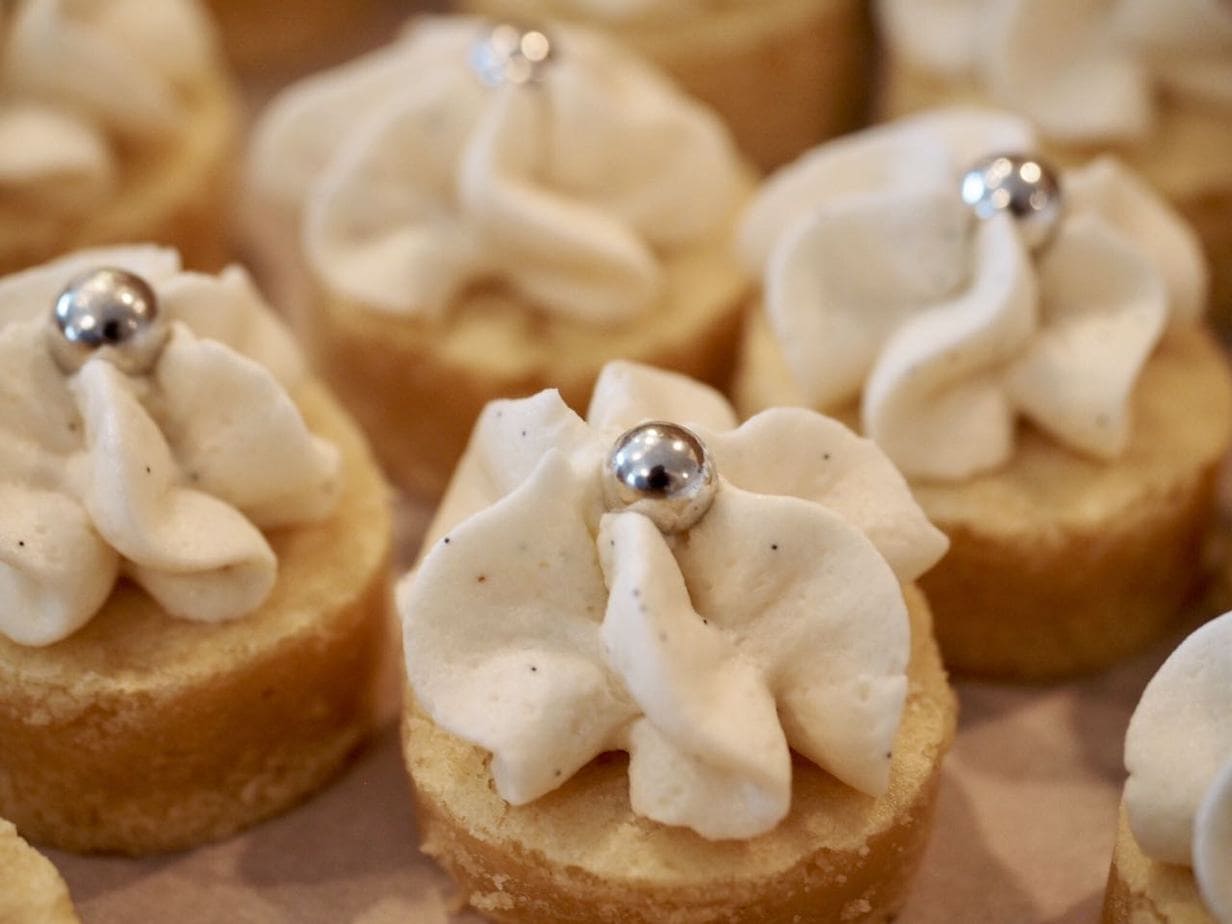 A sheet pan makes about 86 bites! Figure 2-3 per person. May be frozen but, better freshly frosted!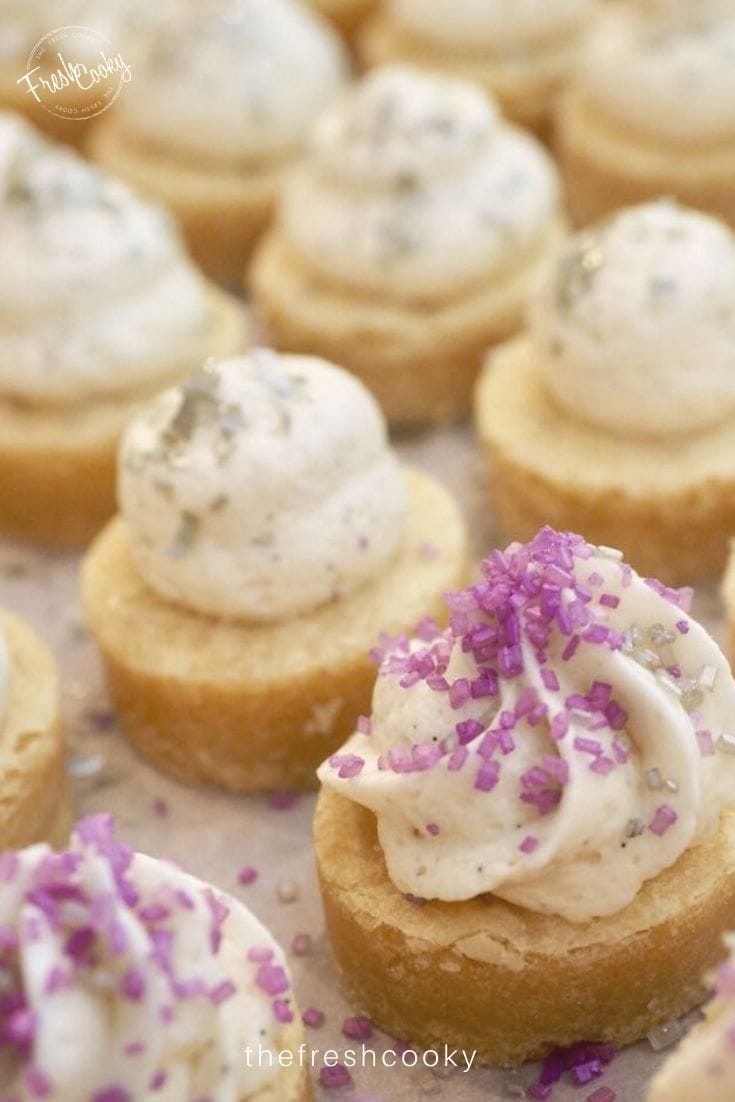 I've also dipped the bites in melted chocolate (I like Ghirardelli Melting Wafers) then top with sprinkles!
Try this peppermint dust/sugar or fun snowflakes, perfect for Christmas treats!
Make them all Christmas-y by adding crushed candy canes or peppermint!
Like this recipe? Give these a try:
Like this recipe?
Don't forget to give it a ⭐️⭐️⭐️⭐️⭐️ star rating and comment below the recipe!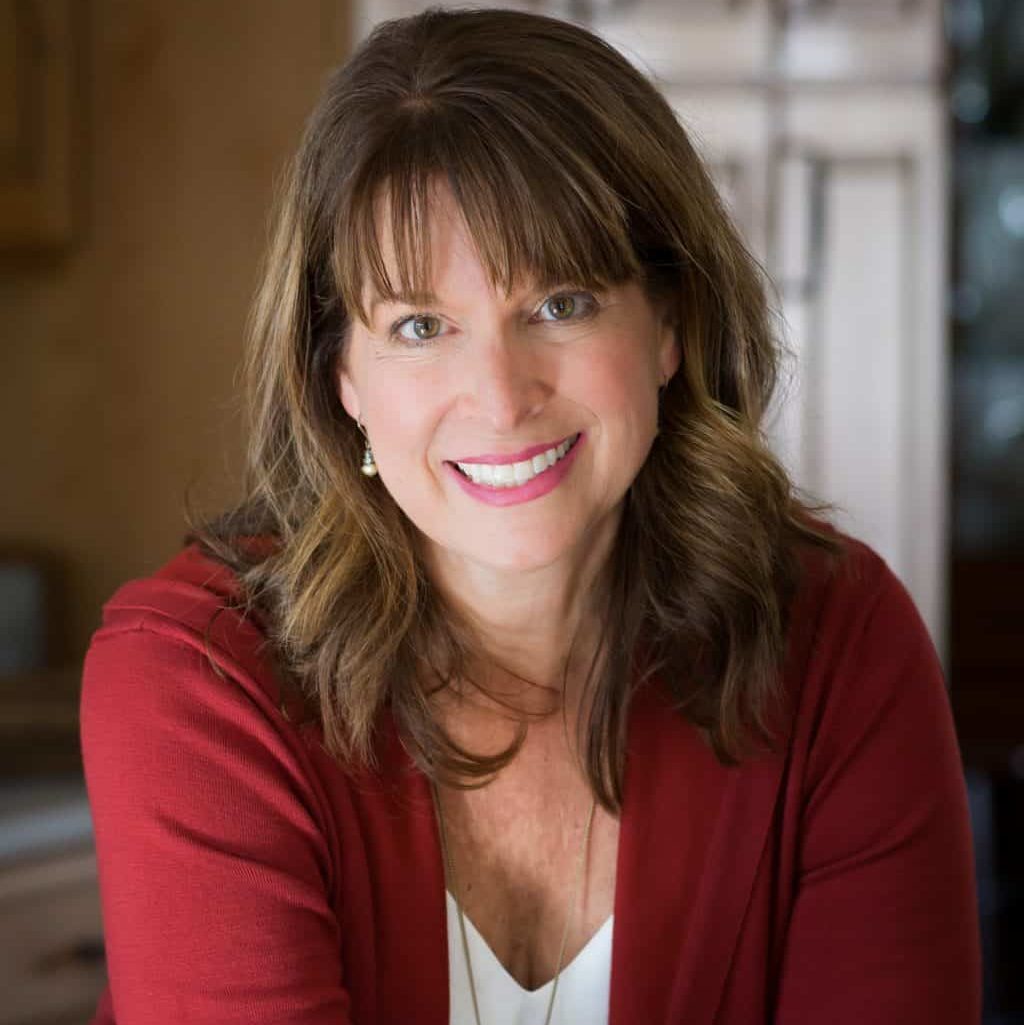 About Kathleen Pope
Recipe Innovator | Food Photographer | Food Writer
Hi, I'm Kathleen Pope. Here at The Fresh Cooky you will find easy, mostly from-scratch, trusted recipes for all occasions. From speedy dinners to tasty desserts, with easy step-by-step instructions. I am here to help teach you how to make mouthwatering recipes without spending hours in the kitchen. Read more about Kathleen here.