Healthy Recipes for College Students
As an Amazon Associate, I earn from qualifying purchases. Please read my disclosure policy.
Healthy Recipes for College Students! Perfect for any college student, not just the foodie but any young person just starting out. Many easy, delicious and simple recipes that college students can make in their dorm or apartment.
My son helped cultivate this recipe round-up after his freshman year in college. Recipes from our personal test kitchen (by that I mean, my son's favorites) as well as from other experienced bloggers.
Recipes that can be made easily with limited equipment and supplies.
Read to the end of the post, I give my best list of kitchen equipment for college students as well!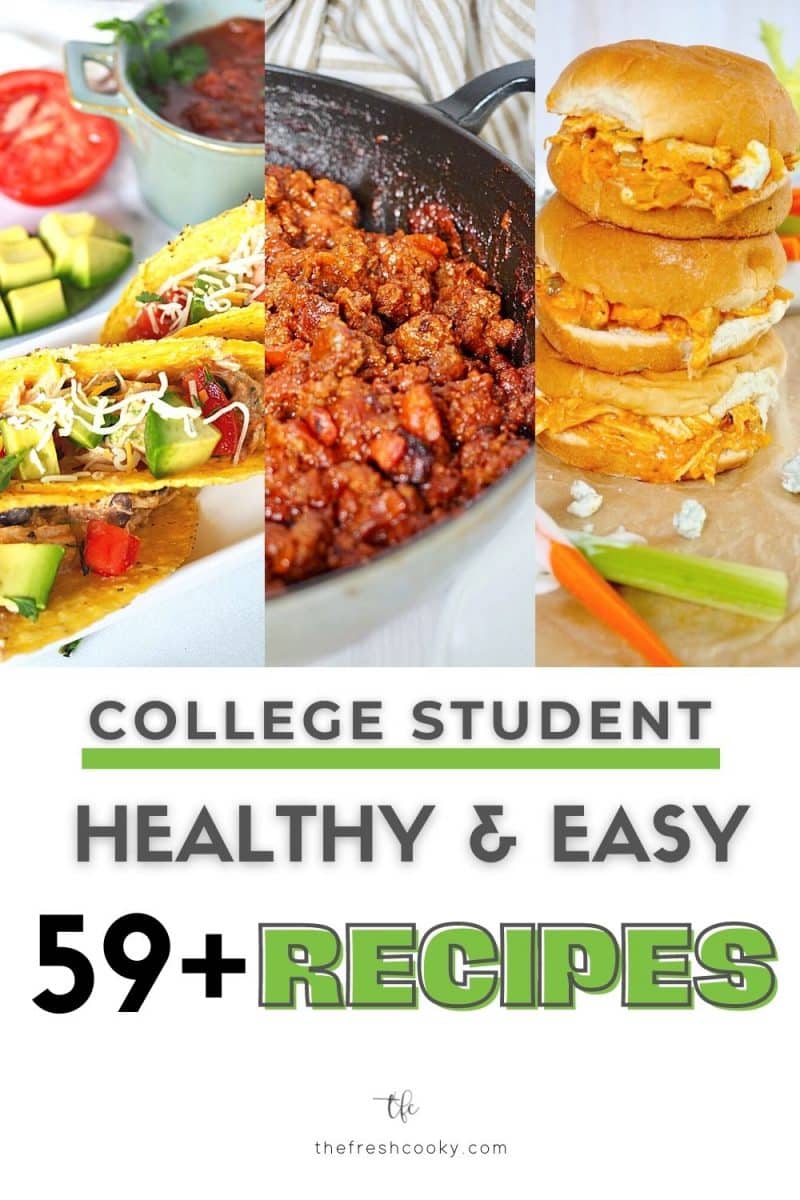 I am excited to share with you this incredible collection from my fellow blogger and friend Anecia from SmartyPants Kitchen, she has put together this amazing post of 25 Cheap and Healthy Meals for College Students easy and quick recipes.
40+ HEALTHY RECIPES FOR COLLEGE STUDENTS
I have a few ideas of my own, like original overnight oats recipe or a big batch of crockpot granola, or this chicken salad recipe; they make enough for several meals, and are easy to whip up.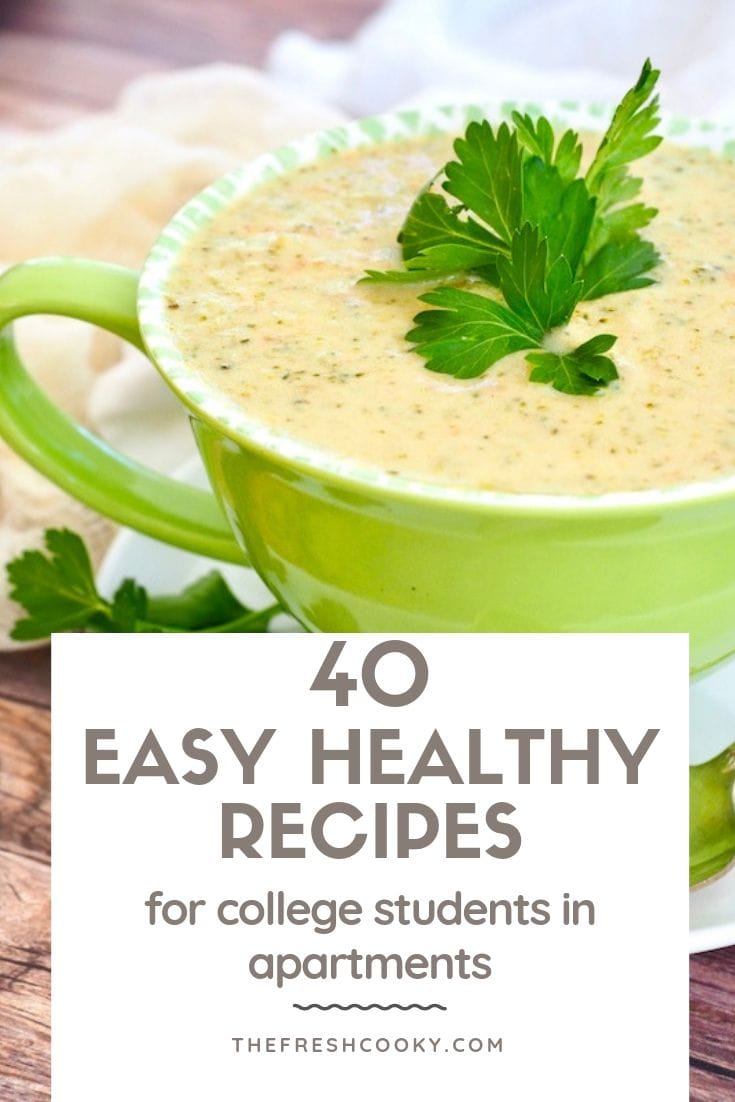 I hope you enjoy this journey through these 59+ healthy recipes for college students. Many of these recipes are easy, low ingredient, budget friendly recipes, sure to please most college students.
Healthy Recipes for College Students
ESSENTIAL KITCHEN TOOLS FOR COLLEGE STUDENTS
Kitchen Tools for College Students
Because they are still going to eat ramen!
Because splatter happens.
For those who need their coffee right when they wake up.
Safer than most small appliances they will get very creative with this air fryer.
Photo Credit: www.amazon.com
A good wooden spoon is essential.
Photo Credit: www.amazon.com
Great for mixing, marinating, serving a salad, and food storage.
Photo Credit: www.amazon.com
Instant pots are ideal for college students, dorm rooms and apartments! You can pressure cook, slow cook, saute and steam.
Photo Credit: www.amazon.com
Alternative to an InstantPot is the Slow Cooker, I like programmable so that it has an auto shut-off. Great for chili, soups, stews.
Photo Credit: www.amazon.com
These cutting boards don't take up space and so versatile.
Photo Credit: www.amazon.com
Photo Credit: www.amazon.com
The liquid measures are perfect for all types of cooking and baking needs.
Photo Credit: www.amazon.com
Fits any pot, like those mismatched ones your student brings from home, because pasta is a college staple.
Photo Credit: www.amazon.com
Because, pizza will always be a college staple.
Photo Credit: www.amazon.com
BPA free these storage containers serve as leftover containers, storage, reheatable and more.
Photo Credit: www.amazon.com
Nearly indestructible, this cast iron pan is perfect for cooking for small jobs. These go from stovetop to oven easily - think skillet cookie!
This college student cookbook, keeps popping up in all of my research, so it might be worth a look!
Let me know what tools and essentials have worked the best for your college student.
Looking for college dorm ideas, money saving tips, student survival tips? Check out this post from parents who have "been there, done that" for a Back to College A Students Survival Guide.

Thanks for hanging out with me, be sure to comment on your favorite recipe or what you would like to see!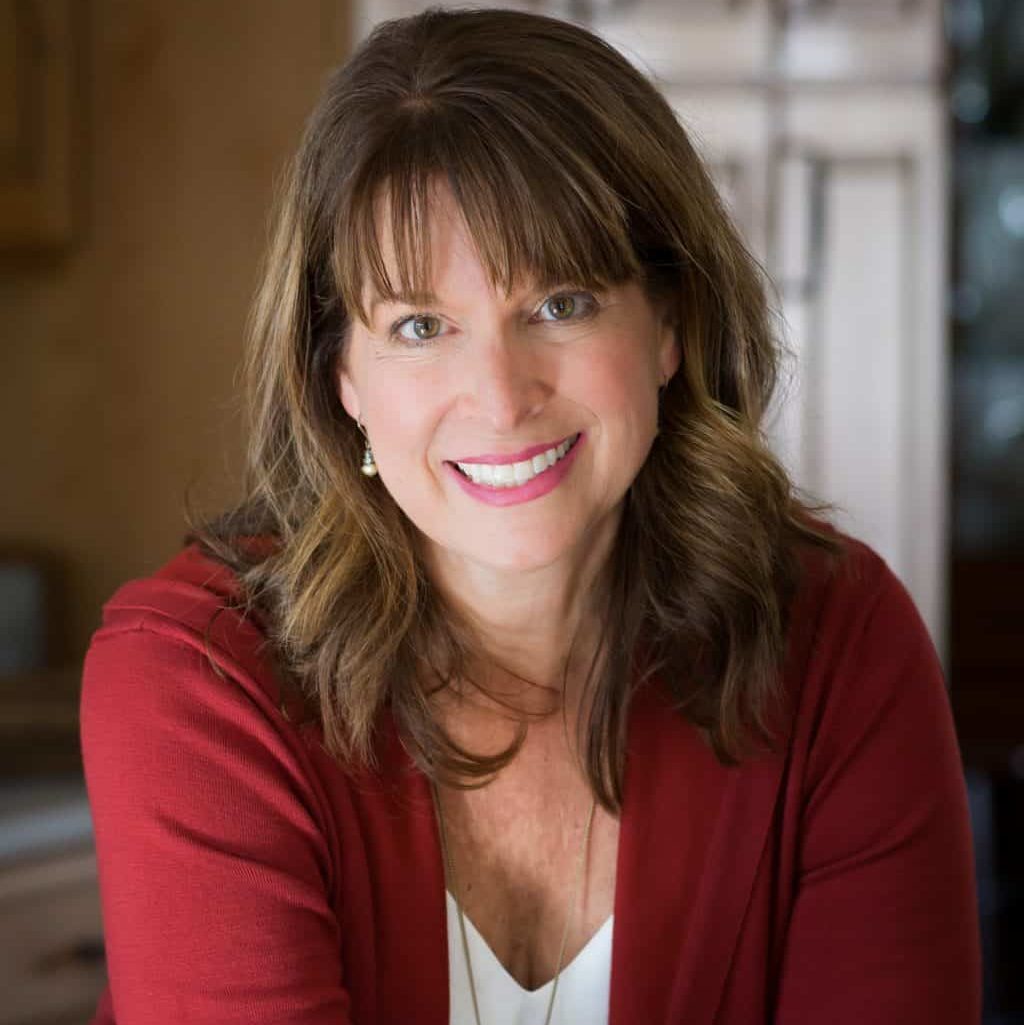 About Kathleen Pope
Recipe Innovator | Food Photographer | Food Writer
Hi, I'm Kathleen Pope. Here at The Fresh Cooky you will find easy, mostly from-scratch, trusted recipes for all occasions. From speedy dinners to tasty desserts, with easy step-by-step instructions. I am here to help teach you how to make mouthwatering recipes without spending hours in the kitchen. Read more about Kathleen here.