Healthy 3-Ingredient Raspberry Glazed Salmon
As an Amazon Associate, I earn from qualifying purchases. Please read my disclosure policy.
A deliciously easy and healthy Raspberry Glazed Salmon recipe using 3 simple ingredients for out of this world flavor and a few simple steps to the best baked restaurant style salmon ever!
My requirements for fish recipes: easy — delicious — no dry fish! And this recipe for raspberry glaze for salmon checks all the boxes!
If you love simple, healthy recipes, you might also enjoy this Easy Beef & Broccoli, 30 minute chicken parmesan and this Coconut Curry Chicken.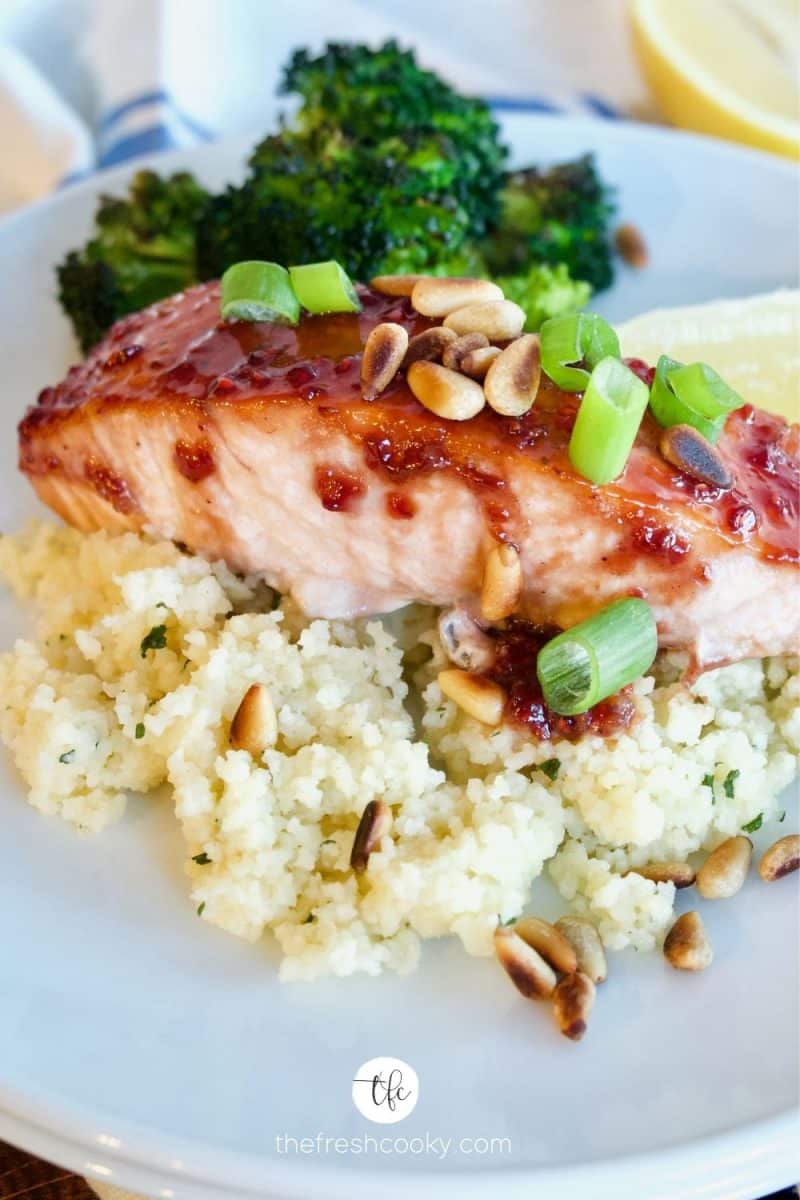 Sweet Glaze for Salmon
While I love fish, I am allergic to all shellfish and I am afraid that has bled into my menu planning by omitting all fish. Shame on me, because it's so delicious and so good for you!
Years ago, I got food poisoning from salmon, and I mean years, like when I was a kid — so salmon has always kind of scared me. But then, I went to a dinner party and the hosts served a raspberry salmon and I LOVED IT!
I have recreated the sweet glaze for salmon based on memory alone and I know you will not be disappointed.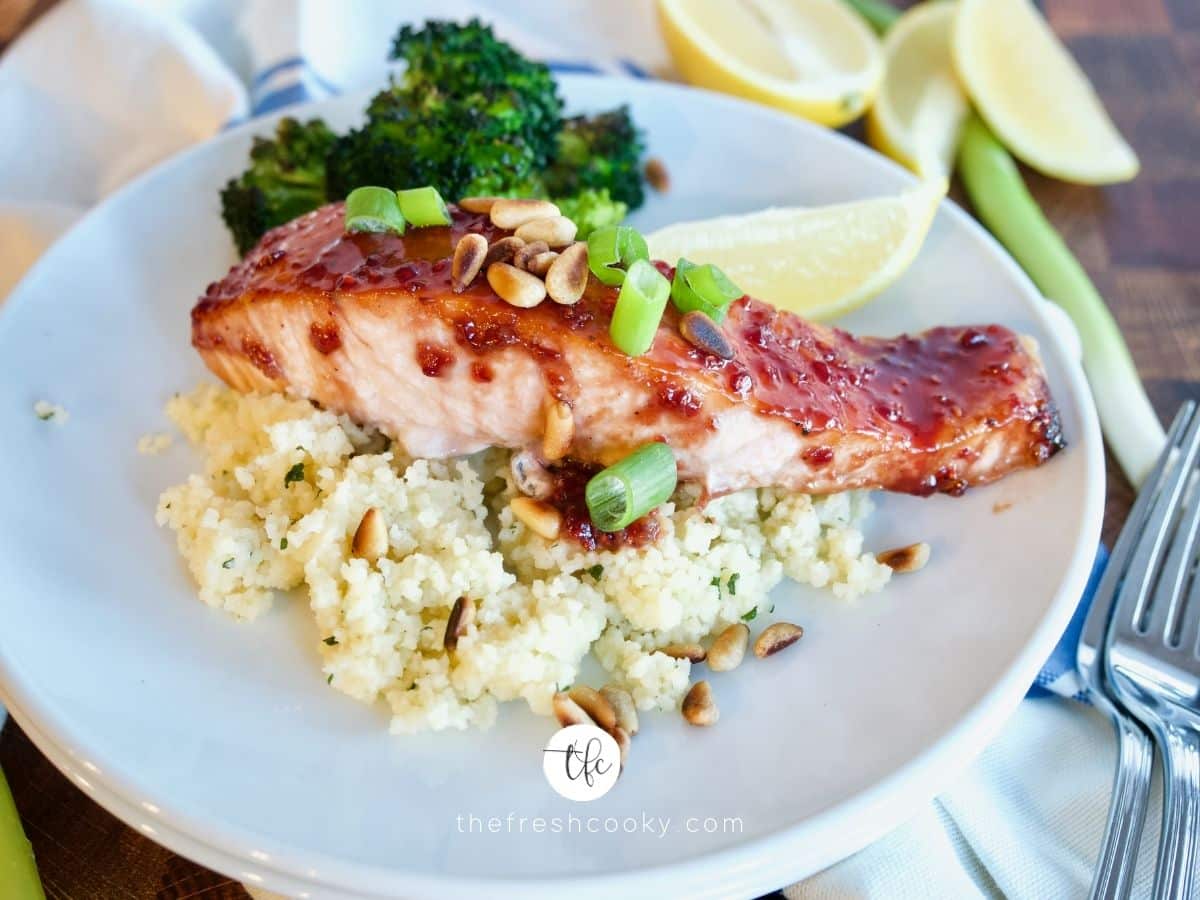 Why you'll love Raspberry Glazed Salmon
EASY | We all love an easy recipe and this one could don't be easier, 3 ingredients not including the fish and salt & pepper!
HEART HEALTHY | A few of the benefits of salmon:

Rich in Omega-3 Fatty Acids. Salmon is one of the best sources of the long-chain omega-3 fatty acids EPA and DHA.
Great Source of Protein.
High in B Vitamins

FANCY LOOKING & TASTING | without any fussy ingredients or steps.
GREAT FOR COMPANY | a fish recipe that is great for company!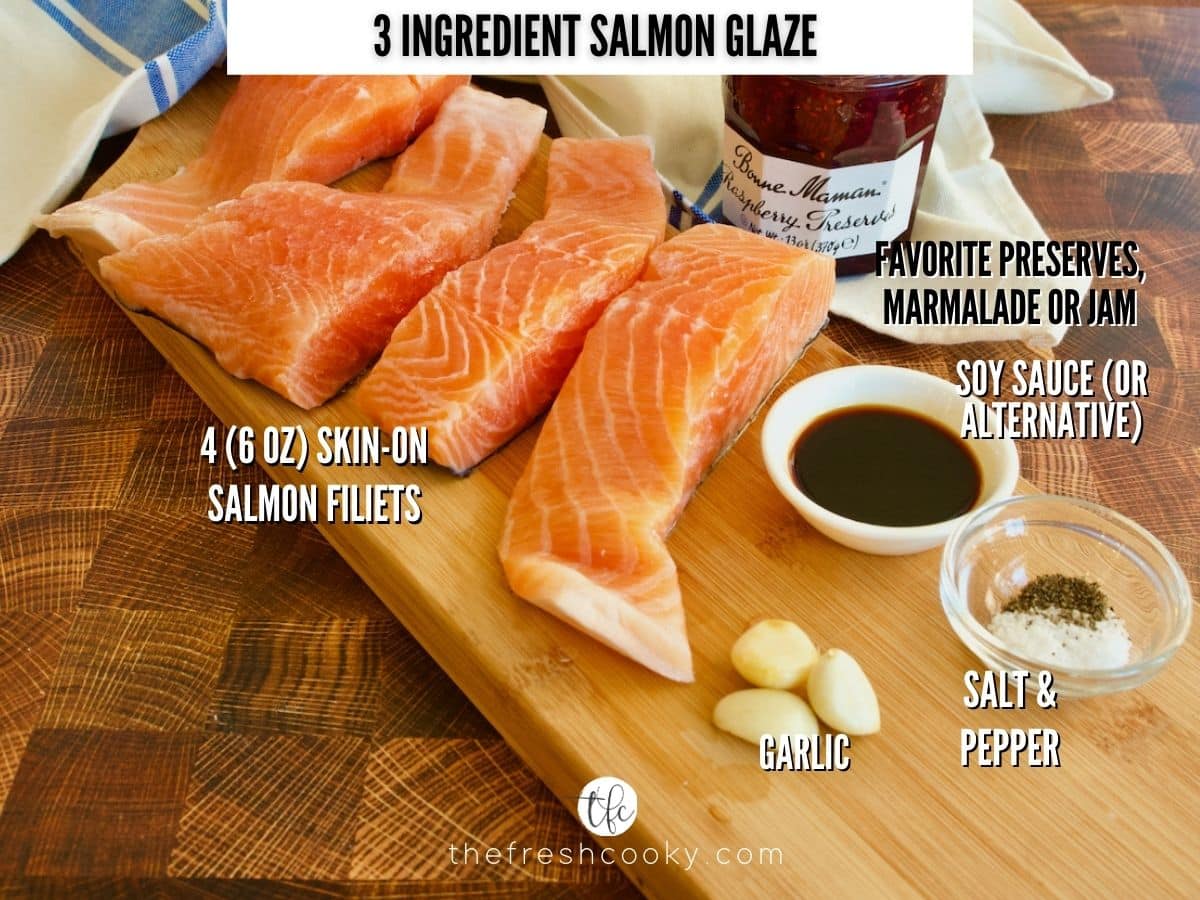 Ingredients
You will love this recipe because the ingredient list is so simple, you probably have everything in your pantry!
RASPBERRY PRESERVES | or your favorite jam or marmalade, I used Bonne Maman, which are delicious! Check out this little "starter set!"
SOY SAUCE | or alternative, I used low-sodium Tamari which is gluten free, you could also use Liquid Amino's or Coconut aminos.
GARLIC CLOVES | Fresh, diced small or using a garlic press.
SALT & PEPPER | You have that right?
OPTIONAL GLAZE ADDITIONS
RED PEPPER FLAKES | add a few (or a lot) of shakes, especially if you like it spicy
CAYENNE PEPPER | maybe just a dash for you daring types!
How to Make Glaze for Salmon
ANYONE can make this restaurant quality sweet glaze for salmon!
Combine preserves, garlic, soy sauce, salt and pepper, stir until combined. Yell – tada!!!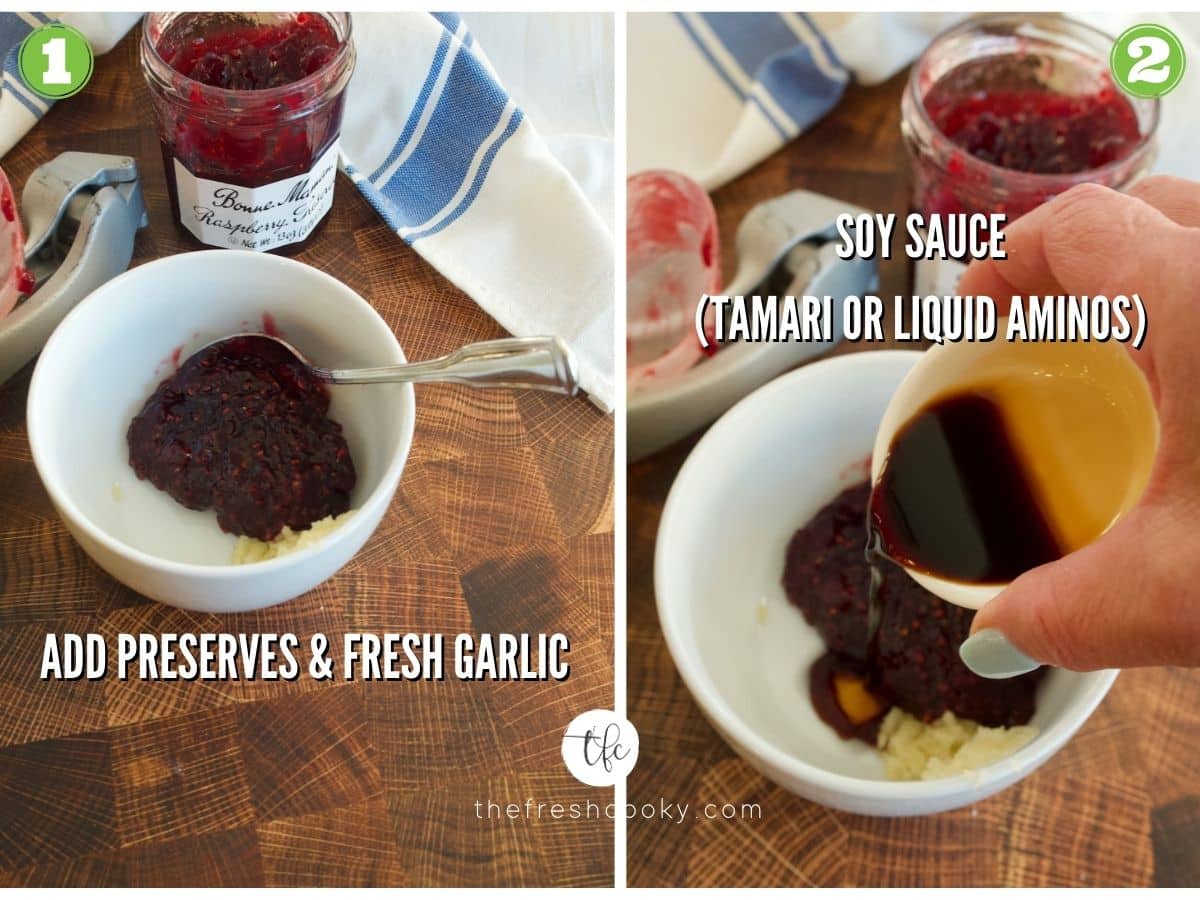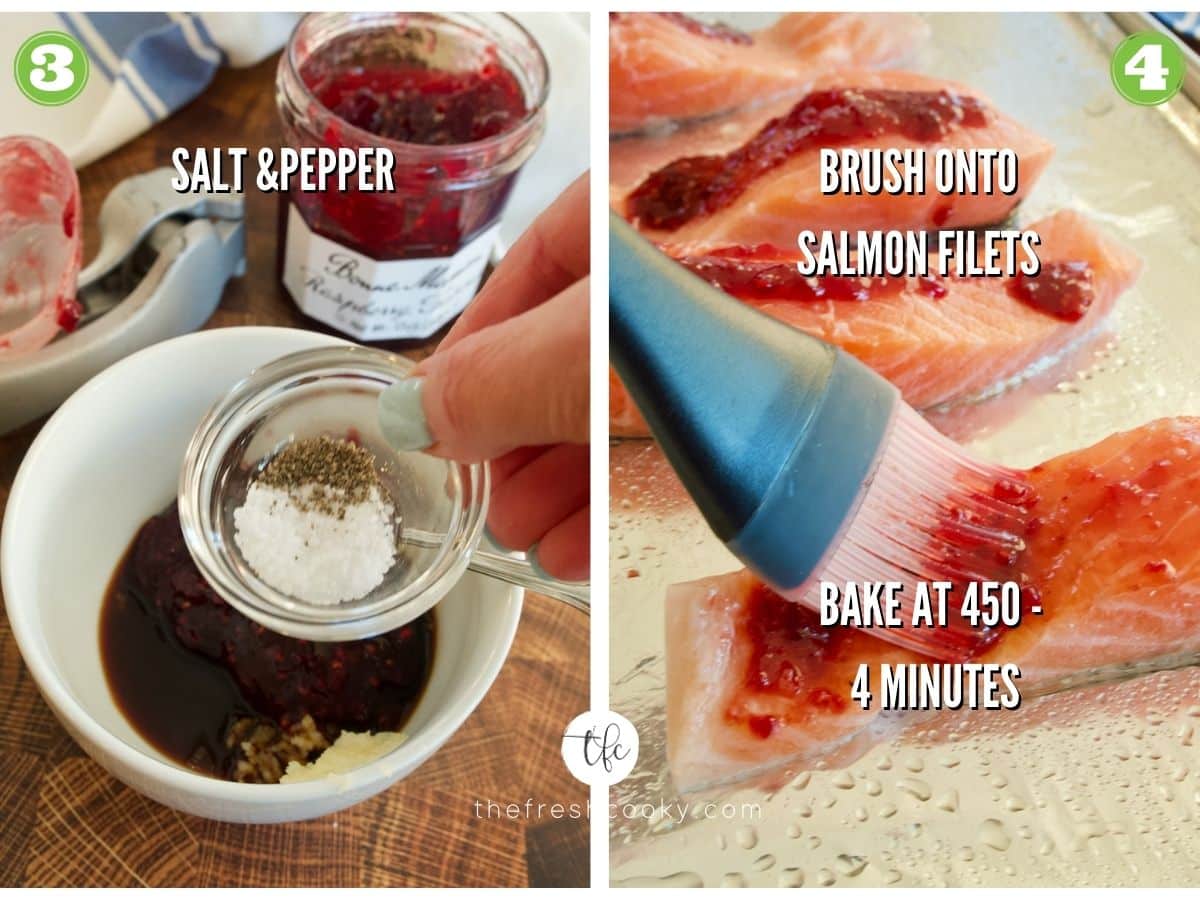 How to make Raspberry Glazed Salmon
Step 1 | Preheat oven to 450 degrees F and line a sheet pan with foil and spray or brush with oil.
Step 2 | Arrange salmon, skin side down, a couple inches apart and brush fish fillets evenly with about half of the glaze mixture. Bake a 450 for 4 minutes.
Step 3 | Do not remove the fish from the oven, turn broiler to high and broil fish for 6 minutes on middle rack.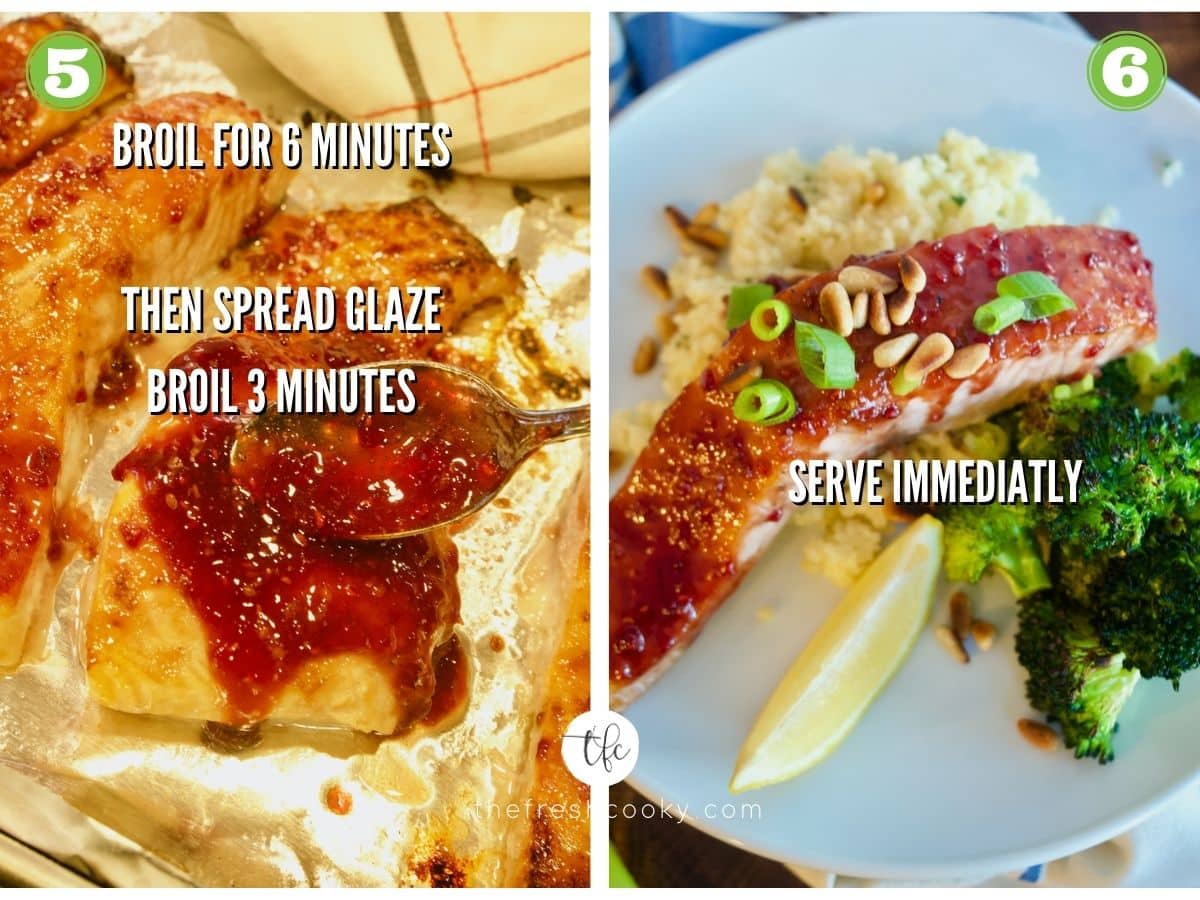 Step 4 | Spoon remaining sweet glaze mixture onto the center of salmon fillets and broil for 3 more minutes or until desired doneness. Garnish with finely chopped green onions and toasted pine nuts and serve with lemon wedge – optional of course.
Gluten Free Raspberry Sauce for Salmon
This is a naturally gluten free recipe, just make sure you use Tamari or other gluten free soy sauce. And always read labels!
Frequently Asked Questions
What temp should salmon be cooked?
The FDA recommends cooking salmon to an internal temperature of 145°F, measured in the thickest part of the salmon filets. The salmon will continue to cook a bit more once it has been removed from the oven, so pull it out of the oven once it reaches an internal temperature of 140°F. Unless your salmon is much thicker or thinner , if you follow the steps it should be perfect every time.
Why is my salmon always dry?
If your salmon is dry it has been overcooked and it doesn't take long to overcook it, even a few extra minutes can do it. Follow the instructions above and it will be perfect every time.
Should I wash salmon before baking it?
Apparently there is more danger in bacteria spreading if you rinse fish, so pat it dry with some paper towels.
How do you know when salmon is done?
Gently press down on the top of the fillet with a fork or your finger. If the flesh of the salmon flakes (easily separates) the fish is done.
Wild Caught or Farm Raised?
I used both farm raised and wild caught fresh salmon for my testing. In my opinion farm raised is a bit "fishier", but not overwhelmingly so, both turned out silky, moist and delicious.
Is fresh or frozen salmon fillets the best?
Fresh is always best, but that's not always practical is it? So purchase the best you can afford and it will be perfect!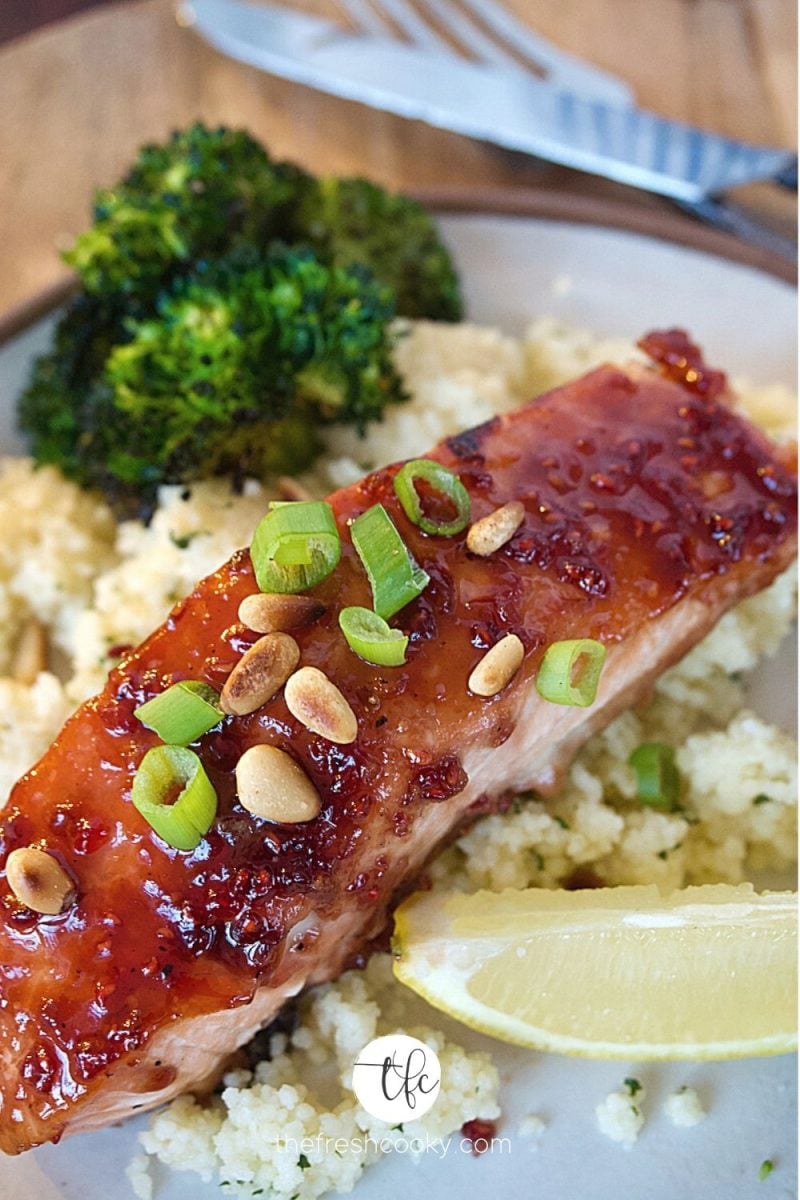 Serving Suggestions
A light and deliciously healthy dinner calls for great sides.
No Fail Baked Salmon
Follow the baking steps and you will have delicious, moist, flaky and NOT DRY salmon every time! Trust the process!
Tips
PREP | Once this recipe gets going it comes together quickly, so prep any side dishes ahead of time to have them ready about the same time as the raspberry salmon. For instance, I tossed some broccoli in olive oil, salted it and placed on a pan in the lower part of the oven at the same time.
PRESERVES | Use your favorite preserves, a high quality jam or marmalade may also be used. I do not recommend jelly, you want the fruit to shine through, not the sugar.
CHANGE THE FRUIT | Not a fan of raspberries, try other fruit and even mixed fruit preserves. Or this Fig Jam (drooling!)
SOY SAUCE | Replace soy sauce with liquid aminos, coconut aminos, or Tamari.
RASPBERRY BALSAMIC GLAZE | Swap out the soy sauce with balsamic vinegar for a yummy sweet & sour glaze.
Here are a few more great fish recipes!
Like this recipe?
Don't forget to give it a ⭐️⭐️⭐️⭐️⭐️ star rating and comment below the recipe!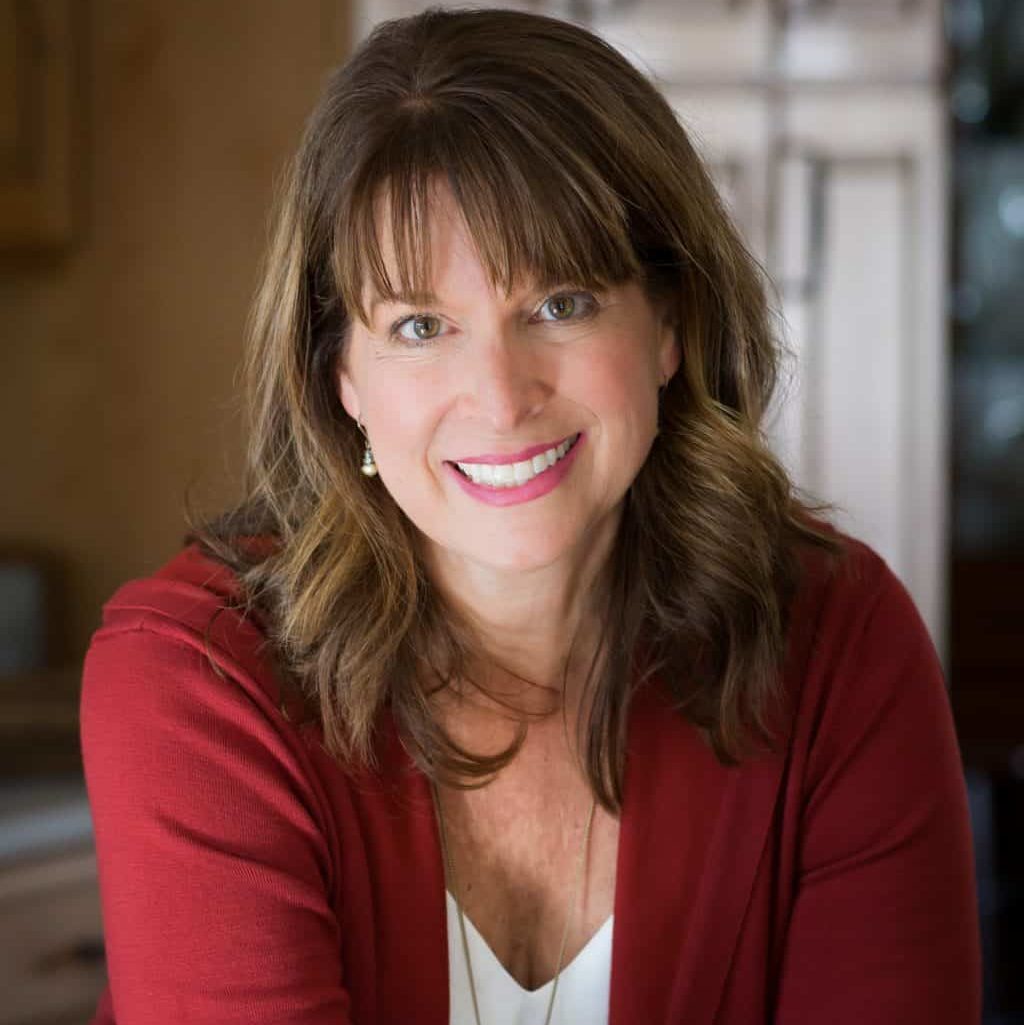 About Kathleen Pope
Recipe Innovator | Food Photographer | Food Writer
Hi, I'm Kathleen Pope. Here at The Fresh Cooky you will find easy, mostly from-scratch, trusted recipes for all occasions. From speedy dinners to tasty desserts, with easy step-by-step instructions. I am here to help teach you how to make mouthwatering recipes without spending hours in the kitchen. Read more about Kathleen here.