Today I'm featuring another family favorite…this 30 minute recipe for Easy Beef and Broccoli is packed with flavor, loaded with juicy steak; crisp, tender broccoli and has a delicious, healthy and tangy sauce, that is easily spice adjustable.
30 minute Easy Beef & Broccoli is actually more like "22 Minute Beef & Broccoli" but that doesn't roll off the tongue.
EASY BEEF AND BROCCOLI
Other than making sure you have the ingredients thawed and on hand, this meal can be totally last minute.
I love this type of meal; a healthy, quick meal going into a holiday weekend or just after one.
First things first though, we love our beef and broccoli over steamed rice, so get that going while you assemble the rest of the recipe.
Or if preferred cook up some lo mein style noodles, both equally as tasty! White or brown rice works great!
Key Ingredients
How to make Beef and Broccoli sauce
The sauce takes the longest to prep; like maybe 4-6 minutes, longer if you are taking phone calls or answering texts. (wink-wink)
TIP | If you spray your mini measuring cup with a little spray oil your honey will slip right out, making cleanup a breeze.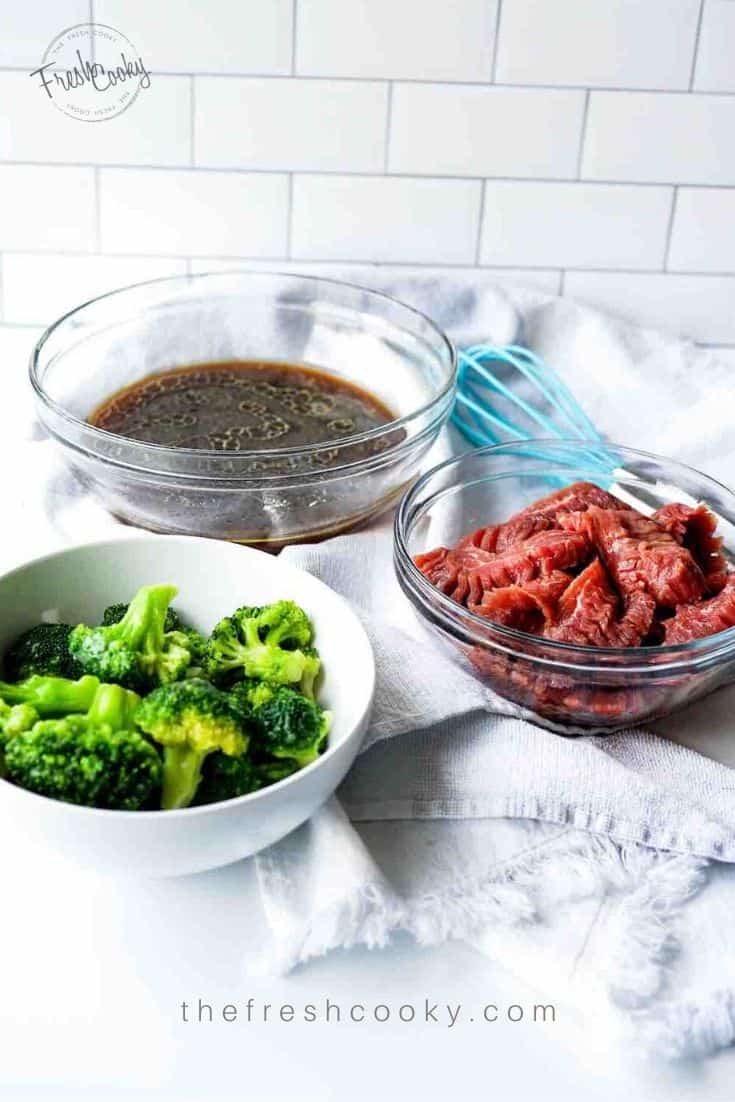 Grate or chop a little fresh ginger.
FRESH GINGER TIP | Did you know you can freeze ginger root and grate it from it's frozen state? Great way to make sure you always have fresh ginger on hand.
Add sesame oil, I'm a huge fan of toasted sesame oil!! So fragrant!!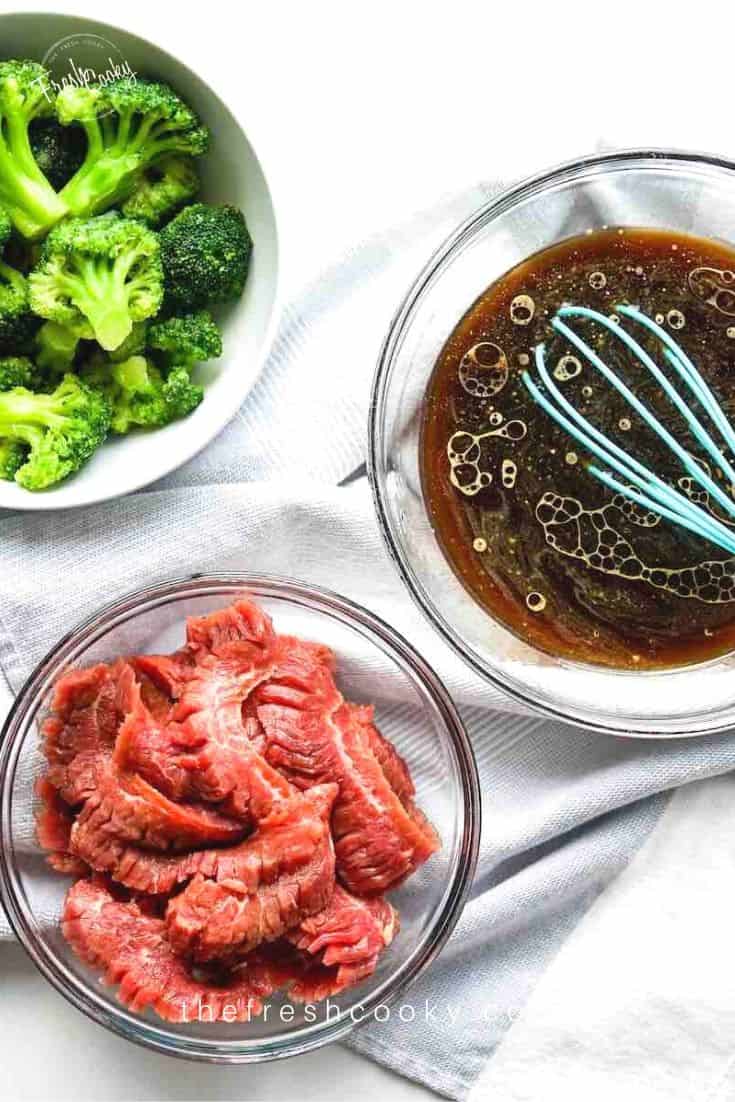 HOW TO MAKE EASY 30 MINUTE BEEF AND BROCCOLI
Slice the steak and prep the broccoli florets. I used skirt steak this time, because I had some in my freezer, but I prefer using sirloin or strip steak or even flank over skirt.
Just slice it thin and try to trim the fat off.
Tips
BROCCOLI | If you prefer really crisp broccoli wait to add until the very end, I like mine fork tender, so add it a bit earlier.
WHISK | Before pouring the sauce into the pan, whisk again one last time, the corn starch likes to settle on the bottom.
GLUTEN FREE | By making sure your soy sauce is gluten free (try Tamari or Liquid Aminos) this is a delicious gluten free dinner recipe.
PREP | Since this is a stir fry, make sure you have all of your ingredients prepped and ready to go ahead of time!
Best if served immediately over rice or noodles, but it'll still taste good if it waits awhile too, your broccoli just won't be as bright green.
Serve your easy beef and broccoli with a little sriracha sauce or as we like it with a little sweet chili sauce.
Our family watched Passion of the Christ for the first time this year. As a lifelong Christian, I was hit anew with a vivid reminder of what Christ did for me. He did it for all mankind! Taking on the sins of the world…it is finished, the battle has been won.
"For this is how God loved the world: He gave his one and only Son, so that everyone who believes in him will not perish but have eternal life. God sent his Son into the world not to judge the world, but to save the world through him." John 3:16 (NLT)
If you are not sure how you feel, I invite you to reach out; to me or someone else — I certainly don't have all the answers, but I would love to share my story with you.
More quick 30 minute or less meals:
Like this recipe?
Don't forget to give it a ⭐️⭐️⭐️⭐️⭐️star rating in the recipe below!
Yield:

4-6 servings
Easy Beef & Broccoli
Tender beef, crisp broccoli perfectly stir fried in a delicious tangy sauce. Give me 30 minutes and you'll have dinner on the table.
Ingredients
1 tablespoon olive oil
1 lb flank steak (strip, sirloin, or skirt steak may also be substituted) trimmed of fat & sliced thin
1 head broccoli, rinsed and cut into florets
SAUCE
1/2 cup soy sauce (Bragg's Liquid Aminos, Tamari, GF Soy Sauce or alternatives may be used)
2 tablespoon cornstarch
3 cloves garlic, minced
3 tablespoons tawny port (Sherry, Marsala, Madeira may be used) - OPTIONAL
3 tablespoons honey
1 teaspoon fresh ginger, minced or grated
2 tablespoons sesame oil
1/2 cup beef broth
Red Pepper Flakes (optional)
Sesame Seeds (optional)
For serving:
4-6 servings of white or brown rice or noodles
Sriracha Sauce or Sweet Chili Sauce
Instructions
If steaming your own rice, start before you do anything else. In a medium bowl mix together the following ingredients: soy sauce, cornstarch, garlic, port, honey, ginger, sesame oil, red pepper flakes, and beef broth. Whisk well, set aside.
Trim steak of any excess fat and slice into bit size, thin slices. Cut your broccoli into bite size florets. Heat pan on medium-high heat and drizzle in olive oil. Once pan is hot, carefully place in meat and quick toss/stir fry to brown both sides. About 3-4 minutes.
Add broccoli and keep heat up to stir fry broccoli and finish cooking the meat, 2-3 minutes. Pour in the sauce (whisking first to make sure it's all combined) and stir until thick and glossy.
Cook for an additional 1-2 minutes until broccoli is done to your desired taste. Serve immediately over rice or noodles. Garnish with a few shakes of sesame seeds or red pepper flakes if desired.
Recommended Products
As an Amazon Associate and member of other affiliate programs, I earn from qualifying purchases.
Nutrition Information:
Yield:
6
Serving Size:
1
Amount Per Serving:
Calories:

200
Total Fat:

8g
Saturated Fat:

1g
Trans Fat:

0g
Unsaturated Fat:

6g
Cholesterol:

0mg
Sodium:

1338mg
Carbohydrates:

30g
Fiber:

3g
Sugar:

11g
Protein:

5g
The nutritional information is estimated and may not be entirely accurate, at times it pulls information for suggestions and options which may increase calories, etc. Nutritional information will change based on used ingredients, quantities used, etc.
More 30 Minute Meals & Recommended Tools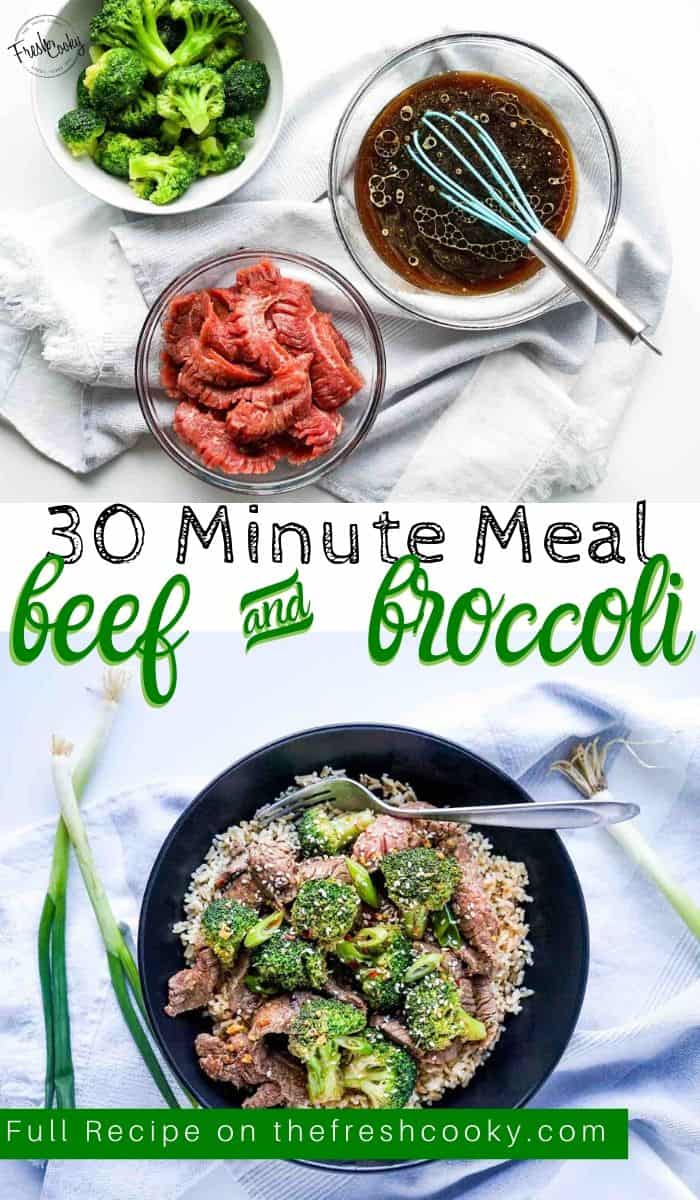 ABOUT KATHLEEN
I enjoy sharing easy recipes that are wholesome and delicious. I am fed by my faith, family, friends & food! Welcome to my kitchen! Read more...