I'm bringing you another 30 minute meal! They are my favorite! This is another one of our favorite take-out, but made-at-home meals. Saucy, sweet, tangy, Honey Bourbon Chicken with crisp broccoli and bright orange carrots. Steam up some rice for a quick healthy weeknight meal.
HONEY BOURBON CHICKEN
I don't know about you, but lately, I've been rather uninspired at dinnertime, maybe it's because I was sick for a bit, but I just can't seem to get my act together. However; this is one of my go-to recipes, I typically have the ingredients on hand and at 4 o'clock when I realize dinner needs to be on the table, this Honey Bourbon Chicken comes together quickly.
HONEY BOURBON CHICKEN | A 30 MINUTE MEAL
I don't know why dinner comes as such a surprise, we eat every night, 7 days a week, nothing changes and yet, I find myself, tummy rumbling or kids asking, "what's for dinner!" and I panic!
Honey Bourbon Chicken is the answer for moments like this…if you have them, you probably don't, it's probably only me…
THAWING TIP | Need to quick thaw your meat? While gathering the ingredients, toss your meat (place in a baggie if not already in vacuum packed bag) into a bowl of warm water, on the hotter side. Let it sit changing water out about half way through; it should be defrosted enough to work with in about 15-20 minutes.
Swirl some oil (try using Toasted Sesame oil for an even more flavorful dish) into a hot pan and toss in your onions, sautéing over medium-high heat until soft and nicely caramelized.
Chop the garlic and toss in during the last minute of onion caramelizing.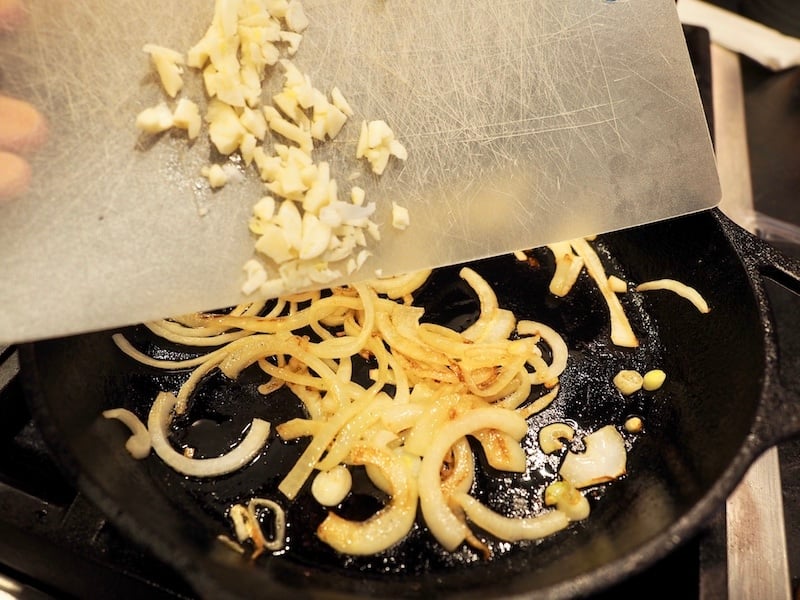 While your onions and garlic are sautéing, gather your sauce ingredients.
Bourbon (or whiskey) is entirely optional! The chicken still tastes great without it, however keep reading as I do explain why I use alcohol at times in my meals.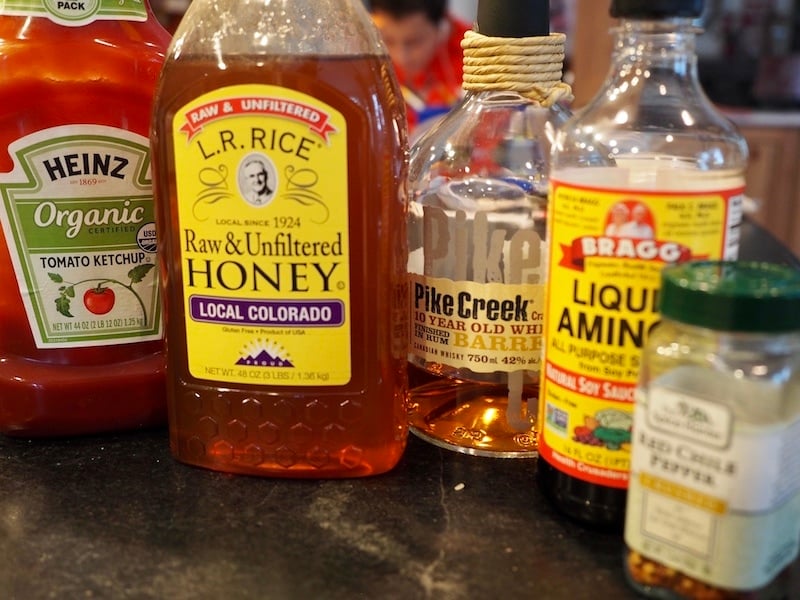 Measure honey into a small mixing bowl.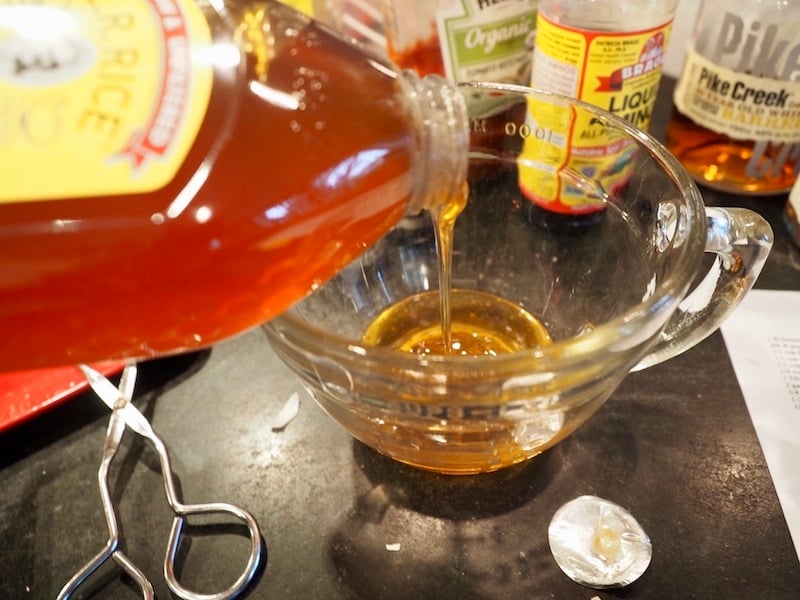 I love using Bragg's Liquid Amino's instead of soy sauce, or try soy sauce, Tamari, GF soy sauce or Coconut Aminos because they all work beautifully!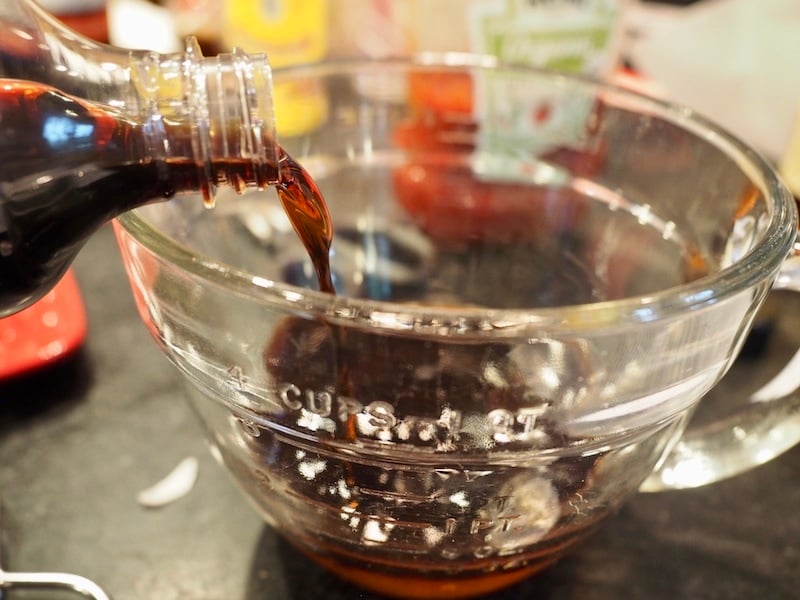 Squirt in the ketchup, I use organic ketchup, you can probably substitute with tomato sauce if need be.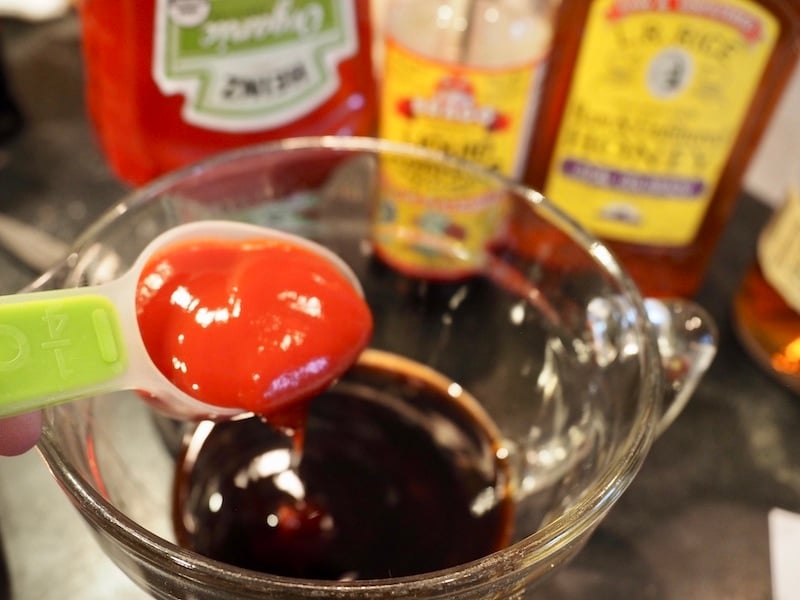 Sprinkle some red pepper flakes; since I'm a spice wimp I go light, but shake away if you and your family likes more heat.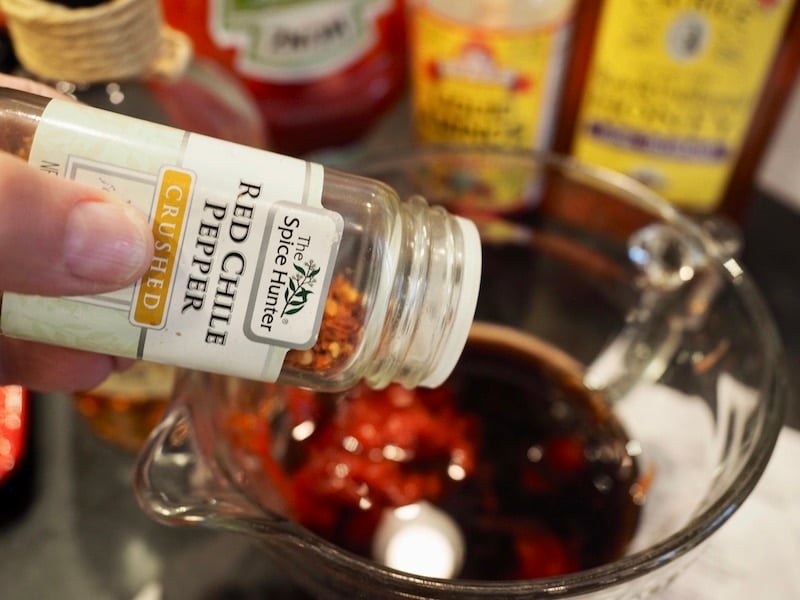 Do I need to use Bourbon?
The bourbon (whiskey) is completely optional, but leaves a lovely, light smokey depth to the dish.
Pour in bourbon and whisk until it's combined, then set sauce aside. If you are worried about kids and the alcohol content, the majority of it cooks out leaving behind amazing flavor, plus it's a pretty small amount, so I've never worried about it with my own kids.
Salt & pepper chicken; I love to use boneless, skinless chicken thighs for this recipe, it's so juicy and tasty. But you can certainly use boneless, skinless chicken breasts if desired, just don't cook as long.
Scoot your cooked onions and garlic to the side of the pan and if needed, add in a bit more oil, then increase heat to medium-high, add your chicken.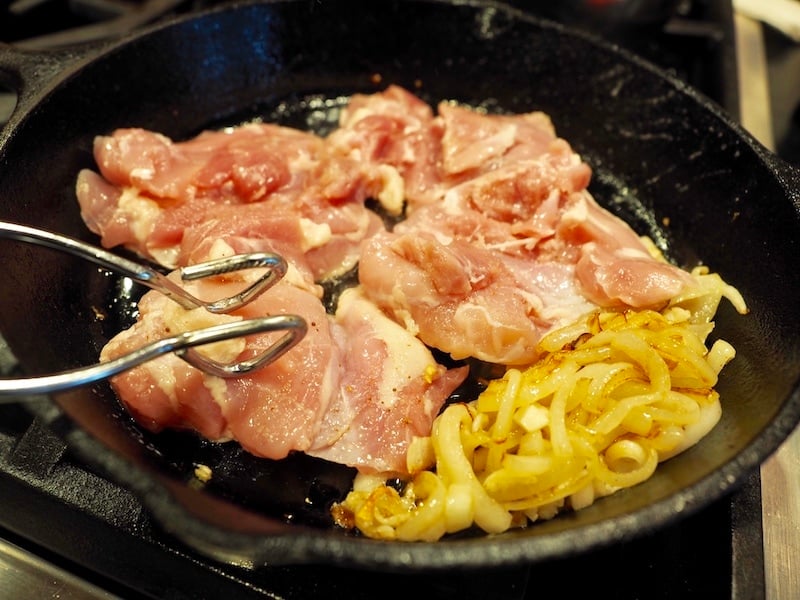 Turn after a few minutes, browning both sides. Add in a handful of sliced carrots, shredded carrots or chopped carrots, whatever you have on hand.
Stir it all around, sautéing the carrots slightly. Pour in the sauce, stir around and bring to a simmer.
Bring to boil, reduce heat and simmer over low heat for 20 minutes or so, turning chicken around 15 minutes until your meat is cooked.
Toss in your broccoli florets and simmer with lid on for 5 minutes, stirring occasionally until crisp tender.
Once chicken is cooked, remove thighs from sauce to cutting board, then slice chicken into thin strips and return to simmering veggies.
Quickly make a cornstarch slurry by combining cornstarch and water with a spoon or a whisk. Pour into chicken and sauce mixture, stir to simmer until thickened. This is my most often used small liquid measure.
Quickly stir to combine over medium heat as this will thicken your sauce helping it develop a beautiful gloss.
Serve immediately over steamed rice, riced cauliflower or eat by itself!
HOW TO MAKE "RICE CAKES"
We love making "rice cakes" by scooping sticky rice into small bowls and inverting them onto our plates. Like this…kids love this!
Scoop some of the honey bourbon chicken mixture over the top of the rice into the bowl…drooling!!!
Or using smaller bowls, scoop in some rice and your honey bourbon chicken, sprinkle with crispy chow mein noodles and serve.
Serve family style and I almost always bring the pan to the table! One less bowl to wash.
Happily sharing this week on Weekend Potluck!
Like this recipe?
Don't forget to give it a ⭐️⭐️⭐️⭐️⭐️star rating in the recipe below!
Yield:

4-6 servings
Honey Bourbon Chicken
Just like take out, but made at home this recipe for honey bourbon chicken is ready in 30 minutes! Sticky, tangy, sweet and tender chicken with crisp broccoli and carrots. Serve over rice and you have dinner.
Ingredients
1 lb boneless, skinless chicken thighs (breasts may be substituted)
1-2 teaspoons sesame oil (optional)
1-2 tablespoons olive oil or avocado oil
1/2 cup onion sliced or diced
2 garlic cloves, minced
1 cup carrots, sliced, diced or shredded
1 cup broccoli, cut into small florets
SAUCE
1/2 cup (scant) honey (I use local, raw honey)
1/2 cup soy sauce (or alternative, I use Bragg's Liquid Aminos)
1/4 cup ketchup
1/4 cup bourbon (optional)
1/4 teaspoon red pepper flakes
1-2 tablespoons cornstarch
1-2 tablespoons water
2-3 cups cooked rice
Instructions
Heat oil(s) in large saute pan. Add onions and saute for 5-10 minutes until caramelized and browned. Add garlic and stir for a couple of minutes until fragrant.
While onions are caramelized; mix together sauce ingredients in medium bowl. Honey, soy sauce, ketchup, bourbon (if desired) and red pepper flakes. Mix and set aside.
Salt & pepper chicken thighs. Move onions to one side of the pan and brown thighs* on each side for 1-2 minutes. *Add a tablespoon more oil if needed. Toss in carrots and stir to combine. Pour in sauce, stir, mixing in onions. Simmer for 20 minutes, turning chicken about 15 minutes. May cover or leave uncovered.
Remove chicken from pan to cutting board and slice into thin strips or bite size pieces. Set aside. Add broccoli florets to pan, stirring to combine, cover and cook for 2-3 minutes until crisp tender. Return chicken to pan, stirring to combine.
Mix 1 tablespoon cornstarch with 1 tablespoon COLD water, stir to mix. 1-2 minutes, Pour into chicken dish, stirring and simmering until thickened and glossy. If too thin, add another tablespoon of cornstarch/water and stir to thicken.
Serve immediately over steamed rice for a hearty meal.
Recommended Products
As an Amazon Associate and member of other affiliate programs, I earn from qualifying purchases.
Nutrition Information:
Yield:
6
Serving Size:
1
Amount Per Serving:
Calories:

480
Total Fat:

15g
Saturated Fat:

3g
Trans Fat:

0g
Unsaturated Fat:

11g
Cholesterol:

92mg
Sodium:

1420mg
Carbohydrates:

57g
Fiber:

3g
Sugar:

4g
Protein:

26g
The nutritional information is estimated and may not be entirely accurate, at times it pulls information for suggestions and options which may increase calories, etc. Nutritional information will change based on used ingredients, quantities used, etc.
ABOUT KATHLEEN
I enjoy sharing easy recipes that are wholesome and delicious. I am fed by my faith, family, friends & food! Welcome to my kitchen! Read more...