Bircher Muesli
is the
original overnight oats;
a quick and easy recipe for a healthy, whole grain and delicious breakfast.
BIRCHER MUESLI (OVERNIGHT OATS)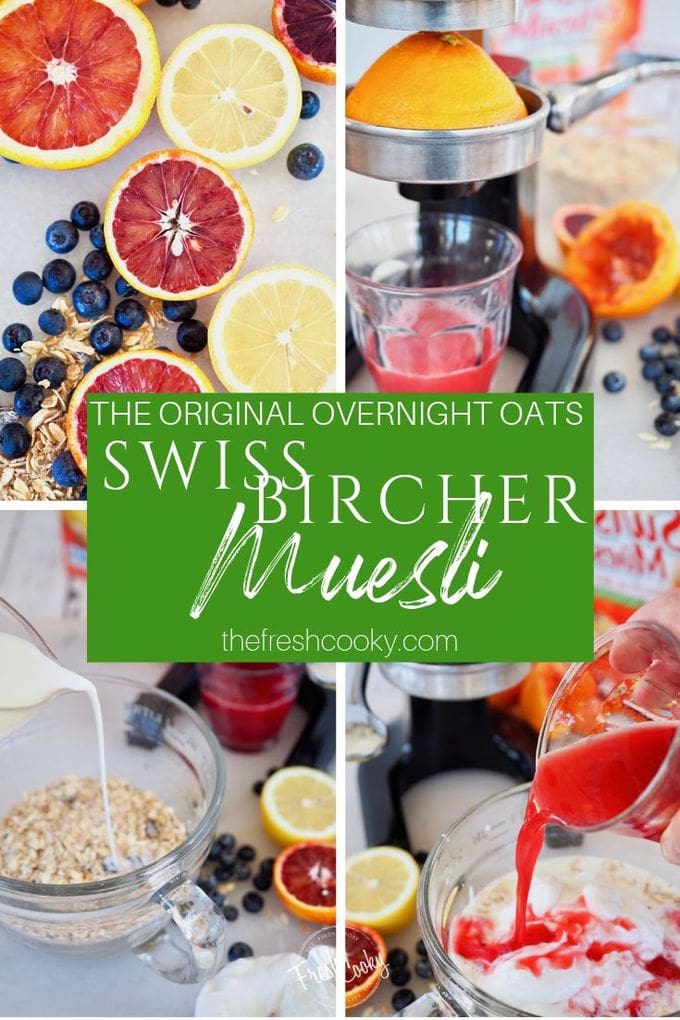 WHAT IS BIRCHER MUESLI?
You are probably asking, "what in the world IS Bircher Muesli!?" You might be familiar with the term muesli, but maybe not Bircher Muesli. The name Bircher simply comes from the Swiss physician who first introduced us to this delicious idea. Dr. Maximilian Bircher-Benner developed this recipe to provide his patients a healthier breakfast choice while in the hospital. You can read more about it in this article.
GET FREE RECIPES FROM THE FRESH COOKY DELIVERED RIGHT TO YOUR INBOX!
I've been eating muesli as long as I can remember, I've talked about my mom, who was WAY ahead of her time with nutrition, whole foods and grains and probiotics! Well you guessed it, we were eating familia Swiss Muesli long before it was cool! We simply poured it in a bowl and poured milk over it, nothing wrong with that at all!
Along the way, probably after I lived in Germany, I started making it more like the Swiss, adding whole milk, probiotic rich yogurt, fresh fruit, toasted nuts, lemon juice and orange juice.
REAL SWISS BIRCHER MUESLI
A few years back my sister-in-law and brother-in-law invited us to join them in Switzerland for a week of skiing; my brother-in-law had to be there for a difficult work situation, his company paid for an apartment for the week in the Alps telling him to stay and to invite some friends. They invited my husband and I along with my husband's brother and his wife — can you say, "boondoggle!!?"
While we were in the beautiful ski town of Grindelwald, we experienced this marvelous Muesli once again and I was reminded of how much I love this hearty, cold breakfast! We even enjoyed it at the airport in Zurich before our flight home, even airport food was fresh and AMAZING!
So I came home and began making this for our family — okay, truth be told, my kids won't eat it, one is allergic to tree nuts and the other doesn't like his food combined — but that's okay, more for me and my hubby.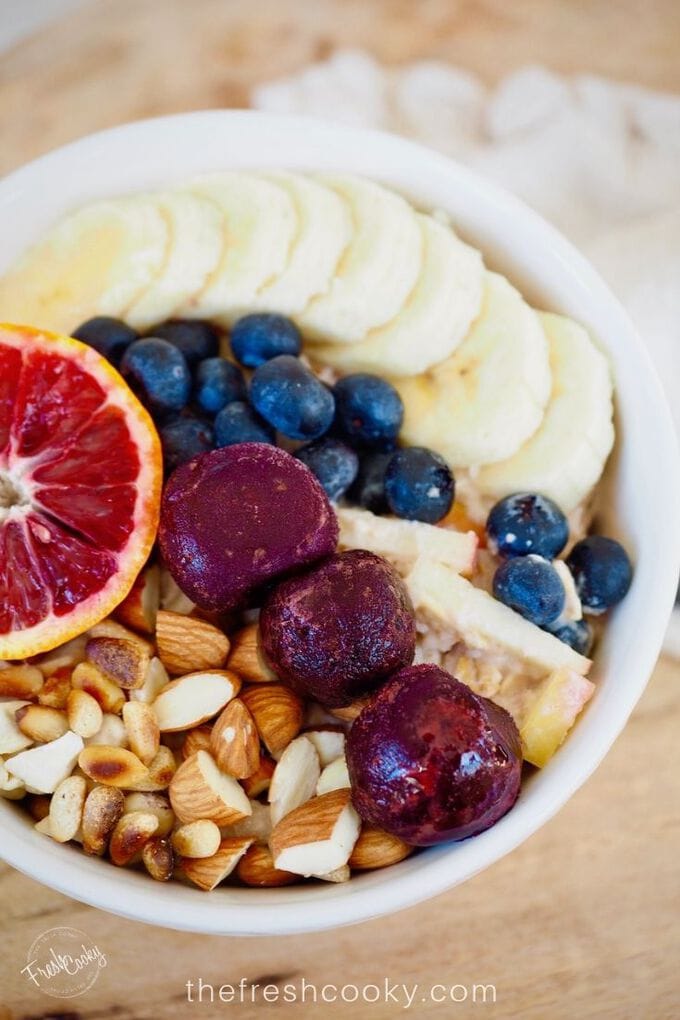 BLOOD ORANGE BIRCHER MUESLI
When blood oranges are in season, I like to use them in place of a regular oranges to change things up a bit, but regular orange juice works great and honestly any pure fruit juice can be used, but citrus is especially delicious.
IS MUESLI THE SAME AS GRANOLA
Yes and no, they both use toasted oats, typically have nuts and fruit in them, but Muesli doesn't have oil and has significantly less sugar or syrup than granola. Not that I'm dissing granola — at all, it's just different and maybe a teensy bit healthier.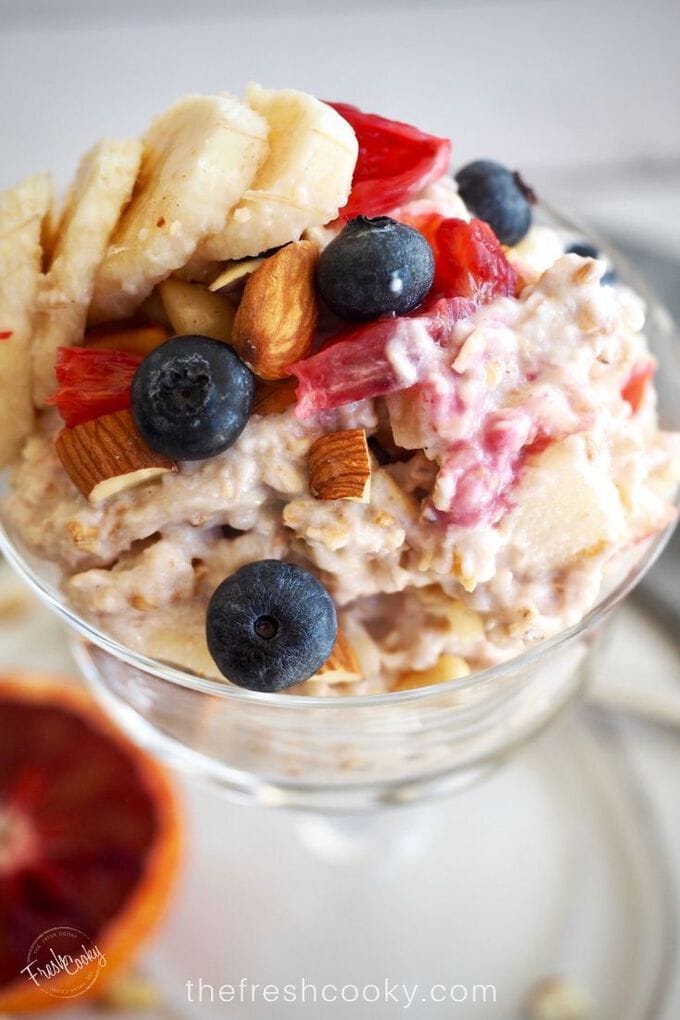 FILLING, NUTRIENT RICH, MAKE AHEAD BREAKFAST
Now that you have a little history on this whole grain, nutrient rich breakfast, let's get started making it!
This recipe takes a little of the prep work out of the equation, since I use the boxed familia Swiss Muesli (same that I was raised on) which you can purchase at most Whole Foods, Natural Grocers or other health food stores. Available in regular and no sugar added versions.
INGREDIENTS FOR BLOOD ORANGE BIRCHER MUESLI | OVERNIGHT OATS
1 1/2 cups familia Original or No Added Sugar Muesli
1 1/4 cups milk (we like organic grass fed, whole milk)
3/4 cup (heaping) plain, whole milk yogurt (you may use fruit flavored, but you will be adding sugar)
1 Tablespoon lemon juice, fresh squeezed
1/4 cup blood orange juice (or replace with regular orange juice, unfiltered apple juice, cranberry)
2 unpeeled apples, chopped or grated
10 strawberries, thinly sliced
1/2 banana, thinly sliced
1 cup blueberries
1/8 cup pine nuts, toasted (optional)
1/8 cup slivered almonds, toasted (optional)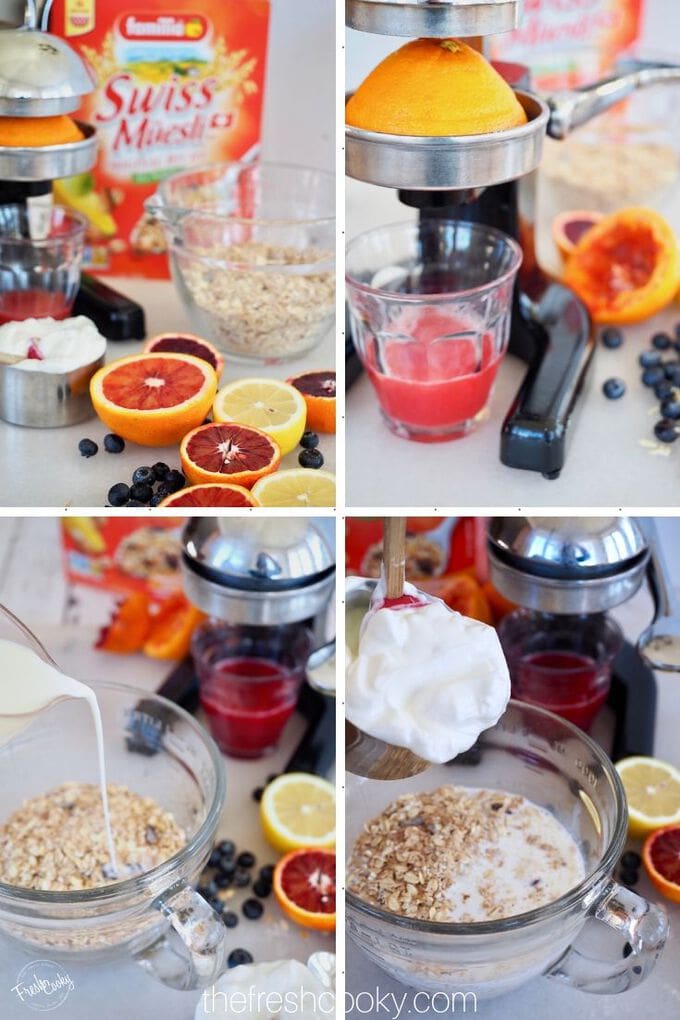 In a small mixing bowl (holds at least 4-5 cups) add muesli dry mix, yogurt, milk, orange juice and stir.
Once combined; add apples, other fresh fruit (see tips below), toasted nuts and stir gently to combine. Leave standing on the counter at least 10 minutes or even better, let sit refrigerated overnight. These oats, gets better with time. The original recipe says it keeps refrigerated for 48 hours, but honestly, I've made a batch and noshed on it for about 4 days and it's tasted just fine.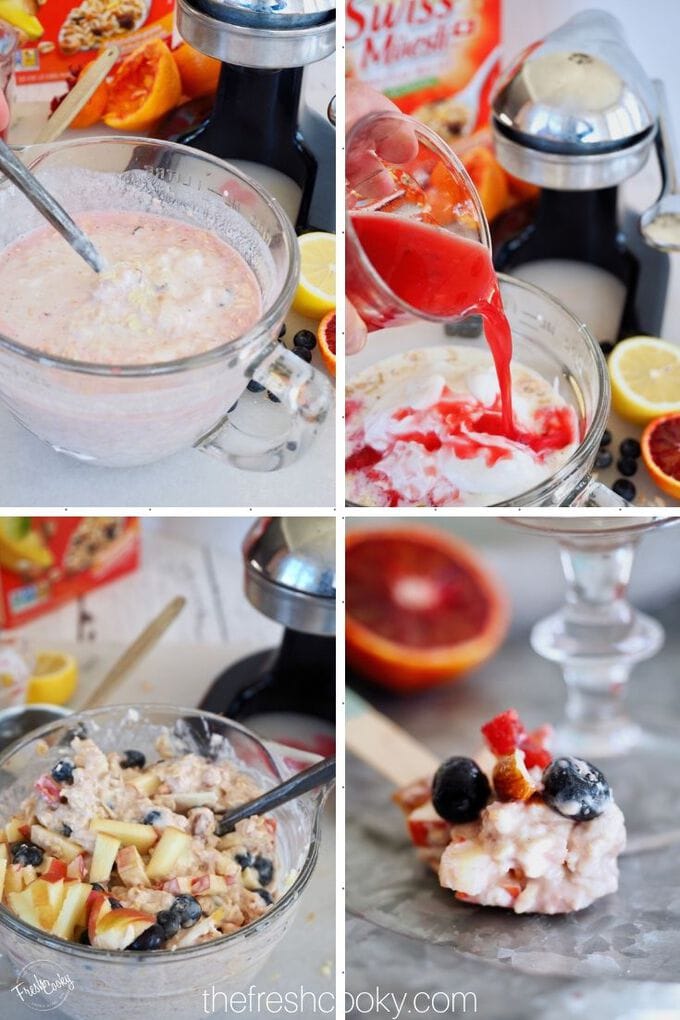 MORE MUESLI TIPS & ADD INS
Do not add "mushier" fruit to the muesli until ready to eat, such as bananas and strawberries.
Keep muesli tightly sealed with a cover or plastic wrap.
Give it a stir before serving, allowing it to sit on counter for 10 minutes before serving adds creaminess.
Be creative; like granola, you can add nuts, coconut, fresh fruit, dried fruit to your muesli.
Changing your juice and fruit will change the flavors of the muesli, so make it how you like it.
Use fresh or frozen cherries, raspberries, blackberries in addition or in place of the other fruit.
If you'd like to make your muesli oat mix from scratch, try this recipe from Cookie and Kate
HOW TO TOAST NUTS
There are many ways to toast nuts, this post by My Baking Addiction is detailed on the variety of methods & times.
For this post, we'll keep it simple; if you are not prone to "squirrel syndrome" then simply heat a skillet (I like using a cast iron skillet) over medium heat and toss in your nuts, tossing around for a few minutes until fragrant and lightly browned. Walk away and you'll burn them, trust me, I can't tell you how many times I've said, "stay right here Kathleen, keep an eye on the nuts" Then without warning it happens, squirrel moment and I think, ooh, I can chop these apples quickly while my nuts brown, burn!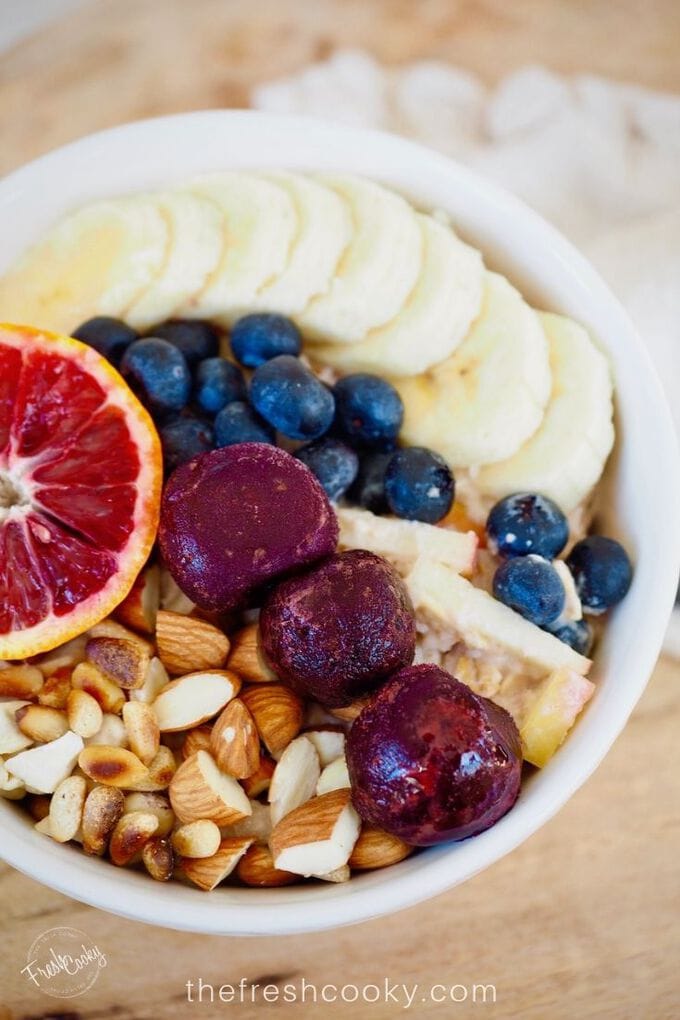 So if you are like me, then place them on a quarter sheet pan in a 350° oven for 5-10 minutes, careful as pine nuts tend to brown much quicker.
THE ORIGINAL OVERNIGHT OATS
Overnight Oats are all the rage and Bircher Muesli is no different, by allowing the muesli mixture to hang out in the liquids overnight it brings out the flavors, toastiness of the oats and the juiciness of the fruit.
Serve it up by itself, or add additional fruit to the top, I like to wait and add my banana and additional fruit as I'm serving it, tossing on a few additional toasted nuts oh and I drizzled a little of my Immune Boosting Homemade Elderberry Syrup on top.
Why you ask? Why not! The more immune boosting factors I can add to my foods, means the more I am able to occasionally indulge in a Honey Bran Muffin or Banana Graham Bread.
I hope you will give this healthy, crunchy, gluten free, whole food and whole grain breakfast a try! Perfect for breakfast or a mid-morning or after school snack!
I am sharing this recipe on my favorite link parties this week! Weekend Potluck | Meal Plan Monday | Full Plate Thursday
Enjoy this recipe for Blood Orange Bircher Muesli Overnight Oats? Please leave a comment and rate the recipe in the recipe card.
Hashtag any recipes you make from The Fresh Cooky #thefreshcooky or tag me @thefreshcooky on
Instagram to be featured on our stories!
LOVE WHOLESOME DELICIOUS RECIPES? COME FOLLOW ALONG!
Share a picture and tag it #TheFreshCooky so we can see it.
GET FREE RECIPES FROM THE FRESH COOKY DELIVERED RIGHT TO YOUR INBOX!