Bulletproof Coffee aka Keto Coffee
As an Amazon Associate, I earn from qualifying purchases. Please read my disclosure policy.
Bulletproof Coffee or as my husband and I call it, "Brain Coffee" is so smooth, creamy, and nutrient dense! If you've heard the buzz (pun intended) but haven't jumped on board yet, I dare you to give this delicious, full-bodied coffee a try! Plus I'll share the benefits of drinking this coffee, also known as "Keto Coffee" and "Butter Coffee".
Bulletproof Coffee aka Keto Coffee
It takes me awhile to jump on a new trend. I had heard of Bulletproof® Coffee, but had no idea what it was, coffee with butter in it, sounded kind of gross; until my BFF came to visit and she explained the HUGE benefits to me and now, after drinking it for several months, I'm sold.
Watch how I make it on my Instagram stories.
Personal Benefits I've Experienced Drinking Bulletproof® Coffee
Increased focus!

The good Lord knows I can use all I can get!
Reduced hunger and cravings. Uh, ditto to above!!
No jitters! This is huge for me, I love coffee but I do not enjoy when coffee makes me vibrate!

No sugar or sweetners!

I like my coffee sweet and I typically sweeten my coffee with a little organic turbinado sugar and stevia, but when I make this a latte…I add nothing!
Why Drink Bulletproof® | Brain Coffee?
Weight loss by way of ketosis, a metabolic state triggered by a lack of carbs that kicks fat-burning into overdrive
Suppressed hunger and vexing food cravings (read more about the science behind it here.)
Boosts cognitive function and mental clarity – we can all use a bit of that on those "one eye" open kind of mornings!
Steady lasting energy – no caffeine spike or crash and no jitters!
My Recipe for Bulletproof Coffee
The above is the basic recipe, I add the following (optional):
1 scoop

collagen protein powder

(see below)
1-2 tablespoons organic grass-fed whole milk, half and half or cream, frothed*. Make sure you are using organic whole full fat milk, cream or half and half. No additives should be in the ingredients list, ever! Check out some of the store brands of organics, many times they have more than just milk and/or cream. *I love my Capresso frother, it's reasonably inexpensive and makes the BEST latte foam, also great for London Fog (Earl Grey latte), and even Hot Chocolate. Froth's hot or cold!
Approved Additions to Bulletproof Coffee
Collagen Protein Powder A full spectrum of amino acids derived from grass-fed beef, collagen powder is tasteless and dissolves completely in liquid. It aids healthy tissue repair, which means good things for your gut, skin, hair, and joints – if you don't add it to your Bulletproof then add to your smoothies or morning coffee.
Turmeric This popular yellow spice is known for its antioxidant and anti-inflammatory properties. Turmeric is pretty strong and it could take away from the rich flavor of Bulletproof Coffee. If you try Turmeric I'd suggest you omit the coffee and use the rest of the ingredients making a "bulletproof" Golden Milk.
Vanilla

adds classic flavor with a boost of antioxidants that help aid in cognitive enhancement.

Try making your own, vanilla extract – it's delicious! Add 1 teaspoon pure vanilla to the blender before blending.
Chocolate Powder

Make your Bulletproof Coffee into a mocha and add a ton of performance-boosting polyphenols while you're at it!

High-quality chocolate

just add 1 teaspoon of organic chocolate powder.

Ceylon Cinnamon

Adding 1 teaspoon Cinnamon directly to the grounds before brewing can help you regulate your blood sugar and reduce insulin resistance, all while enhancing motivation, performance, and alertness.
The above statements were adapted from Bulletproof®
WHAT

NOT

ADD TO YOUR BULLETPROOF COFFEE
Do not add artificial sweeteners (Equal, Sweet N' Low, Truvia, etc), honey, maple syrup or agave; sweeteners like this will mess with your blood sugar, causing energy dips that'll wipe out the benefits of this coffee. If you must add something, try using an organic Stevia product – but try it without it first, I told you I like sweet coffee and this coffee is so creamy and satisfying I don't need to add anything sweet.
Plain ol' coconut oil doesn't work because it does not contain enough of the type of MCT oil that raises ketone levels, so you get a lot of calories but not a lot of fat burning energy.
The above statements were adapted from Bulletproof®

Why You Should Use Grass-Fed Butter
Grass-fed butter is nutrient dense, it's in the grass-feeding that you gain these nutrients, it's also what gives the coffee it's rich, creamy consistency. Lactose or casein intolerant? Try ghee, which has most of the casein and lactose removed.
Why Can't I Use Any Coconut Oil
Brain Octane or MCT oil is much more effective as coconut oil at raising ketones, those fat-burning, brain-boosting molecules in your body. Using everyday coconut oil in your coffee just won't cut it.
This oil is composed of a special type of medium-chain triglyceride (MCT) derived from coconut oil. But all MCTs are not created equal. There are four different strains of MCTs and they each do different things, not all of them good. Allergic to coconuts? This process of highly refining this coconut oil removes the proteins that cause allergic reactions, but be sure to check with your Dr. before trying.
You can read more about how MCTs work vs. Brain Octane Oil here.
The above statements were adapted from Bulletproof®
Just starting out with Bulletproof Coffee? Read this first!
How to Make Bulletproof Coffee
Make your coffee. Brew 1 cup (8-12 ounces) of coffee using filtered water with 2 ½ heaping tablespoons of freshly ground (Bulletproof) Coffee Beans, I like the Mentalist roast. I use a small French Press since I make it one cup at a time. Place coffee grounds in press, pouring 8-12 oz (I do about 8) over the top, stir and place on plunger (don't press down) – brew for 3 1/2 – 4 minutes.

While your coffee is brewing froth your cream (optional)
In a blender, add Brain Octane Oil. Add 1 teaspoon to 2 tablespoons of Brain Octane Oil (start slow – it's powerful!)
Add 1-2 tablespoons of grass-fed, unsalted butter (I sometimes use salted grass-fed butter) or grass-fed ghee. I don't mind the salt, but if you are sensitive, be sure to use unsalted butter.
Pour in one scoop of collagen powder into blender base.
Once coffee is finished brewing (3-4 minutes), depress plunger and pour coffee over the MCT oil, butter, and collagen powder. Place lid on blender.
Blend. Mix it all in a blender for 20-30 seconds until it looks like a creamy latte. There will be a good amount of foam on top.
If using a smoothie sized blender, like a Ninja (my fave) or Nutribullet, be careful when opening the top, I unscrew it very slowly, the heat builds pressure and it will "spit" and "spurt" when you open the lid. Sometimes I place a towel or paper towel over the top, as long as you release the lid slowly, you shouldn't have any problems. You can also use a regular sized blender and you shouldn't experience the pressure build.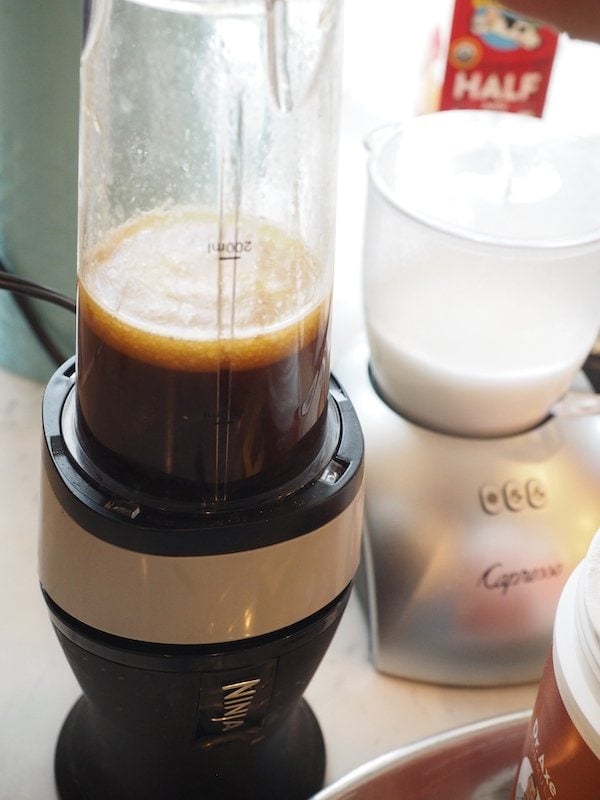 Pour into mug and if desired, spoon a few tablespoons of the frothed foam on top. Enjoy!
Read more on the Bulletproof website; the story and origin of how this coffee drink was created. This is not a paid endorsement, these statements are purely my own opinion and experience after drinking this coffee.
If you enjoy healthy, nutrient dense foods give these others a try
I'm sharing this post on my favorite link parties -pop on over and join me!
I'd love it if you enjoy this recipe if you'd comment and rate the recipe in the recipe card.
Hashtag any recipes you make from The Fresh Cooky #thefreshcooky or tag me @thefreshcooky
on Instagram to be featured on our stories!
LOVE WHOLESOME DELICIOUS RECIPES? COME FOLLOW ALONG!
Facebook | Instagram | Pinterest | Twitter
If you share a picture of something you make from our blog, tag it with #TheFreshCooky so we can see it.
We might feature it on Instagram!
I am so tickled when I see you've made one of my recipes!
GET FREE RECIPES FROM THE FRESH COOKY DELIVERED RIGHT TO YOUR INBOX!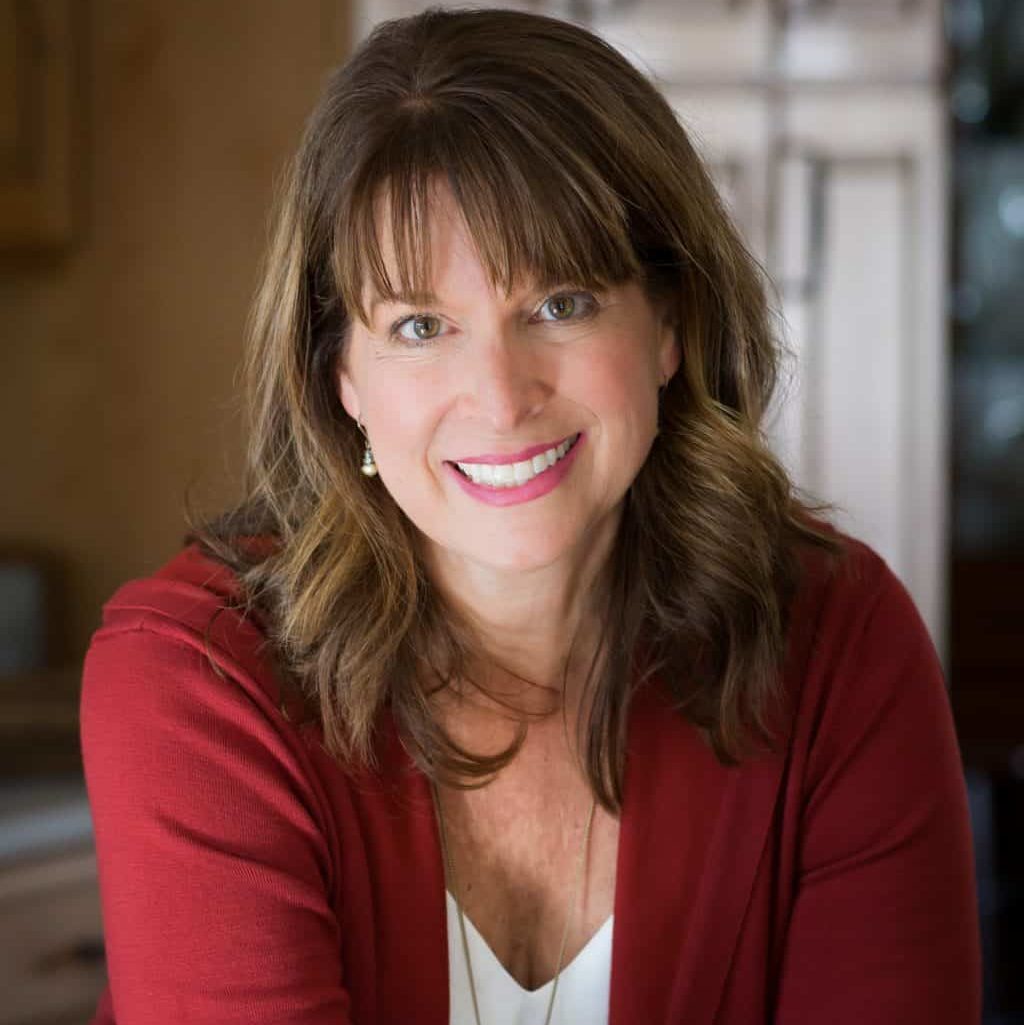 About Kathleen Pope
Recipe Innovator | Food Photographer | Food Writer
Hi, I'm Kathleen Pope. Here at The Fresh Cooky you will find easy, mostly from-scratch, trusted recipes for all occasions. From speedy dinners to tasty desserts, with easy step-by-step instructions. I am here to help teach you how to make mouthwatering recipes without spending hours in the kitchen. Read more about Kathleen here.