As an Amazon Associate, I earn from qualifying purchases. Please read my disclosure policy.
An easy recipe for ham, mac & cheese soup that is part creamy mac n cheese, part delicious pasta soup, and part get-in-my-tummy NOW! Use leftover ham to make this soup even easier, plus the ingredients are all real food ingredients, no canned cheese soup here!
Our family are ham fans, but we usually make it at Christmas and Easter, then we usually have a lot of leftover ham.
Love soup recipes? So do we, and there are oodles in the Soup archives, but a few of our favorites are Poblano Chicken Soup, Beer Cheese Soup and the ever so popular Panera Copycat Broccoli Cheese Soup.
My favorite recipe for Leftover Mac and Cheese Soup
I have made this recipe several times now and you should see all of the stars, scribbles, YUMMY's written all over it.
The family devoured it and we had enough for lunch the next day — that my friends, is an award winning recipe!
You might wonder if you could use leftover mac and cheese and while I have not tried it, I do believe you could easily do that in this recipe.
You will need to adjust your liquid and cheese, but I would do that on the fly, then you could kill two leftovers in one delicious recipe.
A delicious recipe from Land O Lakes which I have heavily adapted to make it a bit healthier and extend it a bit further.
WHAT YOU WILL NEED FOR HAM & CHEESE SOUP
A 30 minute meal recipe, gather these ingredients, many you probably have on hand or in your pantry already!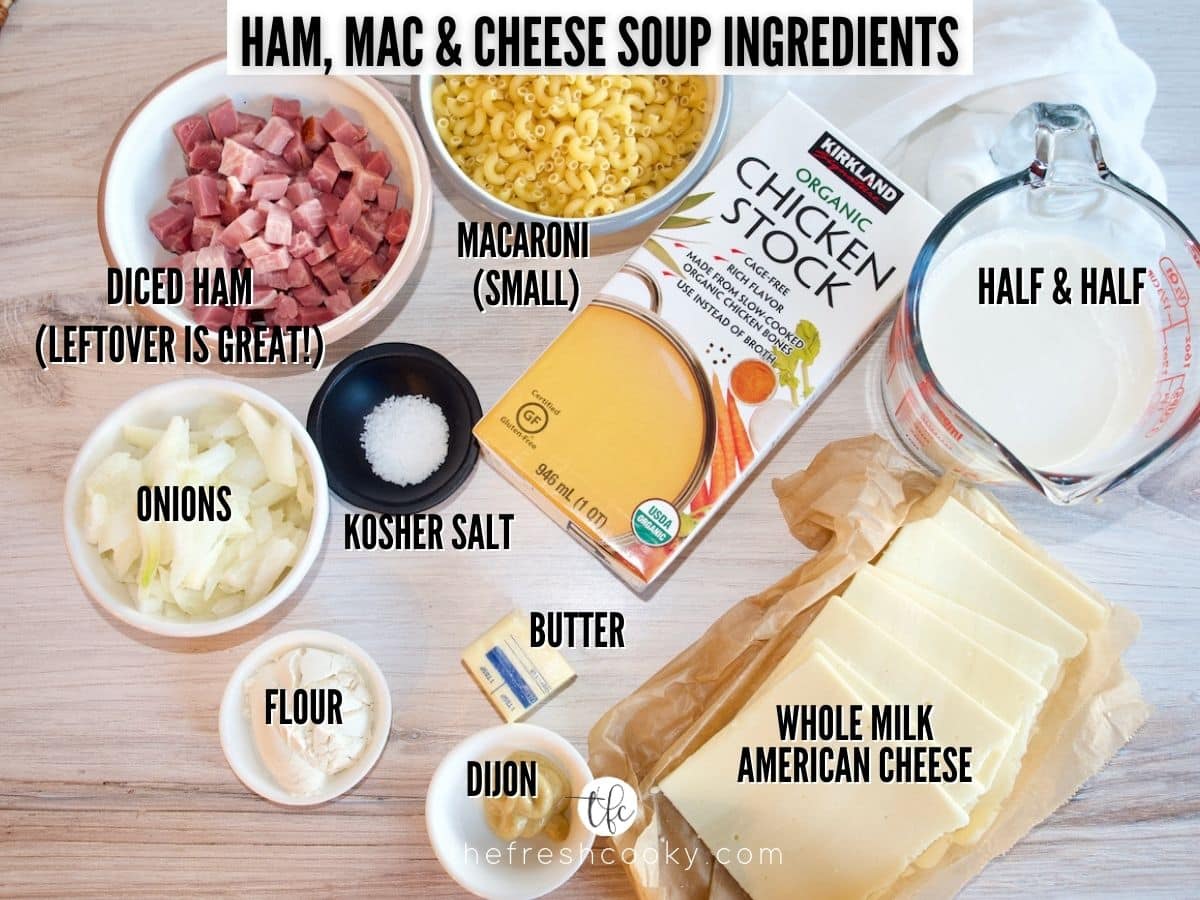 SMALL ONION | Diced, gives amazing flavor to the base of the soup.
UNCOOKED SMALL MACARONI SHELLS | I used elbow, but any smaller pasta shell should work just fine, like these Conchiglie. Whole wheat or regular is fine, I have used both.
ALL-PURPOSE FLOUR | Omit or swap for Gluten Free all-purpose flour
DIJON MUSTARD | You can use yellow mustard in a pinch, Dijon adds such a great flavor and depth.
CHICKEN BROTH | I doubled the amount in the recipe, extend our soups a bit and like them a bit more brothy.
Taste test before adding any additional salt to the Ham, Mac & Cheese Soup as your broth might be moresalty than you think.
HALF & HALF | Adds that beautiful creaminess. I used organic half & half, you could also use whole milk, I haven't tried plant based. If you try it let me know how it turns out.
WHITE AMERICAN CHEESE | I used whole milk American cheese, you can usually get this from the deli section, there are no fake ingredients in this cheese, and it melts so beautifully into the soup.
HAM | you can certainly omit the ham for a delicious Mac n Cheese soup, but if you have it, it adds protein, flavor and heft to the soup.
PEAS | Add fresh or frozen peas at the very end if you'd like, they add a pretty pop of color and a little bit of nutrition.
HOW TO MAKE THE BEST LEFTOVER HAM SOUP
I always think it's easiest to cut, chop, portion out the recipe ahead of time, this makes assembly even faster and this soup already comes together for a 30 minute meal!
First, get the pasta cooking; according to package directions, al dente. Drain and set aside.
Meanwhile, melt butter in a large soup pot, sauté onions (and carrots if you'd like) until soft and caramelized, about 5-7 minutes.
If needed, add another tablespoon of butter, melt in pot; stir in flour and mustard, stirring for 1 minutes.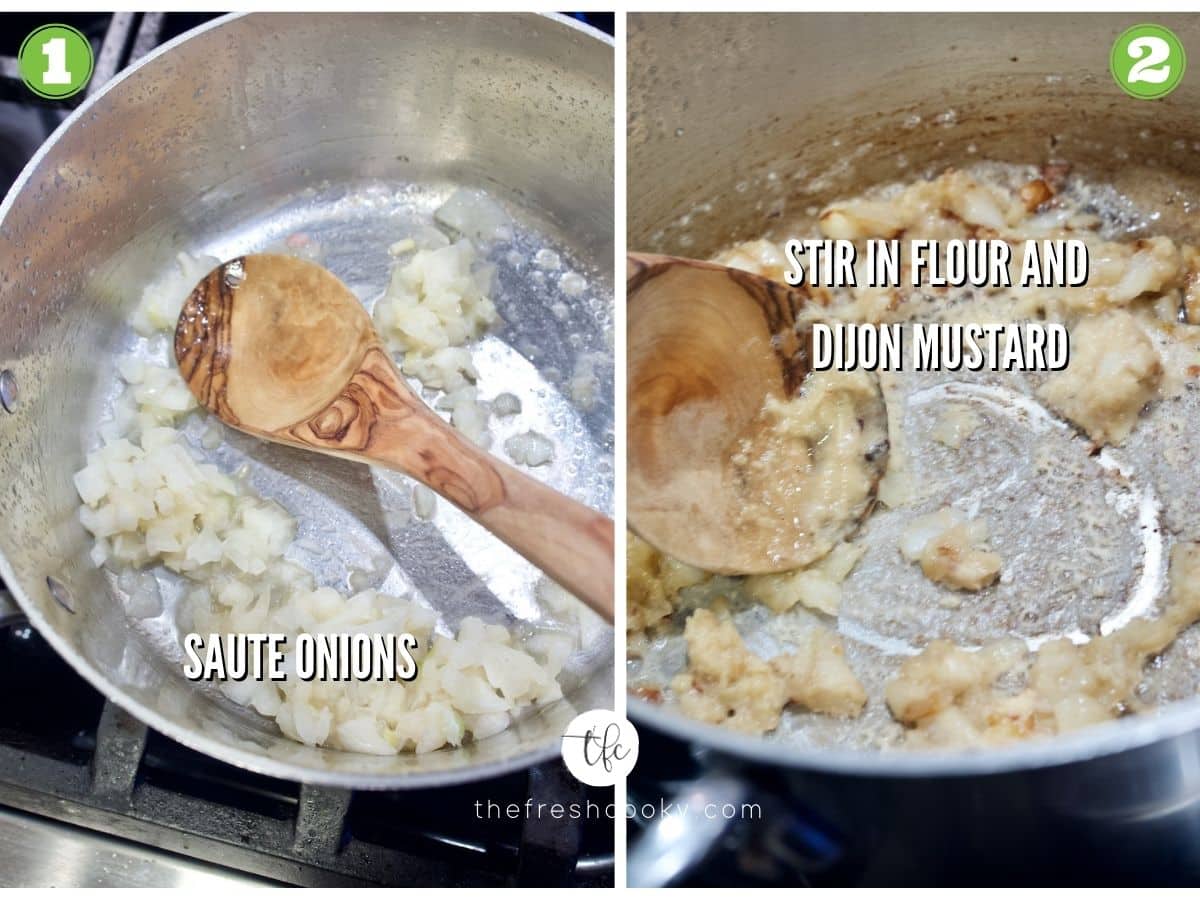 Add broth and half and half, cook over medium heat, stirring constantly until steaming, about 4-5 minutes. If no "chunks" are desired, use immersion blender or place in blender and process in small batches.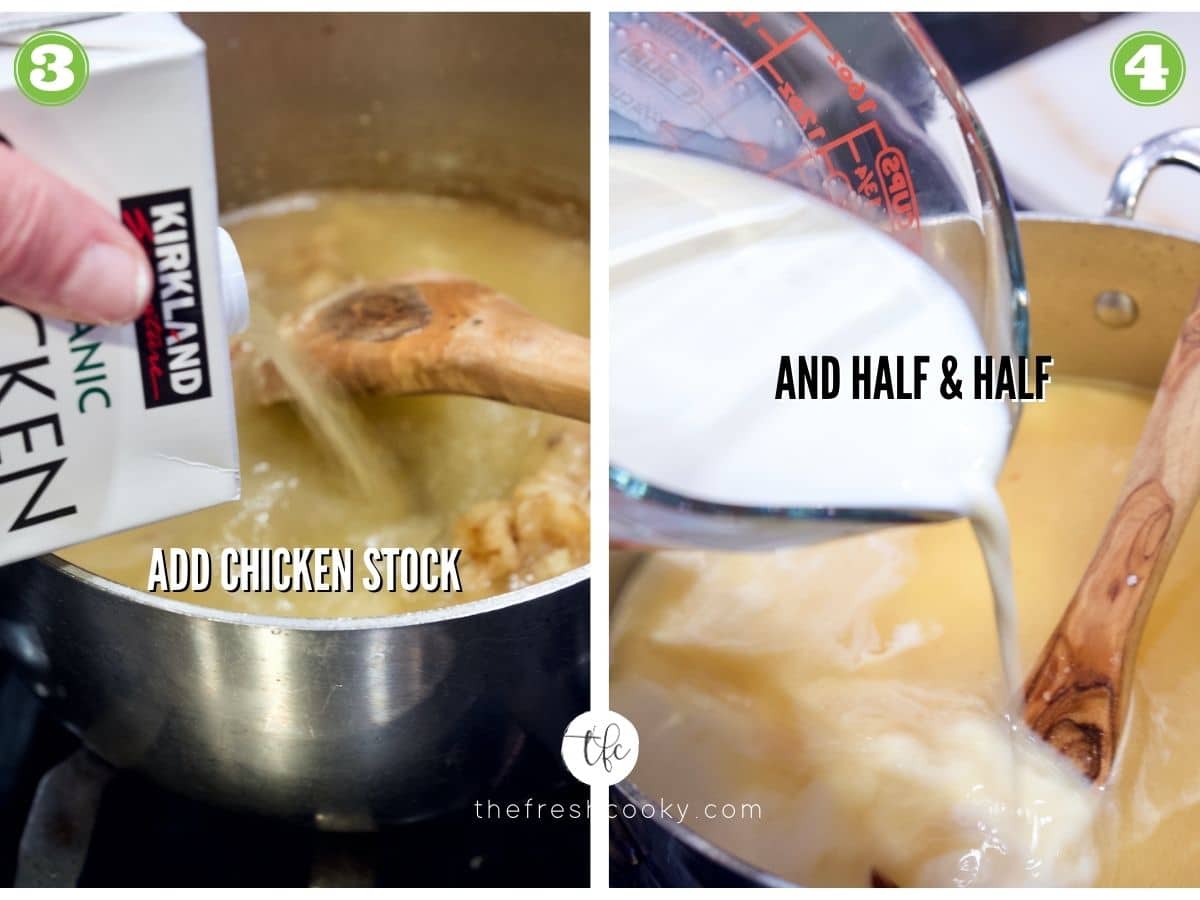 Reduce heat to low, stirring in cheese until melted, but do not boil.
Stir in cooked macaroni and ham, cooking stirring occasionally for 4-5 minutes or until heated through. Add salt and pepper to taste, I used about 1 tsp salt.
If desired, add fresh or frozen peas just before serving for the freshest, brightest tasting peas.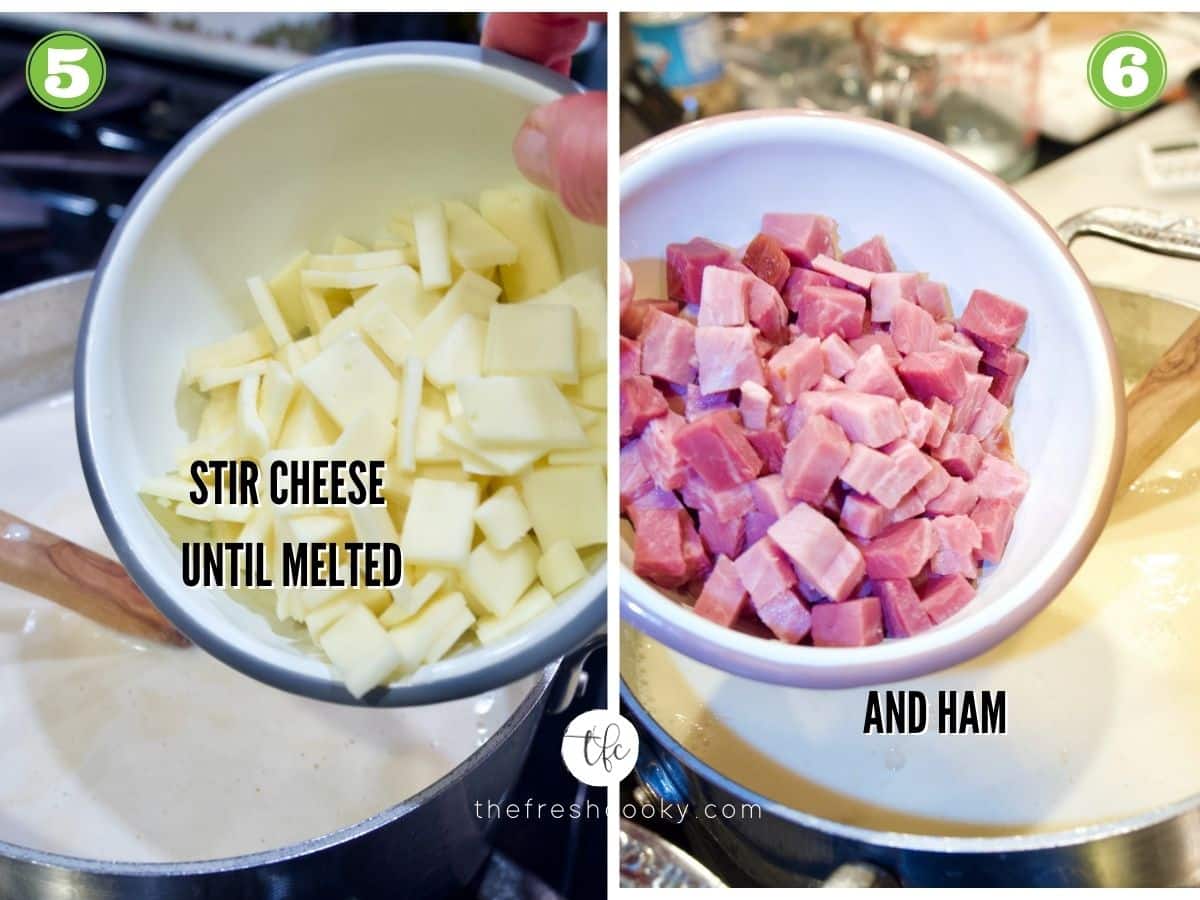 Serving Suggestions
This soup is certainly delicious, hearty and filling enough to stand on it's own. Or serve with a hearty piece of bread & a crisp salad:
Why you'll love this leftover ham recipe!
30 MINUTE MEAL | Ready in about 30 minutes, this is a winter – spring dinner winner!
NO MORE WASTE | I like to call this type of recipe a twofer, you make it once but get two unique recipes out of it!
COMFORT FOOD | Sometimes we just need a big bowl of something cheesy and creamy, and this Ham, Mac & Cheese Soup gives you both!
REAL INGREDIENTS | No fake cheese, no gloppy cheese soup or ingredients you cannot pronounce here!
KID FRIENDLY RECIPE | Your kids are almost guaranteed to LOVE this recipe! Maybe even eat a pea or two!
Frequently Asked Questions
Can I Use Other Meat Besides Ham?
YES! I have made this using polish sausage, brats, kielbasa, hot dogs or omitted the ham all together!
Can I use Whole Wheat Macaroni?
Yes, again, I have used both, just make sure to cook pasta according to package direction, al dente, it will continue cooking in the soup.
Gluten Free Ham Mac & Cheese Soup
This recipe is easily adapted to be Gluten Free. Use your favorite GF pasta shells and cook according to package directions. Omit the all purpose flour or replace with Gluten Free All-Purpose Flour.
Vegetarian Mac n Cheese Soup!
Omit the ham, wink-wink, replace if you'd like with a plant based sausage! Replace the chicken broth with a good vegetarian stock or broth, try this delicious Magic Mineral Broth.
Can I Freeze ham mac and cheese soup?
For this recipe, I would not recommend freezing this soup, the cheese, half and half and pasta combination would likely break down after thawing, curdling the soup.
Tips
PREP | A meal always comes together quicker if you prep, chop, measure out ingredients ahead of time.
ADD VEGGIES | I sneak veggies in whenever I am able, add carrots, celery, shredded zucchini.
HIDDEN VEGGIES | By blending after adding the broth and cream it will erase the veggies, making it smooth.
DO NOT BOIL | Cheese based soups will often separate or "curdle" when they are brought to a boil, keep your temp low.
REHEAT | Reheat this soup by adding a little chicken broth or water, over low heat, stirring until warmed through.
STORAGE | Store any leftovers in fridge up to 5 days.
More great soup recipes like this:
What Can You Make Using Leftover Ham?
Check out this fabulous post with 22 fantastic recipes using leftover ham!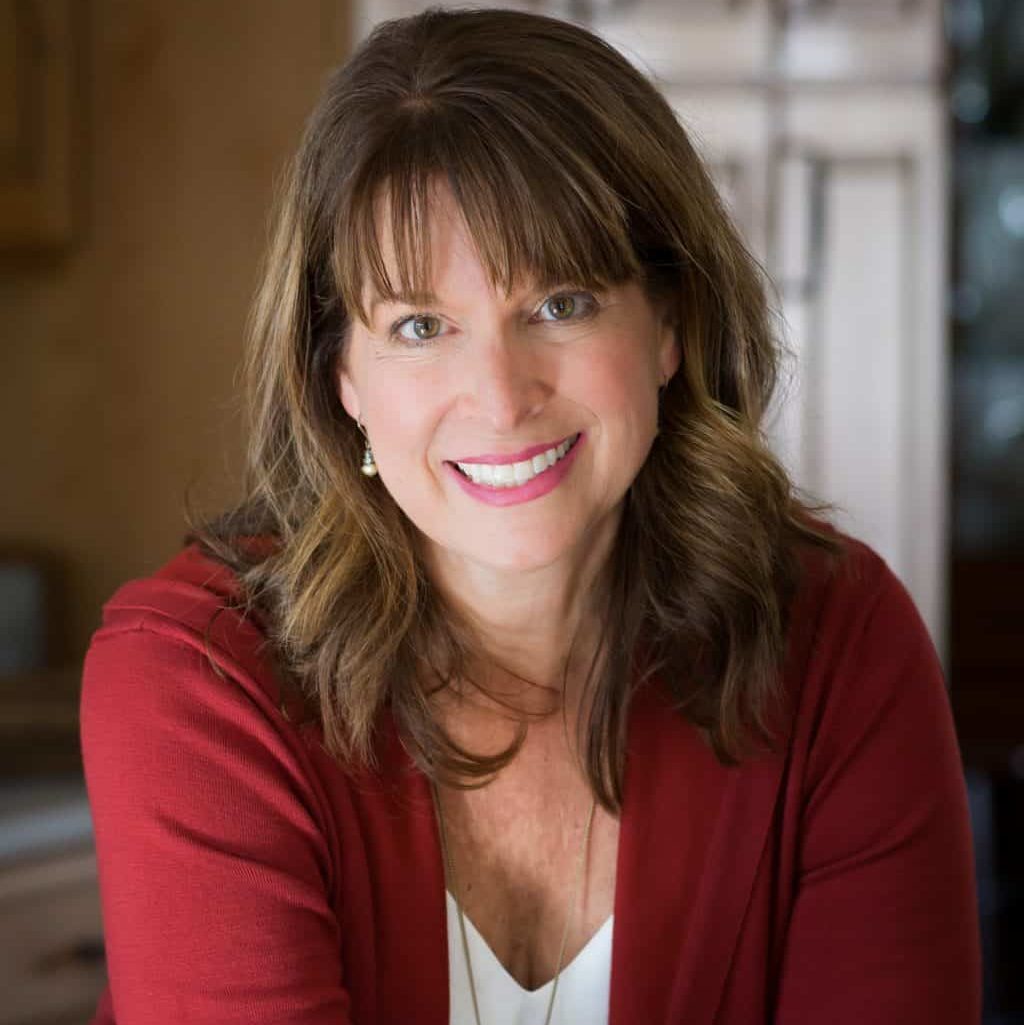 About Kathleen Pope
Recipe Innovator | Food Photographer | Food Writer
Hi, I'm Kathleen Pope. Here at The Fresh Cooky you will find easy, mostly from-scratch, trusted recipes for all occasions. From speedy dinners to tasty desserts, with easy step-by-step instructions. I am here to help teach you how to make mouthwatering recipes without spending hours in the kitchen. Read more about Kathleen here.