Easy Instant Pot Buffalo Chicken (or Slow Cooker)
As an Amazon Associate, I earn from qualifying purchases. Please read my disclosure policy.
Easy Instant Pot Buffalo Chicken is an amazingly simple, tasty, and a ridiculously easy recipe. This healthy 30 minute meal is perfect for a busy weeknight, barbecue, game day appetizer, tailgating, lazy weekend or meal prep! No pressure cooker, no problem, read on!
Enjoy easy chicken recipes? Try this Healthy Crack Chicken (wow!) or Chicken Shawarma.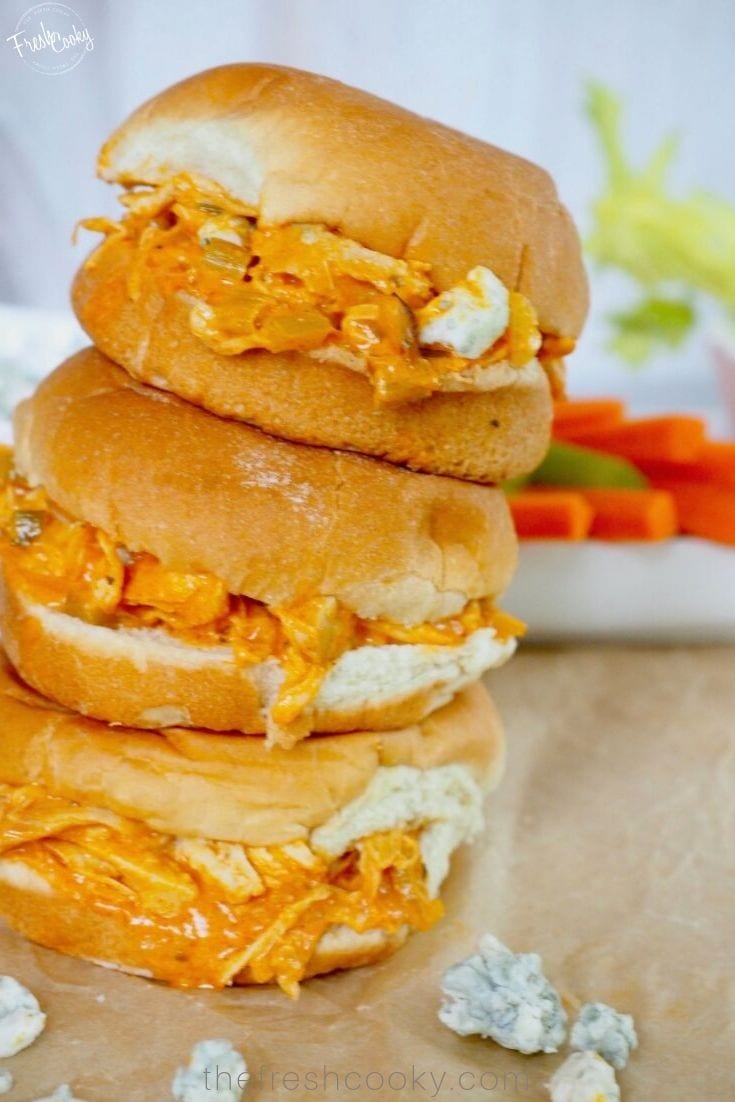 This recipe is for all you buffalo wing lovers out there, which I am not, but this dish, I loved! I was worried it would be too spicy and while it had some heat, even me; a self-described "heat wimp" loved it, I just smothered it with a bit more blue cheese!
Check out my post for easy and healthy for College Students, this is a perfect addition to that collection!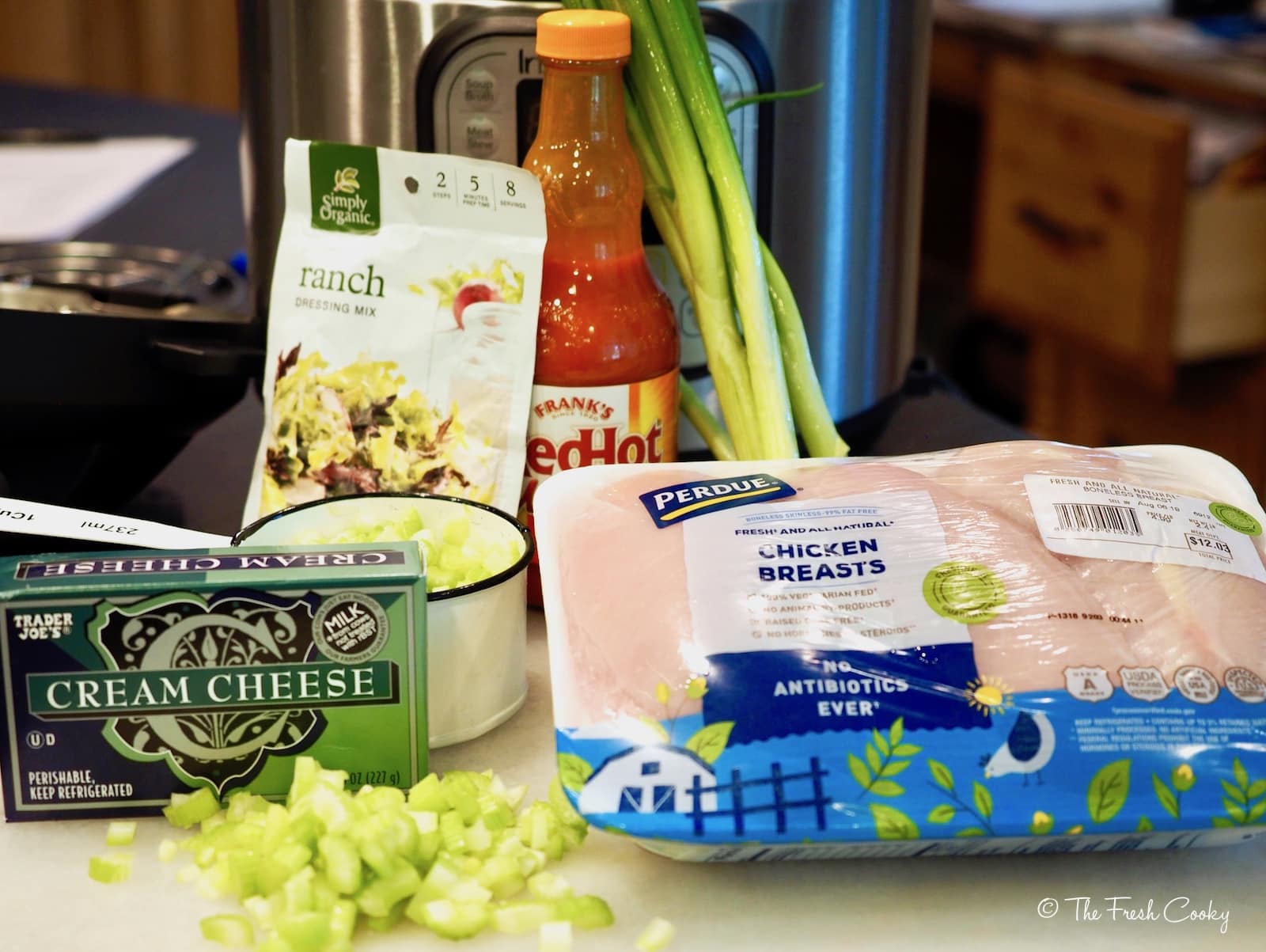 EASY INSTANT POT BUFFALO CHICKEN INGREDIENTS
2 lbs boneless (about 3 large), skinless chicken breasts (fresh or frozen)
12 oz (approx) bottle Wing Sauce (I used Frank's Red Hot Wing's Buffalo sauce)
1 (1 oz) packet Ranch Dressing mix (I use organic – no MSG)
1 cup celery, chopped fine
1/2 cup green onions, chopped
4-8 oz cream cheese, softened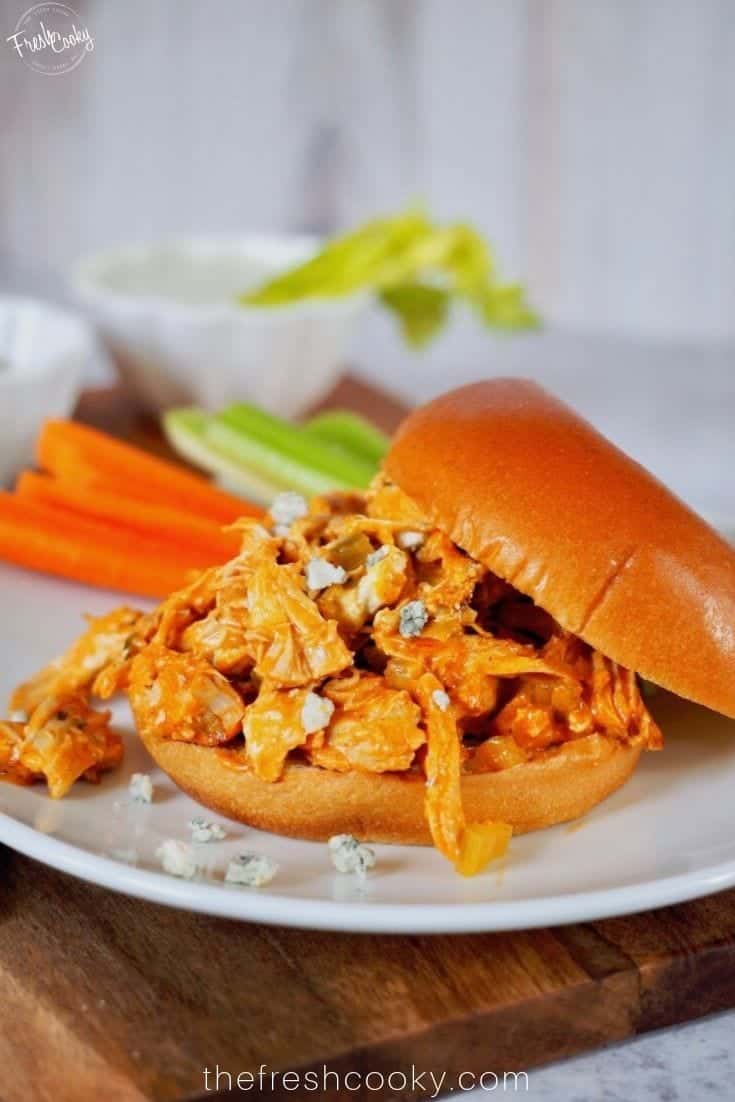 In one layer, lay your chicken breasts on the bottom of the instant pot (or crock pot), pouring the entire* bottle of Wing Sauce over the chicken.
*To significantly reduce the heat, reduce the Buffalo sauce by up to half a bottle and substitute balance of liquid with water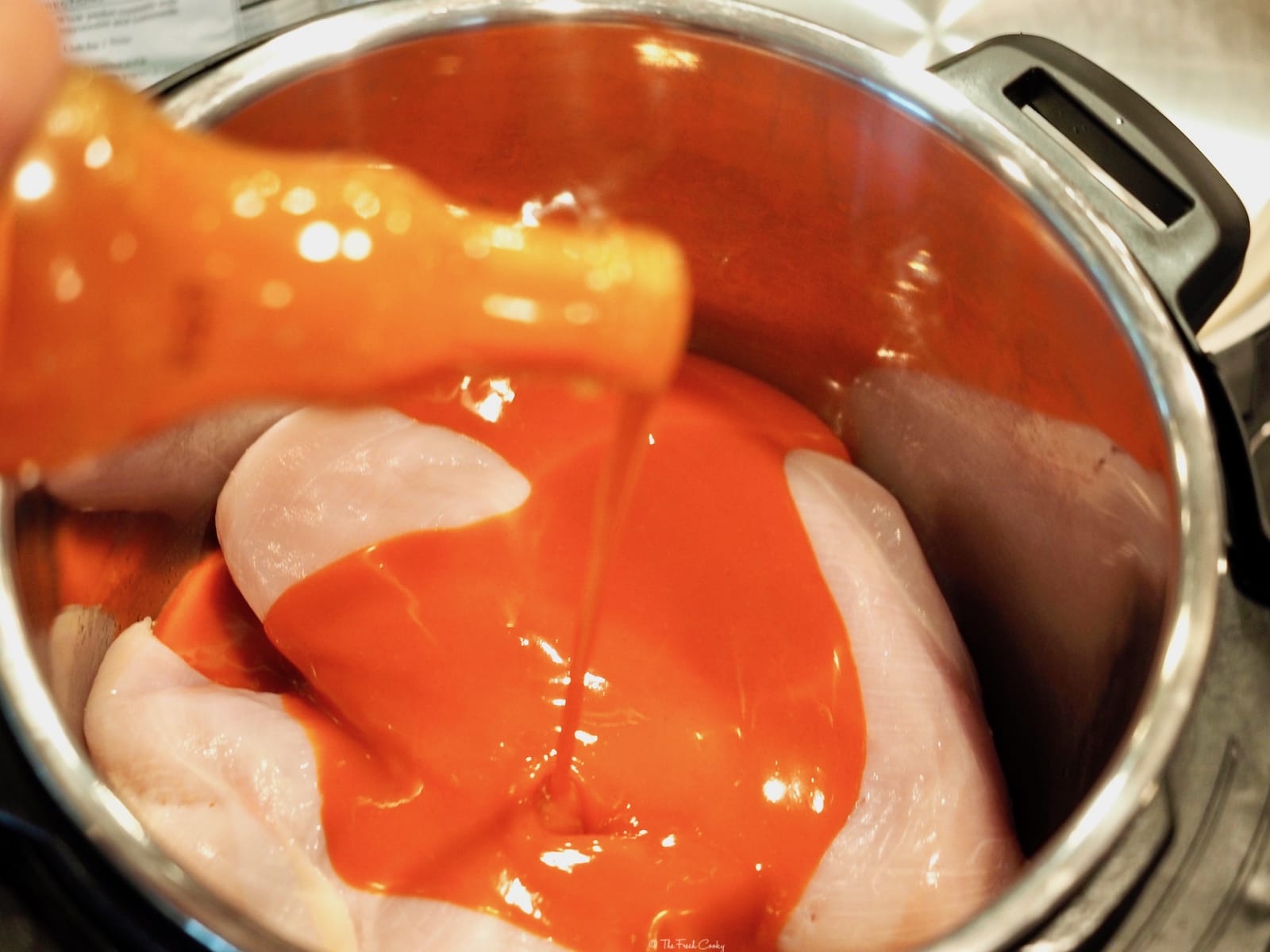 Place lid securely on Instant Pot (IP), setting IP to Meat/Stew, High Pressure for 8-10* minutes, be sure the steam release valve is in the closed position.
For frozen chicken, repeat above, (be sure the chicken is separated and not stuck together), set IP to Meat/Stew, High Pressure for 13-15* minutes.
INSTANT POT ALTITUDE ADJUSTMENT
*Please note that I test my recipes at altitude (Mile High City) meaning it takes slightly longer to cook things in pressure cookers, if you are at sea level or close to it, you may want to reduce your pressure cooking time slightly. If the chicken is not quite done, shred return to IP stirring until chicken cooked through. Or just return the whole breasts to the sauce, and saute in IP for 5 minutes covered (not sealed) with lid.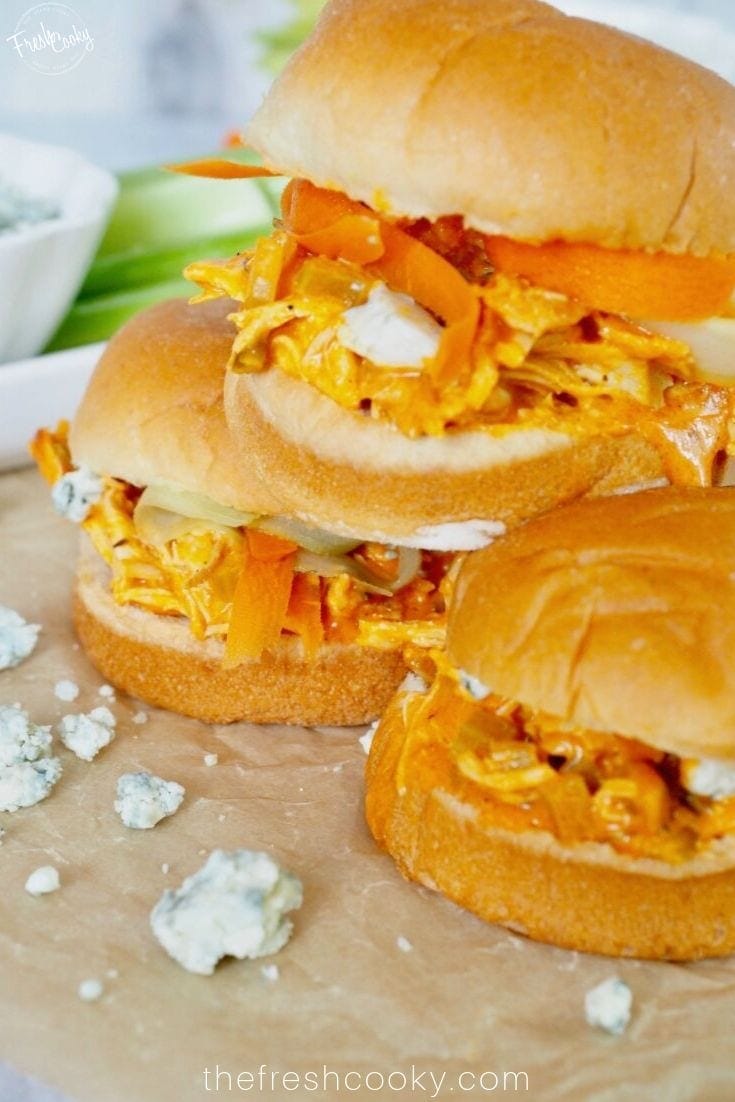 Once finished, perform a quick release (place a tea towel over the steam spout prior if you'd like). Remove the chicken breasts from the pot and place on cutting board.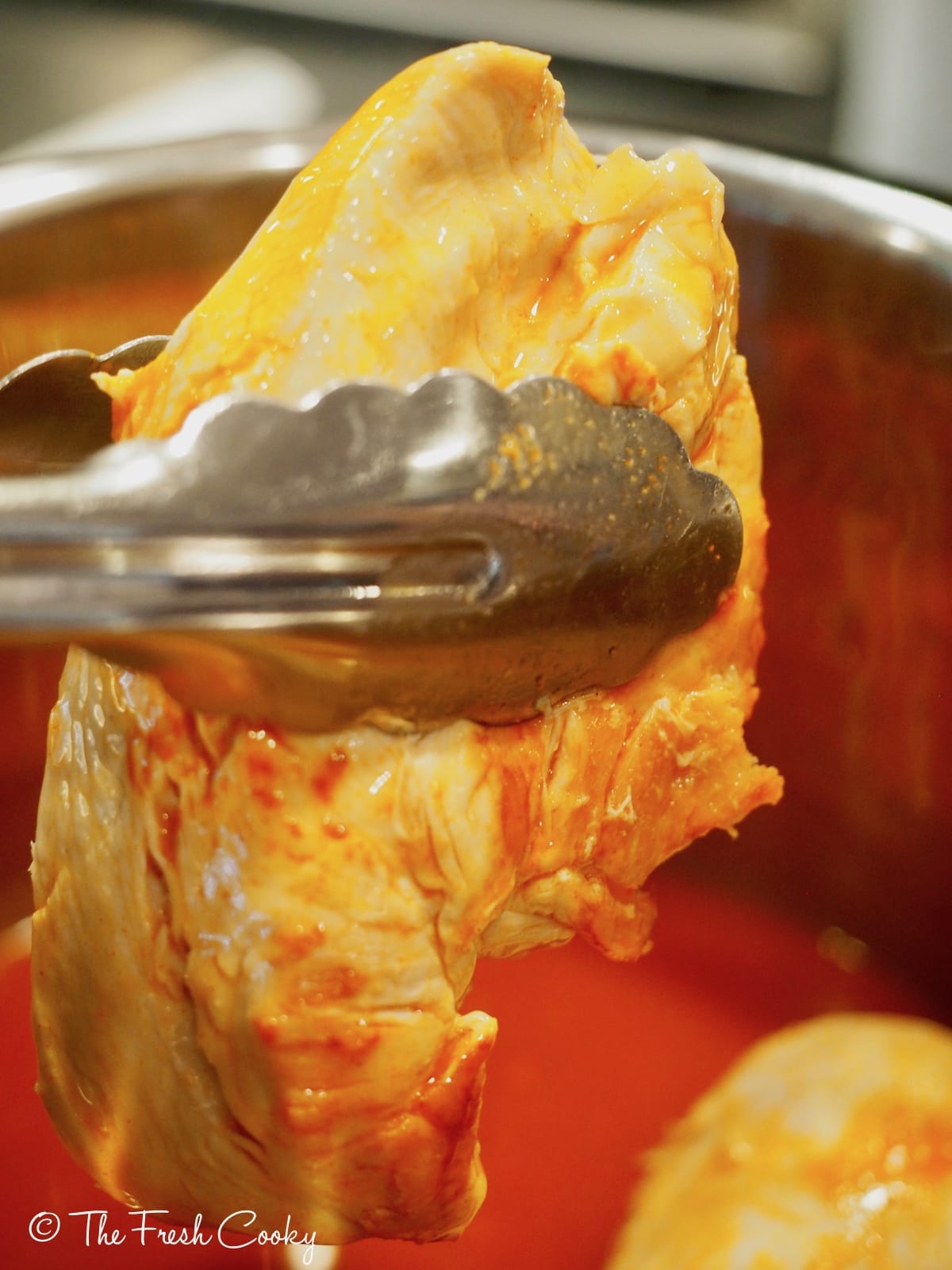 Shred chicken with two forks, set aside. *Make sure the chicken is cooked, if not, saute a bit longer when returning to sauce.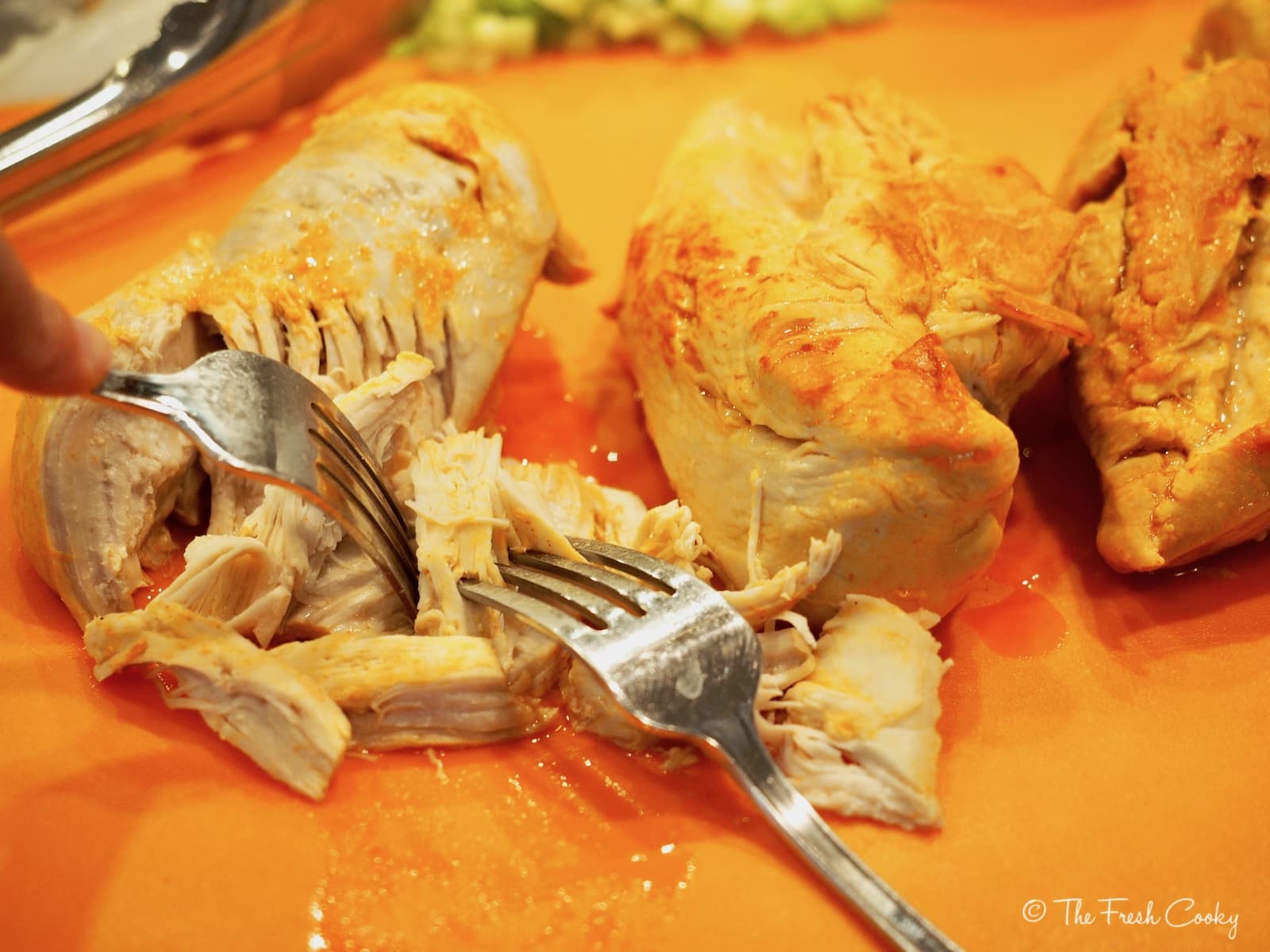 With Instant Pot on Saute mode, whisk powdered ranch dressing mix into the sauce.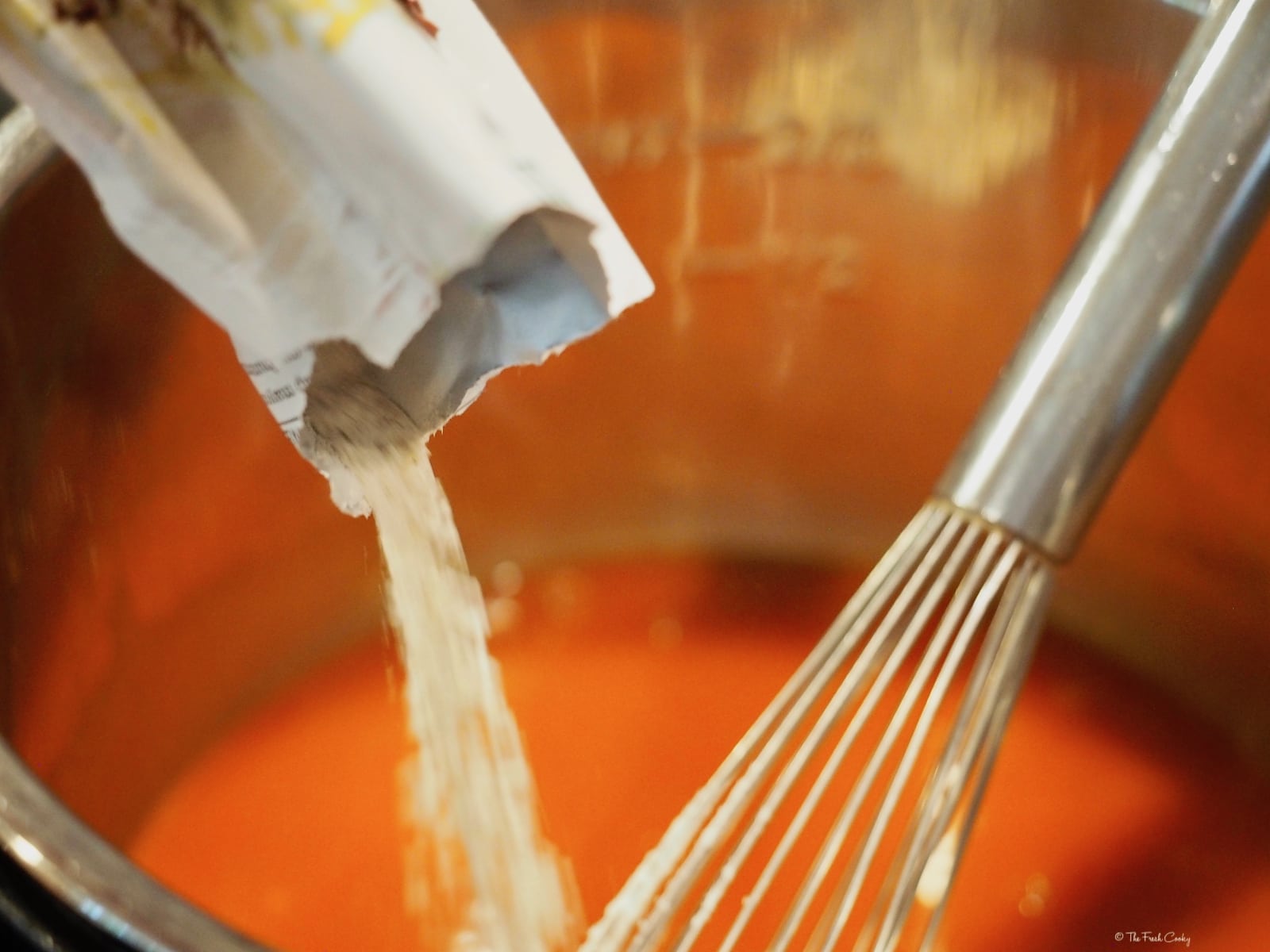 Then whisk in the cream cheese until melted and smoothly incorporated.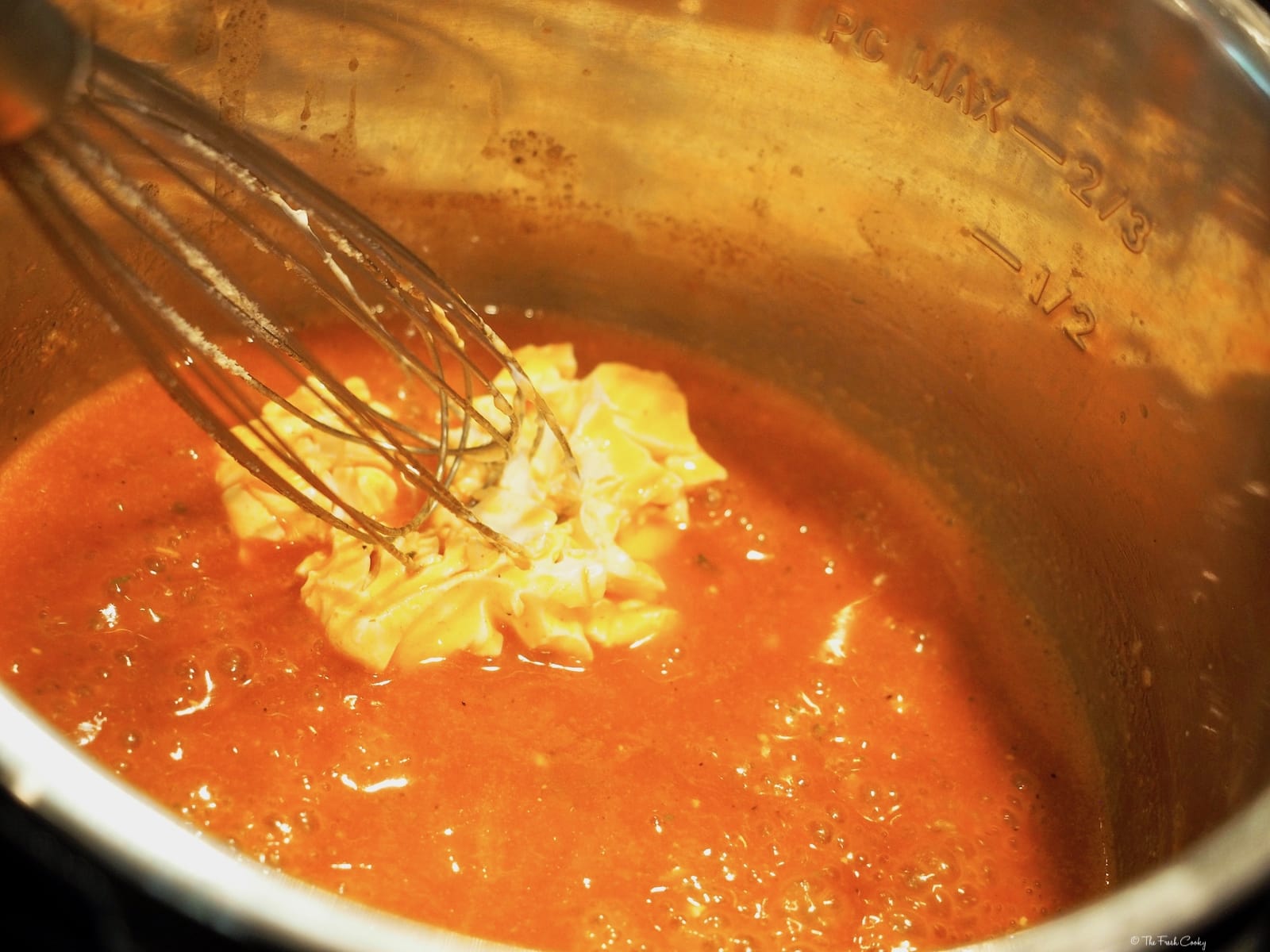 Add shredded chicken, celery and green onions to the sauce, stirring to coat chicken. While it sits, the chicken mixture will thicken.
This dish can easily be made ahead of time, refrigerated and re-warmed (on stovetop) when ready to serve.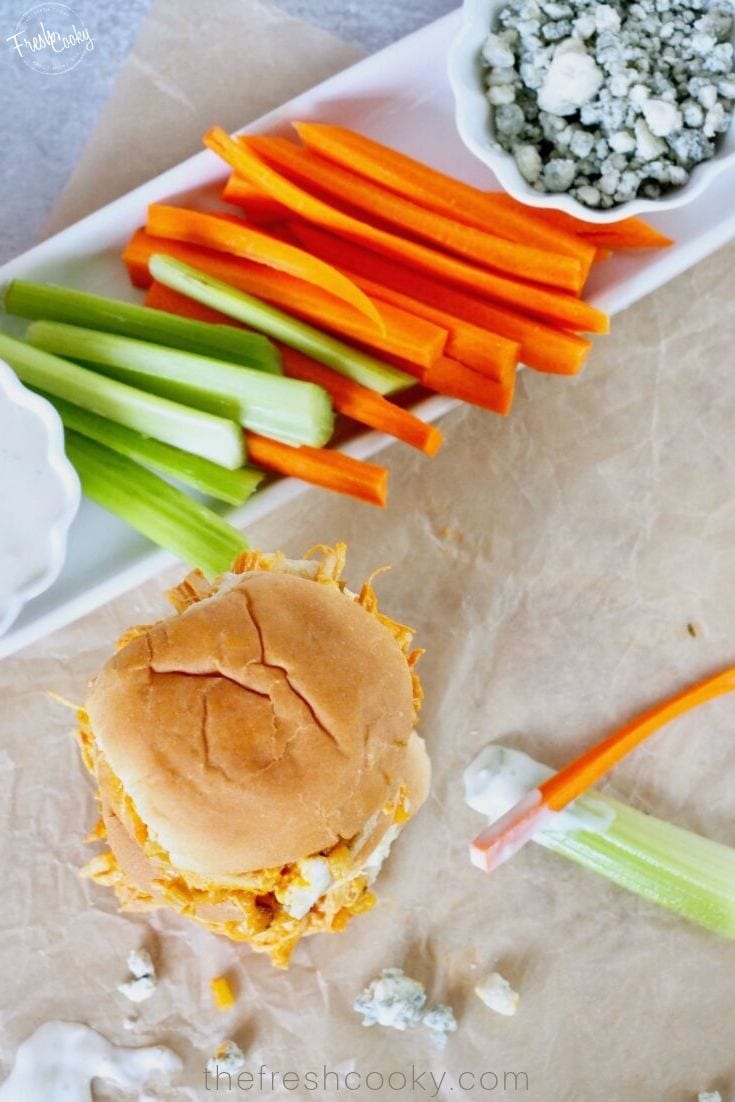 SERVING SUGGESTIONS
Serve in bowl (or keep warm in IP or Crockpot), with buns on the side for "make your own sliders or sandwiches" be sure to have extra blue cheese & ranch dressing, blue cheese crumbles, celery and carrot sticks.
Sprinkle sandwiches with Blue cheese crumbles, sliced lettuce, extra chopped green onions and celery and even shredded carrots for a beautiful juicy, crunchy Buffalo Chicken Sandwich.
KETO or low carb style with firm lettuce leaves such as Iceberg or Romaine, drizzle with ranch or blue cheese dressing and a few chunks of blue cheese
Serve as a Buffalo Chicken Dip with thick tortilla chips, carrot and celery sticks, a bowl of ranch and/or blue cheese dressing. If planning to serve as a dip, I would suggest placing the entire 8 oz brick of cream cheese in the sauce, making it a bit saucier and scoopable.

CROCKPOT OR SLOW COOKER VARIATION
Instructions for how to adapt this to your slow cooker, just as delicious, instead of a 30 minute meal it's a "fix-it-and-forget-it" meal!
Pour in wing sauce and ranch dressing mix, stir to combine. Place the chicken breasts in a single layer and turn to coat in sauce. Cover, and cook on Low for 6 to 7 hours or on High 3-4 hours until chicken cooked through.
Remove chicken from sauce, shred with two forks, set aside. Increase heat to high and whisk 4-8 oz cream cheese (softened) into sauce until smooth and melted.
Return shredded chicken to slow cooker along with chopped celery and green onions, stirring until incorporated and all chicken is covered. Enjoy!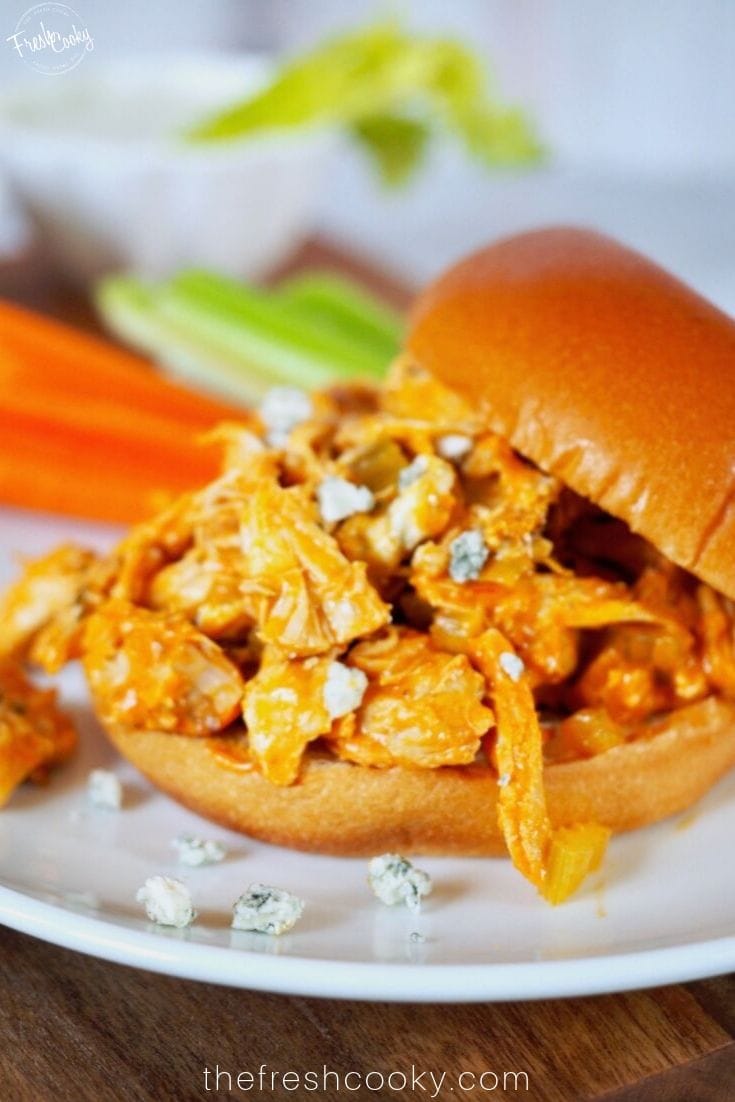 VARIATIONS & SUGGESTIONS
Slider or Burger buns (try Hawaiian Rolls, Brioche buns or your favorite bun)
Blue cheese crumbles, blue cheese dressing or ranch dressing
Sliced lettuce, extra chopped green onions and chopped celery, shredded carrots
Serve as a dip with carrot sticks, celery sticks a bowl of ranch and blue cheese dressing (you may want to stir in the entire 8 oz brick of cream cheese if planning on using this as a dip)
Recipe adapted from Susie at Mom's Dinner
If you enjoyed this recipe, try my Best Homemade Sloppy Joes, Cheesesteak Sandwiches or Copycat Chipotle Chicken.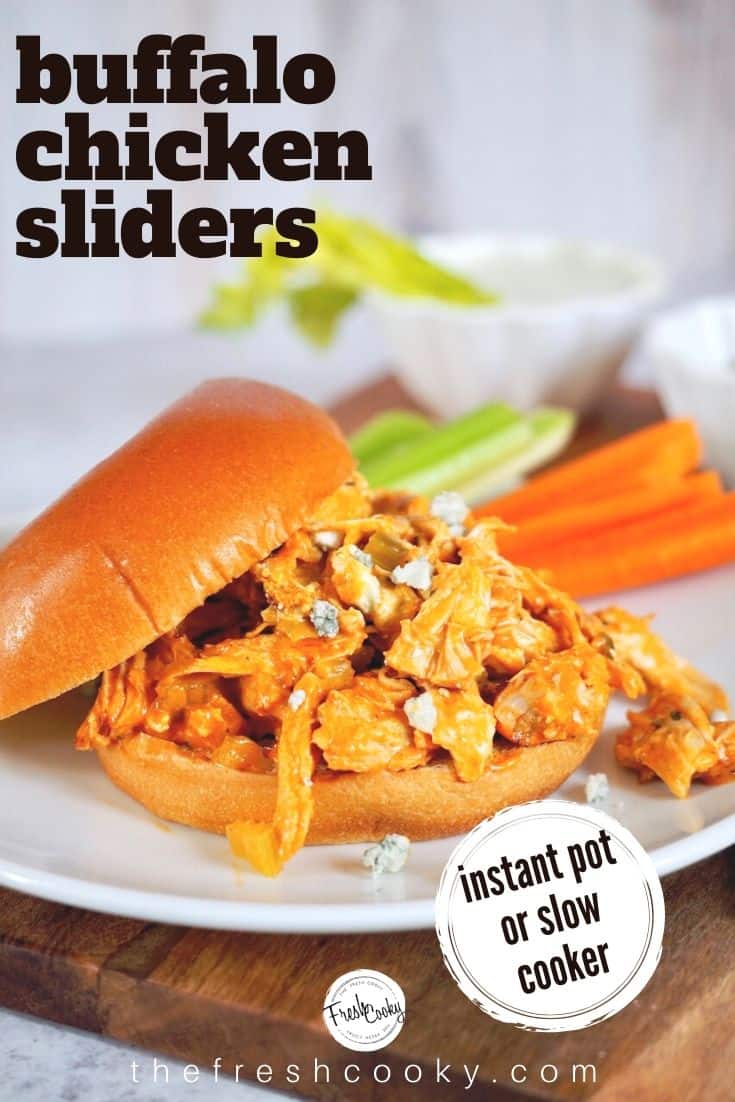 Like this recipe?
Don't forget to give it a ⭐️⭐️⭐️⭐️⭐️ star rating and comment below the recipe!
More Easy Weeknight Meals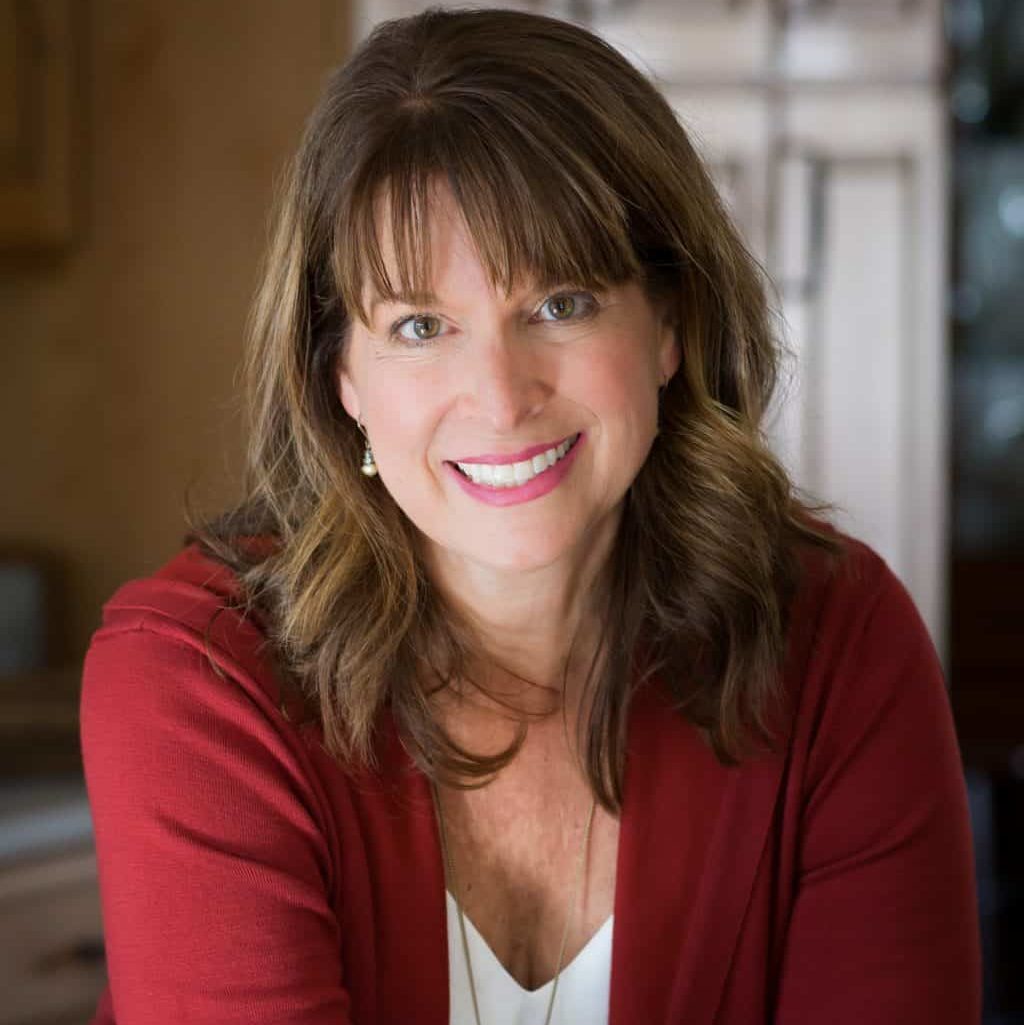 About Kathleen Pope
Recipe Innovator | Food Photographer | Food Writer
Hi, I'm Kathleen Pope. Here at The Fresh Cooky you will find easy, mostly from-scratch, trusted recipes for all occasions. From speedy dinners to tasty desserts, with easy step-by-step instructions. I am here to help teach you how to make mouthwatering recipes without spending hours in the kitchen. Read more about Kathleen here.